HTML5 Tags and Elements: the Difference
Every page consists of a set of HTML elements. They represent parts of the document, such as headings and paragraphs.
One of the most common issues for beginners is understanding the difference between HTML elements and tags. Think of it this way: HTML elements represent the document's structure, while tags are simply a part of the HTML syntax.


Nested HTML Elements
A simple HTML element is made of an opening tag, a closing tag, and some content (text, images, etc.) between the two. In case of element nesting, an HTML element can also contain other elements which are then called nested elements.
Nesting occurs in all HTML pages: it provides better functionality and a neater look.
When you nest HTML elements, make sure you close them in the right order. The element which was opened last must be the first to close:
What is an Empty Element in HTML?
A standard element in HTML has content enclosed within opening and closing tags, but some are empty (void). Such elements are mostly used to add or embed content into documents:
In the table below, you will find a complete list of empty elements in HTML5:
Note: empty elements do not need a closing tag to function, because there simply is no content for them to wrap around.
Compare a standard HTML element with an empty one in an example below:
In some cases, the closing tag is optional: you can add it or skip it. Adding optional closing tags can make HTML code easier to follow and understand. However, sometimes, the use of such tags can be redundant.
For the following elements, closing tags are optional:
In the following example, the closing tag for the <p> element is skipped, but the browser is able to display it properly anyway:
Most Common HTML Elements: a List
The <html> element describes an HTML document. All the other elements should be nested inside this element:
The HTML <header> element includes introductory information (e.g., a headline):
The <body> element defines all visible page content:
The <h1> element describes the content's heading:
Note: there are six possible positions for a heading, going from <h1> to <h6>.
<p> element is an HTML text element that describes a paragraph:
<div> is a block-level HTML element used to group and organize web pages. Once it is applied, elements are divided into sections that you can format using CSS:
HTML5 Tags Explained
In the following sections, we will present you with a list of tags that were introduced in HTML5. Most of them represent structural elements, but there are also new tags used for graphics, forms, and media. HTML5 examples will illustrate all of them.
You can include attributes for HTML5 tags using three different types of syntax. See all of them in the example below:
Structural Elements
To simplify working with the structure of the document for the developer, HTML5 introduced semantic tags: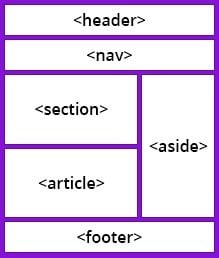 HTML5 <article> tag defines a piece of self-contained information that can be reused:
The content of the <aside> tags describes content to be set to the side (e.g., a sidebar):
HTML5 <details> tag describes the details of your website or content in general. The details can either be visible to everyone or hidden. To provide a short summary for this element, use the new <summary> element:
<dialog> defines the dialog box in your website:
Note: not every browser supports the <dialog> tag equally well, so be careful when using it.
The new HTML5 <figure> tag sets space for isolated content, such as photos, diagrams, etc. To define a caption for a <figure> element, use the <figcaption> element:
One of the new HTML5 features that help you describe your content better is the <footer> element, which sets space for footnotes:
The <header> tags allow you to set the header of your website. Unlike the <title> element, it is visible in the website:
<main> depicts space for the main content of a webpage:
The new <nav> element describes a special space for navigation links on your website:
<section> is used to set a part of the content for one section element:
Inline Elements
The <mark> element highlights the text (or part of it) on your site:
<progress> defines a progress bar for a task, which is included on your web page:
Similarly, the <meter> element depicts a scalar measurement in a defined range on your website:
<time> is one of the HTML5 new tags used to define time and date on your website:
Working with Text
<wbr> is one of the HTML5 new features. It defines the placement for a possible word break:
<ruby>, <rt> and <rp> tags are used to display ruby annotations for Asian characters. The <ruby> element defines the annotations, <rt> represents the ruby text, and <rp> helps in cases when the browser does not support the elements from ruby text:
HTML5 <bdi> feature allows creating mirrored text. It means that the text will be written from right to left. It is very useful when writing in languages such as Arabic, or simply adding some whimsicality:
Form Elements
The content of the <datalist> tags represents a drop-down menu allowing the users to select one or more predefined options:
Using <output> tags creates an area for a result of a mathematical calculation in the page:
Graphics and Sounds
<canvas> is one of the new HTML5 elements. It dedicates a specific space for JavaScript graphics that you may want to include on your site:
<svg> defines a specific space for SVG (scalable vector graphics) drawing on your web page:
Probably the most important out of all newly introduced HTML5 elements are called <audio> and <video>. Using them, you can easily ember audio or video material to your website.
Both of these elements are usually used with the <source> element which defines the source of the media to embed. See the HTML5 examples below:
By using the <track> tags, you can provide an audio track for both <video> or <audio> elements:
For external plug-ins in the website, use <embed>:
HTML5 Tags: Useful Tips
Remember that there are no optional closing tags in XHTML: this version of HTML is much stricter and requires to always close content-carrying elements.
If you are not sure about the tidiness of your code, use an HTML validator (e.g., this one by World Wide Web Consortium).