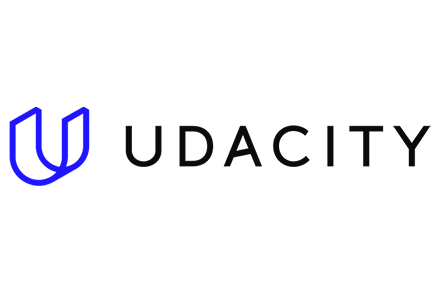 It's no secret that Udacity is one of the most popular MOOC-based e-learning providers in the world. Since the company has such popularity and reach, there are a lot of people who are looking for reliable Udacity reviews online (and you just found one!).
In this review, I will take a good and thorough look at Udacity, and help you decide whether or not the platform is worth your attention.
First of all, I'll tell you what is Udacity, in general. After that, we'll look deeper into the different features it offers - we'll have a Udacity Nanodegree review (to find out are Udacity Nanodegrees worth it), talk about other platform features, and try to figure out is Udacity worth it overall.
Verdict at a Glance: Udacity is a prominent online learning platform dedicated to providing a diverse array of courses primarily focused on technology, business, and data science. It is mostly known for its Nanodegree programs that allow learners to gain practical skills in high-demand fields and earn certificates. Besides, it works on a subscription base, but also offers free courses.
Pros
High-quality courses
Nanodegree programs
Student Career services
Scholarships
More than 200 free courses
Udacity Review: Introduction
To start this Udacity review the right way, let's quickly go over what is Udacity and what is its main purpose. Udacity, like many others, is a MOOC-based platform. MOOC stands for Massive Open Online Courses. In essence, this means that it provides an online learning experience to anyone who wishes to sign up on the website and start learning.
Udacity saw the light of day back in 2011. It actually is a spin-off of free computer science classes that were at that time offered at Stanford University. The platform provides a variety of features, but the most prominent one is its Nanodegree programs.
Thus, in this Udacity review, I'll make sure to cover user Udacity Nanodegree reviews and Udacity Nanodegree Plus reviews (and why the latter are not really all that relevant anymore).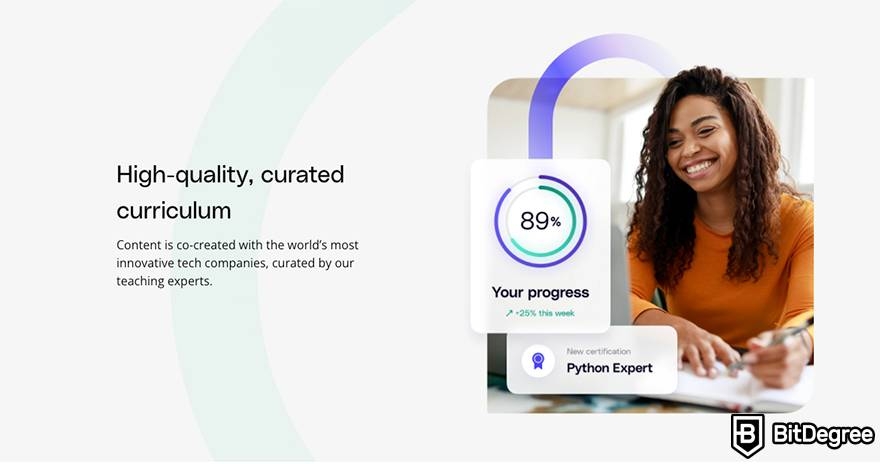 Overall, there are more and more new online learning MOOC-providing platforms opening up almost every single day. With such growth in competition, industry veterans like Udacity have to try their hardest to maintain their places on top, whether it be with the implementation of additional and unique features, price promotions, competitions, or any other way.
It truly is a great time to be a student! You have such a wide variety of platforms and courses to choose from, that it might even be tough to pick just one. Why would you want to go for Udacity, though? Well, there are many reasons.
Latest Udacity Coupon Found:
50% DISCOUNT
Udacity Black Friday Discount
The best time to save on Udacity courses is now - follow this coupon to access 50% Udacity Black Friday discount on all courses & enjoy top-quality learning for less!
Expiration date : 10/12/2023
3,176 People Used
Only 97 Left
Udacity Review: PROS
Being in the online learning industry since 2012 and still remaining relevant probably requires having more than one benefit. So, let's kick off this Udacity review on a positive note, shall we?
Intuitive and Straightforward Website Navigation
It's no secret that people judge an e-learning platform (or any other website, for that matter) based on how easy and intuitive it is to use. Sure, after some time, the criteria for a "good / bad" site become much more in-depth and specific, but first impressions still matter a whole lot.
That is why in this Udacity review, we'll take a good look into the platform from a user-friendliness side of things.
The front page of Udacity is pretty simple, yet still neatly-made and informative. It doesn't differ from most other online education-based platforms, meaning that the page offers all of the basic information and is quite generically designed. In other words, it has no spectacular features that would make it stand out, but it's still nice to look at.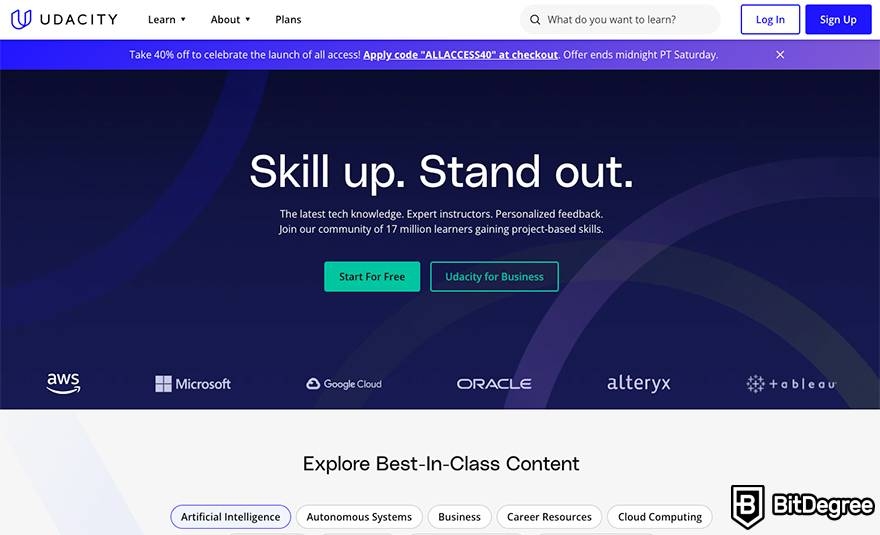 Now, this isn't necessarily a bad thing - a lot of such platforms choose to invest in their content, and "keep it simple" when it comes to the visual side of things.
The page offers some general information about the site, explains what is Udacity, provides a partner list, and a couple of other pieces of information. Not a lot of Udacity Nanodegree Plus reviews (or general Udacity reviews, at that) mention this, but the layout of the site is actually really comfortable and easy to navigate.
The color palette doesn't irritate the eye, all functions are where you "would expect them to be", and the interface is intuitive and fun to use. Overall, a pretty solid performance!
What about the registration process? Well, it's pretty straightforward - fill in your email address, verify your account via an email sent to you, fill in your first and last name, and come up with a password (OR, you could also sign up using Google or Facebook).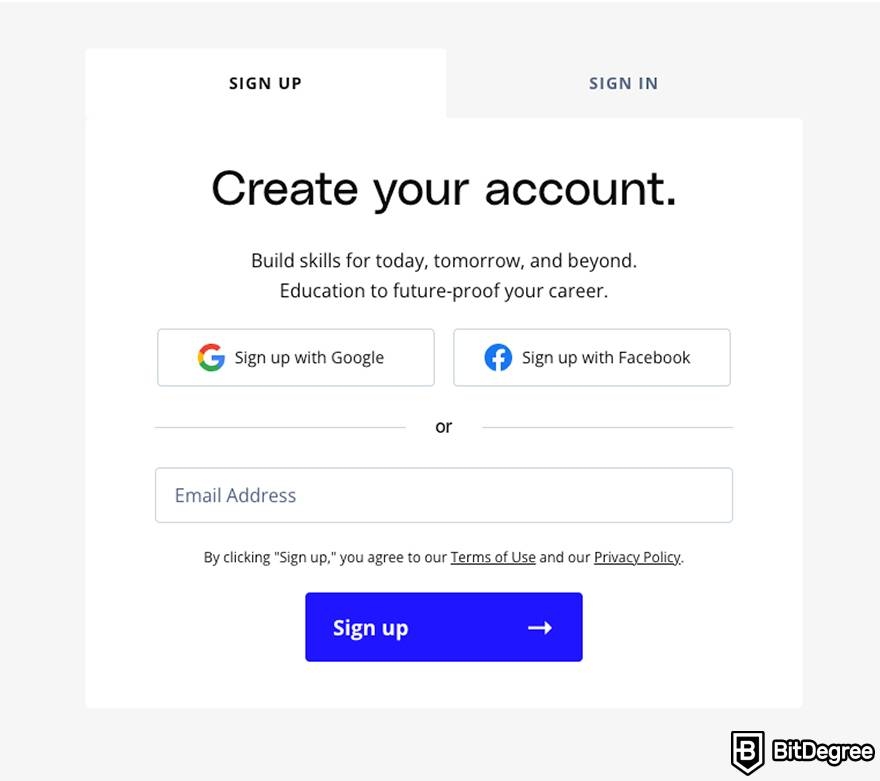 Once you're in, you'll be taken to your personal dashboard, where you'll see your current and completed programs (of course, at this point, you'll have none). Besides that, you'll be able to access pricing plans and discover Udacity courses.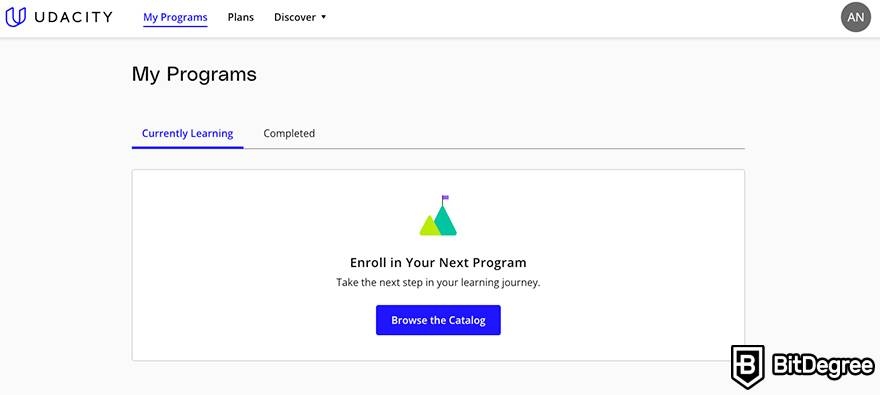 Speaking of discovering courses, let's do just that! You can search for something specific, pick courses based on the subject (artificial intelligence, autonomous systems, business, cloud computing, cybersecurity, data science, executive leadership, product management, or programming & development), or just browse through all of them if you're not really sure what you want.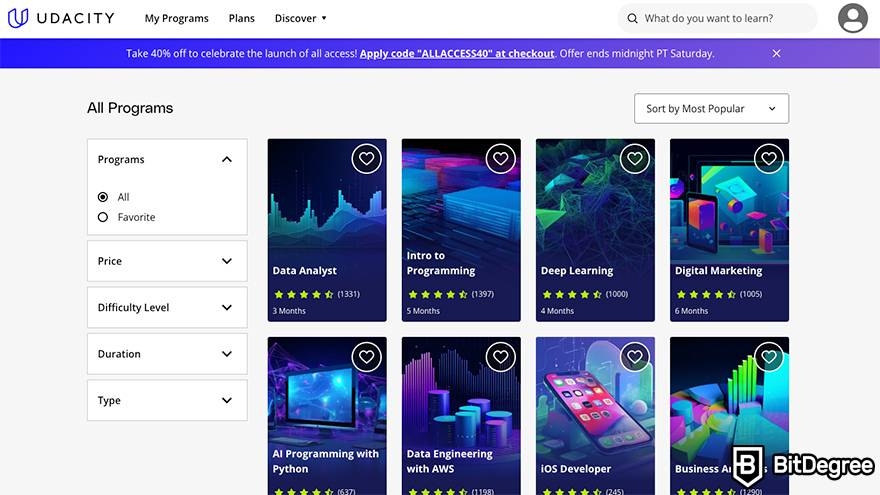 To make the browsing experience more efficient, you can use filters for price, difficulty level, duration, and type (a standalone course or a Nanodegree program). Besides, you can mark the courses that interest you as you browse and then check them out later in the "Favorite" section, which is a pretty nice feature.
As I was going over the catalog, a free "Artificial Intelligence for Robotics" course piqued my interest. What I immediately noticed is that course pages do not look like they used to in the past.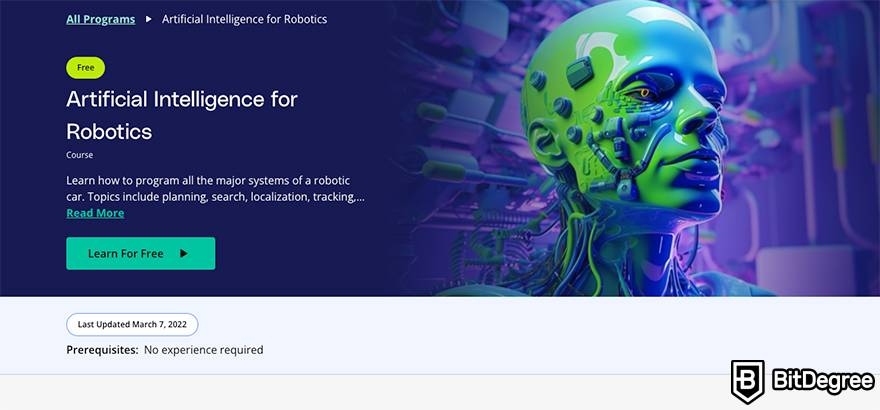 I remember that before, they were OK but far from spectacular - they had the "What You'll Learn" section, which was a bit awkward, and the "Popular Free Courses" section, which was literally just words written on stale, white cards.
Now, you are greeted with aesthetically pleasing visuals, a brief course description, and some additional course information. The upper part of the page is pretty cool and nice to look at (so it's definitely an improvement), but it could have a bit more information about the course (at least in the case of this specific course).
Sure, this "very brief description" might add to the simplicity of the whole design idea (and it is probably intended as a way of minimizing needless distractions on the page), but I would like to know more about the course before starting it.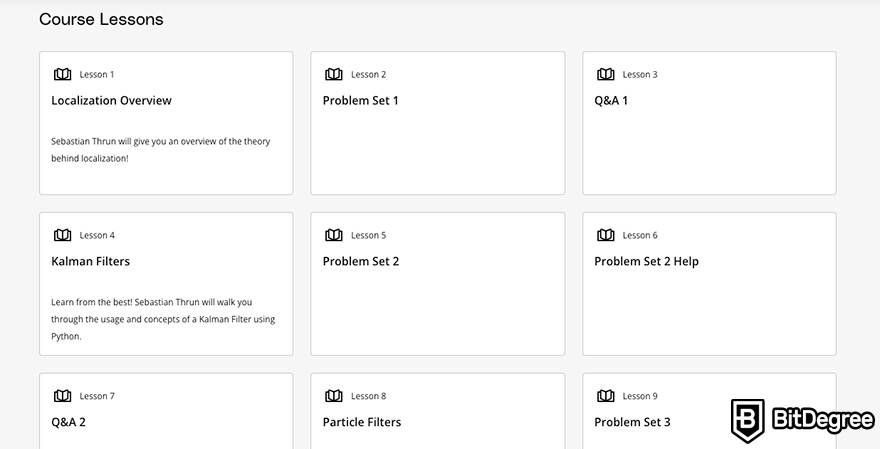 Besides, the course lesson layout is a bit basic – you have simple cards with lesson titles, and some of them don't even have subscriptions. That's fine, I guess, but it could use some design improvements (and more descriptions).
Now, what about the course dashboard? First, I want to point out that standalone course and Nanodegree program dashboards differ. Right now, I'll cover the former.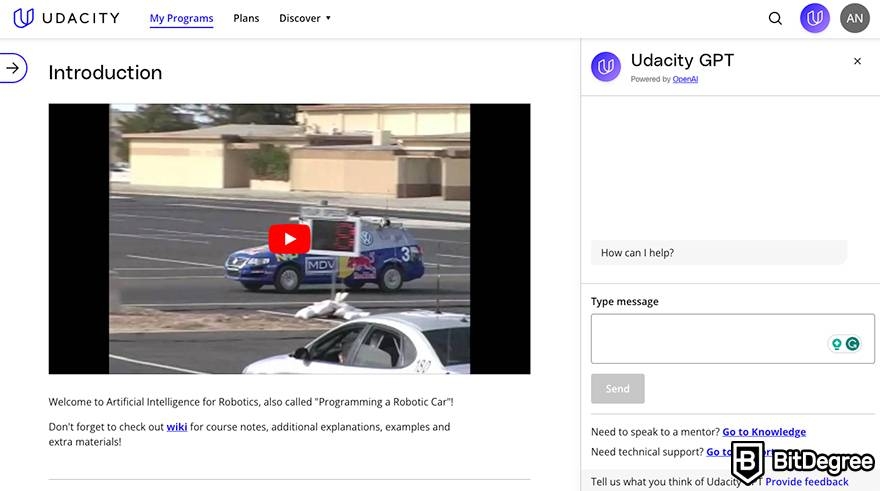 So, as you can see, it features a video player to the left and the Udacity GPT chatbot to the right. Besides, some courses also feature textual information below the video player.
You might think, "Okay, great, but what is this Udacity GPT chatbot?" It's a really nifty feature, that's what it is!
It was released in March 2023 in collaboration with OpenAI. The bot uses the GPT-4 Turbo technology, which can be really helpful. If you haven't heard about OpenAI's GPT (which is very unlikely), it's basically a groundbreaking AI technology that can provide you with a very smart natural language processing tool (some even believe it's a very early version of AGI[1]).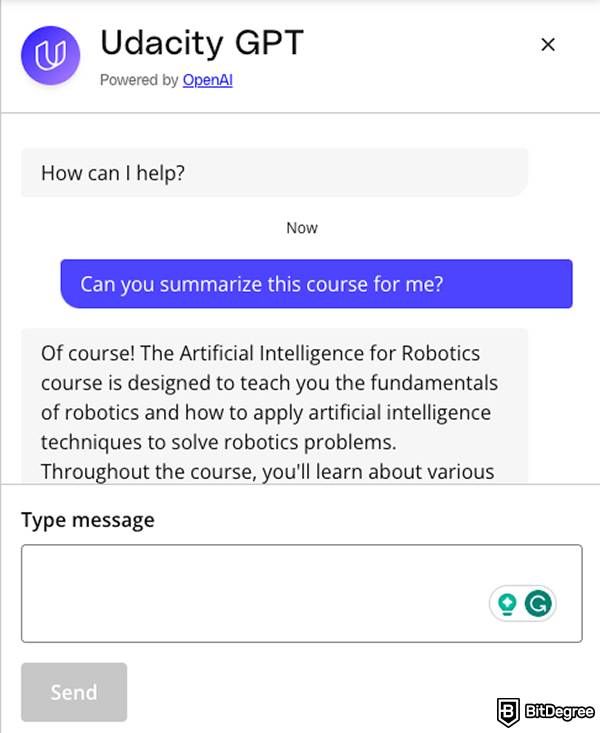 What can you use the Udacity GPT bot for? Well, many things. You can request it to summarize concepts, ask more profound questions, translate some text to another language, or fix errors in your practical exercises.
Speaking of practical exercises, it's another cool feature of Udacity - the courses have integrated coding interfaces, so you can practice your newly acquired knowledge as you learn. Udacity is all about the hands-on approach.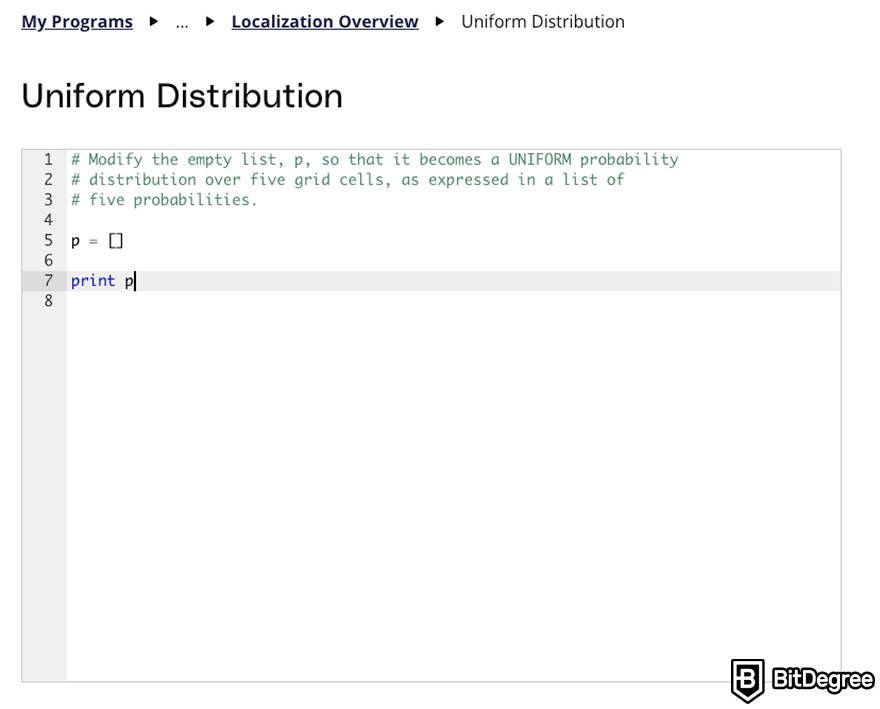 That's pretty much it when it comes to navigating the site. It really is easy and intuitive, right?
Quality Assurance in Action
The quality of the content that a learning program provides is the most important aspect you should focus on when searching for a proper online education-based site. It will make a whole ton of a difference when it comes to your own personal growth and career opportunities / development.
Remember - a key piece of valuable information could be the deciding factor between you getting a dream job or missing out completely.
So, naturally, to help the people asking, "Is Udacity worth it?" answer the question, I take content quality very seriously in this Udacity review.

The general consensus among most online user Udacity reviews seems to be rather positive. Naturally, with the platform offering such a wide selection of courses to learn from, it's ultimately a case-by-case scenario. That being said, however, it is evident that whatever quality assurance program Udacity has installed, it seems to be working, for the most part.
Although content quality is in line with the brand's mentality, the same apparently cannot be said about the sense of community within the platform. There is little-to-no feeling of being immersed in a community of students, all working together towards the same goal.
Rather, the course pages are pretty "sterile" - they're clean of any numbers or any signs that would indicate other life forms. The only thing that somewhat helps is the ratings section on Nanodegree programs.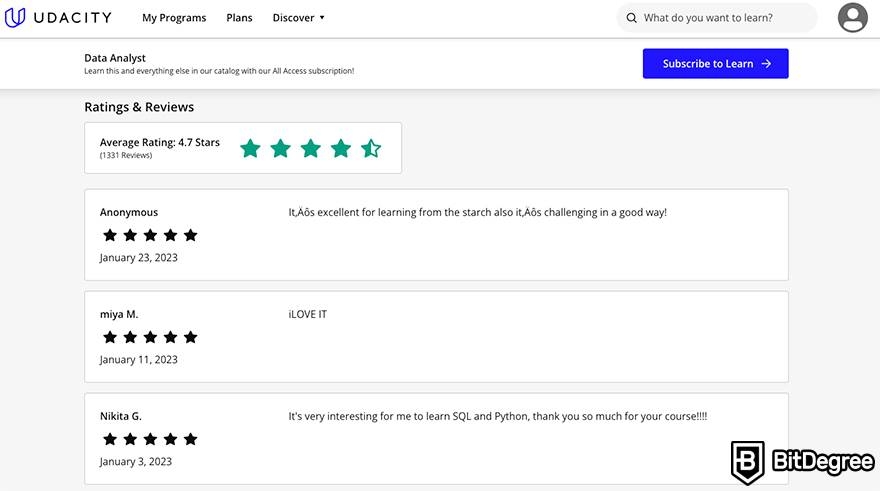 Additionally, do note that there are a few Udacity reviews (don't mix these up with Udacity Nanodegree reviews - we'll talk about is Udacity Nanodegree worth it later on) that claim to have experienced poor customer support, or a lack of, in general.
It is worth keeping in mind, however, that most of these Udacity reviews are talking about the free courses on the platform. This somewhat explains things (free courses rarely get any support in most online learning platforms), but it's still something that shouldn't be overlooked.
Fast-Track to Expertise with Nanodegree Programs
Udacity has a couple of unique features, namely the Udacity Nanodegree and the Udacity Nanodegree Plus (well, okay, when it comes to the latter, "had" is a more suitable verb). Since there are many people who question, "Is Udacity Nanodegree worth it?" and are looking for Udacity Nanodegree Plus reviews, these features are worth exploring a bit further.
Let's start with Udacity Nanodegree programs. Put briefly, such programs offer a form of learning where you study a particular subject for around 6-12 months, after which you receive a certificate of completion. Many people ask are Udacity Nanodegrees worth it, but it's a tough question to answer!
To do that, we should look into these programs in more detail. So, put in not such a brief way, they are specialized, industry-aligned programs designed to equip learners with practical skills in high-demand fields.
Let's take "Data Analyst Nanodegree" as an example. This program is made for individuals aspiring to become proficient data analysts (which is a popular profession, by the way, due to the whole data revolution[2] and whatnot).

A Nanodegree curriculum typically includes a series of in-depth courses, hands-on projects, and real-world applications. In the case of the Data Analyst Nanodegree, students are likely to cover topics like data wrangling, data visualization, and statistical analysis using tools such as Python, SQL, and Tableau.
Udacity's Nanodegree programs often feature industry-relevant content developed in collaboration with leading companies. This ensures that students are learning the most up-to-date skills and techniques demanded by employers.
Overall, students receive a lot of information and get the ability to learn a particular IT-based skill rather thoroughly. So, are Udacity Nanodegrees worth it? Well, it probably all depends on your preferences and expectations, but these programs won't guarantee you a job like the Nanodegree Plus does… Or, rather, did.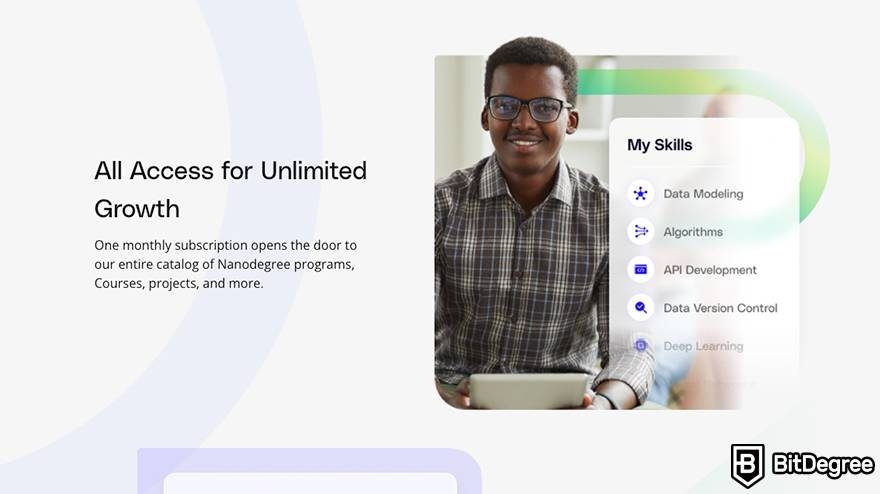 Udacity Nanodegree Plus programs were a special form of learning that the students over at Udacity could partake in. The main distinguishing feature of the "Plus" program was that Udacity guaranteed* you a job after you've successfully finished the desired program. Now, you may notice that I have placed an asterisk at the end of that word - because there always is one, isn't there?
Udacity guaranteed you'd get a job… OR it would refund you the course price in full. Even though this might have been somewhat reassuring, it still didn't really make up for the time spent learning, at the very end.
But you don't need to worry about "Is Udacity Nanodegree worth it?", at least when it comes to its Pro version - as of December 5, 2017, Udacity no longer allows new participants in the program (in other words - it's discontinued). There is a lot of speculation online as to why that's the case, but no one has a clear answer.
These are (or, I guess, in the Udacity Nanodegree Pro version - were) the two main features that the platform offers. Nonetheless, if we look at some of the user Udacity reviews on these specific features (now - feature), we can see that students are generally satisfied with both the number and the quality of choices found on the platform.
Student Career Success? Check!
So, we've established that there are no Udacity Nanodegree Plus programs anymore that sort of guaranteed you'd get a job and make a career after finishing a course. Despite that, though, Udacity still wants to help you do that and, thus, offers career services to ensure you transition smoothly from completing your coursework to entering the job market.
Just note that these services are only available to those who finish Nanodegree programs, not standalone courses, especially not the free ones.
Now, what kind of services are those, to be exact?
Personalized Support. Students receive individualized guidance and support from Udacity's career coaches. These coaches are experienced professionals who provide insights, advice, and assistance tailored to each student's career goals.
Resume and LinkedIn Profile Review. Career coaches assist students in optimizing their skills and achievements in resumes and LinkedIn profiles effectively. This helps them stand out to potential employers.
Portfolio Review. Students often build projects as part of their Nanodegree programs. Udacity helps review and refine these projects, ensuring they demonstrate the skills and knowledge employers are looking for.

Interview Preparation. Students receive assistance in preparing for technical interviews, including practice sessions and feedback on their performance. This helps them feel more confident and competent during the interview process.
Job Search Assistance. Students gain access to a curated job board with a selection of job postings relevant to their field of study. This helps them identify suitable job opportunities.
Networking Opportunities. Udacity facilitates networking events and webinars, connecting students with industry professionals, alumni, and potential employers. This provides valuable networking opportunities and industry insights.
Ongoing Support. Even after graduation, students have access to Udacity's career resources for a period of time. This ensures that they can continue to receive support as they progress in their careers.
Overall, Udacity's career services surely are a valuable component of their educational offerings, aimed at helping students achieve their career goals and secure positions in their chosen fields.
Scholarships for People from All Walks of Life
Udacity is committed to fostering diversity and inclusivity in the tech industry. As part of this mission, it offers various scholarships specifically designed to reach underrepresented groups, including minorities and individuals from economically disadvantaged backgrounds. That's really nice!
Though, do note that Udacity does not provide any form of federal, state, or local aid programs. Instead, its scholarships are sponsored by third-party organizations.
Udacity's scholarships cover the costs associated with enrolling in particular Nanodegree programs. In addition to financial support, those who receive a scholarship become part of a supportive community, gaining access to mentors, peers, and industry experts.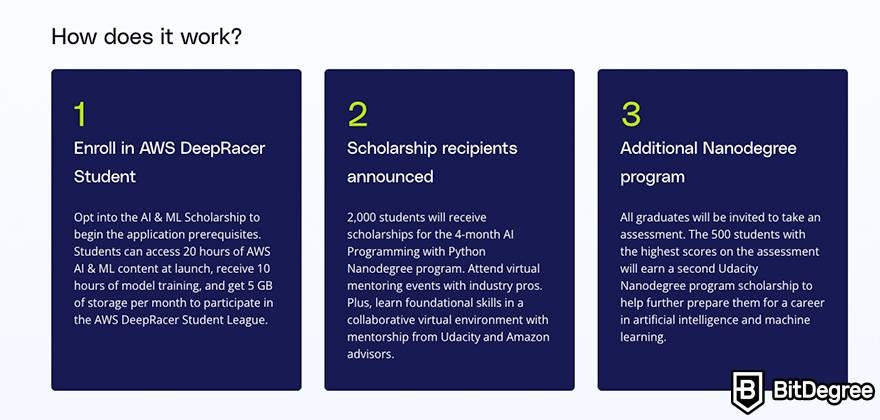 Upon receiving a scholarship, students are typically expected to complete the program within a specified timeframe. This commitment ensures that they make the most of the provided opportunity.
All in all, Udacity's scholarship programs serve as a significant step towards breaking down barriers and empowering individuals to pursue fulfilling careers in the tech sector. For more detailed information about specific scholarships, including application processes and eligibility criteria, you can refer to Udacity's scholarship FAQ page.

Did you know?
Udacity Review: CONS
So, we went over all these cool features that are worth to be mentioned in any full-fledged Udacity review. However, we must address some of its drawbacks as well. One major drawback, to be exact - pricing.
Might Not Suit Every Pocket
Udacity has relatively high pricing compared to some other online learning platforms. While it offers high-quality, industry-aligned content, the cost of enrolling in its Nanodegree programs can be a significant investment for some learners.
This higher pricing may pose a barrier for individuals on a tight budget or those seeking more budget-friendly alternatives. While Udacity does offer scholarships, not everyone may qualify for them. Additionally, some learners may find the pricing structure less accessible compared to platforms with lower subscription or course fees.
Speaking of that, how exactly does Udacity pricing look?
Udacity's Pricing Options
Price is probably the most controversial topic when it comes to online learning platforms. Most of these platforms have different methods to price their courses and features (subscriptions, one-off payments, bundles, etc.).
However, even with a wide variety of pricing models available, it's still really tough to find a balance between satisfying your customers and earning money.
When it comes to Udacity, it does offer students around 200 courses completely free of charge. You can come in, register, and start learning. However, as I've mentioned earlier in this Udacity review, these courses rarely have any student-to-student or student-to-teacher interaction.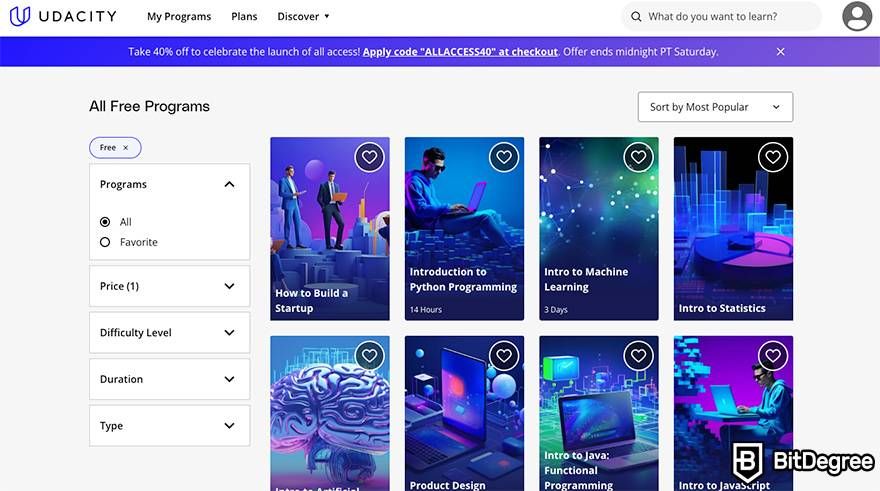 Talking about the actual prices for Nanodegree programs, things take a quick leap. It's worth noting, though, that in September 2023, Udacity rolled out a new subscription-based pricing model.
In the past, each Nanodegree course cost around $200 per month, and (as I've mentioned earlier) one can last anywhere from 6 to 12 months. This means that the price of a Nanodegree on Udacity was likely to go up to $2,400!
This was pretty high, especially when you keep one, single variable in mind - there was no middle ground, which means there were no courses that would "ease" you into the potentially overwhelming prices.
That said, this was the case until Udacity rolled out its subscription-based pricing model - it surely eased the prices a bit (though they still stayed relatively high).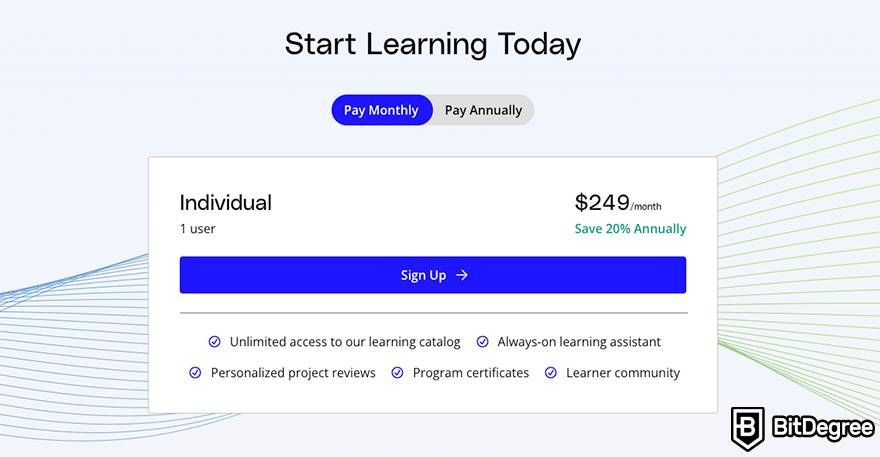 This model involves an Individual plan that can either be paid monthly or annually. If you go with the former, you'll have to pay $249/month, and if you go with the latter, you'll pay $2,390/year (saving 20% compared to the monthly plan).
So, basically, for a similar price, you used to get one Nanodegree program, but now you have access to the whole Udacity learning catalog, meaning you can take several Nanodegree programs or standalone courses at the same time. This definitely is an improvement.
Speaking of pricing, it's also worth noting that Udacity for Business (which I'll cover a bit later) has its own pricing plans. Namely, Team ($2,390/user per year), Team Pro ($3,830/user per year), and Enterprise (contact Udacity for pricing). I did notice that these pricing plans indeed are quite expensive compared to those that business programs on some other online learning platforms offer.
Fun and Pleasant Learning Experience
With all of the objective, measurable factors discussed and dealt with, there is one more point I would like to cover in this Udacity review - the learning experience.
You might notice that there are a lot of Udacity reviews that claim to be able to tell you "is Udacity worth it or not", but they only focus on the stale, generic points like prices, course number, topics, etc. But why is "learning experience" so important when it comes to online learning platforms?
Well, it's pretty simple, really. You see, a platform could be an A+ in all of the objectively defined departments (great prices, awesome features, thousands of courses), yet it can still lack a fun and interactive learning experience. It's something that's really difficult to measure and put into numbers, but it still nonetheless is very important.
Now, when it comes to is Udacity "worth it" or not, you will find that the general consensus is that the site does provide a really nice and fun learning experience.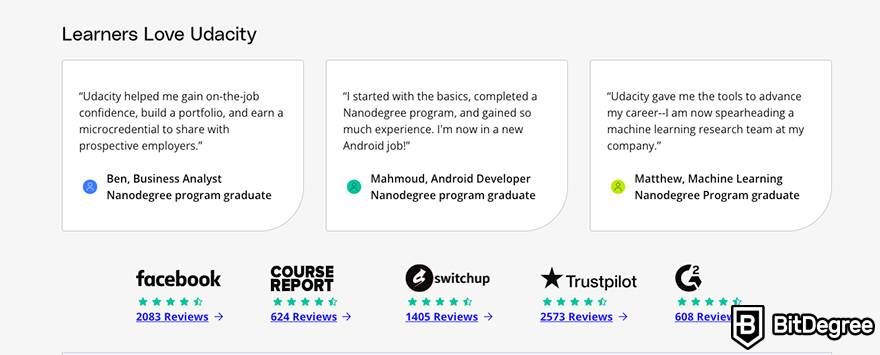 Keep in mind that these reviews mainly concern the free courses - but when it comes to Nanodegrees, it's not that different either. These learning programs are designed to both last an extended period of time and jampack a ton of information, so a positive learning experience is most likely a guarantee.
However, looking back at the free courses, one would think that, with all of the negative feedback on customer support and community interactions, they wouldn't be too pleasant to study. But this doesn't seem to be the case, whatsoever - students have quite a positive outlook on most of the free courses offered by Udacity.
If anything, this just goes to show that the platform does take care of the quality of its products, even if they are "free".
Talking about my learning experience, I covered it all throughout this review. But to summarize it, I think that the platform definitely offers some great, high-quality courses and a pleasant experience when it comes to site navigation. Also, even though it is pretty expensive, career services and scholarships are a pretty nice touch.
Top Udacity Course Picks
If this Udacity review piqued your interest, but you don't know which course or Nanodegree program you want to try, here are some popular course suggestions. As you know, there are free courses, paid courses, and Nanodegree programs, so I picked out one of each.
Free Course: Intro to Artificial Intelligence. A beginner-level course introducing fundamental concepts and techniques in AI. It covers topics like search algorithms, logic, probability, and machine learning, with hands-on projects for practical application.
Paid Course: Introduction to Python. A beginner-friendly course covering the fundamentals of the Python programming language. It's ideal for those new to coding, providing hands-on exercises and projects for practical learning.
Nanodegree Program: Data Engineering with AWS. A comprehensive program focused on developing the skills needed to build scalable data pipelines and infrastructure. It covers data modeling, ETL processes, data warehousing, and cloud technologies.
If none of these seem like your cup of tea, check out other Udacity courses.
Udacity VS Competitors
We've already established in this Udacity review that it is a very popular online learning provider. Now, the question is, how does it compare with other major players on the market?
Udacity VS DataCamp
DataCamp, one of the most popular IT-focused MOOC providers, specializes exclusively in data science education. It offers a curated selection of courses in Python, R, SQL, and data manipulation, with a strong emphasis on hands-on coding exercises.
Table: Udacity and DataCamp main information comparison
In comparison, Udacity shares a similar focus on technology and data science education, but its offerings span a slightly broader range of fields. Udacity's extensive catalog encompasses various areas of technology, business, and data science.
However, while Udacity's reach is more diverse, DataCamp's specialized approach is its forte, enabling it to excel in the realm of data science education.
Udacity VS Udemy
Udemy, another noteworthy e-learning platform, offers a way broader spectrum of courses spanning an extensive array of subjects. From technology and business to arts, personal development, and more, Udemy caters to a diverse audience with varied interests.
Table: Udacity and Udemy subject comparison
One notable feature of Udemy is its open instructor model, allowing virtually anyone with expertise in a given field to create and offer courses. This leads to a wide variety of teaching styles and content quality.
In summary, while Udacity specializes in structured, industry-aligned programs in technology and data science, Udemy provides a wider array of courses across numerous subjects, allowing for a more flexible, self-paced learning experience.
Udacity VS Coursera
Lastly, we have Coursera, which I'm sure you've heard of when searching for online learning platforms. It provides a broad range of courses across various disciplines, including arts, humanities, and sciences.
UDACITY
COURSERA

High-quality courses
Nanodegree programs
Student Career services
Scholarships
More than 200 free courses

Professional service
Flexible timetables
A variety of features to choose from
You can get a degree

Pricey
Some instructors are extremely camera-shy
Courses could be a bit difficult for absolute beginners

Visit site
Read review
Visit site
Read review
Table: Udacity and Coursera pros / cons comparison
Coursera partners with universities and institutions worldwide, delivering a more traditional academic approach with a wide variety of specializations, certificates, and even full degree programs. It also offers a mix of self-paced and instructor-led courses, allowing for a more flexible learning experience.
In essence, Udacity is geared towards targeted skill development in technology-centric careers, while Coursera offers a more diverse educational experience, including both practical skills and broader academic knowledge across a range of subjects.
Udacity for Business & Government
Now, up to this point in my Udacity review, I've covered everything that's important for individual learners. However, it's worth noting that Udacity is not only made for individual learners, but also for businesses and even governments.
For one, it offers Udacity for Business, which is a comprehensive learning platform designed to allow businesses to upskill and reskill their workforce. Apart from a diverse range of courses and Nanodegree programs, it also offers features like progress tracking and reporting, making it easy for employers to monitor their employees' skill development.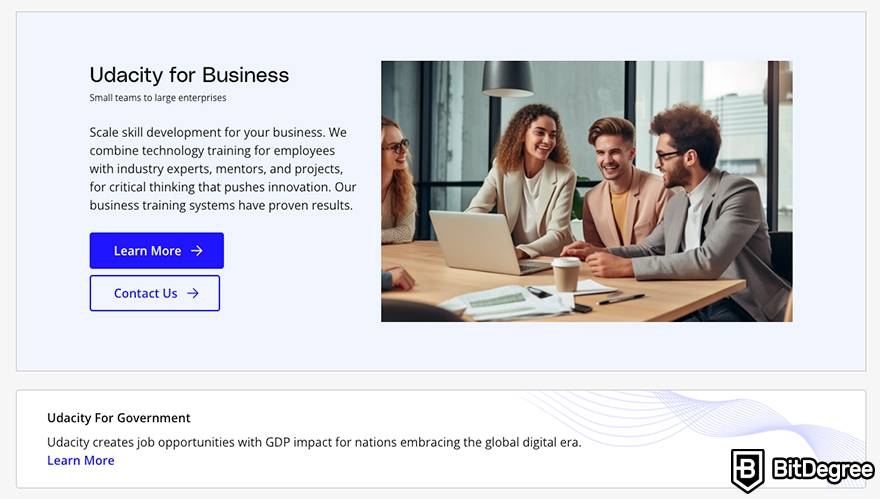 Besides that, there is Udacity for Government (or Nations), which is a specialized educational program designed to provide tailored education solutions for governments and public sector organizations.
The program focuses on upskilling in areas such as data science, artificial intelligence, and technology. Udacity for Government also offers customizable learning plans and robust support services to ensure the success of participants.
Latest DataCamp Coupon Found:
CLAIM 50% OFF
DataCamp Cyber Monday Deal
DataCamp Cyber Monday special is here! Enjoy a massive 50% off on DataCamp plans. Subscribe now and redefine your data and Al skill set for the better!
Expiration date : 10/12/2023
5,324 People Used
Only 36 Left
Conclusions
To sum up, same as many other Udacity reviews, I've tried to objectively cover the platform and all of its notable features. However, in this Udacity review, I've also tried adding the "feeling" factor - whether or not the platform feels good to use, navigate and, ultimately, learn from.
Udacity does seem to be a good choice for learners who are interested in IT-related topics, even though it might have some drawbacks (but who doesn't?). Besides, it not only offers a paid subscription plan with access to various courses and extensive Nanodegree programs, but also over 200 free courses!
That being said, Udacity is an amazing e-learning platform where you can learn various things, from UX design and HTML to even front-end development. Truly worth checking out!
Scientific References
1. S. Bubeck, V. Chandrasekaran, R. Eldan, et al.: 'Sparks of Artificial General Intelligence: Early experiments with GPT-4';
2. R. Kitchin: 'The Data Revolution: A Critical Analysis of Big Data, Open Data and Data Infrastructures'.
Leave your honest Udacity review
Leave your genuine opinion & help thousands of people to choose the best online learning platform. All reviews, either positive or negative, are accepted as long as they're honest. We do not publish biased reviews or spam. So if you want to share your experience, opinion or give advice - the scene is yours!