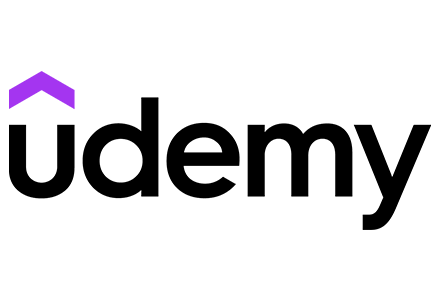 There's no denying that Udemy is one of the most popular and well-known online learning platforms in the world. But with such notoriety, people have rather conflicting opinions about the site. In this Udemy review, we are going to try to see and analyze which of the claims are legit and which are complete bullocks.
We'll start off by briefly talking about the platform itself - what it is, what purpose it serves, and so on. You can't really analyze an e-learning platform without getting to know it, now can you? Once we've got that out of the way, we'll take a look at the platform's courses, services, and general customer feedback.
Finally, we'll see if we can draw a clear and concise conclusion on whether Udemy is a legit platform dedicated to learning and teaching, or if there are better alternatives.
Let's begin.
Pros
Huge variety of courses
Easy to navigate
No technical issues
Seems to care about its users
Cons
Pricing can be confusing
A bit dry in the feedback department
Table of Contents
Udemy Review: Introduction
Udemy, at its very core, is an educational platform. It was developed with the intention of providing an ability to learn new things to people who would otherwise not necessarily have the means of reaching the desired education.
Founded in 2010, it is the largest e-learning platform today, with more than 35 million students (or so they claim) enrolled in 100 thousand courses.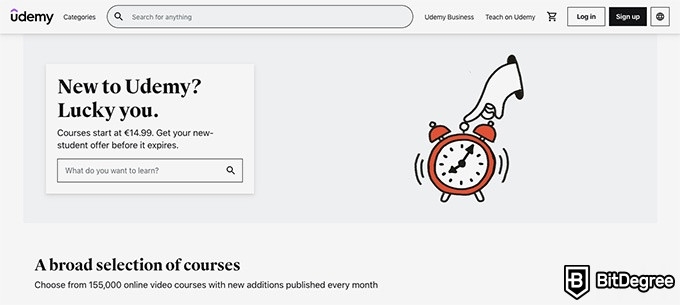 If you're a student, you can go to Udemy, register, pick a course and start learning - all for a fee, of course. There's a wide variety of courses to choose from, but most of them fall under the umbrellas of IT and business development.
If you're a teacher, you can also create an instructor profile and upload your courses on to the platform. Every time a student purchases your course, you earn a portion of the revenue, which is paid out monthly via PayPal or Payoneer.
Latest Udemy Coupon Found:
AS LOW AS $14.99
Top Udemy Courses For Less
For a limited-time only, you can purchase best Udemy courses for as low as $14.99! Use this Udemy coupon to save big on in-demand knowledge.
Expiration date : 24/03/2023
4,837 People Used
Only 19 Left
Ease of use
There are a lot of different criteria that we could use as a starting point for our Udemy review, and to find out are Udemy courses worth it. Probably the best criterion to begin with, however, is usage - or, in other words, just how easy is it to use and navigate the platform.
To begin answering the question "is Udemy good?", we can take a look at their landing page that you would encounter if you visit their site from a Google search or a direct URL.
The page itself is pretty straightforward - you'd see a promotional banner, a list of courses and some user reviews at the bottom of the page. The layout itself is ok - it doesn't make you feel lost and confused.
When it comes to the course page interface and seeing is Udemy worth it on this point, you can either choose the category and subcategory from a drop-down menu, or enter the keywords into a search bar.
Once you pick a course that you'd like to start learning, you'll notice that the designated page for that course is pretty generic and doesn't at all stand out of the ordinary - a preview video, course requirements and a description, user reviews, etc.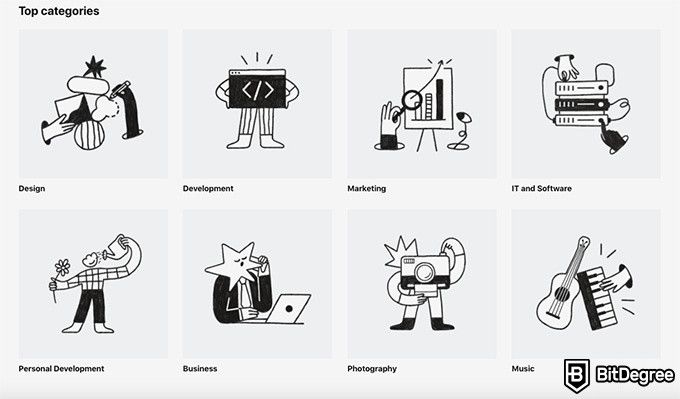 Keep in mind, this doesn't necessarily mean that it's a bad point for this Udemy review! A generic and familiar page can be inviting - it avoids possible confusion and gives you a feeling of familiarity.
The checkout process is also intuitive and familiar - you simply add the course into your cart, sign in (if you don't have an account - register), choose a payment method and, well… Start learning!
Overall, Udemy offers a pretty standard experience when it comes to the actual navigation on the site. One thing that does stick out, however, is their rating system.
A lot of Udemy reviews point this out, and it doesn't really go well with the question "is Udemy legit?" - most of the courses on the platform and online have super-high ratings, so it's safe to say that the platform is legit.

Did you know?
Content Quality
A very important aspect of any Udemy review, the quality of the content is one of the determinant factors when it comes to an online course marketplace.
In general (if you'd look at other user Udemy reviews online), there's somewhat of a mixed opinion going around. It's true that the majority of people say that most of the courses on Udemy are truly worth it. However, there are some (a small number of reviews) that claim Udemy courses do not offer the best quality.
Naturally, it would be almost impossible to check all of the courses on the platform to find out is Udemy worth it or is Udemy good. However, there's an important point to take into consideration - all of the courses on Udemy are (mostly) marketed by the instructors themselves.
No instructor is going to talk bad about his or her course - everyone exclaims that their lessons are the best in the world. Surely, Udemy should have a system to check the quality of the courses, right? Well, yes and no.

The site boasts that it has more than 100 thousand courses to choose from. It's quite frankly impossible that a company could "quality check" such an amount of courses. However, guessing from the quality of the courses, it's fair to say, that the company checks the majority of them.
If you've ever tried any other online learning platforms, you probably noticed that some courses offer amazing quality, whereas others are less good. However, that's just the way things usually are, it's difficult to ensure the top quality when there's such an amount of courses.
Features
It seems like an odd point, doesn't it? The platform offers courses, goddamn it! - what other features could it have? Well, in this Udemy review, features related to the actual functionality of the site - video player quality, additional things that you get for signing up or enrolling in a course, etc.
So, let's check is Udemy legit on this point, too.
First of all, the technical stuff. The video player, user interface and the downloadable content all seem to work fine. They're quite intuitive, don't crash or, at the end of the day, cause any bigger issues. Even though in their Udemy.com reviews some users do point out that they experience technical difficulties, I have encountered none of that.
When you purchase a course (at least this is the case with all of the courses that I checked out), you receive a lifetime access pass to that course, some downloadable content (usually - this depends on the topic) and a certificate of completion.
Udemy doesn't really advertise the certificates all that much (at least from what I've seen), so it's tough to say just how valuable they truly are.
A point of struggle seems to be the feedback. A lot of Udemy.com reviews include Udemy complaints about the fact that there are little to no responses received to certain questions that users may have.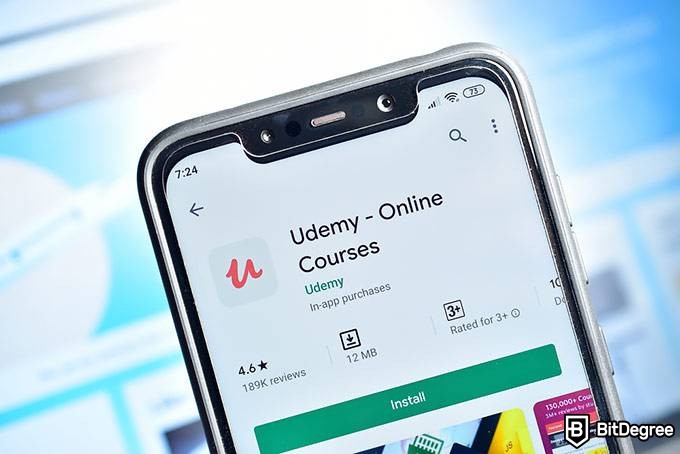 Most of the time, the instructors are the ones that answer questions and interact with their students. Furthermore, it's probably a bit unrealistic to think that the staff over at Udemy could manage to answer all of the student questions, seeing that there are more than 30 million students on the platform.
Still, if the company wants to minimize the amount of Udemy complaints, they should look into this issue.
Price
Ah, the question of pricing. This is probably the most prominent issue that a company like Udemy can face - it's always tough finding the correlation between user satisfaction and revenue generation. Let's see if the company has this figured out.
As the company states on its "Student FAQ" page, they are not the ones who price their courses - this is the instructor's job. This means that all of the prices that you see when you view the course list on the site are determined solemnly by the creators of those courses. One exception to that rule are promotions - both the instructor AND Udemy can offer promotions with a discounted price tag.
The general pricing on the site does seem to make sense. The prices do vary, and this is usually the main subject that comes up when someone asks "are Udemy courses worth it?". The courses with more information, tougher subjects and longer run-time seem to be more expensive than their counterparts - this makes sense.
There are also free courses that you can take, depending on your points of interest. Let me just jump ahead of your train of thought and say - free doesn't necessarily equal bad! A course being free can mean that it's on a promotion, or the instructor wants to build a name for him or herself and is simply looking to increase his student number and awareness.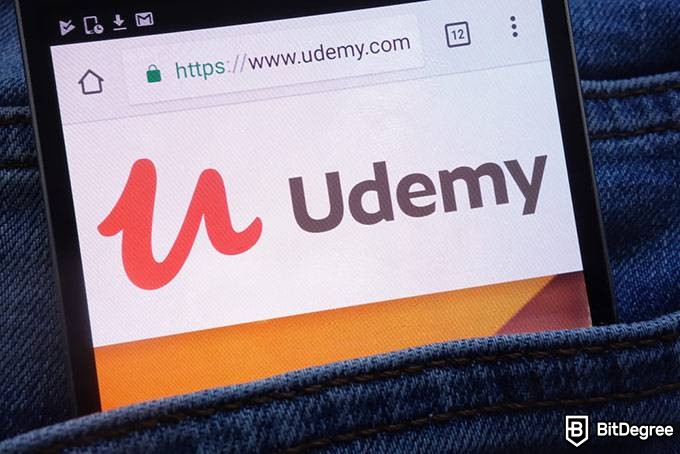 There are, however, user Udemy.com reviews that are very… Hm… Straightforward with their opinions about the pricing and quality ratios of certain courses. That's the thing, though - you never really know what you're getting until you actually purchase the course and start learning. Sure, each course offers a short video preview, but as some Udemy reviews point out, that's rarely enough to get a full-circle type of an understanding.
If you're interested in a certain course, you can look for its reviews online and see what other people think about it. You might find it very eye-opening.
Learning Experience
Finally, we have the learning experience. This is actually a really tough aspect to cover, since each person's learning experience depends on many different factors - the actual course that they've chosen to learn, internet connection speeds, general mood, expectation management, etc. However, there's always a general consensus on just how fun and worthwhile it is to learn on the platform.
On the platform, Udemy offers its instructors some advice about student engagement and the general quality of learning. It seems as if the company really does care about what their students think, and want to improve the learning experience in any way possible.
In general, people seem to be satisfied with their experiences. Sure, there are still people wondering is Udemy good and who are leaving very negative Udemy course reviews, but that's quite unavoidable - it's frankly impossible to please everyone.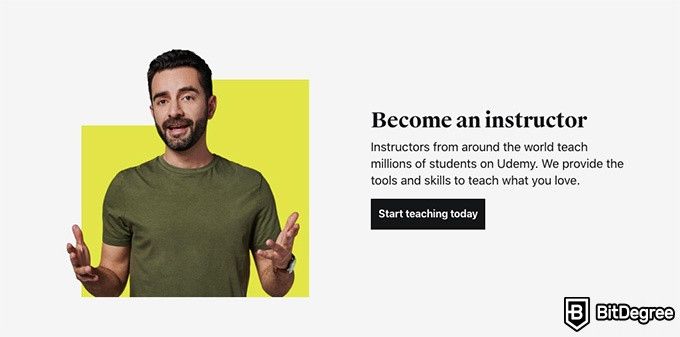 Overall, the company seems to be constantly trying to improve the learning experiences of its students. And, even though there will always be Udemy complaints when it comes to this specific topic, it's seemingly doing a good job at it.
Latest DataCamp Coupon Found:
EXCLUSIVE 67% OFF
On DataCamp Subscription
Follow the Datacamp promo code link & get an exclusive 67% OFF Datacamp subscription. Act now while the offer is still available!
Expiration date : 24/03/2023
2,765 People Used
Only 35 Left
Conclusions
An online learning platform aimed at teaching and educating a mass of different people from all around the world is a noble cause. Whenever such sites have good intentions and are focused on their actual goals and visions, they are always welcomed by the community at large.
Udemy seems to have preserved its reputation as a company that wants to educate people. It's beloved by learners from all around the world, and offers some amazing-quality courses, in addition to free learning materials, too. No matter what it is that you'd want to learn, Udemy should provide you with resources to do so!
So - we have reached the end of our Udemy review. With technical stuff, learning experiences, Udemy course reviews and everything in between, we've covered most of the common bullet points that come into question when thinking about an Udemy review.
I hope this Udemy review was helpful to you, and that you've learned something new about the platform and its functions. Good luck!
Leave your honest Udemy review
Leave your genuine opinion & help thousands of people to choose the best online learning platform. All reviews, either positive or negative, are accepted as long as they're honest. We do not publish biased reviews or spam. So if you want to share your experience, opinion or give advice - the scene is yours!