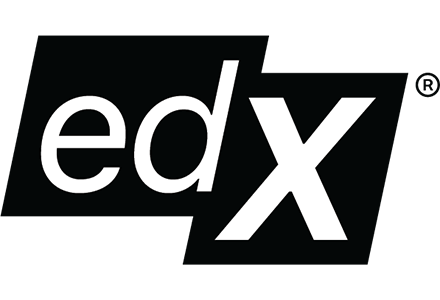 If you're searching for university-level online courses, edX is probably going to pop up on your radar once or twice. In order to decide whether or not the platform is worth your attention, you might want to check some other user reviews (and that's exactly what I'll provide you with). In this edX review, we're going to talk all about the site and its features.
I'll begin by telling you a bit about the company. After that, we'll move on to figuring out is edX legit - we'll talk about prices, features, content and everything in between. Overall, I'll highlight some of the main pros and cons of edX so you can decide whether this platform is for you.
Verdict at a Glance: edX is a premier online learning platform that partners with prestigious universities and organizations to provide a wide range of courses spanning academic subjects and professional skills. Learners can audit courses for free or opt for verified certificates, pursuing MicroMasters programs or even full-fledged degrees completely online.
Pros
A wide range of learning programs
University-level courses
Easy to navigate
Verified certificates
Free learning track available
Cons
Some courses have a hefty price tag
Not the broadest course subject variety
edX Review: Introduction
So, what is edX? To answer this question, let's begin this edX review by talking about the company behind the learning platform.
edX was founded back in 2012 by a few scientists from Harvard and the Massachusetts Institute of Technology. A bit more than a year later, the platform already had more than a million users.
In essence, it's an online learning-based, multiple course-holding platform that invites students to learn skills that would benefit them in either their personal or career lives.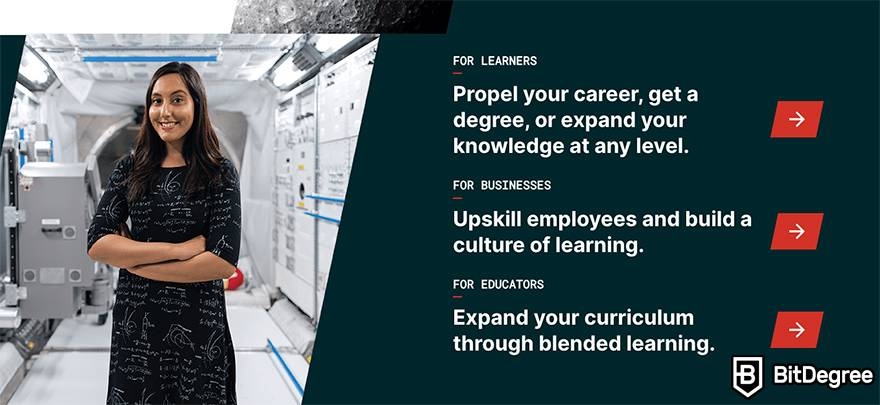 However, edX stands out compared to some other popular online learning providers, as it deals with professional education courses, has exclusive services for high schools, is partnered with some huge corporations (i.e., Microsoft or Harvard University), and is focused on allowing people to learn "anytime, anywhere".
As you can probably tell, edX isn't playing around - the company aims to become one of the leading MOOC sites in the world. FYI, MOOC stands for "massive open online course," and it has become a very prominent learning method[1].
Now that you have a general idea of what is edX, we can take the next step in this edX review and discuss is edX worth it or not. We'll begin this discussion by talking about the pros and cons of the platform.
Latest Edx Coupon Found:
UP TO 20% OFF
Special edX Black Friday Deal
Take advantage of this edX Black Friday coupon - enter the code CYBER23 & get 20% OFF! Learn from biggest experts for less.
Expiration date : 02/12/2023
1,827 People Used
Only 45 Left
edX Review: PROS
The first question I want to tackle in this edX review is what are the main benefits offered by the platform?
Smooth Platform Navigation
The usage of a platform is one of the main factors that determine its success. Sure, there are many different variables that come into play. Still, things like the smoothness of the user interface, navigation and everything in between are usually the aspects that give off the first impression about a site.
I remember when I first visited the main page of edX, my impression was that I'd just entered a university website. I guess this is what they were going for, seeing that they offer "professional, university-level courses".
I really like the page - it's simple, contains only the necessary features, and avoids trivial information or annoying popups. I can immediately see the sections of all of the different courses to choose from, the search bar, the partner list - everything right in front of me!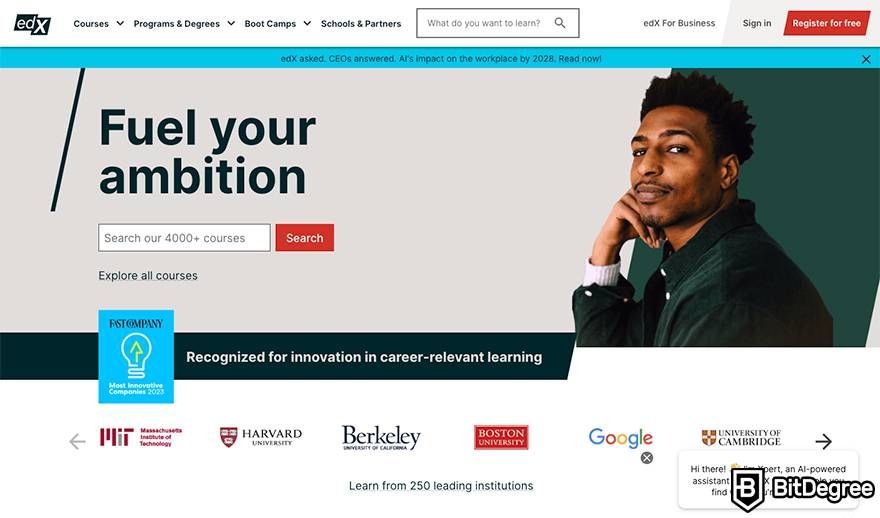 If a visitor doesn't need to wander around the website looking for something essential - that's a good sign! I have to say that I agree with many of the edx.org reviews - so far, the experience is great.
Now, you can keep exploring further, but I suggest registering first to get the whole experience. Just press "Register for free," and you'll be taken to a pretty self-explanatory registration page where you have to fill in your full name, email, username you plan to use, password, and the country you reside in.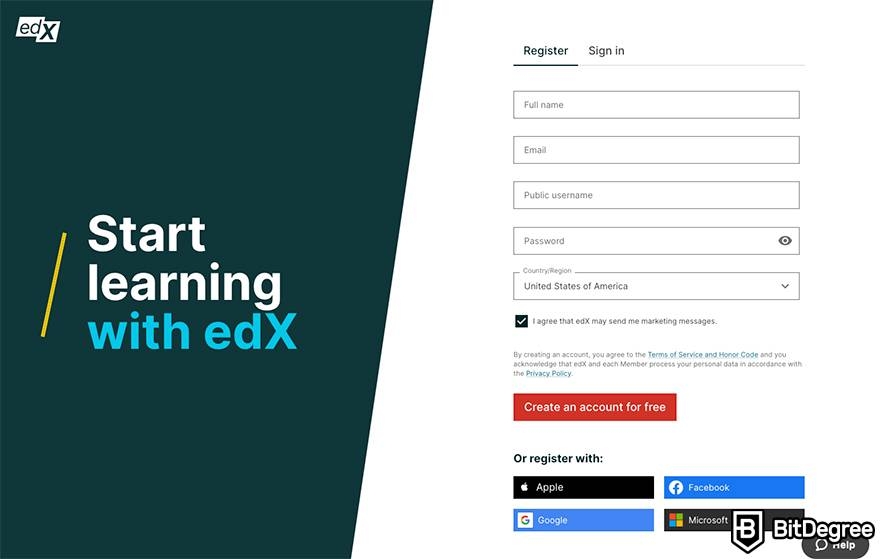 Honestly, the registration process on edX requires filling in a bit more information than some other online learning platforms do, but it's still smooth and fast. Besides, you can register with Apple, Google, Microsoft, or Facebook.
Once you fill in all that information, you'll be asked to answer a few questions for personalization purposes. Namely, what is your education level and gender. You do not have to answer them, though, you can skip this step.
After completing everything, you'll be taken to the "My Courses" page, which most likely will be empty. So, it means it's time to pick a course.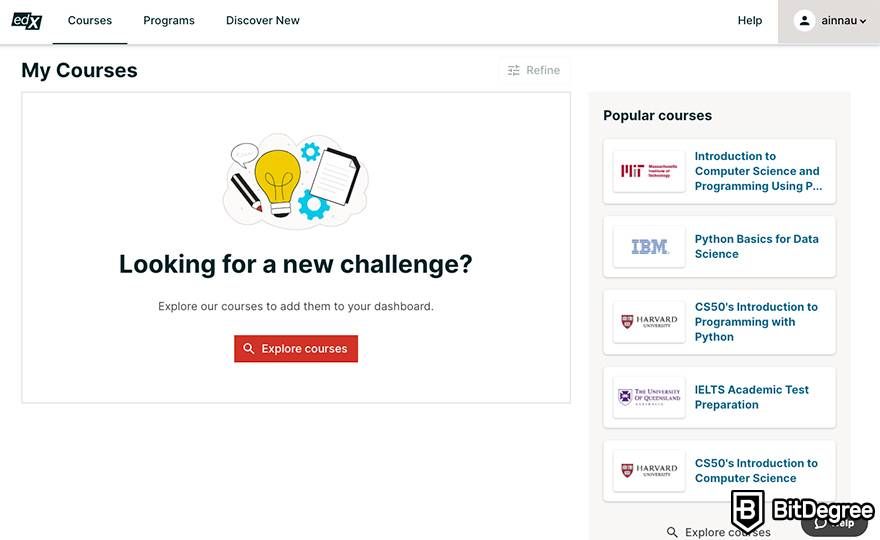 You could go to the "course" section or explore some of the other programs, degrees, or boot camps that edX offers (I'll elaborate on these later). They do have different payment options, description pages, learning dashboards, and whatnot.
Right now, however, I'll be talking about the most "basic" courses you can find (though nothing is really basic on edX, is it?).
So, when it comes to the courses, there's a variety of categories to choose from - everything from arts and philosophy all the way to economics, finance, and computer science. The UI is intuitive and well-organized, which means it's really easy to navigate around and find what you're looking for.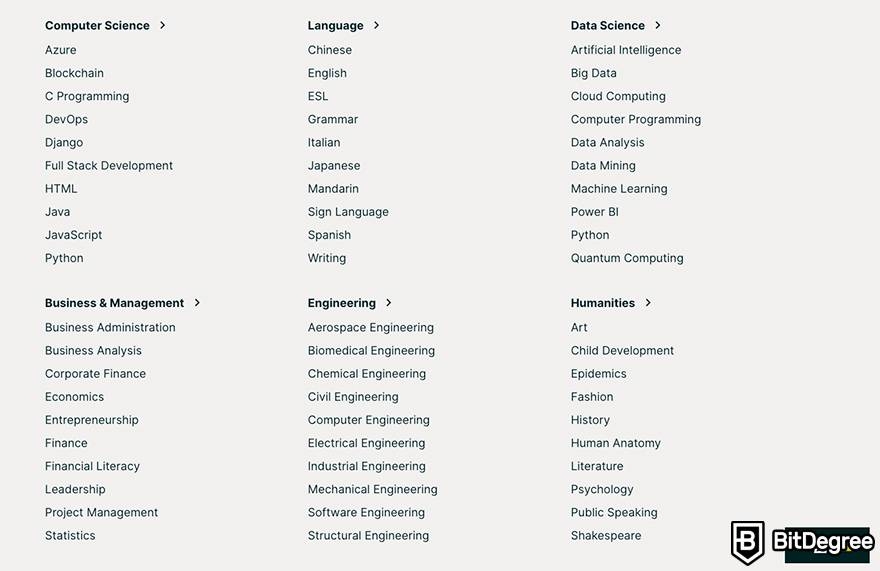 Now, I decided that one of the courses I want to watch should be on artificial intelligence because it's our future[2], right? I chose the "IBM: AI for Everyone: Master the Basics" course.
Once I entered the course page, I was greeted with all the general information that I would expect - a short description, an introductory video, and the primary information about course length, price, language, etc.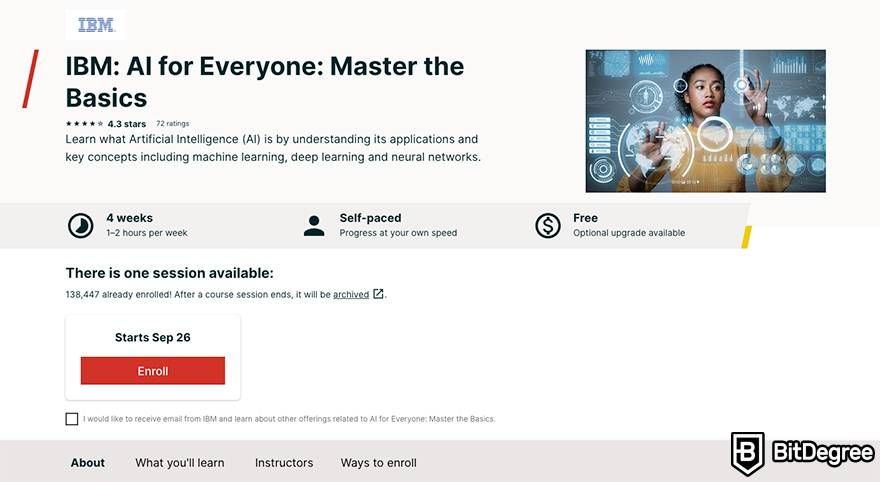 One thing that stood out to me (and not in the most positive way) was the course description. Not necessarily the things that are written - that's all good - but how it's presented. The format is very basic - the first thing that you see and register is a wall of text.
I imagine that the company thinks (and justifies this) that people who are actually going to take the course don't mind reading a small wall of text, but some edX reviews would beg to differ. And, I would say, justifiably so - a wall of text that isn't even modified with any types of styles or colors isn't really in line with the motivations to "learn something new".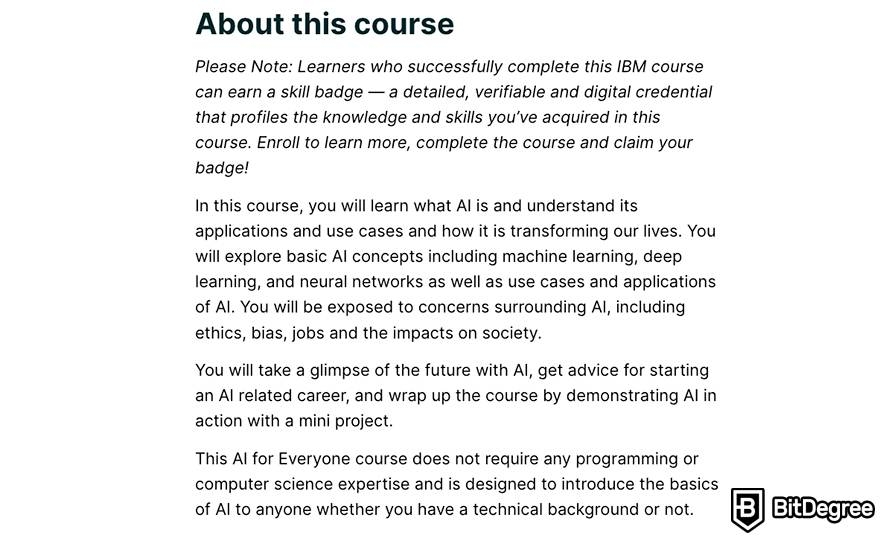 Speaking of poor styling choices, the platform used to have this "testimonial section" that did not receive the best edX reviews in the past. The whole section used to literally be a couple of lines of plain text (no photos, no styles, no nothing) with the tag "learner" attached at the very end, as if this would somehow make it a legitimate testimonial.
Some students who came to the website, picked a course, and read the "testimonials" were sometimes left wondering, "Is edX legit?" or "Is edX worth it?" However, I don't see this section in current course pages, so I believe the company saw the negative edX reviews and solved the issue.
Getting back to the course at hand, as you move further, you'll see a summarized version of what you'll learn, who your instructors are, and who can take the course. All that information is presented in a short, easily readable manner.
Also, you'll notice that you can take this course in two ways - with a certificate or for free (I'll elaborate on that later).
Now, the last thing that's left to discuss when it comes to the functionality of edX is the course dashboard.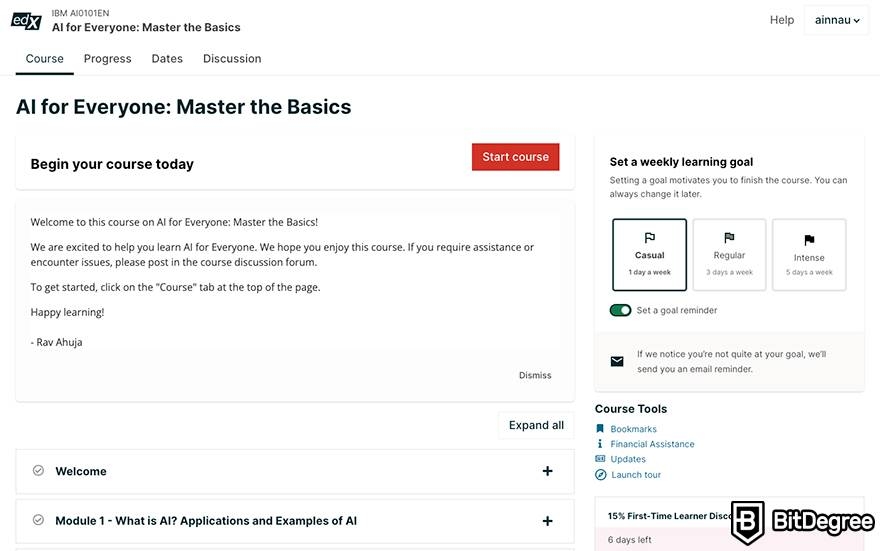 After you enroll in a course, you'll see a message from the instructor, the course structure, and some important dates (like the expiration of your course or assignment deadlines). You'll also be able to set your weekly goals and goal reminders, which is a pretty nice feature.
Once you start the course, you'll be provided with reading material where you'll find the course syllabus, who the course is for, the grading scheme, and so on.
When you finally go over all that material (and let me tell you, there's quite a lot of it, like in an actual uni), you'll see that the course dashboard does not look like your usual e-learning platform dashboard.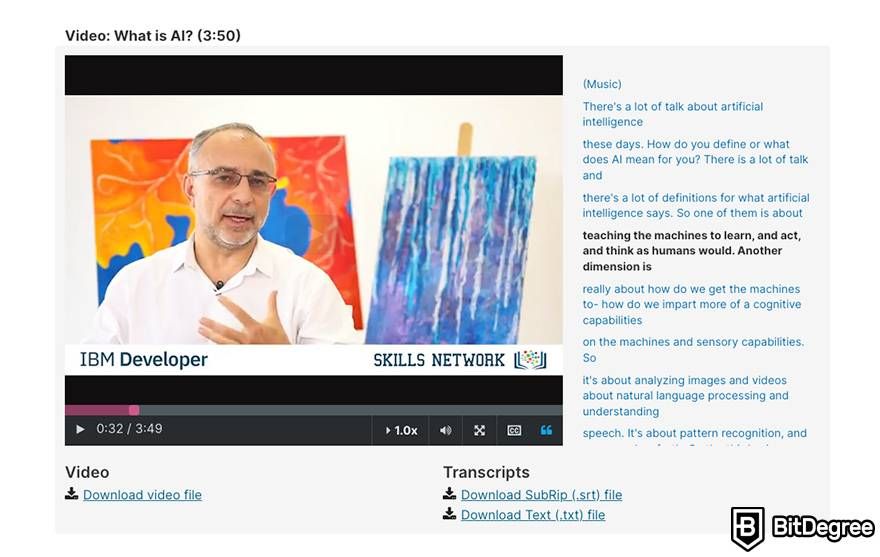 The video player is similar, but what goes around it is different. You have the player to the left and the transcript to the right. Then, below, you have the option of downloading the video and the transcript.
That's cool, but I do miss the notes tool, which is present on many other similar platforms. Guess you'll have to go the old-school-note-taking way, like a true university student.
Nevertheless, the edX course dashboard is pretty intuitive and easy to navigate.
Course Quality That Meets University Standards
Now, let's talk about the content quality of edX. I think I can safely say that it's the main thing that determines whether a platform is successful or not. A site can have world-renowned professionals, high-end server performance, state-of-the-art graphics and visualizations - if it lacks quality in its content, no one will bother with it.
Sure, people will probably get hooked the first time they visit the site, but word-of-mouth spreads like wildfire, especially in the internet age.
When it comes to edX courses reviews, some of them are quite conflicting. I'd say it's actually somewhat of a phenomenon - I have yet to see such conflicting opinions about the quality of the courses offered on the site.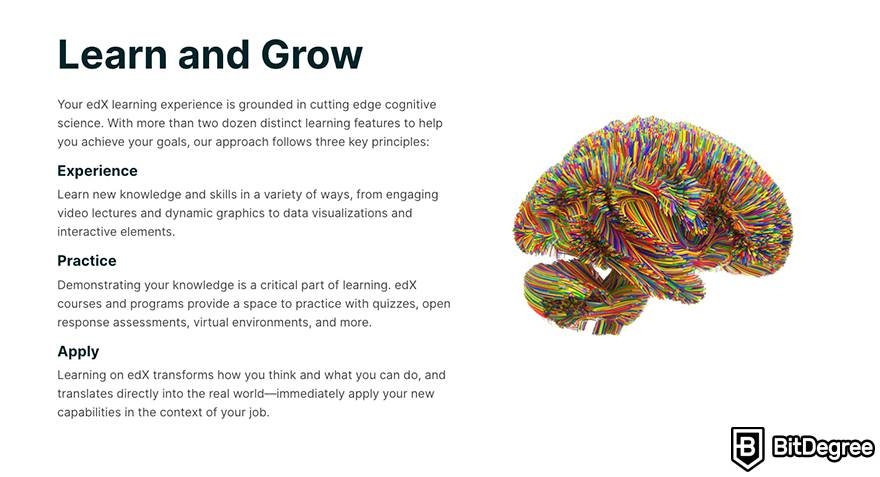 The majority of people answer the question, "Is edX worth it?" with an almost overly optimistic "yes!". These edX reviews claim that the students have had a wonderful experience, learned everything that they needed and got more than they were paying for.
However, some students who were asked, "Is edX legit?" have given an answer that would sound something more like a "no!". These edX reviews claimed that the courses were relatively poor in the quality department - whether because of the instructor or the technical difficulties experienced on the platform itself.
They stated that the courses were "poorly made, feedback was tough to get, there were some grammar and spelling mistakes, etc." On the technical side of things, some edx.com reviews stated that the platform tends to crash - Mac iOS users seemed to experience this the most.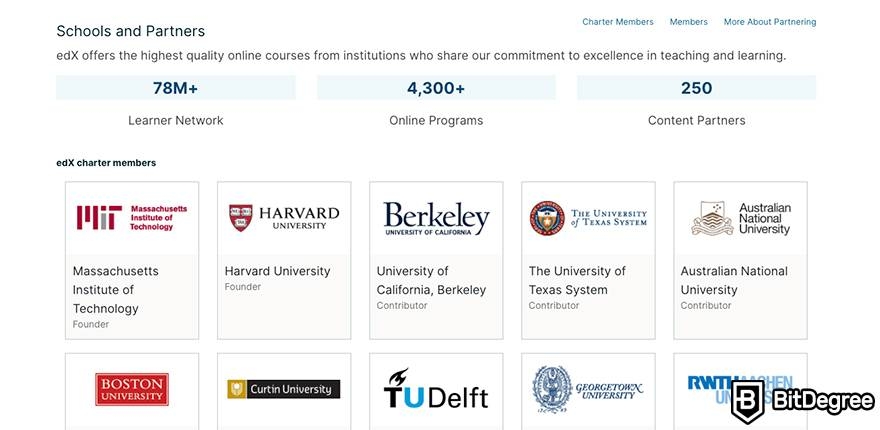 While I can't speak for everyone, I found that the quality of the edX courses I've watched is actually very good, and I didn't experience any crashes (I am a Mac iOS user, by the way).
Naturally, however, with the website hosting as many different courses as it does, it would be extremely unfair to generalize and say that "all edX courses are good" or "all edX courses are bad".
That being said, though, edX proclaims that, since it works with prestige universities and companies, it guarantees its students the highest quality of courses and programs – that's what the "verified" flair on most course thumbnails is for.
A Huge Variety of Learning Options
Exciting and cool features help online learning platforms stand out from the crowd. That is why every platform aims to offer its students something unique and exclusive only to the site in question.
As many edX reviews state, the company offers a wide array of learning options that students can choose from, such as different types of programs and courses. The following are the main ones:
One-off Courses. Standalone, individual classes offered on the edX platform to take at your leisure. They allow learners to focus on specific topics without committing to an entire program or series of courses. As you already know, these courses cover a wide range of subjects.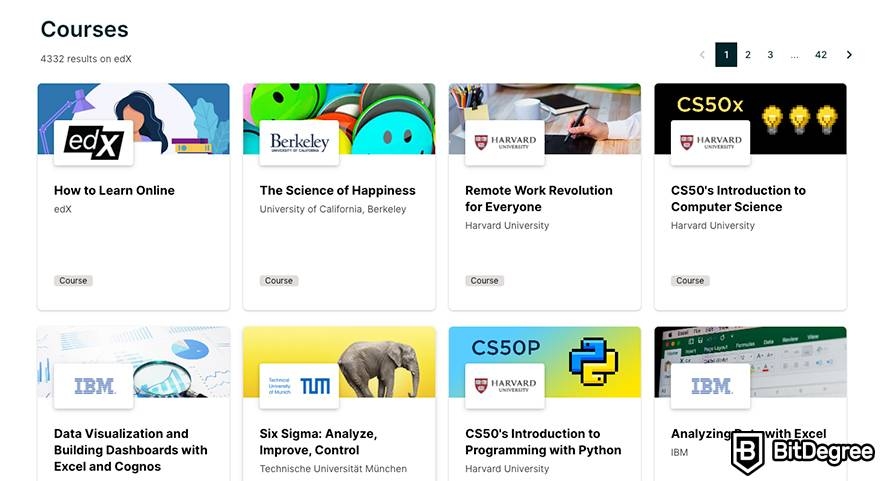 Professional Certificate Programs. Curated sets of courses designed to equip learners with specific, practical skills for their careers. These programs are developed in collaboration with top universities and industry leaders, providing hands-on learning experiences and a tangible certificate upon completion.

MicroBachelors and MicroMasters Programs. Comprehensive, stackable credentials designed to help professionals perfect their already-possessed skills even further or gain new ones. MicroBachelors programs offer a series of courses equivalent to a semester of traditional college coursework, while MicroMasters programs delve deeper into specific subjects, often offering a pathway to credit for a full master's degree.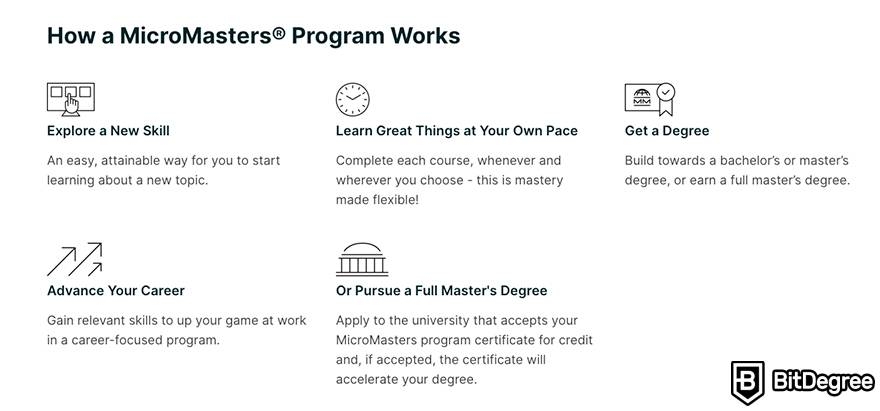 Bachelor's, Master's, and Doctorate Degrees. Programs made in collaboration with prestigious universities and institutions. These programs provide a comprehensive and structured curriculum, allowing learners to earn a formal degree entirely online. They cover various academic disciplines and offer a flexible learning experience.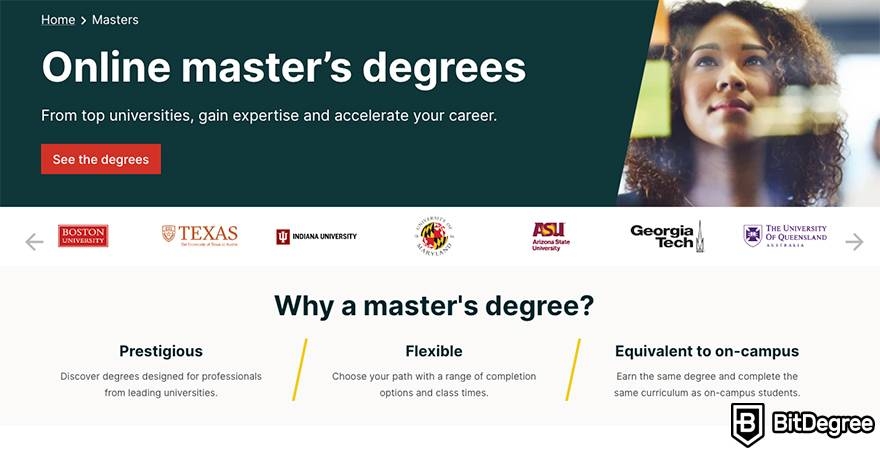 Executive Education Programs. Specialized courses designed for professionals seeking to enhance their leadership and management skills. They cover a range of business and leadership topics and are designed to fit into busy schedules.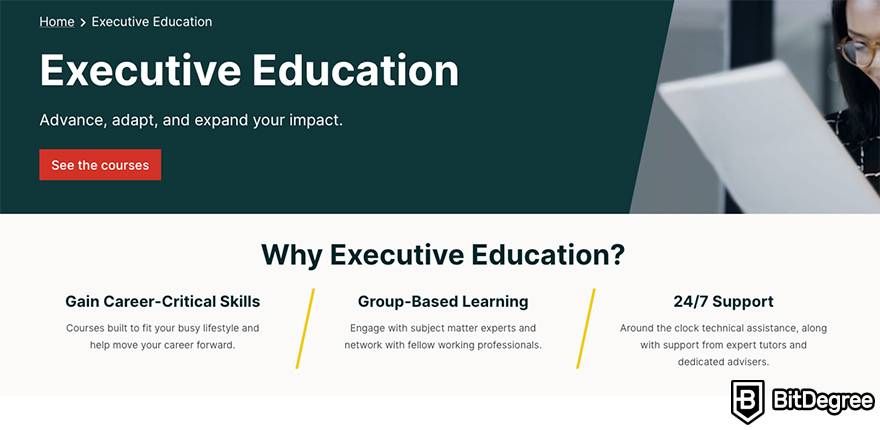 Boot Camps and MicroBootCamps. Intensive, short-term programs designed to equip learners with practical, job-ready skills in specific industries. Boot Camps offer more comprehensive training, often lasting several months, while MicroBootCamps provide shorter, focused learning experiences.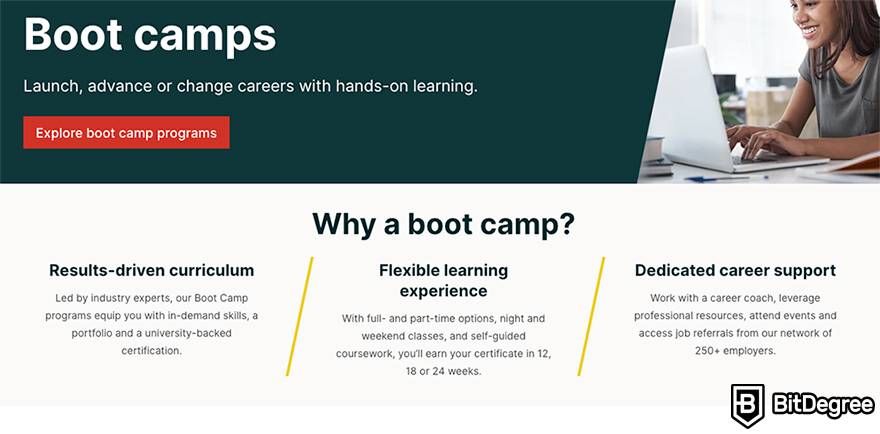 XSeries Programs. A series of courses that help students get a deeper understanding of a particular subject. They offer a comprehensive learning experience, often spanning several months, and are designed to enhance expertise in a particular field. Upon completion, learners receive a certificate that showcases their proficiency.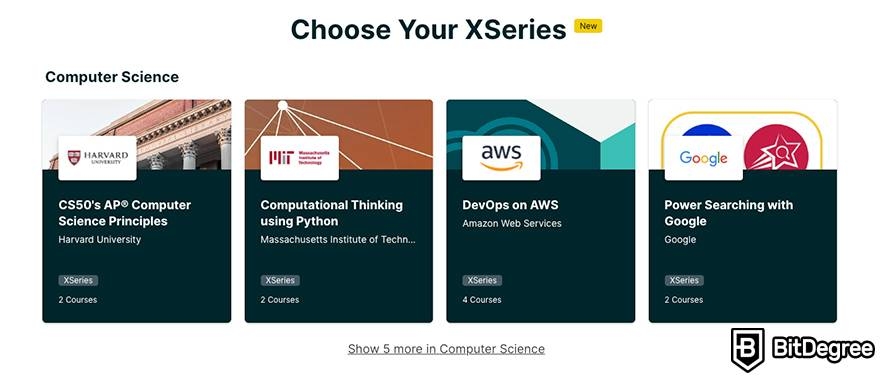 Global Freshman Academy. A unique program offering high school students and prospective college students the opportunity to earn college credits online. It provides a flexible and accessible way to start their higher education journey, allowing them to complete college-level courses before officially enrolling in a university.

As you can see for yourself (and as many of the positive edX reviews state), the platform is truly rich in terms of the number of choices that it provides to students.
In addition to all that, however, keep in mind that it also offers the edX for Business option, which is a corporate learning solution that provides access to a diverse range of high-quality courses for employee upskilling. It offers flexibility and scalability to meet the specific learning needs of organizations.
Audit (Free) Learning Track
Another great benefit of edX is that it allows students to take the audit track, which allows them to delve into course content without paying. It's somewhat like a free course, except for the fact that it's not a separate course made specifically for free.
Instead, it's an option that allows you to almost fully explore a paid course. You get access to course lectures, readings, and other educational materials without the financial commitment.
You can choose the audit track on courses that feature the "Free" tag. However, keep in mind that not all courses provide this option. Boot Camps and Executive Education courses, for example, never do.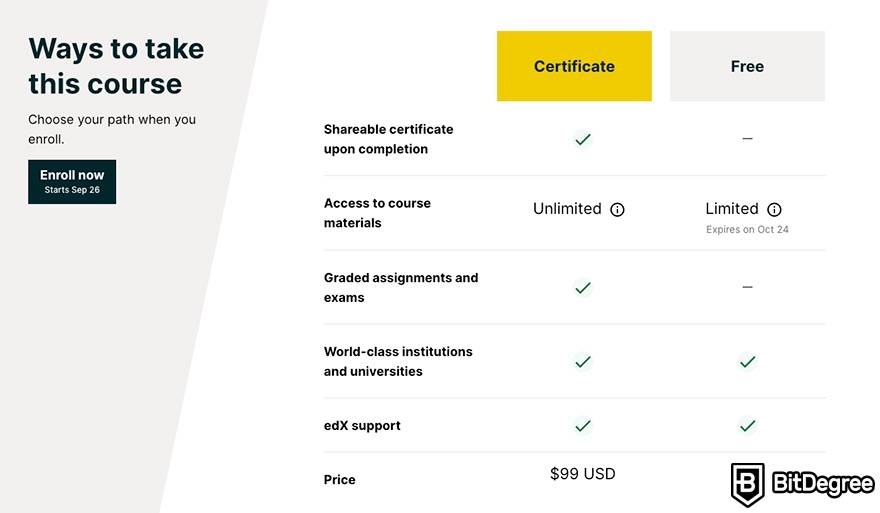 While participating in the audit track, you also have the freedom to explore the subject at your own pace, engaging with the course materials in a way that suits your individual learning style and schedule. This flexibility is especially beneficial for those who are self-motivated and prefer a more independent learning experience.
However, while the audit track grants access to the course content, it does not provide you with graded assignments or a certificate. So, this track is an ideal option if you are primarily interested in acquiring knowledge and skills for personal enrichment or professional development without necessarily needing a formal recognition of your achievements.
If you need tangible credentials, though, you'll have to upgrade to the verified track, which, obviously, is paid.
Verified Certificates
Speaking of tangible credentials, one of the biggest pros that you'll see highlighted in most edX reviews is the fact that it offers verified certificates. edX certificates are verified by prestigious institutions and universities the courses are made in collaboration with. Thus, they serve as a tangible validation of your effort.
Each verified certificate is uniquely designed, often featuring the emblem and signatures of individuals from the institution it was verified by (for example, the University of Michigan). This gives the certificate an air of authenticity and authority, making it a credible addition to your professional portfolio.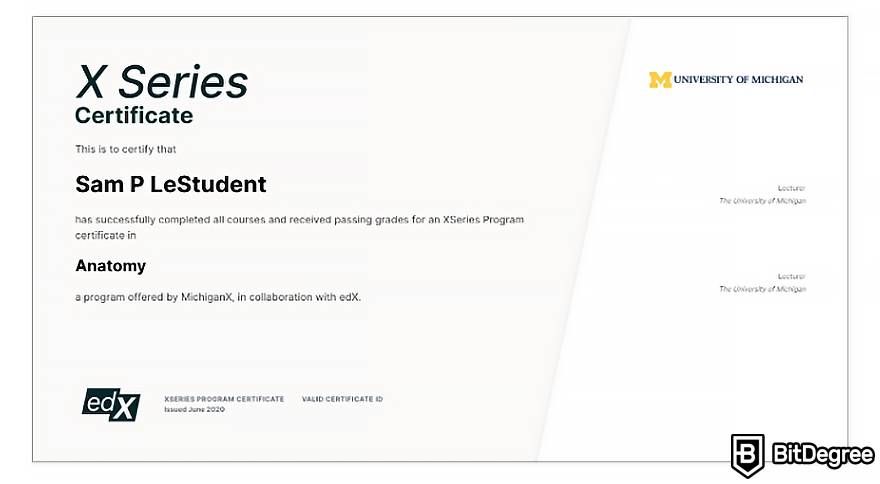 Speaking of which, credibility indeed is the most notable benefit of edX verified certificates. Compared to some other online learning platform certificates, which are mostly suitable simply for showcasing your accomplishments on LinkedIn, edX certificates are accepted by most employers as legit proof of your skills.
However, as you already know, to obtain a verified certificate, you'll need to pay for a course – you will not get one if you choose a free course. Nevertheless, I think it's worth it, given that it's an actual certificate that provides something more than bragging rights.

Did you know?
edX Review: CONS
Now, edX surely has a lot of benefits. It is, after all, one of the biggest MOOC providers on the market. However, it's only natural that it might have drawbacks as well. Two of the most prominent ones you'll find on most edX reviews are limited subject variety and limited community interaction.
Not the Broadest Course Subject Variety
Don't get me wrong, there's A LOT you can learn on edX. However, it may be perceived by some users as having a more specialized focus compared to some other online learning platforms. This means that you might not find courses on some very niche or specific topics.
However, it's important to note that edX excels in providing high-quality courses in academic and professional fields, often developed in collaboration with prestigious universities and institutions. So, it's unlikely to find a course on building a miniature zoo prepared by Harvard University, right?
Limited Community Interaction
Another drawback mentioned in some edX reviews is that, while the platform does provide discussion forums and community features, some may find that the level of interaction among learners is comparatively lower compared to its competitors.
This means that learners might have fewer opportunities for collaborative learning, group discussions, or networking with other students.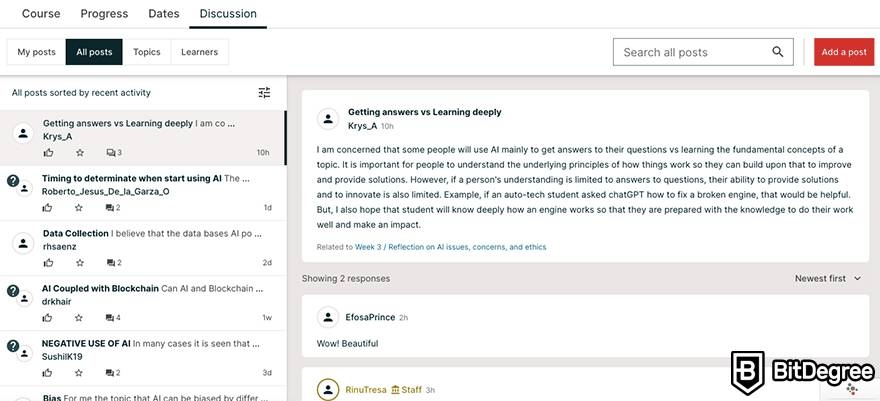 While independent study can be a valuable mode of learning for many, those who thrive on group interactions and seek a strong sense of community engagement might find this aspect less fulfilling on edX.
Nevertheless, it's important to consider that the level of community interaction can vary depending on the specific course, the instructor's approach to fostering discussion, and the interests of the learners enrolled in a course.
edX Pricing Options
The price of courses on online learning platforms tends to be one of the most touchy of subjects. It's really tough for companies to strike a balance between making revenue and keeping the students happy and satisfied. edX is no exception.
If you were to go online and look at some negative edX reviews, chances are that a single topic is going to keep coming up - price. Some people leave quite negative (usually - 1 star) edx.org reviews because they are "disappointed in the direction that the company is taking with pricing".
These people claim that the company has set out to make learning available to everyone and anyone, but is now putting huge price tags on their courses, which directly contradicts the above-given statement. Is that really the case? Well... yes and no.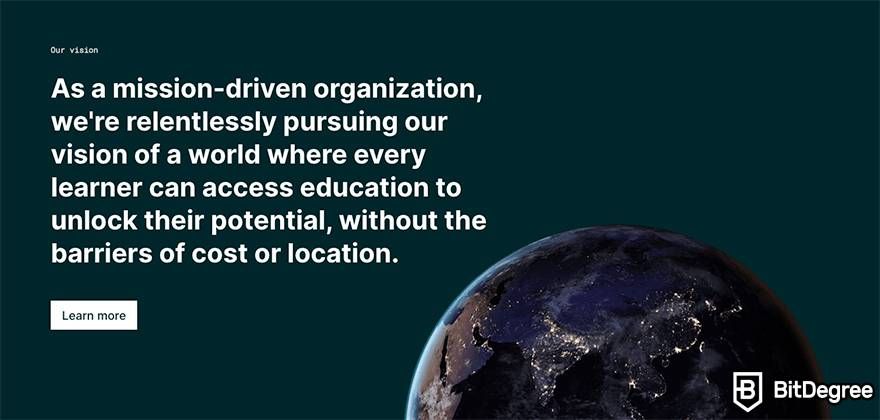 As I've already mentioned in this edX courses review, there are two types of course tracks that students can take - verified and audit. The audit course track is free of charge, which means that anyone can use it at any given time.
You know the drill, this track allows you to learn the course material for free, but you won't receive a certificate of completion afterward.
When it comes to the verified course track, the price usually starts at around $50 and goes all the way up to $300. That might be a lot of money for some. And, talking about other program and degree prices, they vary even more and go even higher, depending on what exactly it is that you're looking for:
| | | | | | |
| --- | --- | --- | --- | --- | --- |
| Professional Certificate Programs | MicroMasters and MicroBachelors Programs | Boot Camps and MicroBootCamps | XSeries Programs | Executive Education Programs | Bachelor's, Master's, and Doctoral Degrees |
| from $299 to $1,500 | from $500 to $2,500 | from $1,000 to $5,000 | from $135 to $1,000 | from $500 to $5,000 | from $2,000 to above $10,000 |
We can clearly see that the price tags really do tend to get a bit, well… pricey. So, is edX worth it?
Some might argue that, given the issues with the quality of some courses and the functionality of the platform itself, it might not be. However, I would say that the company offers university-level courses, so the prices do make sense (and many edX courses reviews state the same).
Besides, apart from the free course track, edX also offers a financial aid program that provides reduced fees for courses in the verified track. Eligibility for this program is based on your income and employment status.
You can apply directly through the platform. Though, note that financial aid is granted on a course-by-course basis, so you might need to reapply for each new course.
Ultimately, I can say that edX does have some costly price tags, but it also offers various options for those who seek free education.
Learning Experience: It's Never Just Black or White
Now, as one of the last points in this edX review, let's talk about the actual learning experience of the platform. While it is true that this factor is very case-dependent, many different variables come into play and create a general vibe when it comes to learning on edX.
In general, people seem to be somewhat divisive when it comes to their learning experiences on the platform. One thing that I've noticed is that there isn't really a middle ground - people are either really happy with the results or leave quite disappointed edx.org reviews on other websites.
It's actually a really strange phenomenon - it's rare to find a platform that would have such different (almost opposite) opinions surrounding it.

In my opinion, though, edX offers a lot of great online courses - it's just that a few rotten apples have managed to slip through and poison the whole batch, so to speak. Besides, the platform is easy to navigate, it offers a huge variety of learning options, and you can access many of the courses for free!
Of course, if you plan to take a course on edX, it's probably a good idea to read up on some specific online edX reviews - you might even find those that cover the specific course you want to take.
edX Course Suggestions
Speaking of picking a course, here are a few course recommendations I have for you:
Obviously, these are just a few of many edX courses. If none of them seem of interest to you, or if you're searching for another type of learning format (a Boot Camp, for example), I'm sure you'll find what you're looking for on edX.
edX VS Competitors
Now, the only thing that's left to discuss is how edX compares to some other popular online learning providers.
edX VS DataCamp
DataCamp is one of the top players in the MOOC world. The key points of the platform are the following:
It's a specialized platform focused exclusively on data science and analytics.
It offers hands-on learning through interactive coding exercises.
It provides practical projects for real-world application of data skills with a focus on career advancement.
So, while edX offers a diverse range of university-level courses across various disciplines, DataCamp provides specialized training in data science with a strong emphasis on hands-on learning and career development. The choice between the two depends on a learner's specific interests and goals.
Table: edX and DataCamp comparison
edX VS Udacity
Udacity is another popular online learning service provider. It can be described as:
A platform that specializes in tech-related courses and Nanodegree programs with a focus on practical skills.
A platform that offers industry-aligned content developed in collaboration with tech companies.
A platform that emphasizes hands-on projects and real-world applications.
Thus, compared to edX, which provides a broad spectrum of courses across different disciplines, Udacity specializes in tech-focused training with a strong emphasis on practical skills and industry relevance.
Table: edX and Udacity comparison
edX VS Udemy
Lastly, we have Udemy, which I'm sure you've stumbled upon when searching for online courses. It is known to:
Boast a vast library of courses across a multitude of topics, including both mainstream and niche subjects.
Have courses created by individual instructors, offering practical skills and often at a lower price point.
Emphasize flexibility, allowing learners to start and complete courses at their own pace.
In summary, while edX offers diverse courses with an academic focus, often provided by prestigious institutions, Udemy provides a wide range of courses created by individual experts, emphasizing practical skills and flexibility in learning.
Table: edX and Udemy comparison
Latest DataCamp Coupon Found:
CLAIM 50% OFF
DataCamp Cyber Monday Deal
DataCamp Cyber Monday special is here! Enjoy a massive 50% off on DataCamp plans. Subscribe now and redefine your data and Al skill set for the better!
Expiration date : 02/12/2023
5,324 People Used
Only 36 Left
Conclusions
So, we have reached the end of my edX review. It's clear that this platform is widely accepted as one of the leading online learning service providers. While it might have some places to work on, it certainly deserves your attention.
Its diverse university-level courses allow learners to delve into a wide array of subjects. Besides, the availability of verified certificates adds a tangible credential to one's accomplishments.
All in all, edX is one of the most recommended online learning platforms that can be a great place to improve or learn new skills. It's worth considering for any avid learner.
Scientific References
1. A. S. H. da Piedade Fernandes: 'A Study on the Importance of MOOC Mode of Learning. Research Trends in Education and Teaching Strategies';
2. K. Aggarwal, M. M. Mijwil, A-H. Al-Mistarehi, et al.: 'Has the Future Started? The Current Growth of Artificial Intelligence, Machine Learning, and Deep Learning'.
Leave your honest Edx review
Leave your genuine opinion & help thousands of people to choose the best online learning platform. All reviews, either positive or negative, are accepted as long as they're honest. We do not publish biased reviews or spam. So if you want to share your experience, opinion or give advice - the scene is yours!