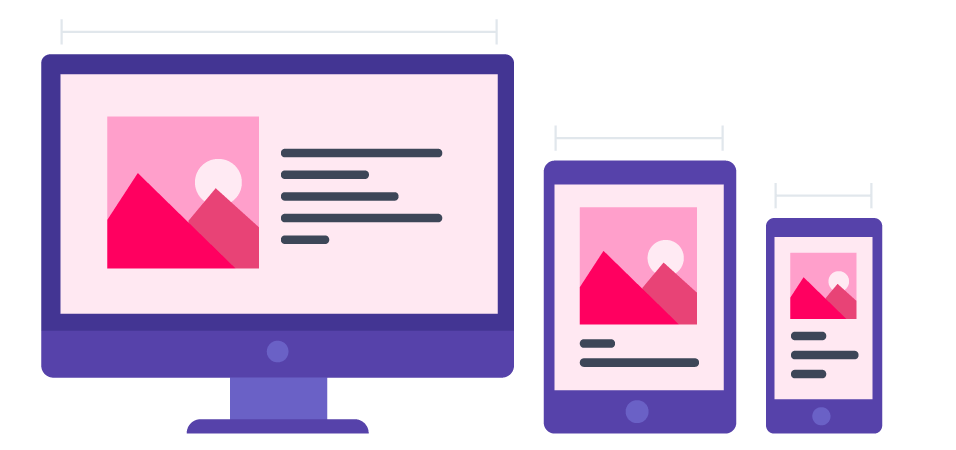 Use of Media Queries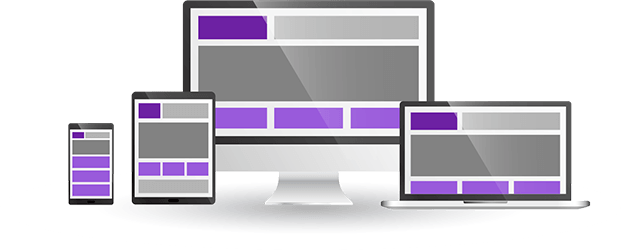 CSS media queries are for developing responsive media designs. They let you control the way websites look on different screens.
This example changes the background color based on the specific size dimensions of mobile devices (992px for tablets and 600px for phones):
To guarantee the best user experience, you need to make sure that your pages adjust to screen sizes, device-orientations, or display-densities.
CSS @media at-rule sets specific CSS properties to style websites only when conditions are met. For instance, the @media can indicate that the layout changes when pages load on mobile devices, tablets, desktops, or laptops.
Here is an example of a responsive website reacting to different sizes of windows:
How to Write a @media Rule
This example sets a simple responsive design. It responds when the screen reaches 600px. The background color changes for smaller screens:
In this example, we use media queries with CSS max-width and float properties to create a responsive navigation menu:
Using @media rule paired with CSS max-width, we can change the alignment of elements by applying different float and width properties:
The example below shows a menu that floats to the left of the page when the viewport reaches 600 pixels or more. Otherwise, it will appear on top:
Components of Media Queries
A media query consists of the media type and media feature.
Media types indicate the category of devices and have the following values:
all: suitable for all devices.
print: suitable for data presented in the print preview mode.
screen: suitable primarily for screens.
speech: suitable for speech synthesizers.
Media features are optional expressions that indicate whether they are found in a page. Here are some of the common values:
width: sets the targeted width of the display area.
height: sets the targeted height of the display area.
orientation: sets the targeted orientation of devices.
resolution: sets the targeted resolution of the output device.
Logical Operators
You can create advanced CSS media queries by using logical operators and, only and not. Developers combine several media queries by separating them by commas.
and: combines several media features. Both need to be true.
only: applies styling properties only if the entire query matches.
not: negates a media query by delivering true when the response should have been false.
Breakpoints for Devices and Content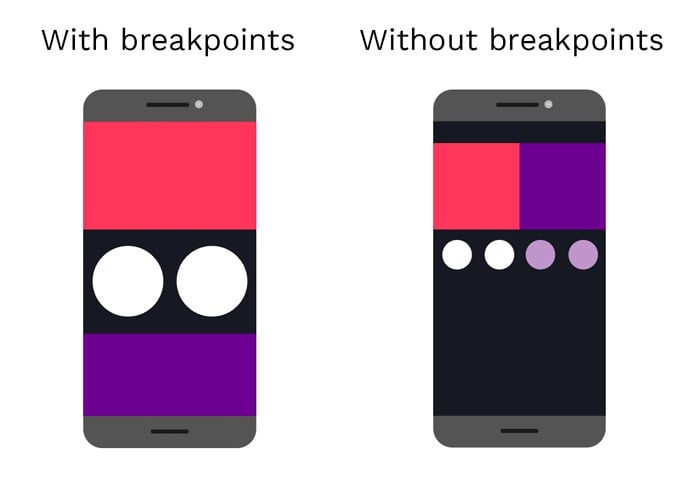 CSS breakpoints are a huge part of responsive designs. You use breakpoints with media queries to set points where websites adjust to the width of devices. Therefore, you can control the layout of websites and change them according to users' devices.
In this example, we add a breakpoint at 768 px:
There are CSS breakpoints for adjusting website layout and appearance according to devices.
Tip: developers no longer recommend device-based breakpoints as they result in long code and the constant need for updates (when new devices appear).
A better option is to add content-based breakpoints to indicate the place in your content that needs to respond to changes in screens.
Flexible Image Gallery
To make your image gallery responsive, you need to use a combination of CSS styling properties like flex, vertical-align, and max-width.
In our example, the original four columns become two columns or even a single column on the smallest screens:
Use of min or max-width
It is standard to set CSS breakpoints by adding CSS max-width or min-width. Beginners should learn that min-width is for setting breakpoints for mobile devices. In your code, you need to start by indicating the properties for smaller screens and then set the styles for the bigger ones.
Note: if your priority is larger screens, you should use the CSS max-width.
In some cases, an element needs to change appearance when the screen dimensions are very particular – more than x and less than y.
Assigning both min-value and max-value properties to a single @media rule allows you to determine these specific style conditions.
Always Design for Mobile Devices First
Designing responsive media for mobile devices makes the pages load faster on smaller screens.
We change the web design when the width is larger than 768px. So min-width must be 769px. This breakpoint is a characteristic of the mobile-first approach.
Typical Breakpoints

You can add as many CSS breakpoints as you need to guarantee that web pages respond to different screen sizes.
This example adds a CSS @media query (at 481px) and defines new classes for a screen larger than 480px and smaller than 769 px:
The classes are identical, but HTML can decide how columns react to each breakpoint.
Orientation: Portrait vs. Landscape
You can make the design responsive to the screen orientation. Specify the CSS style properties that will apply when the browser window is either in the portrait or landscape mode.
This example uses media queries and breakpoints to change the background color when the screen orientation is landscape:
CSS media queries can hide elements when certain criteria are true.
Mobile web users spend more time finding information on small screens. You can help them have a better experience by hiding the non-essential elements.
You need to set the display property to none when the width of browser windows gets smaller than a certain @media breakpoint, for example, 600px:
Changing Font Size
CSS media queries also adjust the font size based on the screen size. Making information easy-to-read is one of the major goals of any responsive website.
Check the following example to learn to use the font-size property together with @media rule and CSS width.
Responsive Media: Useful Tips