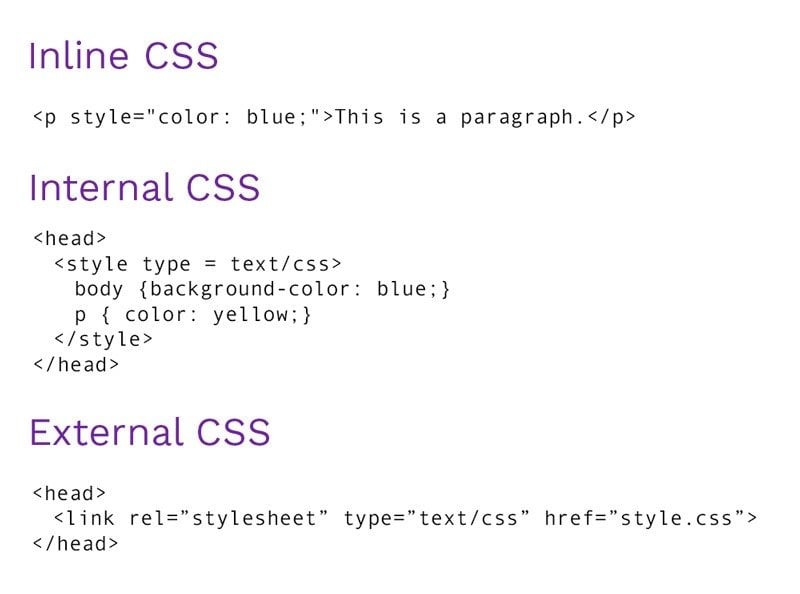 Internal CSS: Main Tips
You can integrate internal CSS stylesheets by placing the <style> element in the <head> section of a page.
Internal styles apply to whole pages but not to multiple HTML documents.
Several pages can be styled by repeating the same block of internal styles in them.
How to Use Internal CSS
Internal CSS in HTML means adding CSS code in the <head> section of the document. Styling changes apply to every specific element found in the file.
Tip: this is a solid option for one-page websites or when you cannot create external stylesheets for your project.
Look at this example to see how to add the <style> element containing CSS rules for all the page:
Internal styles are relevant to one page only. However, transferring the same <style> element to other pages is not an efficient practice for adding CSS to HTML documents.
Note: developers add styles in HTML by using internal stylesheets when they are creating templates for their clients or colleagues.
Internal CSS: Summary
By applying a style in HTML internally, you cannot reference this stylesheet with the <link> element.
Include CSS in HTML so it would be convenient to change and update content. Internal stylesheets can make website maintenance more challenging.
The best option is adding CSS to HTML externally. It means you create a .css file and link it to your website.