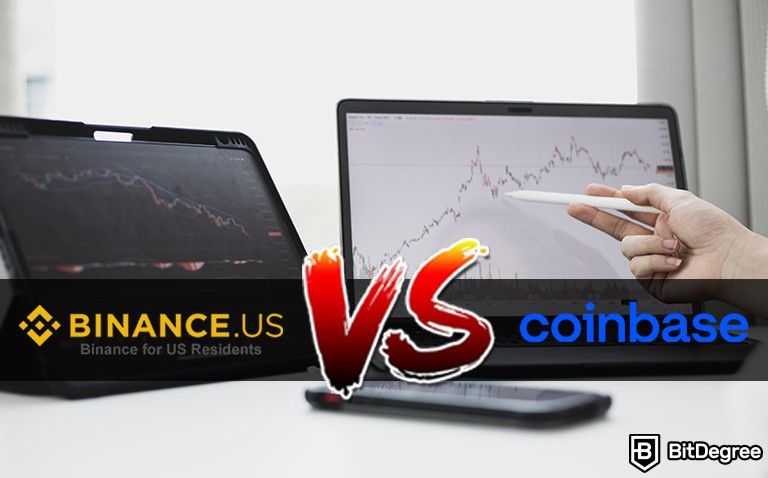 As crypto grows in popularity, so does the number of different cryptocurrency exchanges, too. These days, finding a reliable exchange platform isn't necessarily the simplest thing to do - thus, many people turn to comparing and contrasting a few exchanges that stand out from the crowd. In this Binance US VS Coinbase comparison, we'll be taking a look at two of the more-common names that you might come across.
Indeed - both names are probably quite familiar to any and all crypto enthusiasts out there. While it's not the original Binance exchange, Binance.US is a United States-exclusive exchange, and one that doesn't share any ties with the main Binance platform.
On the other hand, Coinbase is one of the older crypto exchanges, and the only cryptocurrency exchange that has gone public (at least as of writing this Binance US VS Coinbase comparison). This, in turn, makes it a rather established exchange platform!
If you'd like to compare and contrast more exchanges, or view more to-the-point data, make sure to check out our comparison tool, as well. For not, though, let's get to the exchanges in question!

Did you know?
Want to get smarter & wealthier with crypto?
Subscribe - We publish new crypto explainer videos every week!
What is an Automated Market Maker in Crypto? (Animated)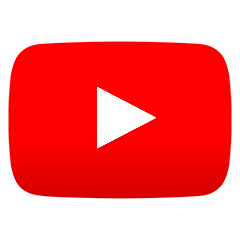 Binance US VS Coinbase: Comparison Criteria
Before we can start discussing the actual differences and similarities between Binance US VS Coinbase, it's worth to first establish some core features that we'll be using as the basis of our comparison.
Latest Binance Coupon Found:
CLAIM $600 BONUS
Exclusive $600 Binance Offer
Don't miss this limited-time deal that's only available for our readers. Follow the Binance referral code link & receive up to $600 in rewards and bonuses!
Expiration date: 04/04/2023
7,847 People Used
Only 49 Left
Of course, everyone is going to have their own preferences, and some specific things that they care about. However, while it's something that I try to stress in all of my crypto exchange comparisons, I feel the need to say it here, too - there are always going to be certain features that are simply mandatory to look into!
In no particular order, these features are security, fees, ease of use, customer support, asset support, and the general, overall popularity of the exchange. Let's look into each of those points, shall we?
Security. Do you care about the security and well-being of your cryptocurrency assets? Granted that you're reading this Binance US VS Coinbase comparison, I would assume that you do. If that's the case, then exchange security should always be the very main thing that you look into, when searching for the best cryptocurrency exchange platform for yourself. Sure, fancy features are nice, and can be really useful for all of your trading ventures, but if an exchange lacks security, those ventures could be cut short, by some hacker or thief. Either way you look at it, the point remains the same - security should always be the top priority!
Fees. Fees are a huge part of picking out a cryptocurrency exchange. It makes sense, too - comparing Binance US fees VS Coinbase ones can really tell you a lot about how much potential profit you're going to miss out on, and will have to pay as fees of either of the two exchanges. Note, however, that this doesn't only concern transaction fees - there are also withdrawal, deposit, and network fees that you'll need to pay, as well! Some of them can be mitigated or eliminated completely, while others - not so much. Thus, make sure to do the math, and weigh all of your options - cryptocurrency trading-associated fees should always be considered!
Ease of Use. The simplicity of using a cryptocurrency exchange - or, rather, the question of just how beginner-friendly it is - is something that has a pretty long history within the crypto space. Ever since crypto had started showing signs of being a promising concept that could one day be massively-adopted, all crypto-related service providers had also started to develop their products and services to fit industry newcomers, and complete crypto newbies. Granted that all-things-crypto are quite complicated, especially if you're new to the space, this is definitely an essential factor to consider, whether it be in this Binance US VS Coinbase comparison, or else!
Customer Support. Have you ever used a service, only to run into some sort of a problem, and not have where to turn for help? That is, admittedly, a rare scenario to find yourself in - these days, it would seem that every self-respecting product and service providers have at least some form of customer support to help the client out. As far as crypto is concerned, this hasn't been the case, for a long time! Evidently, though, even if you're looking for Coinbase Pro VS Binance US comparisons, chances are that customer support becomes even more important when there's money or financial assets involved. An important factor to keep in mind!
Asset Support. Asset support refers to just how many different crypto coins and tokens are supported on the exchange that you're looking into, whether it be on this Binance US VS Coinbase comparison, or else. If the platform supports a wide list of different cryptocurrencies, and those cryptocurrencies can be traded in a variety of different pairs, too, you'll be able to diversify your portfolio as much as you'd like. This is usually very important for day traders, and people who are trying to trade some of the more-niche assets, or those that have just recently launched, too. Whatever the case might be, it's definitely a point to look into, in this Coinbase VS Binance US comparison!
General Exchange Popularity. At first glance, this might come off as a pretty odd feature to name as being "essential", when you compare it with others discussed above. This is because this particular point might seem subjective - however, it's really not! The popularity of the exchange is usually measured by the number of users that it has attracted, in total, and just how many of those users are still active today. Metrics such as trading volume matter in this regard, too. In a very general sense, the popularity of a cryptocurrency exchange platform can help you understand whether it's a service that's reliable and trustworthy, or one that should be avoided, for peace of mind. Definitely something to consider, as we move on with the Binance US VS Coinbase comparison!
While it's clear that there are more points to consider, as far as picking out a crypto exchange goes, but the point here remains the same as we've established earlier in the Binance US VS Coinbase comparison - the above-discussed features are definitely ones that you'll want to consider and look into!
With them discussed and out of the way, though, let's move on to the actual Binance.US VS Coinbase comparison!
Binance US VS Coinbase: The Comparison
For the sake of keeping things concise and orderly, we'll advance through our Binance US VS Coinbase comparison in the same order as we did earlier in the article. With that in mind, security is the very first point to cover.
Security
While I've already stressed the importance of security a few times in this article, it's also worth pointing out the fact that this concept comes up in a few different shapes and sizes.
What do I mean by that? Well, whenever they hear the term "crypto exchange security", most people associate it with various features that are in place to safeguard your crypto assets. However, exchanges need to guarantee the security of their users' private information, as well! My point here is that there's much more to the security aspect than meets the eye.
The very first thing that should be noted when comparing Binance US VS Coinbase, security-wise, is that both exchanges are considered to be among the most well-respected platforms in the industry. This, in turn, should tell you that, at least as far as the fundamentals are concerned, you can expect both of them to be very reliable.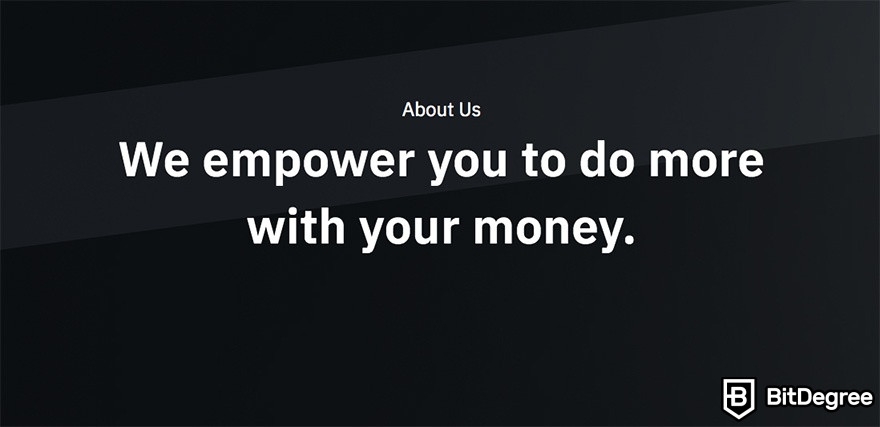 Both platforms have things such as 2FA, login checks, and other forms of authentication. In regards to Binance.US, things are actually a bit difficult - specifically, the exchange doesn't really have all that much information about the security features that it employs.
This is, admittedly, quite frustrating. Most exchanges have dedicated sections on their websites, where they talk about all-things-security. This is simply because of how important this factor is, in the grand scheme of things! With Binance.US, however, you won't find much information, whatsoever.
Don't get me wrong, though - that's not to say that this particular exchange ISN'T safe. All things considered, that definitely doesn't seem to be the case - instead, there's simply a lack of clear information regarding the matter.
With Coinbase, things are a bit more clear. You can expect industry-standard features, such as cold asset storage and leading data encryption methods, as well as some Coinbase-specific security measures, such as the Coinbase Vault. While this isn't a Binance US VS Coinbase Pro comparison, you can expect the latter platform to be similar, in that regard.
Table: General information about the features available with Coinbase
Naturally, we can't really talk about security without stressing the fact that both exchanges exercise strict KYC verification checks, when it comes to their users. Meaning, anyone who wants to trade or exchange crypto on either of the platforms will need to identify themselves, submit proof of their identity (in the form of a copy of your ID), residential address, and a few other details.
KYC isn't a topic that everyone in the crypto industry would agree on. The opposite is actually true - it's one of the most divisive concepts in regards to cryptocurrencies, and crypto-first services! No matter where you stand in that regard, though, one thing's for sure - KYC is definitely a good thing, if you care about the security and legitimacy of an exchange platform.
All in all, both platforms in this Binance US VS Coinbase are quite similar, when it comes to security. Granted that they're both very well-known and industry-leading exchanges, that shouldn't really be surprising.
Fees
As we've established earlier in the comparison, fees are both a varied topic, exchange-wise, as well as a pretty crucial one to look into, before you decide which cryptocurrency exchange platform is going to be best for you.
When talking about the Binance US fees VS Coinbase ones, let's focus on the trading fees associated with both exchanges. If you're looking for how much would deposits and withdrawals cost, these metrics don't usually have specific numbers attached with them. That's because it depends on the asset that you're depositing or withdrawing, the amount, the congestion of the network at that point in time, and so on.
So, when it comes to trading fees associated with both exchanges, I can tell you, straight off the bat - Binance.US will be the much better choice. Let's take a look at the numbers.

With Binance.US, your base trading fee will be 0,1%. While this is already an amazing number, you can actually bring it down, even more, depending on your "VIP Level". You can increase your level by trading crypto on the exchange - in other words, the more you trade, the better your fees are going to be.
That's not all, though. Recently, Binance.US has announced that trading Bitcoin with certain other assets (mostly - specific stablecoins) is going to be feeless. In other words, there's now a 0% trading fee for certain BTC pairs. This is incredible news for any Bitcoin fans out there!
With Coinbase, things are a bit less positive, though. The exchange has always had a reputation for employing some rather high fee models, when compared to the industry average. Currently, new traders on the platform can expect 0,4% and 0,6% maker and taker fees, respectively.
Table: Fee-related information of the Coinbase crypto exchange
Yes, the fees would go down, the more crypto that you'd trade. However, for anyone just starting out, these numbers are huge! It's true when you compare them with the industry average (which is around 0,25%), but it's even more so evident when you have Binance.US, and its 0,1% fee!
All things considered, it's pretty clear that, if you care about the fees that you're going to pay as you trade crypto on an exchange, Binance.US is the way to go here.
Ease of Use
The "ease of use" aspect is something that should be important to both crypto industry newcomers, as well as veteran traders, as well. That's because, with so many different features that exchanges are employing (i.e. P2P trading, NFTs, staking, etc.), even industry veterans can have a hard time figuring everything out, and some simplicity is always appreciated!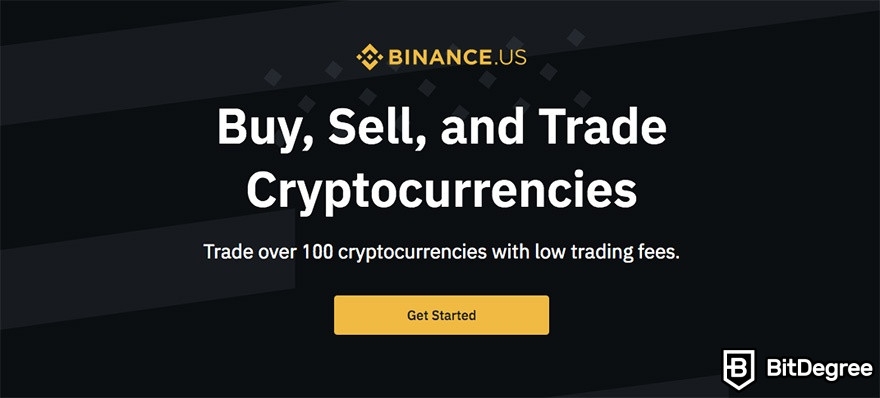 What's the situation in this Binance US VS Coinbase comparison, though? Well, I'm happy to say that, if simplicity is what you're looking for, you needn't worry about either of the platforms in question.
Binance is a brand that has had difficulties keeping its interfaces simple, in the past. The exchange has built up a reputation of not being very beginner-friendly. However, with time, this changed - with Binance.US, things are very different, as well!
The exchange in question employs a very straightforward and minimalistic user interface design. All of the available features are easy to reach and utilize, and there are no confusing menus that you'd need to navigate through.
Admittedly, if simplicity is what you're after in this Coinbase VS Binance US comparison, the latter platform will surely not disappoint. At the same time, the same can be said about Coinbase, as well.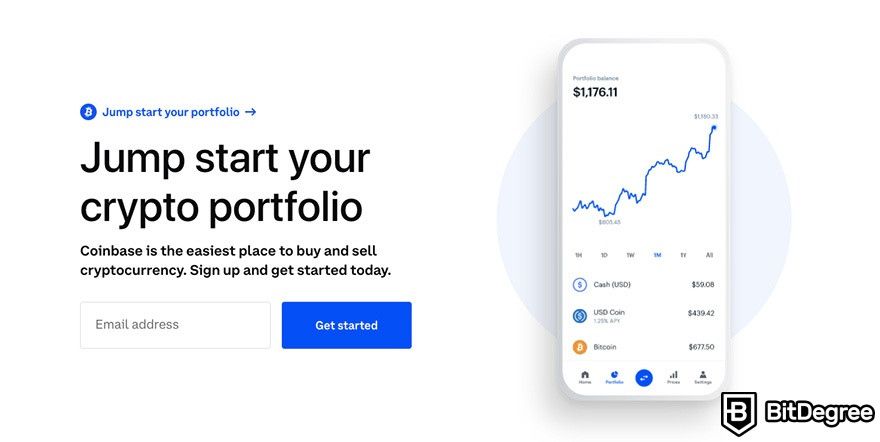 "Beginner-friendliness" and "Coinbase" have always been two concepts that are frankly inseparable. Even from a marketing perspective, Coinbase has always stressed the fact that they allow you to purchase and trade crypto in the simplest manner possible. That's quite true!
Whether you're looking for straightforward trading features, or some more-advanced functionality, Coinbase has got you covered - same as Binance.US, the exchange features a simplistic layout, and is designed with beginners in mind.

Did you know?
Customer Support
As we've established earlier in the Binance US VS Coinbase comparison, customer support is a crucial part of an exchange experience. Truth be told, it's not something that most people appreciate fully, until a need for support arises, and there's none to be found!
Looking at the history of customer support services and crypto, things are, well… Quite rocky. For a long period of time, crypto exchanges had little-to-no support services available, due to the anonymity and regulatory issues associated with these service providers.
With time, however, live customer support (via chat) has become the norm. At least in theory - what's the situation regarding this Binance US VS Coinbase comparison?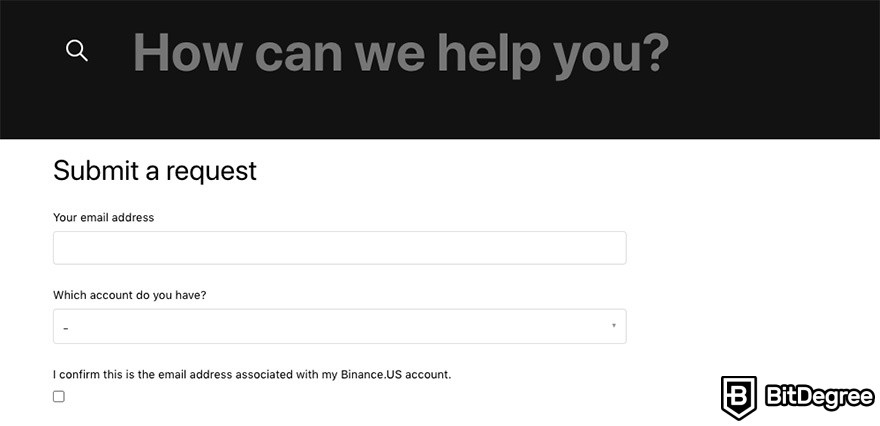 Well, with Binance.US, the situation is a bit complicated. There *is* a live chat function available, on the website, in addition to an information hub. However, your "live chat" would happen with a virtual assistant - at the end, if you wouldn't receive the answers that you're looking for, you'd be redirected to a ticketing system, where you could submit a ticket and wait for an email response.
That is, admittedly, not ideal - actual live chat functionality would be quite a bit more helpful, as far as solving urgent issues is concerned. However, at the same time, it's good that Binance.US still has support available, either way.

With Coinbase, on the other hand, things are a bit different. The exchange has live chat support, a FAQ section, phone support, as well as email support. That's a big variety of different channels to get help from!
At the same time, however, it's worth acknowledging that Coinbase has been "in the game" for a longer period of time than Binance.US. The established nature of the exchange, combined with its global presence (when compared to Binance.US, that is), results in just that.
Asset Support
The number and variety of supported crypto assets (both coins and tokens) can tell you quite a bit about a specific exchange platform. You see, while many people are still content with acquiring only the "main" cryptocurrencies (such as Ethereum and Bitcoin), there's an ever-growing number of individuals who are looking to trade a wider selection of assets.
This, in turn, means that there's pressure on cryptocurrency exchanges to list more assets. Some exchange platforms are able to keep up with the demand, while others - not so much.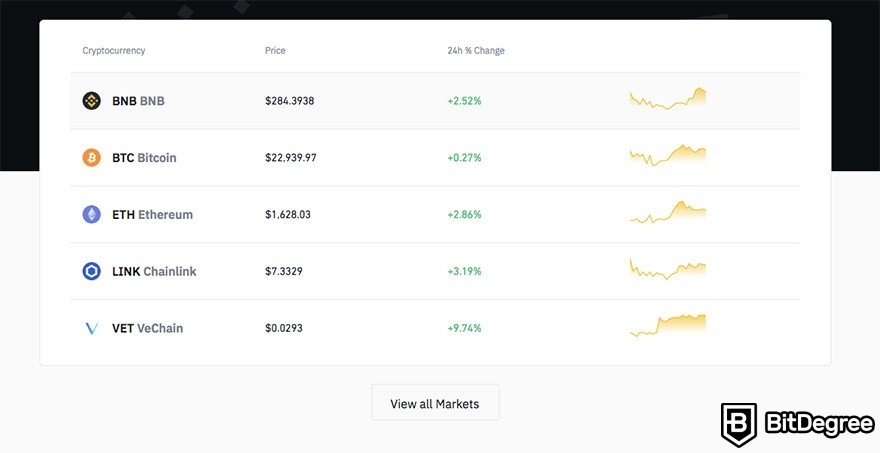 Take Binance.US, as an example. No matter if you compare Coinbase Pro VS Binance.US, or put this particular exchange up against any other platform, the fact will remain the same - Binance.US supports around 100 different crypto assets.
This number is, well… Decent. It's quite a bit lower than with many other exchanges, but is still good enough for the exchange's clients to be able to diversify their portfolios.
One thing that you should note, however, is that this number is heavily influenced by the crypto regulatory environment in the United States, at least when it comes to Binance.US. It's a pretty difficult situation - if you'd like to learn more about it, make sure to check out my Binance.US review.
Table: Some general stats of the Coinbase exchange
On the flip side, while Coinbase doesn't face the same regulatory issues, this particular exchange supports a very similar number of cryptocurrencies - around 100. Granted that this is a global platform that we're talking about here, this number could, for a fact, be quite a bit bigger.
All in all, the conclusion here seems simple - both exchanges support a similar number of different crypto assets. However, while Coinbase is accessible from multiple different countries around the world, Binance.US will offer its assets exclusively to individuals residing in the States.

Pros
Can be managed from mobile device
Very secure
Supports more than 1500 cryptocurrencies

Pros
Top-tier security
DeFi app support
Store over 5500 assets, install up to 100 apps simultaneously
General Exchange Popularity
To finish off our Binance.US VS Coinbase comparison, let's take a look at some numbers - specifically, what are the user counts on each of these two exchanges.
With Binance.US, things are rather difficult. This is because there isn't any clear data (read: specific numbers) on just how many users does the exchange house. It's a bit of a peculiar situation!
At the same time, reading through Binance.US VS Coinbase comparisons, you should keep in mind the fact that the former exchange is still considered by many to be one of the most popular exchanges in the US, trading volume-wise. This should give you a pretty good idea of where Binance.US stands, in that regard.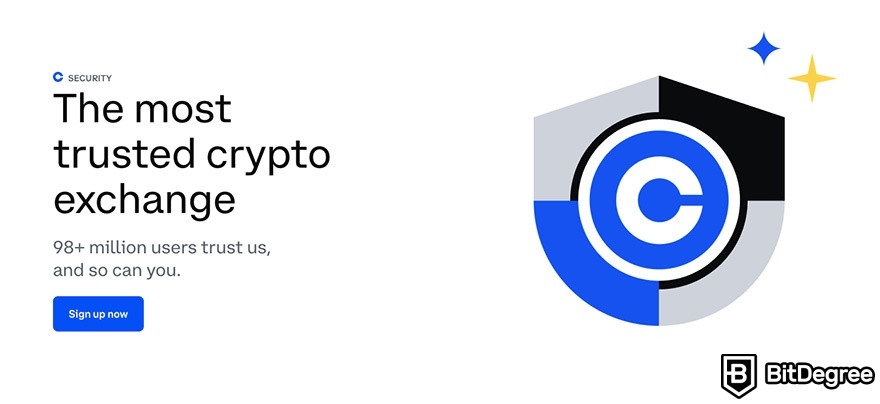 Coinbase, on the other hand, has nearly 100 million registered users worldwide. This is a truly huge number, but it does make sense, all things considered - the exchange has been around for a very long time, and is often considered to be one of the most popular crypto brokerage platforms, in general.
While Coinbase does, undoubtedly, house more users than Binance.US, it's not really a fair point to draw conclusions from, since while Coinbase is a global platform, Binance.US is United States-specific. There's a huge difference in just how many people can feasibly discover and register on both exchange platforms!
Conclusions
No matter if you're looking through Binance US VS Coinbase Pro comparisons, or those that talk about the former platform and Coinbase, there's one sentiment that you'll find echoed in a lot of user feedback - it's the fact that both exchanges are quite different from one another, even though it might not seem that way, at first glance.
Binance.US is a very specific exchange, designed with a very specific purpose - to bring crypto to US-based enthusiasts, and anyone who might be interested in acquiring and trading cryptocurrencies in the country.
On the other hand, Coinbase is a global brand. The exchange has an established reputation, and is the only platform of its kind to go public, on the Nasdaq (which is, once again, quite telling!).
If you're based in the US, though, Binance.US is probably going to be the better option, simply because of its general usability, as well as the fact that it has a variety of handy tools to aid its users with. Granted that the exchange was exclusively-designed to be used within the country, that makes sense!
If you'd still like to use Binance, but are NOT based in the United States of America (aren't a taxpayer in the country), you should check out the main Binance exchange. This particular exchange is often considered to be one of the best platforms of its kind, on a global scale!
With all of that being said, thanks for reading my Binance.US VS Coinbase comparison! Don't forget to take a look at our dedicated comparison tool, and until next time!
Leave your honest feedback
Leave your genuine opinion & help thousands of people to choose the best crypto exchange. All feedback, either positive or negative, are accepted as long as they're honest. We do not publish biased feedback or spam. So if you want to share your experience, opinion or give advice - the scene is yours!