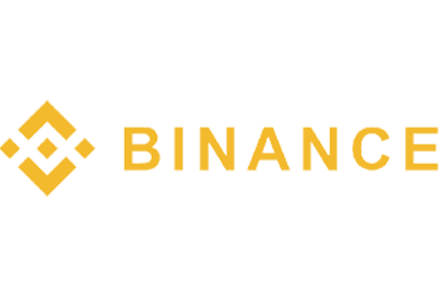 As cryptocurrencies grow in popularity, more and more exchanges are being created for buying, trading and selling different cryptocurrencies. This makes it more and more difficult to decide which exchange you're going to use.
Some are aimed at beginners, while others are better for more advanced traders. So, it's important to know which exchange is right for you!
This Binance review will give you a complete overview of the Binance exchange. Once you have read this, you will have a good understanding of whether it is the right exchange for you.
First, I will give you some background information on Binance, and how it has become one of the most popular exchanges to trade cryptocurrencies. I will then explain some of the advantages of using Binance, as well as some disadvantages, too.
There will also be a step-by-step guide on how to deposit, trade and withdraw coins, along with some helpful images. By the end of my Binance review, you will have all the information you need to start trading on the exchange by yourself.
Well, what are you waiting for? Let's go and discover more about Binance!
Pros
A very well-known crypto exchange platform
More than 500 different cryptos available
Two-factor authentication
P2P trading option
Emphasis on security and KYC
Supports fiat-crypto acquisitions
Cons
Might be a bit difficult for beginners
Binance Review: What is Binance?
Binance is an exchange that hosts crypto-to-fiat and crypto-to-crypto trades. This means that they do accept real-world money, such as U.S Dollars (USD) or Euros (EUR). The exchange was first created in 2017, and was originally located in China. However, as cryptocurrency laws are very strict in China, the exchange has since moved to Japan, a country that loves digital currency!
The man who created Binance is called Changpeng Zao, however, he is better known as CZ. Interestingly, CZ used to build some of the trading systems that are used in the Tokyo stock exchange. I guess he used this experience to help make Binance what it is today!

Before Binance opened their exchange, they raised money through an initial coin offering (ICO). This is very similar to crowdfunding, where people can invest to help a company get started.
However, an ICO is still different, as people invest cryptocurrency instead of real-world money. The Binance ICO raised the equivalent of $15 million, and in return, they gave investors their own cryptocurrency token, which is named the Binance Coin (BNB). Even though it's called Binance "Coin", it is actually a token, which is built on the Ethereum blockchain.
In 2017, people invested more than $5 billion in ICOs!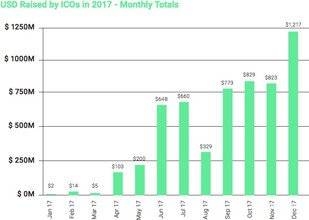 Binance has had a very successful start since it was created in 2017. They are now averaging more than $1 billion in daily trades, making them the largest exchange for altcoin trading. In fact, Binance grew so quickly, that in January 2018 they had to suspend new registrations. This was because too many people were trying to open a Binance account.
Fun fact: In one day alone, Binance received over 240,000 new account applications!
By reading my Binance review so far, you should now have a good understanding of the exchange's background. Now let's find out why you should use Binance!
Latest Binance Coupon Found:
SECURE $600 BONUS
Binance Christmas Sale
Sign up on Binance and claim up to $600 worth of rewards for completing simple tasks during this Binance Christmas sale. Use our Binance referral code (49316610) to activate the offer while it's still valid!
Expiration date : 12/12/2023
2,935 People Used
Only 67 Left
Why Binance?
Before registering a new account at an exchange for the first time, it is important to consider their advantages and disadvantages. This will ensure that you're choosing the right exchange for you.
Advantages of Binance
First up, let's discuss the actual advantages of this crypto trading platform.
✓ Huge List of Alt-Coins
One of the main reasons why the Binance exchange is so popular is because they list so many different cryptocurrencies.
INTERESTING FACT
There are now more than 10,000 individual cryptocurrencies, with new ones being created almost every day!
There are more than 500 different cryptocurrencies available at Binance. They range from well-known coins such as Ethereum (ETH) and Litecoin (LTC), to smaller coins like Shiba Inu (SHIB) and ICON (ICX). Coinbase, an exchange that sells more Bitcoin than any other, only lists a total of 50 coins!
✓ Low Fees
Another excellent feature of the exchange is that, when trading crypto-to-crypto, Binance fees are one of the lowest in the industry. Customers are charged 0.1% on every trade, meaning if you traded 1 ETH, you would only be charged 0.001 ETH!
Quick tip:
If you are trading with Binance Coin (BNB), you get a 50% trading discount!
Deposits are always free, but withdrawals do cost money. However, most exchanges operate in the same way. Withdrawal fees are different for each cryptocurrency, and change depending on their value.
BINANCE

The biggest amount that a certain cryptocurrency exchange allows to be fluctuated in one trading session.

-

The fee that you'll have to pay to a certain exchange for withdrawing your earnings from your account.

3.50% (min. $10.00)

The fee that you'll have to pay to a certain exchange for each trade that you perform on the platform.

0.10%
Visit site
Read review
Table: The pricing options on Binance
For example, at the time of writing, for every Litecoin (LTC) that you want to withdraw, it would cost you 0.01 LTC in fees. However, if the value of Litecoin increased, so would the withdrawal fee. This is because the fee is fixed to the price of Litecoin, and not top the price of USD (or your local currency).
There are no limits to the value of deposits you make, but if you want to withdraw cryptocurrency, then you would need to verify your account. This can be done by submitting identification, such as your passport.
✓ Prizes
Regular traders on Binance exchange have the chance to win prizes. These prizes change all the time, and have so far included free cryptocurrencies, such as Waves (WAVES) and Ontology (ONT). They have even a gave away a Maserati car! How cool is that!
✓ ICO Launchpad
Binance is well-known for listing new cryptocurrencies as soon as their ICO has finished. This shows that many crypto companies view Binance as their favorite exchange. Binance doesn't just list any old cryptocurrency, though, it has to really prove itself as a solid cryptocurrency for the exchange to list it.
✓ Security
Binance takes security very seriously, and customers are asked to set up two-factor authentication (2FA) when they register an account. 2FA is an extra level of security that sends a special code to your mobile phone every time you want to log in, trade, or withdraw funds.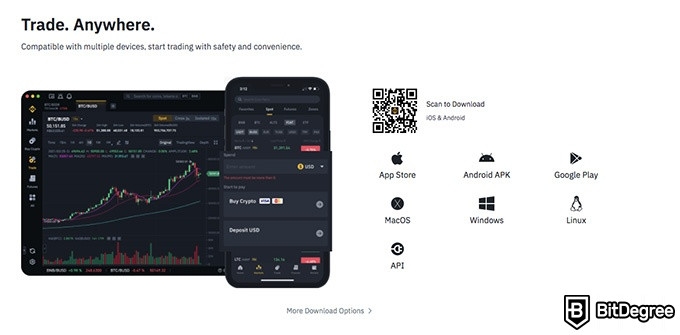 If you are still wondering "Is Binance safe?", the website also uses the CryptoCurrency Security Standard (CCSS) to protect accounts, which is an industry-standard for major exchanges.
✓ High Trading Volume
As Binance has become one of the most popular exchanges to buy, trade and sell cryptocurrencies, there are lots of trades happening all the time. This is an important factor as it means you have a better chance of selling your cryptocurrency immediately, if and when you need to.
For example, if you wanted to buy a cryptocurrency, but it has a low trading volume, then it's harder to buy because there aren't that many sellers. However, if lots of people looking to sell that coin, it will be easy to buy.
Fun fact: The technology supporting Binance can process up to 1.4 million transactions per second!
Latest Binance Coupon Found:
SECURE $600 BONUS
Binance Christmas Sale
Sign up on Binance and claim up to $600 worth of rewards for completing simple tasks during this Binance Christmas sale. Use our Binance referral code (49316610) to activate the offer while it's still valid!
Expiration date : 12/12/2023
2,935 People Used
Only 67 Left
Disadvantages of Binance
Now that we've discussed some of their advantages in this Binance review, let's take a look at a few of the exchange's less-than-ideal points.
✗ Customer Support
There are mixed reviews on the customer support offered by Binance exchange. Although you can contact Binance by email or live chat, some users have reported long delays. This might be because the exchange has a large number of customers, however, and thus, I hope that Binance will improve their response times. There is also no phone support, which is something offered by other popular exchanges like Coinbase.
✗ No Fiat Deposits or Withdrawals
One of the biggest disadvantages to Binance exchange is that customers can't deposit funds using traditional payment methods. Other well-known exchanges such as Coinbase, Kraken, Gemini, and HitBTC allow customers to use their debit or credit card. Some even accept bank transfers and PayPal!
BINANCE

Full legal business name of the cryptocurrency exchange.

Binance

The location where the cryptocurrency exchange company is based.

Malta

The year when the cryptocurrency exchange was established.

2017
Visit site
Read review
Table: Some general information about the company behind Binance
Because Binance doesn't support fiat deposits, it makes it impossible for beginners to buy a cryptocurrency for the first time. First, you would need to purchase a cryptocurrency like Bitcoin or Ethereum using fiat, and then you can deposit that into Binance and trade for other coins.
This also means that you can only withdraw cryptocurrencies from the Binance exchange, too.
UPDATE 2023: Binance now accepts multiple fiat currencies, including USD, EUR, GBP, and so many more. That being said, there are no limitations!

Did you know?
How to Use Binance?
If you have read this Binance review all the way through, you should now have a better understanding of what Binance is, what they do, and the advantages and disadvantages of using their exchange. I'll now show you how to use Binance! First, I'll explain how you can open a new account!
How to Open an Account at Binance?
Visit the Binance homepage and then click on "Register".
You will need to enter your email address and choose a strong password. Don't forget it!
Finally, you need to confirm your email address. You now have a Binance account!
When you log in for the first time, a notification will ask you if you want to set up two-factor authentication. Remember how I explained earlier that this protects your account?
So, enter your mobile number and complete the setup.
How to Deposit Funds at Binance?
In my Binance review, I explained earlier that the exchange does not allow customers to deposit using popular payment methods, such as a debit or credit card. This means that you will need to deposit with a cryptocurrency. The easiest way to do this is with Bitcoin or Ethereum, as there are other exchanges that allow you to buy them easily with fiat money.
1. Move your mouse over Wallet and then click on "Fiat and Spot".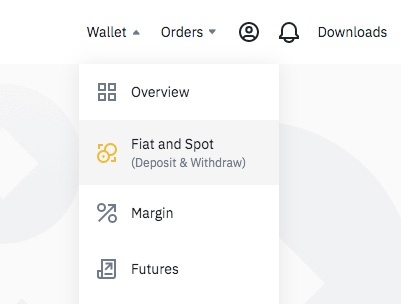 2. Click on the Deposits button, and you will be redirected to a new window.

3. You will now need to select the currency and payment processor that you'd like to use. Next, you'll be asked for the amount that you'd like to deposit, and will need to add your card (if you chose a bank card as your go-to deposit method, that is).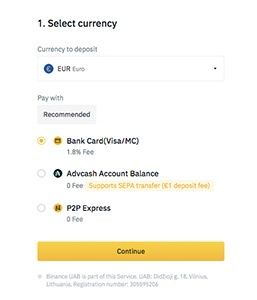 4. After a few confirmation windows, and assuming that you've already passed all of the relevant KYC checks, your funds should arrive to your fiat wallet in a matter of minutes. That's it!
If you were to deposit crypto instead of fiat money, you would instead navigate to "Wallet", then press "Deposit", and pick "Crypto Deposit". Then, just pick the crypto that you'd like to send to your Binance wallet.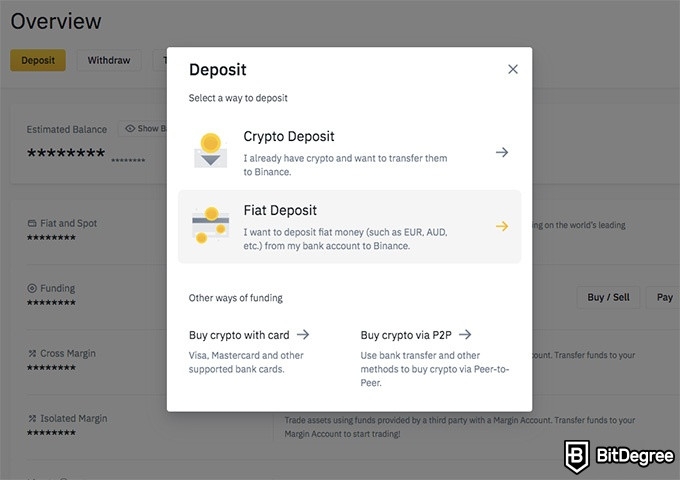 You need to copy the deposit address. Then, you need to go to your cryptocurrency wallet and transfer the number of cryptos you want to send to your Binance account. It is very important that you send the coins to the correct Binance deposit address. Make sure you double-check the address after copy and pasting it.
Once your deposit has been confirmed by Binance, your Total and Available balances will be updated.

Congratulations, you have now funded your Binance exchange account! I will now show you how to make your first trade!
How to Trade on Binance?
Now that I have shown you how to add fiat and crypto to your Binance account, let's move on to making your first trade. There are over 500 different cryptocurrencies to choose from, but in this example, I will show you how to buy Litecoin. Don't worry, if you want to buy a different coin, the steps are the same, just replace Litecoin with the cryptocurrency you want to buy!
1. Move your mouse over Trade, and then click on Classic.

2. So, this stage can be a little frightening for beginners… but don't worry, I've got you covered. Just follow the steps.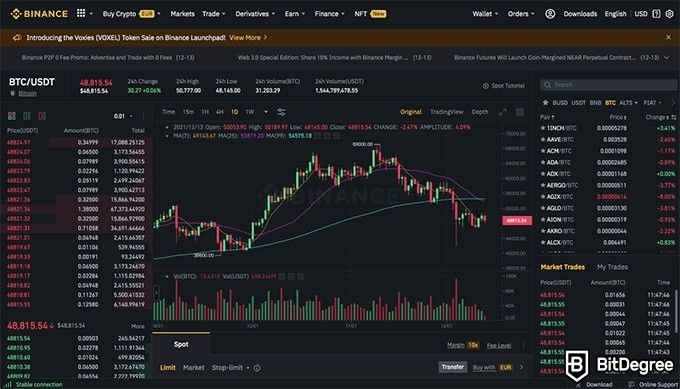 3. On the right of the page, look for the Favorites. Here you will need to select the currency that you deposited into your Binance account. In my example, I have selected Bitcoin. If you deposited Ether, then click ETH.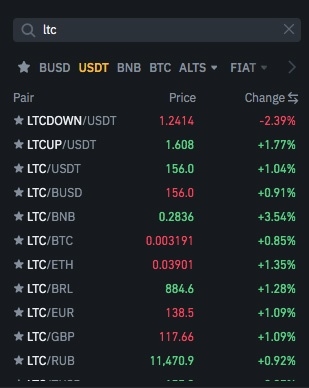 4. Once you click on the currency pairing (LTC/BTC, for my example), you need to scroll down to the trading screen.
5. Those scary graphs will now display the market information of your chosen pairing. Scroll down and look for the Buy LTC. Make sure you click on the Market trading type.


Why Market and not Limit? Selecting the Market will allow you to buy your cryptocurrency for the current market price. This will offer you the best price that's currently available. If you select Limit, this will allow you to enter the exact price you would like to buy at. This is the best option for more experienced, short-term investors.
6. To complete your trade, you need to enter the number of coins you want to buy. You have two options:
Option 1: Enter the specific amount of coins you want to buy, or;
Option 2: You can choose a percentage of your Binance balance. For example, if you deposited 0.05 Bitcoin (BTC) into your account, and you want to exchange all of this into Litecoin (LTC), you can just select 100%.
7. Finally, to complete your trade, click on the green Buy LTC. As you selected Market, your order should complete within a few seconds!
8. If you want to make sure that your trade was successful, you can go back to the Wallet > Overview section.
9. Congratulations, you just did your first crypto-for-crypto exchange!
How to Withdraw from Binance?
At this stage of my Binance review, you will now know how to deposit funds into Binance, buy and trade your first coins! But, what if you want to withdraw your funds? Well, let's show you how to do that, too!
1. At the top of the page, move your mouse over Wallet and click on Overview.

2. Click on "Withdraw" and select the cryptocurrency you would like to withdraw.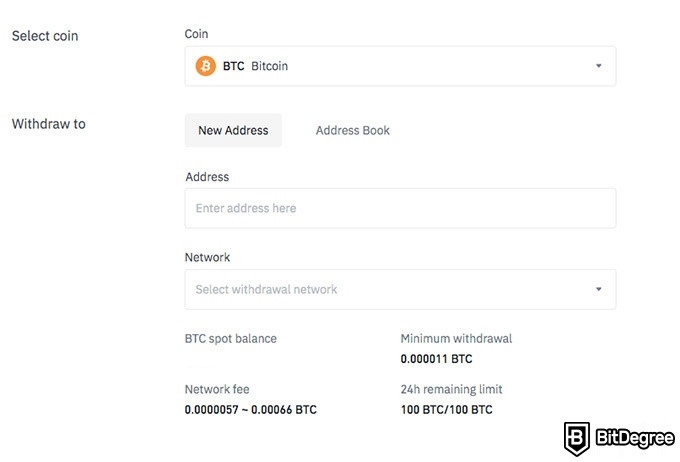 3. Now, enter the wallet address that you want to send your coins to.
IMPORTANT: Make sure you enter the correct address, as any mistakes could be costly! The best way to do this is to copy and paste the address you want to withdraw to.
4. Finally, enter the number of coins you want to withdraw, select the network (in many cases, it's simply going to be Bitcoin), and click accept.
5. Binance withdrawals are normally quick and usually take no longer than 30 minutes to reach your destination wallet. However, if the network is busy, it could take longer.
Who Should Use Binance?
You might have noticed from the buying part of my Binance review that there are two options to choose from – Basic and Advanced. This is what makes Binance such a popular exchange — it is great for both beginners and advanced users.
In the trading guide above, I showed you how to use the basic functions. However, once you become a trading pro, there are some extra features available in the advanced section!
Binance Advanced
If you are a more experienced trader, the advanced options allow you to view more detailed statistics. For example, if you were interested in the price movements between Bitcoin and Ethereum, there are more advanced graphs you can view.
Candlestick bars allow you to view the opening, highest, lowest, and closing price of a cryptocurrency over a specific time period.
Just remember, if you are just getting started with cryptocurrency trading, it is probably best that you use the basic option until you feel more comfortable!
Here is The Best Binance Offer I Found:
SECURE $600 BONUS
Binance Christmas Sale
Sign up on Binance and claim up to $600 worth of rewards for completing simple tasks during this Binance Christmas sale. Use our Binance referral code (49316610) to activate the offer while it's still valid!
Expiration date : 12/12/2023
2,935 People Used
Only 67 Left
Conclusions
If you have read my Binance review from start to finish, you should now be able to decide if it is the right exchange for you. There are many advantages to using Binance, however, there are also some disadvantages to consider — such as not being able to deposit with a debit or credit card.
Whether you decide to use the platform or not, at least now you know how to use Binance, and you should easily be able to deposit, trade, and withdraw funds!
In my opinion, Binance is one of the best cryptocurrency exchanges out there for trading between different cryptocurrencies. It offers a great, easy-to-use interface that caters to all types of traders. Not only that, but it's a platform you can trust.
So, what do you think about the layout of the exchange? Does Binance have the cryptocurrency that you want to buy?
Let me know if you enjoyed my Binance exchange review!
The content published on this website is not aimed to give any kind of financial, investment, trading, or any other form of advice. BitDegree.org does not endorse or suggest you to buy, sell or hold any kind of cryptocurrency. Before making financial investment decisions, do consult your financial advisor.
About Article's Experts & Analysts