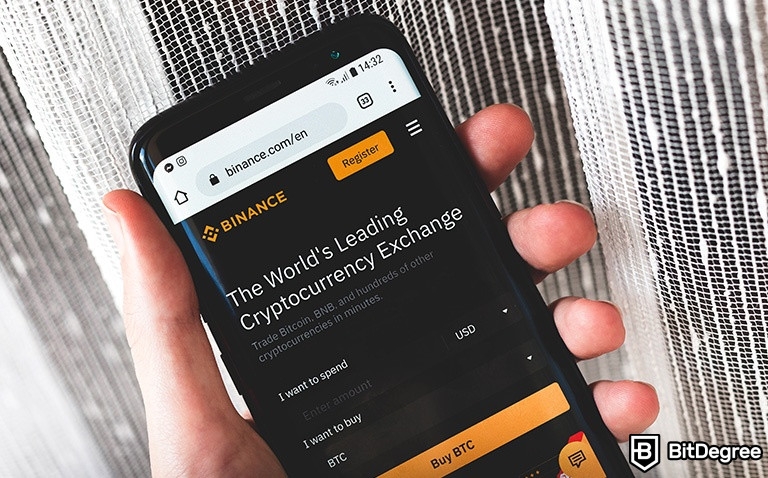 Over the last few years, cryptocurrencies have really taken over the mainstream world. NFTs, crypto exchanges, and a huge array of different crypto-related tools seem to be popping up left and right! In this Binance staking tutorial, I will tell you about one of the super-popular concepts - crypto staking -, and how you can start doing just that yourself, on Binance.
Admittedly, staking has been a very popular way to acquire crypto, in a passive manner. So popular, in fact, that many of the mainstream cryptocurrency exchanges have started offering their users the chance to stake crypto on their platforms!
Binance is no exception - in fact, one may argue that it's actually at the top of the list of the best cryptocurrency exchange-staking platforms on the market, especially when you keep all of the variables in mind.
I'm getting ahead of myself, though - let's start from the beginning, and move on from there!

Did you know?
Want to get smarter & wealthier with crypto?
Subscribe - We publish new crypto explainer videos every week!
What is Odysee & LBRY? Is Decentralized YouTube Possible? (ANIMATED)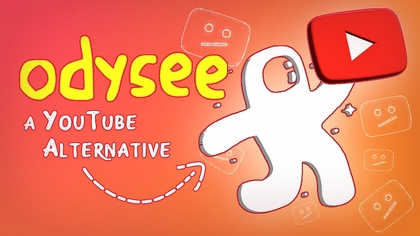 Binance Staking: The Whats, The Whys, and The Wheres
Before we get to the specifics, let's first establish some facts. Specifically, I will assume that you know a bit about staking already - if you're reading an article about Binance staking, chances are that you've either staked cryptos before, or have at least the general idea of how this process works, in the first place.
Latest Deal Active Right Now:
REDEEM $600 PRIZE
Binance Cyber Monday
Attention new Binance users: this Cyber Monday, you can score up to $600 in rewards by completing special tasks. Activate this amazing Binance Cyber Monday deal using the code – 49316610!
Expiration date : 05/12/2023
6,127 People Used
Only 16 Left
So, we won't spend too much time discussing what is staking - instead, we'll focus on the process of doing so with Binance.
Naturally, the first question that you might have is this - why should anyone use Binance staking, specifically?
The Benefits of Binance
For the sake of clarity, keep in mind that I'll be talking about the international version of Binance. If you're looking for Binance.us staking, though, read on - I'll be talking about that, too. Unless stated otherwise, though, all of the features I'll be mentioning will relate to the former platform.
So - why stake crypto on Binance? Well, multiple reasons, really! At the beginning of this Binance staking tutorial, I've pointed out that Binance is often considered to be one of the best staking platforms on the market. As you can imagine, this isn't without good reason, either!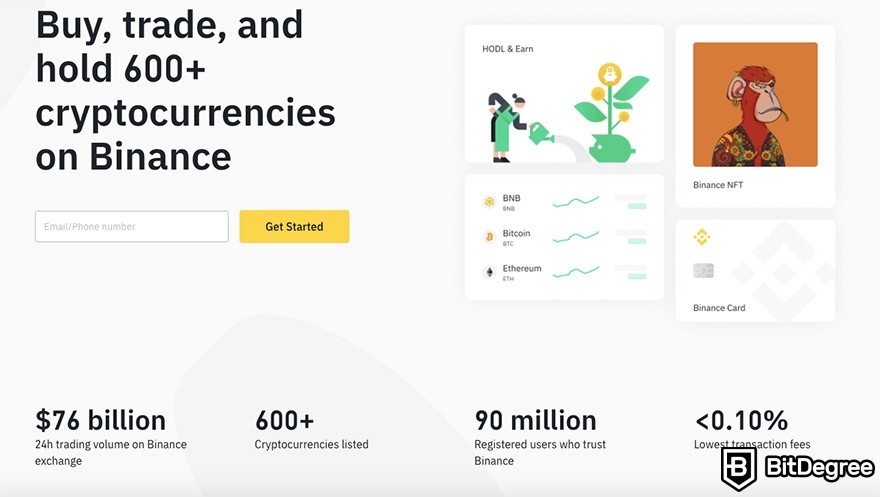 For starters, let's get the obvious out of the way - Binance is the largest cryptocurrency exchange on the planet, and also among the most respected crypto-related platforms, in general. While these titles might not sound like a big deal to some, if you know anything about the crypto industry, one thing's for sure - time spend on the market and project reputation are exceptionally important.
In its own right, Binance has managed to not only become one of the recognizable names in the industry, but also showcase that the company cares both about security, as well as KYC compliance, exponentially.
These are among the main reasons why Binance has been as successful as it is, worldwide. It's not a country- or region-specific service - instead, every few months, you can see Binance making the news, regarding some new country that it started operating in.

Another point that's likely super-important to anyone who's looking for Binance staking options is the fact that Binance has a huge selection of different services available on their platform. Being primarily known as a cryptocurrency exchange, it's so much more than that!
Binance has a dedicated NFT marketplace - a place where artists can upload their work, purchase and sell NFTs. The marketplace itself has a variety of additional features and benefits - some of which are completely exclusive to Binance!
Among all of the services offered by the platform in question, naturally, you have Binance staking - a dedicated section of the website where you can earn passive interest on some of your crypto assets. Let's talk about that, shall we?
Staking on Binance: A Smooth and User-Friendly Experience
Whether you're looking for BNB staking, or how to stake on Binance US, the staking benefits offered by Binance are definitely worth considering.
One of the biggest benefits that you'll see, right off the bat, is the fact that there are two big choices for you to make - whether you want to participate in Locked Staking, or DeFi Staking.
Yup, that's right - there are two different staking method options for anyone who's interested in Binance staking. That's already quite unusual, and a huge benefit - it's not something that many other crypto brands can offer!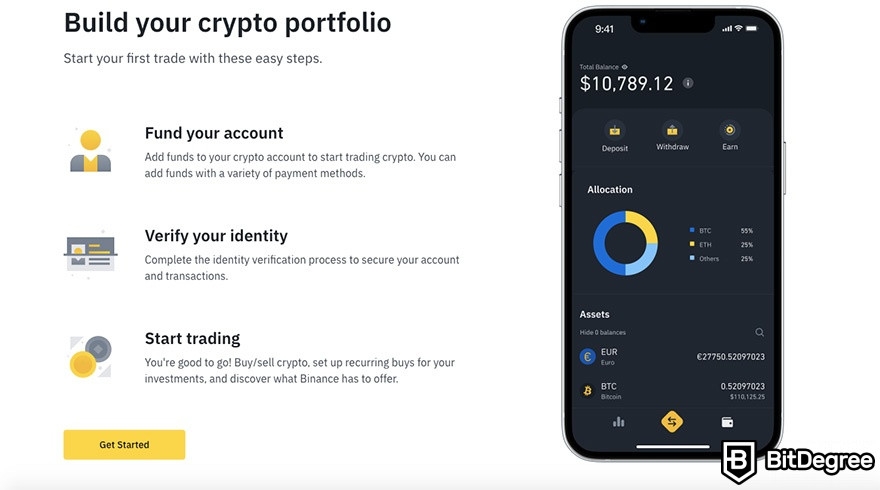 Locked Staking and DeFi staking are going to appeal to different types of people. Mostly, the differences lie in risk and APYs (Annual Percentage Yields).
Locked Staking means that you will lock your designated funds in a separate Binance wallet (one that's separate from your spot trading Binance wallet). Your cryptocurrencies will then support the processes happening on the blockchain. With Locked Staking, you will be able to choose the period of time for which you want to lock your funds.
DeFi Binance Staking, as the name suggests, is quite different. Specifically, it refers to the more traditional exchange-based staking functionality - one where the exchange platform aggregates user funds, and stakes them, on various decentralized finance projects.
This, in turn, removes the hassle of dealing with the technicalities from you (the user), and allows you to simply enjoy the passive interest that will start accumulating with time.

Yes, the APYs are going to be rather different, depending on the type of Binance staking that you choose. However, once again - the fact that users have a choice is awesome! Note, though, that these staking types are only going to be available with the international Binance platform - if you're looking at how to stake on Binance US, your options are going to be limited to a single type of staking (more on that later).
Another immediately-evident feature that you'll notice is the variety of coins and tokens available to be staked on Binance. Yes, you can participate in BNB staking, straight from your wallet - however, if you're looking to stake some altcoins, Binance is actually the perfect place to do so.
As of writing this tutorial, with Locked Staking, you will be able to stake 104 different cryptocurrencies. DeFi staking offers 13 different staking options.

The fact that there's over a hundred different cryptos supported on Binance, staking-wise, is truly incredible. There are very few reliable and regulated platforms that could offer even close to this number of options!
Once again, the situation is a bit different with Binance US staking. Here, your options will be limited to 4 projects - VeChain, Tezos, ATOM, and Algorand.
Apart from the features mentioned above, Binance offers its users a secure, regulated, and very beginner-friendly environment to start staking crypto. In short, you really can't go wrong with Binance staking!
How to Stake on Binance: A Step-by-Step Tutorial
Now, let's get to the point of our Binance staking tutorial - let's explore how you can start staking crypto on Binance, in a step-by-step guide.
I'll keep things super-simple, but will also stop along the way, if there are any important sidenotes that need to be mentioned, or things to keep in mind. Also, this guide follows the process of the international Binance staking platform - that being said, the process with the US version of Binance is rather similar, for the most part.
Step 1: Registration
So, as you can probably guess, the very first step that you'll need to complete is registration - in other words, you need to register on the Binance exchange platform.
The great news here is that you will only need to register once. Sounds strange, right? Well, what I mean is that Binance offers multiple different services to its clients - staking, the aforementioned NFTs, crypto exchange functionality, and much more. All that you need to do in order to use any of these services is simply register once - you'll get access to any of the Binance features that you'd like!
It's super-convenient! On top of that, once you pass the KYC checks on your account, you won't need to do it on any other of the Binance-owned platforms, either.
I'm getting ahead of myself, though - let's get back to the registration.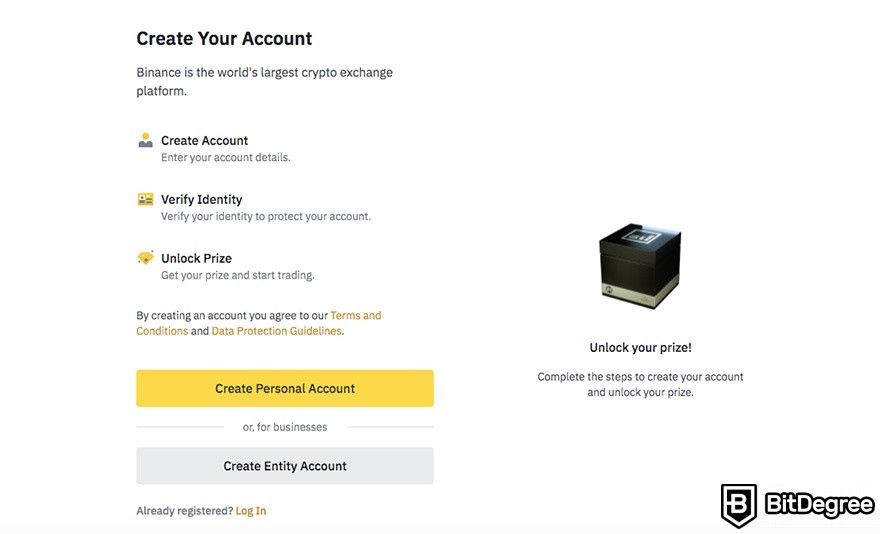 What you'll need to do is go to the Binance official website, and press the "Register" button at the top-right of the page. You will be asked to confirm your residential country, and then pick what type of an account it is that you want to create. Naturally, you should pick the personal option.
Now, the following registration steps are very simple, albeit a tad bit tedious. You need to enter your email address, and then create a password. Once you do so, you will be asked to confirm your email.
Upon doing so, the exact same process will follow with your mobile phone number, too. Enter your phone, and then enter the code that you'll receive from Binance.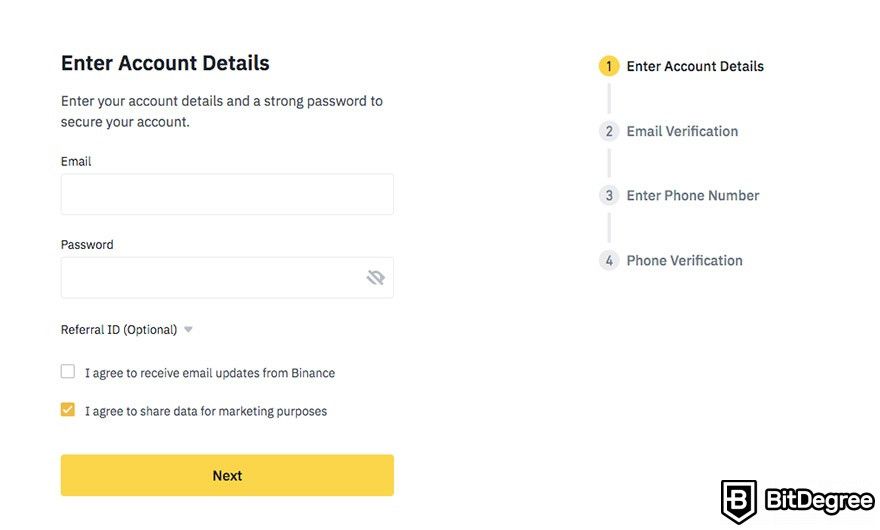 That's it - the basic registration process is complete! The earlier-mentioned "tedious" part of the process has to do with your future logins. Specifically, no matter if you're going to use the Binance staking platform, or simply want to log into your account to perform some trades, you might need to enter codes from your email and phone, every single time.
It's worth stating that, while this can be "tedious", it does add a pretty effective extra layer of security to your account. Unless someone has access to your email, and somehow spoofs your number, your profile should be safe!

Did you know?
Want to get smarter & wealthier with crypto?
Subscribe - We publish new crypto explainer videos every week!
Best Crypto Analysis Indicators Explained (Beginner-Friendly Animation)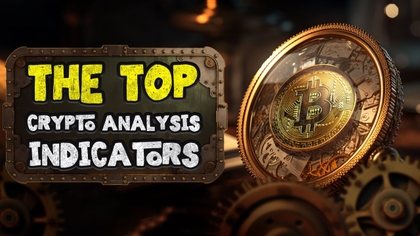 Step 2: Account KYC Verification
Once you complete your registration process, you will then need to log into your account. After doing so, your next plan of action should be to complete the KYC verification (at least the mandatory, primary checks).
KYC stands for "Know Your Customer". It's a set of financial rules that must be followed by all of the regulated financial institutions around the world (in some form, at least). Naturally, KYC laws are different in every country, but their general goal remains the same - to prevent any potential fraud, scams, terrorist activities, and various forms of money laundering.
If you want to start your BNB staking processes (or use other Binance staking features, in general), you will need to pass the platform's KYC checks. Truth be told, Binance employs some of the strictest KYC requirements in the industry, exchange-wise!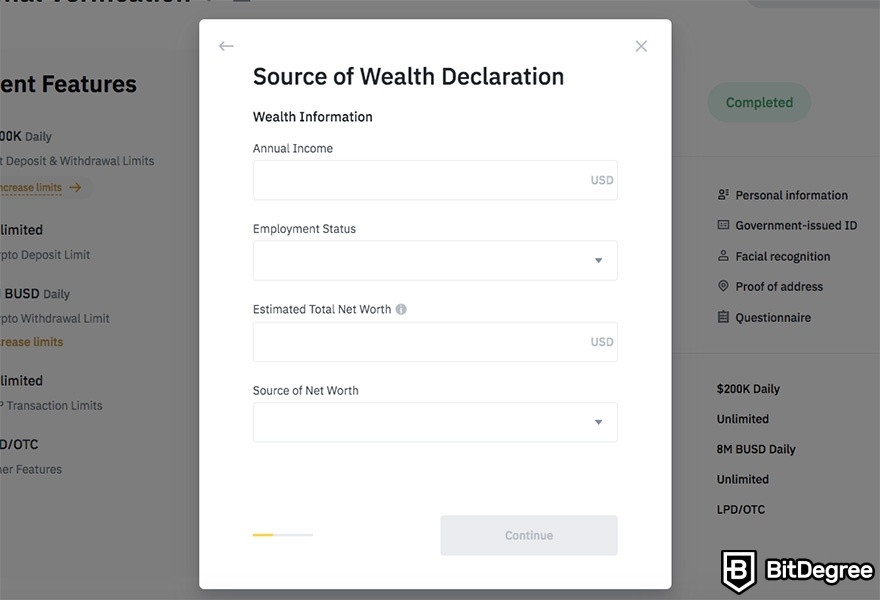 While people are going to have their own opinions on the matter, in a very general sense, that's actually a good thing. Binance is very regulation-friendly, and while this does mean that you will have to sacrifice your anonymity and personal information preservation while using the exchange, it also guarantees better security, customer support, and general usability.
So, let's get back to Binance staking - what sort of KYC processes do you need to pass in order to start staking on the platform?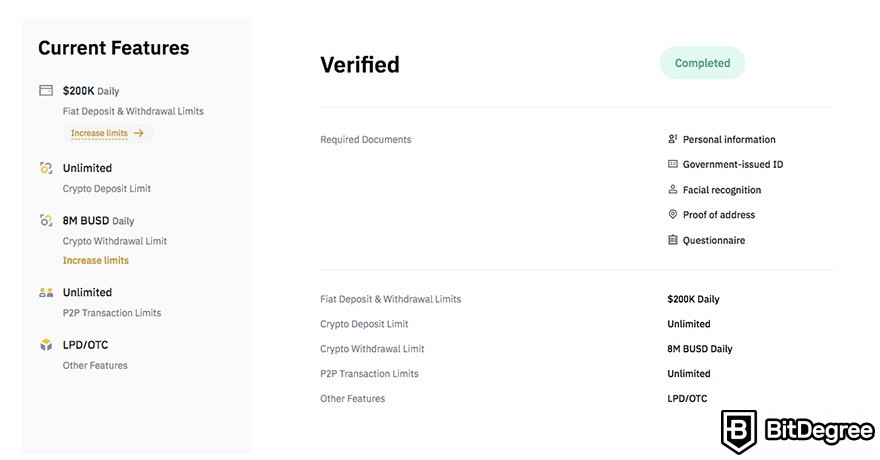 Well, with Binance, all of the core services can be used after passing basic identity verification checks. Meaning, all that you'll need to do is provide the exchange platform with a valid ID, proof of your identity, and some general information about yourself - that's it!
Upon completing the verification, you will then need to wait - the waiting period can take up to a few days, but most of the time, your application should be reviewed and (hopefully) accepted in an hour's time.
Now, you will be able to deposit and withdraw up to $200k per day, in fiat money, deposit an unlimited amount of crypto, and have access to other features of the platform, such as altcoin or BNB staking.
Generally speaking, while KYC verification is a mandatory process for Binance staking, it's quite painless and quick to complete. Now that you have a full-fledged Binance account, we can continue with our tutorials!
Step 3: BNB Vault
Now, let's start off with BNB staking, since it's a bit of a different process than staking other coins and tokens on Binance.
In your dashboard, navigate to the "Earn" section on the top menu, and select "BNB Vault".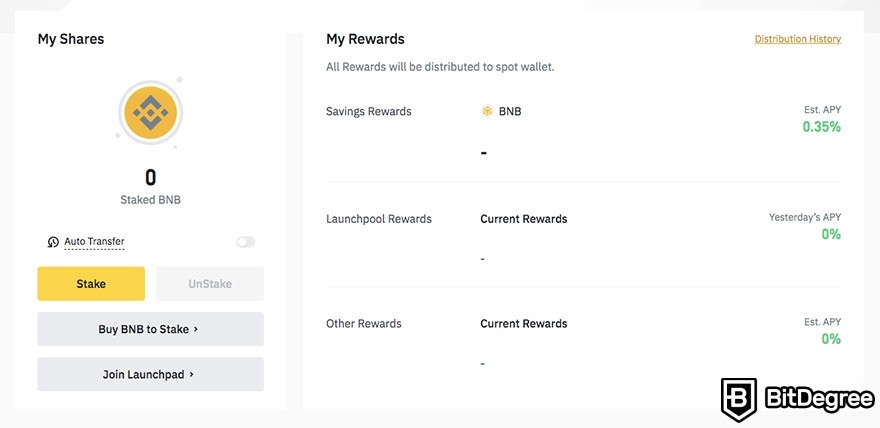 Here, on this page is where all of your BNB staking will take place! BNB has a dedicated, standalone section on the Binance website, since the process of earning passive BNB coins isn't really called "staking", per se - instead, it's "keeping your BNB coins in a vault".
How this works is very simple. All that you need to do is have some BNB in your spot wallet (you can simply purchase or trade BNB coins right here, on Binance), and then come to this page. Here, you'll need to press "Stake", and select the amount of BNB that you'd like to stake.
At the top-left corner of the page, you can see your estimated APY. According to Binance, this number is going to vary, depending on a few different factors. However, it can go up to 20% - that's definitely a notable annual yield!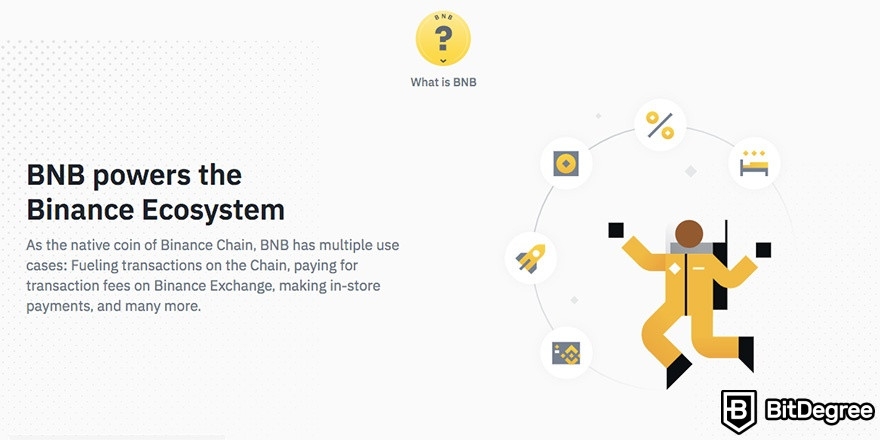 In the middle of the page, you can also see some general information regarding your BNB staking history. Furthermore, there's also an option to automatically stake your BNB, from your spot wallet, every single day. This can be a very useful feature!
This is kind of the entire process of staking your BNB coins! The Binance staking rewards for BNB are actually very decent, and the staking process itself is as simple as they come.
As of writing this tutorial, it would appear that BNB Binance.us staking isn't live yet. US-based crypto enthusiasts who are using the US version of the exchange platform might not have access to BNB staking functionality - just something that should be kept in mind!
Step 4: Locked Staking
In the same "Earn" section mentioned above, after you navigate to the "Staking" part of the website, you will automatically find yourself on the Locked Staking page.
Here, there are 104 different cryptocurrency assets available to be staked. At first, the information might seem a bit overwhelming, but I assure you - it's all actually super-simple!
The estimated Binance staking rewards (APYs) shown next to each asset will differ depending on the period of time that you will choose to lock that asset up. The longer the time period, the better the APY will be!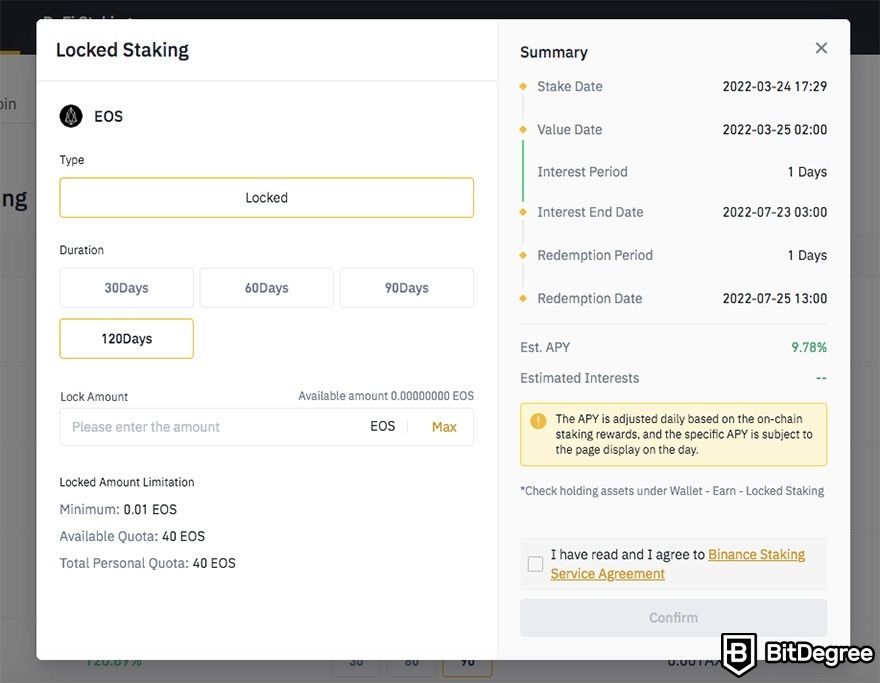 You can match your asset, and display only the available coins and tokens. However, you may also expand the list, and then simply browse through it, evaluating the potential returns that each crypto has. With over a 100 different assets, there's a lot of evaluating to be done!
Once you pick an asset, and press "Stake", you'll see the summary of the entire staking period, your estimated gains, a few disclaimers, and a bit of additional info. If all appears to be in-check, you will then simply need to enter the amount of the asset that you'd like to start staking, confirm it, and that's it - you are now earning passive interest on your crypto!
It's fast, simple, and confusion-free. Binance truly does do a great job at simplifying the entire process, and providing the user with all of the information that they might need, in a non-overwhelming way!
Step 5: DeFi Staking
As mentioned earlier on in this Binance staking tutorial, DeFi staking comes with an increased amount of risk, but often, the estimated rewards (APYs) are also higher, too.
Navigating to the DeFi Staking section of the platform, you will notice that it looks much the same as the Locked Staking one. However, there are fewer crypto assets for you to pick from (currently, 13), and there's also an option to participate in a "flexible lock".
What this means is that you will be able to withdraw your assets at a time that you see fit. The opposite option - locked staking - would be to lock those same assets for a designated period of time - doing so, no matter what happens with the market, you won't be able to withdraw your coins and tokens earlier.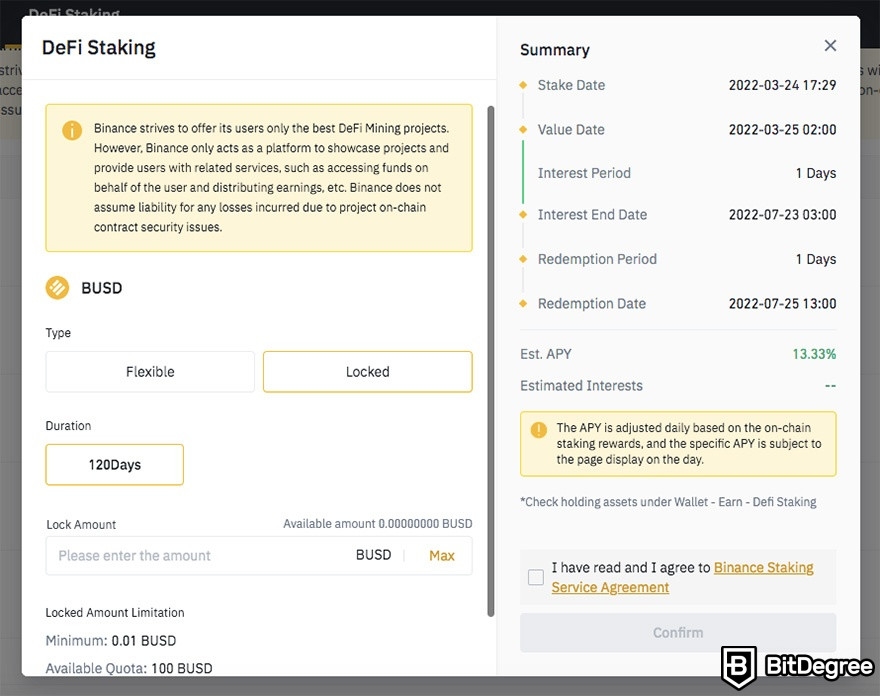 Which option is best for you? Well, it depends on your risk tolerance - the Binance staking rewards will be higher if you lock your assets, but this does, naturally, come with increased risk.
The staking process itself happens in the exact same way as it did with Locked Staking - you choose an asset, check all of the relevant information (summary), and if everything appears to be correct, confirm the stake, after entering the amount that you'd like to dedicate to the DeFi pools.

Pros
A very well-known crypto exchange platform
More than 500 different cryptos available
Two-factor authentication
Main Features
Over than 100 different cryptocurrencies available
Strong security
Small withdrawal fees

Pros
Secure and reliable
Low fees
A good amount of fiat currencies accepted
Main Features
Reputable exchange
Multiple fiat currencies are accepted
Relatively low trading fees

Pros
Anonymous trading
Secure
Supports a variety of cryptocurrencies
Main Features
Easy to use
Low fees
Good security
Step 6: Profits
When it comes to the Binance staking rewards, things are actually rather simple. You don't need to do anything manually - it's not like, when your staking time period ends, you'll need to go to the pool, and withdraw your assets, as well as rewards yourself.
That would be nonsensical.
BINANCE

Whether or not the cryptocurrency exchange accepts payments via MasterCard.

Whether or not the cryptocurrency exchange accepts payments via bank wire transfer.

Whether or not the cryptocurrency exchange accepts payments via debit or credit card.

Visit site
Read review
Table: The available payment methods of Binance
Instead, Binance will pay out your earnings automatically. The only exception here would be that of a flexible lock, in DeFi staking. If you were to suddenly decide to take out your assets early, you would need to do so by hand - however, everything would still be done on Binance, and you wouldn't need to visit any specific DeFi pool to get the task done.
Don't forget that there's an automated asset staking feature on Binance, as well! However, it only works with BNB staking - if you'd like to stake any other asset, you will need to lock a dedicated amount of it in the staking contract.
A Word About Binance.US Staking
So - by this point in the tutorial, you should be pretty knowledgeable in regards to Binance staking, and all of the different benefits that come with choosing Binance as your go-to staking platform, in general.
Now, let's talk about how to stake on Binance US.
As you've probably understood by now, the situation with the US-oriented version of the platform is a bit more… Complicated. That's mostly due to the regulatory environment within the country, crypto-wise.
It's actually the main reason why there's even a separate, country-specific branch of Binance, too. The company had branched off in order to comply with the strict regulations and laws present within the States, and to provide their US-based users with a dedicated platform for trading and exchanging crypto.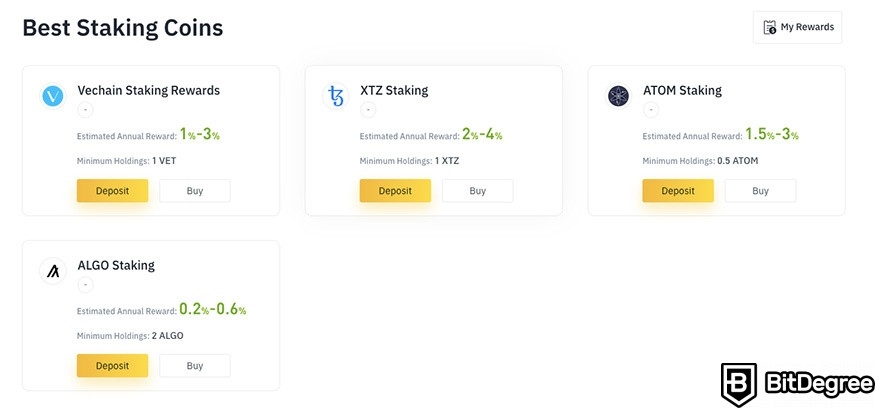 This, however, does result in there being a very limited number of assets available to be staked. Specifically, for anyone interested in Binance.us staking, there will be 4 different assets available to pick from - VeChain, Tezos, ATOM, and Algorand.
The APYs for these assets range from 0,2% up to 4%. Yes, the numbers are much smaller than with the traditional Binance staking services, however, it is, once again, part of the regulatory nature of the platform.
If you're curious about how to stake in Binance.us, I can assure you that the process isn't all that much different from what we've discussed in this tutorial. Some features will be different, and certain buttons might be placed in alternative locations, but this really doesn't make it "more complicated".

The opposite is true - Binance maintains a beginner-friendly philosophy with all of their services, and the US-dedicated platform isn't an exception. You can expect the registration and staking procedures to be very quick, smooth, and issue-free.
Also, as a final point, it's worth keeping in mind that all of the numbers mentioned in this tutorial are subject to change, at any point in time - the APYs and the available number of assets on Binance.us are no exceptions. With time, the platform could add more tokens and coins to the staking list, and the APYs could change at any time, depending on the market, too!
Conclusions
Staking can, undeniably, be a legitimate source of passive income for any and all cryptocurrency enthusiats out there. However, if there's one thing that rings true time and time again, it's the fact that, in order for your staking ventures to be successful, you need to pick a reliable platform to stake your assets on.
Binance staking is, without a doubt, one of the most popular and well-respected ways of staking crypto. Naturally, this is true in regards to the variety of stakeable crypto assets supported on the platform, but I'd argue that another reason is much more important. And that reason is reliability.
Binance is an industry giant, and a very well-established crypto company. While the Binance staking rewards might not be as high as on some other platforms out there, where it lacks in APYs, Binance makes up in trustworthiness and regulation.
If you're looking to start staking crypto, once again - you really can't go wrong with Binance. That being said, if you'd like to diversify your staking portfolio, and find some alternative options, do check out our list of the best staking platforms of the year, too!
With that being said, thanks so much for reading, and until next time! Good luck with all of your crypto staking endeavors to come!
About Article's Experts & Analysts