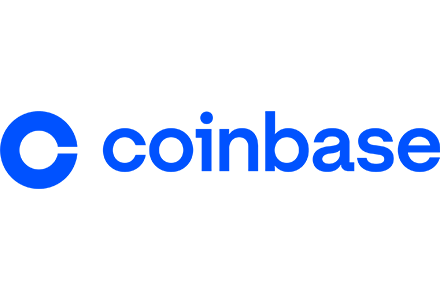 Hey, welcome to my Coinbase review!
With over 13.3M active users, there are few exchanges that are as trusted and reliable as Coinbase.
If you want to buy cryptocurrencies with your fiat money (USD, EUR, etc.), Coinbase may be the exchange for you.
In this Coinbase review, I will cover the basics of Coinbase including what it is, how it works, its advantages and disadvantages and whether it's right for you.
By the time you're finished reading this Coinbase review, you'll have a good understanding of Coinbase and what it offers. More importantly, you'll able to decide whether Coinbase is the right exchange for you!
So, let's get started!
Pros
Fiat currencies - accepted
Simple to use
Accepts only the most trustworthy cryptocurrencies
Very secure
Cons
Not available in all countries
Some of the less-known coins aren't supported
A Quick Brief of Coinbase
Coinbase is a digital currency broker exchange where you can buy and trade Bitcoin and a few other cryptos. It is different from traditional cryptocurrency exchanges because it allows you to buy crypto using fiat currencies.
Coinbase is considered one of the biggest crypto-broker exchanges in the world!
They hold over $20 billion in assets and over $50 billion in crypto has been traded using its platform since it was founded in San Francisco, California in 2012.
Coinbase actually has two core products; a broker exchange and a professional trading platform named GDAX. However, the two can be used independently from one another.
Is Coinbase a Wallet?
It's an exchange, but it does have a built-in wallet, yes.
So, you can keep your crypto on the Coinbase platform, if you wish. However, it is not recommended. I would definitely advise you to move your crypto from Coinbase once you have bought it, as exchange wallets are the least safe types of wallets.
You should think about getting a hardware wallet instead — these are the safest type of crypto wallets!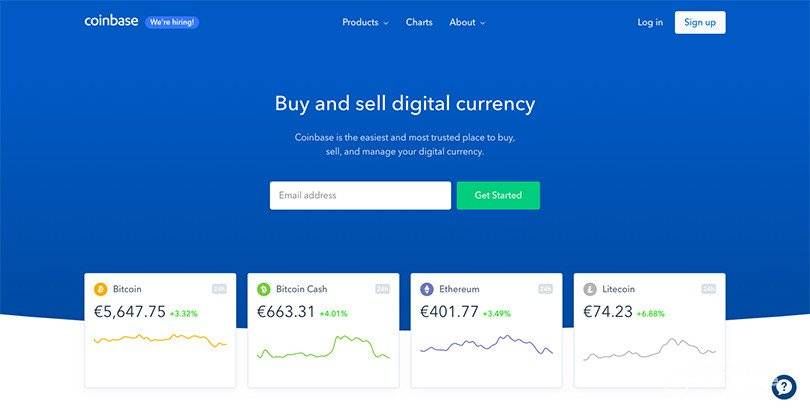 Read my Trezor vs Ledger guide to see a comparison between the top two hardware wallets.
Latest Coinbase Coupon Found:
GET $400 REWARD
Claim Your Coinbase Sign-up Bonus
Receive up to $400 bonus when you sign up for a Coinbase account. Follow this Coinbase referral link to activate the deal!
Expiration date : 24/09/2023
4,989 People Used
Only 11 Left
Is Coinbase Legit?
There are a lot of exchanges on the market that aren't as trustworthy as they claim to be, which is one of the reasons I am writing this Coinbase review — to show you how legitimate Coinbase is, among other things.
So, is Coinbase legit? Well, the truth is, Coinbase is probably as legit as it gets.
Just to operate in 30 states of the U.S. alone, it has over 40 different licenses. This ensures their practices are legal and that they handle your money with integrity.
If you're reading this Coinbase review, the first thing you need to know is whether or not you can use this exchange in your region.
Coinbase can be used in many countries to do transactions like sending, receiving or storing funds. However, the platform's buy and sell features are only available in 32 developed countries around the world.
Be sure to check whether you can use Coinbase from your country before you attempt to sign up!
Latest Coinbase Coupon Found:
GET $400 REWARD
Claim Your Coinbase Sign-up Bonus
Receive up to $400 bonus when you sign up for a Coinbase account. Follow this Coinbase referral link to activate the deal!
Expiration date : 24/09/2023
4,989 People Used
Only 11 Left
Features of Coinbase
Let's quickly run down some of the main features of the crypto exchange platform in question.
It Only Offers Trusted Cryptos
Coinbase is often used as an entry point into the crypto market. Through it, you can purchase Bitcoin, Litecoin, Ether and Bitcoin Cash. These four digital currencies are the only ones you can buy from Coinbase.
This is because Coinbase will only offer coins that are guaranteed currencies or commodities, and it does not open up to tokens that could potentially be securities or equities. It is very rare that they add new coins.
This is another reason why Coinbase is considered a trusted and secure platform.
Easy-to-Use Interface
Coinbase has a really easy-to-use interface that makes it a great tool for those just beginning in the crypto industry. Its clean design makes it easy to navigate and the tools you need are right at your fingertips.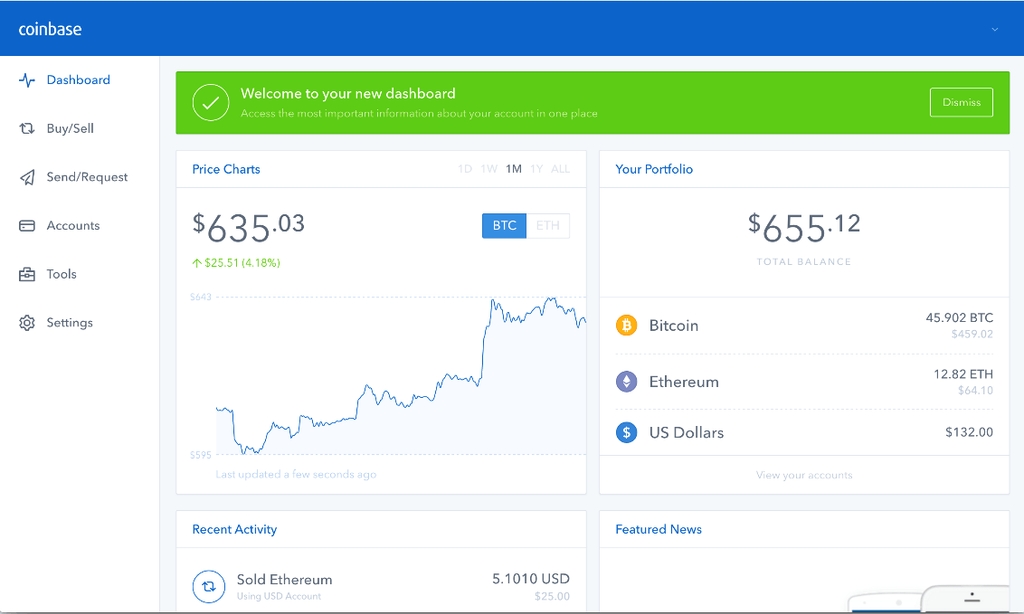 It Accepts Fiat
Unlike traditional cryptocurrency exchanges, Coinbase accepts a variety of fiat in exchange for the four digital currencies that it offers. The currencies it accepts are EUR, GBP and USD.
On top of that, Coinbase also offers a good variety of payment methods to help their customers get their fiat money onto the platform to buy crypto. These include bank transfer, debit/credit cards, PayPal and even SEPA transfers for European citizens.
Instant Exchange
For those who would like to send money in Bitcoin but would like to transact with fiat, Coinbase has a feature called "Instant Exchange." Instead of just using fiat to buy Bitcoin and then send it to your receiver, you can use this feature to make the process one seamless, instant action.
You simply pay with fiat and the payment will convert to Bitcoin.
There are no extra fees for this service and that's another positive aspect this Coinbase review takes into account!
The Shift Card
If you're looking to spend the Bitcoin in your Coinbase wallet, you can easily do that with the Shift Card. Considered the Coinbase debit card, it's actually a Visa debit card that allows U.S. users in select states to spend Bitcoin from their Coinbase wallet.
It works as simply as any other Visa. When you transact with the card, the equivalent value of Bitcoin will be debited from your online wallet. Unfortunately, the card isn't yet available in all the states Coinbase operates in or any other country outside of the U.S.
Upgrade to GDAX for Free
If you are a frequent buyer and seller of crypto and are interested in trading, you can easily transfer to Coinbase's sister platform GDAX (or Coinbase Pro).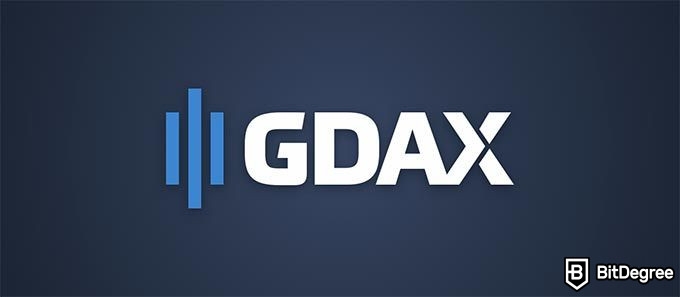 Through GDAX, you can trade between cryptos. In fact, on GDAX, you will be able to find a bigger selection of cryptos to trade between.
However, the Coinbase policy on securities and equities still stand. GDAX only deals with coins deemed as virtual currencies.
Your Money is Secure
While it is never 100% safe to your money on any online exchange, Coinbase is one of the safest web wallets you can use.
Coinbase keeps almost 99% of their assets in an offline cold storage that can't be accessed — when in cold storage, they cannot be hacked!
Only 1% of assets on the platform are available online in the hot wallet system and these assets are insured in the event of any losses. That way, if your money was to ever be stolen from Coinbase, you would get it back.
Pretty cool, right?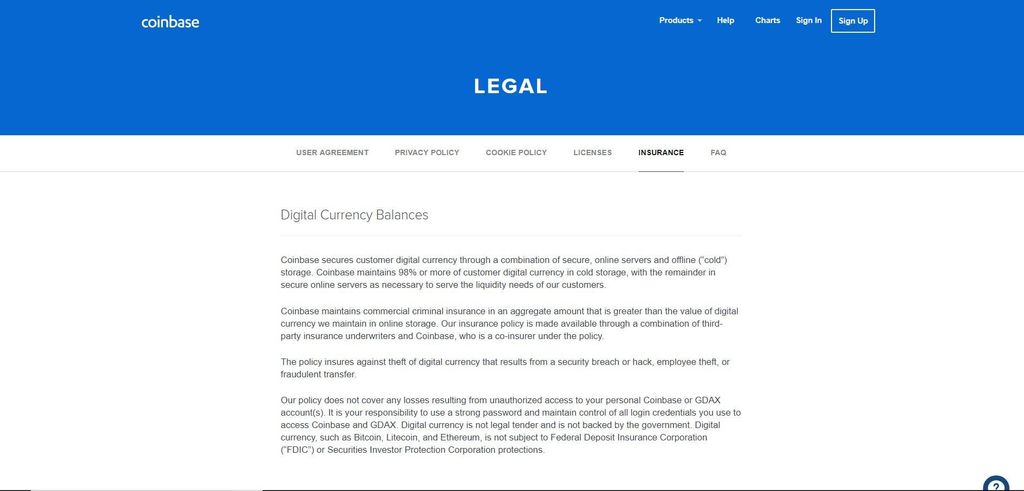 Did you know?
Compare Crypto Exchanges Side by Side With Others
All Crypto Exchanges may look similar to you but they're NOT all the same!
Yes! Show me the Comparison Chart
Is Coinbase Safe?
Coinbase is one of only 4 exchanges to have a license in NY under the pilot BitLicense program. As such, it adheres to strict KYC (Know Your Customer) rules and stays as compliant as possible to regulations and rules.
As I mentioned earlier, it has over 40 licenses to operate in just the U.S. alone and is licensed to legally operate in the other 31 countries that make its list.
On top of that, Coinbase keeps its assets insured, so you can't technically lose any of your money by hacking and theft!
Another thing that makes Coinbase so safe to use is the fact that it can't be used anonymously. Due to the KYC rules, users must submit a government-issued piece of ID and, in some cases, address verification in order to use the platforms BUY and SELL features. As you can probably see, security is yet another positive aspect of this Coinbase review.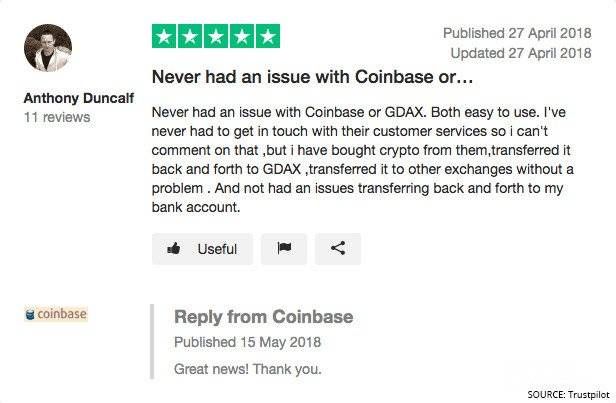 That makes the platform very legitimate to use for honest users, and anyone looking to do anything shady or scammy won't be able to get away with it on this exchange.
The Downside to Using Coinbase
So far in this Coinbase review, I've covered a lot of positive stuff about Coinbase. It's important you know that there are also a few downsides for some people, though.
Account Limits
While Coinbase allows you to exchange fiat for the cryptocurrency, it limits how much you can spend and how often you can do it.
According to their website support forum, this is "for security, regulatory compliance and fraud prevention". The limits are based on several factors that include the payment method you used, how old your account is, your purchase history, and more. These limits are calculated automatically.
Fortunately, there are a few ways you can increase your account limits, however, some of these steps are already mandatory to use the buy and sell features.
You can add a phone number, provide more personal details, submit a photo ID and create an established purchase history by buying and selling (trading) using the Coinbase platform.
Keep in mind that the limits are different for each account that you link to your Coinbase wallet. For example, your purchase limit for your credit card will be different and separate from the purchase limit for your linked bank account.
High Fees
Coinbase transacts in many different currencies and does a range of payment methods. Because of this, the service charges relatively high fees when compared to other exchanges. High fees are one of the biggest negative aspects of this Coinbase review.
These fees are charged per transaction and are calculated in one of two ways. For transactions under $200, a minimum fee is applied. However, for transactions over $200, a percentage fee is applied.
For example, if you are buying or selling with a U.S. bank account, the effective rate of conversion fee is 1.49% for transactions over $200. If your transaction is, however, under $200, then a base rate of 4% applies. This base rate is specific to the U.S. and it varies based on your country and region.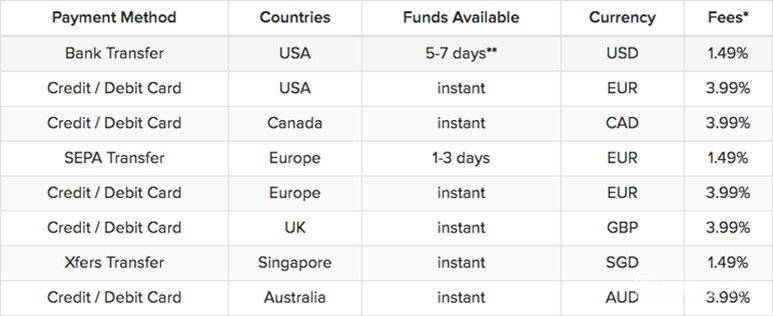 Lack of Anonymity
Although it is one of the features that make Coinbase safe to use, for some, the lack of anonymity can be a problem. First, Coinbase is obligated to report its users' info to the governing bodies that regulate it. This means that what you hold in crypto assets will officially be on record and you will be expected to pay whatever crypto taxes your country's laws require.
This defeats the purpose of cryptocurrency for some, as it was designed to be a decentralized and anonymous way of transacting wealth.
The other problem with this is that Coinbase also tracks and monitors how users spend their coins.
They can also freeze your Coinbase wallet if they discover you are doing questionable transactions, such as paying or receiving payment for adult services, gambling, selling illegal goods, or anything else that seems shady.
If Coinbase was decentralized, this would not be the case. They wouldn't be able to freeze your account as they wouldn't have control over it.
So, here's a quick recap of the pros and cons in this Coinbase review:

PROS
✓ Simple to use interface;
✓ Only offers the 4 most trusted cryptos: BTC, LTC, ETH & BCC;
✓ Accepts fiat transactions;
✓ Multiple payment methods and easily connects to US bank accounts;
✓ Highly-regulated to keep the platform secure and legitimate;
✓ Adheres to policies that make it transparent and trustworthy;
✓ Connects to GDAX so you can trade cryptos;
✓ Coinbase debit card known as the Shift Card for U.S. users.

CONS
✗ Not available in all countries;
✗ Limits how much you can spend or withdraw;
✗ Higher-than-average fees;
✗ Strict KYC policies allow transactions to be monitored and prevents anonymity;
✗ Tax-compliant and will share your info with tax authorities.
Who Should Use Coinbase?
Beginners
Coinbase is an excellent platform for beginner investors!
Its easy-to-learn interface will help you to learn the ropes of using online exchanges. Through it, you can easily transfer over to GDAX to trade and transact with even more currencies than what is offered on Coinbase.
Anyone Looking to Buy with Fiat
Coinbase is a broker exchange that allows you to buy crypto with your fiat currency, as mentioned throughout this Coinbase review. This makes it an excellent entry point into the crypto sector. In fact, a large portion of the capital that flows into the crypto industry has come through Coinbase from its users.
Smaller Businesses and Investors
For small-scale businesses and investors who are looking to invest their cash into crypto, Coinbase is an excellent option. However, for bigger businesses and investors who are interested in investing larger sums of money, Coinbase's fees can be a bit too high.
This type of investor might be better with an option that provides cheaper fees and better client privacy protection.
Latest Binance Coupon Found:
CLAIM $600 BONUS
Exclusive $600 Binance Offer
Don't miss this limited-time deal that's only available for our readers. Follow the Binance referral code link & receive up to $600 in rewards and bonuses!
Expiration date : 24/09/2023
7,847 People Used
Only 49 Left
Conclusions
If you have made it this far into my Coinbase review, congratulations — you now know whether or not Coinbase is suitable for you! You know its pros, its cons, and what it is best used for.
The truth is, Coinbase is one of the best broker exchanges currently available on the net. It is highly-trusted, well-insured, and really easy to learn and use for the beginning corner.
Despite its few downsides, it is by far the simplest way to buy into crypto. That being said, you shouldn't have to leave your crypto on the Coinbase website. Instead, transfer it to a hardware wallet if you are holding it long term.
So, what do you think? Is Coinbase right for you? Will you use it to buy, sell, trade or store your crypto? Let me know!
The content published on this website is not aimed to give any kind of financial, investment, trading, or any other form of advice. BitDegree.org does not endorse or suggest you to buy, sell or hold any kind of cryptocurrency. Before making financial investment decisions, do consult your financial advisor.
About Article's Experts & Analysts