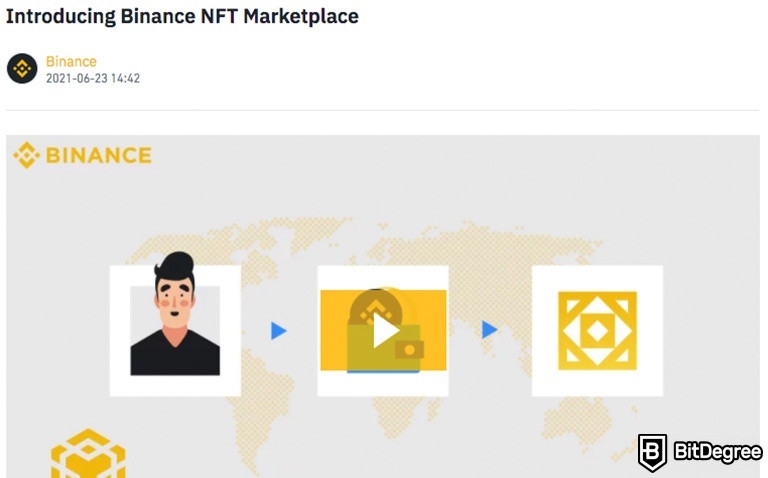 With the rise in popularity that NFTs have achieved, there's also a notable increase in the number of different NFT marketplaces, too. Some of them offer entry-level trading services, while others are niche-specific. Today, in this guide, we'll cover the Binance NFT marketplace - a centralized platform belonging to the world's largest crypto-related ecosystem.
Most people who've heard about Binance probably associate the name with the cryptocurrency exchange. What isn't as well known, though, is the fact that Binance does feature an entire fleshed-out ecosystem surrounding all-things-crypto. NFTs on Binance are no exception, either.
Being a relatively new project, though, the Binance NFT market is still shrouded in mystery - who will it suit best? Are there any special features to consider? Can you create NFTs on the platform, and is it difficult to sell them?
All of this (and more!) will be covered in the chapters below. Stick around, and let's dive into it!

Did you know?
Want to get smarter & wealthier with crypto?
Subscribe - We publish new crypto explainer videos every week!
How to Use Crypto? 5 Rewarding Strategies Explained (Animated)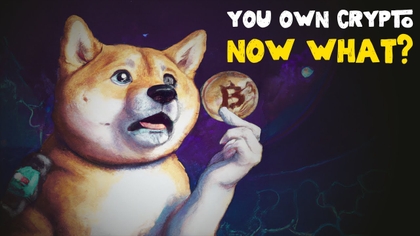 What is the Binance NFT Marketplace?
Before we get ahead of ourselves, let's take things from the top, and answer the seemingly fundamental question - what is the Binance NFT market, in the first place?
Latest Deal Active Right Now:
$300 + 40 DOGE BONUS
Huobi Black Friday Limited-Time Period
Huobi Black Friday & Cyber Monday 2023 period offers great bonus for new users - sign up & earn up to $300 + 40 DOGE bonus!
Expiration date : 10/12/2023
3,817 People Used
Only 31 Left
As mentioned in the beginning part of the guide, Binance is a very well-known name in the crypto industry. Most individuals know it as a cryptocurrency and token exchange - it's one of the largest (if not *the* largest) crypto exchanges on the market!
There's also a Binance-owned wallet associated with the aforementioned exchange - the Binance Wallet. It's a very popular place to store and keep your NFTs in, which does tie in perfectly with the marketplace itself, too.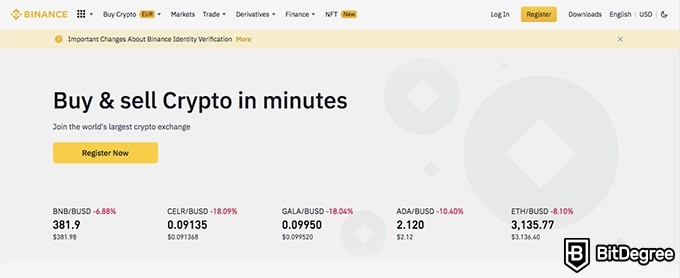 The Binance NFT market is a centralized platform where you can sell, buy, and create different non-fungible tokens. The last part - the creation of NFTs - is still a bit tricky, but we'll get to that in due time.
Note the term "centralized". Unlike many other competitor projects, Binance offers its users the chance to trade NFTs in a centralized manner, having passed all of the "Know Your Customers" processes (in other words, having verified your identity). There are certain benefits associated with this very fact, too.
For starters, Binance is able to eliminate a huge number of malicious players from the field. This is because the trading processes aren't anonymous - every creator, buyer, and seller of a specific NFT has submitted their identity-proving documents to Binance before entering the marketplace in question. In short, your non-fungible trading experience should be much safer, in the broad sense of the term!
Following that, the centralized nature of the Binance NFT market allows it to possess some of the best fees and liquidity. Both aspects are super-important for anyone who's planning on trading NFTs with the intention of making a profit, or simply wants to avoid the high gas fees associated with Ethereum.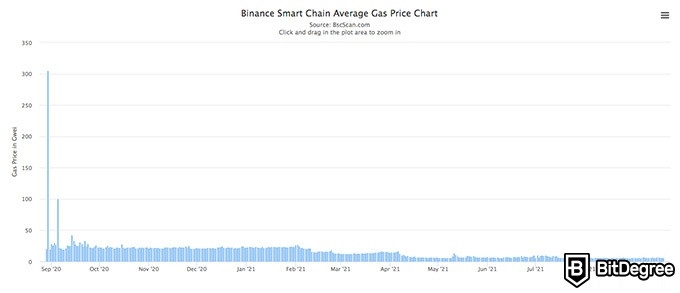 We'll cover the fee and liquidity aspects a bit later on in the guide, but another point that's surely worth considering is the recognition that Binance has managed to accumulate over the years, and how it transfers to the NFT market side of the platform.
Binance has earned the respect and trust of millions of different users worldwide. This does naturally extend to other projects that the company may have - if you see that some service is owned or run by Binance, you do automatically assume a certain level of trustworthiness, too. This does surely extend to the Binance NFT marketplace.
Even though it might be one of the newer NFT markets out there, it has already attracted a list of global influencers and brands to create their own, exclusive NFT drops on the platform. This does lead us to our next point, as well - the actual benefits of using the Binance NFT market.
What are the Benefits of Using the Binance NFT Marketplace?
As mentioned in the introductory part of this article, each different NFT market on the internet will have a selection of features that it offers to its users.
Some have awesome royalties for follow-up sales. Others are niche-specific markets that house only select NFTs, and allow their owners to get noticed easier. With that said, what are the actual benefits of the Binance NFT marketplace?
Well, there are plenty, really. Some of them were discussed above - centralization, reliability, general reputation within the crypto world. However, there are some NFT-specific aspects, too.
Different Types of NFTs
Within the Binance NFT market, you'll find a few different types of non-fungible token sale points. What this means is that you won't be limited by, say, only buying a single NFT instantly, or bidding on it during a timed auction.
Instead, Binance does also offer NFT enthusiasts some premium events. These events include selections of different exclusive NFTs from some of the best-known brands and artists around the world. If you're keen on owning some high-end NFT art, these premium events provide you with the chance to acquire limited and exclusive pieces.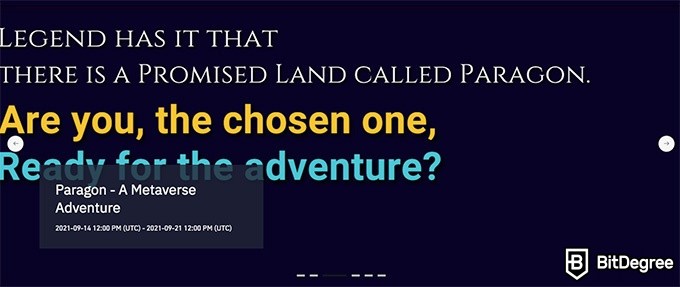 On top of that, the Binance NFT marketplace does also house different Mystery Boxes, as well. They can contain some rare and valuable NFTs, and offer an element of gamification and surprise to anyone who's willing to purchase them.
A point worth mentioning is that Binance is the only NFT marketplace that has launched the mystery box feature. While you may find some mystery boxes on other marketplaces, they aren't enabled by the platforms themselves, and are rather sold by less-than-known individual creators. A notable point to consider!
High Liquidity, Low Transaction and Gas Fees
Liquidity is one of the most important aspects both when it comes to trading cryptocurrencies, and also NFTs, as well. It's a metric that can showcase the success of both specific coins and tokens, and also the trading platform (in this case - marketplace) that houses them.
In layman's terms, high liquidity basically means that you'll face no issues trading and exchanging said coins or tokens into cash (fiat money), and vice versa. It symbolizes that there's both interest in the project, and that you won't be left "holding the bag".
Well, if liquidity is what you're worried about, Binance has got you covered. The Binance NFT marketplace possesses the highest liquidity statistics! This is, yet again, thanks to how well the exchange has established itself within the industry.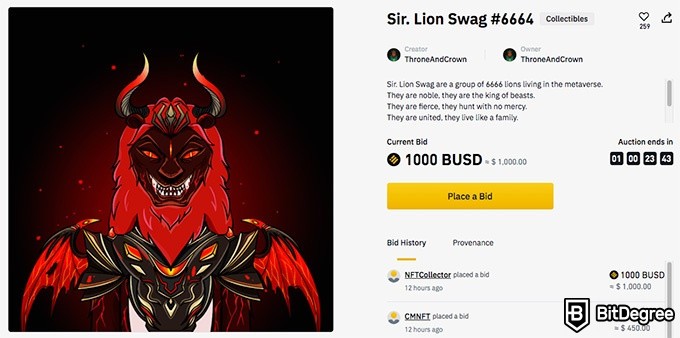 Transaction fees are another important factor when it comes to choosing an NFT marketplace. If they're excessively high, they can really cut into your profits, or make certain NFTs much pricier than initially intended. With the Binance NFT marketplace, though, your transactions will net a fee of 1%. That's super low!
The same applies to royalties, though. If you create an NFT on Binance, sell it, and it's then sold a few more times, you will receive 1% royalties from each of the follow-up sales.
The area where you will likely be able to save the most, though, are NFT Binance gas fees.
Most current NFT marketplaces deal in Ethereum-based non-fungible tokens. Such NFTs, while being the most popular, tend to come with huge minting fees. This is because of the congestion of the Ethereum network, and a few different additional factors coming together.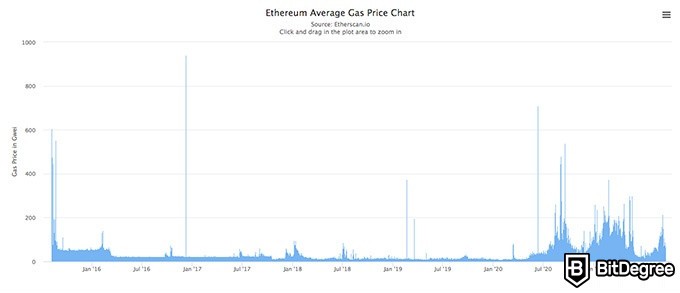 The Binance NFT marketplace, though, offers users Binance Smart Chain-based NFTs. The major benefit of these tokens is that their minting process is extremely cheap, when compared to that of Ethereum. Oftentimes, you could mint a BSC NFT for literal cents.
Among other benefits, this allows individuals to create NFTs without breaking their bank, and acts as a very beginner-friendly gateway into the world of NFT creation and sales.
Multiple Features - Same Account
While there are people who are exclusively interested in the world of non-fungible tokens, it's probably safe to say that the majority of NFT lovers are also fans of crypto, in general.
Here, "fans" are individuals who have invested into the crypto market, and are now hodling some coins. This group includes active day traders, as well.
If you're into crypto, you're probably well aware of the fact that there are many different products and services that you'd need to be subscribed to, in order to have a positive experience. Well, at least this is the case if you're not using the Binance NFT marketplace.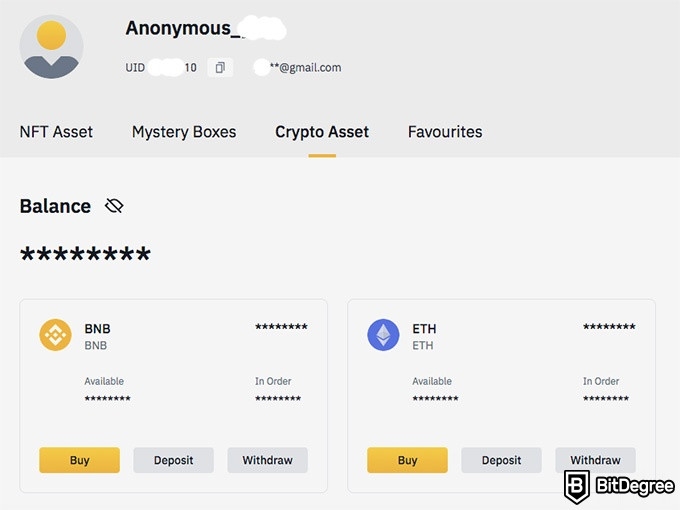 You see, with Binance, convenience is the name of the game. This is because you are able to use a single account within the entire Binance ecosystem!
In other words, if you were to create an account on the Binance NFT marketplace, you would be able to use that same account to then also invest in cryptocurrency on the company's trading platform, and also use their wallet, as well.
No matter if you're a newbie in the crypto scene, and aren't all that keen on creating five different accounts on various crypto-related platforms, or if you're already a veteran trader, one thing's for sure - convenience is always much appreciated. And that's exactly what you receive with Binance!
Getting Started With the Binance NFT Marketplace
By this point, you should be pretty familiar with the NFT Binance scene, at least on the surface level. Let's now take a dive a bit deeper, and check out how you should go about using the actual platform, and purchasing your first NFTs.

Did you know?
Want to get smarter & wealthier with crypto?
Subscribe - We publish new crypto explainer videos every week!
What is Olympus DAO? (OHM Crypto Animated Explainer)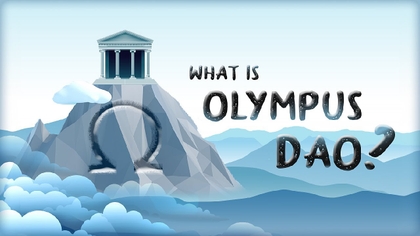 Step 1: Registration and Verification
The very first thing that you need to do in order to get started with the Binance NFT marketplace is to register on the platform itself. That likely wasn't unexpected, right?
If you've never used Binance before, head on to the company's official website, and begin the registration process. It's rather self-explanatory, and the registration wizard will guide you through the whole procedure.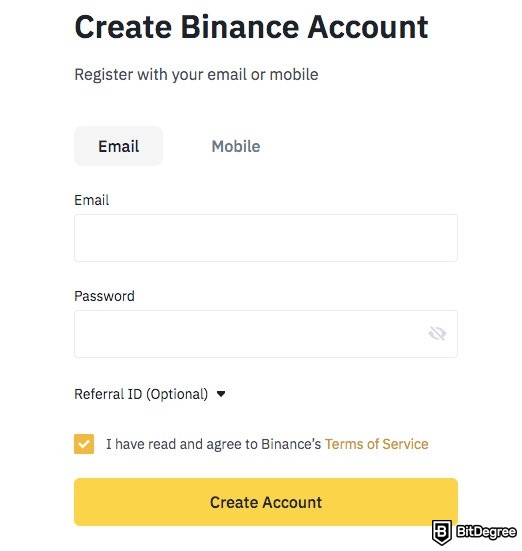 In order to be able to start using Binance's services, though, you will also need to pass some KYC checks. Since Binance is a centralized crypto platform, it's mandatory for them to check the IDs of their customers, in order to ensure there's no foul play involved.
If you already own a Binance account, though, you are able to skip this part. As mentioned in the chapter above, the Binance NFT marketplace shares the same account with the exchange side of the platform - if you own one, you're able to access the other.
Once you do have your account all settled, you will then need to deposit some fiat money, and purchase set-specific crypto coins. Namely, you need to buy either BNB, BUSD, or Ether coins. This is because these are the three cryptocurrencies that are accepted payment methods when trading NFT on Binance.
Step 2: Buying the NFTs
The process of buying the actual NFTs on the Binance NFT marketplace is actually quite simple, and is reminiscent of any other digital shopping you might be doing. That said, though, there are a few different ways you can go about it.
First of all, the simplest way to acquire a select NFT is to purchase it, on the spot. This can be done with tokens that have a fixed price. In other words, if you come across an NFT landing page and see the term "bid", this isn't going to be possible.
Fixed-price NFTs are among the most popular ones, though, so you needn't worry about some sort of lack of choice. Once you have picked out the perfect non-fungible token for yourself, you should then just press the large "Buy Now" button, and pay the full price - that's it!
Next up, we have NFT auctions. These specific tokens are ones that you can bid on, and compete with other NFT enthusiasts by doing so. Same as with traditional auctions, the person who has placed the highest bid will receive the NFT, when the time of the auction runs out.
The process of bidding itself isn't complicated, though. First, you need to find a token that you'd like to bid on. Once on the page, you'll need to press "Place a Bid".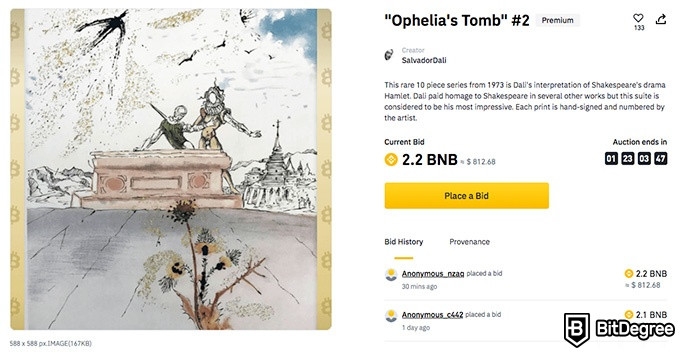 On the pop-up window that comes up, you'll be required to enter the amount of crypto that you'd like to bid on the NFT in question. Depending on the token, the cryptocurrency that you'll be bidding with will also vary, too, so keep this in mind!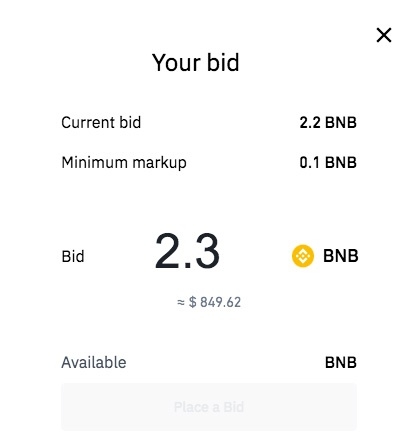 There's also a minimum markup involved with all bids, as well. You can place a bid by either increasing the markup with the minimum amount, or inputting a number of your own (that's above the minimum markup, of course).
Once you've checked through all of the numbers, and have decided that the bidding amount satisfies you, just press "Place a Bid" once more, and that's it - all that's left to do now is wait!
The amount of cryptocurrency that you've bid will be frozen on your account for the duration of the auction, or up until another party places a bid on the NFT that's higher than yours.
Lastly, you can also acquire Mystery Boxes - special NFT events that we've already discussed earlier on in the guide, and that are exclusive to the Binance NFT marketplace.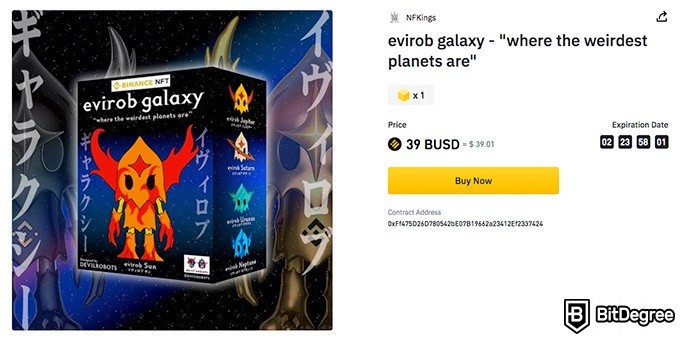 Mystery Boxes have fixed price tags attached to them. Also, you can choose to purchase them in bulk - pick out a box, select a number of boxes that you'd like to buy, and place an order. Once you do that, the boxes will appear in your NFT inventory, and can either be opened, or added to your collection.
Each Mystery Box has a set specific chance of containing differing rarity NFTs inside. Specific percentage can be found on the landing pages of each box.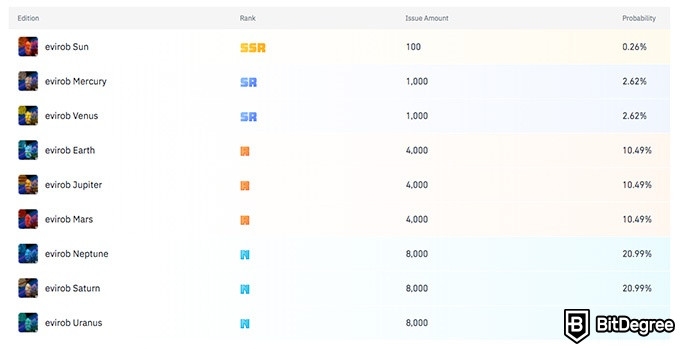 Once you purchase a Mystery Box, your order is non-refundable - meaning, you can't turn it in, and receive your money back. That being said, they can be sold to other individuals, or opened in order to reveal a random NFT, which can then be sold, as well.
All in all, there are multiple different methods of how you can go about buying and NFT on Binance. Each method will suit different people, and it's great that there's a chance to pick and choose the best way for yourself, too!
Step 3: Selling the NFTs
Since we'll be talking about the NFT creation process in a minute, for the sake of staying consistent, let's assume that you want to sell an NFT that you already own.
The Binance NFT marketplace makes it super-simple for users to sell their NFTs. To start off, visit your "NFT Asset" section, and navigate to the collection page. Here, you'll need to pick the NFT that you'd like to sell.

Once you choose the NFT, you will then need to list it on the marketplace. This is where you'll be able to decide all of the specific parameters of your listing.
First, the type of sale that you'd like to list. You can either sell your NFT for a fixed price, or set up a timed auction. If you choose the former option, you'll be asked to set a specific price for your NFT, and choose the cryptocurrency that you'd like to receive as payment.
If, however, you decide to go with the auction route, you will then be asked to input the minimum bid that someone can make on your NFT.
Once you're done with the processes described above, you will then need to pick a period of time for just how long your NFT will be listed on the Binance NFT marketplace. This period can go up to a week from your listing.

Following that, you'll also need to set up a category for your tokens, and write a description that will help potential buyers identify and learn more about the NFT that you're selling. Once all of that is done, you'll be able to submit your NFT in order for it to be listed!
The listing process must be verified by a designated team over at Binance. This verification usually takes up to 8 hours, depending on the time that you submit your NFT, and the number of tokens that are being submitted for verification.
That's it! Once your NFT listing is verified by Binance, the token will appear on the Binance NFT marketplace, for everyone to browse, view, and buy (or bid on)!

Pros
A very well-known crypto exchange platform
More than 500 different cryptos available
Two-factor authentication
Main Features
Over than 100 different cryptocurrencies available
Strong security
Small withdrawal fees

Pros
Secure and reliable
Low fees
A good amount of fiat currencies accepted
Main Features
Reputable exchange
Multiple fiat currencies are accepted
Relatively low trading fees

Pros
Anonymous trading
Secure
Supports a variety of cryptocurrencies
Main Features
Easy to use
Low fees
Good security
Step 4: Creating an NFT
While it may seem counterintuitive, I have purposely left the NFT creation process to be discussed as the final point of our guide. This is because, as of writing this article, individuals must be invited to the Binance NFT marketplace in order to mint a token of their own.
While Binance promises that the service will become available to the masses soon, minting BEP-based NFTs is still exclusive. That said, though, it's still worth learning about the creation process beforehand, so that whenever it becomes available, you'd be able to go ahead and create your own NFT, fast and simple!
The very first thing that you'll need to do is visit the Binance NFT marketplace, and press the "Create" button at the top-right corner of the screen. Doing so, you will then be prompted to pick the type of NFT that you'd like to create - an image, an audio file, or video.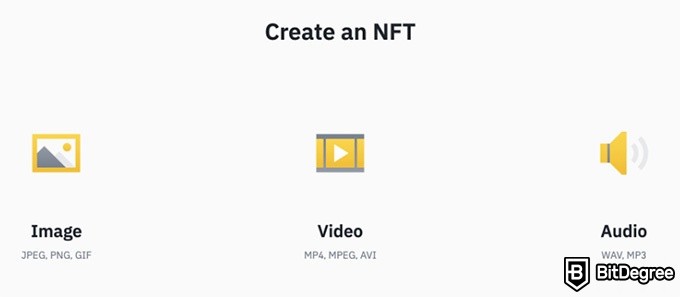 Here, you'd also need to decide whether you're going to issue a single NFT, or a series. The latter option is going to be most notable for anyone who wants to mint an entire collection of non-fungible tokens.
Following that, you'll need to upload your file, name it, and write a description. Once you do all of that, you'll also be able to see the minting fee at the bottom of the page - do make sure that you have enough BNB to pay this fee! Unlike with Ether's gas fees, though, the BNB fee should be comparatively low (at the time of writing this, it's 0,005 BNB).
Once the minting process is complete, and you're presented with the congratulatory pop-up, you will be able to find your newly-created NFT in the "Collection" tab of your profile. Here, you will also be able to view the history of the token, and some additional information, as well.
While we've already discussed this earlier on in the tutorial, it's worth mentioning that the Binance NFT marketplace offers a 1% royalty on all of the follow-up sales that your NFT may participate in, after you sell it to another user. In other words, you will receive 1% commission every time someone else sells your NFT, forever - pretty neat!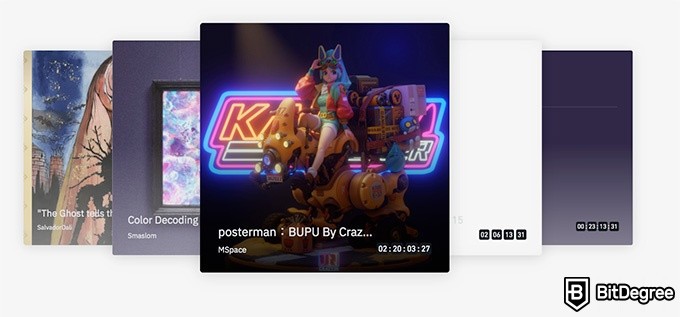 The best part here is that you don't even need to be a creator of a non-fungible token in order to benefit from this 1% royalty. Instead, if you deposit (bring in) any type of external non-fungible token into the Binance NFT marketplace, you will be eligible to receive that same 1% royalty, as well!
All things considered, Binance makes the NFT creation process very quick and painless. Even if you've never minted an NFT before, or have no experience with crypto, in general, the whole process from start to finish should be quick, and also cause zero frustration or confusion.
Do note that you can find all of your NFTs - both those that you've created, and also those that you've bought, too - in the Collection section of your Binance NFT marketplace profile. From here, you'll be able to manage your tokens in a simple manner!
Conclusions
So, then - this concludes our guide on the Binance NFT marketplace! We've covered all of the main points regarding the market in question, and also discussed the NFT acquisition, sale, and creation processes thoroughly.
At its core, the Binance NFT marketplace isn't at all difficult to use. Once you register on the platform and pass all of the KYC checks, you'll have a designated NFT profile, and will be able to purchase and sell NFTs, worry-free.
Note, however, that in order to do so, you'll need to have some BNB, BUSD, or Ether coins. These can be purchased on the Binance exchange itself - your profile is shared among the entirety of the Binance ecosystem, and will thus work on the exchange side, as well as the non-fungible token market one, too.
BINANCE

Main score based on expert evaluations & real user reviews.

For which purpose or what kind of people is the crypto exchange most useful.

Buying, trading, and holding a wide variety of cryptocurrencies

The countries in which the cryptocurrency exchange is available for operation.

Turkey, Russia, Argentina, Vietnam, Ukraine, + 40 more,

Most popular hand-picked deals & coupons.

All Binance Coupons

Final crypto exchange evaluation conclusion based on research, expert opinions & user feedback.

One of the leading crypto exchange platforms in the industry.
Visit site
Read review
Table: Some general information about the Binance cryptocurrency exchange
Lastly, if you'd like to learn more about the Binance cryptocurrency exchange, you can read our dedicated and in-depth review here. Granted that it's widely considered to be one of the leading crypto exchange platforms in the industry, who knows - perhaps it's the perfect place to start trading cryptocurrencies for you?
All in all, thank you for reading this guide on NFT Binance! I do hope that it was informative, and that you've found the answers to all of your questions. Best of luck, and until next time!
About Article's Experts & Analysts