Cryptocurrency brokers are, admittedly, often shrouded in mystery. Most of us are used to the expression "cryptocurrency exchange", and some even tend to think that these two terms are synonyms. That is, however, not exactly the case, and in this list of the best cryptocurrency brokers, I'll try to showcase that, quite clearly.
No matter if you're just starting out with your crypto journey, or are already an advanced-level trader, chances are that you can benefit from a buying or selling broker. That being said, however, it's true that crypto brokerages are mostly used by experienced traders, who do already know what they're doing.
I'll get to why that's the case in a minute. Just keep in mind that, if you find that even the best broker of cryptocurrency isn't your cup of tea, there are alternatives for you to check out, still - they come in the form of cryptocurrency exchange platforms!
Our list of the best cryptocurrency brokers will look like this:
What is a Crypto Brokerage?
Before we get into the actual list of the best cryptocurrency brokers of the year, we should probably establish what a crypto broker is, in the first place. Or, to be more specific, how brokerages differ from crypto exchanges.
Admittedly, the differences aren't all that obvious, especially if you don't know what to look at. To add to that, if you're just starting out in the field of finance, in general, chances are that you won't notice any differences, whatsoever, looking with the naked eye!
If, for some reason, you're not interested in the details, and simply want a straightforward answer, let me put it this way - cryptocurrency exchanges allow you to trade cryptocurrencies and fiat money in the traditional, order book-based manner, while the best cryptocurrency brokers will offer their users advanced, complicated trading tools.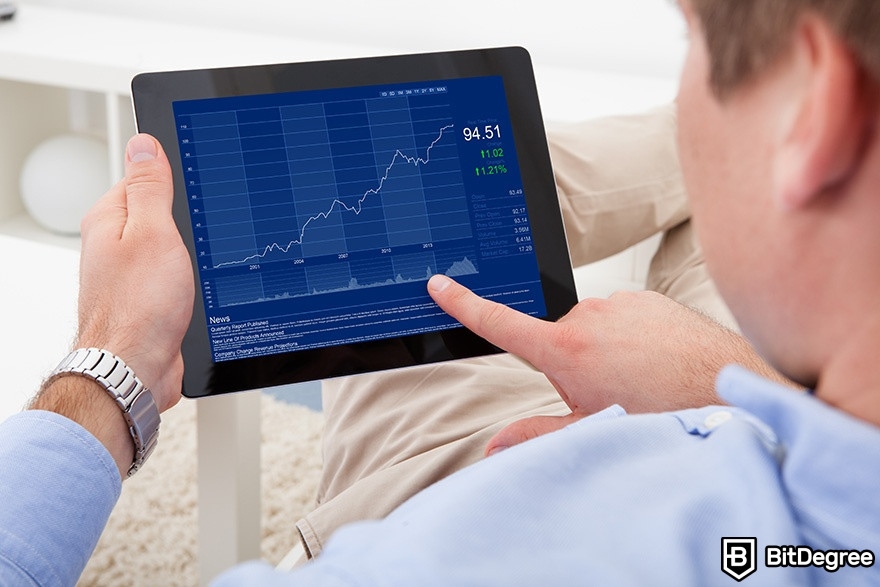 With that said, let's get into a few details, shall we?
Within a crypto exchange, you are able to deposit some crypto coins or tokens, and then trade them for some other assets. Your trades happen either with another party, with the exchange acting as an intermediary, or with the platform itself.
The catch here is that you can only trade the assets that you're holding, at that point in time. So, if you'd like to trade some Ethereum for Bitcoin, you would need to have ETH coins, in the first place.
On the flip side, with crypto brokers, that's not the case. Brokerages allow you to use special trading tools, and trade assets that you might not necessarily possess. So, in order to get that Bitcoin, you don't necessarily have to trade your ETH for it - you could, instead, use one of the other BTC trading pairs, and employ some special features of the brokerage.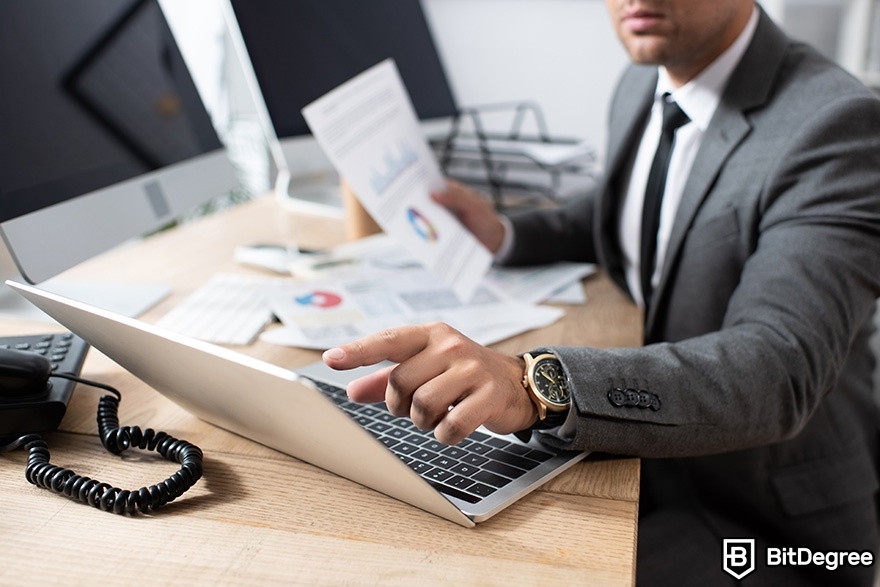 It is, admittedly, a pretty complex topic. However, to circle back to the point I've tried to make initially, whether it be Bitcoin brokers or crypto brokerages, in general, these platforms are mostly going to appeal to individuals who are looking for advanced-level functionality.
Special trading tools, leverage, different order types, different additional features and asset groups available to be traded, and so on - there's a lot to mention, when it comes to brokerages! That said, you probably get the idea - brokerages offer high-end features to their users, and are usually oriented towards the more-advanced crypto traders.
With all of that being said, let's move on to the list of the top crypto selling & buying brokers!
Ranks #1 out of 6 Crypto Exchanges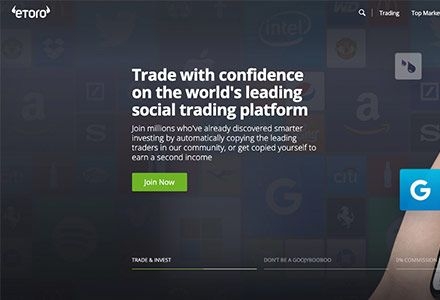 Things we liked:
+ Copy trading service available
+ A variety of cryptocurrencies to choose from
+ Beginner-friendly
+ ETF trading functionality
Things we didn't like:
- Withdrawals can be slow
- Slow verification process
Cryptoassets are unregulated in some EU countries and the UK. No consumer protection.
Get $10 Bonus
Limited-time eToro Coupon
Take advantage of this eToro coupon. Deposit $100 - get a $10 Bonus, trade $100 - get a $10 Bonus! Act now while this eToro deal is still valid.
Expiration date: 30/01/2023
657 People Used
Only 92 Left
eToro often isn't the very first name that you'd think about, when it comes to the best cryptocurrency brokers. This brand is more-commonly associated with traditional stocks, as well as other commodities - however, I'm happy to say that it does, for a fact, offer crypto trading products, as well.
Specifically, eToro somewhat specializes in ETFs - exchange-traded funds. These are special types of assets that you can purchase and trade, and they're usually invested in for a longer period of time.
An ETF is like a basket of different asset indexes, sold as a single product. So, for example, you could purchase a top-10 cryptocurrency ETF, which would include all of the top-10 crypto assets, dispersed according to some specific variables.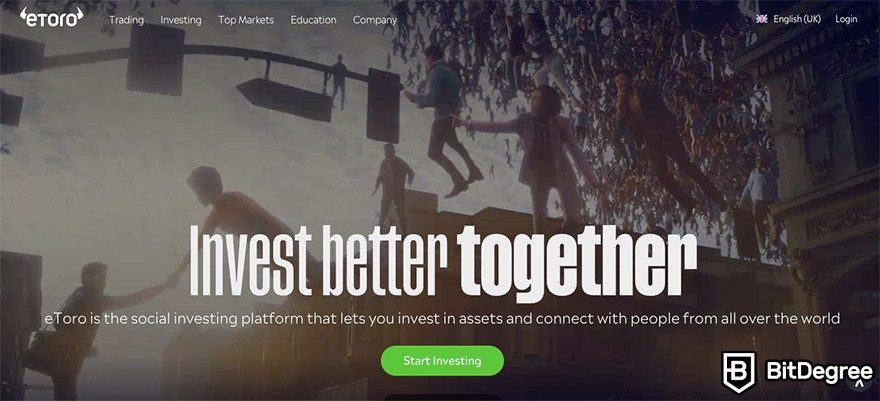 ETFs are super-popular in the world of traditional finance. Multiple best cryptocurrency brokers offer these trading tools to their clients, as well - it allows you to diversify your portfolio, manage risks, and perform complex trading strategies, if you so wish to.
Moving on, eToro also has another super-cool feature called "copy-trading". It's a rather unique feature, I admit, and the company has worked to perfect it to be as straightforward and simple to use as possible.
Essentially, as the term itself implies, copy-trading allows you to follow the trades of some designated trading pros, and copy what they do, exactly. You can change up the numbers, set stop-losses, and perform other adjustments, but in short, this feature allows you to trade crypto in the same manner as your favorite trader.
In short, eToro is full of various cool and innovative features, and comes equipped with a good fee model, as well as some top-of-the-line functionality. Are there any shortcomings that you should be aware of, though?
Table: Some general features of eToro
Well, the only real complaint that users of the platform have is one that relates to the verification process of the site. Specifically, if you're looking for the best cryptocurrency broker in order to start your trading process, as soon as possible, you should note that the identity verification can be somewhat slow, with this particular Bitcoin broker.
Other than that, you will often come across user reviews claiming that eToro is a very beginner-friendly trading platform. While it's true that the broker houses a variety of advanced features, it also seems that it doesn't overbear the user with them, and you're able to analyze everything at your own pace.
The above is especially notable if you're just starting out, as a crypto investor or day trader. Just something to keep in mind, for anyone interested in finding the best Ethereum, Bitcoin, Dogecoin broker, or any other!
Visit eToro
...or read our eToro review
Cryptoassets are unregulated in some EU countries and the UK. No consumer protection.
Ranks #2 out of 6 Crypto Exchanges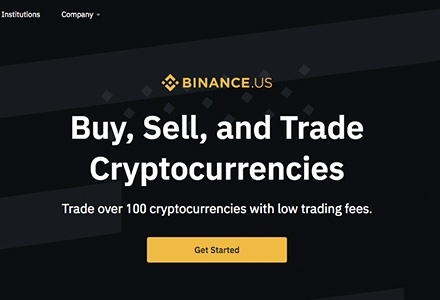 Things we liked:
+ Simple to use
+ Fiat payment methods - accepted
+ A dedicated tax statement tool
+ Advanced trading functionality
+ Some of the best trading fees
+ A lot of crypto education-related resources
Things we didn't like:
- Mediocre customer support experiences
- Lack of security-related information
Binance, in addition to Coinbase, is one of the most-recognizable names in the cryptocurrency industry. Depending on the time that you're reading this list of the best cryptocurrency brokers, and a few different variables, Binance is often named as *the* biggest crypto exchange, by trading volume.
In this specific article, however, we won't be talking about the official, global version of the Binance exchange platform. Instead, our focus lies on one of the company's subsidiaries - specifically, Binance.US.
Why? Well, the main Binance platform is a cryptocurrency exchange, while the US version of the site does possess brokerage functionality, to an extent. It's a rather complex topic, but in essence, it all boils down to how cryptocurrencies and crypto exchanges are regulated, and how strict the US is when it comes to off-shore trading platforms.

If you're looking for a cryptocurrency broker USA, though, this is, admittedly, good news.
Binance.US is quite a bit different from the main platform. It offers fewer features, and doesn't support as many crypto assets as its parent company - this, however, was to be expected.
The great news here, however, is that Binance.US retains the same low fee model as does the main Binance platform. On top of that, the trading fees can be reduced, even more, with the help of Binance's special trading program.
The thing that makes Binance.US truly special, though, is in the name - it's a US-dedicated crypto broker. While it may seem pretty self-explanatory, once you start digging deeper, you can kind of see why it's a noteworthy point to consider.
Table: Binance company information
As mentioned earlier, when it comes to Bitcoin, Ethereum, Dogecoin brokers, or any other crypto trading platform operating within the States, regulations are super-strict, especially if the platform is based off-shore. This does kind of limit the number of big names that operate within the country.
While Binance.US is far from the numbers generated by the global version of Binance (it's no wonder, granted the region-specific nature of said broker), within the United States, Binance.US is still at the top, trading volume-wise.
This is noteworthy simply due to the fact that you receive the same, high level of service that you'd come to expect from Binance, even though you're using a different platform, altogether. Yes, it's a tricky concept, but that's the general idea behind it.
In other words, you don't need to go out looking at some other, small-scale crypto brokers, if you don't feel a need for it. While the US does have alternatives that you could check out (I talk about them in this article, as well), Binance.US still remains one of the leaders in the space.
Ranks #3 out of 6 Crypto Exchanges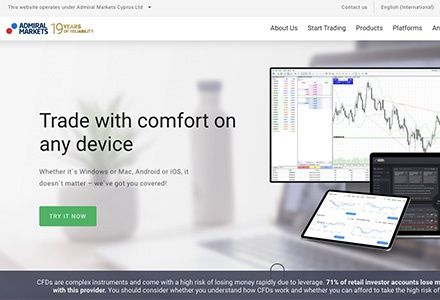 Things we liked:
+ A very well-established brokerage
+ Huge variety of asset CFDs and derivatives to trade
+ Comparatively low fees
Things we didn't like:
- Not suitable for beginner traders
- CFD crypto trading - you do not receive the actual cryptocurrency
- Potentially not available for US traders
Admiral Markets is a name that's likely very familiar to anyone who's dipped their toes in the field of traditional finance - specifically, stocks, forex, and advanced-level trading tools.
However, what you might not have known up until this list of the best cryptocurrency brokers is the fact that Admiral Markets does allow its clients to acquire and trade cryptocurrencies, too!
Well, kind of. To be a bit more specific, AM will allow you to trade CFDs, or contracts for difference.
CFDs aren't actually crypto assets. Instead, they are special contracts that derive their value from an underlying asset - in this case, that would be a cryptocurrency.

Now, as you could come to expect, CFDs have their own pros and cons. They are beloved by day traders, and people who rely on active trading tactics in order to make their potential profits. On the flip side, if you're looking to hold crypto long-term, and need the best cryptocurrency broker simply for the sole purpose of purchasing the assets, CFDs won't really suit those plans.
The whole CFD matter aside, though, there are other notable features that you can expect from Admiral Markets, too. For example, the company prides itself on its fee model - indeed, the fees that you've come across with Admiral Markets are definitely on the lower end of the spectrum!
Furthermore, AM also has the factor of reputation, too. No matter where you look, or what you might personally think about this crypto broker, there's no denying that it's one of the best-known names in the world of financial asset brokerages! The fact that, these days, you are also able to trade crypto on it is simply an extension of the company's service pool.
Admiral Market's features are catered towards day traders, as well - this is something that you'll likely notice as soon as you start using the site. Notably, you might have already understood this much from the CFD part of the broker's description - that being said, though, there are other features that complement this fact, as well.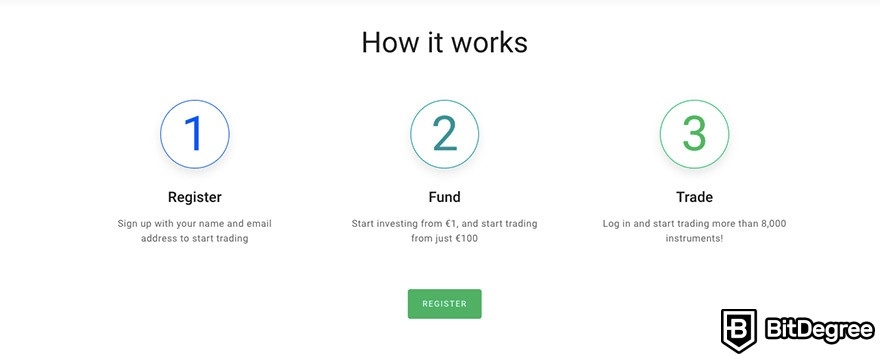 It's really a strength, as well as a weakness of AM. The latter is simply due to the fact that the broker isn't going to be beginner-friendly - unlike most other names mentioned on this best cryptocurrency broker list, Admiral Markets doesn't cater to industry newcomers. If you really want to get the full experience of AM, you'll need to already have some know-how when it comes to asset trading, and advanced financial concepts.
Lastly, you should also be aware of the fact that, if you're looking for the best cryptocurrency broker USA, you might not be able to use Admiral Markets. The regulatory policies are extremely confusing, so I'd definitely advise you check it out, for yourself, on their official website - when you're reading this, things might have changed.
Generally, though, if you're based in the United States, you won't be able to trade crypto CFDs on Admiral Markets.

Did you know?
Ranks #4 out of 6 Crypto Exchanges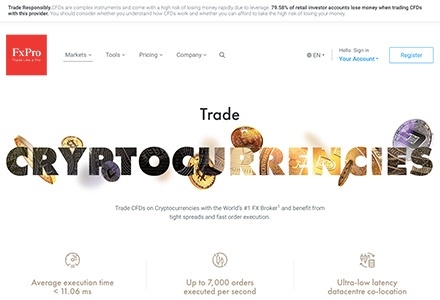 Things we liked:
+ Decent fee model
+ Good for those who don't want to hold actual cryptocurrencies
+ Multiple additional features
+ Multiple additional assets
Things we didn't like:
- CFD trading - you don't actually get cryptocurrencies
- May be too complex for beginner traders
FxPro is one of those names that you wouldn't really associate with the best cryptocurrency brokers - chances are that many people who've heard about this platform wouldn't associate it with crypto, in general.
That being said, FxPro does, for a fact, allow its clients to participate in crypto acquisition and trading - just not in the form that you'd come to expect with crypto-specific brokers.
You see, FxPro allows users to trade crypto CFDs. It's not exactly a buying broker or a selling broker, in regards to actual cryptocurrencies, but instead, a platform where you won't receive the actual crypto that you trade, and will only get a contract for difference.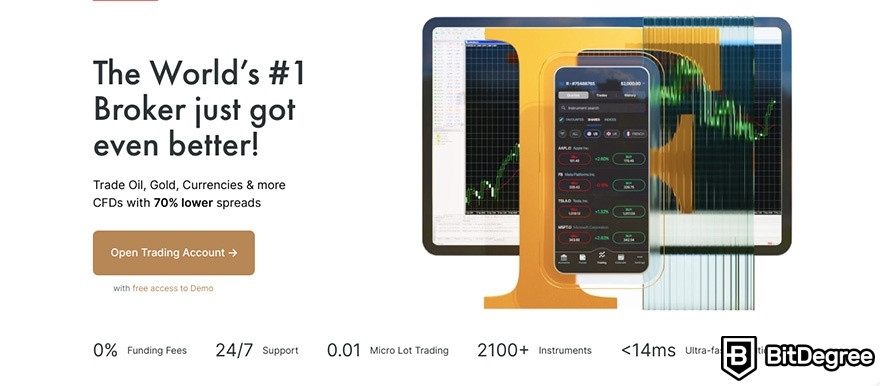 Now, do note that this isn't for everyone - CFDs are very specific trading tools, and are usually used by a particular group of finance-savvy individuals (specifically, those who are into day trading, as opposed to long-term investments). This does, naturally, draw a certain line between those who are going to find FxPro to be one of the best cryptocurrency brokers, and others who might search for an alternative platform.
Having said all of that, FxPro still has a lot to offer, to your average investor. The platform hosts a variety of additional, non-crypto-related assets for you to trade. This, in turn, can help you diversify your portfolio, if that's something that you're interested in doing.
Furthermore, as you might come to expect, FxPro also has some pretty decent trading fees, as well as a selection of additional, advanced-level features.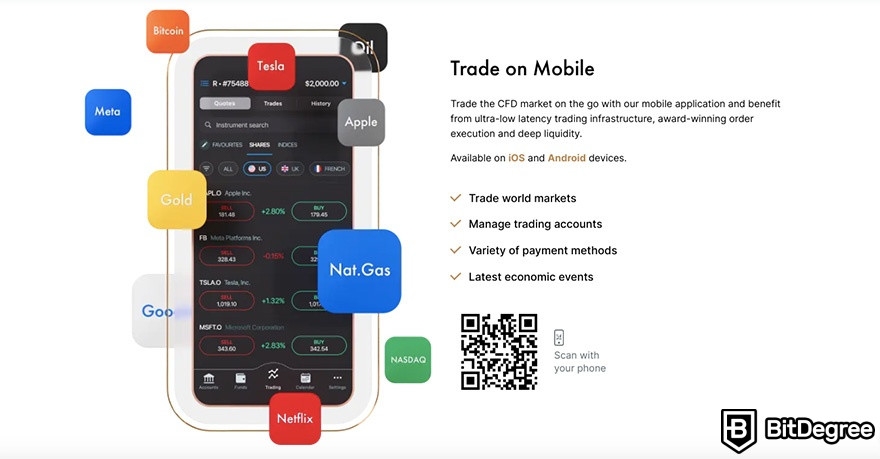 From what we've already covered in regards to FxPro, it's rather evident that the platform is aimed at a very specific type of traders - and that's alright! If you're someone who doesn't want to go through the hassle of holding your own, actual cryptocurrencies (which would involve getting yourself a wallet, and learning how all of the crypto transferring processes work), FxPro might be the best cryptocurrency broker for you!
On the other hand, the said broker does, admittedly, possess a learning curve, which can definitely scare some potential clients away. Just something to keep in mind!
Ranks #5 out of 6 Crypto Exchanges
Things we liked:
+ Fiat currencies - accepted
+ Simple to use
+ Accepts only the most trustworthy cryptocurrencies
+ Very secure
Things we didn't like:
- Not available in all countries
- Some of the less-known coins aren't supported
$5 BTC BONUS
For New Verified Coinbase Users
Receive your $5 bonus in BTC when you sign up for a new Coinbase account & complete all photo verification steps. Follow this Coinbase referral link to activate the deal!
Expiration date: 30/01/2023
4989 People Used
Only 11 Left
If you've spent any time in the crypto industry, you're probably surprised to see this name pop up here - Coinbase is usually referred to as a cryptocurrency exchange!
Well, that's the thing - the platform in question is kind of a mix of a high-end exchange, and one of the best cryptocurrency brokers in the industry.
While Coinbase doesn't really need an introduction, it's still worth pointing out that the platform has managed to become synonymous with the cryptocurrency market, and crypto trading, as a whole. There are a lot of reasons how that came to be, but probably the most-interesting of them is the fact that Coinbase is very simple to use.
How is this so interesting? Well, as I've mentioned earlier, even the best cryptocurrency brokers out there have a reputation for being quite complicated to get into, for a beginner trader. Coinbase is, admittedly, one of the bigger exceptions.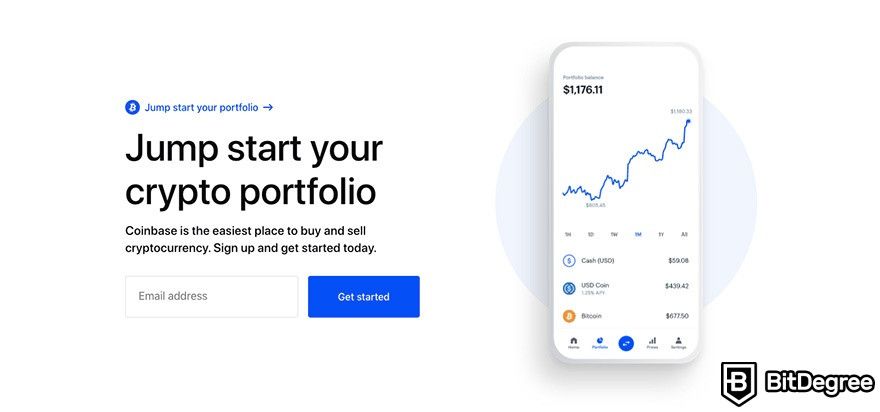 One of the reasons for why that's the case is due to the fact that Coinbase is somewhat exclusive to cryptocurrency products - you won't find a huge variety of stocks, or forex available to be traded on the platform. On top of that, Coinbase has streamlined its user interface to a point where, if you're not looking for advanced features, they won't bother you, and you'll be able to take things slow.
Another great feature of the platform in question is that Coinbase does also allow users to earn cryptocurrencies, too! So, in addition to trading and exchanging, you may also utilize one of the platform's crypto earning features, to maximize your potential gains!
One way to do it is via Coinbase's Learn-to-Earn program, where you study crypto topics, take a quiz at the end, and earn a reward, if you answer the questions correctly. Another method involves signup bonuses - you can sign up to the platform, start trading, and earn rewards this way!
Table: Some general information about the Coinbase crypto broker
There are multiple other ways of how to earn free crypto on Coinbase, which do, in turn, make it one of the best cryptocurrency brokers out there!
The one thing that you should note, however, is that Coinbase does have some pretty high trading fees, when compared to other platforms of its kind. Bitcoin brokers, in general, tend to have higher fees than exchanges - that being said, depending on your personal situation and preferences, this could impact your potential trading profits by quite a bit.
That aside, though, if you're looking for the best cryptocurrency broker, Coinbase should definitely be high up on your list. The platform has years of experience and reputation-building under its belt, and the fact that it's one of the most recognizable names in the crypto industry should already give you a pretty good idea of what the brokerage is all about!
Ranks #6 out of 6 Crypto Exchanges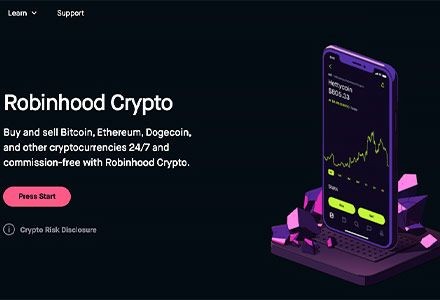 Things we liked:
+ Beginner-friendly
+ No commissions on trades
+ A reliable investing platform
Things we didn't like:
- Registration can prove to be a hassle
- Only available for US residents
- You can't transfer your crypto assets anywhere else
- Not primarily a crypto exchange
Up to $500
In Free Stocks For Inviting Friends
Take advantage of Robinhood referral program & earn up to $500 in stocks for inviting your friends to join Robinhood.
Expiration date: 30/01/2023
1976 People Used
Only 24 Left
If you reside in the United State of America, Robinhood is likely a name that's very familiar to you. While not being a dedicated Bitcoin or Dogecoin broker per se, Robinhood was, for the longest time, seen as one of the best entryways into the world of investing for your casual, everyday individual.
Even today, the sentiment isn't exactly much different. While it's true that Robinhood has had a few bumps in the road, especially when the whole Reddit GME craze was going down, a lot of people still choose this platform for all of their investing wants and needs.
So… What makes Robinhood so special, so that it would deserve to be called one of the best cryptocurrency brokers?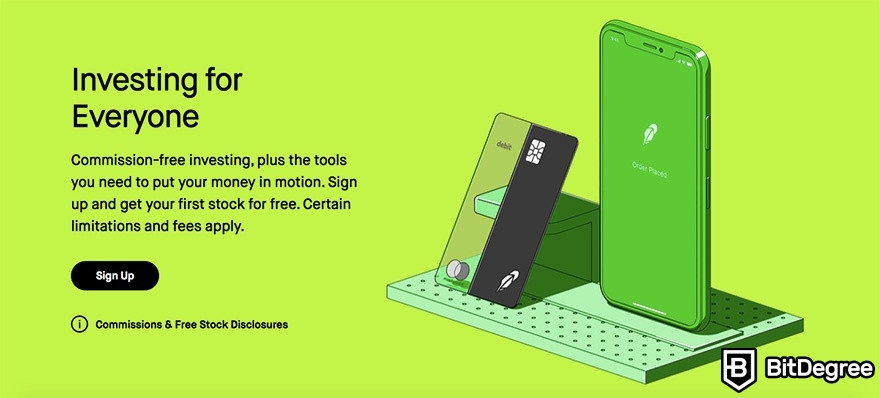 Well, simplicity is where it's at, with this particular platform. Robinhood has always found pride in the fact that they're the leading platform in the US, as far as the elimination of barriers for entry-level investors is concerned. The broker allows you to start investing with very small sums of money - something that you won't find with other, traditional brokers.
Robinhood is also a commission-free crypto broker, as well. Meaning, you won't need to pay any commission fees on your trades. A very rare, and thus, very appreciated feature!
Having said all of that, though, it's important to address the elephant in the room, and point out the fact that Robinhood is US-exclusive - if you're looking for the best cryptocurrency broker USA, this isn't an issue. However, if you reside elsewhere in the world, well… You'll need to find other alternatives.

Also, since Robinhood isn't primarily a crypto broker, whatsoever, it doesn't actually deal in actual crypto assets, either - instead, you purchase and sell crypto-bound contracts. So, if you buy crypto on Robinhood, you won't be able to then transfer it out of the platform, to a third-party wallet that you might have.
All of these things make Robinhood out to be a somewhat hit-or-miss platform. If none of the mentioned shortcomings seem like dealbreakers to you, then this particular broker might be worth trying out!
If, however, you'd rather hold cryptocurrency of your own, or you're simply not a US citizen, then you should take a look at the alternative best cryptocurrency brokers mentioned on this list.
Conclusions
That concludes our list of the best cryptocurrency brokers of the current year, and on the current market! If you've read this article all the way up to this point, you're probably now aware of some top-tier options that you could go with, when it comes to finding a reliable brokerage for yourself.
That being the case, though, I'd like to, once again, stress something I've established earlier on in the article - cryptocurrency brokerages aren't for everyone! While it's a term that's often used interchangeably with "exchanges", admittedly, these two types of crypto acquisition places are somewhat different.
Brokerages should, in many cases, be used by those who already know what they're doing, crypto-wise, and are investing-savvy, in general. Sure, there are crypto brokers that pride themselves on the aspect of simplicity (i.e. Kucoin), but exceptions only work to enforce the rule.
If you're a beginner in the space, and aren't sure where to start, I'd suggest checking out our list of the best cryptocurrency exchanges. Here, you'll be able to find a variety of crypto-dedicated platforms that will both allow you to enter the market in as simple of a manner as possible, as well as purchase and hold your own crypto - something that a lot of general-purpose brokerages can't really offer.
With that being said, thanks so much for reading, and I wish you the best of luck with your crypto trading ventures to come!
---
Other Crypto Exchanges In This Category
Here are other crypto exchange related to the category but not as favoured by BitDegree.org Crypto Exchanges readers yet. In my personal opinion, today there are much more optimal crypto exchange in the list with the higher rating that I'd recommend for the same price range or less.
BlockFi - Multiple Advanced-Level Features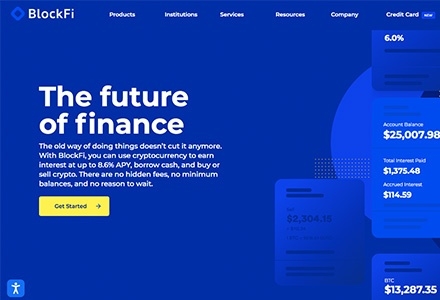 Things we liked:
+ Commission-free exchanges
+ Up to 8,6% compound interest
+ Ability to take out crypto loans
+ A simple-to-use platform
+ Regulated and located within the US
+ Automated trades
Things we didn't like:
- No FDIC asset insurance
- Not available in some countries
BlockFi is definitely a bit of an interesting option, when it comes to finding the best cryptocurrency broker of the year. This is simply due to the fact that this particular platform is quite different from many others mentioned on this list.
You see, crypto brokering isn't necessarily the primary function of BlockFi. Instead, the platform focuses on cryptocurrency yields (APY), as well as providing its users with a sort of a crypto interest account. We'll get to that in a minute, though.
As a name in the crypto space, BlockFi isn't a new player on the field - it's been around since 2017. If you know anything about the history of the crypto market, you're probably well aware of the fact that 2017 and 2018 was a very interesting period for cryptocurrencies.
Specifically, while crypto saw an unprecedented rise in popularity and market cap in 2017, 2018 marked the very first, legendary "crypto winter". Granted that platforms such as BlockFi managed to not only survive that period, but also overcome it, and function to this very day, that's a statement, in of itself!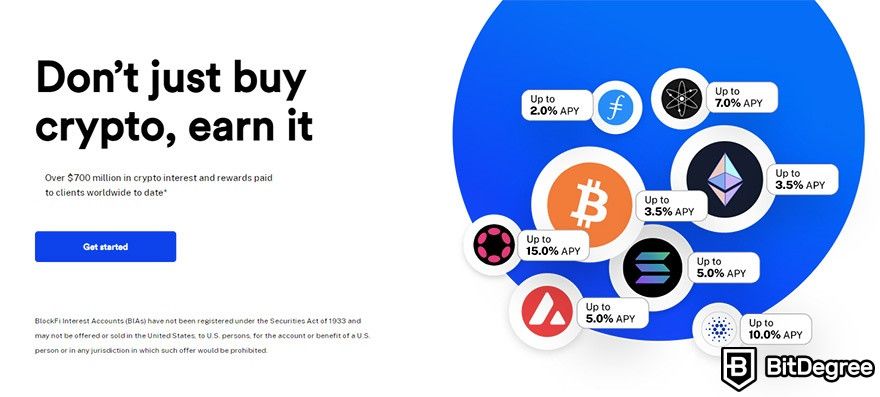 Let's get to the specifics, though - what makes BlockFi one of the best cryptocurrency brokers out there?
Well, at the very top of the feature list, it should be mentioned that BlockFi doesn't have any commission fees on the trades that clients might perform on the platform. Yes, you've read that right - BlockFi is a fee-free crypto broker. That's absolutely astonishing of, and extremely notable!
On top of that, BlockFi also offers users compounding crypto interest, as well as the ability to take out cryptocurrency loans, too. These things are part of the bigger feature pool available with the company in question.
Evidently, if you're looking for a buying broker, a selling broker, or anything in between (i.e. a purely trade-powered brokerage platform), you're also likely going to want that platform to have a load of high-end features, too. Well, if advanced trading tools are what you're looking for, BlockFi obliges!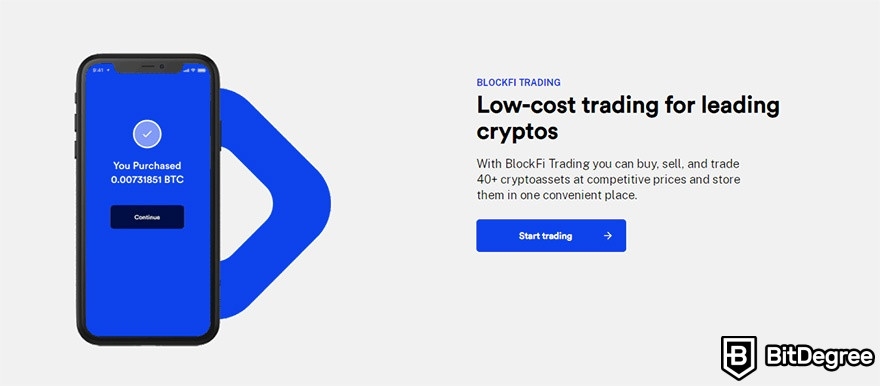 While the Bitcoin broker is simple to use, it also allows you to employ features such as automated trades, and various compounding interest-related tools. There's leverage functionality available, as well, but it's a bit different than you'd come to expect with other platforms on this list of the best cryptocurrency brokers.
Specifically, with BlockFi, you can leverage your crypto assets, as you take out a loan. This will, in turn, allow you to retain ownership of said assets (you won't need to sell them), while also having the ability to borrow more crypto, for any needs that you might have.
If you *do* decide to try out BlockFi, as your choice for the best broker of cryptocurrency, just keep in mind the fact that there's no FDIC asset insurance associated with the platform. While it's not an uncommon thing to come across, granted the uncertainty-filled regulatory nature of the crypto space, it's still something that should be kept in mind, nonetheless!
The content published on this website is not aimed to give any kind of financial, investment, trading, or any other form of advice. BitDegree.org does not endorse or suggest you to buy, sell or hold any kind of cryptocurrency. Before making financial investment decisions, do consult your financial advisor.
Leave your honest Best Cryptocurrency Broker review
Leave your genuine opinion & help thousands of people to choose the best crypto exchange. All reviews, either positive or negative, are accepted as long as they're honest. We do not publish biased reviews or spam. So if you want to share your experience, opinion or give advice - the scene is yours!
---
TOP3 Most Popular Coupon Codes

EARN UP TO 23%
By Staking on Kraken - Black Friday Deal