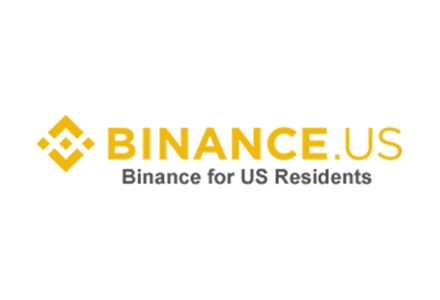 Binance is undoubtedly one of the most-recognizable names in the cryptocurrency industry. It's a very well-known and respected crypto exchange - an exchange that does offer a selection of other features to its clients, as well. In this Binance US review, however, we'll be taking a look at one of the less-known platforms associated with Binance.
Indeed - if you're not based in the United States of America, you might not have even heard of Binance.US. This makes sense; after all, the platform is essentially aimed at attracting US-specific crypto enthusiasts. That said, though, with all of the hype surrounding Binance, does the US version of the exchange live up to its name?
That's exactly what we'll try to answer, in this Binance US review! Well, THAT, as well as questions about Binance US taxes, coins, and much more. Let's not waste any time, and get right to it!
Pros
Simple to use
Fiat payment methods - accepted
A dedicated tax statement tool
Advanced trading functionality
Some of the best trading fees
A lot of crypto education-related resources
Cons
Mediocre customer support experiences
Lack of security-related information
What is Binance.US?
To start things off, we should address the elephant in the room, and talk about both what Binance.US is, and how it's different from the main Binance exchange.
While Binance is a global brand that is doing its part in making cryptocurrencies mainstream (and massively-adopted), this doesn't mean that it's always simple to do. Sometimes, there are certain regulatory blocks that come into play - blocks that need to be overcome, in one way or another.
It's really not a secret that the United States of America isn't the most crypto-friendy country in the world, especially when it comes to regulations - all that you really need to do in order to see this is read through a few user Binance US reviews. Due to these strict regulations, many cryptocurrency exchanges have a hard time operating within the country - Binance is no exception!
The fact that Binance is an off-shore exchange platform doesn't really help that situation, either. Thankfully, though, many exchanges have found a way to reach a compromise - something that would allow US investors to use their platform, while also complying with all of the relevant laws in the country.
BINANCE

Main score based on expert evaluations & real user reviews.

For which purpose or what kind of people is the crypto exchange most useful.

Buying, trading, and holding a wide variety of cryptocurrencies

The countries in which the cryptocurrency exchange is available for operation.

Turkey, Russia, Argentina, Vietnam, Ukraine, + 40 more,

Most popular hand-picked deals & coupons.

All Binance Coupons

Final crypto exchange evaluation conclusion based on research, expert opinions & user feedback.

One of the leading crypto exchange platforms in the industry.
Visit site
Read review
Table: Some general information about the original (main) Binance exchange
For those wondering is Binance US legit, you might have figured it out by now - that compromise is opening up a subsidiary of your company, within the country.
In doing so, Binance is essentially able to provide US-based individuals with many of its core features, while also barring them from using any of the functions that aren't allowed within the country. Simple, right?
Well, in a way, yes. However, as you can imagine, things are never really that self-explanatory and straightforward - especially when it comes to the regulatory nature of cryptocurrencies! While many user Binance US reviews seem to agree with the fact that this company offers a similar level of service quality to that of the original Binance, there are still plenty of points to cover, nonetheless!
Latest Binance Coupon Found:
REDEEM $600 PRIZE
Binance Cyber Monday
Attention new Binance users: this Cyber Monday, you can score up to $600 in rewards by completing special tasks. Activate this amazing Binance Cyber Monday deal using the code – 49316610!
Expiration date : 09/12/2023
6,127 People Used
Only 16 Left
Binance US Review: PROS
So, with the above out of the way, let's get back to the actual Binance US review. To be a bit more specific, let's start with the positive side of the exchange, and cover some of the top benefits that you can expect to find with Binance.US.
A Reputable Cryptocurrency Exchange
At first glance, this might seem like a relatively subjective benefit to mention, especially when it comes to answering questions such as "is Binance.US safe / legit?". I assure you, though - it's definitely an important aspect to consider!
I've mentioned this a few times already, in this Binance US review, but Binance is surely one of the most recognizable names in the industry. The company has managed to build a reputation of being a true leader in the space, as far as crypto services are concerned.
Notice that I mention crypto services - as in, plural. That's because Binance has expanded far beyond offering its users only cryptocurrency exchange functionality - these days, the company has an NFT marketplace, crypto staking, P2P trading, and even cryptocurrency earning programs, as well.

How does all of this benefit the individuals who are wondering is Binance US legit? One word - reliability.
While most of those aforementioned features aren't available with the US version of the Binance exchange, Binance's reputation still precedes itself. Many US-based cryptocurrency investors turn to Binance.US simply due to the fact that the company is seen as one of the more-reliable choices!
Even if this might seem trivial, I urge you to think about the industry that we're talking about here. With crypto being as new and unregulated as it is, there are many scams and hackings happening, seemingly every other day - thus, finding a reliable way to trade and exchange crypto is definitely a big deal!
Latest Binance Coupon Found:
REDEEM $600 PRIZE
Binance Cyber Monday
Attention new Binance users: this Cyber Monday, you can score up to $600 in rewards by completing special tasks. Activate this amazing Binance Cyber Monday deal using the code – 49316610!
Expiration date : 09/12/2023
6,127 People Used
Only 16 Left
Amazing Trading Fees
Reading through user Binance US reviews, you will soon notice that one topic keeps popping up quite frequently - Binance US fees.
Indeed - cryptocurrency fees are definitely one of the core aspects that need to be considered when you're picking out the best crypto trading platform for yourself! Fees can have a huge impact on your potential profits, and should thus always be high on your priority list.
Truth be told, though, this doesn't only apply to trading fees, either. The same can be said about Binance US withdrawal fees, and every other type of fee that might be associated with your crypto ventures.
Now, I'm happy to say that, as far as this Binance US review is concerned, the company in question offers some of the best fees on the market. Let's have a bit of a closer look, though.

The standard Binance US fees that you can expect while trading on the exchange are 0,1%, for both market makers and takers. While being a super-competitive number, in of its own, this is also just the beginning.
Users are able to lower their Binance US fees even more, simply by holding BNB coins, by 25%. This is pretty common practice, when it comes to cryptocurrency exchanges (offering fee discounts for holding the platform's native coin or token), and it's certainly very appreciated even when the fees are as low as with Binance.US!
In regards to Binance.US withdrawal fees, they are going to range depending on the (crypto)currency that you're planning to withdraw. Many of these fees are dynamic, and depend on things such as network congestion. Deposits, however, are all free to perform.

All of these aspects surrounding Binance US fees that we've just mentioned truly do make the exchange very attractive, to any potential crypto investors out there. That being said, though, I've actually saved the best for last.
Not too long ago, Binance US announced that certain BTC trading pairs will be completely fee-free. In other words, you can trade Bitcoin with a few certain other assets (specifically - USD, USDT, USDC, and BUSD stablecoins), and pay ZERO FEES on your trades!
This is, honestly, a super-rare feature to come across. It's also one that's definitely appreciated by many crypto enthusiasts around the country!
Binance Academy - Available
One of the bigger Binance projects is the Academy. This is a dedicated area where users can come in, and learn about crypto.
The topics that are available to be studied can range anywhere from Binance-specific questions, all the way to some of the most general and philosophical questions of the crypto space. There's definitely something new available to be learned, for everyone!
On top of that, this is where the Binance Earn program comes into play, as well. Users of the platform are able to study certain specific cryptocurrency topics on the Academy, and take quizzes after they finish. If you pass the quizz, and answer all of the questions correctly, you will be able to earn a small amount of cryptocurrency!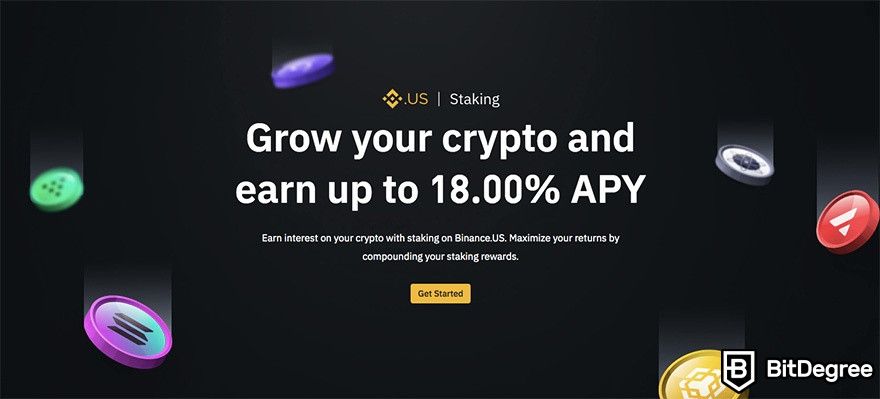 While many of the "additional" Binance projects aren't available to be accessed by US-based crypto investors, the Academy is an exception. Housing a wide selection of educational material, the Binance Academy will allow you to brush up your knowledge on crypto, as well as learn something new, while trading your favorite crypto assets on the exchange.
It's definitely one of the major highlights among many user Binance US reviews!
Crypto Taxes, Made Easy
Cryptocurrency taxes are, admittedly, one of the scariest concepts, for many crypto fans out there. It's not because of some sort of illegal activities, mind you - instead, while taxes tend to be confusing, in general, crypto taxes are the worst, in that regard.
Now, take that, and compound it with crypto tax laws (rather, their lack of clarity) in the United States - the country is notorious for having some of the most complex tax regulations in the world!
As you might expect, then, Binance US taxes are definitely something that people search for, while reading through user Binance US reviews. With most high-end crypto exchanges, you would be able to extract your transaction details, in the form of a .CSV file, and organize everything in some Excel spreadsheet.

Binance US taxes take it a step further, though - the company behind the platform allows you to manage your crypto-related taxes and Binance US coins in a super-straightforward way! This is extremely notable!
Naturally, if you do use some other exchange, in addition to Binance, you'll still need to create separate spreadsheets, and manage those taxes manually. If, however, you're wondering is Binance US legit, this is definitely a major point to consider!
A Simple-to-Use Interface
"Binance" and "simplicity" are two terms that many people wouldn't really expect to come across, in the same sentence. This is because Binance has had a reputation of not really being the most beginner-friendly crypto exchange out there. This is true for both the main Binance platform, as well as the US version of the site.
Why is that the case? Well, simply because of the fact that Binance offers users so many different features, and it can quickly get rather confusing, trying to sort through all of them.
Once again, though, this is something that people USED TO associate Binance with. Nowadays, reading through user Binance US reviews, it's rather evident that the exchange has 'stepped up its game', usability-wise.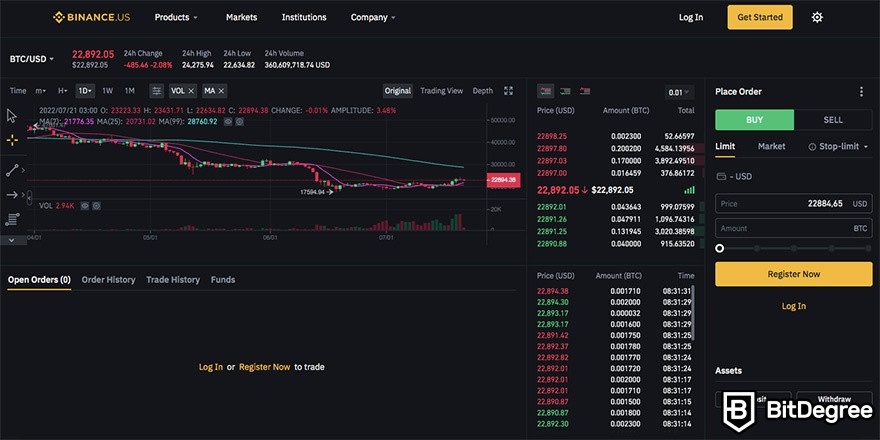 These days, the exchange is associated with high-end usability features, both in regards to the design of the site, as well as the general user interface itself. In other words, if you're planning to use Binance US, and this will be your first crypto exchange experience, you can rest assured that you shouldn't come across any difficulties, whatsoever!
Equipped with the Binance-signature color combination of white, orange, and black, the entire website feels modern and minimalistic, even when you go to access and use some of the more-complex features that it offers. It's certainly refreshing - most user Binance US reviews would tend to agree!
Multi-Feature Functionality
When looking into the most-notable features of the Binance US exchange, it's important to stress the fact that the platform does, for a fact, offer its users advanced trading tools and functions, as well.
If you were to read through some user Binance US reviews left online, you might get the wrong impression that this particular exchange lacks any and all advanced functionality - specifically, that there's only the very basic trading feature available on the site, and that's it.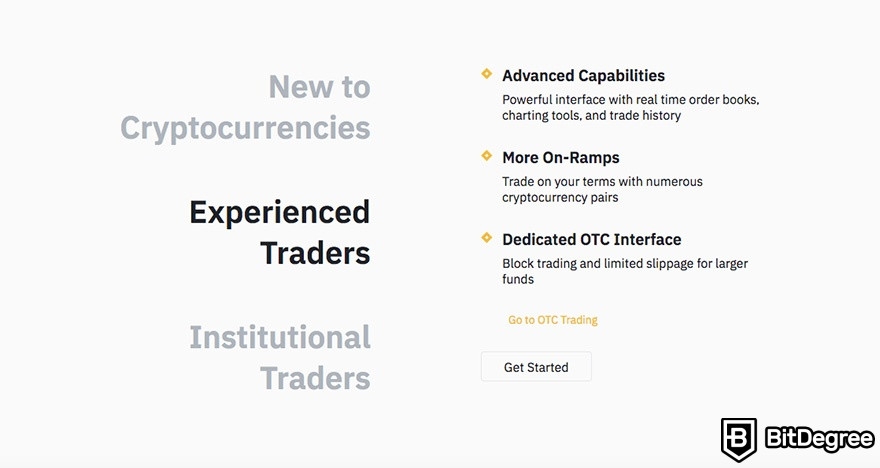 This opinion is widespread mostly due to the fact that Binance US does, for a fact, house fewer features than the main platform. However, this is true with any and all exchanges that have subsidiary companies in the States - once again, it all boils down to regulatory compliance.
So, while Binance US debit card isn't really a thing, users of the exchange can expect it to support advanced trading, staking, and even over-the-counter (OTC) transactions. That's still a decent variety of features to pick from and utilize!
Fiat Payments - Supported
This is probably a pretty obvious feature - however, if you're still not sure is Binance US legit or reliable, it should help you answer that question.
Fiat money support has become a sort of a default feature, for most exchanges. Meaning, whenever you go out and search for the best cryptocurrency exchange for yourself, you'd assume that all of your options would possess fiat-crypto trading functionality.
While that's kind of the case nowadays, it wasn't always like that!
Even today, if you were to look at some of the less-known exchange platforms, or DEXs, specifically, you'd notice that there's no way to fund your account with fiat money, or trade crypto-fiat, either. Instead, you need to have already purchased cryptocurrencies somewhere else, and come into these platforms with the sole purpose of trading crypto-crypto. Makes sense?

Naturally, as you'd come to expect, this makes said exchanges very unfriendly to beginners, who are looking for the simplest possible way of how to acquire their first crypto. Well, worry not, though - this isn't an issue that you would face with Binance.US!
You'll be able to fund your Binance US account with credit and debit cards, as well as via a bank transfer. This makes purchasing crypto (and then trading it) very straightforward, and akin to any other online shopping experience that you might have!
This type of simplicity is certainly appreciated, especially by newcomers to the space!
Desktop & Mobile App Options
These days, it's not uncommon to come across different types of cryptocurrency enthusiasts. The two big groups, however, will include long-term hodlers, as well as day traders who are trading crypto for a living.
Why do I even bring this up, in the first place? Well, oftentimes, both of these groups of people will have different wants and needs, as far as the exchange usability is concerned. One of the things that might differ is the device that they'll be using to purchase crypto.
If you're a beginner, or even a crypto hodler, you might prefer to use the exchange on your personal computer. This will allow you to take your time and explore the platform completely, check out the supported crypto assets that it houses, and take it slow, in general.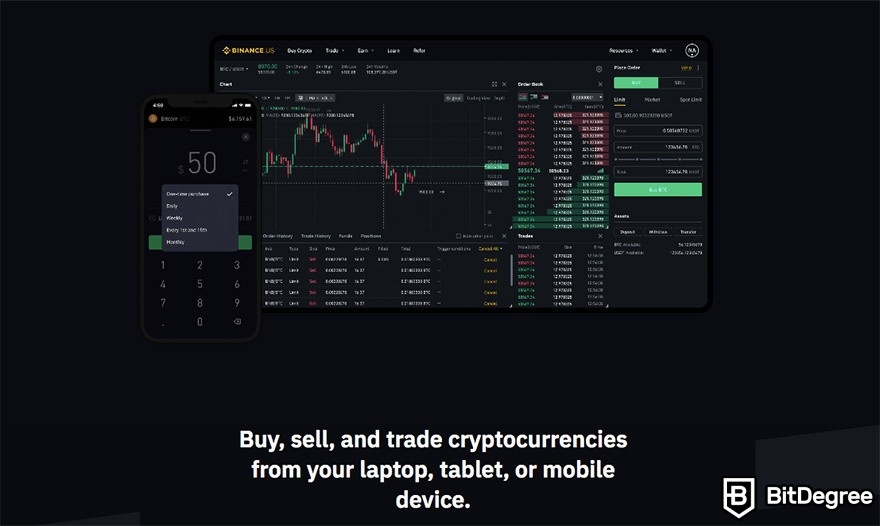 On the other hand, day traders can make large numbers of trades, during the same day. These people need to react to the market trends - that's not very easy to do if you're on a bus, or at a meeting, and your computer is nowhere near you! Well, that used to be the case - nowadays, you can just go to your crypto exchange app on your phone, and perform the trades there!
Not all exchanges offer multiple device support, mind you. Binance.US does, however - you can use the exchange both on your computer, as well as on your mobile device, too.
It's definitely a great benefit, and one that's often overlooked! Binance.US isn't device-exclusive, either - meaning, you can install the software and log into your account on all of your devices, at any point in time. Once more, this is definitely helpful, no matter if you're a day trader, a crypto hodler, or anyone in between!

Did you know?
Binance US Review: CONS
Now, then - with all of the most-notable and beneficial features discussed and out of the way, it wouldn't really be a complete Binance US review without taking a look at some of the reported shortcomings of this particular exchange platform!
To be completely frank, the complaint that you'll likely see mentioned most-frequently would have to do with the customer support of Binance.US.
Awkward Customer Support Experiences
Binance US does have customer support - you can reach a support agent by writing them an email, or submitting a ticket via the live chat function.
Now, I know what you're thinking - the way that I've just phrased it sounds very odd, doesn't it? Well, that's the point - while there *is* live chat functionality available with Binance.US, there's no way to contact an actual human being via that chat, at least in my own experience. Instead, you are greeted by a virtual assistant, and your entire correspondence eventually leads to a ticket submission window.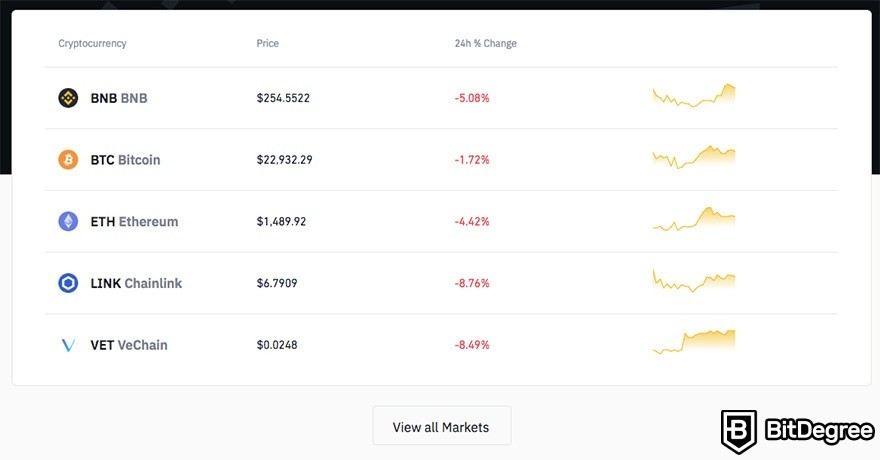 This is, naturally, quite awkward. Live customer support is definitely one of the more-important features that an exchange may possess, and if you're having some sort of a crucial issue with your crypto, you'd like want to talk to a real person, as soon as possible - coming across a less-than-responsive AI assistant wouldn't probably be ideal.
To add to that, some users report that once you do submit a ticket, the waiting time for a response can get quite… Well, long! Naturally, this is something that depends on a variety of factors, but if you're in a hurry to solve an issue that you might have, sometimes waiting isn't really an option!
Limited Cryptocurrency Support
The US version of the Binance exchange supports around 100 different crypto assets, at least as of me writing this Binance US review. That's a decent number, especially when you consider the fact that, not very long ago, that number was around half that!
However, in the grand scheme of things, that's still a pretty low number, to be fair! This is especially true when you compare it with the numbers supported by other high-end exchanges in the industry.
This is especially evident when you take into account the fact that the main Binance exchange platform allows users to trade over 600 different crypto coins and tokens. That's definitely a significant difference in numbers! Although, it should be pointed out that this difference isn't at all surprising.

How so? Well, you're probably tired of hearing this by now, but, once again - it all boils down to the crypto regulations, and the regulatory environment of the space, present within the country.
While it's not really worth getting into the nitty-gritty details surrounding the specifics of which assets are allowed to be traded in the US, and which are not, suffice to say that this lack of supported assets on Binance.US is due to this very reason. It's a sentiment that you'll find echoed by multiple user Binance US reviews, too.
Lack of Security-Related Information
Depending on your personal situation, this might just be the biggest shortcoming associated with Binance.US - it's also one of the main reasons why people wonder is Binance US safe, too!
The issue is pretty straightforward - there's a big lack of information when it comes to the security features of the Binance.US platform. Visiting the company's official website, you'll find pretty vague articles on what you yourself can do to keep your account secure, and a few other subjective snippets of information on the topic - that's pretty much it.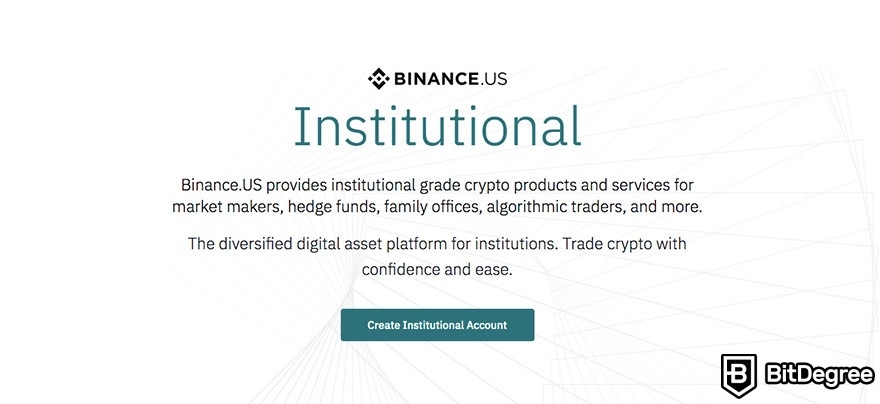 Now, let me be clear - I'm not saying that Binance.US lacks security features. Judging by the general user feedback, that's not the case. However, with the vast majority of exchanges in the industry, you'll find security features being plastered somewhere on their homepage, or a dedicated section of the website.
It makes sense to do that, too - security should always be the No. 1 priority, when choosing a crypto service provider for yourself! Unfortunately, though, this is not something that you'll find easily researchable with Binance US.

Pros
A very well-known crypto exchange platform
More than 500 different cryptos available
Two-factor authentication
Main Features
Over than 100 different cryptocurrencies available
Strong security
Small withdrawal fees

Pros
Secure and reliable
Low fees
A good amount of fiat currencies accepted
Main Features
Reputable exchange
Multiple fiat currencies are accepted
Relatively low trading fees

Pros
Anonymous trading
Secure
Supports a variety of cryptocurrencies
Main Features
Easy to use
Low fees
Good security
Conclusions
Closing off this Binance US review, I'd like to stress one point that you might have figured out by now, as well - while Binance.US is certainly not as well-designed or feature-filled as the main Binance platform, it's still a viable and reputable exchange option for US-based individuals.
Navigating the cryptocurrency space within the United States of America isn't a simple thing to do, especially for off-shore exchange platforms. It's definitely not uncommon to see cryptocurrency exchanges either struggle to establish subsidiaries within the country, or give up on doing so, altogether.
As far as Binance.US is concerned, sure - you could look at it, and compare it with Binance.com, and say "hey - the latter platform is far more superior, in every single way!". Well, yes - you'd theoretically be correct. However, the main Binance exchange also has much more regulatory freedom, when it comes to offering its users a wider selection of crypto assets for trading, and a bigger pool of features, in general.
If you'd like to learn more about Binance.US - specifically, how you can start using this particular exchange -, do keep an eye out for a dedicated tutorial, since I do plan on writing one! For now, though, I hope that this in-depth Binance US review has helped you shape your opinion about this unique cryptocurrency exchange.
Thanks for reading, and until next time!
The content published on this website is not aimed to give any kind of financial, investment, trading, or any other form of advice. BitDegree.org does not endorse or suggest you to buy, sell or hold any kind of cryptocurrency. Before making financial investment decisions, do consult your financial advisor.
About Article's Experts & Analysts