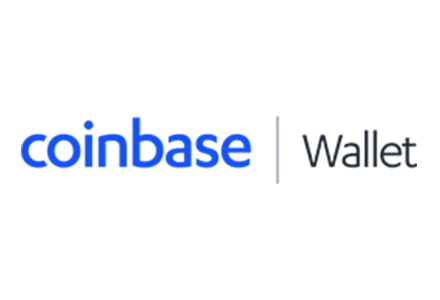 If you've been in the crypto industry for some time now, you might have heard the name Coinbase pop up every once in a while. That's not without good reason, either - it's one of the top crypto exchange platforms out there! Having said that, in this article, we're going to discuss some customer Coinbase wallet reviews.
What is Coinbase wallet, you may ask? Well, it's exactly as it sounds - a digital (hot) wallet where users can store their cryptocurrencies. The core feature of these wallets is safety - while you can keep your coins in an exchange, that's usually not advised, since there's a lot more danger involved.
Now, enough about the general concepts - let's get to the actual Coinbase wallet review.
TL;DR: The Coinbase wallet is known for being one of the safest digital currency wallets to store your cryptos in. It's easy-to-use, is designed quite well, and will protect your coins with multiple security features (i.e. 2-FA). That said, Coinbase doesn't really house a lot of different cryptos - if you're looking for a better alternative, in general, you should check hardware crypto wallets, or Binance, for all of your crypto storing needs.
Pros
Easy to use
Free to register and keep crypto coins in
Decent fees
Supports most of the main cryptocurrencies
Top-notch security
Cons
Small number of supported cryptocurrencies
A "hosted" wallet - constant connection to the internet is maintained
Coinbase Wallet Review: Pros
We'll start off by talking about the beneficial aspects and features of the Coinbase wallet.
The one thing that you should be aware of from the get-go is that, yes - if you search for Coinbase, by default, you're going to end up on the crypto exchange page. In the vast majority of cases, people associate this brand name with the exchange - many users don't even know that a wallet like this exists!
That being the case, though, I'm here to tell you - that shouldn't be so! The Coinbase wallet, as you'll see in a minute, has many different benefits - let's take it from the top and talk about the most well-known one.
One of the Most Secure Cryptocurrency Wallets
It's no secret that the term "cryptocurrency" is still often associated with some negative connotations. Many of them stem from the fact that it's a very volatile industry - one day you might become rich, and the next - you're completely wiped clean of all your finances.
While I'm talking about the uncertainty of the market itself, there's actually another way that this scenario could present itself - hackers.
Since the topic of cryptos is quite complicated, many people who get into it aren't sure how to protect their Bitcoin or Ethereum (or any other crypto) from potential scams and hacks.
That's kind of the "high-point" of this Coinbase wallet review - with the wallet in question, security is the name of the game.
Anyone wondering is Coinbase wallet safe can rest assured - it's often referenced as one of the safest hot wallets in the current industry. Coinbase utilizes multiple different measures of security - two-factor authentication, multiple signatures, confirmation requests, and so on.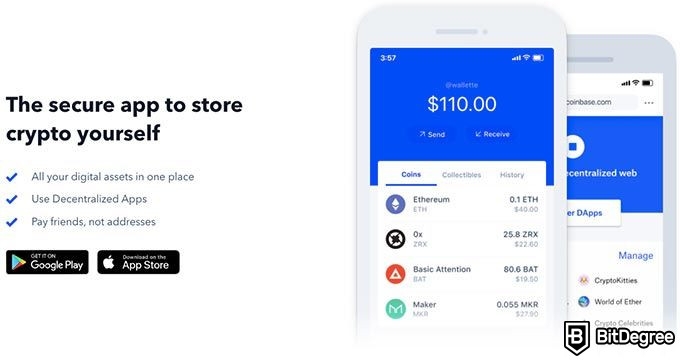 The wallet has also never been hacked or otherwise breached in any way. Naturally, this should add to the reliability and trustworthiness factors of the tool, too!
Let me be precise, though - there are, admittedly, some user Coinbase wallet reviews online that talk about their accounts being "hacked". If you just look at these reviews without giving them much thought, you might miss the entire point. You see, most of the "hacks" that happen are because of a weak password, or some similar issue.
In other words, it's not the fault of the platform - rather, the user.
As far as the question "is Coinbase wallet safe to use?" goes, you can be sure - the company has put a lot of effort into creating some very strong and resilient crypto security technologies.
Easy to Use, Clean Interface Design
As I've eluded to earlier in the Coinbase wallet review, many people who get into the cryptocurrency market aren't really experts in the field - far from it. Instead, most users will find that it can be quite simple to get lost in all of the jargon and technicalities.
What does this have to do with the Coinbase wallet review, you may ask? Well, multiple people have pointed out that the particular wallet in question is actually one of the easier tools to use in this regard.
The registration process is quick and simple - and generic, too. It's quite similar, if not the same, as with any other crypto wallet on the market - all that you need to do is download the app on your Android or iOS device (yes, the wallet is mobile-based), and input your information when prompted.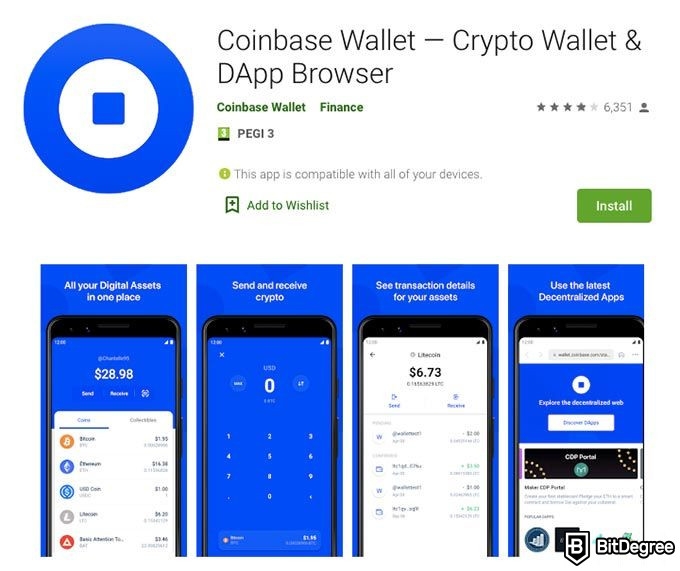 At the end of it all, you'll receive the starter information and a key. What some customer Coinbase wallet reviews have pointed out here, however, is that Coinbase allows you to add an extra layer of security - the two-factor authentication (2-FA). If anything, this definitely guarantees your crypto coins are safe and sound!
Another thing that's worth mentioning in this part of the Coinbase wallet review is that the interface design of the tool is actually very sleek and clean. This adds to the simplicity aspect of the wallet - you shouldn't find yourself confused about where the different functions are, how to access your funds, or anything in between.
A Crypto Wallet + A Top-Rated Exchange
I've already "driven this point home" in the introductory part of this Coinbase wallet review, but it's actually a pretty big deal, so allow me to elaborate.
Since you already know what is Coinbase wallet, you shouldn't confuse it with the cryptocurrency exchange platform that goes by the same name. Having said that, though, you should also know that these two tools interact quite well with each other.
Table: The Coinbase Wallet and the Binance wallet
What do I mean by that? Well, multiple user Coinbase wallet reviews will inform you that, once you create a Coinbase wallet of your own, utilizing the services of the aforementioned exchange becomes much easier and smoother.
You'll receive access to a crypto vault, and your exchange processes should present themselves to be quite seamless. Truthfully, there are quite a few users who mention that Coinbase does actively try to "suck you in" into the exchange platform - while it can be annoying if you're already using another exchange, given the reputation of this particular brand, that might be a good thing!
Latest Coinbase Coupon Found:
$5 BTC BONUS
For New Verified Coinbase Users
Receive your $5 bonus in BTC when you sign up for a new Coinbase account & complete all photo verification steps. Follow this Coinbase referral link to activate the deal!
Expiration date: 27/03/2023
4,989 People Used
Only 11 Left
Coinbase Wallet Review: CONS
Now, with all of the main positive aspects of this Coinbase wallet review done and out of the way, we should also take a look at some of the more-negative aspects of the tool, too.
Truth be told, since we've discussed is Coinbase wallet safe, and have come to the conclusion that it's actually VERY safe, there aren't all that many notable cons to discuss! Still, some user Coinbase wallet reviews mention a few shortcomings of the wallet in question - let's take a closer look.
Supports a Small Number of Cryptocurrencies
One of the most-commonly referenced negative aspects of the Coinbase wallet is that it supports but a small number of crypto coins.
What does "small" mean, you may ask? Well, as of writing this article, that would be 8 - plus all of the ERC-20 tokens, too.
Whenever you're just starting out in the world of crypto, this might not prove to be such a big issue. That's simply because most beginner traders and investors tend to stick to some of the more well-known coins, such as Bitcoin or Ether - that's obvious from reading through user Coinbase wallet reviews, too.

That said, with time, you might want to expand your portfolio, and add some smaller, less-known coins. Unless something changes, that might be impossible to do with the Coinbase wallet - you'd need to look for another wallet, and alternate between the two.
The severity of this "issue" depends on your own, personal goals when it comes to cryptocurrencies. If you're more of a traditional trader, then sure - the main, most-popular cryptos might suit you well. However, if you like to experiment, this might be a bigger issue.
A "Hot" Wallet - Not the Safest Alternative
I've driven the idea that the Coinbase wallet is one of the safest wallets in the industry quite a few times now - that's completely true. That is, if you're looking for digital crypto storage.
Truth be told, digital wallets, while being somewhat safe, are far from being the safest way to store your Bitcoin or Ether. That's simply because your cryptos are still located online - this means that they might be hacked and stolen at any given point in time, at least theorhethically.
Table: The security features of the Coinbase Wallet and the Ledger Nano X
How does one avoid something like this, you may ask? Simple - by using a cold storage device.
Hardware cryptocurrency wallets are the safest alternative - period. That's because your coins are located offline, and no one can access them while they have no connection to the web.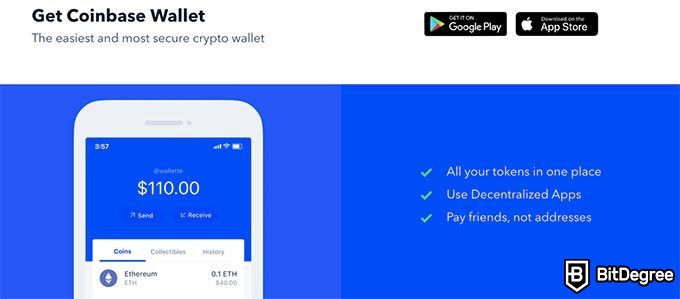 The main issue doesn't even lie here, though. You see, when asking "what is Coinbase wallet?", you might come across a term "hosted". That's kind of where the core issue with the tool in question lies.
You see, Coinbase being a hosted wallet means that all of your cryptos are stored together with some other user coins and information, on a remote server that's constantly connected to the internet. That's not ideal.
If there was a security issue, and Coinbase's servers were breached, this would potentially result in a huge scale hack. On the other hand, as I've noted earlier on in this Coinbase wallet review, the company behind the wallet takes security very seriously, and has implemented some top-notch measures to prevent that from even happening.

Did you know?
Pricing and Fees
Finally, to finish off this Coinbase wallet review, let's talk about some of the Coinbase wallet fees, and its pricing model.
Well, if there was one, I mean - the wallet in question is completely free to use!
Do keep in mind, though, that "use" here means that you will be able to transfer and keep your crypto coins in the wallet, free of charge. The whole registration procedure is completely free, too - no need to worry about having to pay money in order to download the app or create the account.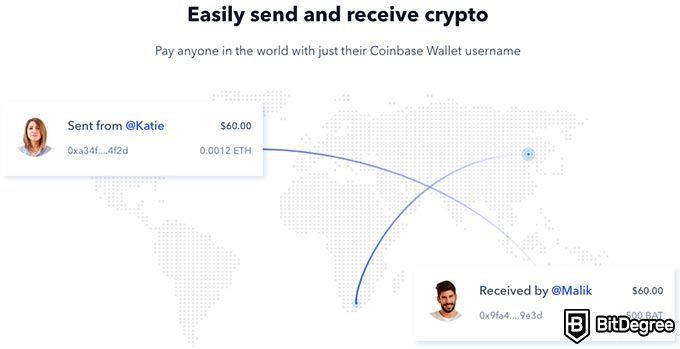 Exchanges and further transferring fees do apply, though. This is completely normal with any and most crypto wallets out there - Coinbase is no exception. As of writing this Coinbase wallet review, though, the fees might range anywhere from 1,49% up to 3,99%, depending on a number of different factors.
Fee-wise, Coinbase is quite decent. It's not "cheap", by any extent of that term, but it's also far from being the most expensive option, too. Yet again, the actual 'significance' of these Coinbase wallet fees are going to depend on what it is that you plan to do with the wallet in question.
Latest Ledger Wallet Coupon Found:
SAVE 10%
On Best-Value Ledger Bundle
Purchase the Ledger Nano S Family pack & save 10%. Get a huge Ledger discount on top-tier security!
Expiration date: 27/03/2023
1,278 People Used
Only 72 Left
Conclusions
As you've probably noticed, the topic of cryptocurrencies is surely a booming one - it has been so for the past few years now.
To this day, though, people are still skeptical about anything related to crypto - coins included.
That being said, however, with more and more reliable and trustworthy crypto-related services popping up, this can actually be a huge pro, too. Such services help to show the rest of the world that the crypto world is actually an amazing place of opportunities and technological innovation, and isn't just filled with scammers looking to steal your coins at every turn.
Even if they are, however, if you've read this Coinbase wallet review and have decided to use the wallet in question, all I can say is - good luck hackers, since you're going to need it!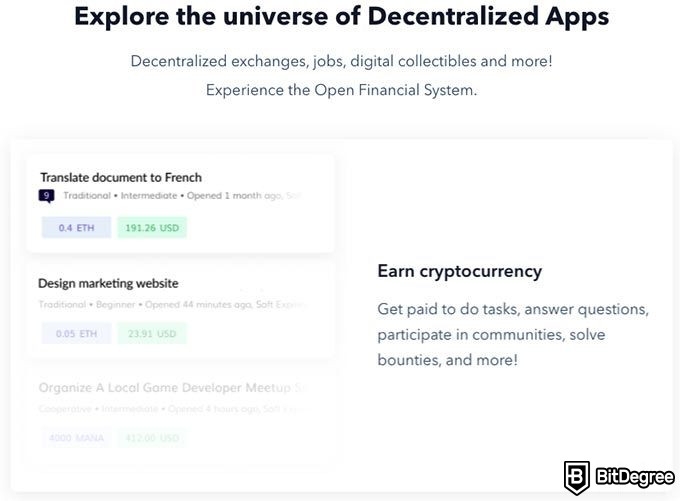 Indeed, using the Coinbase wallet, you can remain assured that your funds are going to be kept safe and sound. The app itself is also quite easy to use, too, and won't require any "advanced technological know-how" in order to operate it accordingly.
While Coinbase does only support a small number of coins as of writing this review, the currencies that are supported include Bitcoin, Litecoin and Ethereum - if you're not in search of some niche coins, this shouldn't prove to be a major issue, whatsoever. The Coinbase wallet fees are decent, too!
If Coinbase sounds like your cup of crypto coins, make sure to check the wallet out! If you're more of a hardware person, though, you might be interested in some of the best cold wallets on the market, too. Furthermore, if you're looking for a better alternative, all around, Binance should definitely be on your radar, as well.
The content published on this website is not aimed to give any kind of financial, investment, trading, or any other form of advice. BitDegree.org does not endorse or suggest you to buy, sell or hold any kind of cryptocurrency. Before making financial investment decisions, do consult your financial advisor.
Leave your honest Coinbase Wallet review
Leave your genuine opinion & help thousands of people to choose the best crypto wallet. All reviews, either positive or negative, are accepted as long as they're honest. We do not publish biased reviews or spam. So if you want to share your experience, opinion or give advice - the scene is yours!