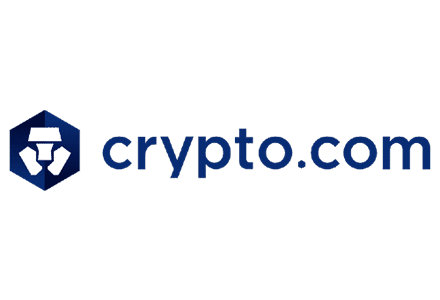 If you've spent even a minute of your time researching the topic of cryptocurrencies, chances are that you've come across Crypto.com. If not, then you've surely seen some user Crypto.com reviews floating around - it's a very popular platform!
A common misconception about Crypto.com, however, is that it's only an exchange - it's not. We'll get into the details in a minute, but it's worth pointing this out before we start. Note, however, that in this Crypto.com review, we'll be focusing somewhat-exclusively on the exchange side of the site.
We'll discuss both the benefits that you can expect to receive whilst choosing the Crypto.com exchange as your main option, and also some of its more-notable drawbacks, too. In the end, I'll also show you how to register on the platform, and how to buy your first crypto coins.
If you'd like to check out some Crypto.com alternatives, though, do make sure to visit either Coinbase, or Binance.
Pros
Beginner-friendly
Secure
Decent trading and withdrawal fees
Credit / debit card purchases - available
Cons
Long KYC verification times
Small number of available cryptos
Can only exchange cryptocurrencies on mobile
Crypto.com Review: PROS
To start this Crypto.com review off, we'll discuss some of the most commonly-referenced benefits and features that you'll find on Crypto.com.
Before we get into that, however, it's worth figuring out what the platform actually is, in the first place, and how it came to be.
Crypto.com offers users many different features - it can serve as an exchange, a wallet, a price chart display, a staking platform, and so on. It was initially founded all the way back in 1993, and served the purpose of providing cryptography-based services.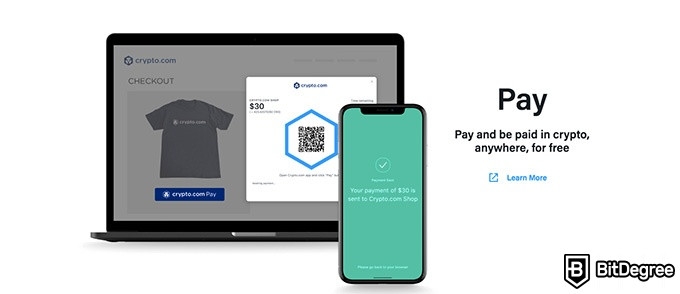 However, in 2018, the domain was purchased by Monaco Coin, and since then, it's being built as the "main stop" of any cryptocurrency enthusiast's journey through the crypto world. The current owners of the site are trying to popularize it in many different ways - some of them we'll touch upon in this Crypto.com review, while others are going to be left for a later discussion.
That being said, though, yet again - in this particular article, we'll be focusing mainly on the exchange part of the platform, and will only mention some of its other features briefly, where the context allows it.
To begin, one of the core benefits of the exchange (that are often discussed by users online) is the fact that it's actually very beginner-friendly.
A Beginner-Friendly Crypto Exchange
I've mentioned earlier that Crypto.com is seemingly doing everything to become the number-one, mainstream crypto-related platform in the industry. Naturally, among other things, this means optimizing the site to be as simple and straightforward to use as possible.
Indeed - if you were to look at some user Crypto.com review tendencies found online, you'd probably notice that there are very few people that would argue the site to be "too complex" to use. Crypto.com has seemingly managed to streamline most of the processes that you can partake in on their platform.

This does, obviously, include the exchange services, too. While we'll be taking a more in-depth look into the actual functionality aspect of the site a bit later on, I can tell you right now - buying Bitcoin on Crypto.com (both on the site, and also on the app) is very simple and quick.
Now, this is actually rather significant - while many people tend to underestimate this particular aspect, this is only the case up until the moment that they try out a complicated and unintuitive exchange for themselves.
This is especially-so-true nowadays - with the cryptocurrency experiencing an unprecedented bull run, there are more newcomers to the industry than ever before. Naturally, many of these people are going to have zero clue about how crypto exchanges work, and how to purchase the crypto coins that you'd want.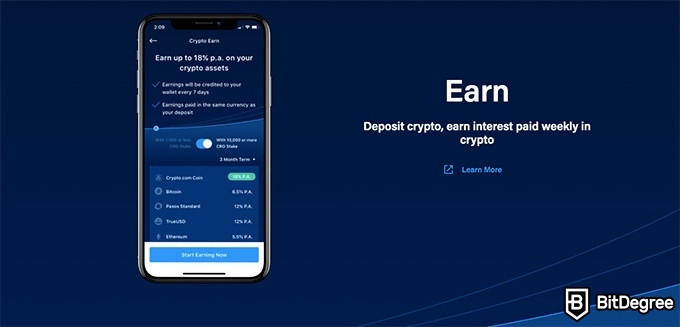 I mean, it's all pretty simple… Until you encounter a crypto asset such as IOTA - one that you can't actually buy with fiat money, and only with some other currency.
Things like optimal trading pairs and maker / taker fee jargon can really throw you off course, if you're just starting out. It's crucial that, in a situation like this, you find a simple-to-use, straightforward crypto exchange to do all of your business on. And, by the looks of things, Crypto.com is that type of an exchange!
Latest Coinbase Coupon Found:
CLAIM YOUR $200 BONUS
Coinbase Cyber Monday
Cyber Monday Madness at Coinbase! Get your first crypto and earn up to $200 in rewards. Hurry up before this Coinbase Cyber Monday deal ends.
Expiration date : 01/12/2023
3,784 People Used
Only 16 Left
A Secure Platform and Reliable
While ease of use can be of debatable importance, security is that one factor that is going to be absolutely crucial when you're looking for the best crypto exchange on the market.
Whenever an exchange lacks some essential security features, there's always a risk of hackers and thieves exploiting the platform, and stealing all of the assets located on it. This isn't "just a possibility", either - there are quite a few instances of this happening in the past, even to some high-level exchanges.
Allow me to assure you straight away, though - if you're trying to figure out is Crypto.com safe, you can rest assured that it's surely one of the safer exchanges on the current market.
Talk is cheap, though - let's get straight to the facts.
First and foremost, the Crypto.com exchange utilizes mandatory two-factor authentication (2FA). At this point, you could say that it's the oldest trick in the book - however, believe it or not, but there are still exchanges out there that do not use the authentication system.
On top of that, even though, you probably won't surprise anyone with 2FA nowadays, it's still a very effective security measure!
Furthermore, Crypto.com itself lists these essential security aspects that you can expect on their platform:
Password
Biometric identification (NFC)
Email verification
Phone verification
Authenticator (2FA)
On top of that, probably the best part of the exchange is the fact that 100% of your funds are going to be kept in cold wallet devices. Yup, that's right - 100%!
There are quite a few exchanges out there that do provide cold wallet storage to their users' funds - that's not a new development. However, I myself have yet to come across an exchange that would keep ALL of its users' crypto assets stored away, in hardware devices (with the only exception being corporate funds that are stored on hot wallets).
Both user Crypto.com reviews and the company's statements regarding their security measures align - all things considered, it would seem that you surely don't need to question, is Crypto.com safe!
24/7 Customer Support
Customer support is a crucial part of a high-end crypto exchange - you don't even need to read through customer Crypto.com reviews to understand that!
The importance of customer support becomes obvious when you run into an issue that you can't seem to resolve by yourself. In a scenario like that, knowing that there's always someone on the other side of the line to help you out is very reassuring - that's something you can expect with Crypto.com, too.
The exchange has 24/7 customer support. It's mostly live, although they note that the response times can take up to a few hours.
While waiting for a few hours to get your problem solved might not be ideal, it's also much better than having to wait for a few days or even weeks! The customer support staff over at Crypto.com is very helpful and communicative - nothing but good feedback on my end!
Appropriate Fees
It would be impossible to ignore user Crypto.com reviews that talk about the fees behind the platform in question. Thankfully, though, this is something that we can talk about on a positive note - Crypto.com has some very decent fees to offer to its users.
First, let's discuss the trading fees.
Crypto.com has a system where it calculates your trading fees in accordance with your 30-day trading volume (in USD). To put it in an overly-simplified manner - the more you trade, the cheaper your fees are going to be.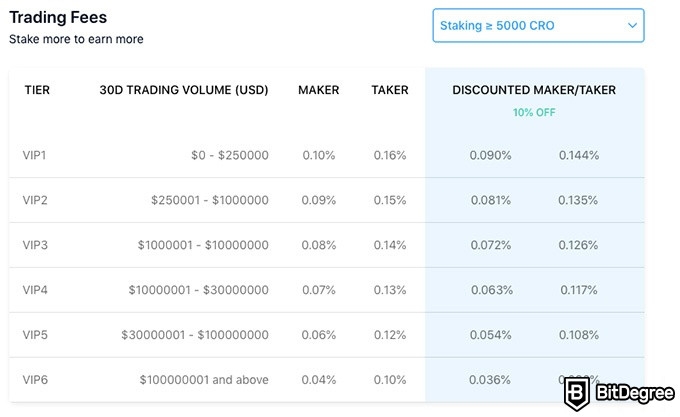 The platform also segments the fees into 'maker' and 'taker' categories. Makers are the people who place an order to purchase (or trade) a specific cryptocurrency when it reaches a specified price, while takers trade cryptos instantly, without delay.
On the maker's end of the deal, the trading fees on the Crypto.com exchange can range from 0,04% up to 0,1%. For the takers, the fees are going to be bigger - from 0,1% up to 0,16%. Again, the actual number depends on your 30-day trading volume.
Even if you were to look at some of the higher fee points for both types of traders, the fees themselves are actually very decent! That said, there's one more type of fee that we need to discuss before drawing any conclusions in this regard - withdrawal fees.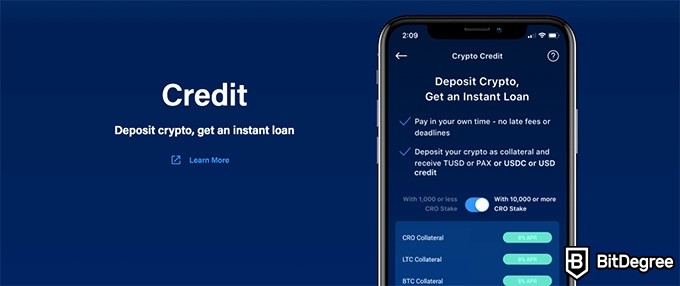 This is actually where it gets a bit tricky, too. While some crypto exchanges have fixed or percentage-based fees, user Crypto.com reviews will tell you that this is not the case with the exchange in question - here, the withdrawal fee is going to depend on the crypto asset in question.
To be fair, though, taking a look at some of the coins and their withdrawal fees, everything does seem to be quite rational. Frankly, you should expect Crypto.com to offer you some of the better fees on the market, both as far as trading, and withdrawing goes.
Credit / Debit Card Purchases - Available
One of the key features of any top-of-the-line crypto exchange is the ability for its users to purchase crypto assets with a credit or debit card.
There are a couple of reasons why that's the case, too - some of which are obvious whilst reading other user Crypto.com reviews.
For starters, credit or debit card purchases are a very user-friendly way to start off with crypto trading and exchanging. If you're a complete crypto newbie, and just want to get yourself your first Bitcoin or Ethereum, buying it with a card is probably a much more appealing and time-saving method than doing so with some other crypto.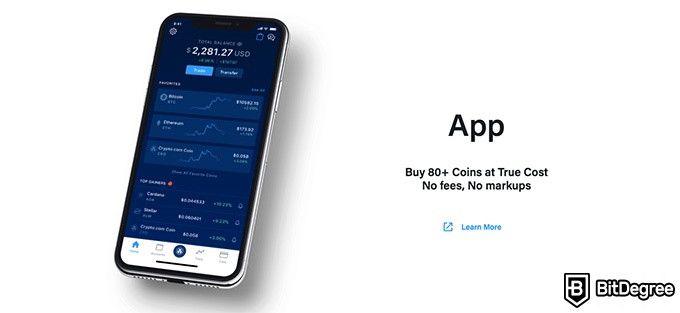 Convenience is key here, too - as eluded to above, credit or debit card cryptocurrency purchases are going to be much faster and simpler than if you were to buy one cryptocurrency with, say, another, or even participate in crypto mining pools or cloud mining activities.
To be somewhat blunt, Crypto.com does offer its customers the ability to purchase crypto assets with a credit or debit card, as well as via a bank transfer. Surely, you will also be able to trade cryptos for other cryptos, too, but the fiat-crypto options on the platform are very useful!
Crypto-Based VISA Debit Cards
Since this isn't something that's directly related to the Crypto.com exchange, we won't dwell too long on it - still, it's a super-unique feature that absolutely needs to be mentioned.
Crypto.com offers users the ability to get and utilize crypto debit cards. How cool is that!
It's actually one of the company's main methods of how they are trying to make cryptocurrency usage more of a mainstream thing. Crypto.com has partnered with VISA, and this partnership allows them to offer users some very unique crypto spending solutions!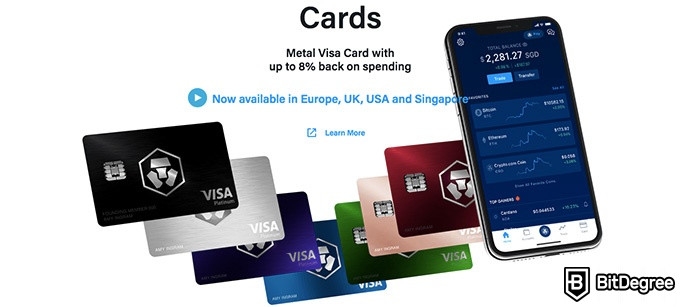 The metal cards are completely free, although if you'll want to get one, you will have to purchase some CRO tokens (the native crypto token of the exchange in question) and hodl them for at least 180 days.
There are also different tiers of cards available, too - depending on the amount of CRO that you hodl or stake, you will be given access to the different cards, which all come with different benefits. Definitely one of the most awesome features, as far as crypto platforms are concerned!
Latest Binance Coupon Found:
REDEEM $600 PRIZE
Binance Cyber Monday
Attention new Binance users: this Cyber Monday, you can score up to $600 in rewards by completing special tasks. Activate this amazing Binance Cyber Monday deal using the code – 49316610!
Expiration date : 05/12/2023
6,127 People Used
Only 16 Left
Crypto.com Review: CONS
Up to this point in the Crypto.com review, we've discussed the main features and benefits that you can expect to receive out of the exchange in question. Now, let's move on to some of the negative feedback that the platform has received over the years, and see if there are any "deal-breakers" to be had.
Mandatory KYC
"KYC" stands for "Know Your Customer". It's a set of rules and regulations that are in place on most of the top-rated exchanges on the market.
If that's the case, and even top exchanges follow these guidelines, then what's the problem?
Well, you see, the KYC regulations require you - the user of the exchange - to provide proof of both your residential address, and also your identity (usually, this is done in the form of an ID card or driver's license).
For most people, this isn't going to be an issue. After all, it does add to the security aspect of the platform - anyone questioning is Crypto.com safe should rest easier knowing that the platform only allows "legitimate crypto traders" to use it, thus making it more difficult for scammers and hackers to register and exploit some weakness.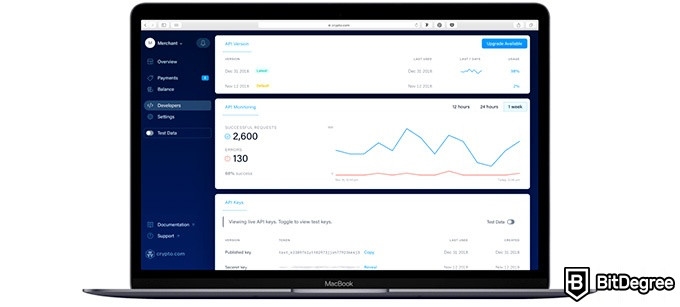 However, the counter-argument here is pretty simple - there are many legitimate crypto enthusiasts who simply want to remain anonymous with their trading and exchanging wants and needs. That's the whole initial idea of crypto, in general!
Wherever you fall in this debate, one thing's for certain - if you want to utilize the full functionality of the Crypto.com exchange, you're going to have to verify your identity.
Not the Biggest Number of Cryptocurrencies Available
Reading through some user Crypto.com reviews, you might initially get confused in regards to just how many crypto coins does the platform support. Some sources state numbers that are above 80+, while others name 18 or 19 cryptocurrencies.
In reality, the exchange allows you to trade around 50 different crypto assets on the mobile app.
Now, 50 is a pretty decent number - why do I mention this as one of the cons of the exchange? The reason behind this is rather simple, and has to do with the core mission of the exchange.
At the beginning of this Crypto.com review, I told you that one of the main missions of Crypto.com is to become the main hub of crypto enthusiasts around the world. The company behind the exchange makes this clear with the fact that they've acquired a domain name like that, in the first place!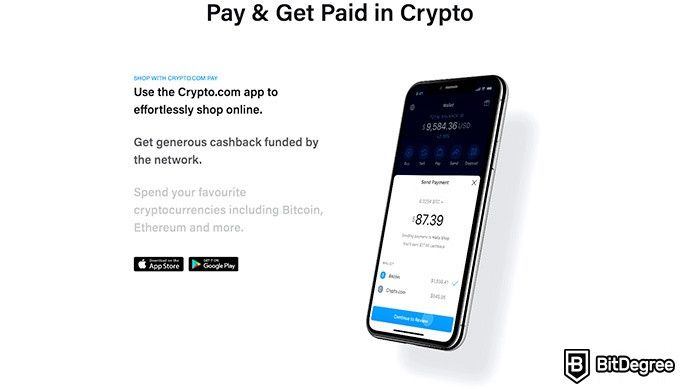 However, in order to achieve that goal, one of the most important criteria is going to be the variety of different assets available on the site. And, to be frank, 50 just doesn't do it.
If you're a small, less-known, or simply an up-and-coming exchange, sure - even 20 cryptos would probably be enough to get started. That said, there are exchanges out there that offer over 100 different coins, and close to 800 different trading pairs - putting things into perspective, Crypto.com does seem to be easily outshined!
Now, it's still important to mention that you will obviously be able to find all of the top cryptocurrencies on the exchange. So, if you're only interested in Bitcoin or Ethereum (or similar coins), this isn't really an issue to be concerned with. However, other exchange platforms such as Coinbase or Binance do offer a much broader crypto coin choice pool.

Did you know?
How to Use Crypto.com?
To finish off the Crypto.com review, let's now take a look at the actual usability aspects of the exchange. We've already discussed earlier on in the article how the platform truly is quite user-friendly, but - as eluded to already - talk is cheap - let's get straight to the facts and test the exchange out for ourselves.
How to Register on Crypto.com?
First things first - the registration process.
Step 1: Go to the official Crypto.com website.
Step 2: At the top of the page, there's an Exchange button. Press it, and you will be redirected to a separate, exchange-dedicated section of the site.

Step 3: Press Sign Up at the top-right corner of the screen.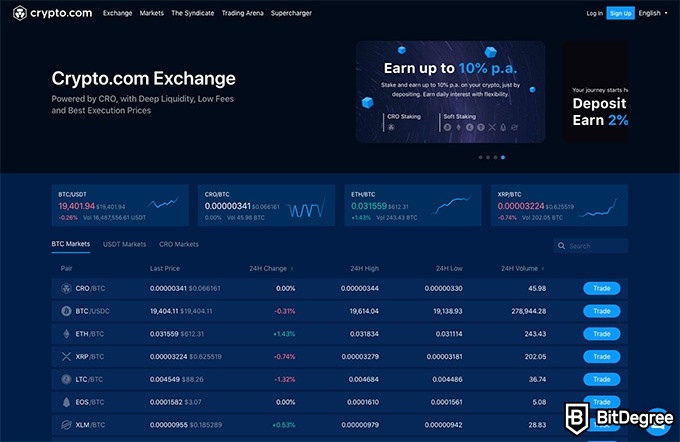 Step 4: Enter all of the required information.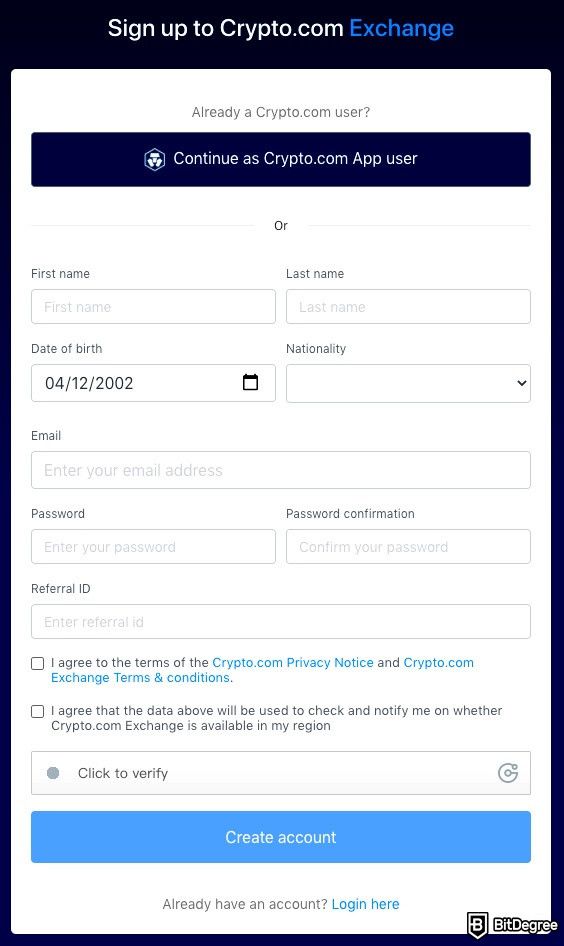 Step 5: You will be asked to verify your email now - do so.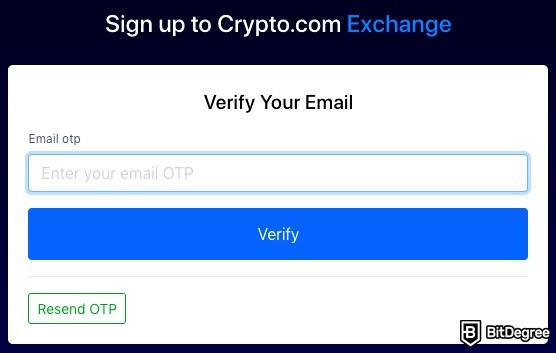 Step 6: Next up - phone number verification.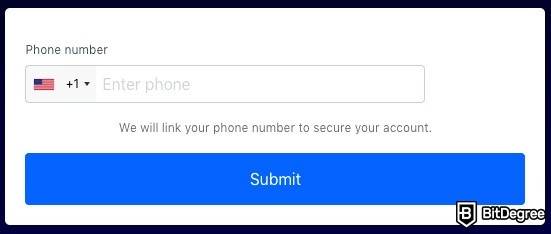 Step 7: That's it - all that's left to do is log into the site!
The registration process is very simple, and rather quick. Admittedly, many exchanges won't ask you for phone number verification, right off the bat, so that might be surprising for some - other than that, though, the process was rather seamless!
How to Deposit Funds into Your Crypto.com Account?
Now, in order to purchase or trade any cryptocurrency, you are going to have to first deposit some funds into your account. Let's take a look at how to do that.
For starters, you should note that you will have to download the Crypto.com app to your mobile device in order to purchase coins with a credit or debit card. That's actually quite an inconvenience - nowhere on the site does it say that you can't actually purchase cryptos from the desktop version of the exchange.
Step 1: Log into your account on the mobile version of the Crypto.com exchange.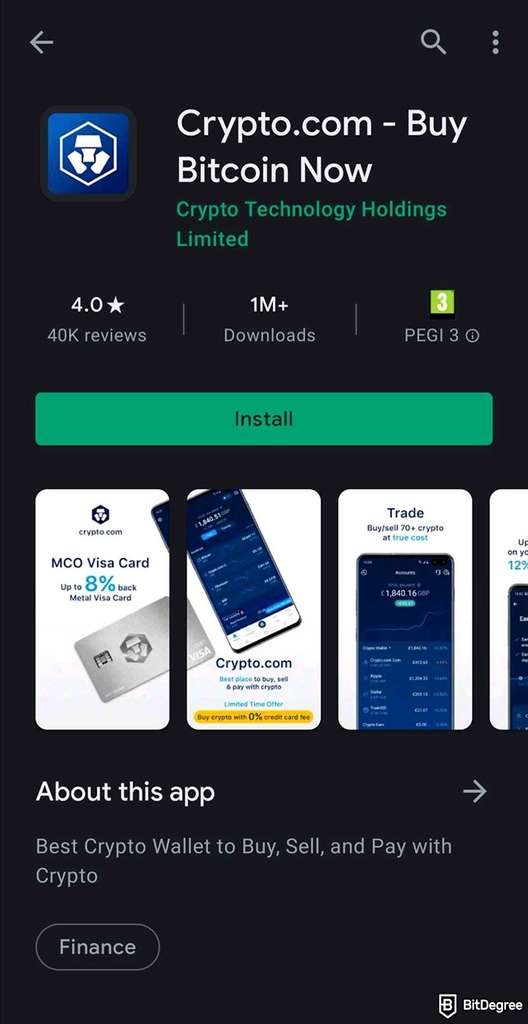 Step 2: You will have to pass verification, and also verify your identity. This process might seem tedious, but it's part of the KYC rules mentioned earlier on in the Crypto.com review.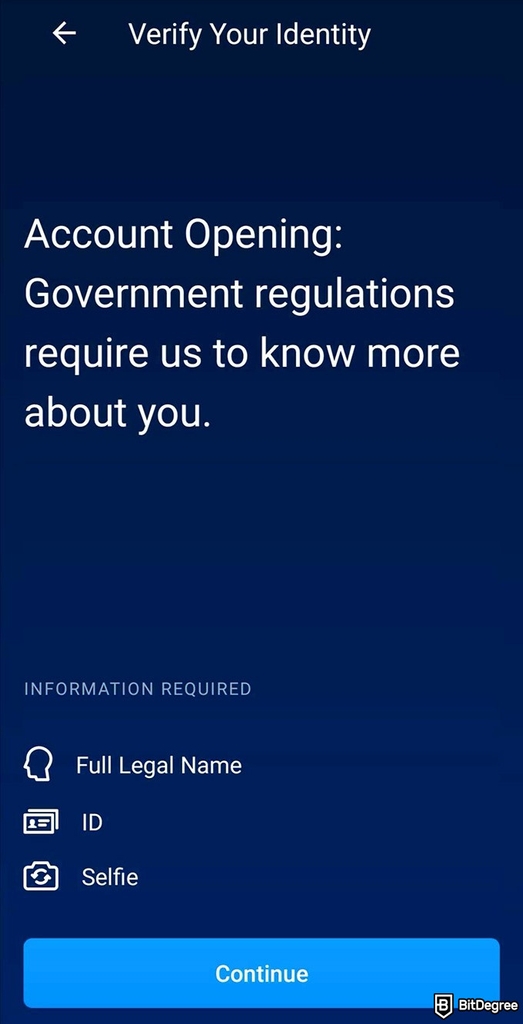 Step 3: Now, the verification may take anywhere from 2-3 days. Yet again, this is a bit awkward, since most exchanges are able to verify your identity in but a couple of minutes.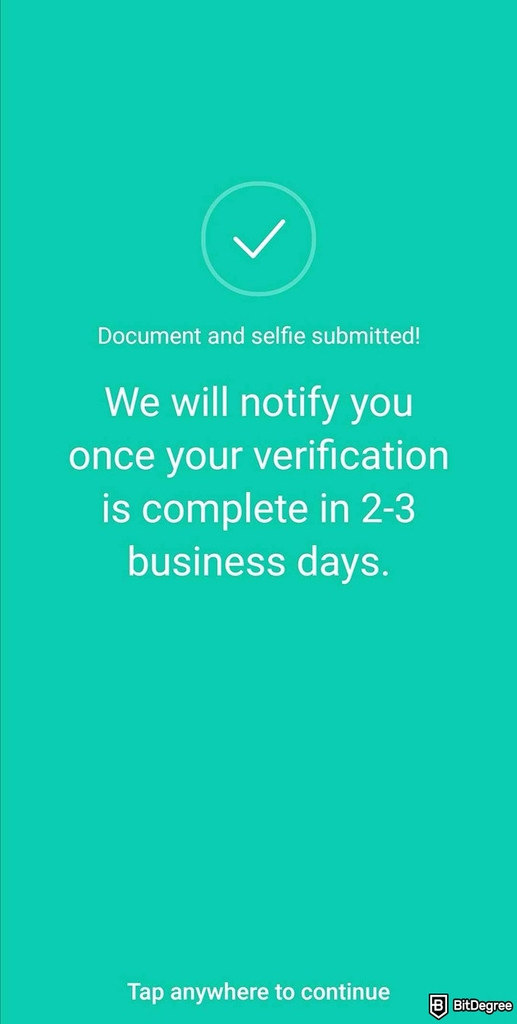 Step 4: Once your identity is verified, you will be able to access the mobile exchange.
Here, you will have to tap the Trade button, and select the cryptocurrency that you'd like to purchase. After that, all that's left to do is add your card details, and make the purchase - that's it!
Admittedly, the process isn't at all as streamlined as you'd like it to be. Depending on how long the KYC process will take, you might end up having to wait for 3 whole days until being able to start buying cryptos - with the market being as volatile as it is, this is certainly annoying and frustrating.
Also, note that the credit or debit card crypto buying fees can range from 1,49% up to 3,99%.

Pros
A very well-known crypto exchange platform
More than 500 different cryptos available
Two-factor authentication
Main Features
Over than 100 different cryptocurrencies available
Strong security
Small withdrawal fees

Pros
Secure and reliable
Low fees
A good amount of fiat currencies accepted
Main Features
Reputable exchange
Multiple fiat currencies are accepted
Relatively low trading fees

Pros
Anonymous trading
Secure
Supports a variety of cryptocurrencies
Main Features
Easy to use
Low fees
Good security
Conclusions
With all of that being said and done, the final question remains - would I recommend using Crypto.com?
In general, yes - I would. However, the platform does have a few glaring issues that it needs to sort out.
Crypto.com is surely one of the more-interesting crypto-related sites on the market. It offers a lot of different services, has decent exchange fees, is simple to use, and has helpful customer support. Also, anyone wondering is Crypto.com safe can be sure - it is!
That said, the crypto purchasing process can be rather confusing, and the KYC verification times do not make sense, when compared with other exchanges out there. So, if you're not yet sure about Crypto.com, do check out Coinbase or Binance - two of the best crypto exchange platforms on the market!
The content published on this website is not aimed to give any kind of financial, investment, trading, or any other form of advice. BitDegree.org does not endorse or suggest you to buy, sell or hold any kind of cryptocurrency. Before making financial investment decisions, do consult your financial advisor.
About Article's Experts & Analysts