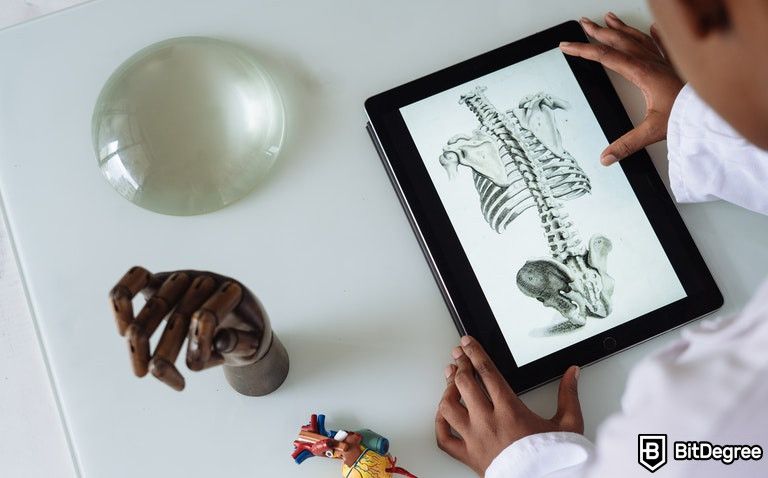 Getting into medical school requires long years of study. But ever since the online studying era came along, some majors like computer science have become much more attainable than ever. And so did online healthcare degrees.
While you wouldn't be able to get a real medical license from an online healthcare program, some virtual learning platforms offer online healthcare degrees that require no practical knowledge. So you can earn your degree just by learning online.
In this article, we'll take a look at what types of online healthcare degrees can be obtained without having prior knowledge or experience. In fact, I've selected multiple online healthcare courses that might bring you up to speed.
Online Healthcare Degrees: Are They Worth It?
Now getting a medical degree, in general, is huge. It opens up a lot of opportunities in any health-related field. But earning online healthcare degrees from a virtual learning platform? Is that worth anything? Well, I'll give you some insight on that.
Latest DataCamp Coupon Found:
EXCLUSIVE 50% OFF
On DataCamp Subscriptions
Follow the Datacamp promo code link & get an exclusive 50% OFF Datacamp subscriptions. Act now while the offer is still available!
Expiration date : 08/06/2023
2,765 People Used
Only 35 Left
First of all, online learning platforms have industry professionals that offer real healthcare degrees and certificates with career-boosting benefits. Keep in mind though - these degrees are usually connected to coding, data, and administration. So you won't really get a chance to become a surgeon or dentist online. Sorry.
But don't get spooked by that - such online healthcare courses will enable you to pursue further goals in the medical area. Also, applying for medical school with online healthcare programs might increase your chance of getting in.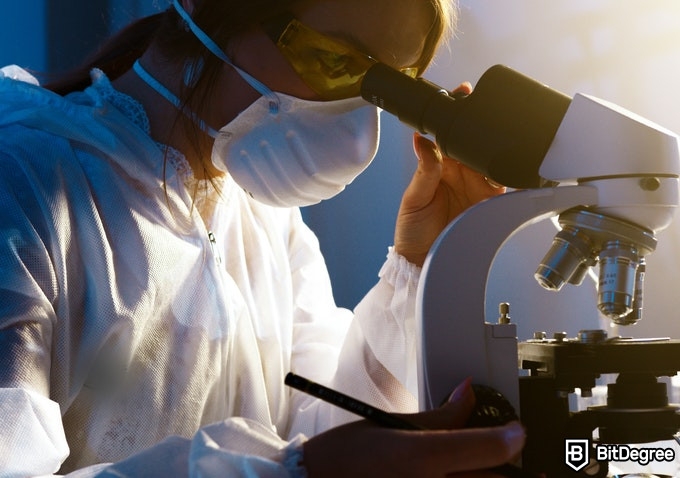 Not only that, in some courses, you'll get to learn everything from scratch without prior knowledge. Also, a couple of these online healthcare classes that I've picked out offer professional healthcare certifications online. Better yet - these certificates may greatly reflect on your resume!
It's also important to know that earning professional degrees online isn't cheap. That is because these online healthcare programs are offered by top institutions like the University of Texas at Austin. So make sure that you choose the right program based on your finances, and will to learn online.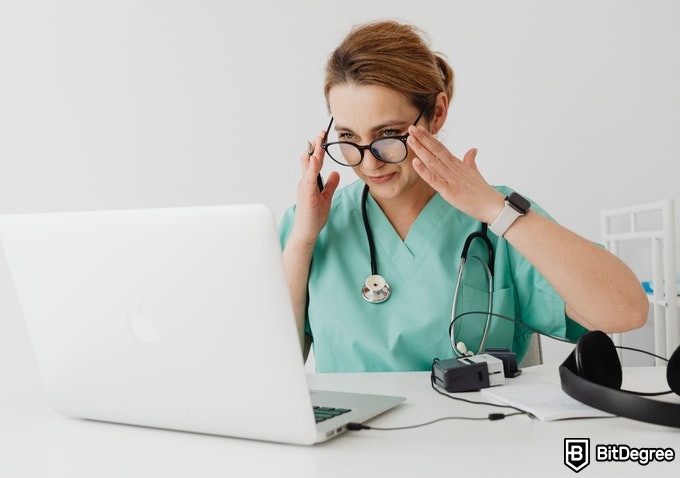 However, if you're just paving out your career in the medical field - there are plenty of introductory courses to choose from. Some of these courses are quite affordable, and offer healthcare certifications online with recommendations for entry-level healthcare jobs.
In fact, here's a list of online healthcare degrees that you can obtain on virtual learning platforms:
Health Sciences Degree
Online Healthcare Administration Degree
Degree in Medical Assistance
Degree in Medical Coding
Health Data and Information Management Degree
These medical degrees may require prior knowledge in coding, programming, administration, etc. Therefore, it's a great opportunity for people looking to have a career switch or specialize in, let's say, data management in healthcare.
Now let's move on to the actual virtual learning platforms with available online healthcare certificate programs.
Udemy is a great place for starters, especially if you're just looking for some introductory/school-level knowledge. But some courses do in fact offer healthcare certifications online that can be considered as entry-level experience by medical institutions. Furthermore, a lot of these classes are quite affordable.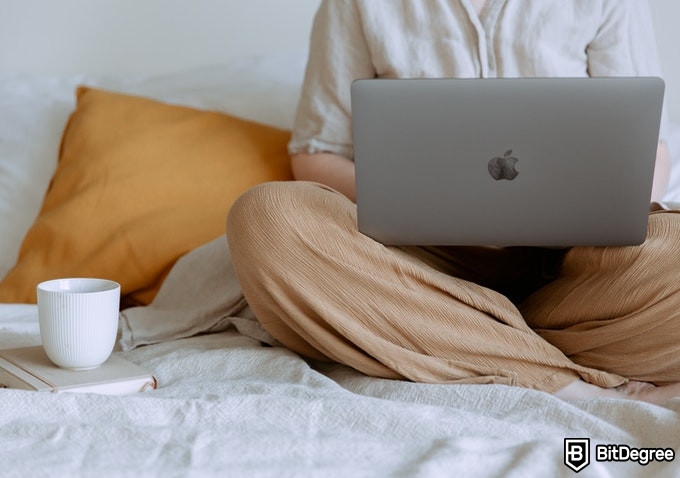 Now if you're really passionate about getting an actual college-type education online - Udacity and edX can hook you up. These platforms offer professional healthcare certifications online, and even Master's Degrees in healthcare.
However, as you might guess - they are fairly expensive. But I believe it is pretty reasonable since you are able to earn a medical degree from the comfort of your home.
In any case, most of these online healthcare programs offer Financial Aid and refunds so it's definitely worth a try.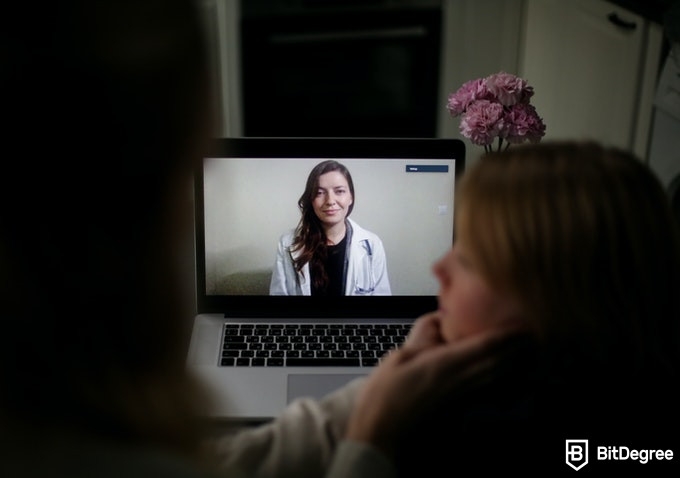 Now we're going to check out some of the best programs for online healthcare degrees that I've gathered from previously mentioned platforms. My picks were based on ratings and reviews from previous students.
Also, I intend to cover the whole spectrum of healthcare classes - from beginner-level courses to advanced online healthcare certificate programs with professional guidance and career benefits. Let's check them out!

Platform: Udemy
Duration: 59 minutes
Price: $40
Certificate: YES
Level: Beginner
Discount: Available
Apply HERE
Before even getting to actual online healthcare degrees, be sure to have all the basics covered. So if you're just starting out in the medical field without any basic knowledge - here's a course that may bring you up to speed.
The Healthcare Data 101 introductory class focuses on giving you the right tools to pursue a career in healthcare like medical coding or health data. Also, it may be the first step towards an online healthcare administration degree.
Here you will learn about medical procedures, drug and laboratory codes, and how to manage issues that occur while working with medical data. There are no requirements, but having experience in the clinical field is a plus.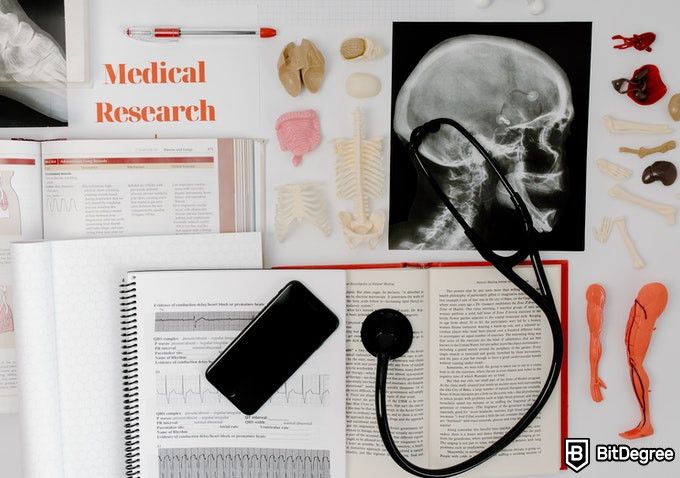 The course itself is almost an hour long, and has 5 sections with 18 lectures. You'll start off by finding out what health data looks like and where it comes from. Then you'll move on to learning about the features of medical information. Finally, you'll get instructions to deal with issues that occur in health data analysis.
You'll be instructed by Eddie Jay who is an experienced data analyst with over 17 years of experience in the medical field. His course is rated at 4.2 stars out of 5 with positive feedback from students. The main praise of his class is that it is perfect for beginners, and is a great revision class for health data specialists.

At the point of writing this article, the course sits at $40 which is quite affordable. Good news though - there are some coupon codes that offer discounts up to 89% for a variety of courses. So, be sure to check them out!
Either way, here's a brief summary of what you can expect from this healthcare class:
An introduction to health data
Features of health data
An introduction to medical procedures
Laboratory and drug codes
Ways of dealing with health data issues
So, having that in mind - I can't see a better way to start off your journey towards online healthcare degrees. Be sure to keep your ears open during class - everything you learn will become relevant in the long run.
Start the course NOW.

Platform: Udemy
Duration: 7 hours 1 minute
Price: $104
Certificate: YES
Level: Beginner
Discount: Available
Apply HERE
Knowing how to use medical software is a valuable skill for any healthcare professional. Especially in a digital environment where all the healthcare data is stored. Well, this program will provide you with just that.
During the Certified Electronic Health Records Specialist class, you will get to learn about health records which may secure an entry-level job in the healthcare field. That includes medical or insurance offices with electronic health record software.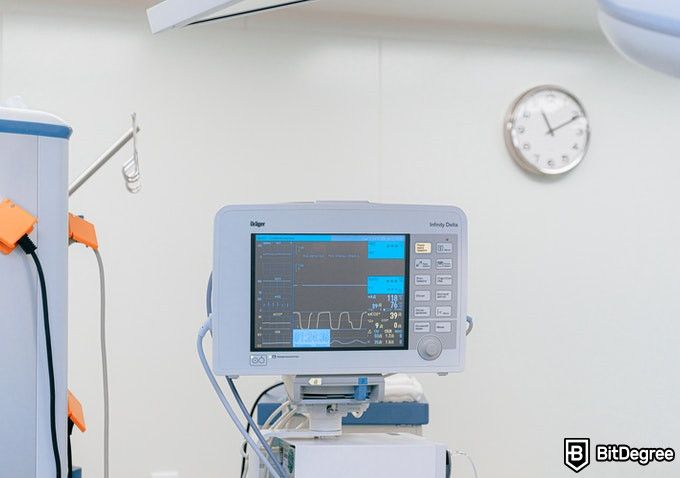 The course itself consists of 6 sections with 41 lectures, which amount to over 7 hours' worth of content! More than that, you'll get 12 downloadable resources for self-revision.
Now here's what this healthcare program has in store for you: an introduction to health records, insight into health systems, technology, laws, and insurance. Likewise, you'll be brought on board with medical terminology, anatomy, and physiology.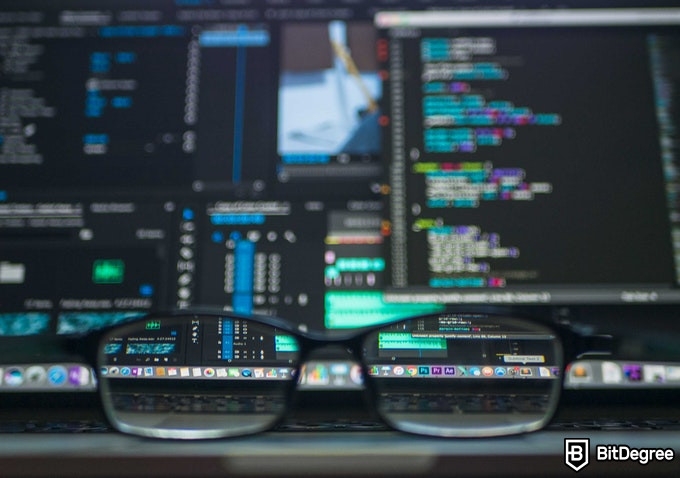 In the end, you will get a brief introduction to all the features of electronic health records.
Likewise, after finishing the course - you'll get a certificate of completion which may be a good addition to your resume.
Furthermore, the class was created by Valerie Boyd-Holsinger who is an Education Professional Consultant with over 15 years of experience in healthcare management. Her course is rated at 4.6 stars out of 5 with feedback from students. They acknowledged the relevance of the information presented during the class.

However, some suggested that this course is only relevant for the American Health System, and the practices may not be useful in other countries. So, keep that in mind.
Right now the price of the course is set at $104, but Udemy prices change a lot so keep an eye out for a discount. Or try using one of our coupons, and see if it's applicable for the program.
Anyhow, here's a quick rundown of what this course is about:
Health Records
Medical Terminology
Health Insurance in the US
Anatomy and Physiology
Medical Law and Ethics
Medical Billing and Coding
So, in terms of content - this is a great choice for IT people who are looking to secure a job in the healthcare field. Especially if you're pursuing an online healthcare administration degree. No better way to start than an online healthcare program!
Start the course NOW.

Platform: Udemy
Duration: 2 hours 15 minutes
Price: $46
Certificate: YES
Level: Beginner
Discount: Available
Apply HERE
By looking at previous courses, it seems that you don't really need to be a medical expert for a job in the healthcare field. Therefore, earning an online healthcare administration degree could be a doorway to a new career. So now let's look at how you can become a Healthcare Administrator in the US.
This class focuses solely on giving you the right tools to become an administrator in the US Healthcare System.
It is structured into 4 sections with 12 lectures, that amount to over 2 hours of learning material, alongside 15 downloadable resources.
The course itself has an introduction and 3 learning modules. During the first module, you'll learn about the healthcare industry as a whole. Then you'll be introduced to healthcare administration and what it is actually about.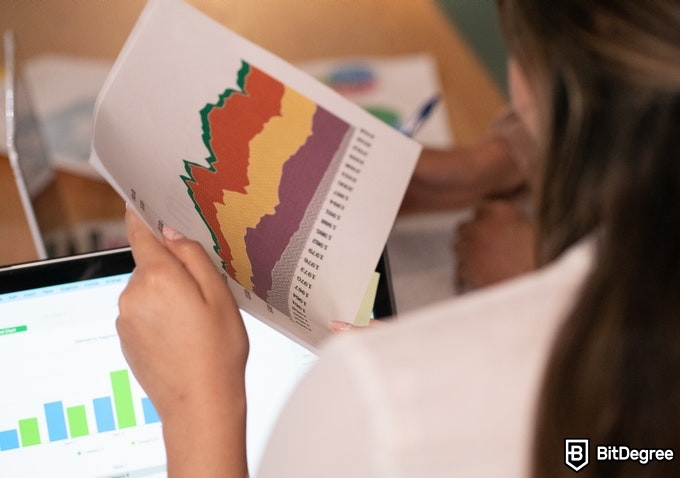 Finally, the course instructor will talk you through his own experience of working as a healthcare administrator.
In fact, your guide will be Lana Bamiro - a professional in the healthcare area, with a decade of experience in health practice and administration. His course is rated at 4.5 stars out of 5 with positive feedback from students. Most suggested that it is a perfect class for someone looking to start a career in the healthcare industry.

Here's a review from his student Ade:
"Excellent Course, outlined a detailed and personal overview of what it takes to become a health care admin."
As of right now, the course is set at a price of $46. However, if you want to get a sweet deal on this, or any other course - check out some of these Udemy coupons.
Now then, let's see what you'll get by enrolling in this course:
Understand the health industry in the US
Find about the role of a healthcare administrator
Learn what it takes to become a healthcare administrator
All in all, this online healthcare administrator course might help you score your first job in healthcare. So, be sure to check it out.
Start the course NOW.

Now here's the real challenge. If you're a programmer, and want to stick to your roots while working in the healthcare sector - here's your chance to do so.
AI for Healthcare is a nanodegree program that offers extensive training for a career in medical programming. It is an advanced course that requires having intermediate knowledge in Python and machine learning.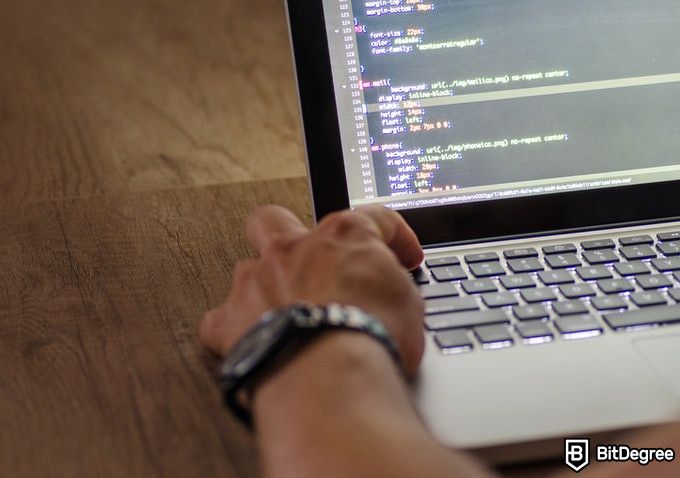 It is a 4-month long course that requires 15 hours of your time per week with immediate access to the course after enrollment. The course itself includes making real-world projects, and ensures you mentor support with career services.
Likewise, you'll get personalized feedback and tips on your project from industry professionals.
So, what's the program all about? Well, you'll learn how to combine x-rays and other 2D medical imaging with AI to create various models for medical purposes. Likewise, you'll get insight on applying AI to 3D medical imaging data, electronic health records, and wearable device sensors.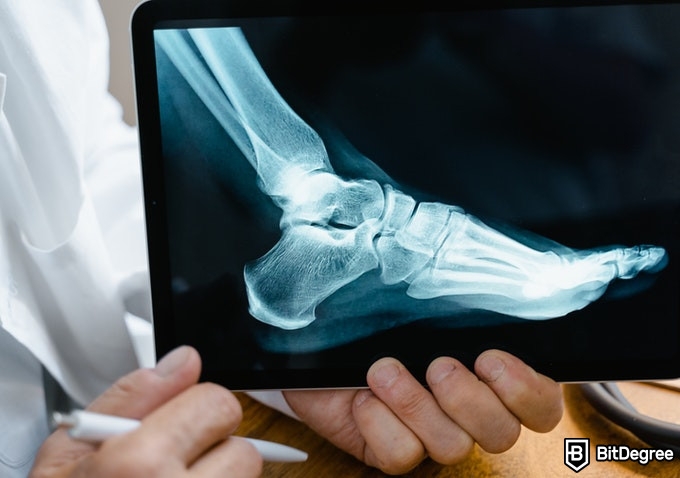 Most of all - you will be taught by a team of industry professionals ranging from Data Scientists, Radiologists to Program Managers at Microsoft. Previous students strongly recommended taking this course which currently sits at 4.6 stars out of 5. Take a look at a review from one of the students:
"The program is difficult but its the right kind of difficulty where you have to review the material presented a couple of times in order to complete the project. This kind of difficulty helps to both reinforce and synthesize concepts. Highly recommended." - Allen W.
As you might have guessed, this AI for Healthcare program is quite expensive - currently at $415. But that is to be expected because AI and Healthcare Specialists are in high demand with six-figure salaries per year.
However, you may scroll through our discount page and see if there are any applicable coupons for this program. In fact, you can get up to 89% on a variety of courses, so be sure not to miss out on some nice deals!
Now that we know a little more about the course, let's revise. Here's a list of what you'll learn from this class:
How to apply AI to 2D/3D Medical Data
Using AI for EHR
Building AI algorithms for wearable devices
Overall, if you're experienced with Python, and have a passion for machine learning, then be sure to check out this course. It may turn out to be a game-changer for your career.
Start the course NOW.

Platform: edX
Duration: 7 months
Price: $1253
Certificate: YES
Level: Intermediate
Discount: Available
Apply HERE
Now before, we've covered some classes that may push you towards an online healthcare administration degree. But if you're interested in becoming an actual professional in this area - you might want to check this course out.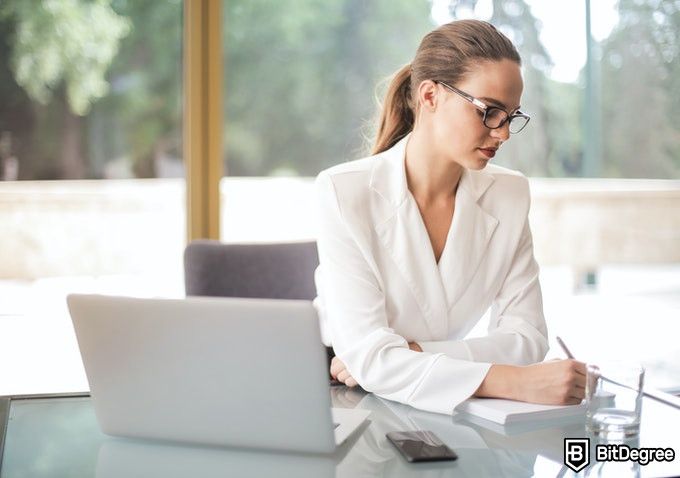 This edX program in Healthcare Administration offers expert-based healthcare courses. Upon completion - you will receive a professional healthcare certificate online which counts as credit towards an online Master's Degree program at Doane University.
It is a self-paced course, but you should be able to complete it in 7 months at a pace of 5-10 hours per week.
In fact, here's how your 7 months in this program will look: during the first few weeks, you'll learn about healthcare systems, and how they impact health outcomes. Then the following 3 weeks will be all about health solutions with IT and research-based tools.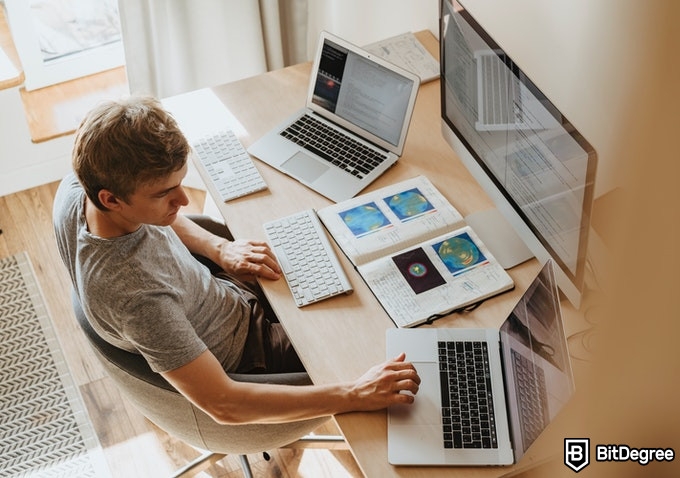 The third stage will give you knowledge of financial systems for healthcare administrators. During the next 7 weeks, you'll have courses on Health Law and vulnerable populations that require comprehensive care.
Before you take the final exam, you'll have a rather personal approach to healthcare education. You will take classes on driving change in healthcare and strategic leadership.
Throughout the whole program, you will be working with a team of certified specialists in Healthcare Technology, Human Sciences, and Leadership.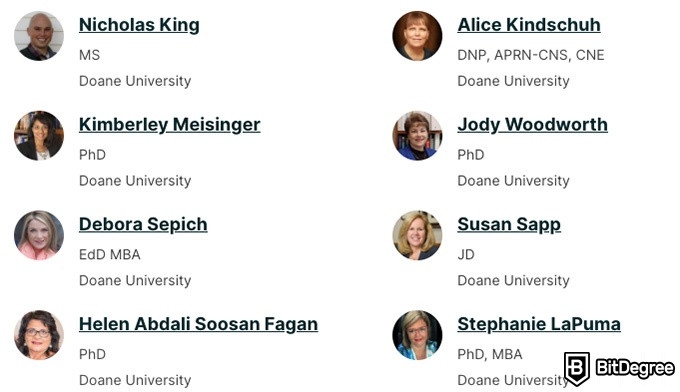 At the moment of writing this article, the program costs $1253. Sure, it's expensive, but to be fair, you are getting trained by professionals at the comfort of your home.
So, if you do in fact choose to purchase this program, make sure to use our edX coupon for a discount that is applicable for course bundles.
Anyhow, here's a brief summary of things that you'll learn from this course:
Organization and Delivery Methods in Healthcare
Decision Making and Health Informatics
Healthcare Finance
Health Law
Strategic Leadership in Healthcare
There's no doubt that completing such a course will get you closer to earning online healthcare degrees than ever. But as always, make sure to have both feet on the ground, or, in other words, stay invested in this program so you can reach a desirable outcome.
Start the course NOW.

Platform: edX
Duration: 4 months (6 to 8 hours per week)
Price: $358
Certificate: YES
Level: Intermediate
Discount: Available
Apply HERE
So most of these courses that we've covered were based on data, and information, and systems, technology… But what if you're not really into the technological side of healthcare? Well, there is an alternative.
The Food, Nutrition, and Health Program is an expert-instructed course where you'll be introduced to the field of nutrition from a research-based perspective.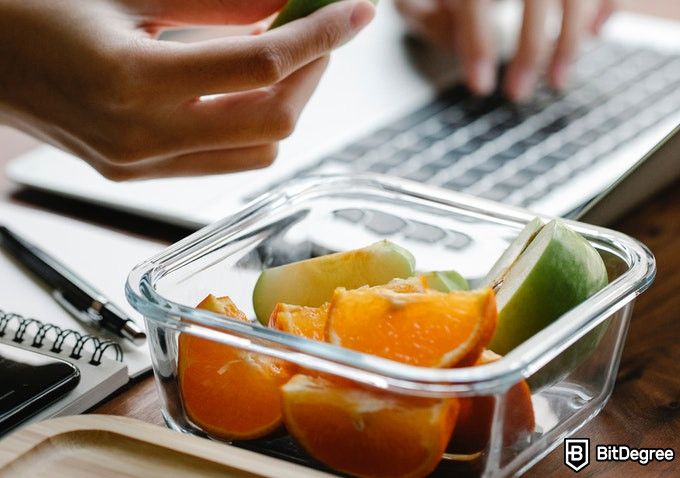 You'll get to finish this course in 4 months, as long as you keep the pace at 6-8 hours per week. Now let's see what this online healthcare class is all about.
For the first part of the course, which is 9 weeks, you'll learn about macronutrients, overnutrition, and how it impacts human beings. During the second part of the program, you'll take on macronutrients and their impact on health.
Finally, after you finish all the courses, you'll be able to earn some professional healthcare certifications online that may support your further education. In fact, the whole program will be presented to you by 4 nutrition specialists from Wageningen University & Research.
Right now, the course price is set at $358, but, as always, you may want to scroll through our coupon page for a discount. However, the number of coupons is limited, so be sure not to miss out on a sweet deal!
Anyways, in case you missed something, here's a list of things that you'll learn from this program:
Nutrition impact on health
The field of food and nutrition in general
Chemical elements and composition of food
How to manage loads of information about nutrition and health
Introduction to dietary strategies and nutritional therapy
So, if you're looking to be a dietitian, or maybe you want to work as a personal coach - try taking this program, and see if you got what it takes! As a side note - make sure that your institution accepts such a program if you're taking it as a refresher course.
Start the course NOW.

Platform: edX
Duration: 1-2 years
Price: $25,600 (Financial Aid Available)
Certificate: YES
Level: Mixed
Discount: Available
Apply HERE
I assume you're tired of me writing about regular courses and professional certificates. What about actual online healthcare degrees? Well, real online degrees aren't easily obtainable. So, I just wanted to bring you up to speed on alternatives.
But either way, let's look at how you can earn a Master's Degree online.
This Nutritional Sciences program is the real deal. You are given a chance to earn a Master's Degree in Nutritional Sciences from the comfort of your home.
Coming from the University of Texas at Austin, which is in the top 50 best universities in the world, this program may bring you a true college experience. It was rated as the Best Online Master's in Nutritional Sciences Degree with fully virtual classes.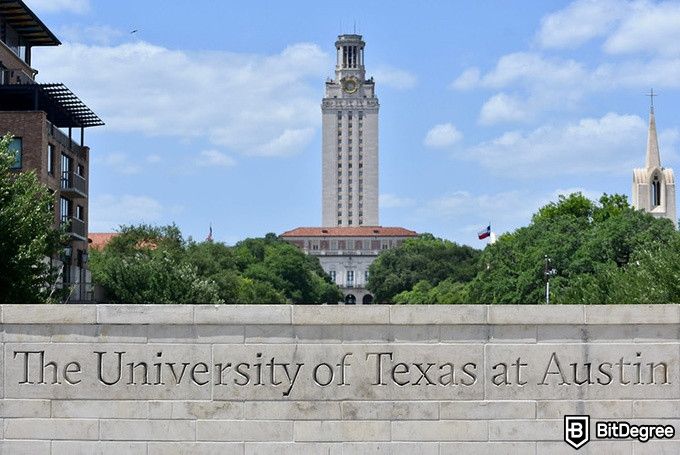 It will take you 1-2 years to complete one of these online healthcare certificate programs - just like any other Master's Degree. Throughout that period, you'll be taking 10 courses with 2 choices of learning: Health Promotion & Disease Prevention or Biochemical & Functional Nutrition.
Now then, who can apply for this course? Well, let's say, it might not be for everyone.
Here's a brief rundown of all the requirements: a Bachelor's Degree in a related field, a grade average of 3.00 in upper-division coursework, or any other graduate work. Also, you need to have completed a GRE or equivalent test, and a minimum score of 83 on the TOEFL Exam.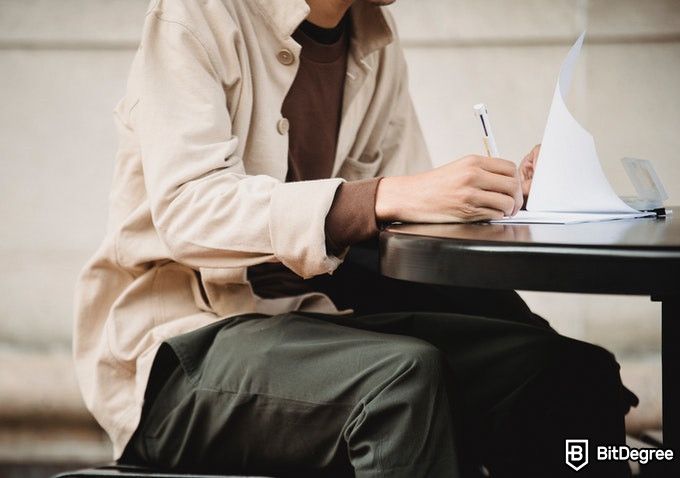 But that's not all - you'll need 3 recommendation letters from people who can vouch for your academic and personal achievements. Finally, you'll need a resume with experience in the nutrition field. If you got all of that - you're basically in.
Likewise, your teachers will be none other than top experts who teach students on campus at the University of Texas at Austin.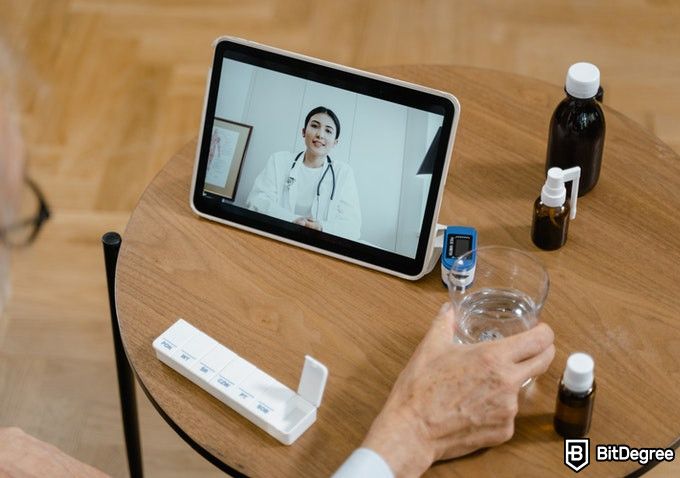 However, I'm not gonna beat around the bush - the program is very expensive. I mean, you're earning a degree at a prestigious university from home. Anyway, it is probably one of the most expensive online healthcare degrees - it costs $25,600 for a 2-year track.
But you can apply for Financial Aid, or see if any of our coupons fit the bill.
Anyway, let's quickly go through the coursework of this Master's Degree Program. It includes:
Macronutrient Metabolism
Micronutrient Metabolism
Molecular Nutrition
Experimental Design and Statistics
Advanced Experimental Design and Statistics
Now you know what it takes to earn online healthcare degrees. If you think you've got your resume and finances set, and you're prepared to enroll - make sure to read all the guidelines provided beforehand.
Start the course NOW.
Conclusions
So, with that, my top picks of online healthcare degrees and courses have come to an end. If you're unsure about these courses, or want to explore other options - be sure to check out other classes on Udemy, Udacity, or edX.
I believe, for starters, it's best to choose Udemy and start with the basics. Then, you can move on to Udacity and edX classes where you'll be earning professional healthcare certifications online, and degrees with career-changing benefits.
By the way, if you're not satisfied with a program - Udemy gives you a 30-Day Money-Back Guarantee. Also, platforms like Udacity and edX have strict refund policies so be sure to check them out before you enroll.
Leave your honest feedback
Leave your genuine opinion & help thousands of people to choose the best online learning platform. All feedback, either positive or negative, are accepted as long as they're honest. We do not publish biased feedback or spam. So if you want to share your experience, opinion or give advice - the scene is yours!