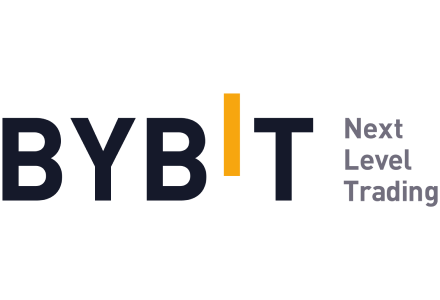 If you're thinking of new ways to earn money and want to start trading, then it's crucial to choose a high-rated cryptocurrency exchange platform.
However, it's not that easy to do as there are multiple features to take into account in order to find a suitable platform for your personal needs. These aspects include trading fees, supported cryptocurrencies, security, and many others. Needless to say, we'll be focusing on all of these factors in this Bybit review.
In this review, you'll find out more about this cryptocurrency derivatives trading platform, its pros and cons, information about the company, main goals, features, and even more.
Even though Bybit is still comparatively new, it's already one of the most popular leveraged trading-providing exchanges on the market. Let's jump right into Bybit review and find out why it's so successful.
Pros
Very low trading fees
Exceptional functionality
Mobile trading app
Helpful customer support
Up to 100x leverage
Cons
Might have a steep learning curve
Bybit Review: Introduction to the Company
Bybit was established only a few years ago, in 2018, and is based in the British Virgin Islands. The platform is growing rapidly and already has more than 10 million users. Considering the amount of time that Bybit has been present on the market, the number is really impressive.
What's important to understand about Bybit is that it's not a regular crypto trading platform, meaning that, in addition to trading actual crypto assets, you will also be able to trade derivatives.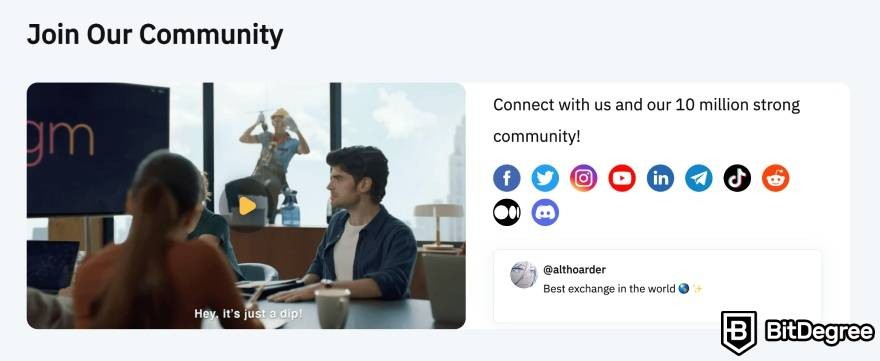 Bybit's goal is to provide users with an intuitive and smart trading experience. We'll find out whether the company manages to achieve that in this Bybit review. That said, let's move further and find out more about this crypto derivatives platform.
How Does Bybit Work?
Bybit works the same as many other cryptocurrency derivative trading platforms. So, if you've tried it before, you'll figure out how Bybit works in no time. However, if you're not familiar with that type of a platform, I'll explain everything to you in no time.
First of all, what's crucial to understand is that when using Bybit, oftentimes, you won't be trading cryptocurrencies directly. Instead, you'll be buying and selling contracts that refer to those cryptocurrencies. This is the main difference between Bybit and any other, regular crypto exchange platform.
Now, let's define the meaning of "derivatives" and "trading futures".
Derivatives can be defined as a financial product that gains its value from an underlying asset, such as Ethereum, Bitcoin, or any other cryptocurrency. Trading futures can be explained in a very simple way. When you're making an agreement to buy or sell a specific asset at a specific time in the future, it's called a "futures contract".

While these two aspects should be completely clear, Bybit also offers perpetual futures trading that's a bit more complicated. Perpetual futures are contracts that do not have a settlement date. This means that if you buy such a contract, you can hold it as long as you want, no one's pushing you to sell it.
However, what's important to mention is that when it comes to perpetual futures trading, there are usually certain conditions that should be fulfilled if you want to maintain the contract.
Perpetual futures contracts with leverage are even more difficult to grasp, and are definitely even riskier. It means that you can open a position that's worth more than your actual account balance. Since Bybit offers up to x100 leverage, it means that you can leverage your initial margin up to 100 times - $5000 instead of $50.
Since perpetual futures contracts with leverage can be risky, it's recommended for more advanced users. Beginners should avoid these features.

Did you know?
Bybit Review: PROS
As always, I would like to begin this Bybit review with the positive aspects and include all the reasons why people choose Bybit.
Exceptional Functionality
Since the company aims to offer its users innovative and smart trading, aside from perpetual futures contracts, it comes with multiple other features that must be discussed in this Bybit review. Let me include the most unique ones and briefly explain each of them:
Smart Trading System. This trading system that Bybit provides will send you strategy alerts as well as will allow you to set up "take profit / stop loss" at entry.
HD Cold Wallet. It's crucial to keep your cryptocurrencies in a secure wallet at all times. In most cases, I would recommend cold wallets, such as Ledger and Trezor; however, it seems that Bybit offers all-in-one - an exchange and a cold wallet where you can keep your coins securely.
100K TPS Matching Engine. The ultra-fast machine engine will make sure that you never need to worry about overloads.
Significant Market Depth. When making every trade on Bybit, it will ensure that you have an almost unnoticeable price impact.
99.99% System Functionality. Bybit provides you with 99.99% uptime, meaning that the platform will be available at (almost) all times.
State-Of-The-Art Pricing System. The dual-price mechanism will ensure that you won't experience any wrongful liquidations.
Just like I said, one of the reasons for choosing Bybit is its functionality. If you want to take advantage of smart and innovative trading, this is one of the platforms that you should take into consideration.
Latest Binance Coupon Found:
REDEEM $600 PRIZE
Binance Cyber Monday
Attention new Binance users: this Cyber Monday, you can score up to $600 in rewards by completing special tasks. Activate this amazing Binance Cyber Monday deal using the code – 49316610!
Expiration date : 05/12/2023
6,127 People Used
Only 16 Left
Low Trading Fees
When it comes to trading, functionality is not the only thing that matters. It's also crucial to consider Bybit fees. This is especially important to daily traders who buy and sell cryptocurrencies multiple times throughout the day.
Bybit is based on the "maker-taker" fee model. Market takers are the ones who seek and take liquidity off the book. They are charged a trading fee. Market makers are the ones who provide liquidity, increase market depth and receive a negative trading fee that's also called a rebate.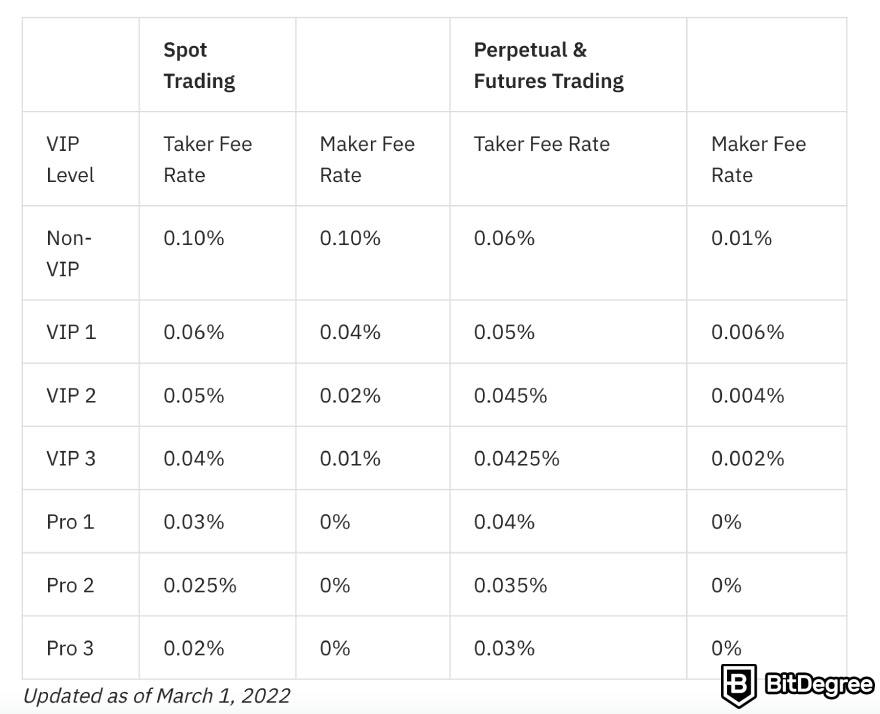 Now, as you can see in the table above, Bybit fees are very low - the maker fee is 0.1%, and the taker fee is the same. This means that this platform is suitable not only for those who are interested in long-term contracts, but also for those who want to maximize short-term profit. There are also multiple fee tiers available, as well!
Huge Number of Supported Countries
Not all crypto exchanges are as widely-accessible as you might think. Some of them can be accessed from only a few countries. That said, before deciding which platform to choose, make sure that it's accessible in your country.
Now, the Bybit exchange supports a huge number of countries. However, there are a few exceptions, including:
United States of America
Québec (Canada)
Singapore
Cuba
Crimea
Sevastopol
Iran
Mainland China
North Korea
Syria
Sudan
Compared to multiple other crypto exchanges, Bybit is supported in a huge number of countries.
Mobile Trading App
Every trading enthusiast knows how important it is to have the ability to trade and keep track of cryptocurrencies on the go. To do that, you will need a mobile app. While not every platform has a mobile app, let's focus on Bybit exchange and see what the situation is with this platform.
Bybit has an app that's available on Google Play and the App Store. The app is evaluated surprisingly well on Google Play - 4.3 stars. Customers claim that the app has a very clear design, beautiful UI, all the necessary features, and that there are no crashes. Needless to say, customers recommend this platform to beginners.

Now, the Bybit app comes with multiple features. Since the prices of cryptocurrencies change every second, the platform allows you to make lightning-quick trades. What is more, it includes the "Stop Loss and Take Profit" feature, pricing notifications, flexibility when converting between different cryptocurrencies, and so much more.
Thus, if you want to trade cryptocurrencies on the go, you should definitely take Bybit mobile app into consideration.
Helpful Customer Service
If you're a pro trader and have it all figured out, you may not appreciate customer support as much as beginners. However, helpful customer support is something that you should always expect from a reliable crypto platform, such as the Bybit exchange.
Bybit customer support will be there for you 24/7. It means that, if you have any issues using the platform, want to find out more about specific features or simply ask for some tips, you can always contact them.
Now, while that's something that many providers claim to offer, not all of them stick to their word. For this reason, to find out whether the company's customer support is actually that helpful, I analyzed multiple reviews online.
The majority of customers claim that Bybit customer service is truly helpful and manages to respond to their questions instantly by providing valuable information and clear answers. Therefore, just as promised, you will get all the help you need in case any issues appear.
Bybit Review: CONS
Now that we're done with all the positives of this Bybit review, it's time to move further and focus on the issues that are associated with this leveraged trading-providing exchange. While the exchange doesn't really have any notable "groundbreaking" negatives associated with it, there are a couple of things that are worth considering, nonetheless.
Some Less-Positive User Feedback
If you want to make the right choice when choosing a product or a service, you should always research what customers have to say about it. Even if you can try the service out first, you can never know what issues you might encounter in the long run.
When it comes to Bybit customer reviews, on Trustpilot, the exchange has only 3.2 stars. Customers claim that the platform has some things to improve on; some people also had their accounts frozen, which is always a tricky situation to be in.
While these complaints might sound concerning, you shouldn't forget that some of them might be written by competitors. What is more, the majority of people tend to leave reviews only when they encounter certain issues, and not when they're happy with the service.
Account freezing is a completely different "beast", altogether. Granted that Bybit is an established and generally-respected exchange within the industry, random account freezings aren't usually something that platforms like this partake in. Instead, if your account is frozen, chances are that it was flagged for being suspicious, or you did something against the platform's rules.
That said, make sure to take a look at Bybit reviews; however, your should always remain skeptical, and do your own research, in addition to checking out user feedback.
Limited Number of Supported Cryptocurrencies
UPDATE: As of 2023, Bybit currently supports over 100 different crypto coins & tokens. That's a big improvement!
One of the factors that the majority of people who are interested in trading pay attention to is the number of supported coins. Now, you might come across crypto exchanges that provide you with hundreds of options to pick from; however, what about Bybit?
At the moment, Bybit supports these cryptocurrencies:
Looking at this list, it's obvious that some of you might lack less popular altcoins to pick from. However, that completely depends on individual preferences.
It allows you to purchase BTC, ETH and USDT using fiat currencies.
Might Possess a Steep Learning Curve
Even though futures trading is one of the major reasons why people choose Bybit, there are also certain risks associated with this feature, especially if you're still a newbie in the crypto world.
As mentioned previously in this Bybit review, when making a futures contract, you have to determine the future price of a specific asset. Such an investment is quite a risky one, for a good reason.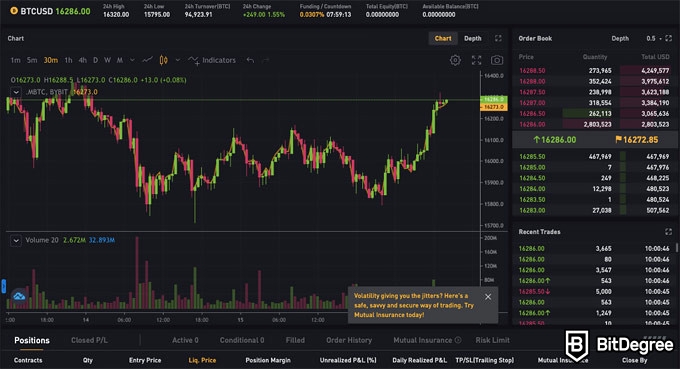 Let me give you an example of how you could end up making a rookie mistake.
Let's say you make a contract with another person to purchase 1 BTC for $12,000 on the 29th of December. Imagine that by then, Bitcoin's price drops to $8,000. This means that you lose $4,000, whereas another person gains the same amount. While such a scenario is not very likely, you can never predict the future when it comes to cryptocurrencies.
Thus, make sure to perform a thorough analysis before making a futures contract.
Here is The Best Binance Offer I Found:
REDEEM $600 PRIZE
Binance Cyber Monday
Attention new Binance users: this Cyber Monday, you can score up to $600 in rewards by completing special tasks. Activate this amazing Binance Cyber Monday deal using the code – 49316610!
Expiration date : 05/12/2023
6,127 People Used
Only 16 Left
Conclusions
Bybit is one of the more recommended cryptocurrency derivatives exchanges that come with multiple features, such as perpetual futures trading, margin trading, smart trading system, state-of-the-art pricing system, and others.
Bybit fees are very low; the platform also supports a huge number of countries, has a mobile trading app, clear design and helpful customer service. The only notable shortcoming that some users point out is that the exchange might be somewhat difficult to use for complete beginners.
Having said all of that, it's evident that Bybit is surely one of the better crypto exchanges on the market. If you're looking for advanced features and a platform that you could use for all of your crypto trading ventures, in general, it's definitely worth checking out!
Thanks for reading, and until next time!
The content published on this website is not aimed to give any kind of financial, investment, trading, or any other form of advice. BitDegree.org does not endorse or suggest you to buy, sell or hold any kind of cryptocurrency. Before making financial investment decisions, do consult your financial advisor.
About Article's Experts & Analysts