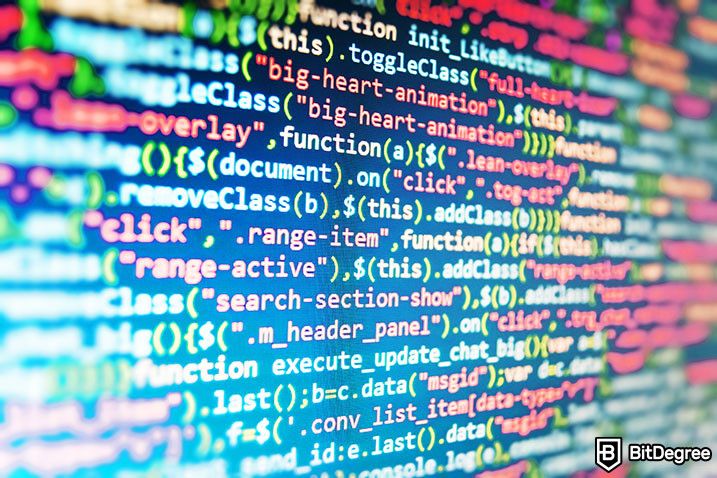 Looking for the best online computer science degree? Chances are you're thinking about pursuing a career in the computer science field. After all, it's one of the fastest-growing fields, which is expected to grow by 13% between 2016 - 2026[1]. It's higher than the average growth rate of most occupations. There's no doubt studying computer science opens many doors.
You can choose online degrees to learn about computer science and related subjects. However, what if I told you there's an efficient and more affordable way to gain job-specific skills fast?
Today, I encourage you to put aside what you know about education and dive into this article with an open mind. You might be thinking, "but how do I gain the skills needed without a degree?"
There are ways, trust me.
I'll introduce you to top alternatives to even the best online computer science degrees, and explain why they may be worth it. I'll also mention a few degrees you can take if you think you still need one by the end of this article. We'll be covering a range of platforms, including Udacity, edX, and DataCamp.
Ready to step into the future? Let's do it!
Best Online Computer Science Degrees
There are degrees you can take online to study computer science, which I'll mention below. They're just like master's or bachelor's degrees you would study at a university, minus the whole university experience. Are they worth it? It depends.
Latest DataCamp Coupon Found:
CLAIM 50% OFF
DataCamp Cyber Monday Deal
DataCamp Cyber Monday special is here! Enjoy a massive 50% off on DataCamp plans. Subscribe now and redefine your data and Al skill set for the better!
Expiration date : 08/12/2023
5,324 People Used
Only 36 Left
Here are a few that have been described as the best online computer science degrees:
This Master's Degree in Computer Science is a joint effort by the University of Texas at Austin and edX, offering 10 courses over the period of 3 years at $10 000 (30 credits at $333 each). There is currently only one enrollment date for this course announced in 2023, which is on June 1.
Udacity joined forces with Georgia Tech College of Computing to offer an online Master's Degree in Computer Science, which is the equivalent of a master's degree at a university. You go through the same application process, study the courses and get credentials at the end if you complete them successfully.
In terms of undergraduate options, Bachelor of Science (BSc) in Computer Science Degree from the University of London in association with Coursera is described as one of the best online computer science degrees, which takes between 3 to 6 years to complete and costs between $14 800 - $21 850, depending on your location. It covers 7 major topics in computer science and the admission date is March 15th.
Are Degrees Outdated?
Sort of. To put simply, they're often unnecessary. There are alternatives that in some cases make more sense taking. Let's see what I mean by that exactly.
Here's something worth your attention: the 2015 Developer Survey[2] revealed that half of the developers (from a total of 26,086) didn't have a degree in computer science. In fact, a close friend of mine secured a job as an app developer without ever going to a university. He acquired relevant skills by taking affordable online computer science courses and saved tons of money.
Ernst and Young (one of the largest professional services networks in the world) no longer require a degree from graduate program applicants. Through numerous hiring processes, the company realized success at university doesn't always correlate with success and competence in professional life, and you know what? They're not the only ones.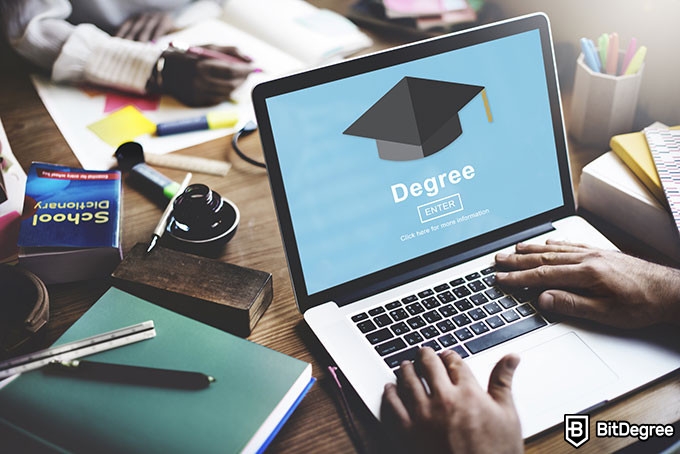 Other giant companies, including PricewaterhouseCoopers, Google, Tesla, Hilton, Apple, Starbucks, or IBM have also embraced a similar way of thinking when it comes to recruiting new employees. Top players have begun hiring more candidates without a 4-year degree[3]. If you ask me, it seems to be working out all right for them!
As I said, things are moving fast. So are our ways of working and learning. Most of us still believe that degrees and good grades make us successful. This is what we've learned throughout all the years of traditional education. Don't get me wrong, it did! In the good old days. It's time to get off that educational conveyor belt though.
Whether we like it or not, the ones who can't embrace changes, are the ones who are at risk of falling behind. Why don't we take advantage of the new ways? In this case, online computer sciences courses and programs that focus on job-specific skills are the way.
The Issue with even the Best Online Computer Science Degrees
The thing with degrees is that they cover many different topics that are considered to be important in that field. However, what often happens, is that students end up studying what they've already learned or stuff they don't really need for the job they want to get.
Sometimes it depends on what profession you have your eyes on and the skills required (medicine or psychology, one could argue, would be slightly different). However, in this case, computer science courses can teach you job-specific skills much faster, and at a much more affordable price than the best online computer science degrees.

Pros
Easy to use with a learn-by-doing approach
Offers quality content
Gamified in-browser coding experience
Main Features
Free certificates of completion
Focused on data science skills
Flexible learning timetable

Pros
High-quality courses
Nanodegree programs
Student Career services
Main Features
Nanodegree programs
Suitable for enterprises
Paid certificates of completion

Pros
A huge variety of courses
Easy-to-navigate interface
Over 600 free courses
Main Features
A huge variety of courses
30-day refund policy
Free certificates of completion
Online Computer Science Courses vs Best Computer Science Degrees
It's a tough choice to make, but it's a little easier when you know about how they compare. Of course, always choose the option that supports your goal.
Online programs (collections of courses) are similar to the best computer science degrees. Although, they also have some differences.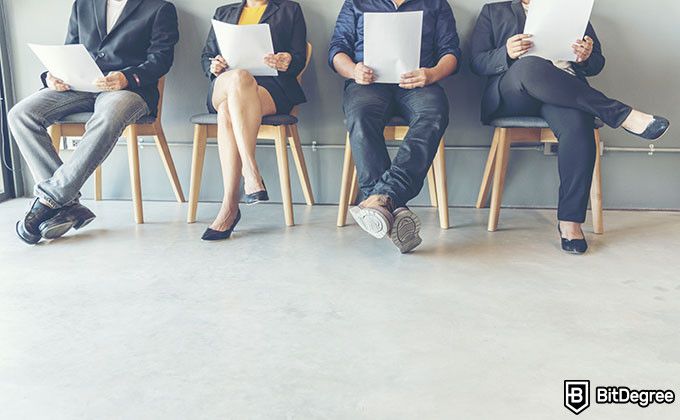 Ability to Choose Subjects
By taking individual courses, you can pick and choose different courses according to your specific needs. This is something that many students find effective because you won't have to study anything that doesn't fit your goals, and each course covers a specific subject in-depth. As I mentioned above, degrees are much broader in that sense.
Enrollment Process
Online degrees have fewer enrollment dates (usually 1 or 2 per year) and are generally less flexible compared to single computer science courses or programs that have open admission. In many cases, you can simply enroll whenever you like.
To enroll in an online master's degree program you must have a bachelor's degree, completed equivalent coursework, or experience in a related field. Whether it's a full-on master's or bachelor's online degree, you'll have to go through an application process to secure your place in the course, since there's no such a thing as automatic admission.
Pricing
Prices for the best online computer science degrees are high. Well, they're lower than they would be if you choose an on-campus program, however, they're still high compared to the alternatives. Also, on some platforms (e.g. Coursera), to enroll in a degree program you have to pay over $100 just for the application itself.
Chances of Landing a Job
Like you see with Google, Tesla, and other companies, employers are paying more and more attention to the person's skills and character rather than a verified paper confirming those skills. In other words, not having a diploma is not equal to not having relevant skills, and more and more modern businesses are realizing it, so they're placing skills first, not a paper that proves it.
Should I Choose Computer Science Courses Instead of a Degree?
If you're a motivated person, and you know exactly what skills you're looking for - choose individual computer science courses. It's a fast and efficient way to gain job-specific skills at an affordable price (in some cases, even for free).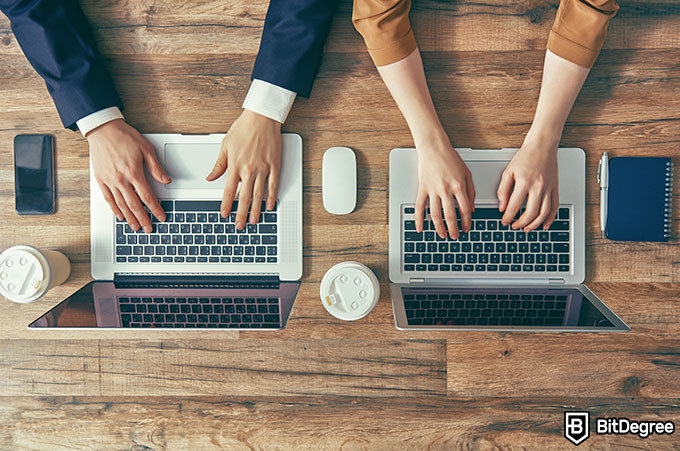 If you're unsure about what exactly it is you want, you may want to choose a degree, because there you have the curriculum sorted out for you.
All right, now that you're familiar with different options and the differences between the two, let's explore some alternatives.
Best Online Computer Science Degrees: Top Alternatives
I'll include general computer science courses as well as more specialized programs, focused on data science and AI since data science is "an interdisciplinary field[4] involving computer science and statistics".
MicroMaster's and MicroBachelor's Programs on edX are combinations of courses specialized in one area, designed for people who want to advance their career. As you can guess, the main difference between the two types of programs is the difficulty level, as MicroMaster's courses are graduate-level computer science courses.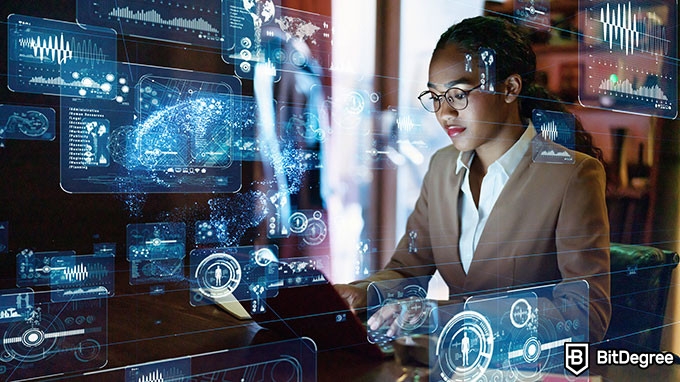 Some well-known universities (New York University, University of Edinburgh, University of San Diego) have teamed up with edX platform to offer these in-depth programs for real-life skill building. You can read more about each type of program by clicking on the links below:
Both of these programs include automatic admission, so if you want it - it's yours! Of course, there are certain requirements if you want to enroll in a MicroMaste'rs Degree since it's an advanced program.
Let's take a look at some specific programs.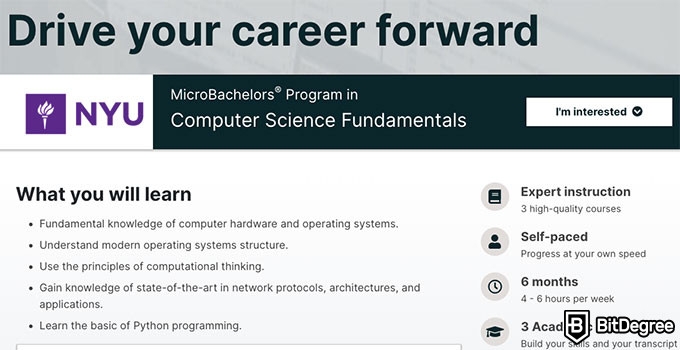 Platform: edX
Offered by: New York University
Duration: 〜 6 months (suggested 4-6 hours/week)
Price: 〜 $166 per credit
Certificate: Yes
Level: Undergraduate/Beginner
Where to apply? Here
New to the world of computer science? No stress! This is an undergraduate-level program by New York University that will introduce you to topics like computer programming and computer systems, including hardware, and operating systems.
You don't need previous knowledge to enroll, yet you'll come out of this course knowing how to use the principles of computational thinking and understanding operating systems' structures, the basics of Python programming, and networking.
One of the biggest perks of taking this program on edX is that you can try out each course before you pay the full price. You're also welcome to take individual courses if you don't want to purchase the whole program.
It's really flexible, something that degrees don't always offer. There is a deadline for upgrading to the full experience, so make sure you're aware of it.
For a discounted price, use edX coupons you'll find here.
Edx Deal Active Right Now:
GET 10% OFF
Exclusive edX Cyber Monday Offer
Seize the opportunity with this Cyber Monday offer from edX! Enjoy a 10% discount when buying select programs in bundles. Gain knowledge from top experts at a lower cost!
Expiration date : 08/12/2023
4,325 People Used
Only 23 Left
The price of these programs are certainly very attractive: it costs $166 per credit compared to about $594 at undergraduate national average or $308 at non-profit online colleges.
Upon completing the final course successfully, you'll receive the credentials and a verified certificate. There is an option for free computer science courses, which I'll tell you about below.
The program is made up of three individual courses:
Use Python programming language to work with positional number systems; hello world; numerical data types and arithmetic expressions; branching statements; iterative statements [loops]; strings; functions; lists [array-based sequences].
Dive deeper into computer science and explore topics like an overview of computer networking; application layer; transport layer; network layer; link layer; overview of network security.
The course syllabus includes the following: fundamentals of system hardware; introduction to OS concepts; processes & threads; thread concurrency and deadlocks; memory management.
MicroMaster's Programs by Top Universities
Similar to MicroBachelor's programs, MicroMaster's is a combination of graduate-level courses on a specific subject designed for students with some experience who want to gain specific skills to progress their career faster. After completing a MicroMaster's, you earn credentials in a specific career field.
The above description covers a MicroBachelor's Program, but more top universities like the University of California and the University of Edinburgh offer in-depth learning experiences similar to the best online computer science degrees.
If they caught your attention, check out more programs related to computer science on edX and study your thing. I won't go into details here, but I'll drop the links below:
Free Computer Science Courses
Okay, so if you want to receive credentials and a certificate proving your skills, you have to purchase the full program experience. However, if you like the idea of free computer science courses, you won't be disappointed!
What you can do is simply access each course by clicking on their name card and enroll for free. You won't get a certificate, but you will be able to access most of the material for free. Pretty good, hey?
Another course that is completely free is Intro to Theoretical Science on Udacity, which will teach you about the basics of computer science and topics like NP-completeness in the context of algorithmic problems.
Nanodegrees on Udacity
Nanodegrees are essentially programs that promote in-demand skills. They're centered around projects and real-life skill-building. Just like MicroBachelor's in Computer Science Fundamentals, a nanodegree offers credentials when you successfully prove your newly learned skills upon completing the courses.
What are the perks of taking a nanodegree? You'll be learning through real-world cases and content designed in collaboration with existing companies that work in a related field. Plus, you'll get feedback on your work and you can join the student community to deepen your learning.
You also receive technical mentor support to help you stay on track and to answer any questions you may have. On top of that, nanodegrees offer career services, which give you access to resume support, Github portfolio review, and LinkedIn profile optimization.
Guess what? Enrollment is open throughout the year, so you don't have to wait a single day more to start the program. It's only the discounts which are temporary.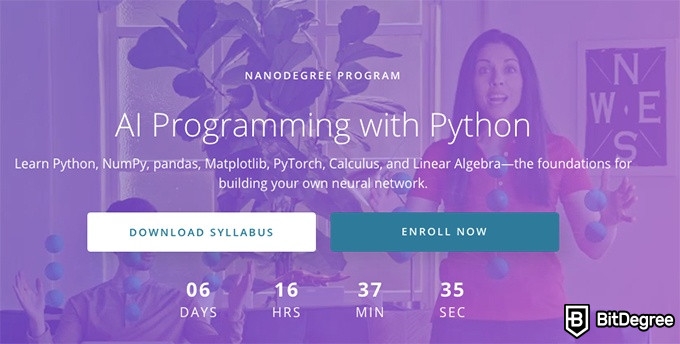 Platform: Udacity
Duration: 〜 3 months (suggested 10 hours/week)
Price: $1077
Certificate: Yes
Level: Undergraduate/Beginner
Where to apply? Here
Did you know that the AI industry could be worth more than $15 trillion by 2030[5]? It's certainly a field worth exploring if you're drawn to it. The demand for AI-related skills is growing, so if you ever wanted to be a part of the AI world - now is a good time to jump in!
All you need is basic algebra and programming knowledge in any language, a computer running OS X or Windows and you're all set!
It will still be a lot more affordable than an actual degree. Nanodegrees cost around $300 per month for 3-month access (prices vary). After that, if you need more time to complete the courses, simply purchase an extra month of access.
Udacity sometimes offers discounts, but if you want to enroll right now at a lower price - use these coupons. They're especially useful if you think you'll take 2 courses or more.
Topics covered:
Introduction to Python
Jupyter Notebooks, NumPy, Anaconda, pandas, and Matplotlib
Linear Algebra Essentials
Calculus Essentials
Neural Networks
After completing this Nanodegree, you'll have the main skills needed in the AI industry, such as Python, machine learning, and more. Since this nanodegree covers the fundamentals, it won't prepare you for a job just yet, but it's a good way to find out whether you want to continue this path.
If you complete this nanodegree and think "I'm ready for more!", I got you. I highly recommend combining this Nanodegree with the Machine Learning Nanodegree, which will teach you everything you need to know for landing a job in the field.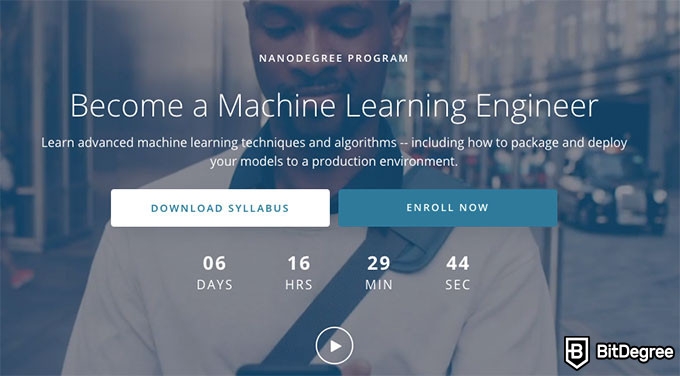 Platform: Udacity
Offered by: Kaggle; Amazon Website Services
Duration: 〜 3 months (suggested 10 hours/week)
Price: $1077
Certificate: Yes
Level: Advanced
Where to apply? Here
The program includes advanced computer science courses focused on machine learning, so having some understanding of machine learning algorithms and Python programming is recommended. This Nanodegree is designed to prepare you for job-specific tasks of a machine learning engineer.
After completing the program, you should have the knowledge and skills required to fill a machine learning specialist or engineer's position.
You can use Udacity's coupons for selected nanodegrees on Udacity, including the one below.
[featured-coupon review_id="12"]
Topics covered:
Software Engineering Fundamentals
Machine Learning in Production
Machine Learning Case Studies
Machine Learning Capstone
If you're interested in deploying applications that are powered by machine learning, this nanodegree is the one you've been waiting for.
Keep in mind that you need a computer running a 64-bit operating system with at least 8GB of RAM and you have to be able to install programs like Anaconda with Python 3.x and support packages, which are compatible with most modern laptops or computers (avoid tablets).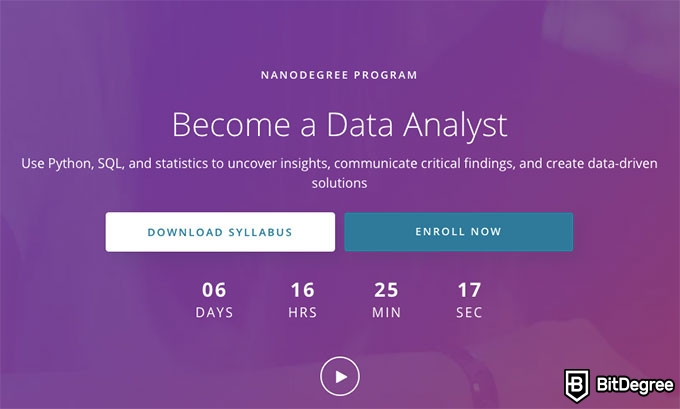 Platform: Udacity
Offered by: Kaggle
Duration: 〜 3 months (suggested 10-15 hours/week)
Price: $1436
Certificate: Yes
Level: Intermediate
Where to apply? Here
Provided to you by Kaggle, the world's largest data science community, this nanodegree is a stairway to data-world heaven. In case you haven't heard, Data Analysts are on the rise. For real. In a 2018 publication, the World Economic Forum identified that by 2023, 85% of companies will have adopted big data and analytics technologies.[6]
This nanodegree is like a shortcut to entering this career. You'll find various specialized online computer science courses that will teach you to make better decisions based on the analysis of data, as well as to manipulate and prepare data for that analysis.
After completing this nanodegree, you'll be equipped for the roles of Data Analyst, Analytics Consultant, Product Manager, or Management Consultant.
Topics covered:
Introduction to Data Analysis
Practical Statistics
Data Wrangling
Data Visualization with Python
This nanodegree involves some more advanced topics, therefore it's recommended to have at least some experience in working with data in Python (Numpy, Pandas) and SQL.
If you're completely new in this area, no worries! To gain knowledge for this nanodegree, consider taking Computer Science for Data Science Nanodegree first.
If you want to take it a step further, check out the Data Scientist Nanodegree which is an ever more advanced program.
What's good about nanodegrees and single online computer science courses is that depending on your skills, you can pick up where you like, so if you're a complete beginner you can take Programming for Data Science and move from there, and if you already have some knowledge, skip these computer science courses and jump straight to the Data Analyst Nanodegree.
DataCamp Careers
DataCamp has come up with a brilliant way to prepare specialists by offering career-building learning paths. A career-building learning path is essentially a combination of courses that help you build a specific set of skills for a particular career. I'll tell you about the options that are, in many ways, similar to the best online computer science degrees.
I'll tell you about two career paths on DataCamp, R Programming, and Python Programming. However, keep in mind there are more. Many of them are data science-related. If you're interested, check out other options here.
DataCamp Pricing
DataCamp is a subscription-based platform.
Although courses on DataCamp aren't free computer science courses, you can access the first chapter of each one for free. It's a great opportunity to see whether you like how it's structured and the way it's taught.
Also, there are some attractive deals available right now which you can check out here, or by clicking on the coupon below.
Premium - $33.25 per month
If you choose the annual subscription, a month costs $33.25, compared to $49 if you pay for one month only. Premium access comes with perks like skill and career tracks, community chat, 500+ practice challenges, real-world projects, and mobile app support.
Similarly to premium, basic access cost is $25 per month if you subscribe for the whole year, while monthly subscription costs $29. Basic subscription doesn't offer skill tracks or community chat. You still get access to practice challenges and real-world projects, but fewer of them.
All right, let's get to the actual career tracks.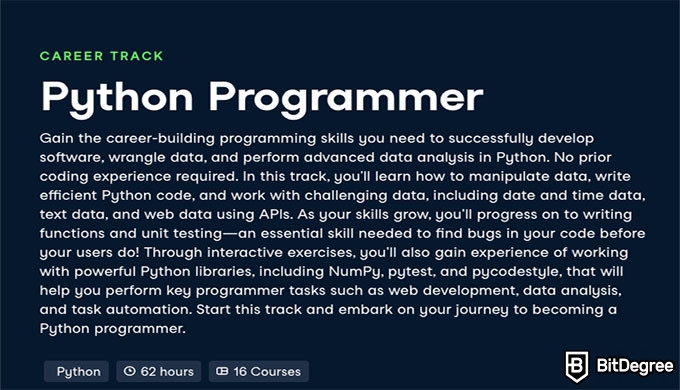 Platform: DataCamp
Duration: 〜 62 hours learning material (16 courses)
Price: From $25/month
Certificate: Yes
Level: Beginner-Advanced
Where to apply? Here
Just like the name says, it's a combination of courses that are designed to prepare Python programmers for professional work. There are 16 courses in total, each focusing on a specific topic, which you'll see on the list below.
The great news is that you don't need previous knowledge in coding, because you'll learn all the basics if you follow the list of courses within this track in order.
Courses on this career track:
After completing computer science courses within this track, you'll be able to use Python to develop software, wrangle data, and perform advanced data analysis. You'll also learn to write functions, find bugs and work with various Python libraries (NumPy, pytest, and pycodestyle). Tasks such as web development, data analysis, and task automation will be your area of expertise.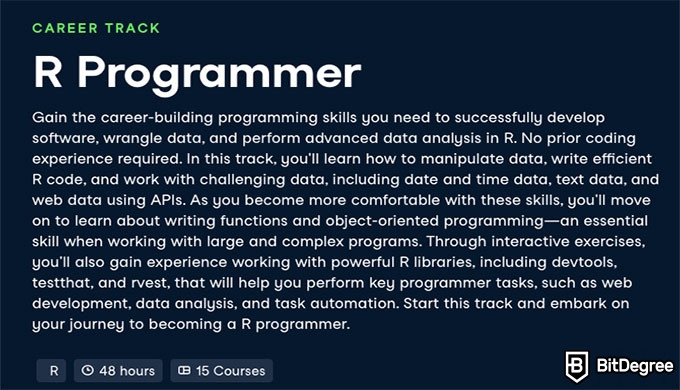 Platform: DataCamp
Duration: 〜 48 hours learning material (15 courses)
Price: From $25/month
Certificate: Yes
Level: Beginner-Advanced
Where to apply? Here
In this career track, you'll gain similar skills as in Python Programming, but you'll use a different programming language. So you'll use R (a programming language and free software environment for statistical computing and graphics) to develop software, wrangle data, and perform advanced data analysis.
Courses and projects on this track:
What's unique about this path is the projects it involves. For example, Drunken Datetimes in Ames, Iowa is a project in which you'll test your skills in manipulating the dates and times and try to answer the following questions: "What day has the most tests?", "at which hour of the day are breath alcohol tests most common?", "are blood alcohol content (BAC) results higher on days when Iowa State University's football team plays?"
Another project is Dr. Semmelweis and the Discovery of Handwashing, where you'll analyze the data behind the greatest life-saving discovery - handwashing.
Overall, following a career path on DataCamp is a good way to get the most out of your learning experience. A combination of specific courses allows you to focus one the tasks at hand, and you can take it at your own pace, which allows you to spend more time on the more complicated subjects.
Python vs R: which one to choose?
As with most things in life - it depends.
Okay, so they both have to do with machine learning, large datasets, and visualizations. However, Python is more suitable for things like repeated tasks and manipulating data. R, on the other hand, is a great tool for ad-hoc analysis and exploring data. In short, if you're interested in general programming - Python is the option for you, but for data analysis - R is your guy.
If you want to learn more about what DataCamp has to offer for Python and R programmers, we've got you covered. If you're interested in the former, check out our guide to the best Python courses that DataCamp has to offer. If you're looking for ways to learn R, we've covered the entire DataCamp R Programming still track here.
Best Online Computer Science Degrees: Final Thoughts
Before embarking on your learning journey, think about whether you really need to spend all that time and money on a degree. Nowadays, more and more companies (Google, IBM, Hilton) are recruiting employees without 4-year degrees, but with the right skills and personality.
Likewise, many students are switching to online programs for new sets of skills. They're much more affordable, flexible, and take less time to complete. Individual courses allow you to be the master of your own destiny because you don't have to follow a strict curriculum, you choose what you want to learn instead.
Plus, there are some great alternatives to even the best online computer science degrees. If you're completely new to this field, MicroBahelors Program in Computer Science Fundamentals by New York University or Intro to Theoretical Computer Science, which is free, will help you build a solid foundation of knowledge in computer science.
Besides, those courses within edX's program are free computer science courses, if you take them individually without a certificate. Even if you purchase the full program, it won't empty your wallet a great deal.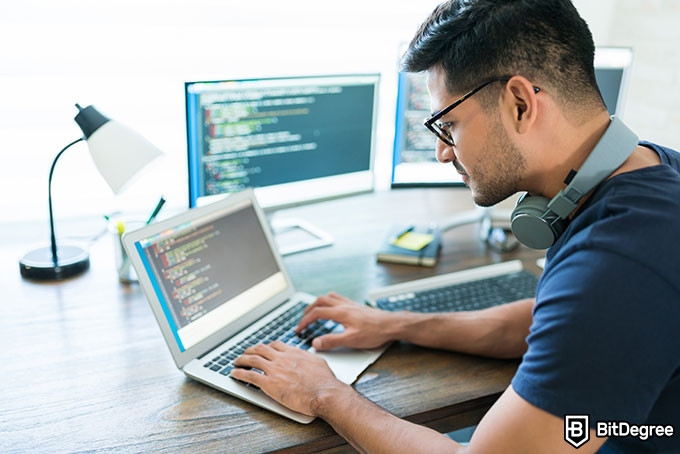 For a more advanced program, check out the Micromaster's Programs on edX or Microbachelor's for undergraduate-level courses. They're combinations of in-depth courses focused on one big subject, for which you get credentials if completed successfully.
For free computer science courses, enroll in single courses on edX and study for free without a certificate, or choose Intro to Theoretical Science on Udacity which doesn't cost anything.
Nanodegrees on Udacity are designed in collaboration with companies like Kaggle and Amazon to teach students in-demand skills and they offer programs in more specialized subjects, like AI Programming with Python, Machine Learning, or Data Analyst. All of them include perks like career services, tutor support, feedback, and student community.
Another option is to choose a career path on DataCamp, which is a collection of courses (15 and more) that help you gain the skills necessary for a job. Python Programmer and R Programming Career Path are among the most popular tracks that students pick, but there are more.
If you think these programs aren't for you, these are the best computer science degrees I found:
Master's Degree in Computer Science by Texas University, Giorgia Tech College Master's Degree in Computer Science, and Bachelor of Science (BSc) in Computer Science from the University of London.
All in all, my advice is this: learn and get paid, rather than pay for education and work to repay it!
Scientific References
1. National University: Are Computer Science Jobs in Demand?
2. Stack Overflow: 2015 Developer Survey
3. Business Insider: Elon Musk aid a college degree isn't required for a job at Tesla — and Apple, Google, and Netflix don't require employees to have 4-year degrees either
4. Rassmusen College: Computer Science vs. Data Science: Decoding Your Ideal Career Path
5. PwC's Global Artificial Intelligence Study: Exploiting the AI Revolution
6. World Economic Forum: The Future of Jobs Report 2018
Leave your honest feedback
Leave your genuine opinion & help thousands of people to choose the best online learning platform. All feedback, either positive or negative, are accepted as long as they're honest. We do not publish biased feedback or spam. So if you want to share your experience, opinion or give advice - the scene is yours!