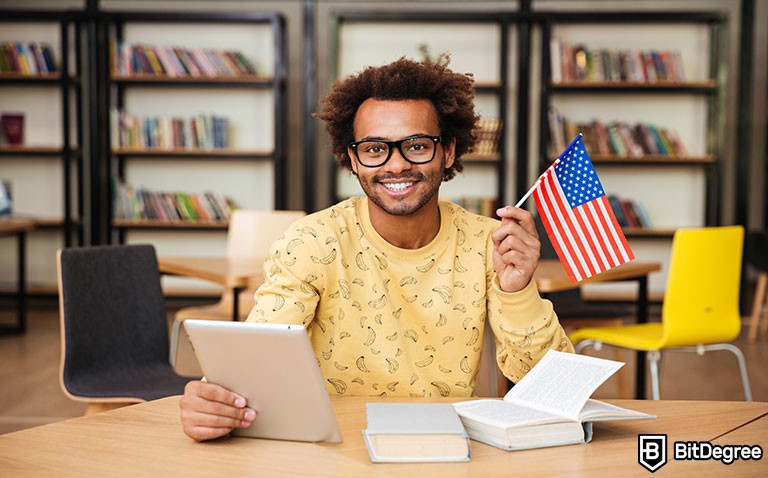 Are you planning on studying abroad? Pursuing a new career? Applying for a visa? If your future plans involve working, studying in, or migrating to an English-speaking country, chances are you'll need to prove your mastery of English. These TOEFL preparation courses will help you to get ready for the exam so that you can show off your language skills stress-free and gain the highest score possible.
TOEFL is accepted worldwide by more than 11,000 universities and institutions in over 150 countries[1]. It's not impossible to get a high score if you practice for it. As I'll mention below, the TOEFL test follows a predictable structure, which is why taking TOEFL preparation courses can actually really help you nail it - they teach you various techniques you can use in your answers.
So, read the descriptions carefully, choose the course you like most - and start practicing! And remember (stolen from a Chinese proverb) - "to learn a language is to have one more window from which to look at the world."
Think of preparing for this test as if it was an amazing opportunity to open that new window.
TOEFL Preparation Courses: What is TOEFL?
Test of English as a Foreign Language (TOEFL) is "a standardized test to measure the English language ability of non-native speakers wishing to enroll in English-speaking universities". Together with IELTS, it's the most popular English-language test in the world.
Latest DataCamp Coupon Found:
GET 50% OFF
On Datacamp Plans
Use this Datacamp coupon to access a limited-time discount - get 50% OFF DataCamp plans. Don't miss this Datacamp deal!
Expiration date : 01/10/2023
3,928 People Used
Only 17 Left
While it was designed for future university students, nowadays it's used in a much wider context. If you want to apply for a work visa, permanent residence, or foreign study exchange the TOEFL test (or IELTS) is usually one of the requirements to prove your level of English, which is necessary for a successful application.

Pros
Easy to use with a learn-by-doing approach
Offers quality content
Gamified in-browser coding experience
Main Features
Free certificates of completion
Focused on data science skills
Flexible learning timetable

Pros
Simplistic design (no unnecessary information)
High-quality courses (even the free ones)
Variety of features
Main Features
Nanodegree programs
Suitable for enterprises
Paid certificates of completion

Pros
A huge variety of courses
Easy-to-navigate interface
Over 600 free courses
Main Features
A huge variety of courses
30-day refund policy
Free certificates of completion
Which One Should I Take: TOEFL or IELTS?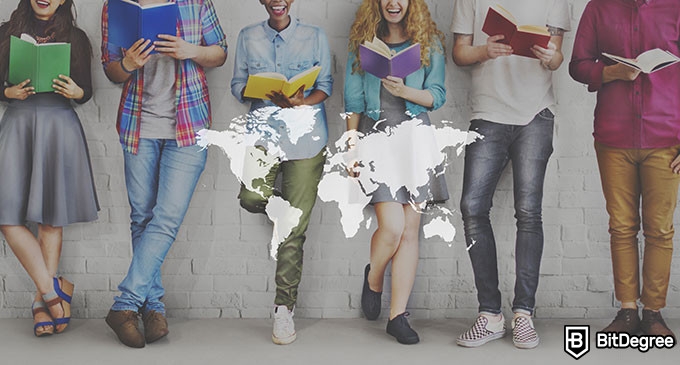 Both exams have their own rules, structure, and characteristics. Here are the main differences between the two:
#1. If we talk about the type of English: TOEFL is prepared in American English and IELTS is prepared in British English, although they also include other accents. If you are more used to one or the other accent, this can be an important factor when making a decision.
#2. Regarding the type of institutions, TOEFL is mainly requested by American institutions and IELTS by institutions of the United Kingdom and the Commonwealth. Both of the tests are widely accepted over the world.
#3. Regarding the type of questions, TOEFL is mainly based on multiple-choice questions and IELTS includes questions of different types: short answers, filling in the blanks, short essays. The IELTS, therefore, builds on broader comprehension skills as students grapple with different question styles.
Although there are more, these are some of the main differences that may affect your decision the most.
That said, perhaps the most important criteria when choosing is to know in which country you want to study, work, etc. If your choice is a US institution, TOEFL is ideal, although IELTS is also accepted. If you choose a country that belongs to the United Kingdom, or Canada or Australia - IELTS exam is the one.
TOEFL IBT: What Does It Stand For?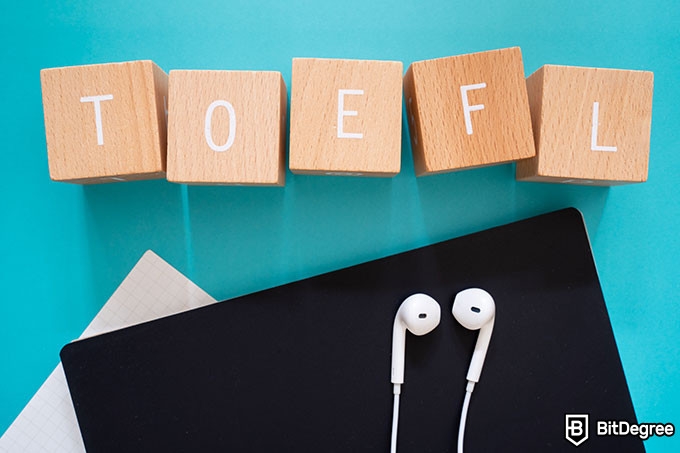 You'll notice that some courses in this article have "IBT" written near their name. If you haven't come across it yet, TOEFL IBT stands for Test of English as a Foreign Language Internet-Based Test.
It's no secret that the internet has penetrated nearly every area of our lives - English Language Exams included. Due to their convenience, IBTs have become very popular. In fact, they've almost replaced the computer and paper-based tests. So basically, whenever you see "IBT" near a course name, it means the course is designed to prepare students for this type of test.
TOEFL tests follow a clear structure, and for this reason, it's easy to predict the tasks and exercises that will come up - this is a huge advantage for students who learn the strategies they can apply to different sections of the test.
You can manipulate those strategies to get a much higher score than you would if you didn't know them. As you already know what to expect, it saves you a lot of stress, so you can just get on with the test and finish it a lot quicker.
TOEFL Preparation Courses: Complementary Courses
The thing with many TOEFL preparation courses is that they focus mainly on the structure of the exam, providing you different tips and techniques you can apply in the exam. However, they're not English language courses per se.
So, depending on what your level of English is, it may be a good idea to work on general English skills before you start preparing for the TOEFL test (if you have the time to do so, of course). Don't get me wrong, your English may be pretty good already - but if you put that little extra effort in - the results may surprise you.
Now if you're not looking to get the highest score, this may be of no use to you - it all depends on what you need from the test! If you're confident in your English abilities and are ready to start preparing for TOEFL - simply choose a course from the list and start practicing!
However, if you have the time, I highly recommend practicing the language as much as you can in different ways. At the end of this article, I'll include a couple of ESL courses that aren't TOEFL prep courses - one for practicing reading and writing by learning about different cultures and cultural phenomena, and another one designed specifically for improving speaking and pronunciation skills.
The secret of getting ahead is getting started, so let's crack on!
Best TOEFL Preparation Courses
Below you'll find a list of the best TOEFL prep courses available right now, as well as another two courses that you can take to work on your reading, writing, and speaking skills before you start preparing for the exam.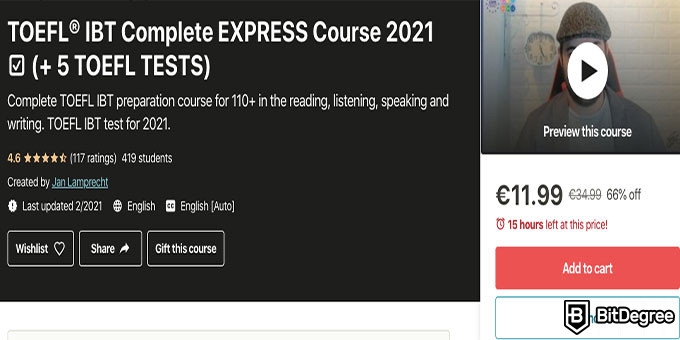 Platform: Udemy
Offered by: Jan Lamprecht
Duration: 〜 3.5 hours
Price: $42 (pre-discounted)
Certificate: Yes
Level: Beginner-Advanced
Where to apply? Here
Designed for beginners and intermediate students alike, this Toefl online course will teach you strategies for every single task in the TOEFL IBT exam. You'll learn to apply these strategies in all the main parts of the exam: reading, listening, speaking, and writing.
It's taught by Jan Lamprecht, an enthusiastic instructor, TOEFL Resource Creator, and Author who's been teaching English for more than 11 years. The great thing about it is that you'll get to learn from someone who knows the Toefl exam structure really well.
What's included? Once you purchase the course, you gain access to 3.5-hours on-demand video content, 33 downloadable resources, 4 articles, and instructor support available via direct messages. After finishing the course, you get a certificate of completion for all your hard work.
What you'll learn:
At the end of each different section within this TOEFL online course, there's a practice test or project for you to do. It's a great way to check how well you've learned the content and track your progress.
Course Price
So the full price for this course is $42. However, Udemy courses frequently go on sale, which is when prices drop by up to 90%! That's when most students make their move, but if you don't want to wait - you don't have to. Check out these coupons for the best deals available on Udemy right now.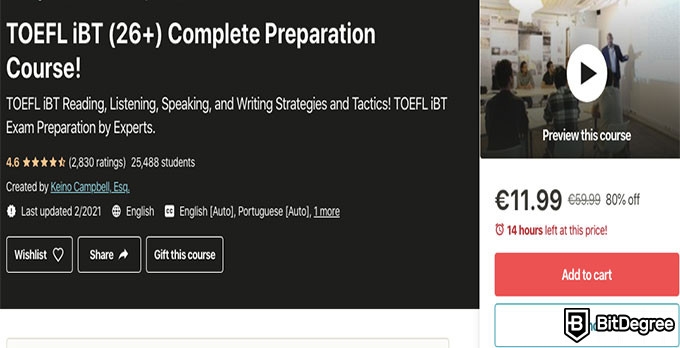 Platform: Udemy
Offered by: Keino Campbell
Duration: 〜 46.5 hours on-demand video
Price: $69 (pre-discounted)
Certificate: Yes
Level: Intermediate-Advanced
Where to apply? Here
This is one of the most popular Toefl preparation courses on Udemy's platform, according to the number of students who have taken it. Well, technically, the Complete TOEFL iBT Success Course is the course that has the highest number of students, however, it hasn't been updated for a while. Some recent student reviews have commented on the fact that some of the course's content is outdated, which is something to look out for.
In terms of course requirements, students need to have at least an intermediate level of English to be able to follow the syllabus and the tasks included.
The last update to this course was made in February 2023, so it's up-to-date with the newest Toefl format. It's taught by Keino Kembel, Keino Campbell, an IELTS and TOEFL specialist with a 4.6-star instructor rating.
This Toefl online course is probably the most in-depth course you'll find, containing 46.5 hours of on-demand video, 92 downloadable resources, 9 articles, as well as numerous assignments. It's structured similarly to other Toefl preparation courses online, according to skill areas: there are Listening, Reading, Writing, and Speaking sections.
What you'll get:
TOEFL Skills and Strategies to Score 100+
Speaking Test Possibility (Limited Space - Conditions Apply)
Timed Practice Ability (Reading and Listening - Live Recordings)
Monthly Live Class to Test Learned Strategies
Revised Speaking Section + Embedded Student Practice
Instructor Feeback on Writing Assignments
Listening and Reading Strategies
30+ Assignments, Quiz, and Practice Opportunities
What makes this course stand out from the rest? It probably has the highest number of teaching material hours, but there's something else - it provides a Speaking Test Possibility for a selected number of students who complete the course successfully. Although keep in mind that it's not guaranteed. If this is something you'd be interested in, contact the instructor once you enroll in the course and ask for more details.
The course content comes with automated English, Portuguese, and Spanish subtitles.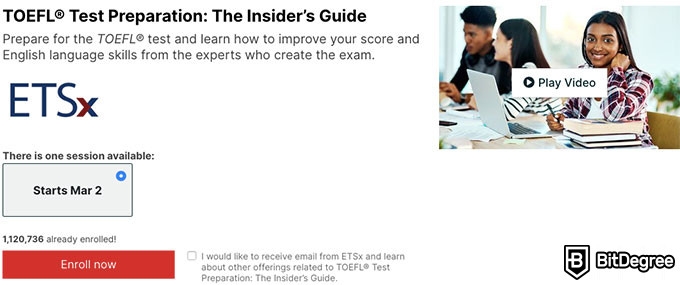 Platform: edX
Offered by: Educational Testing Service
Duration: 〜 6 weeks (2-4 hours/week)
Price: FREE
Certificate: Yes (paid)
Level: Beginner
Where to apply? Here
Learning with experts for free? Why not! This self-paced Toefl preparation course online won't cost you a penny. You'll only have to pay if you decide to purchase the certificate of completion - keep in mind it's not an actual Toefl certificate though.
Anyway, if you do want to purchase a certificate at a lower price - check out this edX coupon below and save up to 50%!
Edx Deal Active Right Now:
Verified Staff Pick
Free Courses
At edX Website
Browse special selection of edX courses & enjoy learning new skills for free. Only pay a small fee later if you wish to receive a certificate of completion.

Expiration date : 01/10/2023

3,417 People Used

Only 33 Left
Organized by Educational Testing Service, the world's largest private nonprofit educational testing and assessment organization, it's one of the most popular Toefl preparation courses online.
If you're a fan of interactive learning, you'll love this course. The course content includes many videos, sample questions, short quizzes, and most importantly - collaborative discussion boards. Another great thing about it is that in the Speaking and Writing sections of the course, students can receive scores for their practice-test responses.
What you'll learn:
Reading, Listening, Speaking, Writing practice and strategies
Tips for TOEFL preparation
How the TOEFL is scored
How to use your TOEFL test scores for employment, study, visas, and scholarships
Ways to manage your time during the test
Where to find additional resources about the TOEFL test
How to register for the TOEFL test
Apart from all the grammar-related content, listening, speaking techniques, it will also tell you how to register for the test, how it is scored, and how to prepare for test day. There's also a possibility to get discounted test prep offers during the course.
By the way, students who are unable to take the TOEFL IBT test at a test center because of the pandemic and related circumstances can choose the TOEFL IBT Special Home Edition. It's basically exactly the same test you'd take at a test center, the only difference is that you take it from your own computer, and you're monitored by a human proctor online.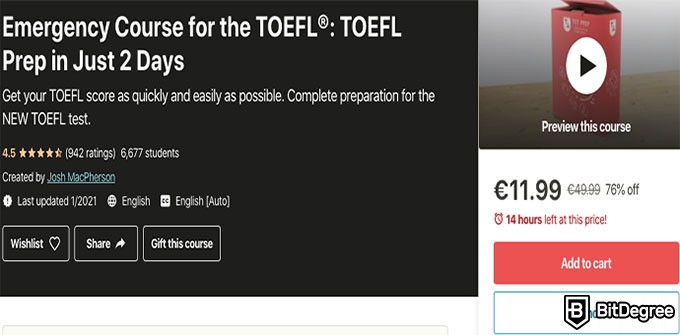 Platform: Udemy
Offered by: Josh MacPherson
Duration: 5 hours on-demand video
Price: $60 (pre-discounted)
Certificate: Yes
Level: Beginner
Where to apply? Here
Need to prepare for a TOEFL test fast? This one is for you! Taught by Josh Macpherson, head instructor at TST Prep and TOEFL Speaking Teacher, this speedy TOEFL online course is packed with valuable material that you can go through in 2 days.
The course content includes 5-hours of on-demand video, one complete TOEFL test (with an answer key), one TOEFL diagnostic test, one essential vocabulary list, and 10 additional TOEFL worksheets. Like most TOEFL preparation courses, it's divided into these main sections: Reading, Listening, Speaking, Writing, each just over 1-hour long.
Now, the pre-discounted price for this course on Udemy is $60, however, at the time of writing this article on February 26, it costs only $15! Why so little? Well, this is how Udemy's pricing works. As a part of its marketing strategy, the platform often announces huge discounts for selected courses.
So, to save on Udemy's courses you can wait for a discount. However, this isn't the best solution if you need to take the test fast. In that case, check out these coupons - they'll save you tons of money while giving you full access to all the course material and the certificate! Plus, you won't have to wait a minute longer, they're available right now.
What you'll learn:
How to prepare for the NEW TOEFL test (August 1st, 2019 update)
How to improve your TOEFL score by 10+ points
How to think like an American university student
How to score your own speaking and writing responses
How to take notes like a university professor
How to build vocabulary skills for the TOEFL Reading
How to manage your time in each section of the TOEFL
How to eliminate incorrect choices and choose correct ones
How to boost your speaking confidence with templates
This course is ideal for those students who are pretty confident in their language abilities, but don't know much about the TOEFL structure itself - this TOEFL online course will take you through examples of the actual TOEFL test, so you'll avoid unpleasant surprises at the time of your exam.
If you want to get a taste of the instructor's teaching style, check out his youtube channel TST Prep. His channel has over 162K subscribers!
Platform: Skillshare
Offered by: Keehwan Kim
Duration: 2 hours 45 mins
Price: Check the description below
Certificate: No
Level: Mixed
Where to apply? Here
Perhaps you're confident in your abilities in other sections of the TOEFL test, but would like to practice for the writing part? Take this TOEFL online course and save time as you won't have to go through all the other content searching for what you need.
Some students find the writing section of the test more difficult[2] than others because the language used is more complex. In fact, it actually has the lowest mean score (20.5). Don't be intimidated though! You're already ahead of many because you're about to learn some juicy stuff that will help you out in the test.
If you really want to make sure you'll nail the writing, you can even combine two courses. So you could take TOEFL IBT (26+) Complete Preparation Course, TOEFL® Test Preparation: The Insider's Guide, or any other course in the article together with this one! Normally it could be a bit pricey, but not if you use these coupons - check them out, there are some good deals available.
What you'll learn:
Course overview - This section will give you an overview of the course, but we'll also give you a detailed explanation of what you are required to do in the TOEFL writing section
Skills for the TOEFL - This section is where you learn all the important skills for the writing section, such as note-taking and paraphrasing
Integrated Writing - This section will guide you through every aspect of the TOEFL integrated writing section
Independent Writing - This section will guide you through every aspect of the TOEFL independent writing section
If you want to know more about the instructor and check out his other courses before you enroll in this one - visit his profile page, where you'll find more information about him.
TOEFL Preparation Courses: Take a Step Further
Have a look at these couple of courses that can help you feel more ready and confident in your exam - especially when it comes to reading, writing, and speaking.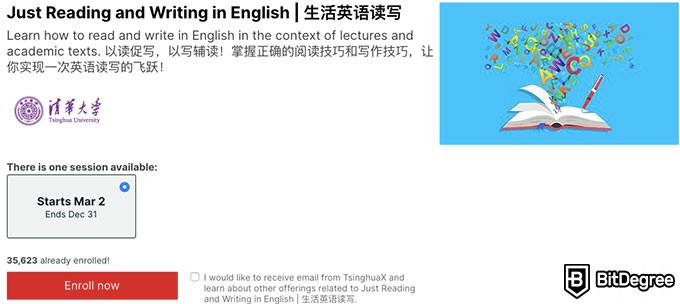 Platform: edX
Offered by: Tsinghua University
Duration: 15 weeks (2-4 hours per week)
Price: FREE
Certificate: YES (paid)
Level: Beginner
Where to apply? Here
So perhaps you want to brush up on some reading and writing skills before you start preparing for the big test, or you want to expand your vocabulary - this course may help you out. With over 35,600 students enrolled, this is one of the most in-demand English courses on the platform.
The course is divided into 10 sections: each section of the first 8 covers a new topic, plus there are a review section and a final exam at the end of the course. Each new subject comes with two texts, key words analysis, reading skills, guest interviews, composition tutorials, writing workshops, and literature tutors.
Topics covered:
Learning. You'll understand the most common challenges in learning English as a foreing language and learn how to study English efficiently
University. Start practicing vocabulary, sentences and writing skills and learn about life on Cambridge and Oxford Universities' campuses
Cultural Differences. You'll learn about gestures and how their meaning is different in different countries
Cities. Explore London and its main attraction points: Westminster Abbey, the Thames, Big Ben, and the streets of the city
Education. Find out everything about the cost of education in the USA and how students pay those fees, and listen to teachers talk about the importance of books and learning by reading books
Manners. Learn about American families and compare table manners in the USA vs China
Personal Communication. Introduction to the holidays, especially the individualism and the understanding of family. An article named Why I want a wife is shared to elaborate the inner thoughts of a man in perspective of a woman
Purpose of Living. Introduction to dreams, and the profound influence of a passage named Youth to the business leaders of Japan
Review. Exercises in preparation of the final exam
Final Exam
This course is not only a great way to learn some stuff about the British, American, Chinese, and Japanese cultures but also to improve those reading and writing skills in an engaging way. It's so much more fun to learn through content that you find interesting instead of going through random sentences and exercises you find online!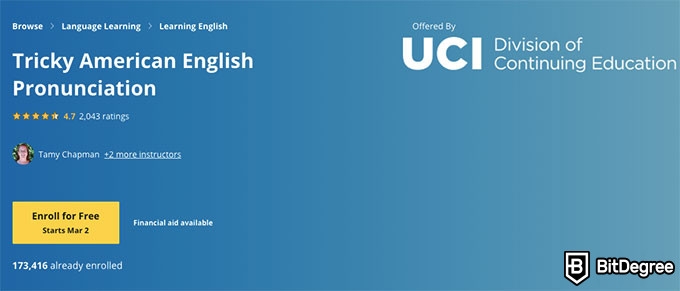 Platform: Coursera
Offered by: University of California, Irvine
Duration: 21 hours to complete
Price: FREE
Certificate: YES (paid)
Level: Beginner
Where to apply? Here
Even though there's no rule saying you need to study American English for this particular test, it can certainly improve your overall score. Not because your accent will be more American, but because your speech will be smoother.
This short course by the University of California, Irvine rated at 4.7 stars on Coursera is a great way to get ready for the speaking part of the TOEFL exam. While it won't teach you about the structure of the exam like TOEFL preparation courses would, it will definitely make your language flow more easily and make you a more confident speaker overall.
Topics covered:
Introduction
Tricky Consonant Sounds
Tricky Vowel Sounds
The Music of American English Pronunciation
Other Tricky Things. The –s and –ed word endings, numbers like 14 and 40, 15 and 50, 16 and 60, the words "can" and "can't" –the difference between them, expressions like "gonna" for "going to," "wanna" for "want to," and "shoulda" for "should have."
Here's a review from one of the students that completed this course in June 2020:
"You wanna sound more fluent and clear? Then this course is definitely for you. The course has been of great help to me and I appreciate that a lot. I learned more with this course than at my university. It's worth spending 3-4 hours a week as you will obtain much precious knowledge".
This course comes with subtitles in Arabic, French, Portuguese (European), Chinese (Simplified), Italian, Vietnamese, Korean, German, Russian, Turkish, English, and Spanish.
Conclusions
All of the courses on this list are high-quality TOEFL preparation courses. Why are they so good? Well, for a few reasons. All of them are organized by accredited organizations and experts. They're accessible on these top e-learning platforms: Udemy, edX, Coursera, and Skillshare. Many TOEFL takers have chosen them before with positive feedback - this is proof that students find them helpful in preparing for TOEFL exams.
The best TOEFL preparation courses:
If you need to prepare for the exam fast, go for TOEFL® IBT Complete EXPRESS Course 2023 or Emergency Course for the TOEFL®: TOEFL Prep in Just 2 Days.
I've also included a couple of English courses that aren't Toefl preparation courses - the Just Reading and Writing in English Course and Tricky American English Pronunciation Course. I highly recommend checking them out if you have the time because they're a good chance to practice general English skills rather than focusing solely on the structure of the exam.
Here are complimentary courses you can take:
On the other hand, you're confident enough in your English, jump straight ahead!
Most TOEFL preparation courses online and in the classroom follow a similar structure and content. They all have reading, listening, writing, and speaking sections with different exercises.
Some parts of the TOEFL exam follow a predictable pattern, so what TOEFL prep courses do is teach students various strategies and techniques they can then apply during the exam and gain the most points.
Which TOEFL online course you'll choose will depend on a few things: your budget, how much time you can and want to dedicate to it, your English level, and of course, which instructors you like the most. As I mentioned many TOEFL preparation courses follow a similar structure and are similar in terms of content.
Scientific References
1. Educational Testing Service: Why choose the TOEFL test?
2. Michael Goodine: TOEFL resources
Leave your honest feedback
Leave your genuine opinion & help thousands of people to choose the best online learning platform. All feedback, either positive or negative, are accepted as long as they're honest. We do not publish biased feedback or spam. So if you want to share your experience, opinion or give advice - the scene is yours!