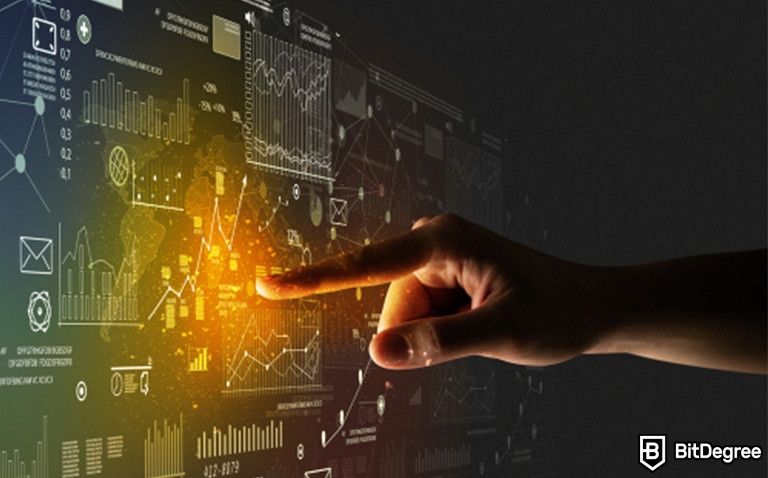 Chances are, you have already run into data science at some point in your life, possibly without even realizing it. Being part of the IT field, data science's popularity and demand are increasing by the day. Because of that, studying data science is no easy feat, as, due to the broadness of the term, choosing the best data science courses for you might be a herculean task.
But, you may ask, what is data science, anyway?
Data science refers to an interdisciplinary field that encompasses working with structured and unstructured data. The umbrella term covers using systems and algorithms to extract knowledge from data structures and applying it in various fields.
A few fields that data science is closely related to include big data, machine learning, and data mining, among others. Naturally, you can find hundreds of data science courses, covering every possible related topic.
With that in mind, we have selected the seven most recommended data science courses for you to choose from, that you can take a quick look at right now:
But before we get started, why should you study data science in the first place?
Why You Should Study Data Science Online
At first glance, data science might seem like a subject that's impossible to learn outside of a university auditorium. However, with online courses getting better every day, data science has become available to anyone willing to learn!
Latest Udacity Coupon Found:
SAVE 75%
Udacity Black Friday Offer
The best time to save on Udacity courses is now - follow this coupon to access 75% Udacity Black Friday discount on all courses & enjoy top-quality learning for less!
Expiration date : 29/11/2022
3,176 People Used
Only 97 Left
At the moment there are hundreds of MOOC platforms that offer high-quality data science courses, and some, such as edX, even partner with world-famous universities, to bring you the best data science courses possible.
The field becoming a popular online course topic is mostly due to the constantly increasing demand of data scientists in various fields. This surge is especially noticeable as the world is recovering after the COVID-19 pandemic, as companies are more focused on their online presence than ever before, Insight writes.
With all of this in mind, it's safe to say that there is no better time to start learning data science online than now!
So, without further ado, let's jump straight into the best data science courses out there.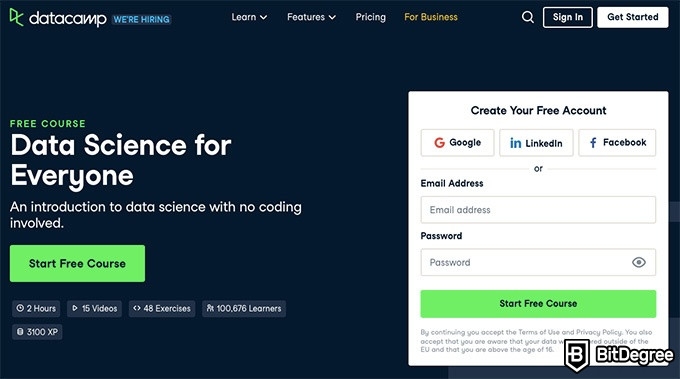 Understandably, for those only starting to venture into the world of data science courses, figuring out where to begin learning can be quite difficult.
Do you need to know how to code? Will you have to devote months to learn just the basics? How much information is there?
That's where DataCamp's course Data Science for Everyone comes in. The first on our list is a data science course created to give you a strong foundation of knowledge in the field. The course was created with beginners in mind and covers the most important information new data scientists might need.
This data science online course consists of 4 chapters - Introduction to Data Science, Data Collection and Storage, Preparation, Exploration and Visualization, and Experimentation and Prediction - covering all major parts of the field. The course touches on all key points of data science, providing users with the essentials needed to continue developing their data science skills.
If you are worried about not having enough programming experience to take this data science course, rest assured. The course is non-technical, meaning that you do not need to have any pre-existing coding skills to find the material useful. The content is in video format, with 48 hands-on exercises created to teach you everything you need to know.
At first glance, this data science course might seem like you will need to eat, sleep, and breathe data science. That, however, is not the case. The course consists of no more than 2 hours of content, making it easy to schedule for even the busiest businessmen.
When it comes to pricing, there are few data science courses that can offer something better. Because, of course, nothing is better than FREE!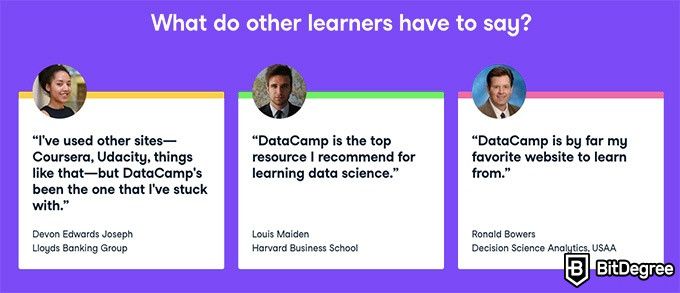 DataCamp is known for its wonderful pricing, this course is no exception. Data Science for Everyone is one of the platform's free data science courses, available to everyone with no additional costs. With such a great deal, we definitely agree that data science is for everyone.
By taking this course you will learn:
The basics behind data science, such as workflow, data science application, roles, and data science tools;
Everything you need to know about sourcing and storing data, from data types to cloud platforms and everything in between;
How to edit and prepare the data for use, including preparation, visuals, and dashboards;
The ways of using collected data, like predicting future results, clustering, and machine learning.
If you are interested in learning more about the wonderful world of data science, kick off your journey with DataCamp!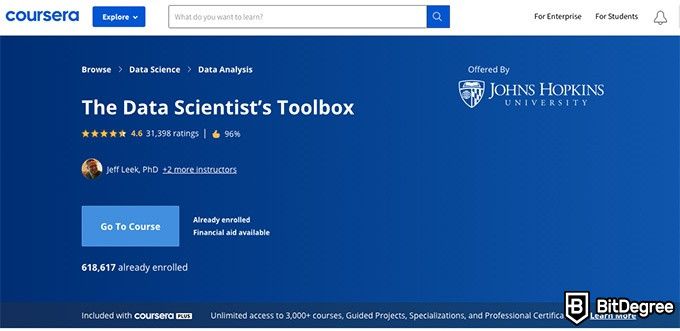 If you are one of those people who prefer more in-depth learning material, this online data science course might be the perfect fit for you. Similar to the previously discussed option, this Coursera course The DataScientist's Toolbox is designed to help you build an even stronger data science knowledge foundation.
This data science course is meant to provide you with all the basics of the material and tools that data scientists work with on a daily basis. The course is created to cover everything you might encounter as a new data scientist, including the most commonly used programs.
This course, though technically of an introductory level, is slightly more advanced than the DataCamp option. That being said, the program still covers all of the basics you might need, making it a great option for those already familiar with the world of software engineering.
This data science course consists of two components - conceptual and practical. The program is spread out over 4 weeks, with a different module assigned for each one - Data Science Fundamentals, R and RStudio, Version Control and GitHub, and R Markdown, Scientific Thinking, and Big Data.
All modules of the course include multiple educational videos and practice exercises, covering the what, why, and how of data science. Each week of learning is concluded with a quiz on the material of each module. This is a great feature to note if you value being able to clearly track your progress.
As this course goes more in-depth into the inner workings of data science, the material takes a little bit more of your time.
With all videos and exercises taken into account, the course is estimated to take around 18 hours to complete. Each module takes around 5 hours to complete, making the pace of the course suitable for many different schedules.
As with many online learning platforms that offer data science courses, Coursera programs range in price. When it comes to this online data science course, it is one of the more affordable options out there. Offered by Johns Hopkins University, the course is part of two larger Specializations. After the free 7-day trial is over, the course comes to around $50 monthly.

This is a great price for the content available, as certification of completion is available for all students. By taking this course you will learn:
To understand the data and data science as a concept;
Use the main data science tools, such as R, RStudio, Github, and more;
The main concepts of data science, such as experimental design, big data, and more.
Those eager to learn to wield all the tools of a great data scientist can enroll any time!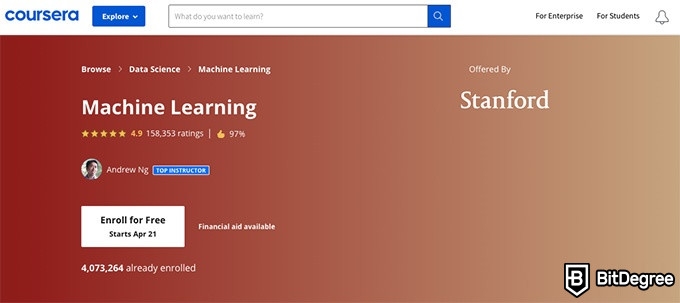 One of the main components of data science is machine learning - the process of making computers perform certain tasks without being specifically programmed to do so. And, believe it or not, it's more commonly used than you might think. Do you use predictive text or Autocorrect? These are just two examples of machine learning!
With the field being so useful and universal, the demand for machine learning specialists is incredibly high. If you are someone who is interested in a career working with machine learning, consider taking this online data science course!
The aim of this course is to provide a broad introduction to machine learning and related fields, such as data mining and strategical pattern recognition. As the material is of an intermediate level, the program is best suited for those who already have at least one or two data science courses under their belt.
Like most Coursera courses, Machine Learning spans over 4 weeks and includes 8 modules, covering many topics - supervised learning, unsupervised learning, best practices in machine learning, and everything in between.
The course also includes multiple case studies and examples of machine learning applications, allowing users to learn how to apply their knowledge.
As the field of machine learning is notably broad, it will naturally take more time to cover all of the material. This data science course is estimated to take around 60 hours to complete. However, the program allows users to learn at their own pace and even schedule deadlines according to individual needs.
Now, if you are interested in taking data science courses for free, you've come to the right place. The course itself is completely free to take for anyone. That being said, if you would like to receive a certificate of completion, you will be charged $79. This might seem a little steep, but it's important to note that the course is provided by Stanford University. Needles to say, the certificate would look great in any CV!

This online data science course covers one of the broadest fields of data science. Those who take the course will learn:
Core ideas behind teaching computers to learn without explicit programming;
Applying different concepts, such as linear regression with different numbers of variables and linear algebra, to name a few;
Implementing learning algorithms in practice;
Neural network representation and more.
If you are someone who would like to learn how to help machines and AI learn, why not study with one of the best online learning platforms?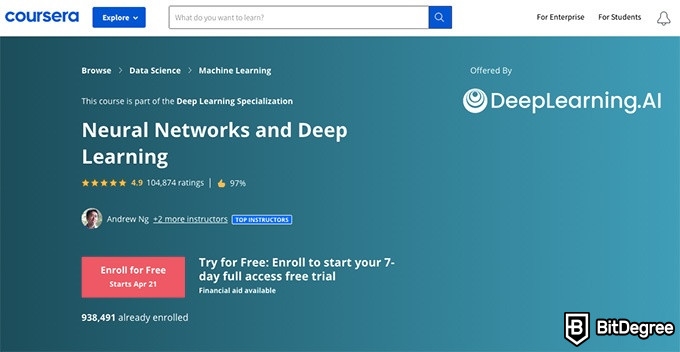 For those curious about diving deeper (pun not intended), we offer one of the best data science courses on deep learning and neural networks.
As the first course of Coursera's Deep Learning Specialization, the Neural Networks and Deel Learning program, created by DeepLearning.AI, a global AI company, aims to provide a strong foundational concept of neural networks and deep learning and to introduce students to the current technological trends.
Because of the specific nature of the learning material, the course is considered to be of an intermediate level and is intended for those who already have intermediate Python programming skills and a basic grasp of linear algebra & machine learning.
As mentioned previously, all Coursera programs follow a similar structure. This data science course is no exception, consisting of 4 weeks of content, divided into 4 modules, each including video and reading material, along with practice exercises.
The topics covered are focused on the specialization essentials of the field, starting with introductions to deep learning and ending with everything you might need to know about neural networks.
Similarly to other Coursera data science courses covered in this article, this course is completely online-based, allowing for easy time management. In addition, of course, the deadlines are also flexible, making the course convenient for everyone.
Because of this, it is safe to say that Coursera is a great choice for those who are looking for easily scheduled online courses that can adapt to their lifestyles, as the majority of programs have the previously mentioned features.
Because this data science course, like Data Science for Everyone, is part of the specialization, the program comes with a monthly price of $49. That being said, all new users still have the opportunity to try the course out for 7 days for free.

By taking this online data science course you will learn:
Working with fully connected deep neural networks, including building and training the systems;
Implementing efficient and vectorized neural networks;
Understanding the architecture of a neural network and identifying the key parameters;
Ways to apply deep learning to your own projects and work.
Those who are ready to explore the depths of neural networks can dive right in!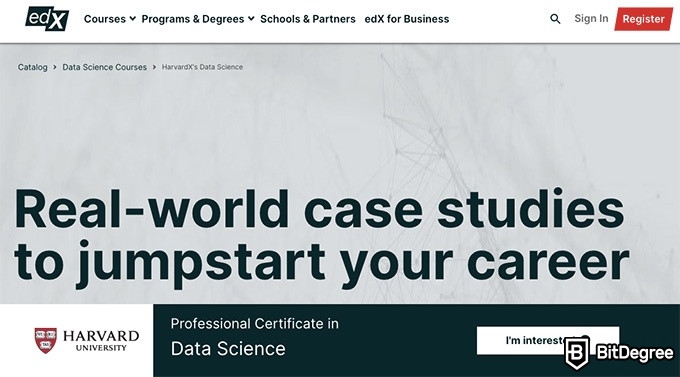 At this point in our article, you can see that there are many great individual data science courses available you can take to learn more. However, some of the best data science courses provide much more than a four-week program.
One great example is the HarvardX data science specialization available on edX. Designed to prepare users for a career in the field, the extensive specialization covers both theoretical and practical knowledge of data science that you might need in the real world.
Due to the extensive material covered, this data science course can be considered to be a more advanced program compared to previously mentioned courses. However, it is important to note that, according to the program's description, you are not required to have any prerequisites in order to take the course.
The specialization is divided into 9 modules, each covering a different topic - R basics, Visualization, Probability, Inference and Modeling, Productivity Tools, Wrangling, Linear Regression, Machine Learning, and Capstone. As mentioned previously, no prerequisites are needed to take the program, however, all modules build on the material covered in the first one.
In order to provide students with the best learning material and all necessary data science knowledge, the specialization uses many case studies in its program. The studies cover a multitude of data science use cases, ranging from trends in world health and election forecasting to movie recommendation systems.
By analyzing the data collected during the studies, the course accurately demonstrates what a day in the life of a data scientist looks like.
Speaking of days and lives, many of you must be wondering how long it will take to finish the entire course. As mentioned before, the course is broad and detailed, taking approximately 1 year and 5 months to complete, with each module estimated to take around 7 weeks.
That being said, the lessons do not overlap or call for all-nighters, so no need to fear speed cramming. The learning is self-paced, so everyone can fit data science into their schedules.
After finding out how long and in-depth this online course is, you might be scared to find out how much it costs to take. Understandably, the program is not the most affordable compared to previously mentioned data science courses, priced at $990. That being said, at the time of writing this article, edX is offering the full course for only $793.
Even though the quality of the learning material does justify the higher price, it still is a little steep, especially if you might not want to commit to the full program and are only interested in a few modules.
Well, we have great news! EdX offers an opportunity to enroll in the modules as separate data science courses, making each one priced separately at around $149. On top of that, you have an option to take the modules as free data science courses by auditing them, though that does limit the available features, such as not providing certification upon completion.
All things considered, this specialization program is a great investment for those who want to kickstart their careers in data science.

Those taking the course will cover all essentials of data science, including, but not limited to:
Fundamental data science concepts, such as probability, inference, regression, and machine learning;
Essential skills, like data wrangling, file organization, version control, and version control;
Analyzing existing data to understand and develop machine learning uses.
Anyone interested in becoming a data science specialist can look no further!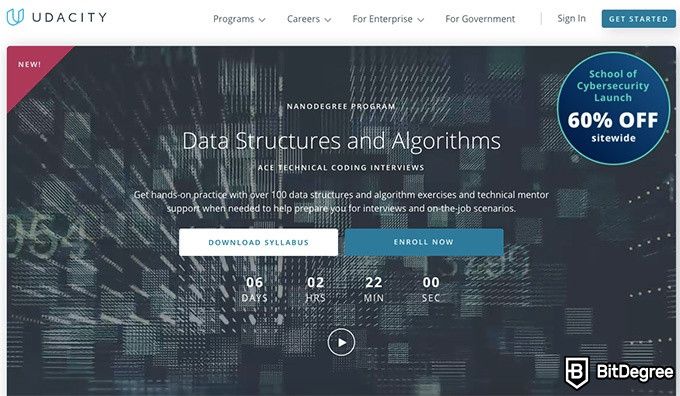 EdX is not the only online learning platform that offers multi-module data science courses. Udacity hosts nanodegrees - extended courses, spanning over multiple months, aiming to provide the needed knowledge and skills to start a successful career in programming.
Created for those who want to develop their skills by focusing on two of the fundamental pillars of data science, the course focuses on data structures and algorithms. This data science program not only allows students to have hands-on practice solving problems but also helps prepare for interviews and on-the-job scenarios.
Even though the program focuses on the foundation of data science, some experience is required to be able to take the course comfortably. The material is aimed at students with at least intermediate Python programming knowledge and the basics of algebra.
The program takes approximately 4 months to complete and is made up of 4 individual modules, covering multiple topics - data structures, basic algorithms, and advanced algorithms.
All modules of this data science course follow the same structure, beginning with learning how to solve defined problems related to a particular data structure and algorithm and ending with students using the skills to solve open-ended problems and implemented solutions.
When it comes to content, this online data science course is a little bit different compared to the other mentioned options. Along with essential knowledge of data science, the program also offers an opportunity to get useful advice from experienced instructors on how to ace your job interviews and handle unexpected scenarios.
This is a great feature of the course, as it prepares students to face many different challenges, not just the ones directly related to their work field.
As the course is entirely online, the learning hours can be easily scheduled according to your own convenience, as students can schedule their syllabus in advance at the beginning of the program.
Now, when it comes to the costs of the data science courses, Udacity programs are some of the more expensive options. Students can choose to pay for the 4 month course in one of two ways - a one-time payment for the entire syllabus, or monthly payments as they learn.
The single payment of $1486 does make the course a little bit more affordable, making each month come out to be around $372, compared to the individual payments of $432 per month.
It is also important to mention that at the moment Udacity does not offer free data science courses.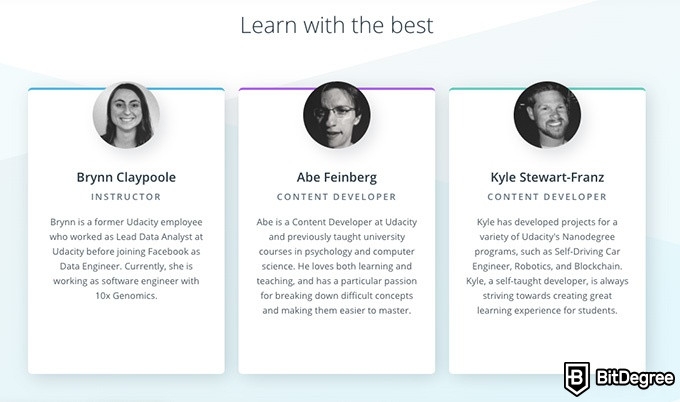 Those who enroll in the program will develop multiple skills, including:
Learning the framework to deconstruct any open-ended problem;
Implementing different methods used to manipulate data structures and examine their efficiency;
Working with various algorithms, from searching and sorting on different data structures to optimizing recursion by storing results to sub-problems.
Those who are interested in learning more about data structures and algorithms are welcome to join!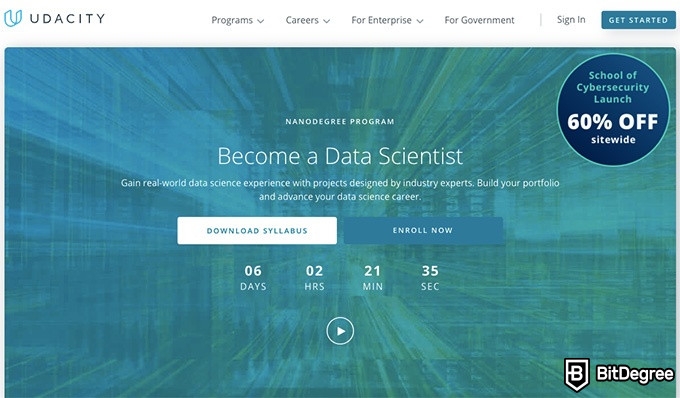 Become a Data Scientist is a nanodegree created to provide students with valuable experience needed to become successful data scientists. With a syllabus covering both theory and practical tasks, this data science course aims to provide the full package.
When it comes to deciding if this course is the best choice for you, it is important to note that the program is of an advanced level and does come with a prerequisite. Designed to prepare students for data science jobs, the program is best suited for those who are highly comfortable with several topics, such as machine learning, probability and statistics, visualization, data wrangling, and Python programming.
Needless to say, you should have already completed several data science courses and have a significant amount of experience in order to successfully complete the program.
Estimated to take around 4 months to complete, the program consists of 5 modules, including theoretical lessons as well as being able to work on real-life projects.
The course covers 4 major topics - solving data science problems, software engineering for data science, data engineering for data science, and experiment design - concluding with students building their own open-ended data science projects.
As mentioned previously, the Udacity nanodegrees stand out from the crowd because of the unique opportunity for students to participate in actual data science projects. Working with products created by industry experts allows students to adapt their knowledge in the real world and further develop their skills.
Because this online data science course involves working with other companies and projects, you might think that scheduling the lessons will be an absolute nightmare.
If so, you are mistaken!
As with the other nanodegree discussed in this review, students can still make their own schedules based on their individual needs. This allows the course to be taken without any stress, as well as providing structure and security to the lessons.
If you are worried about how pricey this course is compared to the rest, you don't need to worry. Udacity nanodegrees are priced almost identically. This means that the same pricing applies to this course as the one mentioned previously - $1486 if the entire course is paid for at once and $432 per month if paid for individually.
Even though the pricing might not be for everyone, the unique opportunity of real-life data science practice makes the course worth considering.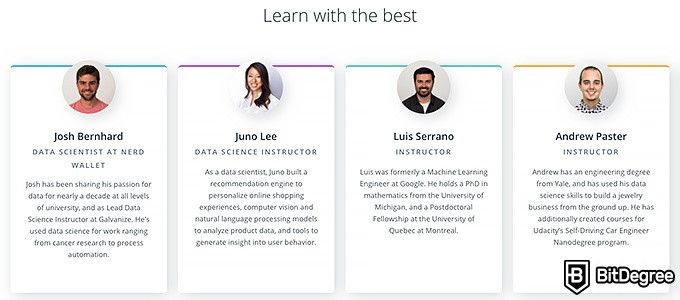 Those who take the course will learn:
How to communicate with various stakeholders and build effective data visualizations;
Essential software engineering skills, such as creating unit tests and building classes;
The entire data science process, from running pipelines to deploying solutions to the cloud;
Designing experiments and building recommendation systems.
If you are eager to find out what it's like to be a data scientist, look no further!
Conclusions
With data science being used in more and more fields of our everyday lives, the demand for experts in this field is naturally increasing just as rapidly. Because of this, the amount of data science courses online can make it quite difficult to choose the one best suited for you.
Because data science encompasses so many different topics, it's not always easy to compare several programs, as they can be fundamentally different, yet of equally high quality.
Keeping that in mind, we believe it is important to narrow the selection down to the best data science courses available. This is exactly what we have done in this article.
All of the courses mentioned above have great benefits and high-quality content suitable for users of various experience levels, so anyone can find their perfect fit among these data science courses, that you can look through one more time:
These courses have seen hundreds of thousands of satisfied students get their dream jobs with the skills and knowledge they have acquired during the course of the programs. And with seasoned experts and partnerships with world-famous universities, we believe that everyone can find the best data science course for themselves.
After all, data science truly is for everyone!
Leave your honest feedback
Leave your genuine opinion & help thousands of people to choose the best online learning platform. All feedback, either positive or negative, are accepted as long as they're honest. We do not publish biased feedback or spam. So if you want to share your experience, opinion or give advice - the scene is yours!