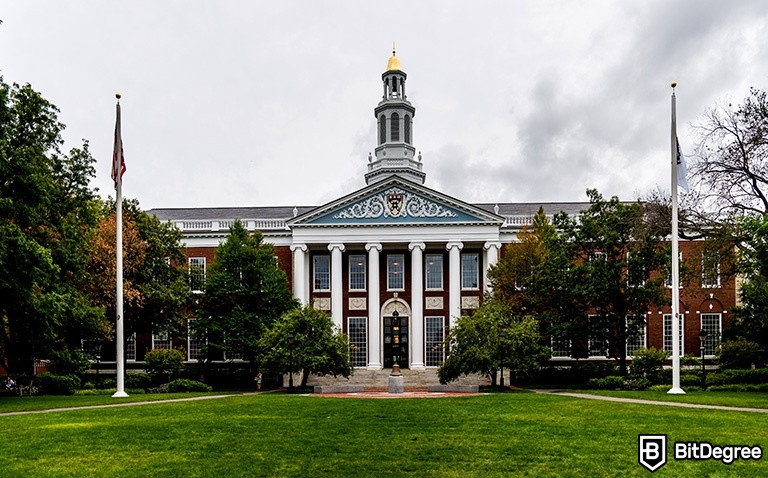 It's no secret that, as time goes on, online courses are becoming increasingly more popular. With more and more people finding out about online learning platforms and the services that these platforms offer, you can bet that the influx of people who want to learn online will keep on increasing. This is where Harvard online courses come in, too.
I probably don't need to tell you this, but Harvard is one of the most popular and high-end universities in the world. With that being the case, however, there are a lot of people who'd like to study some Harvard University courses, but do not have the chance to do so because of the university's super-high acceptance standards.
Yet again - with the Harvard online courses, this is an issue that you won't face! If you're interested, read on - we'll talk about 7 of the more-popular Harvard university online courses, and what you can expect while studying each of them.
Harvard Online Courses: Why Study Online?
So, before we get to talking about some of the best Harvard online courses, we should quickly glance at the actual reasons why anyone would be interested in studying online, in general. Whether it be Harvard, UC Berkeley, or any other high-tier university, admittedly, the demand for courses is quite high!
Latest DataCamp Coupon Found:
CLAIM 50% OFF
DataCamp Cyber Monday Deal
DataCamp Cyber Monday special is here! Enjoy a massive 50% off on DataCamp plans. Subscribe now and redefine your data and Al skill set for the better!
Expiration date : 10/12/2023
5,324 People Used
Only 36 Left
As of writing this article, at the top of the list of reasons why anyone would want to study online, you'd find COVID-19. While the pandemic has truly brought along some terrible events and global uncertainty, it has also frozen education processes all around the world, too.
Sure, these processes are now mostly transferred to an online format, but it is actually possible to make your e-learning experience even more enjoyable - Harvard online courses can help you do that. You learn at your own pace, and only the things that you want to study yourself - no exterior pressure!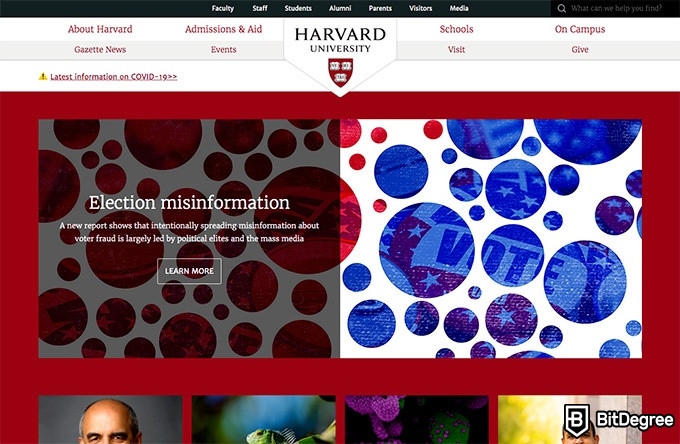 This does lead me to the other point - studying online is a much more conveniant way of receiving your education! The deadlines are much more flexible, you learn at your own pace, study at any time that you are able to, and so on. If you're a busy person, it's obvious that this is a great opportunity!
To top it all off, there's also the question of money, too. University tuition isn't free - very far from it. This is especially true when we're talking about studying Harvard University courses! Not everyone can afford to study at Harvard, and even fewer people would have the financial capabilities to travel to the university campus from some other part of the world!
This is the best part about Harvard online courses - depending on the course of your choosing (and the online learning site that you choose to learn the course from), you might actually be able to find some Harvard free online courses, too!
More on that later, however - let us move on and discuss some of the best online classes that Harvard has to offer.
A strong sense of leadership is one of the most sought-after personal qualities that people tend to have. Decisive leaders are able to solve complex issues with ease, and they can make up some great team captains, too.
What many people don't know, however, is the fact that leadership is a skill - you don't just come into this world being an amazing leader! As with any other skills, you need practice and proper education to become one - thankfully, there are Harvard online courses to help you out!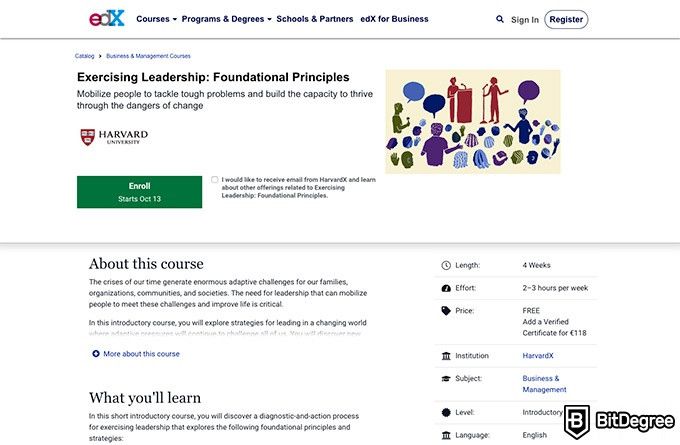 The course in question - Exercising Leadership: Foundational Principles - will teach you some proper leadership skills. You will have the chance to learn everything from complex problem solving, up to relationship formation and proper management.
The course will take you around 4 weeks to complete, if you study 2-3 hours per week. While it is one of the Harvard free online courses, you will be able to purchase a certificate at the very end, if you so wish to. The certificate will cost you €118.
Have the pyramids of Giza always interested you? Have you ever caught yourself wondering how were they built, or what was their significance?
If so, then the Pyramids of Giza: Ancient Egyptian Art and Archaeology course is one that you should set your sights on!
This course is of the introductory level. This means that no matter what your reasons for wanting to learn about the pyramids are (whether to boost up your career-building options, or to become better-versed in the history of Egypt), you can rest assured that you'll be able to start learning from the very beginning, without needing to be an expert on any related topics.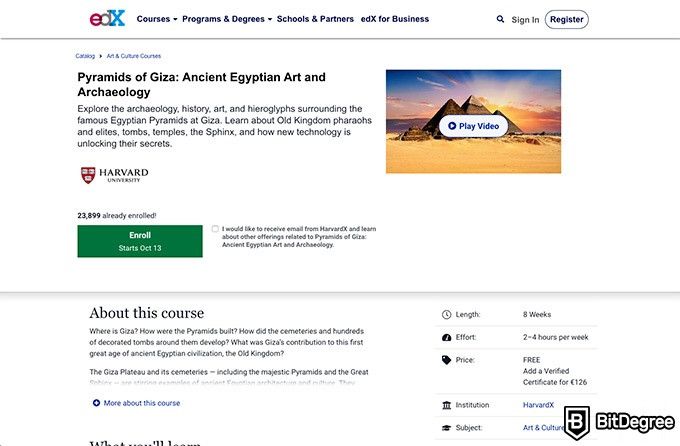 You'll have the chance to study the history of Giza, the pyramids themselves, inscriptions found on them, how digital and modern technology can help us reveal more secrets of these structures, and so on.
The course runs for 8 solid weeks, if you choose to learn 2-4 hours per week. While it's part of the Harvard online courses that are free to study, there is a certificate of completion that you will be able to purchase once you do finish the course. The certificate will cost you €126.
There are many different religions and philosophical movements around the world - some of them are massive and have millions of followers, while others are, admittedly, a bit more niche. With the help of the Buddhism Through Its Scriptures course, you could have the possibility to learn about the fourth-biggest religion in the world!
As one of the Harvard online courses, this class will require you to put a lot of time and attention into your studies - it will take you around 4 weeks to complete, if you dedicate anywhere from 5 to 10 hours per week.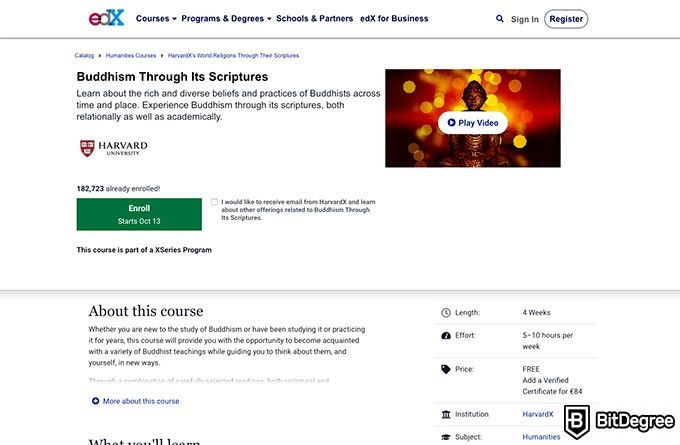 That being said, though, you'll have the chance to learn about the religious and philosophical insights offered by Buddhist scriptures, how these same scriptures are differently interpreted in multiple different historical contexts, and you'll also have the chance to develop an appreciation of the religions of the world, in general.
Being one of the Harvard free online courses, same as the other classes on this list, the course offers you the chance to purchase a certificate once you're done learning. The certificate will cost you €84.
Web development is often seen as one of the most lucrative and career-leading professions in the current job market. It's probably no wonder, then, that there are seemingly countless numbers of online courses that revolve around the topics of web development and programming.
This is true with the Harvard online courses, too.
CS50's Web Programming with Python and JavaScript is a course that continues the topics explored in CS50 - a famous course that serves as an introduction to computer science and the actual topic of programming itself.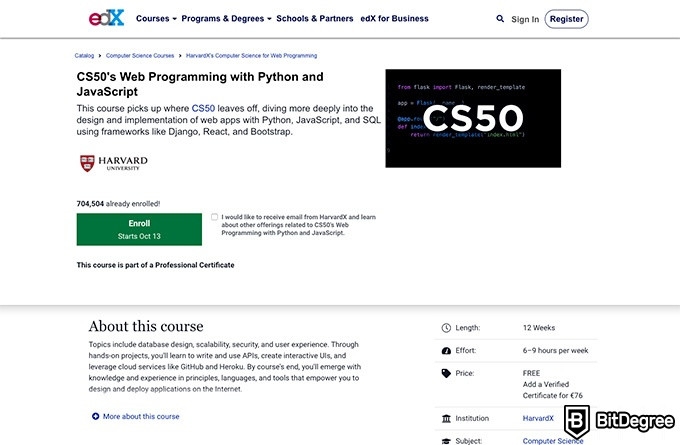 The course that we're discussing today is a continuation of that - namely, it focuses solemnly on web development with Python and JavaScript.
That being the case, you can also expect to learn about HTML, CSS, Git, scalability, security and testing, SQL, and so on. Quite a lot to unpack in 12 weeks, with 6-9 hours per week!
Since it's one of the free Harvard University online courses, you'll have to pay a fee for a certificate, if you wish to receive it once you're done - it will cost you €76.
Climate change is one of the most important and significant issues that plague our modern-day world. Scientists from all around the globe are searching for methods of how to combat climate change - spreading awareness and educating people is one such method.
That being said, though, many people aren't really aware of the fact that climate change does indeed have some negative effects on public health, too. This is something that you'll have the chance to learn in The Health Effects of Climate Change course.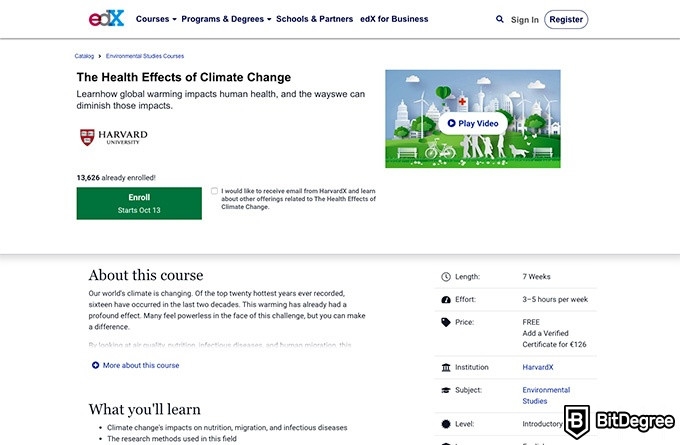 This course will take you 7 weeks to complete, if you choose to study 3-5 hours per week. During the runtime of the course, you'll have the chance to learn how climate change impacts our nutrition and various diseases, and what effects does global warming have on our health, in general.
After that, you will also have the chance to study the methods of how to mitigate these health issues, and how to remain in an overall healthy state.
As mentioned earlier on in the article, all of the Harvard online courses on this list are free to study - this class is no exception. Yet again, however, the course certificate will cost you €126.
Data science is the field in which you'll work to extract large pieces of data from various sources. The field includes a lot of machine learning, data analysis, data mining, and so on - some rather complex topics!
Worry not, however - if you're interested in data science, but aren't sure where to start, the Data Science: R Basics course will help you take your first steps in the field in question.
I mean that in a literal sense, too - this particular class in one of those Harvard online courses that are part of a larger program. In this case, it would be the Professional Certificate Program in Data Science.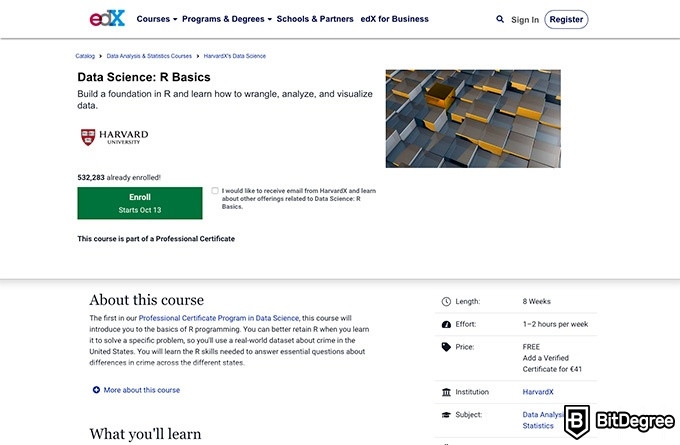 In this introductory course, you'll have the opportunity to get acquainted with and learn the basics of R programming. You'll be using a real-world example, and solving an actual, real scenario-based issue - this way, your learning experience will be much more realistic!
With the course taking 8 weeks to complete (1-2 hours per week of studying), and the certificate costing you €41, it's definitely worth checking out, especially if this is a field that interests you!

Pros
Easy to use with a learn-by-doing approach
Offers quality content
Gamified in-browser coding experience
Main Features
Free certificates of completion
Focused on data science skills
Flexible learning timetable

Pros
High-quality courses
Nanodegree programs
Student Career services
Main Features
Nanodegree programs
Suitable for enterprises
Paid certificates of completion

Pros
A huge variety of courses
Easy-to-navigate interface
Over 600 free courses
Main Features
A huge variety of courses
30-day refund policy
Free certificates of completion
While data science, programming, and web development courses tend to dominate the internet, you won't really see a lot of chemistry-related classes floating around, especially ones that would be worth paying attention to!
That being said, though, the University Chemistry: Molecular Foundations and Global Frontiers Part 1 course is an exception - it's considered to be one of the better Harvard online courses when it comes to learning the foundations of chemistry.
Taking a look at the course syllabus, it's evident that this really is a course for complete beginners in the field of chemistry. You'll be able to learn the very fundamentals of chemistry, and of the elemental forces that shape our world.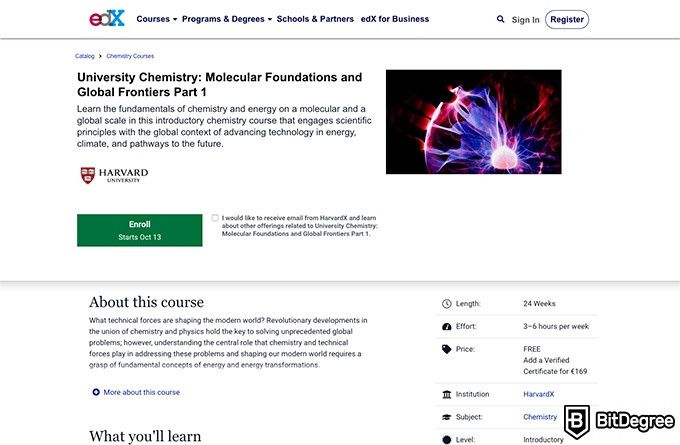 You'll also have the chance to learn how to solve some global issues in an efficient manner, with the help of the field of chemistry.
All of that being the case, and while this is one of the Harvard free online courses, the certificate of completion for this course is, admittedly, a bit costly. If you'd like to receive it after you're done learning, it will cost you €169.
Pricing
As you've probably noticed by now, all of the Harvard online courses mentioned on this list are free to learn on edX. However, they do also come with a price tag - it relates to the certificates of completion of each of the courses.
Now, admittedly, the certificates are completely optional. On top of that, their prices are nowhere near those that you'd have to pay for a course program in an actual university (if you were to count the prices in accordance with the course credits, that is).
All in all, from a purely financial perspective, studying Harvard University online courses is a much better idea than doing so in the actual university itself.
Conclusions
That was the list of 7 of the more-popular Harvard online courses. I do hope that this list was informative to you, and that you managed to find a course that would actually interest you!
If not, however, do consider visiting edX - there are plenty more Harvard University courses there to be studied! Perhaps the perfect course for you is on that list, too?
Leave your honest feedback
Leave your genuine opinion & help thousands of people to choose the best online learning platform. All feedback, either positive or negative, are accepted as long as they're honest. We do not publish biased feedback or spam. So if you want to share your experience, opinion or give advice - the scene is yours!