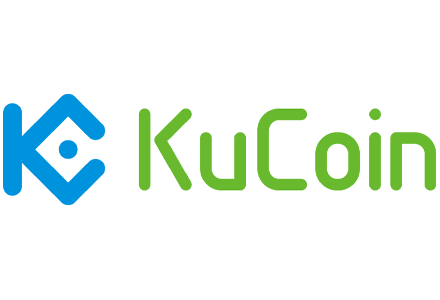 Do you want to start buying, selling and trading cryptocurrencies, but are not sure whether KuCoin is the right exchange for you? Or maybe you have seen a particular coin listed on KuCoin, and now you want to make sure it's safe to use?
Well, whatever it is that you want to find out about KuCoin, I have it covered! In this KuCoin review, I am going to start by giving you a brief introduction into the background of the exchange, following with a step-by-step guide on how to make a deposit.
Then, I am then going to let you know what coins you can deposit, what verification process the company has, and finally, I will list all of its advantages and disadvantages.
By the end of reading my guide, you will have all the information you need to decide whether KuCoin is the right exchange for you. if not, you'll be able to find other recommended cryptocurrency exchanges out there.
So, what are you waiting for? Let's jump into the first part of this KuCoin review — the exchange's background!
Pros
Anonymous trading
Secure
Supports a variety of cryptocurrencies
An Introduction to KuCoin Exchange
KuCoin is a third party exchange that allows you to buy, sell and trade lots of different cryptocurrencies. It was created in May 2017 by a group of experienced business specialists who had previously worked on projects such as Ant Financial and iBox PAY. KuCoin is one of the newest cryptocurrency exchanges in the industry.
The objective of the founders was to create a simple and safe platform for people all over the world to use to trade a range of digital coins. In the long-term, they want to be one of the 10 top largest exchanges in the world, and they hope to achieve this by 2023.
Since it was launched, the KuCoin exchange has not experienced any notable problems, and generally, the exchange does not suffer from any system overloads. It is now possible to access the KuCoin platform through a desktop computer as well as on the KuCoin app on both Android and iOS.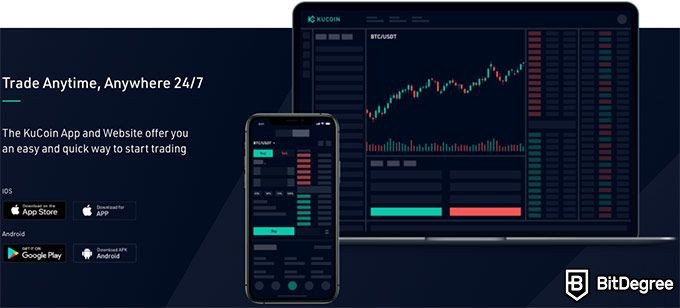 In early 2018 it was reported that KuCoin has more than 1 million users. However, their average trading volume is much less than other popular exchanges such as Binance.
Whilst writing this KuCoin review, I also discovered that the exchange has its own cryptocurrency called KuCoin Shares (KCS)! By holding KCS coins, KuCoin users get discounted trading fees.
Furthermore, holders of KCS coins also get a 50% share of all trading fee profit made by the exchange! The KuCoin cryptocurrency experienced all-time highs in January 2018 of more than $1.8 billion!
So, now that you know about their background, the next part of my KuCoin review is going to discuss the types of coins you can buy!
Latest KuCoin Coupon Found:
CLAIM 700 USDT
KuCoin Cyber Monday Deal
Don't miss out on up to 700 USDT in rewards. Use this KuCoin Cyber Monday code (2Nh1HJ3) and sign up for KuCoin to access generous perks now!
Expiration date : 11/12/2023
2,164 People Used
Only 38 Left
Coin Availability
At the time of writing, KuCoin has more than 300 different trading pairs available. An example of a trading pair is BTC/ETH which means to trade Bitcoin with Ethereum. They support more than 75 individual cryptocurrencies and they are adding to this list all the time.
Within this list includes the majority of popular coins, such as Bitcoin, Ethereum, Litecoin and Bitcoin Cash, as well as less popular (but still top cryptos) coins such as VeChain and Lympo.
KuCoin seems to be very popular for new cryptocurrencies that have completed their ICO, which means that it is a great exchange if you want to purchase cryptocurrencies at the very start of their trading journey. According to the founders, KuCoin aims to support more than 1,000 different cryptocurrencies by the end of 2018.

Did you know?
KuCoin Fees
One of the main aims of KuCoin is to offer their traders very low fees. But just how cheap is it?
Firstly, cryptocurrency deposits are free, other than the blockchain transaction fee that you pay to make the transfer. Of course, this will depend on which cryptocurrency you are using.
When it comes to making a trade, you will only pay 0.1% of the amount you are buying. For example, if you wanted to purchase $1000 worth of Litecoin, you would only pay $1! This is one of the lowest in the industry, which is a good reason to use KuCoin.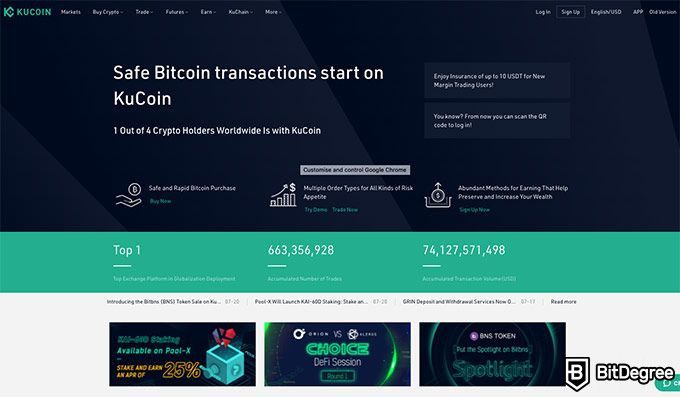 In terms of withdrawing your coins out of the exchange, the fee depends on what cryptocurrency you want to take out. You can find all the information on the KuCoin official site.
So, now that you know about the different coins that KuCoin accepts as well as information regarding KuCoin fees, the next part of my KuCoin review is going to look at the different payment methods, along with any verification steps you might need to take.
Payment Methods and Verification
UPDATE 2023: KuCoin now accepts 5 mainstream fiat currencies, including USD, CAD, VND, IDR and CNY.
Does KuCoin accept fiat currency? Well, unfortunately, they don't, meaning that you will need to deposit using another cryptocurrency.

If this is your first time in the cryptocurrency industry, the easiest way to get started is to purchase a popular cryptocurrency like Bitcoin or Ethereum at Coinbase. Kucoin lets you use traditional payment methods such as a debit card or bank account. Once you have done this, you can then transfer your coins directly into your newly created KuCoin account.
However, there is actually an advantage to depositing and withdrawing using cryptocurrencies. As the exchange does not have a relationship with fiat currency, users are not required to identify themselves to start trading. This means that you can trade anonymously.
Even better, there are no limits to the number of funds you can deposit and withdraw! This is a big bonus as other cryptocurrency exchanges make you upload verification documents such as your passport and bank statement, which can sometimes take up to two weeks to verify.
Sign Up Process
To register a new account with KuCoin, you will first need to visit their official homepage that can be accessed here. After that, click on sign up, which is at the top right-hand side of the screen.
You will then be presented with the exchange's terms of conditions. Although I have already read them, it is probably best if you read through them yourself to make sure you understand everything. Once you have, tick the accept terms and conditions box, followed by clicking on next.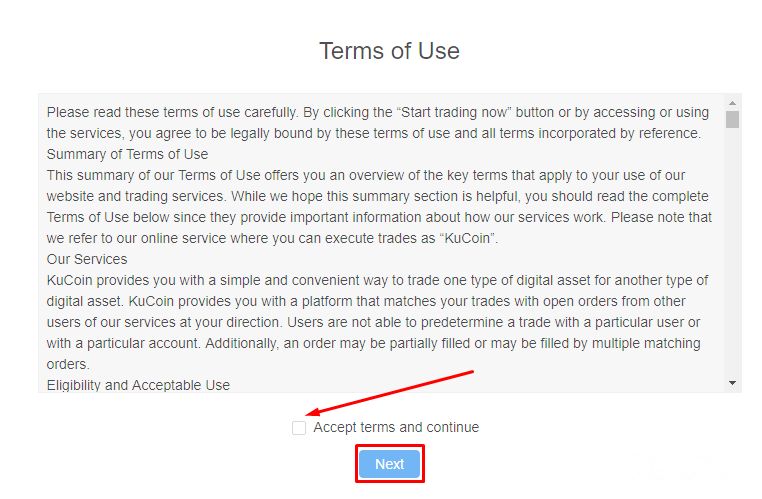 Now you will need to enter your email address and choose a very strong password.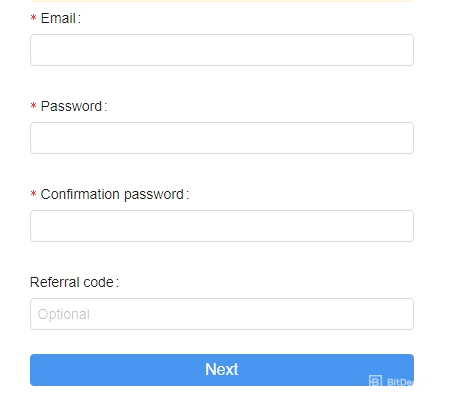 You will then be asked to prove that you are human by sliding the bar from left to right! Finally, to get your account open, you need to confirm your email address by clicking on the link that KuCoin sends to you.
And that's it, you now have an account at KuCoin! At this point, you can deposit some coins and start trading straight away. Furthermore, there is no need to send in any documents to prove your identity!
How to Buy on KuCoin
Are you also wondering how to buy on KuCoin? This is really easy too! Once you have funded your account, click on Markets at the top of the page.

After that, you then need to search for the coin you want to buy. To do this, enter it into the search box that can be found on the right of the page. In my example, I am looking to buy NEO.

KuCoin will then list all of the different trading pairs that are available for the coin you want to buy. In my example, only NEO/BTC is available, meaning that I will need to trade Bitcoin for NEO. Click on the trading pair which matches the coin you deposited with!
You will now be on the main trading screen. On the right side of the page, look for the buy box that is displayed below the list of orders.
All you need to do is enter the number of coins you want to buy, click on the blue best price button and then click on the green buy box to complete your trade. It's as simple as that!
So, now that you know how easy it is to open an account, as well as how to buy on KuCoin, the next part of my KuCoin review is going to look at which traders the exchange is most suited for!
KuCoin Review: Who Should Choose KuCoin?
After testing out KuCoin for the first time, I was very pleased to see that the platform is really simple to use. As you will have noticed from my instructions above, everything from making a deposit to completing a trade is pretty straight forward.
The KuCoin exchange is also good for more serious traders, as it has lots of features to analyze pricing trends — such as candlestick bars. However, the average trading volume at KuCoin is in the tens of millions, which is a lot less than bigger exchanges like Binance.
This could be a problem as low trading volumes can sometimes mean that there is not enough liquidity. If you are only trading small amounts then this shouldn't be an issue, however, if you are looking to exchange very large quantities then KuCoin might not be the best exchange for you.
Ultimately, when new cryptocurrencies are first launched, they are sometimes only listed on one particular exchange. If the cryptocurrency you want is only listed on KuCoin, then you will have no choice but to use them.
So, now that you know how user-friendly the platform is, the next part of my KuCoin review is going to look at whether the exchange is safe!
Is KuCoin Safe?
Before depositing your own money, it is always important to know whether it's safe or not. Of course, you have to trust that your funds are going to be safe and secure.
Third-party exchanges operate on a centralized server, meaning that if it were to be hacked, then your coins could be at risk. Does this happen in the cryptocurrency industry? Yes, unfortunately, all the time!
For example, in late 2017, it was reported that the total amount of coins that has been hacked in the history of cryptocurrency was over $15 billion. There have been some additional hacks since then so this number is now even higher!
So is KuCoin safe and if so, how? Firstly, the website is protected by an encryption protocol that keeps private account information secure. Furthermore, whilst writing this KuCoin review, I also discovered that there is an internal risk department that is there to ensure user funds are safe.
To protect your account even further, the exchange offers you the chance to set up Google Authenticator. If you do, you will need to enter a code from your mobile phone on to the KuCoin website before you can log in, as well as to make a trade.
I would highly recommend that you set up this extra security feature. Simply because if somebody was able to find out your password, they still wouldn't be able to access your account as they would need access to your mobile device.
Finally, it is also worth mentioning that although it is great that KuCoin has not experienced a hack, they are still a very new exchange. On the other hand, no matter which exchange you use, you should never keep large amounts of funds stored there. It is always much safer to withdraw your coins back to a secure personal wallet (such as a hardware wallet).
So, now that you know is KuCoin safe, the final part of my KuCoin review is going to summarize its advantages and disadvantages!
KuCoin Review: Pros & Cons
Before jumping straight into conclusions, let's take a look at KuCoin's pros and cons.
PROS
CONS

Very low deposit, withdrawal, and trading fees
Very simple to use – perfect for beginners
Good range of coins, including newly released cryptocurrencies
Good security features
No verification – anonymous trading

Trading volume is low – sometimes issues with liquidity on smaller coins
Some difficulties during high-traffic periods
Here is The Best Binance Offer I Found:
REDEEM $600 PRIZE
Binance Cyber Monday
Attention new Binance users: this Cyber Monday, you can score up to $600 in rewards by completing special tasks. Activate this amazing Binance Cyber Monday deal using the code – 49316610!
Expiration date : 05/12/2023
6,127 People Used
Only 16 Left
Conclusion
And that's the end of my KuCoin review! If you have read it from start to finish, you should now have a good understanding of whether KuCoin is the right exchange for you.
In this review, I have included everything from KuCoin fees, supported coins, user-friendliness, and payment methods. I also showed you how to set up an account and how to buy on KuCoin. Finally, I discussed is KuCoin safe or not.
I've used KuCoin quite a few times as they quite often support the cryptocurrency that I am looking to buy or sell! My experience has always been positive and both deposits and withdrawals have been really quick and simple. I also like how you can access the markets through the KuCoin app!
Anyway, if you want to take a look at other options, I strongly recommend Kucoin, Binance and Kraken.
The content published on this website is not aimed to give any kind of financial, investment, trading, or any other form of advice. BitDegree.org does not endorse or suggest you to buy, sell or hold any kind of cryptocurrency. Before making financial investment decisions, do consult your financial advisor.
About Article's Experts & Analysts