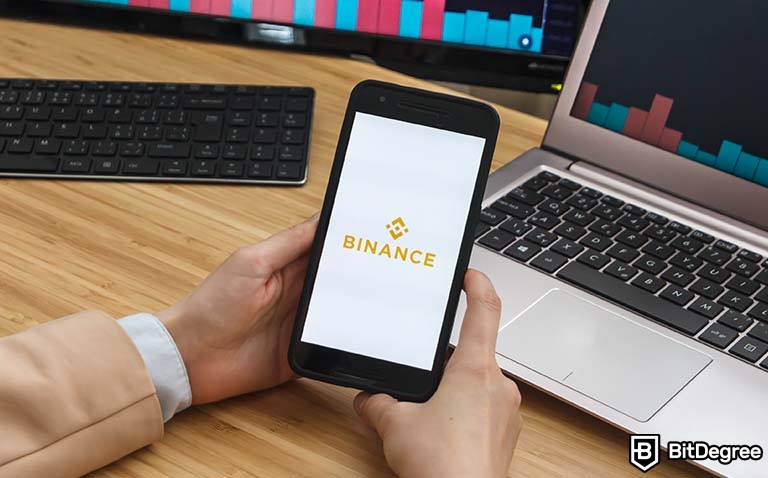 Binance is a name that most crypto enthusiasts around the world are surely familiar with, or have at least heard about. Being one of the most-established cryptocurrency exchange platforms in the industry, it's certainly a platform that constantly comes up in different "best exchange" lists! However, there's one question that many people still struggle with - specifically, how to use Binance in the US?
If you're new to crypto, in general, you might not be aware that this is even an issue, in the first place. You might say - well, same as you would use any other exchange out there! Unfortunately, however, things aren't all that simple - the original Binance exchange isn't available to be accessed by US-based crypto enthusiasts.
Why is that the case? Well, worry not - it's something that we'll talk about, in this tutorial on Binance US registration, usage, and everything in between! If you're not located in the States, though, and are only trying to find out can you use Binance in the US out of pure curiosity, don't forget to check out the main Binance exchange!

Did you know?
Want to get smarter & wealthier with crypto?
Subscribe - We publish new crypto explainer videos every week!
What is a MetaMask Wallet? (And How to Use it - Animated)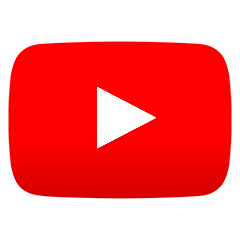 Binance, USA, and Regulations: A Complex Matter
To start things off, let's first focus on the burning question at hand - is Binance available in the US?
Latest Binance Coupon Found:
CLAIM $600 BONUS
Exclusive $600 Binance Offer
Don't miss this limited-time deal that's only available for our readers. Follow the Binance referral code link & receive up to $600 in rewards and bonuses!
Expiration date: 04/04/2023
7,847 People Used
Only 49 Left
Yes and no. Allow me to explain.
If you're looking to use the main, original Binance exchange in the United States of America, you will NOT be able to do so. The Binance platform isn't available to be reached from within the country - even if you manage to somehow register and trade on the exchange, you'll face multiple issues when you want to withdraw your assets, and have to talk to your US-based bank about the matter.
Now, naturally, your next question is probably "why?" - specifically, "why can't I use Binance in the US?". Well, as I've mentioned multiple times in my dedicated Binance.US review, it all really boils down to regulations.

This is a huge topic, in its own right, but to put things simply, essentially, the United States has some really complex and strict regulations, when it comes to cryptocurrencies and crypto-related services. As you might understand, cryptocurrency exchanges are such services, too.
To take that even further, the relevant authorities within the country are ESPECIALLY aggressive when the crypto service is located (rather, based) off-shore, in some different country. Once again, Binance falls into this framework - the company isn't US-native.
If you're wondering how to use Binance in the US, all of that essentially means that, if Binance wanted to operate in the country, it would have two choices - either optimize its platform in accordance with some super-strict regulations put forward by the States, or open up a subsidiary company that's optimize to be used in the US, and US alone.
Table: Some of the main features associated with the original Binance cryptocurrency exchange
As you've probably figured out by now, Binance went with the latter - this is where Binance.US comes in.
As the name might imply, Binance US is a US-dedicated cryptocurrency exchange. It's a platform that's designed and created specifically with all of the US-relevant regulations in mind, and is thus exclusive to the country. Sure, if you're looking for Binance US leverage amounts or Binance US margin trading functionality, you'll be saddened to find out that this platform offers far fewer features than its main counterpart.
That said, according to some sources, Binance.US is still one of the leading crypto exchanges in the country, trading volume-wise. I've gone through the reasons for why that's the case in my review of the platform, but essentially, it all comes down to it still being Binance (reliability), as well as the amazing fee model that the platform offers to its clients.
So, that should cover the "yes and no" answer, as far as the "can I use Binance in the US?" question is concerned. With that out of the way, though, the main question of this tutorial still remains - HOW to use Binance in the US?
How to Use Binance in the US: Setting the Scene
Now then, just to be clear, we'll be focusing on the United States-exclusive version of Binance here. So, we'll talk about everything from Binance US registration, all the way to Binance US futures and advanced features of the platform.
I mention this because, if you're looking to start using Binance, and are, say, only visiting the States, but you actually live in a different country, you might be able to use the original Binance exchange - check it out, if that's the case!
Getting back to the topic at hand, as is usual with any other exchange tutorials you might have read on our site, we'll start things off with the registration process on the website, and make our way onwards from there.
How to Register on Binance.US?
The very first thing that you'll want to do is visit Binance US' official website.
Step 1: On the homepage of the website, you'll see a big, orange button that says "Get Started". Press it.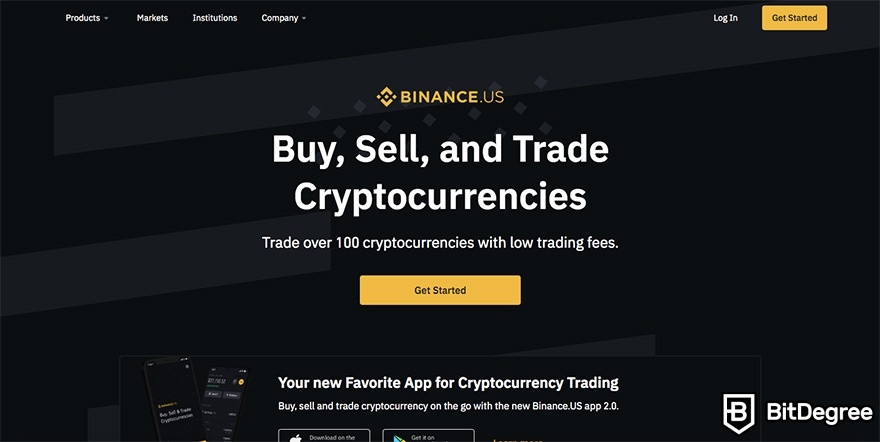 Step 2: Now, you'll need to enter your email address, and think of a password.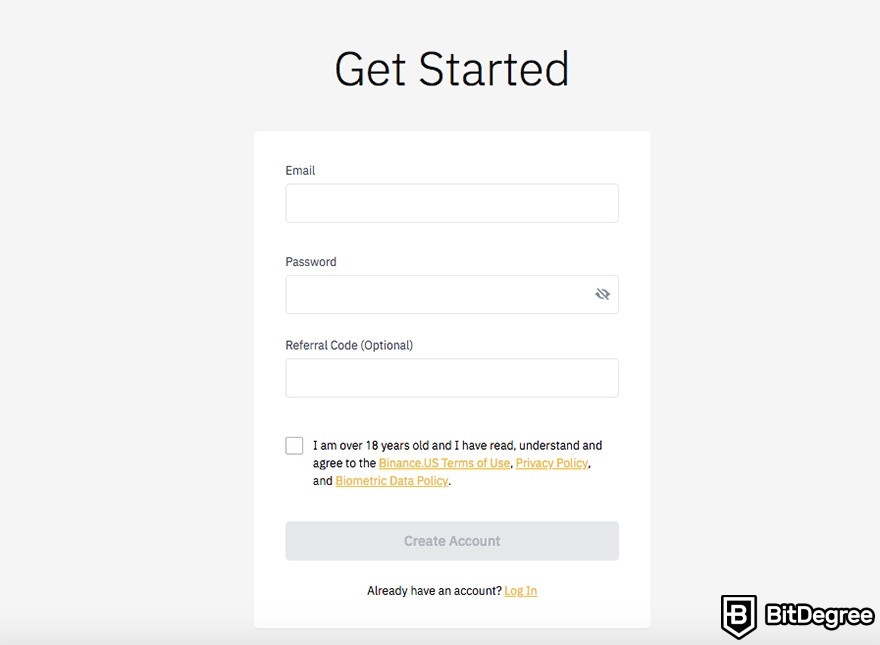 Step 3: Next up, email verification - go to your inbox, where you should have received an email from Binance.US. If you're reading this "How to Use Binance in the US?" tutorial simply because you've received no email while registering, make sure to check your spam folder!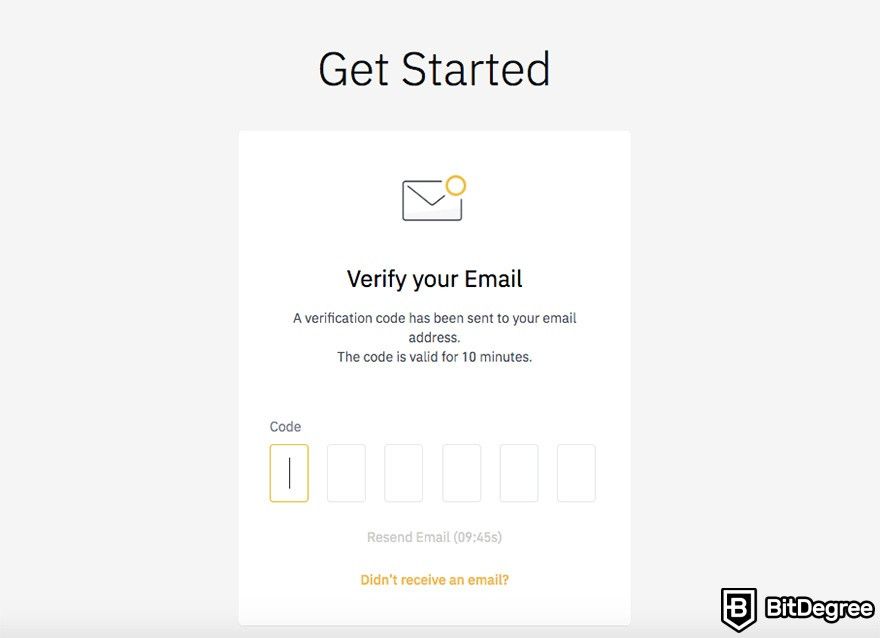 Note, though, that the email might take some time to arrive - multiple users seem to have experienced these verification delays. If you're in a hurry to complete your Binance US registration, it's best to do this in advance, and come back to check your email a bit later.
Step 4: Once you confirm your email address with the code, that's it - you're in! You'll be redirected to your wallet dashboard, and asked to set up two-factor authentication. It's best to do so immediately, since it's one of the more-effective methods of keeping your account (and thus, your cryptocurrency assets) secure!
As you might have expected, the registration process on the exchange in question is very quick and simple. It's not too different from the way that you'd register on the main Binance exchange, either!
The dashboard screen that you see in front of you is like your homepage - this is where you can view all of your balances (whenever you have any crypto deposited into your account, that is), as well as access all of the other features of the exchange platform.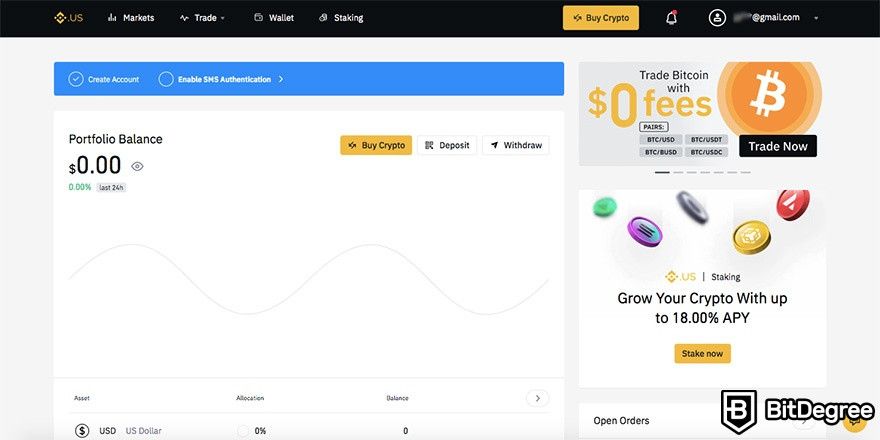 To be a bit more specific, the vast majority of features that you might want to use in your crypto ventures (and likely the reason why you're reading a "How to Use Binance in the US?" tutorial, in the first place) can be found on the menu bar, at the top of the screen.
Here, you'll be able to access all of the available markets (via the Binance trading view), perform traditional trades, as well as OTC orders, check up on your assets in your crypto wallet, and participate in staking activities, as well.
If you'd like to check the status of your account, adjust your settings, or pass the mandatory KYC verification checks (we'll get to that), you can do so from the account section, at the top-right corner of your screen, where your email address is located.
All things considered, Binance.US utilizes a rather minimalistic approach, when it comes to the user interface experience. That's good - it's very beginner-welcoming, and you should feel lost, at any point in time!
How to Use the Binance.US Wallet?
Once you're done looking around the dashboard, the logical first step of learning how to use Binance in the US would be to access your wallet, figure out how to use it, and fund your account.
Step 1: From your account dashboard, navigate to the top of the screen, and press "Wallet", on the top menu bar discussed earlier.

Step 2: So, this is your wallet interface - in the middle, you will be able to see the balance of your wallet (portfolio), in USD. Scrolling a bit lower down the page, you will also be able to check on specific cryptocurrencies that you may own, as well as on your deposits and withdrawals.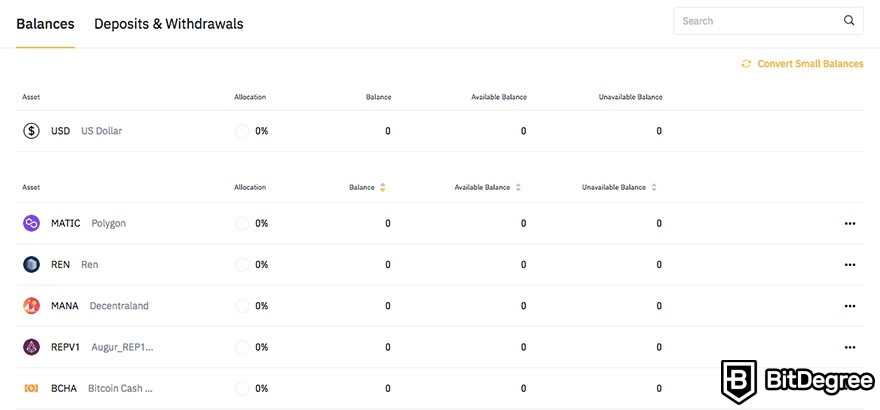 Your wallet is also the area where you can generate tax statements, as well. I've talked about this in my Binance.US review, but for anyone wondering "can I use Binance in the US?", this is a very notable feature - it makes submitting your crypto tax reports that much easier!
Step 3: Now, on the main screen of your wallet section, you will also see three buttons - "Buy Crypto", "Deposit", and "Withdraw". We'll talk about the first feature later on in this "How to Use Binance in the US?" tutorial, but for now, I'd like to focus on the latter two.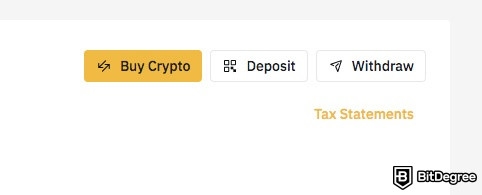 Step 4: No matter if you'd want to deposit or withdraw some crypto to (from) your Binance.US wallet, you will first need to enable 2FA on your account, and pass the infamous KYC checks. Now's probably a good time to talk about them, as well.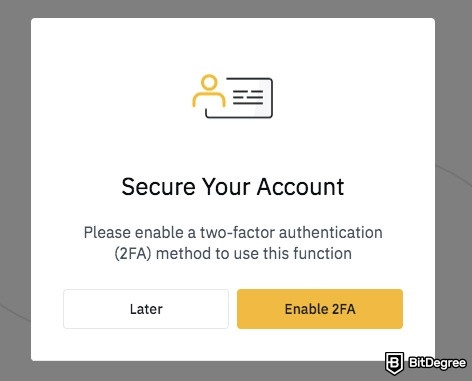 KYC stands for "Know Your Customer". It's a set of financial guidelines that all finance-related institutions must follow. Naturally, depending on the country and the form of finance that you deal with, those KYC rules will be different. However, the point is always the same - to identify the customer, and make sure that they're not participating in any shady business.
KYC has always been a topic of contention, for many crypto enthusiasts around the world. This is because it stands directly against some of the core perceived values of crypto technology - anonymity, decentralization, and data privacy. On the flip side, though, KYC checks also enable high-end user asset security, as well as scam prevention.
No matter how you personally feel about KYC checks, you should know that they are going to be mandatory with Binance.US. If you were wondering is Binance available in the US without KYC, you will, unfortunately, be left disappointed.

KYC checks are also the area where any potential non-US users will have to leave the platform, too. Since Binance.US is country-exclusive, if you've registered on the platform from, say, the EU, you won't be able to pass the KYC checks, and by extent, trade or deposit assets to the platform's wallet.
Step 5: After you set up your two-factor authentication and pass the required KYC checks, you will now have access to the entirety of the Binance.US platform. To be a bit more specific, you will now be able to trade cryptos, buy them with fiat money, as well as fund your wallet.
The asset depositing process is rather straightforward, really. After the KYC checks, all that you'll need to do is scan the QR code of your Binance.US wallet address (or copy it - both options are fine), and then paste it into the wallet that you'll be sending your assets from. This process is quite self-explanatory, and is frankly similar to any other exchange out there. Withdrawing crypto is the same process, but backwards.
Evidently, using the Binance.US wallet should prove to be a hassle. Quite the opposite, really - the wallet is well-designed and minimalistic, and there aren't any super-advanced features that might make you feel lost, at any point. Even if you've never used a crypto wallet before, and that's why you're reading this "How to Use Binance in the US?" tutorial, Binance.US should be a great first experience!

Pros
Can be managed from mobile device
Very secure
Supports more than 1500 cryptocurrencies

Pros
Top-tier security
DeFi app support
Store over 5500 assets, install up to 100 apps simultaneously
How to Buy / Trade Crypto on Binance.US?
With your wallet all set up and ready, the next step in figuring out can you use Binance in the US is to explore the crypto acquisition, as well as trading channels.
Step 1: Starting off with the crypto buying side of things, you'll first want to navigate to the big, orange "Buy Crypto" button, at the top-right side of your screen. Alternatively, if you're still in the wallet section of your account, you could press the same button there, as well.

Step 2: You will now be redirected to a separate page, where the entire crypto acquisition process will take place. Here, you simply need to pick the coin that you'd like to purchase, and then enter the amount of USD that you'd like to spend on it.

In addition to that, you may also scroll down the page, where you'll find educational resources about cryptocurrency trading & buying processes, as well as some general details surrounding the asset that you're looking to purchase, as well. Good stuff!
Step 3: Once you've chosen the cryptocurrency that you want to buy, and have entered the amount of USD that you're willing to spend, all that's left to do now is preview your purchase, and then confirm it.
If this is your first time buying crypto on Binance.US, you'll need to enter all of the relevant details, depending on the fiat payment method that you've chosen. However, once that's done, and you've passed all of the confirmation windows, your crypto will arrive in your wallet shortly!
It's no secret that, when it comes to buying crypto with fiat, a dedicated "How to Use Binance in the US?" tutorial probably isn't necessary - the process is very simple! Binance has made it a point to streamline your crypto purchasing experience - with so many newbies coming into the space, it's no wonder, really!
Moving on, after you've purchased your crypto, you have two big and very different paths ahead of your - either hodling that crypto in your Binance.US account (or an external hardware wallet, if you value the security of your crypto), or venturing onwards to the trading interface.
Table: General information on the Ledger Nano X and Trezor Model T hardware cryptocurrency wallets
If you choose the former option, just keep in mind that Binance.US withdrawal times can vary. So, if you've withdrawn your crypto to an external wallet, and it hasn't shown up immediately, don't panic - that's normal!
Crypto hodling is, admittedly, the more-popular choice that people make. There are multiple reasons for why that's the case, but the overarching one is that individuals believe in the crypto projects that they're supporting, and think that the value of their acquired assets will rise in price, in the future.
Crypto trading, on the other hand, isn't an "underground activity", either. While it's a complex process, and involves huge amounts of risk, there are plenty of cryptocurrency day traders that make a living doing just that!
Step 1: If you've chosen to go the trading route, you will first need to navigate to the trading section of the Binance.US exchange. You can do so by hovering over the "Trade" menu at the top-left side of your screen, and clicking on "Advanced Trading".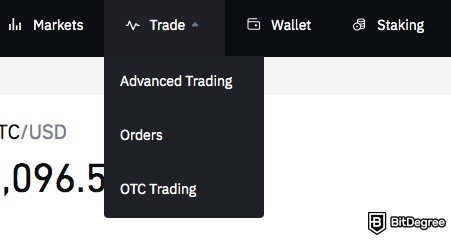 Worry not - while the term "advanced" might sound intimidating, for an industry newcomer, it simply refers to the fact that there'll be additional features for you to utilize, as you trade on the platform.
Step 2: Now, if you've been researching how to use Binance in the US because you wanted to find out about the company's trading view, here it is! No matter what type of trading pair it is that you might choose to trade, this is essentially the view that you'll see, while you trade crypto on Binance.US.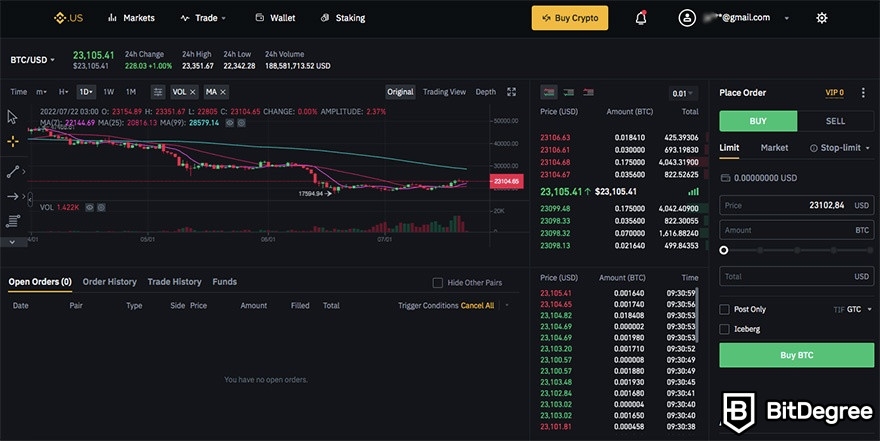 As far as trading views go, you won't find any odd surprises with Binance.US. On the left side of the screen, you have your trading charts, which you can customize and analyze, as you trade.
Below that, you will see information about your orders and trades. It's empty when you're just starting out, but as you perform your first trades, the lower end of the screen will actually become informative.
Lastly, on the right side, you'll find some general information about how the market is performing, as well as all of the trading tools that you yourself need. This includes everything from stop-loss functions, all the way to different order types.
Generally speaking, once again - the trading view shouldn't offer any surprises, especially if you have traded cryptocurrencies before.
A Word About Advanced Features of Binance.US
Now, then - before we finish off this "How to Use Binance in the US?" tutorial, there's one more thing that I'd like to talk about. I've mentioned it earlier in the article, and it's not exactly related to Binance US withdrawal times or its wallet functionality - instead, it has to do with the advanced features of the exchange.
Reading through the various user feedback online, you'll notice that there are certain terms being thrown around, quite a bit. Concepts such as Binance US futures, Binance US leverage options, and even Binance US margin trading keep coming up, every once in a while!
All of these mentioned concepts are related to advanced trading tools. While this might be a bit of a generalization, these tools are mostly used by experienced day traders, in order to maximize their potential profits.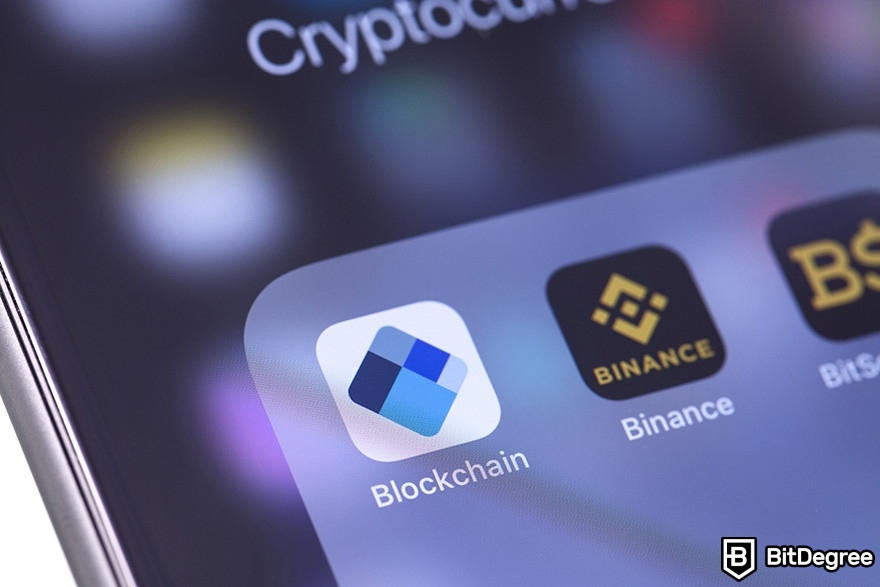 Why is it even something that we're talking about, in the first place? Well, as you might have gathered, those aforementioned concepts are a popular reason why people search for information on how to use Binance in the US! The unfortunate reality, however, is that none of those features are available with the particular exchange.
If you're feeling confused, allow me to explain.
While Binane US futures and Binance US leverage aren't really "a thing", these features (in addition to many others) are, for a fact, available on the main Binance exchange. So, while the 'main' exchange users would be able to use these features, if you're a user of Binance.US, they won't be available to you.
The reason for why that's the case is exactly the same as the one why Binance.US even exists, as a separate platform - regulatory compliance. Binance isn't able to offer its US customers many of the advanced trading features, and thus, they are removed from the US version of the exchange.
Depending on your own, personal situation, this could be a dealbreaker, or a non-issue. If you're a professional day trader, then some of those features could be crucial for your trading experience, and you would end up looking for an alternative platform.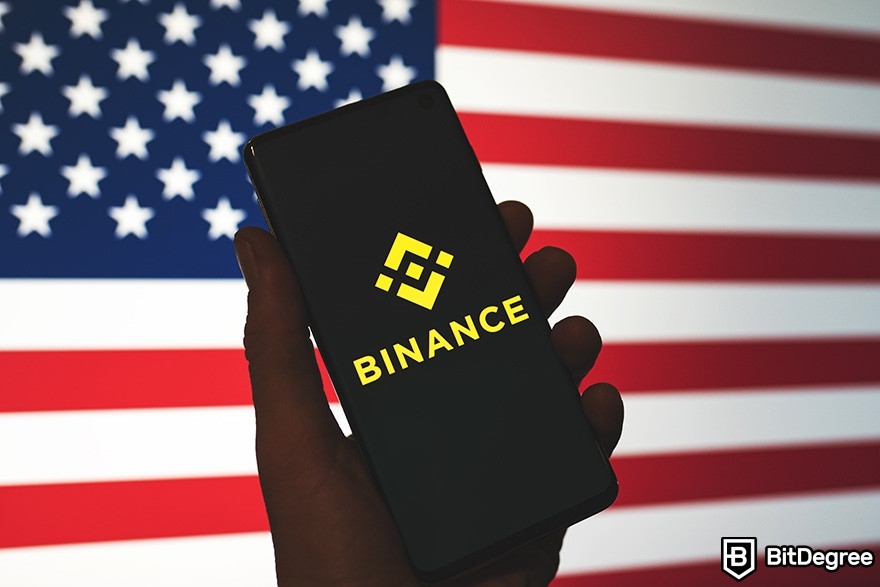 On the other hand, if you've been researching how to use Binance in the US simply due to the fact that you want to hold crypto, and get it on Binance, instead of any other exchange, admittedly, you probably won't even notice the lack of advanced functionality on the site.
It all boils down to perspective!
Note, however, that if you DO end up searching for a different cryptocurrency exchange, you might end up on one of the more-popular general-use exchanges out there. Many of these platforms, while being high-end, don't really offer their users ACTUAL cryptocurrencies, trading-wise.
Instead, you would be able to purchase (trade) in either CFDs, or ETFs. Neither will get you actual crypto coins and tokens that you could then withdraw to a third-party wallet. Here, however, once again, the situation is pretty simple - depending on your own wants and needs, this could be a problem, or a non-issue, whatsoever.
Conclusions
Now that we've reached the end of the "How to Use Binance in the US?" tutorial, I'd like to sum things up by saying - for anyone wondering can you use Binance in the US, the answer is yes, but with a bit of compromise.
The compromise will manifest in you not being able to access the original Binance exchange, and having to deal with a lack of a lot of advanced features. On top of that, if you're looking to trade some of the more-niche crypto assets, the US version of the exchange might not support it, either.
On the other hand, though, Binance.US is still considered to be one of the best crypto exchanges available to be accessed within the country. It offers great beginner-friendliness, and allows you to perform all of the core features that you'd expect from a crypto exchange - manage your wallet, buy crypto with fiat money, trade your favorite cryptocurrencies, and so on.
If you'd like to learn more about Binance.US, don't forget to check out my dedicated review of the exchange platform. Alternatively, if you're a bit more interested in other options available out there, in the industry, you may also check out our list of the best cryptocurrency exchanges - perhaps that's where you'll be able to find the perfect exchange for you?
With all of that said, thanks for reading, and until next time!
Leave your honest feedback
Leave your genuine opinion & help thousands of people to choose the best crypto exchange. All feedback, either positive or negative, are accepted as long as they're honest. We do not publish biased feedback or spam. So if you want to share your experience, opinion or give advice - the scene is yours!