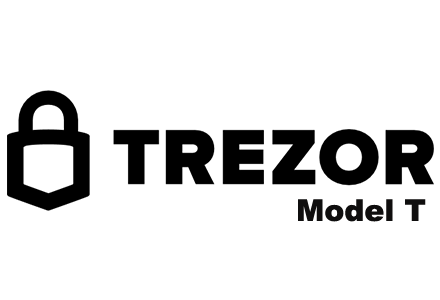 Even though many people thought that the cryptocurrency bubble had burst once and for all at the end of 2017, time has gone on to show that blockchain technology truly is valuable and useful, and the number of crypto-savvy people just grew over the years. So did crypto-storing technology, however, and in this Trezor Model T review, we'll take a look at one of the most advanced hardware wallets of today.
If you're at all familiar with the topic of crypto, in general, chances are that you've heard the name Trezor before. It's one of the two leading cryptocurrency hardware wallet providers (the other one being Ledger), and also one of the oldest of the lot, too.
Same as Ledger, Trezor has come out with a new model of their flagship wallet - the Trezor T. Is it worth checking out? What additional features does it offer when compared with the original Trezor? All of these questions (and many more) will be answered in the article below!
Pros
Top-notch security
Touchscreen user interface
Easy to set up
Supports around 1000 crypto assets
Trezor Model T Review: PROS
Same as with my other cryptocurrency wallet articles, we'll begin this Trezor Model T review by discussing the main positive aspects of the wallet in question.
It's worth keeping in mind, however, that throughout this review, I'll likely be referencing the original Trezor crypto wallet - the Trezor One - quite a bit. That's simply because it's a great reference point for the Trezor T, and you'll be able to see how the new version of the device is superior to its predecessor.
Table: General information on the Ledger Nano X and the Trezor Model T
Surely, as you can probably imagine, whether it be Trezor firmware updates or some usability aspects, the new-and-improved Trezor T will surely be (quote, unquote) "better" than the older device. That said, is it worth the investment? Let's find out!
A Wide Range of Supported Cryptocurrency Assets
What are some of the first features that you look into when picking out the best crypto wallet for yourself?
Is it security? Or, perhaps, the usability aspects of the wallet?
Well, in addition to the above-mentioned features, one of the more-important things that you'd probably look at are the number of different crypto assets that the wallet supports.
As of writing this Trezor Model T review, there are currently almost 7000 different cryptocurrencies and cryptocurrency assets available for you to check out, and invest in. That's a huge number of cryptos! Long gone are the days when people would only purchase Bitcoin - nowadays, even beginner investors like to keep their portfolios rather diverse.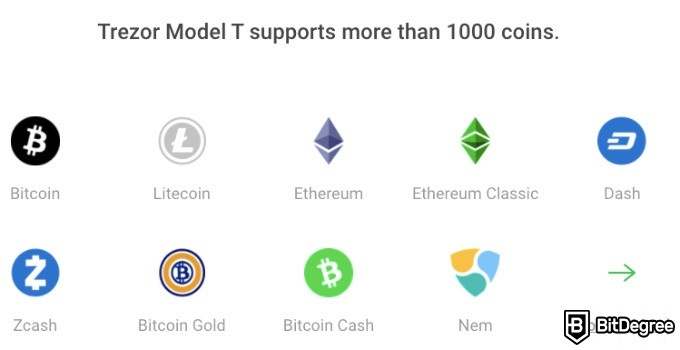 Naturally, no matter which cryptocurrency it is that you invest in, you'd probably want to keep all of your coins safe, right? Well, that's perfectly possible with the Trezor T!
Whether you'd like to transfer from Coinbase to Trezor, or utilize the 'Trezor Bridge' for any other connections, you can rest assured that you'll be able to store around 1000 different cryptocurrencies and crypto assets on the hardware wallet!
Naturally, Trezor T will support all of the most-common crypto coins on the market - Bitcoin, Ethereum, Litecoin, Bitcoin Cash, Ripple, Dash, and so on. However, even if you're an investor who's interested in some of the more-niche coins, you'll likely be able to store them in your Trezor T device!
Top-Notch Security
This is probably rather self-evident, but security is the most important feature of a hardware cryptocurrency wallet. I almost feel silly writing that sentence - it's literally the only essential reason why you'd want to invest in a wallet like that, in the first place!
No matter which of the two Trezor wallet models it is that you'd look at, you can be sure that you'll receive the top security features available. Multiple user Trezor Model T reviews found online will tell you that Trezor isn't named one of the safest crypto storage devices for nothing!
First up, the Trezor firmware updates. Each time you load up your Trezor Model T, your device will send out a firmware verification request - this will verify that your firmware is both the official firmware and not some malware in disguise, and that it's up-to-date, too.

You can also expect to receive super-reliable back-up features. Back-ups are used in case you lose your Trezor device, or it gets damaged - without your back-up phrase (code), you won't be able to get your cryptos back, so make sure to pay close attention when setting this up!
On top of all of that, all of your processes are also going to be protected by a custom PIN code. This includes both processes that involve your public and private keys - top-notch security features!
While not many user Trezor Model T reviews point this out, the actual Trezor T device is durable and well-made, too. Even though this does not have anything specific to do with the security features of your crypto coins, you can rest assured that the device will hold up, and won't suddenly break down on you.
Touchscreen Usability
One of the most-prominent aspects mentioned in user Trezor Model T reviews that concern the differences between the two Trezor wallets is the fact Trezor T has a touchscreen, while the former version of the crypto hardware wallet had two buttons to navigate its interface with.
At first glance, this may seem like a pretty cool feature - you might think nothing more of it. That said, it's actually an amazing improvement, usability-wise!
One of the most-common complaints found on user hardware wallet reviews (Trezor Model T reviews are no exception) is the fact that trading your coins while storing them in a hardware wallet is usually a very tedious and annoying task.

While hardware devices provide some of the best security features for your cryptocurrencies, many active traders prefer to split their portfolios into two parts - the bigger part goes into the hardware wallet, while the smaller portion will remain on a specific exchange, for easy trading.
Due to the way that Trezor Bridge works on the new Trezor device, its firmware, and - on top of that - the touchscreen functionality, you'll be able to save a lot of time transferring coins to and from your Trezor wallet. This is a huge deal, since you do not need to download or install any other, additional hot wallet!
Easy Set-Up Process
If you've ever used a hardware wallet before, you likely know that the set-up process can take some time, and get pretty tedious. In most cases, you'll have to go through the back-up phrase setup process, install and perform the required Trezor firmware updates, and only then proceed with the actual coin storage on your device.
User Trezor Model T reviews note that the company has really optimized the entire setup process, from when you open the box with the device, up to the point where you can start using it for actual storage.
One of the most-notable features that prove this is the fact is that you can actually set your recovery phrase (the 12-24 letter and number code used to recover your cryptos if you lose your device) at any time that you see fit.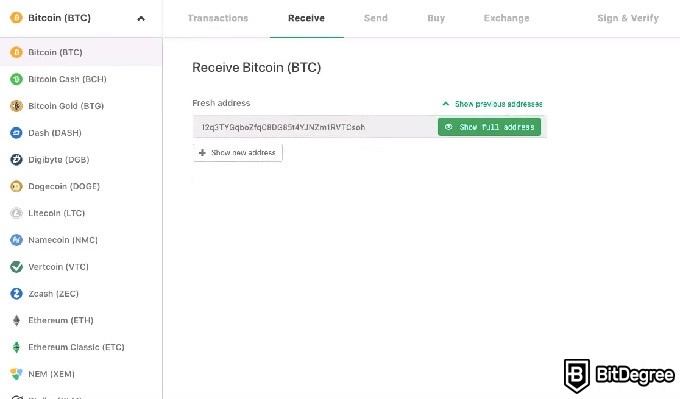 The difference here is that, with most devices, you'll be prompted to set the phrase as soon as you load up your device for the first time. If you're in a hurry, this isn't very optimal!
The Trezor recovery seed can be set at any given point in time, though. You will be given a warning in your Trezor software if you don't set the phrase upon the initial setup, but Trezor T won't force you to set it at that time.
As a side note, though, you should still keep in mind the fact that it's always better to set the recovery seed as soon as possible, since this will ensure that your device is properly protected, and that you won't lose all of your funds if something unexpected happens.
Latest Trezor Coupon Found:
GET UP TO 50% OFF
On Selected Trezor Accessories
Secure & customize your crypto assets to the fullest with Trezor accessories - use this Trezor promo code to secure a 50% discount!
Expiration date: 05/04/2023
3,827 People Used
Only 16 Left
Trezor Model T Review: CONS
So - by this point, we have established the fact that, even though both of the Trezor hardware wallet models are rather similar in how they function, the Trezor T is of a superior design offers much better usability features, and is simply an updated version of Trezor One, in general.
Having said all of that, though, not all of the user Trezor Model T reviews are positive. There are some customers that aren't very happy with their purchase, for one reason or another - we should look into these complaints, too!
Now, it's worth pointing out that none of the issues users face have to do with, say, the Trezor Bridge, or crypto transfers from Coinbase to Trezor. Instead, the complaints mainly have to do with two aspects of the wallet - its physical design, and price.
Bulky Design
Some of the more-common user Trezor Model T reviews that aren't all that happy with the device point out the bulkiness of the design.
Indeed - if you were to compare Trezor T (or even the Model One) with its main competitor - Ledger -, Trezor truly does come off as being rather bulky.
I've actually heard this being mentioned by some of my friends - they've bought their Trezor devices, and kept on telling me how these items are much bulkier than they thought, and are far less-conveniant to carry around in reality.

After I received my Trezor, I can say - while I can see where my friends were coming from, the device was actually much more convenient than I thought it'd be! While the Trezor Model T is a bit bigger than its predecessor, both devices fit in your pocket perfectly fine, and are smaller than you'd probably expect, looking at the pictures online!
That said, some people note an issue with concealment, too. Take the earlier-mentioned Ledger as an example - the device looks like a USB flash drive, and blends into the background rather well. Trezor, however, has a very unique look.
Once again, I did not find this to be too big of an issue. While Trezor truly does look unique (especially the flagship version), it blends in with some other devices quite well - for example, you could hardly tell the difference between a Trezor wallet and a PIN generator!

Did you know?
Price
As a final point in this Trezor Model T review, let's take a look at the Trezor T price tag, and discuss whether or not the device is worth the money.
As I've hinted earlier, though, the bigger part of the Trezor Model T reviews found online are going to tell you that the price of this particular cryptocurrency hardware wallet is a bit… Well, high.
A single Trezor T device will cost you $169,99. You can also purchase the bundle that the company offers - this bundle includes a Trezor T, Trezor One, and a Cryptosteel capsule. This bundle (called the "Trezor Ultimate Pack") will cost you $274.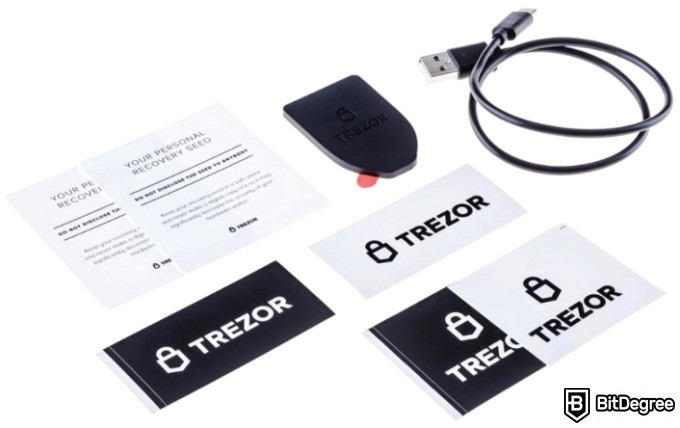 So, ya - admittedly, the price is a bit high, especially when compared to the Trezor One's price tag.
Having said that, though, the Trezor T price is justified by the fact of how good the wallet actually is.
While it's surely a significant one-time investment, with the item in question, you'll be able to rest assured that all of your crypto assets are protected by a top-tier security device (assuming you've set the Trezor recovery seed, of course). It's always better to invest in a secure storage space for your cryptocurrency, than to risk losing all of it!
Latest Ledger Wallet Coupon Found:
SAVE 10%
On Best-Value Ledger Bundle
Purchase the Ledger Nano S Family pack & save 10%. Get a huge Ledger discount on top-tier security!
Expiration date: 05/04/2023
1,278 People Used
Only 72 Left
Conclusions
Now, with all of that being said, is the Trezor Model T worth checking out?
I'd say - for sure!
As pointed out in the introductory part of this Trezor Model T review, Trezor is one of the leading brands when it comes to secure cryptocurrency storage. The Model T just goes to prove this even further - it's an amazing piece of hardware that provides its holder with the best crypto security features you could ask for!
TREZOR MODEL T
TREZOR

Top-notch security
Touchscreen user interface
Easy to set up
Supports around 1000 crypto assets

Top-notch security
A very well-known crypto wallet
Holds a huge number of cryptocurrencies
Constant firmware updates

Pricey
Has been subject to unauthorised access before

Visit site
Read review
Visit site
Read review
Table: The pros and cons of the Trezor Model T and Trezor One
Transfers from Coinbase to Trezor are simple and straightforward thanks to the device's firmware and streamlined design of the software that accompanies it. The Trezor recovery seed can be set at any given time, allowing you a fast initialization process and full control of the processes that you choose to perform with the wallet.
The Trezor T price is a bit high, and the design is a tad bit bulky, but both of these "issues" are quite minor when compared to the benefits of the device. All things considered, the Trezor Model T is surely an amazing choice for any cryptocurrency enthusiast!
The content published on this website is not aimed to give any kind of financial, investment, trading, or any other form of advice. BitDegree.org does not endorse or suggest you to buy, sell or hold any kind of cryptocurrency. Before making financial investment decisions, do consult your financial advisor.
Leave your honest Trezor Model T review
Leave your genuine opinion & help thousands of people to choose the best crypto wallet. All reviews, either positive or negative, are accepted as long as they're honest. We do not publish biased reviews or spam. So if you want to share your experience, opinion or give advice - the scene is yours!