The size of the cryptocurrency market which was around $25.9 billion in April 2017. It now stands at $409.47 billion! As the market grew, many new cryptocurrencies emerged.
Note: Market capitalization of any cryptocurrency is the number achieved when the total number of coins is multiplied with the value of one coin.
These cryptocurrencies are often referred to as "Altcoins" as they provide an alternative to Bitcoin. It can be a difficult task to choose the best altcoins, as there are thousands of options out there.
If you are looking to find the best altcoins 2023 then you don't need to look any further. I will cover the most promising altcoins in this guide. I will talk about their historical trends, technology, uniqueness and what can be expected in 2023.
By the end of this guide, you should have a fair idea about the top altcoins 2023. With this information in hand, you can go to a financial consultant to plan your cryptocurrency investment for 2023.
Note: If you decide to buy any of the cryptocurrencies presented in this article, make sure to choose a reliable crypto exchange. The most recommended options include KuCoin and Binance. You can see how they compare below.
Table: Binance and KuCoin general feature comparison
Now, let's get started with the review of best altcoins 2023.
The list of the best altcoins must begin with Ethereum, which is the second most valuable cryptocurrency after Bitcoin. It has a current market capitalization of $64.35 billion! Ethereum was launched in July 2015 by the now-famous prodigy of the cryptocurrency world — Vitalik Buterin.
Historical Investment Trends
As you can see in the snapshot below, the price of Ethereum grew from $9 in January 2017 to $1,389 in January 2018 giving a return of over 17000%. Its price almost doubled in price last month, from $396 at the beginning of April (2018) to $648 today.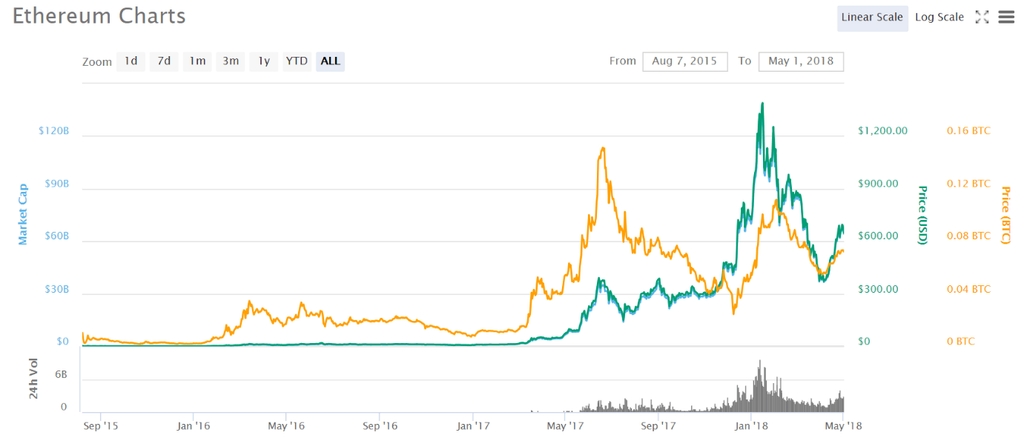 How is Ethereum unique and different from Bitcoin?
Bitcoin is just a digital currency, but Ethereum has more to offer in addition to that. Ethereum provides a platform to the developer on which they can build blockchain-based smart contracts and decentralized apps.
Ethereum was the first cryptocurrency to introduce smart contracts, which are now considered as the next big thing.
Note: Smart contracts are agreements coded on the blockchain that execute themselves on when certain pre-set conditions are met.
Ethereum is also the most preferred platform for launching Initial Coin Offerings (ICOs). For more on ICOs, see our What is an ICO guide.
So, these are some of the key things that set Ethereum apart from Bitcoin and make it attractive to both developers and investors.
Upcoming Events
One of the biggest challenges being faced by Ethereum has been scalability. Ethereum's network currently supports roughly 15 transactions per second. This isn't that great when compared to VISA's 56,000 transaction messages per second.
Ethereum is expected to upgrade its technology from Proof-of-Work to Proof-of-Stake in 2023. This will increase its scalability to a large extent.
Where to buy Ethereum
Being one of the most widely available cryptocurrencies, you can purchase Ethereum from any popular exchange. Many of these exchanges support credit/debit cards in addition to bank transfer. You can purchase Ethereum from Binance, KuCoin, or Kraken.
Litecoin, one of the oldest altcoins, was created in 2011 by an ex-Google employee, Charlie Lee. Like Bitcoin, Litecoin is also just digital currency but with improvements. In fact, the reason for launching Litecoin was to overcome some of the shortcomings of Bitcoin, especially its slow transaction speed.
Historical Investment Trends
In the unpredictable cryptocurrency market where coins go in and out of the market very quickly, Litecoin has been in the market for over 7 years. It has grown to become one of the best altcoins with a market capitalization of $8.2 billion.
It has given a tremendous return in 2017 when it grew from $4 in January 2017 to $350 in December 2017. That's a return of 8000%!
As you can see in the snapshot below, Litecoin has regained growth momentum since April 2018 when it was around $121 and is currently trading at $145.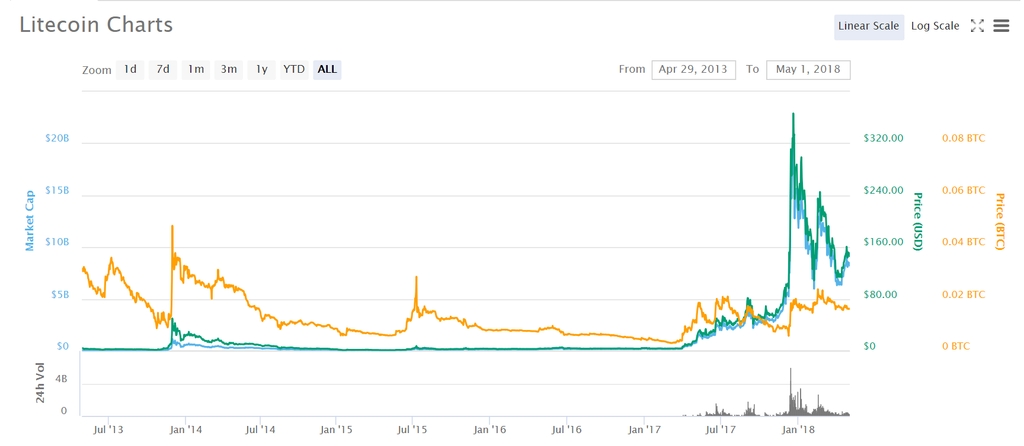 How is Litecoin unique and different from Bitcoin?
Litecoin has made considerable improvements in Bitcoin's technology to increase the speed of transactions. The reason that it is called Litecoin is that it is 4 times faster than Bitcoin.
A Bitcoin transaction takes about 10 minutes to complete but a Litecoin transaction is completed in 2.5 minutes. This makes Litecoin more scalable than Bitcoin as it can complete more transactions per second.
Litecoin has been built on Bitcoin's technology itself and is considered as the closest rival of Bitcoin. More so because both of them serve the same purpose: offering an alternative to fiat currencies like USD, EUR, CAD, etc.
Upcoming Events
Litepal, which is the first payment processor for Litecoin, got launched in February 2018. It is still a work in progress and was expected to be released in Q2 or Q3 of 2018.
Buying, sending and receiving Litecoin (or any cryptocurrency) is a very complex process. LitePal is expected to make transacting in Litecoin much simpler. LitePal also provides services and support for merchants with easy integration to most existing eCommerce platforms.
As you can see in the picture below, this service has the potential to make Litecoin more mainstream and one of the most promising altcoins.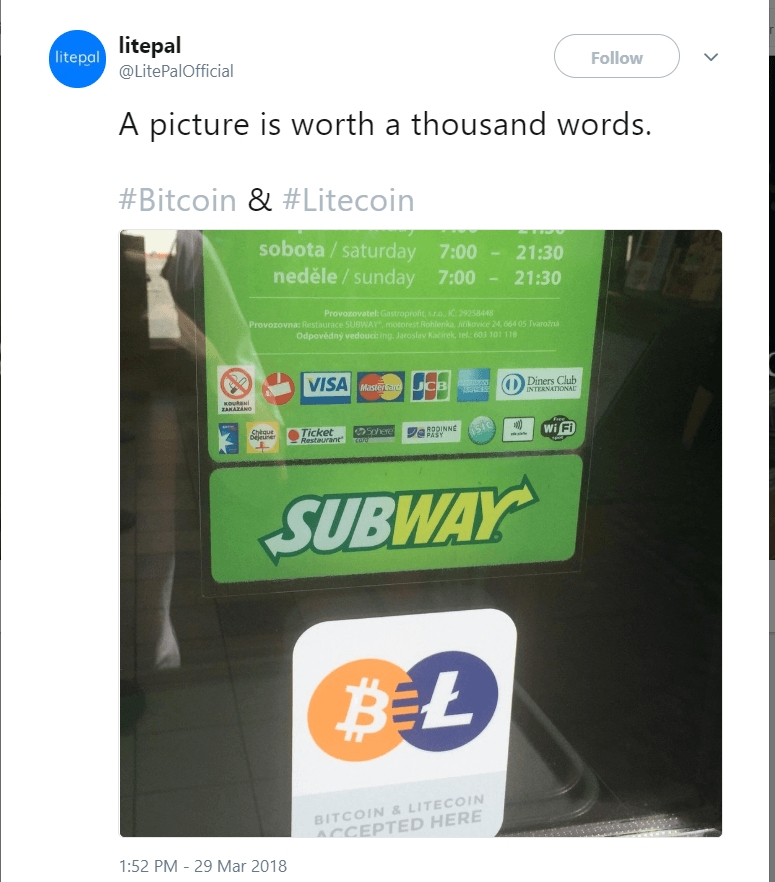 Where to buy Litecoin
Like Ethereum, it is quite easy to purchase Litecoin as it is offered by most of the top cryptocurrency exchanges. You can buy Litecoin from Binance, Kraken, or Coinmama.

Did you know?
NEO, which was originally called AntShares, was created in 2014 by Da Hongfei in China. It is the biggest cryptocurrency that has emerged from China.
NEO, like Ethereum, is a platform designed for developing Decentralized applications (Dapps), Smart contracts and ICOs. Because of this close resemblance to Ethereum, NEO is often referred to as the "Chinese Ethereum".
Historical Investment Trends
NEO has been one of the best altcoins of 2017 and has given tremendous returns. It grew from about $0.16 in January 2017 to about $162 in January 2018. That's about a 111,400% return on investment, which is huge!
NEO is currently performing well as it has grown from about $44 at the beginning of April 2018 to $82 today. It has almost doubled!
One of the major factors which are driving growth for NEO is the support of the Chinese government and its robust technology.
How is NEO unique and different from Bitcoin?
Like Ethereum, NEO also offers a platform for the development of smart contracts and Dapps. On the other hand, Bitcoin is just a digital currency that offers no such platform.
NEO offers many technological advantages over Ethereum. NEO can handle about 10,000 transactions per second whereas the Ethereum blockchain currently supports around 15 transactions per second.
NEO supports programming in multiple languages like C++, C#, Go, and Java, whereas Ethereum only supports one language — Solidity. This has made NEO quite popular among the developer community, as they can use NEO's platform in the language they already know rather than have to learn to a new one.
Upcoming Events
In 2018, NEO was expected to build an infrastructure for achieving its vision of building — Smart Economy. The basic idea of the smart economy revolves around digitizing real-world physical assets like cars, houses or anything else that you can think of.
These digitized assets can then be sold, traded, and leveraged through smart contracts. With such aggressive plans, a good team, and rising prices, NEO is definitely one of the best altcoins 2023.
Where to buy NEO
There are not many options to directly buy NEO using fiat currency like USD or GBP. The easiest way is to first buy Bitcoin from Kraken, Binance and then exchange it for NEO. You can exchange Bitcoin to NEO on many large exchanges like Bitfinex or Binance.
Cardano was founded in September 2017 by Charles Hoskinson, one of the co-founders of Ethereum. Cardano not only offers a platform for Dapps and smart contracts but also offers many technological improvements over Ethereum and other blockchains.
Historical Investment Trends
Cardano is one of the newest cryptocurrencies but it has still managed to become one of the top altcoins with a market capitalization of $8.86 billion.
While it has not given as high returns as other top coins, it is still popular among investors and developers because of its promise of building a highly robust blockchain that offers advantages over Ethereum.
Cardano grew from about $0.20 at its launch in October 2017 to touch a price of $1.20 in January 2018. That's a return of about 500% in 3 months.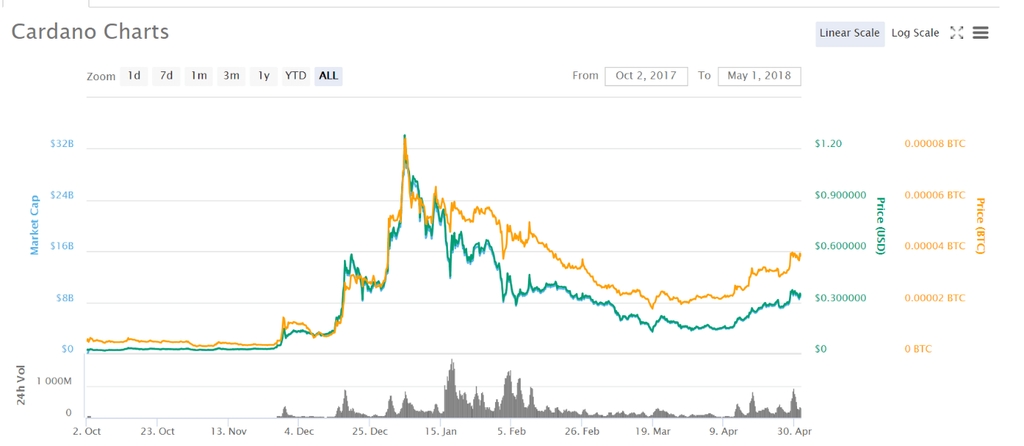 How is Cardano unique and different from Bitcoin?
Cardano not only offers many technological improvements over Bitcoin but also over Ethereum. While Bitcoin is just a digital currency, Cardano is a dApp-building platform with its own native currency — ADA.
Cardano has been designed to solve three of the most pressing issues faced by 1st and 2nd generation blockchain projects — scalability, interoperability, and sustainability.
Not only that, but Cardano also aims to address the problems of international payment transfer, which often takes a lot of time and money. It is focussed on taking down the transaction time of international payments from a few days to a few seconds.
Where to buy Cardano?
If you want to buy Cardano directly using a credit/debit card, then there is only one option — Coinmama. On all other exchanges that offer Cardano, you first need to buy Bitcoin, Ethereum, Litecoin, or Bitcoin Cash and then exchange it for Cardano.
You can buy Cardano with Bitcoin on Binance, Bittrex or Changelly.
EOS is a relatively new altcoin whose Initial Coin Offering (ICO) was launched in June 2017. EOS was created by Dan Larimer, who has also been credited for founding cryptocurrency exchange Bitshares and blockchain-based blogging site Steemit.
Like Ethereum, EOS also provides a platform for developers to build decentralized applications. Its technology differs, though, as we'll soon see.
Historical Investment Trends
EOS raised $700 million through its ICO and went on to become one of the most successful ICOs of 2017. In fact, EOS's platform is still under development but it's market capitalization is already around $15.69 billion, making it the 5th most valuable cryptocurrency in the world.
As you can see in the snapshot below, even before the launch of its platform, EOS has received tremendous response from investors. It grew from $4 in July 2017 to reach a high of $18 in January 2018.
What makes EOS one of the best altcoins 2023 is that it has surpassed its previous high and is currently trading at $18.77.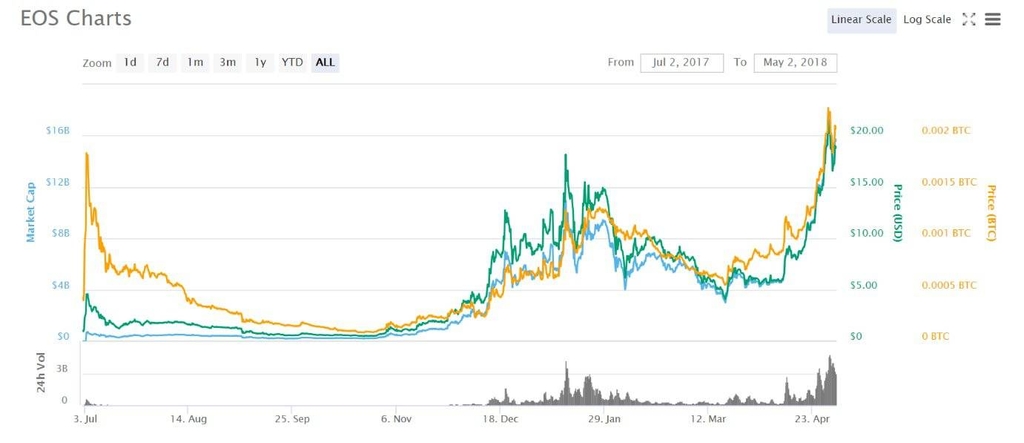 How is EOS unique and different from Bitcoin?
Bitcoin is just a digital currency whereas EOS is both a digital currency and a blockchain platform for DApps and smart contracts. So, it would be more appropriate to compare EOS with Ethereum.
EOS will use a mechanism called Delegated Proof-of-Stake (DPoS) against Ethereum's Proof-of-Work (PoW). This makes EOS much more scalable than Ethereum.
Another advantage that EOS has over Ethereum is its compatible programming languages. Ethereum only supports one language, called 'Solidity', whereas EOS supports multiple languages, including C++. This is a very attractive feature if you are a developer.
Upcoming Events
2023 is going to be a very exciting year for EOS as its platform was expected to be released in June 2017. This is one of the primary reasons believed to cause the recent price increase.
EOS is one of the most important altcoins to watch in 2023.
Where to buy EOS
If you are looking to buy EOS directly with USD, then the best option is Bitfinex. There are several options if you want to exchange Bitcoin for EOS. You can go to Binance, Shapeshift or Kraken.
Like Bitcoin, Dash is a digital currency launched in 2014 by Evan Duffield. At the time of launch, it was called Xcoin and was then renamed to Darkcoin. It was in 2015 that it was finally rebranded to Dash.
Dash has been forked from Litecoin, which is itself built on Bitcoin's technology. Dash has gained popularity because it offers significant advantages over Bitcoin.
Historical Investment Trends
Dash's price started increasing in 2016 and finally took off in 2017. Its price grew from $10 in the beginning of 2017 to a high of $1540 in December 2017. Can you guess the percentage of return?
Yes, it's almost 15,000%!
With a market capitalization of $ 3.79 billion, Dash could perhaps be one of the best altcoins to invest in 2023.
How is Dash unique and different from Bitcoin?
Dash has made significant improvements in the technology and offers better privacy and a higher transaction speed than Bitcoin.
Unlike Bitcoin in which the public address of the sender and receiver is known to the whole world, Dash keeps the addresses hidden. So, Dash's transactions cannot be traced back to the origin, while Bitcoin transactions are traceable.
Dash also has a unique self-funding mechanism wherein 10% of all the mining reward goes back to the Dash. This fund is used to further improve and grow Dash.
These unique features make Dash perhaps one of the most promising altcoins available.
Dash has the potential to be adopted in the mainstream economy possibly making it one of the best altcoins 2023.
Where to buy Dash
If you wish to buy Dash using bank transfer or credit card, then you can opt for CEX.io or Kraken. You can also exchange Bitcoin for Dash at cryptocurrency exchanges like Shapeshift, Bitfinex, and Poloniex.
As we reach the end of this guide, I feel it'd almost be wrong not to mention BitDegree. I feel we deserve a mention here, as we may be of interest to you also. We are the world's first blockchain-powered online education platform
Launched in 2017, we aim to revolutionize the education system. Think of it as Coursera and HackerRank merged together, powered by decentralized blockchain technology.
With BitDegree, students and teachers are both paid. Providing the ability to earn by learning is one of the many ways in which we are innovating modern education.
Historical Investment Trends
BitDegree is the newest amongst the top coins listed here so there isn't much of an investment history to show. It is currently trading at $0.039 and has a market capitalization of $14,040,337 USD.
How is BDG unique and different from Bitcoin?
BDG is not just a cryptocurrency but an entire platform aimed at making education affordable and borderless. Our unique platform enables millions of people around the world to use the power of blockchain for learning and growing.
They already have a working MVP, allowing students to earn BitDegree tokens when they take up courses. Sound interesting? You can learn more about them at BitDegree.
Upcoming events
2023 is a big year for BDG as they have many important launches lined up. The idea is to get strong sponsorships which can help in the development of in-demand courses.
Where to buy BitDegree
You can buy BDG on some of the exchanges like Tidex and Cobinhood.
So, we now come to the end of this best altcoins 2023 guide.
Latest Binance Coupon Found:
CLAIM $600 BONUS
Exclusive $600 Binance Offer
Don't miss this limited-time deal that's only available for our readers. Follow the Binance referral code link & receive up to $600 in rewards and bonuses!!
Expiration date: 12/02/2023
7,847 People Used
Only 49 Left
Final Words
So, you now know the top altcoins that are out there in the market. You also know about their history, technology and the upcoming events.
I have covered fundamental details about Ethereum, Litecoin, EOS, NEO, Cardano, Dash, and of course, BitDegree! With this information in hand, you should be able to pick your favorite altcoins to watch for 2023.
Once you decide which cryptocurrency you want to purchase, choose a reliable cryptocurrency exchange platform. To help you out, here are the top3 options out there: KuCoin, Binance, Coinmama.
So, which ones do you think are the top altcoins 2023? Do you have an opinion on which is the best altcoin to invest in 2023? I personally really like NEO, but that's just my opinion. Let me know yours!
The content published on this website is not aimed to give any kind of financial, investment, trading, or any other form of advice. BitDegree.org does not endorse or suggest you to buy, sell or hold any kind of cryptocurrency. Before making financial investment decisions, do consult your financial advisor.
Leave your honest Best Altcoins 2023: Find Your Best Altcoin to Invest in 2023 review
Leave your genuine opinion & help thousands of people to choose the best crypto exchange. All reviews, either positive or negative, are accepted as long as they're honest. We do not publish biased reviews or spam. So if you want to share your experience, opinion or give advice - the scene is yours!
---
TOP3 Most Popular Coupon Codes

EARN UP TO 23%
By Staking on Kraken - Black Friday Deal