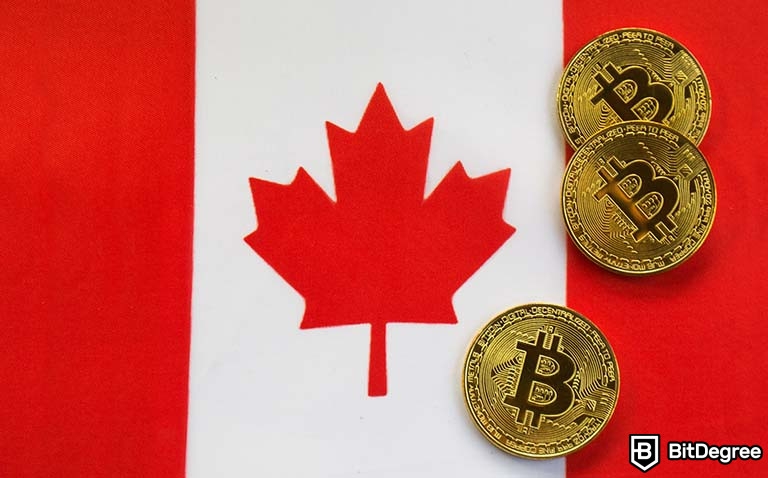 Cryptocurrencies have become a very popular concept, all around the world. With this popularity, however, there also came a lot of complex bureaucratic issues and regulations - crypto isn't equally simple to be accessed in different locations globally! In this article on how to buy Bitcoin in Canada, we'll talk about that accessibility question, as it pertains to the country in question.
Canada has always had a pretty interesting relationship, as far as crypto laws and regulations are concerned. While the country does retain a pretty liberal point of view on the matter, there are certain rules that need to be adhered to, and thus, not all of the most popular exchanges are available to be accessed.
In this tutorial, we'll talk all about it, though - both the country's position towards crypto, as well as how to buy Bitcoin in Canada, as well. Namely, I'll tell you about two of the better exchange options available within the country, and how you can use them to buy BTC, step-by-step!

Did you know?
Want to get smarter & wealthier with crypto?
Subscribe - We publish new crypto explainer videos every week!
Is Cryptocurrency a Good Investment? (5 PROS & CONS!)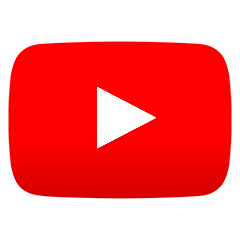 The Regulatory Landscape of Crypto in Canada
So, then, first things first - what's the situation with cryptocurrencies within Canada? And can you really learn how to buy Bitcoin in Canada legally?
Latest Binance Coupon Found:
CLAIM $600 BONUS
Exclusive $600 Binance Offer
Don't miss this limited-time deal that's only available for our readers. Follow the Binance referral code link & receive up to $600 in rewards and bonuses!
Expiration date: 31/05/2023
7,847 People Used
Only 49 Left
Well, as I've hinted at the beginning of this article, Canada does actually have some pretty lenient regulations surrounding the cryptocurrency industry. It's actually one of the very earliest countries that started regulating this particular market - Canada has had laws surrounding crypto all the way back since 2013!
Before we get into the actual details of how to buy Bitcoin in Canada, one point that you should note is that, while Canada is somewhat favorable towards crypto, as a whole, the country still doesn't consider it to be legal tender. So, you wouldn't be able to make payments to, say, governmental institutions with BTC.
The one interesting point to mention here, though, is that Canada isn't even too strict when it comes to off-shore exchange platforms, either! Well, at least when you compare it to the way that the United States handles the matter - here, the crypto regulatory environment is very different, and not in a good way.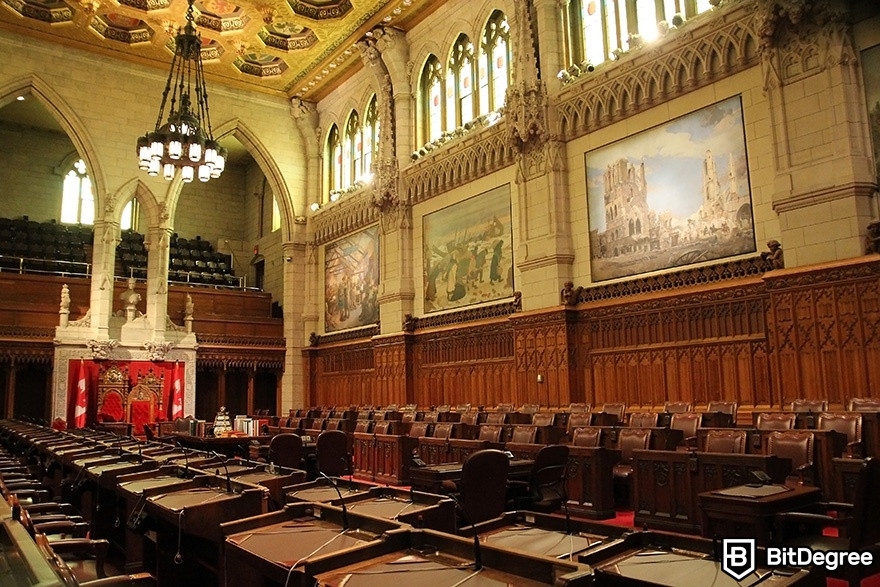 What does that mean to the user? Well, essentially, it simply means that you'll be able to use most of the top-rated crypto exchange platforms on the market, from within Canada, as long as those platforms employ the necessary KYC verification checks.
KYC is a term that stands for "Know Your Customer", and references a set of strict guidelines that all financial institutions must follow - cryptocurrency exchanges included. As an exchange platform identifies their client (gathers personal information about them), they are then also able to potentially prevent money laundering, terrorist financing, and other illegal activities.
So, to wrap this part of the "How to Buy Bitcoin in Canada?" tutorial up, you should keep in mind the fact that Canada has a rather liberal outlook towards cryptocurrencies, and the exchange platforms that the residents of the country use to acquire those crypto assets.
Speaking of which, this leads us to the next point - picking out the right exchange, in order to find the best way to buy Bitcoin in Canada.
How to Buy Bitcoin in Canada: Binance & BitBuy
As you've probably understood from the title of this chapter, we're going to be talking about two different exchanges - Binance and BitBuy.
The choice here isn't coincidental, either. Both of these platforms offer top-tier services to their clients, but are also both different enough so that you could have some freedom of choice, depending on your own preferences.
So - why should you choose to learn how to buy Bitcoin in Canada via Binance or BitBuy?
Starting off with Binance, the exchange likely doesn't need much introduction. Binance is one of the most recognizable names in the industry, often being hailed as one of the best and biggest crypto exchanges out there (if you were to measure things by trading volume).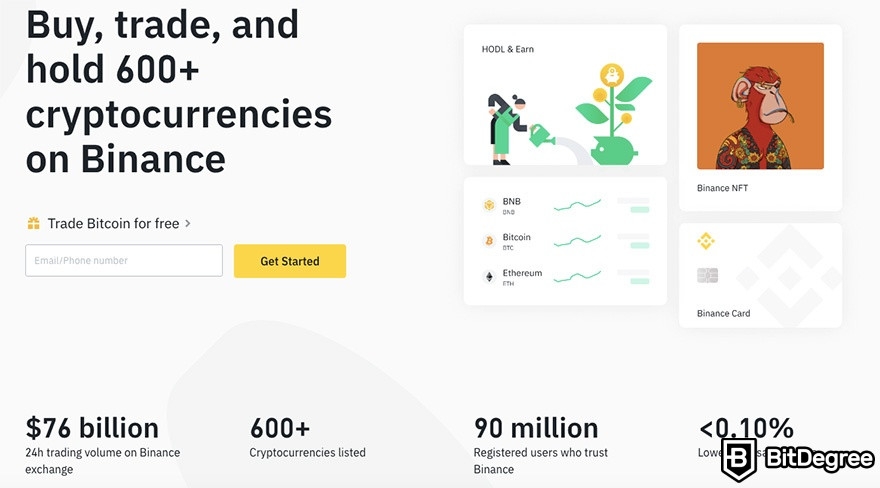 In addition to the obvious crypto trading and exchanging functionality, Binance also offers its users a vast array of additional features, as well. NFTs, staking, P2P trading, crypto earning, and so on - no matter which part of the crypto world you might be interested in, Binance has got you covered!
Granted that this isn't a dedicated Binance review, I won't go into every single aspect of why Binance is the top platform to learn how to buy Bitcoin in Canada. However, clients can expect great customer service, some of the best fees in the industry, a dedicated cashback card, top-of-the-line security, and so on - the benefits are numerous!
All of that being the case, Binance is, admittedly, a pretty obvious pick. What about BitBuy, though - what's the deal with this particular exchange?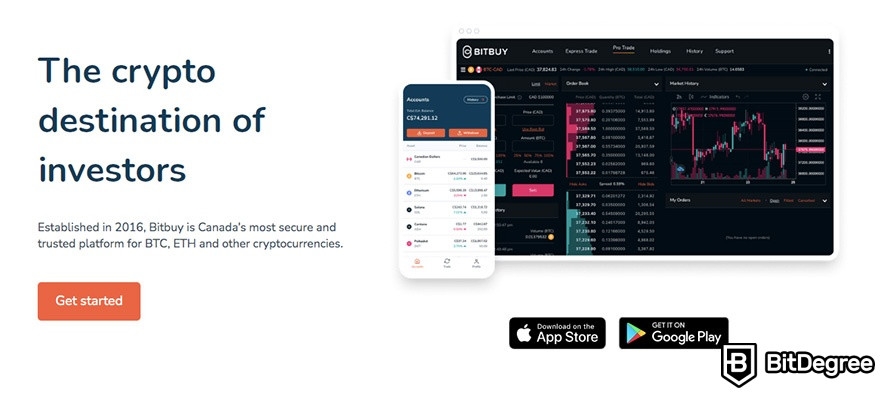 If you're a Canadian citizen, and are at least somewhat crypto-savvy, chances are that you've definitely heard about BitBuy before. That's because this particular exchange is actually Canada-native - in other words, it's based within the country!
This does automatically come with some built-in perks, for the user. When you know that the company behind the platform that you're trading or exchanging your cryptocurrencies on is based within the same country, it's more likely that you're going to trust it a bit more, too.
Trust is only part of the appeal, though. BitBuy is arguably the most-established crypto exchange within Canada - as of writing this "How to Buy Bitcoin in Canada?" tutorial, the platform houses over 400,000 Canadian users, and boasts over $5 billion in cryptocurrencies traded. These aren't rookie numbers, by any extent of the imagination!
Table: Some general information about the features of the BitBuy cryptocurrency exchange
BitBuy offers Canadians a wide array of coins and tokens to be traded and exchanged - even if you're focused on the best way to buy Bitcoin in Canada, it's good to know that there are going to be more asset options available. The exchange also takes security very seriously, employing cold storage, strict regulations, and other industry-standard security measures on all of its services.
All in all, both Binance and BitBuy are excellent choices for anyone who's looking at how to buy cryptocurrency in Canada. At the end of the day, your own, personal choice would boil down to certain preferences - some people would prefer to use a platform that is located in the same country, while others - a global exchange that's often considered to be the best of the best.
Buying Crypto in Canada: Binance
Now that you're familiar with both Binance and BitBuy, it's time to take a closer look at how to buy Bitcoin in Canada with both of these exchanges.
In order to keep things on-topic, and not go down the rabbit hole of the various features and functions that both exchanges possess, we'll focus solemnly on the crypto acquisition process. On top of that, I'll also assume that you've never traded crypto before, and that, in a very general sense, you're a beginner in the space. Thus, we'll start out with the registration process, and make our way from there.
Since Binance is the more-recognizable name, as far as crypto trading and exchanging is concerned, that's the platform we'll start off with.
Step 1: As noted above, the very first thing that you'll need to do is register on the Binance exchange platform. Make your way to the exchange (you can find it here), and click the "Register" button at the top-right side of the page.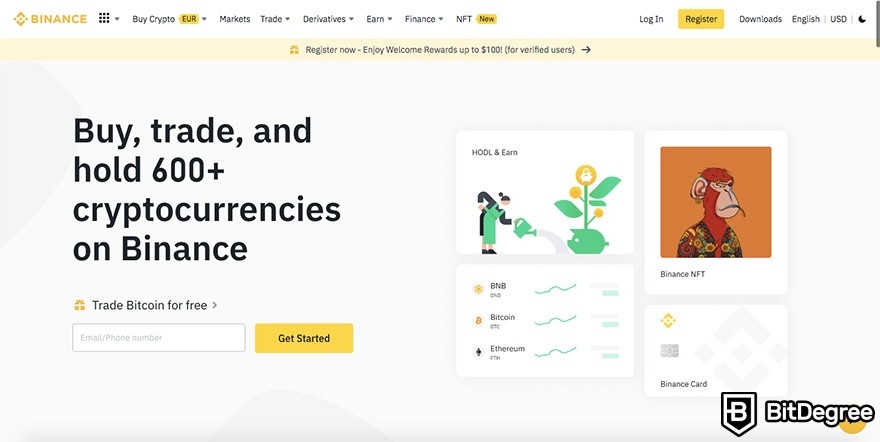 Step 2: Here, you may choose to sign up with an email address and phone number, or with a Google or Apple account. For the sake of this "How to Buy Bitcoin in Canada?" tutorial, let's go with the email route.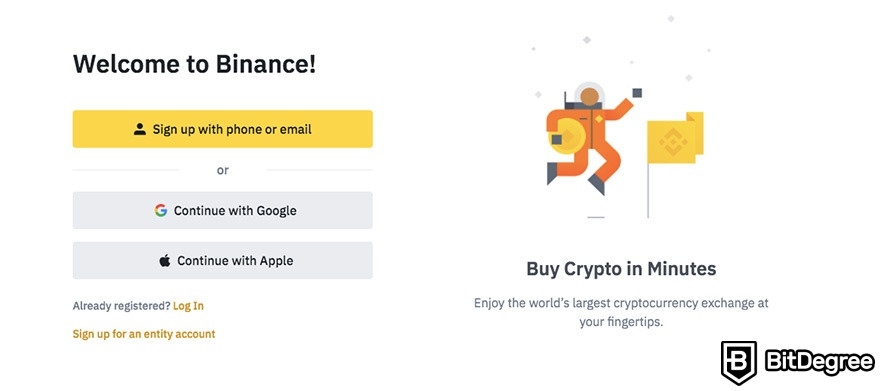 Step 3: From this point onwards, the registration process is pretty self-explanatory. You enter your email address & create a password, and then verify your email, as you would with any other service. After all of that is done, you will find yourself on your main Binance dashboard.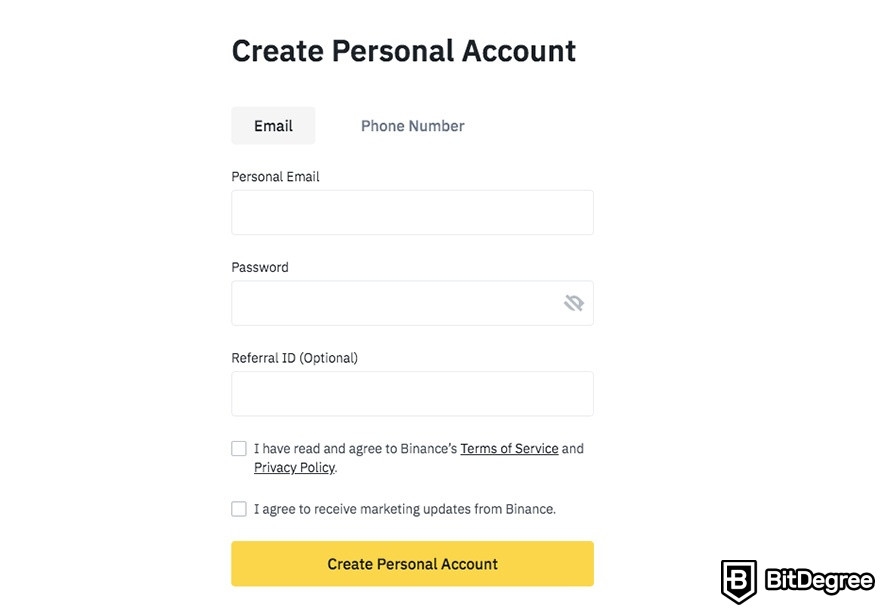 Step 4: Now, before you do anything else, you need to pass the aforementioned KYC verification checks. Binance is actually quite aggressive in this regard - you won't be able to do much of anything, as long as you don't have at least the basic verification complete.
From your dashboard, navigate to the "Identification" tab. This is where you need to fill out all of the required KYC information - your full details, a copy of your ID, residential address, and so on.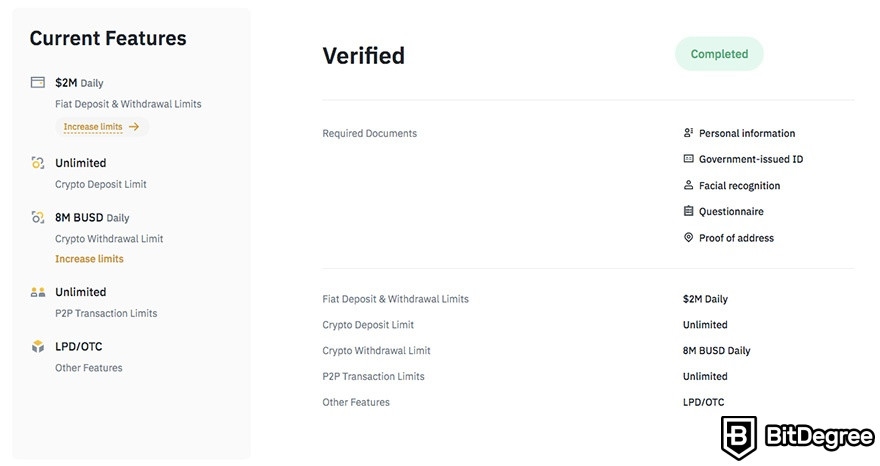 Once you fill out all of that required information, and submit it to Binance, you'll need to wait until your KYC documents are confirmed. Usually, this doesn't take a lot of time, whatsoever.
Once your info is (hopefully) confirmed, the entirety of Binance will become available to you, to utilize as you please!
Step 5: Now - on your main Binance dashboard, you will notice a designated account funding interface. This is where the answer to the question of how to buy Bitcoin in Canada lies - click on the orange "Buy" button.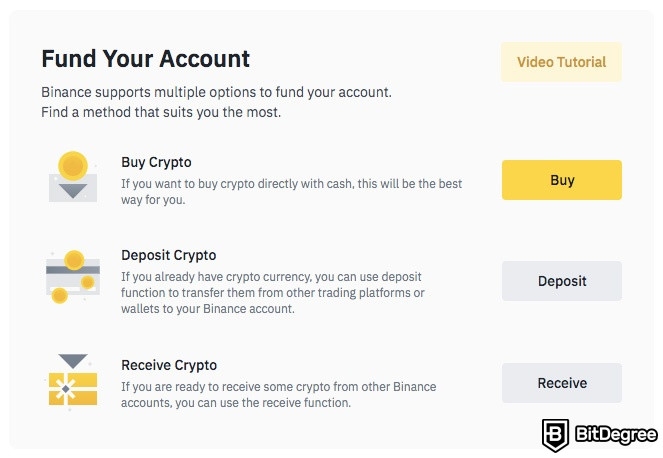 Step 6: You will now be presented with an interface where you can choose the currency that you'd like to spend, the crypto asset that you'd like to receive, and also adjust the numbers, as well. Entering an amount of money that you'd like to spend will automatically generate a preview of how much BTC (or any other crypto) you can expect to receive.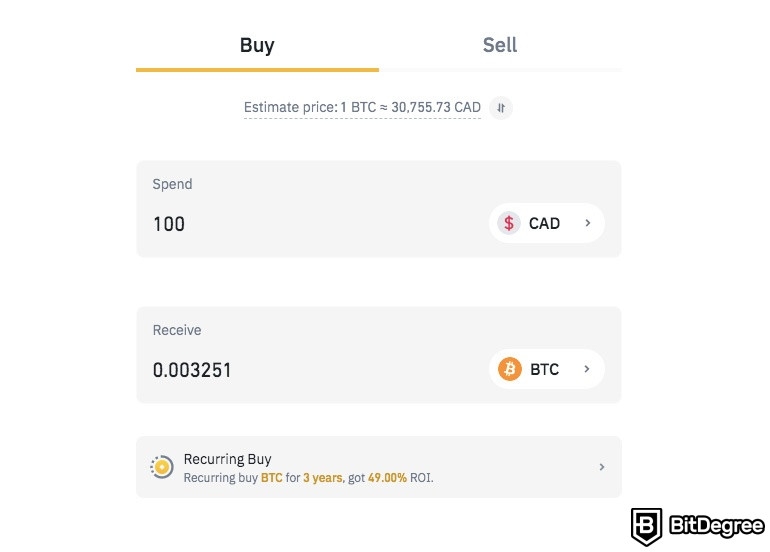 Step 7: Once you have all of that information sorted and figured out, you will then need to pick a payment method. This is where you will be asked to add a credit or debit card, too, if you haven't done so already.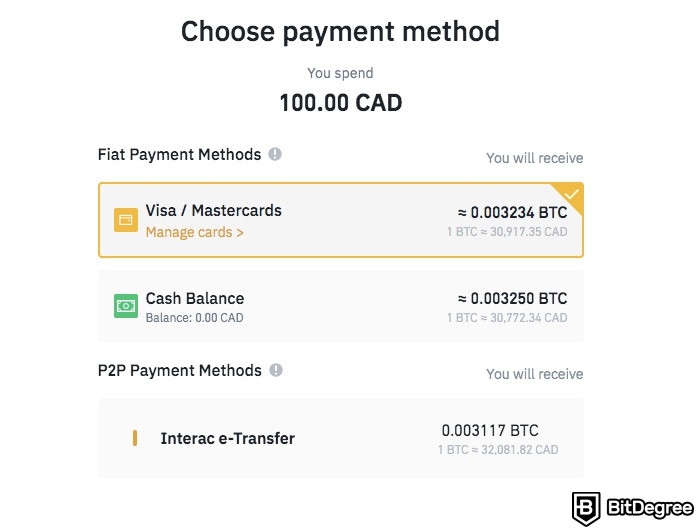 Step 8: Finally, once you make the payment, your newly-acquired BTC coins will appear in your account shortly.
As you might have noticed already, the process of how to buy Bitcoin in Canada with Binance isn't at all different than if you were to make the same purchase from any other country. Registration, KYC verifications, payment method addition, and so on - it's all frankly the same!
This is good, since it eliminates any and all potential confusion. It's also to be expected, though, granted that Binance is a global exchange, and thus, puts a lot of effort into making their interfaces customizable, yet still universal, to an extent.
From a more-general perspective, the actual process of acquiring crypto with Binance is super-straightforward, as well. Thus, even if it's your first time using a cryptocurrency exchange platform, you should encounter any difficulties, whatsoever.
BINANCE

A Comprehensive User Center that Displays All The Information You Need in One Place
Visit site
Read review
Table: Features of the Binance crypto exchange
This is actually especially so true when it comes to learning "where can I buy Bitcoin in Canada?". That is, once again, because of the crypto regulatory climate that's present within the country. Since there aren't any major restrictions on what people can do with their crypto assets, it makes it far less stressful to trade and exchange them, too.
All of that being said, the point that I'm trying to make is simple - if you're looking for how to buy Bitcoin in Canada, Binance should definitely be "up there", on your list of potential exchange and trading platforms. That's true both in regards to all of the legalities, as well as the actual functionality of the exchange, too!
Buying Crypto in Canada: BitBuy
With Binance discussed and analyzed, we do need to also look into another cryptocurrency exchange platform that could be used to answer the question - how to buy cryptocurrency in Canada? That platform is BitBuy.
Without wasting much time, let's take a look.
Step 1: Go to BitBuy's official website (find it here). From the front page, navigate to the top-right corner of the screen, and click "Get started".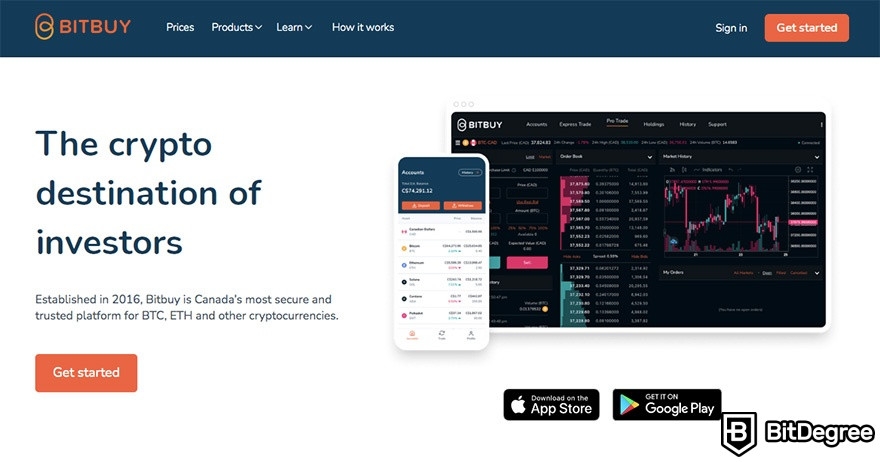 Step 2: Enter your email address in this new window, and click "Sign up". You will be redirected to a page where you'll need to enter your phone number, as well as create a unique username and password. Do keep in mind that only Canadian phone numbers will suffice!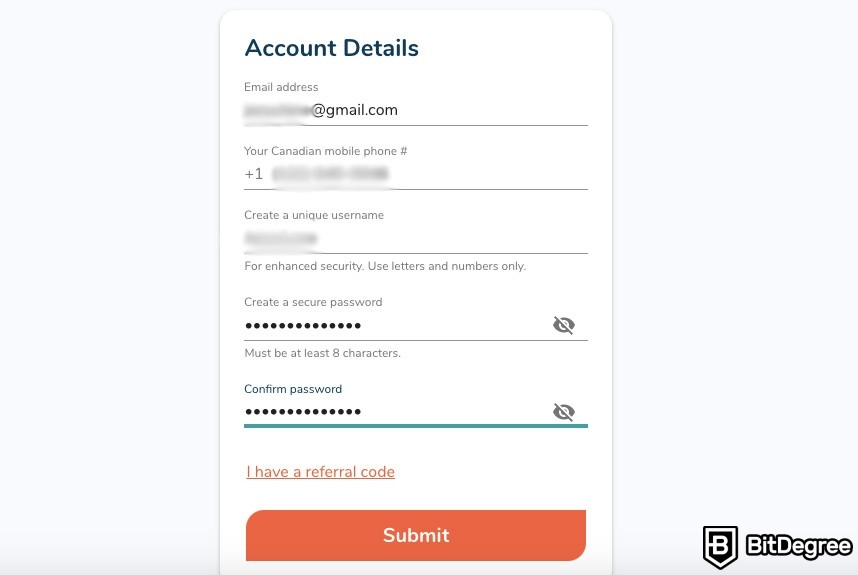 Step 3: Next, you will need to enter the verification code that you've received from BitBuy, in the form of an SMS message.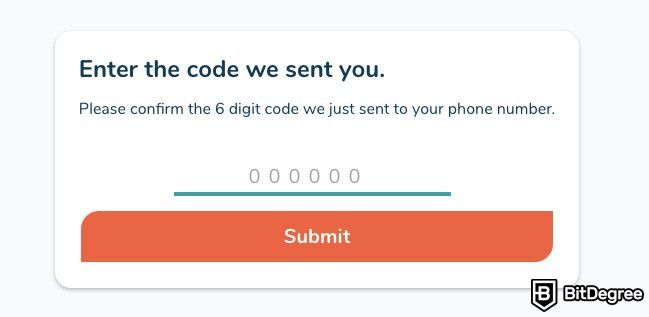 Step 4: Once all of that is done, you'll be redirected to your dashboard. Now, same as with Binance, the next step is to pass the required KYC verification checks.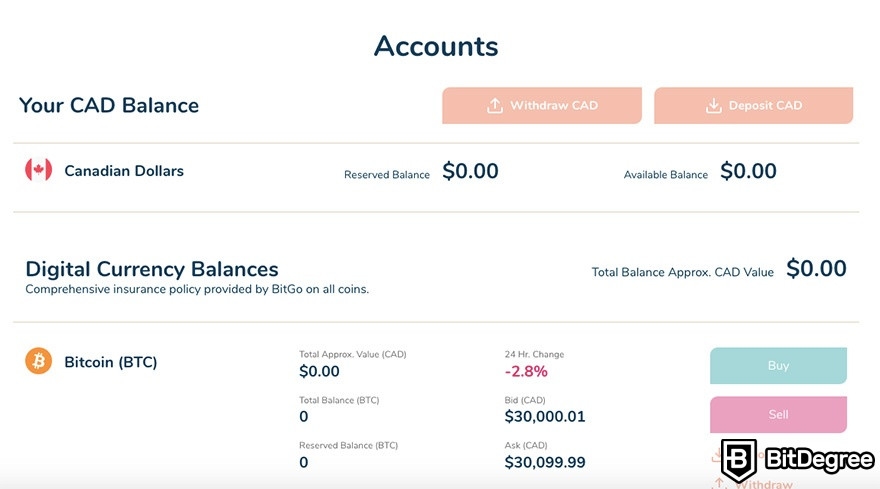 These KYC checks are going to be on par with those of the aforementioned exchange, too. In other words, BitBuy doesn't hold anything back - you'll need to provide the exchange with your full name, occupation, address, as well as a valid ID or driver's license. Additionally, you will also be required to take a photo of yourself, as well, in order to verify the authenticity of your persona.
After you finish filling all of the points required to pass the KYC verification, your account should be verified shortly (assuming that you've entered all of the correct information). Once that's done, you'll be able to access the rest of the exchange.
Step 5: Now, in order to figure out how to buy Bitcoin in Canada with BitBuy, all that you really need to do next is go to your dashboard, and in the "Bitcoin" tab, click on the "Buy" button.

The rest of the process is very simple and self-explanatory. It's also not too dissimilar to that of Binance, either - you will be asked to fund your BitBuy account (with a credit or debit card), choose the amount of BTC that you'd like to purchase, and then confirm your transaction, at the very end.
That's really all there is to it! Same as with Binance, your new crypto funds should reach your wallet shortly. You now know how to buy Bitcoin in Canada!
Crypto Exchanges VS Real-World Trades: Choose Wisely!
Anyone who's asking "where can I buy Bitcoin in Canada?" will, naturally, come across cryptocurrency exchange platforms - be it those that we've discussed in this article, or some others. That being said, though, a pretty popular method of getting yourself some crypto is to go out, and purchase it from an actual person, in the real world.
This can either be a really bad idea, or a decent one. It all depends on how you approach it.
In a very broad sense, going out, meeting strangers, and performing financial transactions with them is a bad idea - I don't really think I need to tell you why that's the case. You could get scammed, your cryptocurrencies or fiat money could get stolen, or it could end much worse - you get the idea.
Table: Some general information on the BitBuy crypto exchange
Now, with that being said, there is a way how you could participate in such transactions, with relative safety. That way is called P2P (or peer-to-peer) trading - it's a feature that's available with Binance, too.
Essentially, if you use Binance, you can check out all of the latest offers from your area - granted that you're looking at how to buy Bitcoin in Canada, you could assume that there are going to be vendors in a country as big as this. All of the merchants that reside on Binance P2P have been vetted, and are considered to be legit.
Even if that's the case, though, Binance themselves have multiple warnings about being cautious when agreeing to participate in an in-person transaction. These warnings shouldn't be taken lightly!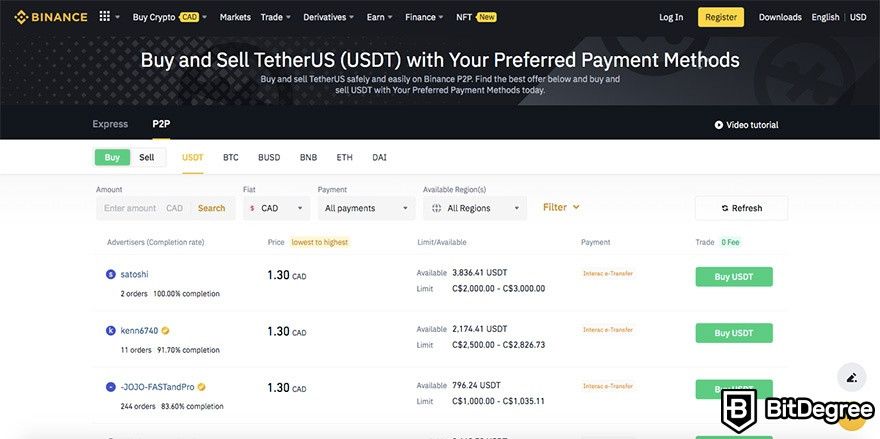 All of that being said, however, while figuring out how to buy Bitcoin in Canada could lead you to perform in-person transactions, in the vast majority of cases, your best bet is to stick with a reliable exchange platform, such as Binance or BitBuy.
Think about it yourself - if you choose to trade crypto on an established exchange, this is going to be a much safer and more-reliable alternative than going out and meeting random people. Sure, you could miss out on some "great deals" - in the long run, though, the traditional way of trading crypto is still the superior alternative, all things considered.
It's also worth mentioning that, while we've focused on two specific exchanges in this particular "How to Buy Bitcoin in Canada?" tutorial, that doesn't mean that there aren't other alternatives out there, either. All that you need to do is go and check my dedicated list of the best cryptocurrency exchanges operating in the country - you'll find a healthy list of various different platforms, each with their own benefits and features!
CEXs VS DEXs
One final point that I'd like to clear up, in regards to people asking "where can I buy Bitcoin in Canada?", is that of centralized and decentralized exchanges, or CEXs and DEXs.
Same as with anything else in crypto, both of these types of exchange platforms are going to cater to different types of people, too. CEXs are something that we've actually covered already, in this article - both Binance and BitBuy are considered to be centralized exchanges, since they both have established companies operating behind them.
DEXs, on the other hand, have no one, specific company that would oversee them. Hence, they are decentralized, and do not employ KYC verification checks - in other words, you could trade on the exchange while remaining anonymous in doing so.

Sound pretty cool, right? Well, as with everything else, there's always more to the story.
If you were to use an established CEX, you could remain relatively sure that your funds and trades are safe and protected, as well as that you won't face legal trouble with tax collectors and similar authorities. That's because, with DEXs, you are responsible for taking care of your tax statements, at the end of the year (or at any other designated point in time).
If you fail to show the relevant tax authorities where the money came from, you could face all kinds of issues. To top that off, it's not always simple to prove that you were the one performing those transactions, either - after all, they were completely anonymous!
BINANCE
BITBUY

A very well-known crypto exchange platform
More than 500 different cryptos available
Two-factor authentication
P2P trading option
Emphasis on security and KYC
Supports fiat-crypto acquisitions

First regulated crypto exchange in Canada
Fiat support
Mobile app available
Suitable for beginners and advanced traders
Over 98% of user assets stored in cold storage
An insurance policy provided by BitGo

Might be a bit difficult for beginners

Only 17 supported cryptocurrencies
Canadian-only platform

Visit site
Read review
See TOP10 Brands
Read review
Table: Some general pros and cons of both Binance and BitBuy crypto exchange platfomrs
Admittedly, though, the Canadian regulatory environment surrounding DEX is a bit unclear, too. With crypto laws and regulations becoming increasingly stricter by the day, though, most people will likely turn towards the safer options.
One last thing to add to all of this is that, with DEXs, you can't really "buy" Bitcoin, or any other cryptocurrency, with fiat money. That's due to the fact that decentralized exchanges act as trading interfaces for two crypto assets - you can't use Canadian dollars, or any other fiat currency on a DEX. This, in turn, makes their use cases to be a bit more niche.
Indeed - DEXs are a bit more professional-oriented, in general. If you know what you're doing, a proper DEX could be really useful, for all of your trading ventures. However, if you're just figuring out how to buy Bitcoin in Canada for the first time, and haven't ever traded crypto before, well… It's probably a better idea to stick to well-known and established platforms.
Conclusions
So, then, to recap - what are the best ways to buy Bitcoin in Canada?
Well, for starters, there are three big methods that you could go about utilizing - traditional cryptocurrency exchanges, decentralized exchanges, and in-person crypto acquisition. Without a doubt, out of the three, traditional exchanges are "the way to go", for most people.
DEXs can be a great tool, but if you're not exactly sure how everything works, they can also be a source of a lot of confusion and trouble. Furthermore, you can't really "buy" Bitcoin, or other cryptocurrencies on a DEX - instead, you can only trade crypto assets for some other coins or tokens.
P2P (in-person) trading-wise, there are other potential hurdles to consider, as well. While it may seem like an appealing way to get some great deals, more often than not, it's a huge headache, but in regards to the convenience factor of the entire process, as well as your own, personal security.
All of those issues are solved and eliminated with traditional exchange platforms, such as Binance or BitBuy. Both of these exchanges offer some high-end functionality to their users, and are also both quite well-established within the industry.
Binance is one of the top-rated crypto exchanges, in general, while BitBuy is a Canada-specific exchange platform. So, if you're looking at how to buy Bitcoin in Canada, you are able to choose the platform that suits your wants and needs best.
If neither of the two exchanges appeal to you, there are other alternatives, as well - make sure to check out our list of the best crypto exchanges in Canada, in order to find the right pick for yourself! With that said, thanks for reading, and until next time!
Leave your honest feedback
Leave your genuine opinion & help thousands of people to choose the best crypto exchange. All feedback, either positive or negative, are accepted as long as they're honest. We do not publish biased feedback or spam. So if you want to share your experience, opinion or give advice - the scene is yours!