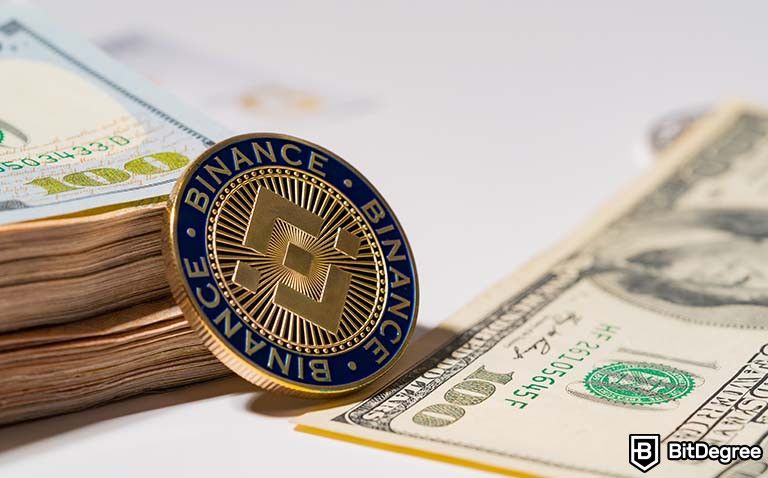 In recent times, cryptocurrencies have become so popular that there are currently countless methods of how you can earn yourself passive rewards, in the form of crypto coins and tokens. With new methods coming out every so often, most people tend to look for the easiest and most hassle-free methods to earn passive crypto gains. The Binance cashback card is one such method.
For the longest time now, cashback has been a really cool way of saving a bit of money, in the most passive method possible. After all, you don't really need to do anything different, in order to receive a cashback, on, say, your credit card - simply make the same purchases as you always do, and the passive earnings will start flowing!
Binance takes this to another level, both in regards to the numbers of the Binance cashback card, as well as the integration of crypto into the entire ordeal. I'm getting ahead of myself, though - let's take it from the top, and explore the concept of cashbacks, in general! Make sure to read until the end, in order to find out how you can get up to $600 worth of cashback voucher, with the new Binance sign-up trading bonus!

Did you know?
Want to get smarter & wealthier with crypto?
Subscribe - We publish new crypto explainer videos every week!
DEX vs CEX: Which is Best for YOU? (Explained with Animation)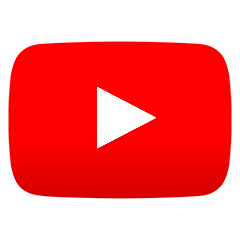 Cashbacks - A Way to Save Money Passively?
Before we can dive deep into the Binance cashback card, as well as the cashback vouchers available on the platform, we should first establish some common ground on just what a "cashback" is, exactly.
Latest Binance Coupon Found:
CLAIM $600 BONUS
Exclusive $600 Binance Offer
Don't miss this limited-time deal that's only available for our readers. Follow the Binance referral code link & receive up to $600 in rewards and bonuses!
Expiration date: 01/04/2023
7,847 People Used
Only 49 Left
While it may seem like a pretty self-explanatory concept to some people, admittedly, there are a lot of misconceptions floating around, as to what is considered to be a "cashback". To clear those misconceptions up, you can look at it this way - a cashback is when you receive a small amount of money (or some other financial asset) simply for shopping and spending your own money.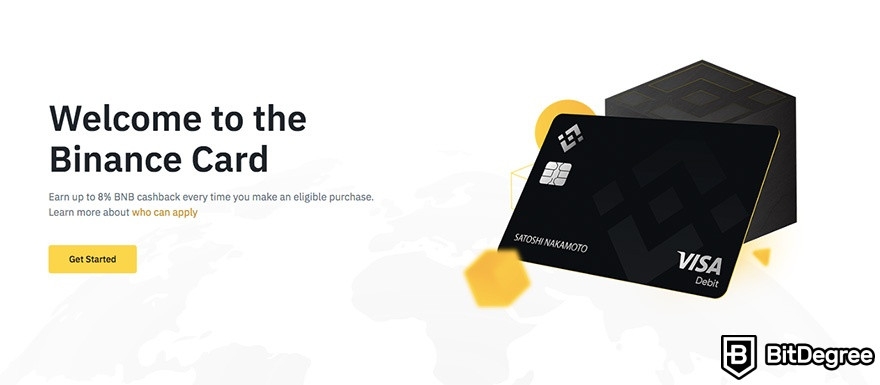 Cashbacks are usually associated with credit cards. While they won't exactly be a good money-saving tool (since you need to spend money to receive them), they can still offer pretty good mitigation of your expenditures, in the long run.
Granted that you're looking for the Binance cashback card, or even the Binance cashback voucher, you probably know, though, that cashbacks aren't limited to credit cards, and traditional fiat money. With the growth of the crypto industry, this concept has become adapted to fit this particular market, as well.

Following that, Binance is often hailed as one of the major leaders in the space, when it comes to crypto card- and cashback-related innovations. Since crypto cashbacks can come off as being quite a bit more complicated than your regular credit card cashbacks, it makes sense that people are trying to figure out how to use Binance cashback vouchers and cards.
Speaking of which, if you came to this article looking for information regarding the Binance vouchers, worry not - we'll talk about them, as well. First, though, let's focus on the Binance cashback card.
The Binance Cashback Card: Setting the Stage
As I've mentioned above, in this article, we're going to discuss two separate services available with Binance - the Binance cashback card, as well as the cashback vouchers.
Note that both of these concepts are actually quite different. While they do both include the term "cashback", this specific feature works somewhat differently with the card than it does with the actual vouchers.
To start things off, though, in order for you to receive any cashbacks, in general, you're going to need to register on the Binance exchange, pass the KYC checks, and then order your card. Let's explore this process further.
Getting Yourself the Binance Card: Registration, KYC, Placing the Order
Now, granted that this is a tutorial on how to get and start using the Binance cashback card, I won't get into too much detail in the entire registration process of the exchange. If you'd like to learn more about this, we've written separate articles on the matter - check them out!
Here, though, let's instead glace through the registration process semi-quickly, and move on to the actual card acquisition.
Step 1: In order to register on Binance, you're going to need to navigate to the company's official website, and click the "Register" button at the top-right side of the screen. You'll need to fill out some basic information, confirm your email address, and create a password.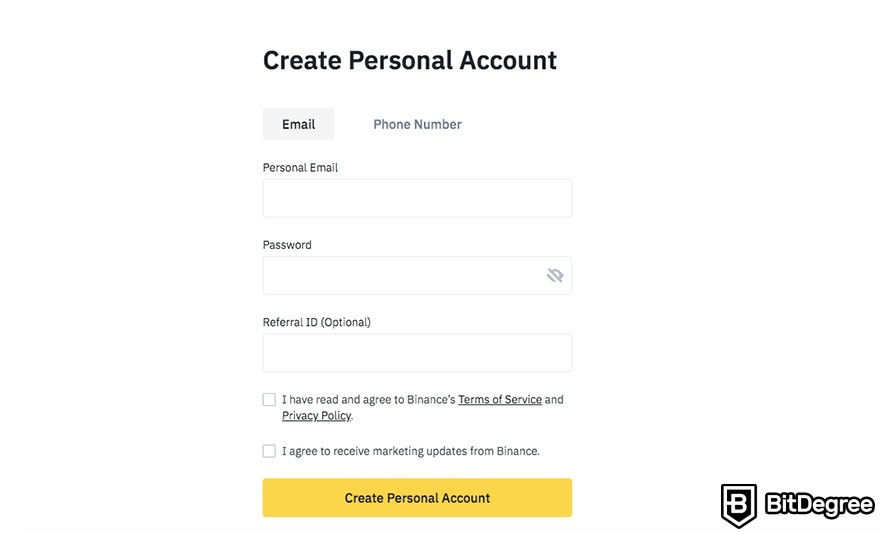 Step 2: Now, before you do anything else, this is where you should take the time and pass the KYC verification checks.
KYC stands for "Know Your Customer". As you might already know, it's a set of strict rules that will require you to provide the exchange platform with some personal information about yourself - "dox" yourself, if you will. This information will include things such as a photo of your ID, residential address, and so on.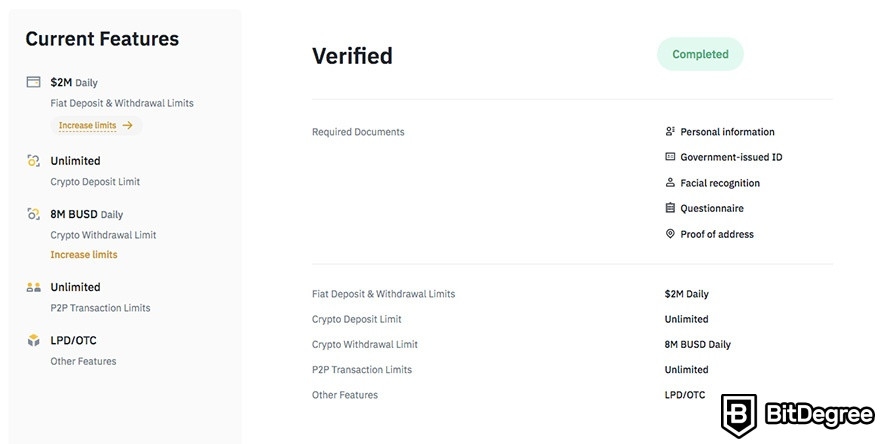 After you pass the initial KYC checks (in other words - when they are confirmed by Binance), this is when you can start looking into getting yourself the Binance cashback card.
Step 3: With your account being all set up, there's but a single thing that's left to do, before you can order a Binance VISA card. If you still haven't done so, you will need to add your phone number to your account. The number needs to be issued in one of the EEA countries, however - that's an important factor!

That's simply due to the fact that not everyone is going to be able to order a Binance Card. You need to be located in one of the supported countries - you can find the list of these countries on Binance; however, if you reside in the EU, chances are that you're good, in that regard.
Step 4: After you've finalized all of the preparation processes, you can head over to the "Finance" tab at the top of the exchange's header menu, and click on "Binance Card".

You will be redirected to a separate page where, if you've done all of the things that we've discussed up to this point in the tutorial, you'll be able to start ordering your Binance cashback card.
Step 5: The ordering process is, admittedly, quite simple. You'll need to think of a custom PIN code, and confirm your residential address. It won't suffice to simply enter the address into the field, however - you will also need to provide Binance with a recent utility bill, so that you could prove that you actually live there.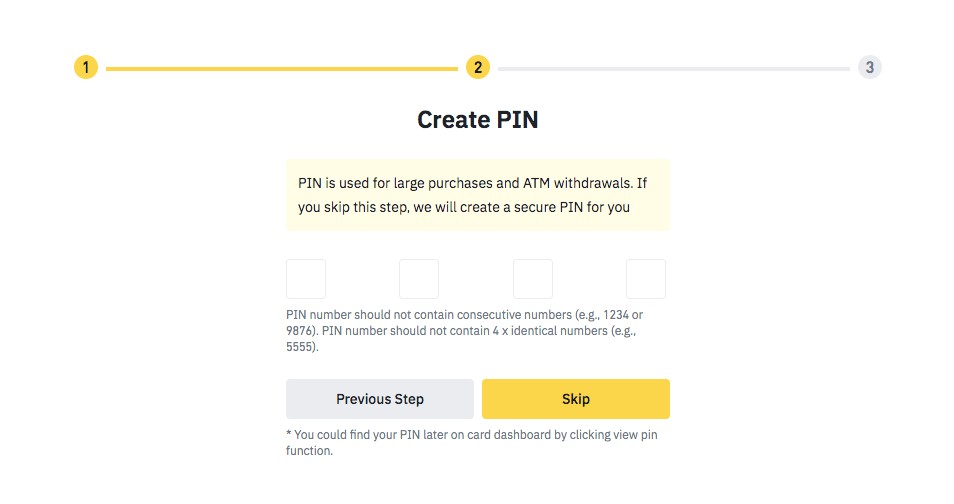 Step 6: Upon finalizing all of your information, you'll be able to review everything, and submit your application for the Binance cashback card. If it's accepted, you'll receive your virtual car immediately.
It may take up to 3 weeks for the physical card to arrive. Once it does, all that you need to do is activate it, and that's frankly it - you'll be able to start using your Binance cashback card for all of your purchases! Well, assuming that you have crypto in your card-designated Binance Funding Wallet, that is.
How Does the Binance Card Work?
Now that you have your Binance cashback card in-hand (or, perhaps you're still just waiting for it to arrive, but you've already placed the order), let's talk about how will it actually work.
Essentially, you can expect the Binance Card to function in a very similar manner as your normal, everyday debit card. You'll be able to pay for your purchases at the shop, order things online, and even get money out of most ATMs in Europe.
The one area where things are going to be quite different with the Binance cashback card, however, is the place where your money is going to come from. Traditionally, that would be your bank account. With the Binance Card, though, you'll be able to instantly convert cryptocurrencies to fiat money, and make your payments this way.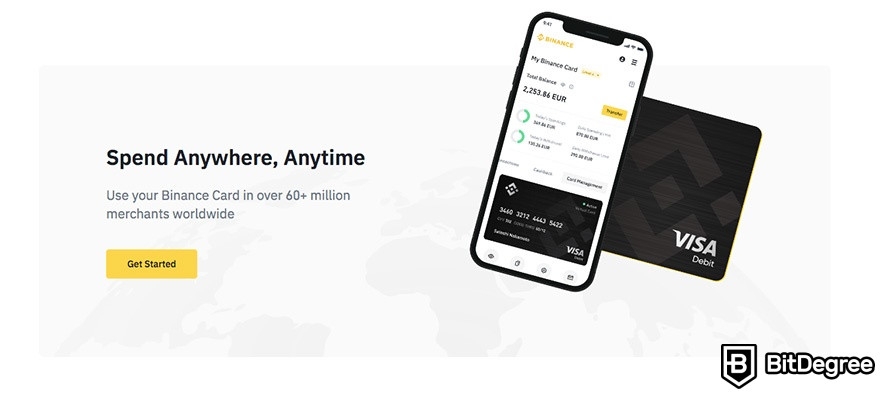 Note that there are specific crypto assets that can be converted to fiat money this way - most of them are stablecoins. Also, they need to be located in (transferred to) a designated wallet area on your Binance account. Still, however - this is a huge innovation!
In order to top your card up, you'll simply need to transfer funds from your Spot wallet into the Funding Wallet. The entire process is very simple and self-explanatory, and you shouldn't face any issues, assuming that you already have the correct crypto funds in your Spot wallet.
The rest of the card-related dashboard is quite simple to navigate through, as well. You can freeze your card, update your contact information, manage your spendings, and so on - it's all rather straightforward!
How to Use the Binance Card Cashback?
Once you receive your card, you will immediately be able to use the cashback feature on it. Well, "using the feature" might not be the correct wording here - instead, as you perform certain purchases and transactions with your newly-acquired card, Binance will decide which transactions are eligible to count towards the cashback.
Then, as the month passes, you'll receive the cashback rewards into your account. Simple, isn't it?
Well, not quite. As with anything else, there are extra conditions that need to be met and fulfilled.

For starters, you will need to hold BNB coins in your Binance account, in order to even be eligible to receive the cashback. Depending on how much BNB it is that you hold, you'll be able to ascend the Binance cashback levels.
This is a special system that Binance have put in place, in order to determine how big of a cashback each individual Binance cardholder will receive. The levels look like so:
Level 1 - 0 BNB Monthly Average Balance - 0,1% BNB Cashback
Level 2 - 1 BNB Monthly Average Balance - 2% BNB Cashback
Level 3 - 10 BNB Monthly Average Balance - 3% BNB Cashback
Level 4 - 40 BNB Monthly Average Balance - 4% BNB Cashback
Level 5 - 100 BNB Monthly Average Balance - 5% BNB Cashback
Level 6 - 250 BNB Monthly Average Balance - 6% BNB Cashback
Level 7 - 600 BNB Monthly Average Balance - 8% BNB Cashback
So, even if you don't hold any BNB in your account, you could still be eligible to receive 0,1% monthly cashback, depending on your purchases.
On the flip side, the more BNB you hold, the better will your cashback percentage be, too! The great thing about this is that you don't need to re-purchase BNB coins every month, or perform any other complicated processes - as long as you hold the designated amount of BNB coins, you will be eligible for the cashback.

There is, however, a catch, as far as the Binance cashback card is concerned. That "catch" comes in the form of a monthly cap.
Specifically, there is going to be a cap on how much cashback you can earn every single month. This cap will depend on your level, and looks a little something like this:
Level 1 - €5
Level 2 - €100
Level 3 - €150
Level 4 - €200
Level 5 - €275
Level 6 - €350
Level 7 - €500
So, in short, the maximum amount of cashback that you can earn every single month is €500, if you hold at least 600 BNB. Even that is going to be out of reach for most people, since 600 BNB does come out to be a lot of fiat money (depending on when you're reading this, of course)!
However, even if you fall into one of the lower Binance cashback levels, and have a much smaller cap on your monthly earnings, this still doesn't take away the fact that you're able to earn money without really doing anything! As you perform your daily shopping activities, you earn passive income, over time - that's very cool, no matter how you look at it!
The Binance Cashback Vouchers
Now that you have a pretty good idea of what are Binance cashback cards, how to get the card, and how these cards work, in general, let's move on to the second part of this tutorial, and discuss the Binance cashback vouchers.
As far as this particular cryptocurrency exchange is concerned, the cashback vouchers can be viewed as a sort of a gift card - one that you can redeem, and receive special cashback-related benefits.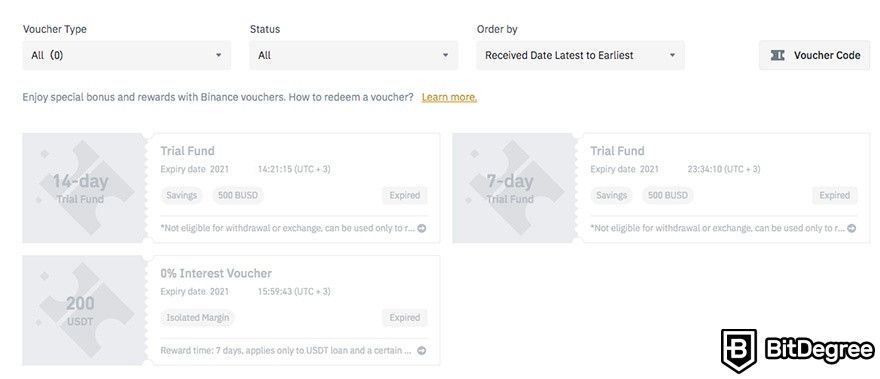 The Binance cashback vouchers are mostly sought-after by individuals who are looking to participate in active crypto trading on Binance. This is because many of these vouchers are related to just that - trading, in some way, shape, or form. The most common vouchers that you might find include, but aren't limited to:
Cash Voucher (general) - this is probably the most sought-after type of Binance voucher that you could come across. With this particular voucher, you will be able to redeem a certain amount of crypto (usually, in the form of USDT) for any type of trading account that you'd wish - spot, margin, futures, and so on.
Trading Account-Specific Voucher - these vouchers will provide you with a designated amount of crypto, for a specific account that you might have. So, for example, a Spot voucher will only be redeemable in a Spot trading account, and so on.
0% Interest Voucher - this is a specific margin trading voucher. With it, you will be able to trade with borrowed funds, with a 0% interest rate. Naturally, this type of a voucher is mostly going to be used by advanced-level traders and crypto investors.
One more point that we need to cover, as far as the Binance cashback vouchers go, is the fact that there are generally two big types of these cashbacks available - some vouchers will only be redeemable once you "meet their sum", while others will fund your designated account immediately.
So, for example, let's say that you have a $5 worth of a Spot trading voucher. In the first situation, you would be able to redeem it as soon as you'd fund your Spot trading account with $5 of your own (so, you'd have $10, in total). With the second situation, though, that $5 voucher would activate immediately - no need to fund your account, or perform any other actions!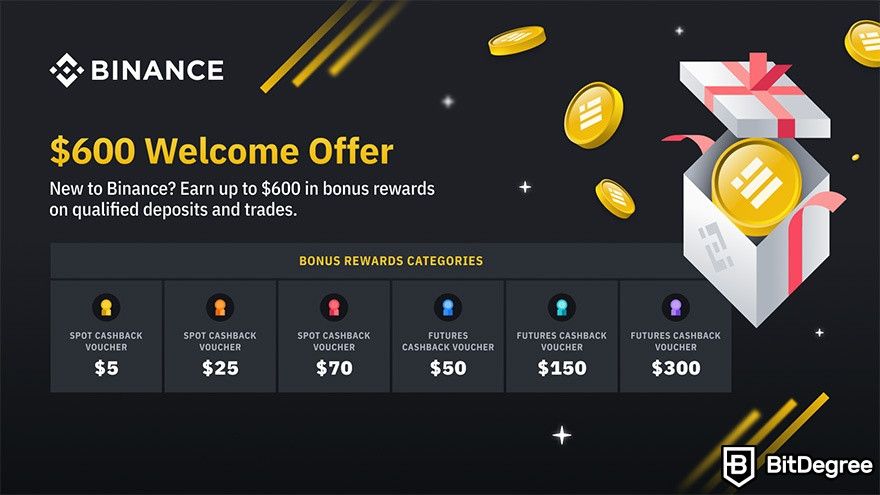 While the second type of Binance vouchers might be quite a bit more sought-after, in most cases, you will encounter the first type. Either way, the deals are amazing, and the sums of crypto that you get could get really significant!
The new Binance sign-up bonus is a great example, actually. As mentioned in the introduction of this tutorial, this is an insane trading bonus that Binance hands out to all new individuals who sign up on the platform, and complete a few specific steps. Once you finish off your registration and KYC checks, you'll be able to redeem up to $600 worth of Binance cashback vouchers!

Did you know?

Pros
Can be managed from mobile device
Very secure
Supports more than 1500 cryptocurrencies

Pros
Top-tier security
DeFi app support
Store over 5500 assets, install up to 100 apps simultaneously
How to Redeem the Binance Cashback Voucher Rewards?
In order to become eligible for the Binance sign-up cashback reward, and to be able to redeem any other voucher on the Binance exchange, you will need to perform a few different tasks. While each voucher has its own conditions, let's focus on the sign-up bonus - in order to receive it, you will need to create an account, pass the KYC verification checks, fund your wallet, and finish things off with a few other tasks.
Step 1: To start things off, naturally, you'll need to create a Binance account, and pass the required KYC processes. Once again, if you're not sure how to do so, you can check out my dedicated tutorials on the topic.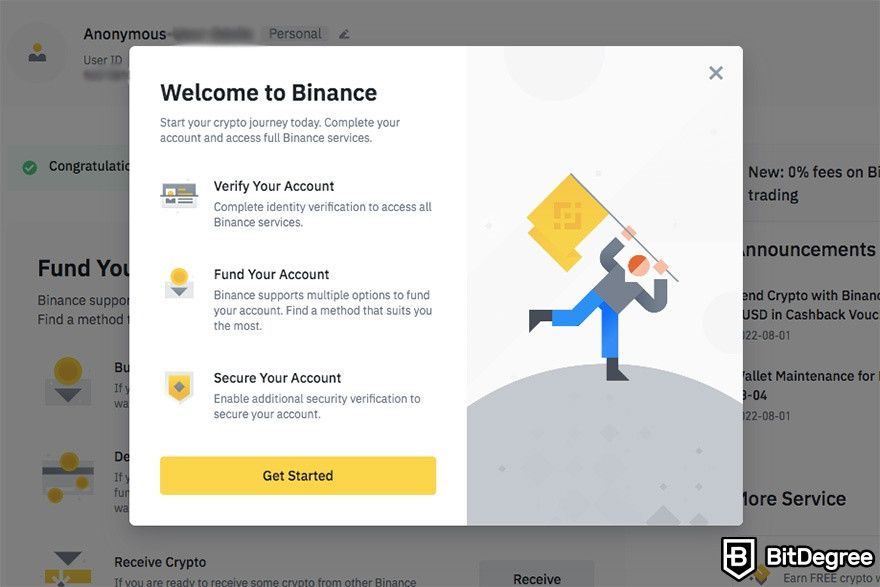 Step 2: After you have your account all set up and ready to go, what you'll need to do is go and visit the Task Center. You can find it in your profile section.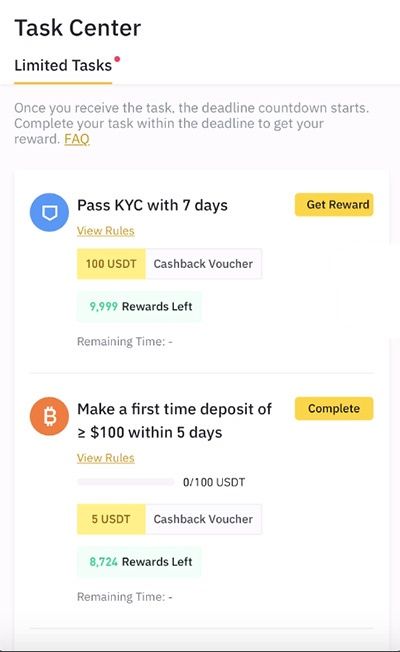 Step 3: If you've just created your account, and are eligible for the sign-up bonus, you'll see limited-time tasks in this section. Some of the tasks should already be completed (i.e. create an account, pass the KYC checks), so all that you need to do now is simply press "Get Reward".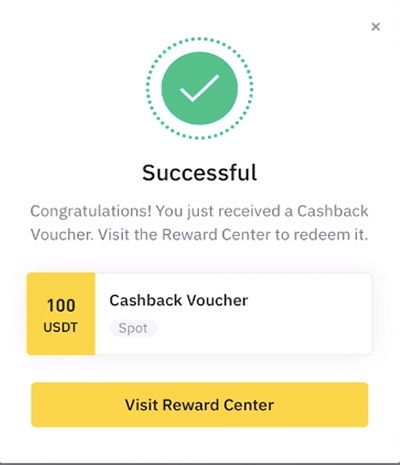 Step 4: After a few seconds of buffering, you should receive a pop-up, stating that your reward has been redeemed successfully. Congratulations!
Step 5: Now, you can either start utilizing your reward, or continue down the task list, and see what else you can complete. Some of the tasks involve trading pretty significant amounts of money throughout a designated timeframe - by completing them, you'll move towards the $600 worth of Binance cashback voucher!
The Binance Cashback Card VS The Binance Voucher: Which is Better?
One of the bigger discussions that you might notice online has to do with Binance users comparing the ​​Binance cashback card with the voucher. Specifically, which of the two is going to be better?
Admittedly, this is a pretty odd discussion - both concepts are quite different from one another, and will thus suit different types of people. At the same time, they aren't mutually exclusive, either - you could go ahead and learn how to use Binance cashback vouchers, while utilizing the services of the Binance Card, as well!
The Binance Card is going to be useful for, well… Practically everyone! No matter if you're a hardened industry veteran, and are most-interested in trading cryptocurrencies as a full-time thing (i.e. aspire to be a day trader), or you're just starting out with crypto, with the Binance Card, you'll be able to start integrating crypto into your everyday life. This is a huge benefit to consider!

On the flip side, the Binance cashback vouchers are a bit more audience-specific. By that, I mean that these bonuses are mostly going to be useful to anyone who wants to participate in cryptocurrency trading activities, whether it be Spot trading, margin, futures, or else.
That being said, though, it's still worth acknowledging that the Binance sign-up bonus is surely a useful gift for most individuals. If you plan to trade crypto in any way, shape or form, it's one of the best opportunities to register on Binance!
As a last point, I do also want to mention that you may perfectly well use both the Binance Card, as well as the vouchers. The card would allow you to go about your daily life, and earn crypto passively, while the vouchers would be more of an active benefit for all of your crypto trading wants and needs.
Conclusions
As you've probably gathered from the general sentiment of this tutorial, crypto is becoming more and more mainstream, by the day. Not only is it being integrated into the mainstream, but there are multiple crypto-first brands that are paving the way for how crypto tech would be used by anyone and everyone, no matter what your preferences might be.
Binance is the perfect example of one such brand.
While the company offers its users a variety of different products and services, the Binance cashback card is probably one of the most all-inclusive of the lot. Even if you're just starting out with crypto, and are trying to figure out what everything means and how it all works, the card will allow you to both have a smooth entryway into the industry, as well as enjoy many of the perks associated with crypto, in general.
Table: Some general Binance exchange company information
As far as the Binance cashback vouchers are concerned, this concept is a great incentive for people to learn how cryptocurrency trading works, while being able to get a few extra resources for all of their trading wants and needs. This is especially true with the current Binance sign-up program - with up to $600 worth of crypto to snatch, it's surely one of the most-generous programs of its kind!
All in all, if you're looking to start with Binance, make sure to check out my tutorial on the registration and KYC processes associated with the exchange in question. Also, don't forget that Binance has a variety of other services to offer to its user, too - everything from an NFT marketplace, all the way to staking, P2P trading, and much more!
Thanks for reading this tutorial on the Binance cashback card, and on how to use Binance cashback vouchers. Good luck with your crypto journey, and until next time!
Leave your honest feedback
Leave your genuine opinion & help thousands of people to choose the best crypto exchange. All feedback, either positive or negative, are accepted as long as they're honest. We do not publish biased feedback or spam. So if you want to share your experience, opinion or give advice - the scene is yours!