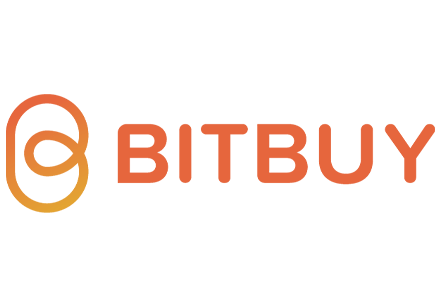 If you're a Canadian crypto enthusiast, you have access to multiple cryptocurrency exchange platforms, both international and local ones. However, when choosing a platform, there are multiple factors that come into play. Today, we'll focus on Bitbuy review and evaluate the platform based on all the aspects that matter the most.
Bitbuy is considered to be one of the most popular and reliable crypto exchange platforms in Canada. However, to figure out how good it actually is, this Bitbuy review will cover such aspects as security, fees, available cryptocurrencies, functionality, including Bitbuy PRO, and even more.
When writing this review, Bitbuy's daily trading volume was $22.5M. Even though it's quite low compared to some of the industry giants, it's crucial to remember that Bitbuy is a Canadian-only crypto exchange platform.
Without further ado, let's take a look at Bitbuy's history.
Pros
First regulated crypto exchange in Canada
Fiat support
Mobile app available
Suitable for beginners and advanced traders
Over 98% of user assets stored in cold storage
An insurance policy provided by BitGo
Cons
Only 17 supported cryptocurrencies
Canadian-only platform
Bitbuy Review: The Company's Background
Bitbuy is a Canadian cryptocurrency exchange platform that was founded by Adam Goldman in Toronto, Canada, back in 2013. The platform is suitable for Canadian citizens only and is considered to be one of the most popular and leading crypto exchange platforms in the country.
Bitbuy was originally called InstaBT. However, once the company started expanding, they decided to re-brand and changed the name to Bitbuy.
The main company's goal was and still is to provide easy and secure access to Bitcoin and other popular cryptocurrencies. Apart from Bitcoin, Bitbuy's supported cryptocurrencies include Bitcoin Cash, Ethereum, Ripple, Litecoin, Stellar Lumens and EOS. However, since Bitbuy is strongly improving, more cryptocurrencies will be added in no time.
Now that you know when and where the company was founded, it's time to move to the actual Bitbuy review and find out more about the platform's pros and cons.
Latest Binance Coupon Found:
$600 WELCOME BONUS
Binance Black Friday Deal
If you're new to Binance, great news - this Binance Black Friday period, you can earn up to $600 in rewards. Sign up, use the code 49316610, and start earning now!
Expiration date : 01/12/2023
2,817 People Used
Only 46 Left
Bitbuy Review: PROS
In this part of Bitbuy review, we'll focus on the positive aspects. We'll take a look at the security measurements, supported cryptocurrencies, functionality, fiat money support, digital wallet, and even more.
Bitbuy crypto exchange has quite a lot to offer, so let's take a look at each of the aspects separately and see what it's all about.
Strong Focus on Security
While there's a variety of different factors that you need to take into account when choosing a cryptocurrency exchange platform, one of them is considered to be the most important one. That's security.
If a provider is incapable of protecting your assets, then there's no difference if it offers extensive features or very low fees. After all, security always goes first.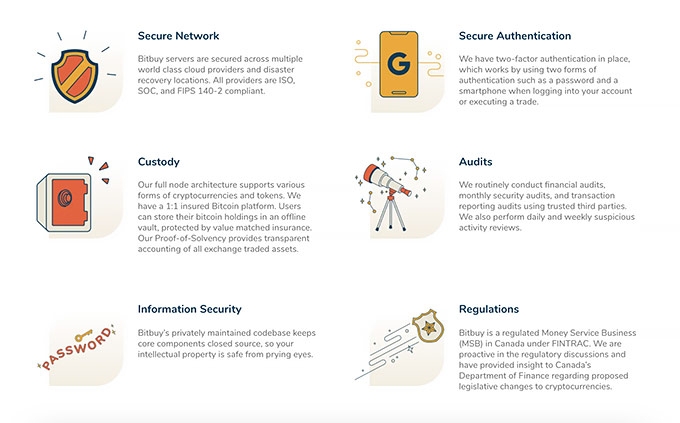 Now, is Bitbuy crypto exchange secure? Yes, Bitbuy is one of the most secure and reliable cryptocurrency exchanges in Canada. There are a few reasons why.
First of all, every Bitbuy user has to confirm its identity, meaning that the platform ensures there are no fake accounts and scammers on the platform. That protects users from being impersonated or scammed in the future.
Furthermore, Bitbuy is registered by FINTRAC as a Money Services Business (MSB). Before beginning to work in Canada, every MSB business has to be registered by FINTRAC.
MSB includes foreign exchange dealing, money transferring, Issuing or redeeming money orders, traveler's cheques, or anything similar, and of course, dealing in virtual currency.
MSB businesses, such as Bitbuy, have to meet all obligations under the PCMLTFA and associated Regulations. That includes knowing your clients, meaning that every Bitbuy user will have to confirm their identity.
Moreover, such businesses are responsible for keeping certain records and have to complete reports related to:
Suspicious transactions
Terrorist property
Large cash transactions
Electronic funds transfers
All this information tells you that Bitbuy is a centralized cryptocurrency exchange. However, what's the difference between centralized and decentralized cryptocurrency exchanges?
Centralized exchanges work similarly to banks. There's a third-party involvement, they follow rules and regulations, and you do not have autonomy over your wallet. While centralized exchanges can be considered safer, there's an increasing number of decentralized platforms that are coming into the market.
Talking about decentralized cryptocurrency exchanges, there's no third-party involvement and you have full autonomy over your wallet. Also, while in centralized exchanges the third-party can be hacked and your security threatened, this won't happen with decentralized ones as there are no middlemen and you're the one responsible for your assets.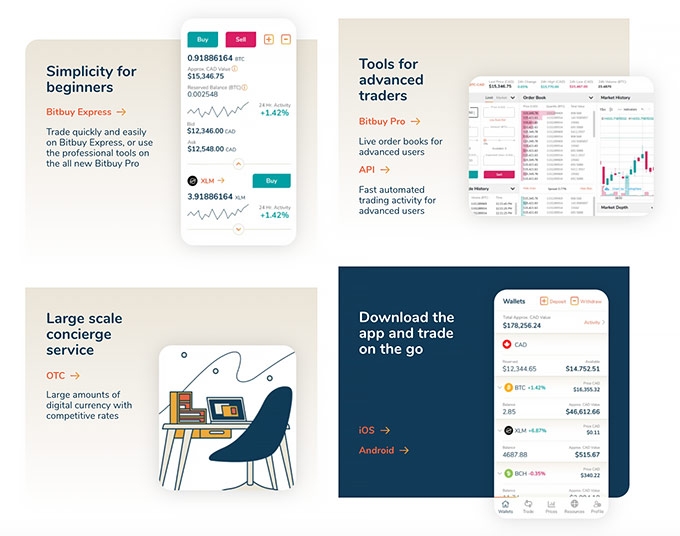 Now, if you want to improve your security, whether you're using a centralized crypto exchange, such as Bitbuy, or a decentralized platform, you should always make sure to keep your assets in a secure wallet. Hardware ones are the most recommended. We'll talk about them further in this Bitbuy review.
Latest Binance Coupon Found:
$600 WELCOME BONUS
Binance Black Friday Deal
If you're new to Binance, great news - this Binance Black Friday period, you can earn up to $600 in rewards. Sign up, use the code 49316610, and start earning now!
Expiration date : 01/12/2023
2,817 People Used
Only 46 Left
Buy & Sell Major Cryptocurrencies
If you're into buying, selling and storing cryptocurrencies, one of the things that you should consider is the number of supported cryptocurrencies that the platform offers.
When it comes to Bitbuy, it supports all the major cryptocurrencies, here's the full list:
As you can see, there are 17 different coins for you to choose from. Now, if you're interested in less popular tokens, this might be an issue. However, if the main assets are all you need, then you'll be happy to know that Bitbuy supports them all.
Compared to other leading cryptocurrency exchanges Bitbuy may not be the best option, however, it all depends on your personal needs.
Fiat Support (CAD)
If you decide to buy Bitcoin, Ethereum, or other cryptocurrencies, you should know that the easiest way to do that is using fiat money. It works the same as paying for services using debit or credit cards, or via bank transfer.
Now, you should know that not all crypto exchanges support fiat currencies. It means that you have to purchase them on the other platforms first and then transfer your coins to that specific platform that you want to continue using for trading.
Bitbuy offers fiat support, meaning that you'll be able to purchase cryptocurrencies without much trouble. However, since the platform is created specifically for Canadians, it supports Canadian dollars only. Based on a variety of Bitbuy reviews, this shouldn't cause any issues.
Also, if FIAT funding isn't what you're looking for, you can choose to fund your account with cryptocurrencies. More later in the review.
Useful Products & Services
Centralized cryptocurrency exchanges tend to be rather easy to use. However, they usually lack extensive features. When it comes to Bitbuy, I wouldn't say that such a problem exists. Of course, it has a clear design and is easy to use but it also offers additional functionality.
Talking about that, let me introduce you to different types of products and services that Bitbuy offers:
Express Trade
PRO Trade
OTC
API
Express Trade platform is a great option for beginners who are looking for an-easy-to use platform as well as clear navigation. It doesn't provide any additional, unnecessary tools that would make your experience more confusing. That's why it's so clear and simple.
PRO Trade platform is created for advanced traders. It comes with additional features such as in-depth market charts using TradingView technology, advanced orders (stop-loss, limit), live order book, and even more useful tricks and features.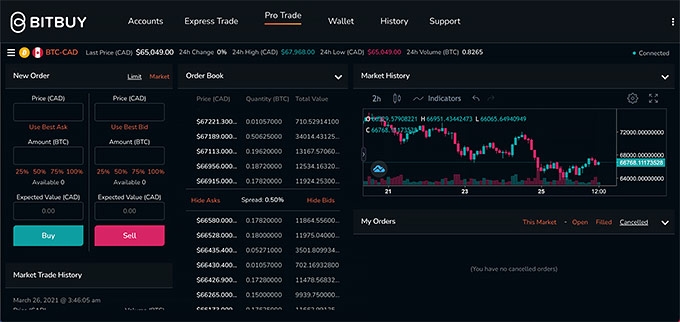 Bitbuy OTC stands for 'over-the-counter'. This feature is created for big trades ($50,000 in CAD or equivalent BTC or ETH). It allows you to work directly with one of Bitbuy's experienced traders. Also, you get a live price quote and avoid slippage.
Bitbuy API is suitable for experienced developers. It was created for reliable partners to be able to connect to Bitbuy's 10+ markets that offer a variety of CAD-to-crypto and crypto-to-crypto pairs. This service can be used for crypto-based businesses that want to automate their trading processes. That includes algorithmic traders, developers, institutions, and so on.
What is more, when it comes to usability, Bitbuy makes it even easier by providing you with automated sign-up and onboarding processes. Moreover, they have a new "username" feature for an even smoother experience, especially when it comes to logging in.
Built-In Wallets for Every Account
When creating an account on Bitbuy, you no longer need to think about a wallet - it's already built into your account. However, is Bitbuy wallet safe?
Bitbuy is very serious about security, so their built-in wallet is also one of the more reliable ones. One of the most exceptional aspects about it is that Bitbuy is the only one Canadian exchange that insure their users' Bitcoins.
Partnership with BitGo allows Bitbuy users to store their bitcoin holdings in an offline vault. Also, the insurance covers up to the full price of your assets.
Now, if you want to take your security to the next level, you should consider getting a hardware wallet. At the moment, there are 3 recommended options in the market:
Even though they're not free like online wallets, protecting your cryptocurrencies is crucial!
Mobile App Available
If you're a beginner, trading is quite a difficult process as it is. However, if you want to follow the latest prices and always be aware of what's happening with your assets, you need to be able to use the platform not only at home but also on the go. In other words, the mobile app is crucial!
The good news is that whilst using Bitbuy you won't miss out on anything. The provider offers the ability to trade not only using the desktop platform but also their mobile app that's available for both iOS and Android users.
According to multiple Bitbuy reviews, the mobile app features a very clear design, it's super easy to use and navigate. What is more, it offers the same functionality as the desktop version, meaning that you'll be able to buy, sell and trade 7 different cryptocurrencies as well as get two different methods to fund and withdraw CAD: Interac e-Transfer or bank wire.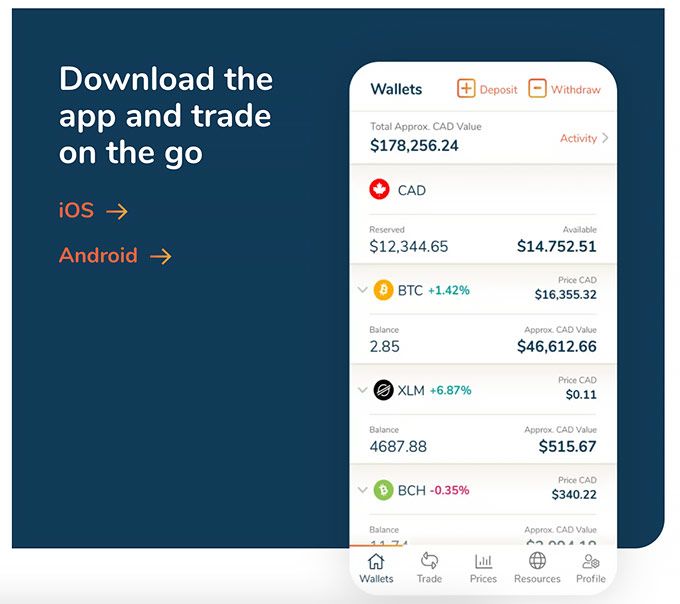 What is more, the Bitbuy app offers strong security that includes:
98%+ cold storage policy.
2FA on all transactions.
1:1 Bitcoin insurance (comprehensive insurance policy provided by BitGo).
Recent audition by a third-party blockchain security firm.
Moreover, you'll be able to fund, buy, sell and withdraw cryptocurrencies very fast and securely. Also, you get all the needed features that allow you to track the currency market prices, your orders, view history, and so much more. That said if you decide to use the platform after reading this Bitbuy review, make sure to also get the mobile version as well. This way you'll get the most of your experience.
You should also know that Bitbuy is currently launching a completely new platform, so one of the additional features that they're adding is the ability to modify 2FA options based on your personal preferences.
Relatively Low Fees
One of the main flaws related to centralized cryptocurrency exchanges that support fiat currencies is high deposit fees. However, this problem doesn't seem to be associated with Bitbuy crypto exchange.
When depositing or withdrawing Canada dollars, you will pay from 0.50% to 1.50% depending on the type of deposits and withdrawals - Bank Wire or Interac e-Transfer. However, this issue only appears when depositing fiat money.
Moving to fees for trading, they tend to be different for market makers and takers. In most cases, fees for makers tend to be lower than the ones for takers. Some exchanges even offer a negative-fee model for market makers. It's also known as a rebate.
Let me tell you the difference between the two. Market makers are the ones who add liquidity to the market and increase the market depth, whereas market takers are those who seek liquidity and take it off the book. That should be pretty clear.
The standard for trading fees is usually about 0.25%. When using the 'Bitbuy PRO' version, the fee for makers is 0.10% and for takers - 0.20%. When using the 'Express Trade' feature, you will only pay 0.20% for each instant trade. That's slightly higher than an industry standard, however, way lower than many other platforms can offer.
When it comes to digital cryptocurrency deposit and withdrawal fees, they're completely free. As you can see in the table below, the only difference is processing.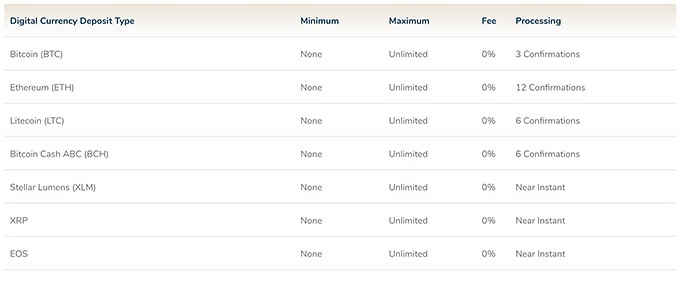 Processing Bitcoin deposits takes 3 confirmations, Ethereum - 12 confirmations. However, when it comes to Stellar Lumens, Ripple and EOS processing, it's almost instant.
Now, talking about withdrawal fees, you can find all of them here:
Bitcoin (BTC) - 0.001 BTC
Stellar Lumens (XLM) - 26XLM
Bitcoin Cash (BCH) - 0.01 BCH
Ethereum (ETH) - 0.02 ETH
Litecoin (LTC) - 0.05 LTC
EOS (EOS) - 0.03 EOS
Ripple (XRP) - 25 XRP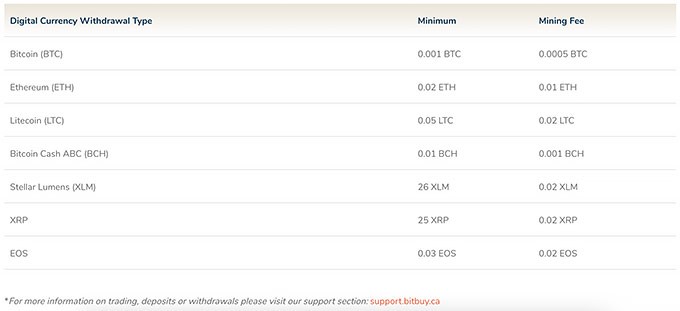 As you can see, Bitbuy's fees depend on which deposit method you choose. However, they're considered to be on par with the industry standard. Also, it's fair to mention that if you use Bitbuy PRO, fees get lower.

Did you know?
Bitbuy Review: CONS
It's time to move to another part of this Bitbuy review - the cons of the platform.
Limited Number of Cryptocurrencies
Based on multiple Bitbuy reviews, one of the most common issues associated with this platform is the limited number of cryptocurrencies. Currently, you get 17 options to choose from. These options include the most popular coins, including Bitcoin, Bitcoin Cash, Ethereum, Litecoin, EOS, Ripple, Stellar Lumens, LINK, and AAVE. Keep in mind that more options might be added in the future.
Now, let's compare this number to some other cryptocurrency exchange platforms that are available internationally:
Coinbase - more than 30 supported cryptocurrencies
Binance - more than 150 supported cryptocurrencies
Kraken - more than 37 supported cryptocurrencies
Even though not all of them offer such an impressive number of digital currencies to choose from, it's way more than Bitbuy provides.
Once again, people who are interested in buying the most mainstream coins should find Bitbuy more than enough. However, if you're looking for a platform that gives you more possibilities, then there are other options that you should take into account.
What's important to mention, though, is that Bitbuy is adding new features on a daily basis, so you can expect more cryptocurrencies to be added soon!
How to Use Bitbuy?
If this Bitbuy review helped you decide that this platform is exactly what you need, then I would like to give you a head start and provide you with a step-by-step guide on how to create an account on Bitbuy as well as how to make a deposit to start trading.
Let's get to it.
How to Create an Account on Bitbuy?
Creating an account on Bitbuy crypto exchange is super easy, here are the steps that you need to follow:
Step 1. The first thing you need to do is go to the Bitbuy main page and click "Sign Up to Get Started". By using this link you will also get a $20 bonus.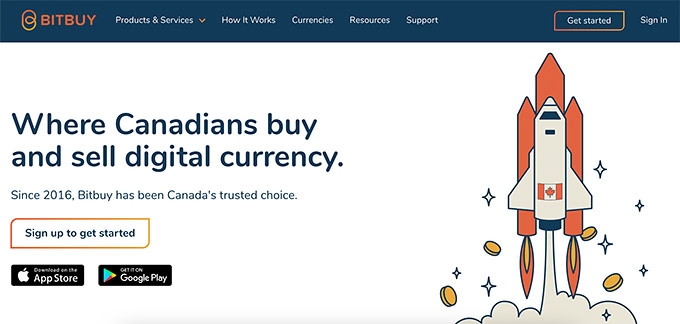 Step 2. Now you need to fill in the required information: email address, password and referral code (optional). Once it's done, click "Create account".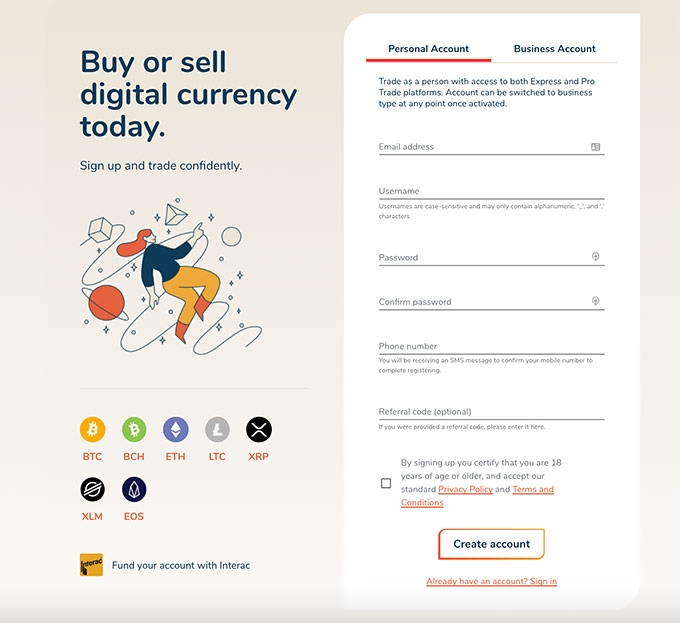 Step 3. Now it's time to check your email address, you should have received a letter from Bitbuy. If it's not there, you should click "Resend Verification Email".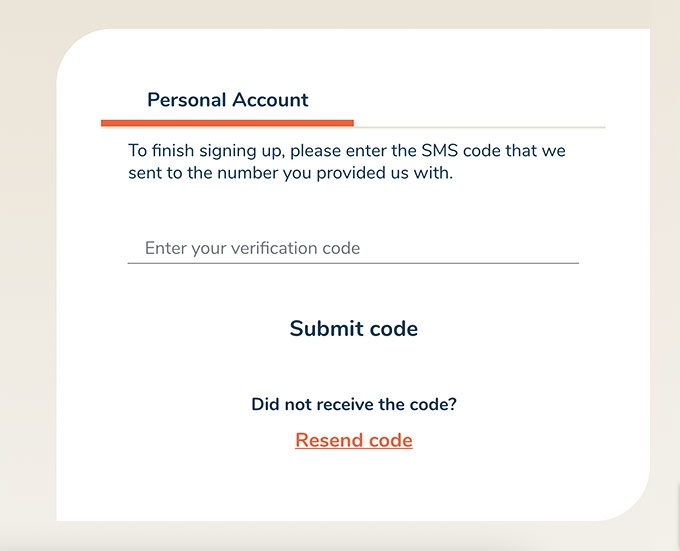 Step 4. Open the email received from Bitbuy and click "Verify My Email".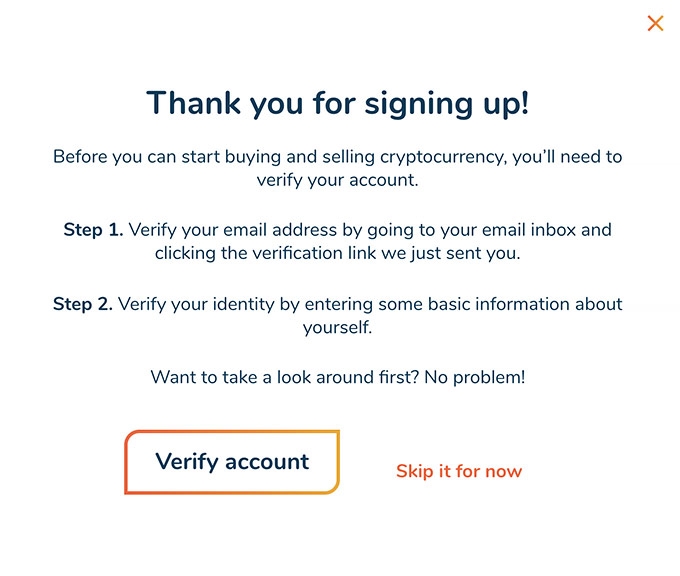 Step 5. Once your email has been verified, you can sign it to Bitbuy. There's only one step left to start using the platform.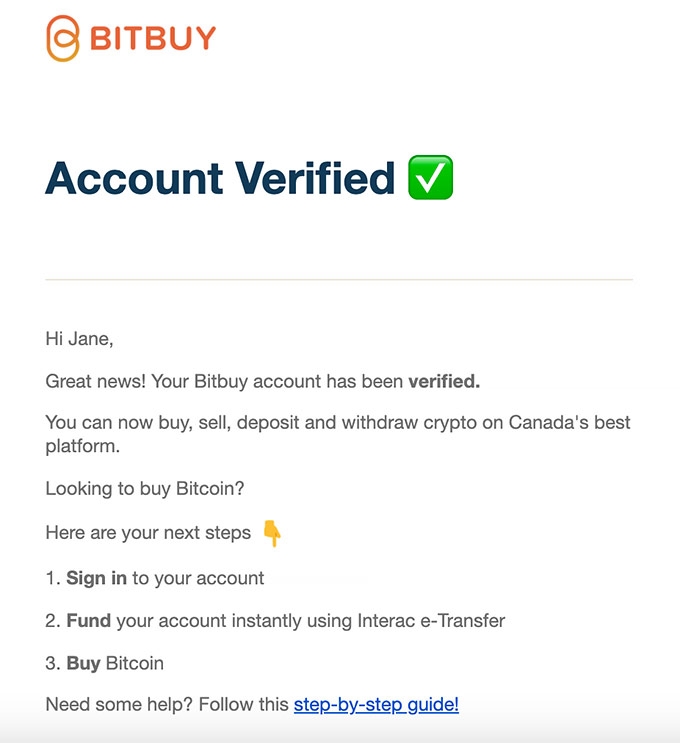 Hooray! You now have your personal Bitbuy account. Do not hesitate and start making the most of this experience.
How to Make a Deposit on Bitbuy?
Once you already have an account, it's time to make a deposit. Follow these steps and it will take you only a few minutes to do that:
Step 1. Click on "Your Account" at the top right corner of the page and sign in.
Step 2. When you signed in, click the "Add Funds" button.
Step 3. Choose from two funding methods: e-Transfer or wire transfer. Keep in mind that wire transfer takes longer.
Step 4. Enter the amount that you want to transfer and click "Next".
Step 5. Sign in to your financial institution or online banking platform and complete the transaction.
Now that you've managed to make a deposit, it's time to start using the platform. Enjoy your experience!

Pros
A very well-known crypto exchange platform
More than 500 different cryptos available
Two-factor authentication
Main Features
Over than 100 different cryptocurrencies available
Strong security
Small withdrawal fees

Pros
Secure and reliable
Low fees
A good amount of fiat currencies accepted
Main Features
Reputable exchange
Multiple fiat currencies are accepted
Relatively low trading fees

Pros
Anonymous trading
Secure
Supports a variety of cryptocurrencies
Main Features
Easy to use
Low fees
Good security
Conclusions
Bitbuy is one of the most recommended cryptocurrency exchanges in Canada. It was created back in 2013 for Canadians only. That's why the only fiat currency supported at the moment is CAD.
Bitbuy is a centralized cryptocurrency exchange, it focuses on security, supports the major cryptocurrencies, offers a built-in wallet, mobile app as well as other useful products and services that will make your experience using Bitbuy cryptocurrency exchange even more pleasant.
However, there are also a few drawbacks associated with this platform. Bitbuy offers relatively high fees, it can be used by Canadian citizens only, and you can find some concerning reviews online. Also, while it currently supports only 7 cryptocurrencies, it's definitely suitable for beginners but may not be as good for experienced traders.

All things considered, it's for you to decide whether Bitbuy crypto exchange is exactly what you're looking for. However, if you live in Canada, you should definitely check this platform out.
Before finishing this Bitbuy review, there's a final thing to remember. If you take your security seriously and are thinking about buying cryptocurrencies, always make sure to also get a secure wallet for your assets. Hardware/cold wallets are the most recommended ones. In case you don't know where to start, check out Ledger Nano X and Trezor Model T first. These models are currently the most popular ones.
I hope that you found this Bitbuy review helpful and are ready to become a part of the crypto community!
The content published on this website is not aimed to give any kind of financial, investment, trading, or any other form of advice. BitDegree.org does not endorse or suggest you to buy, sell or hold any kind of cryptocurrency. Before making financial investment decisions, do consult your financial advisor.
About Article's Experts & Analysts