Tron is undoubtedly a very popular cryptocurrency project. It seems to have everything required for success - a great vision, a strong team behind it, and a clear plan for the future. However, the one thing that you are going to need in order to start trading and investing in TRX is a reliable wallet.
Same as with most other cryptocurrencies, Tron has a pretty broad selection of wallets that you could utilize. However, even though all of them are going to be different on their own accord, some are going to be better than others.
Today, we're going to try and figure out the best Tron wallets - whether it be desktop, hardware, or else. If you're looking to purchase some TRX, read on - some contenders on this list might surprise you!
The Different Types of Tron Wallets
Before we go ahead and jump into the list of the best Tron wallets of the year, there are a couple of things that are important to discuss. For starters, you should be aware of all of the different Tron wallets that are out there.
While crypto wallets, in general, are often categorized in four or five different categories, for simplicity's sake, we're going to stick to two - hot and cold ones.
As we discuss both of these types of wallets ahead, please keep in mind that the tags are used as umbrella terms - however, as far as this list goes, it should be sufficient.
Hot Wallets - The Peak of Convenience
The term "hot wallet" refers to cryptocurrency storage that maintains a constant connection to the internet. An example would be a Tron desktop wallet (software), a web browser extension, or a website-based one.
Hot wallets are probably the most common wallets that you'll find, as far as storing Tron is concerned. This is due to their accessibility - if you're using a hot wallet, chances are that you'll be able to access your cryptocurrencies (in this case - TRX) in a matter of seconds.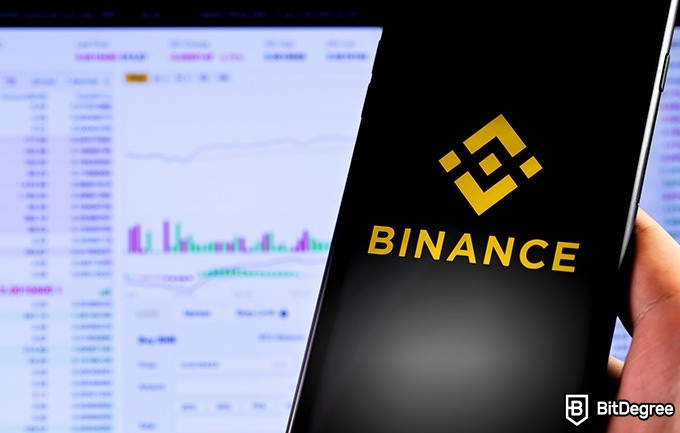 By extension, a mobile app-based Tron wallet can be considered a hot wallet, too. As you can probably imagine, app wallets are super-popular, especially among people who trade TRX coins on a day-to-day basis. Such wallets allow you to access your TRX on the go, wherever you might be located - I mean, you probably have your phone with you all the time!
Not the case with a computer, though.
So, hot wallets are very accessible, usually completely free to use, and beginner-friendly. What's the trade-off?
Well, typically, a Tron desktop wallet isn't going to offer you the "best possible" security. If you choose to use a high-end wallet, sure - it will be secure. However, break-ins and hacking attempts do still happen.
Now, before we move on to discussing cold Tron wallets, there is one more type of hot wallet that needs to be mentioned, and that you can expect to see on the list ahead - exchange-based storage.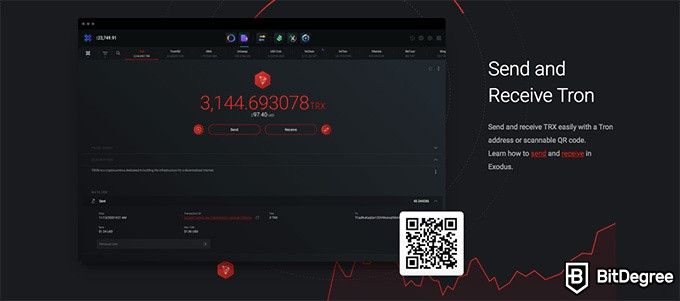 That's right - you can store and keep your TRX coins on a cryptocurrency exchange - the same one that you've bought them on. If you're searching for the best Tron wallet, you'll quickly notice that this is a rather contentious point - people have very different opinions on whether or not this is a good idea. We'll get to that in due time, though.
Cold Wallets - The Beacons of Security & Privacy
On the opposite side of hot wallets, you'll find cold ones. These are (usually) special devices that are dedicated to keeping your cryptocurrencies as safe as they virtually can be.
A "cold wallet" doesn't have to be a "device", though. If you'd like, you could go ahead and use a Tron paper wallet - that's completely in the realm of possibilities! However, paper wallets are fragile - they can end up being burned or damaged by water (or simply crumpled), and thus, people are usually keener on using hardware devices than Tron paper wallets.
So, what's so special about hardware Tron wallets, you may inquire?
Well, one, single word - security.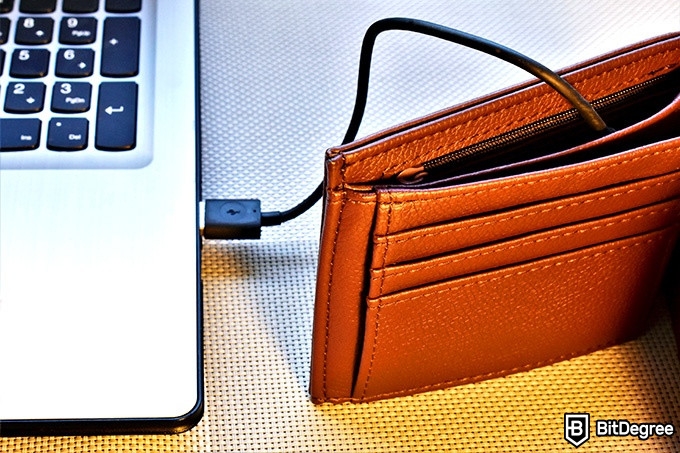 Hardware cryptocurrency storage, in general, has become synonymous with the aspect of keeping your cryptocurrencies as safe as possible. There is no better alternative, security-wise - if all you care about is maintaining the ownership of your TRX coins, then you should definitely look into a hardware crypto storage device.
With that being said, though, it's worth mentioning that not everything is perfect, as far as Tron cold storage goes. There are shortcomings that are going to be common with both Tron paper wallets, and also high-end, advanced hardware devices.
Table: The pros and cons of the Ledger Nano X and the Trezor Model T
The most common complaint that people have concerning cold storage devices is that it takes a decent amount of time to transfer your funds in and out of the wallet. If you have a Tron wallet on, say, an exchange, you can swap different cryptocurrencies instantly - if, however, you keep your TRX coins in a cold storage device, this process is going to take some time.
Pricing is another point worth considering. While this doesn't really apply to Tron paper wallets (for obvious reasons), if you're planning on purchasing a cold storage device, you should take into account that it's going to cost you some money. Not something that you'd need to consider with a hot wallet, though.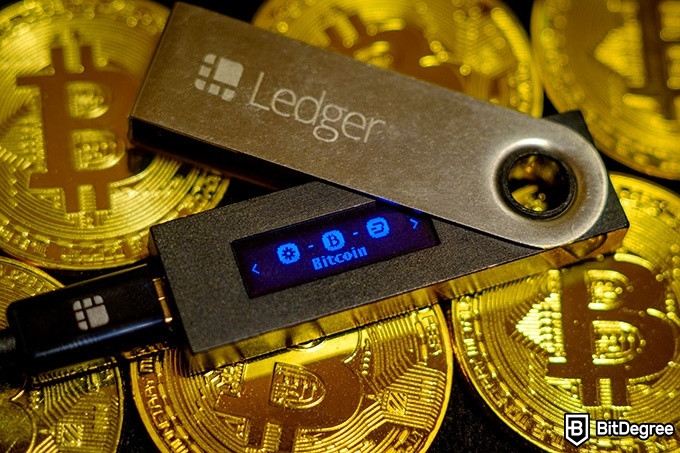 It does make sense, when you think about it. These hardware devices in question are some advanced pieces of crypto storing technology - they work to keep your private keys, well… Private! It's only logical that such devices would come with an added price tag.
We'll discuss the specifics of each of the wallets as we get to them, though. So, without lingering around any longer, let's move on to the actual list of the best Tron wallets of the year, and try to find the perfect wallet for you!
Ranks #1 out of 7 Crypto Wallets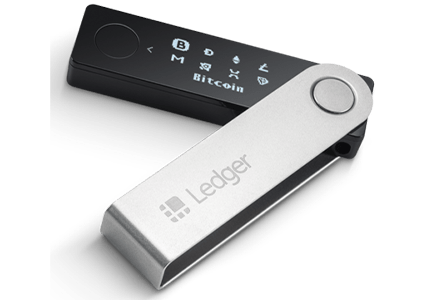 Things we liked:
+ Can be managed from mobile device
+ Very secure
+ Supports more than 1500 cryptocurrencies
+ Comfortable design
Things we didn't like:
SAVE 10%
Ledger Holiday Sale
Get top-tier security for you & your loved ones with this Ledger Holiday Deal. Save 10% while you're at it!
Expiration date: 30/01/2023
3947 People Used
Only 53 Left
Ledger is a household name in the realm of hardware cryptocurrency wallets. Naturally, it's a name that you can expect to come across on a list of the best Tron wallets, too!
Here, however, we're going to discuss the Ledger Nano X. This is the advanced version of the company's older, flagship hardware wallet - the Nano S.
Admittedly, the Nano X model does bring A LOT of new improvements to the table.
For starters, there are some non-Tron-specific features that you, as the user of the wallet, will be able to utilize. The Nano X supports a huge range of different cryptocurrencies and crypto tokens - meaning, it can act both as a Tron wallet, and also as a shared wallet for many other cryptos, too.
The device is, naturally, extremely secure. It requires you to enter your PIN codes upon every single action that you might partake in, and utilizes the top security features that the industry has to offer. Your private keys are as safe as they can be - Ledger (the company) has no access to them, and thus, the wallet is a non-custodial option. Amazing!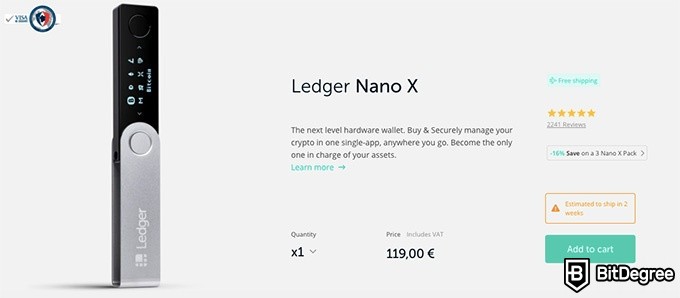 When it comes to being the best Tron wallet on the market, the Ledger Nano X offers its user the chance to send and receive TRX coins, and also stake them from within the wallet! Staking will earn you some rewards, and since you can do it from the comfort of your Nano X, there is no potential risk that your coins might be stolen.
The wallet itself is quite simple to use, and will suit even crypto newbies and industry newcomers. It features a slick and fancy design, and feels really sturdy - a major improvement from the older model. The Nano X does also come with some drastically improved button functionality - Ledger has definitely created an amazing product!
The only notable complaint that some customers have regarding the Nano X is that it's pretty expensive. The wallet will cost you around $119. However, you can expect to receive free shipping, which does mitigate the potential price tag rather notably.
All in all, if you're looking for the best wallet for Tron, you cannot go wrong with the Ledger Nano X. Definitely one of the best options on the current market!
Ranks #2 out of 7 Crypto Wallets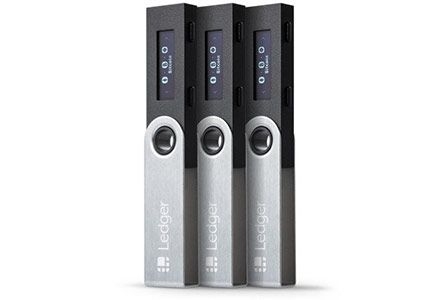 Things we liked:
+ Super secure
+ Protection against physical damage
+ Supports more than 1500 coins and tokens
Things we didn't like:
SAVE 10%
Ledger Holiday Sale
Get top-tier security for you & your loved ones with this Ledger Holiday Deal. Save 10% while you're at it!
Expiration date: 30/01/2023
3947 People Used
Only 53 Left
Note: The Ledger Nano S has recently been discontinued. The wallet is now replaced by the Nano S Plus - check it out!
The Ledger Nano S is the company's flagship product - the hardware wallet that put Ledger "on the map" of many crypto enthusiasts, so to speak.
With that, though, it's worth mentioning that the Nano S isn't placed on this list of the best Tron wallets simply due to a collective feeling of nostalgia. While the company does have a new-and-improved version of the wallet, the Nano S can still hold its ground - big time.
Furthermore, I would actually go as far as to say that the Nano S might just be the perfect wallet for any beginner TRX trader or hodler. Hear me out.
The particular wallet in question offers its users all of the essential features that you could come to expect from a high-end hardware wallet. It's secure, reliable, and relatively simple to use.
On top of that, the Tron wallet in question allows its users to access the Ledger Live interface, same as the Nano X. Ledger Live is a very well-made user interface where you can view, manage and transact in the different crypto coins that you possess. TRX is no exception.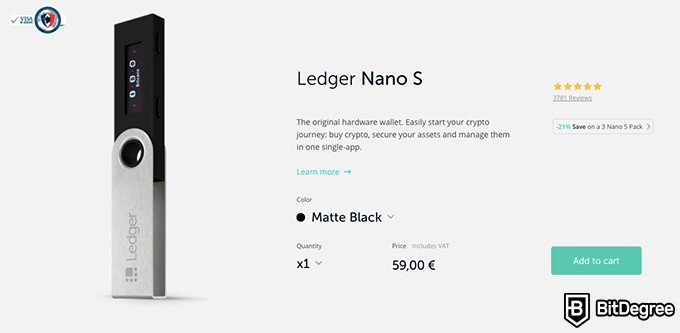 Now, what makes Ledger Nano S the perfect cryptocurrency wallet for crypto beginners?
Well, a few things, really!
For starters, the wallet supports fewer coins than its more-advanced version. This means that, if you're a beginner crypto trader and are still only looking at a few main coins that you're interested in (or maybe even only Tron, for that matter), you won't need to bother yourself with diving head-first into the broad crypto market.
The Nano S is also much more affordable than the Nano X. The flagship model will cost you around $59 - truth be told, that's an absolute bargain! Unlike the Nano X, though, you will have to pay a shipping fee - while it may range depending on your location, it shouldn't be too high.
If you decide to purchase the Ledger Nano S as your choice for the best Tron wallet, make sure to do so from the company's official website. The golden rule with hardware wallets is simple - never buy from a third-party retailer!
Ranks #3 out of 7 Crypto Wallets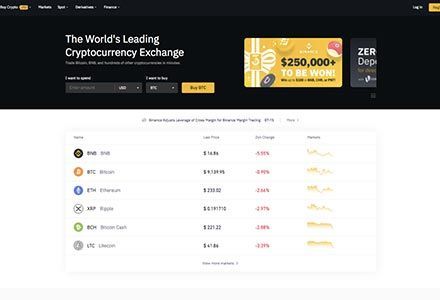 Things we liked:
+ A very well-known crypto exchange platform
+ More than 500 different cryptos available
+ Two-factor authentication
+ P2P trading option
+ Emphasis on security and KYC
+ Supports fiat-crypto acquisitions
Things we didn't like:
- Might be a bit difficult for beginners
CLAIM $600 BONUS
Exclusive $600 Binance Offer
Don't miss this limited-time deal that's only available for our readers. Follow the Binance referral code link & receive up to $600 in rewards and bonuses!!
Expiration date: 30/01/2023
7847 People Used
Only 49 Left
Binance is, admittedly, primarily a cryptocurrency exchange platform. That's what it's most commonly used for, too - to trade one cryptocurrency for another, or to purchase certain crypto coins with fiat money.
That said, however, Binance can surely act as a hot wallet, no problem.
One of the main features that make Binance one of the best Tron wallets is the fact that the exchange has a wide selection of TRX-related trading pairs. While this is a rare sight to see, it's also not very surprising, given that it's Binance that we're talking about - the exchange is known within the community for having the widest range of crypto trading pairs, in general.
Here, you will be able to purchase and sell TRX, and also trade this crypto for some other altcoins, and even Bitcoin.
Why should you keep your Tron coins on Binance, you may inquire? Well, simple - it's the perfect place for storing TRX if you're an active trader.

Day traders are people who are constantly researching the market, and trying to flip their cryptocurrency of choice for a fiat profit. For this type of trader, every minute counts - especially in a market as volatile and seemingly-unpredictable as crypto.
If such a trader chooses to use Binance as the best wallet for Tron, they'll have all of their coins ready to be traded at any given point in time. No need to transfer TRX from a separate wallet onto the exchange - this, in turn, save a lot of time.
Naturally, the main argument that some skeptics are going to put forward will have to do with the security side of things - exchange-based wallets are usually deemed to be less-than-safe, especially when compared with hardware ones.
To that I say - it's true! However, only to a certain extent.
This is completely true with some shady crypto exchanges - you would never want to use them as options for a Tron wallet. However, when it comes to Binance, it's one of the most reliable and most widely-used crypto exchanges in the industry - naturally, it does also possess some top-tier security features, too.
If Binance sounds like a platform that would suit your wants and needs, and you'd like to try it out as an option for the best Tron wallet for yourself, you can check it out here.

Did you know?
Ranks #4 out of 7 Crypto Wallets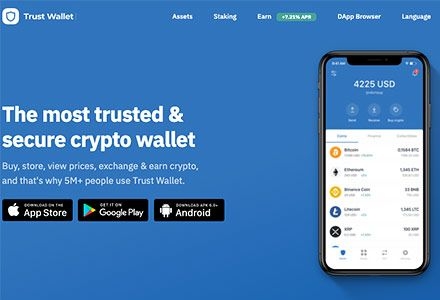 Things we liked:
+ Good security measurements
+ Multi-crypto wallet
+ Suitable for beginners
+ Good reputation
Things we didn't like:
- No 2-factor authentication
The Trust Wallet is a rather interesting and unique option as far as the best Tron wallets are concerned. This is the case due to a couple of reasons.
For starters, the wallet actually belongs to Binance - a cryptocurrency exchange that has, evidently, found its way on this list, too. It's noteworthy, though, that the Binance wallet that you'd use to keep your crypto assets whilst using the exchange and the Trust Wallet are two different entities.
You see, the Trust Wallet is a mobile-exclusive hot wallet. There is no web version, and no Tron desktop wallet equivalent - it can only be found as a mobile app, either for iOS or Android devices.
This does, automatically, bring a huge benefit to the table - this particular Tron wallet is going to be super-popular among a wide range of people who want to access their TRX assets on the go.
Whether it be a family meeting or a business flight, it can be difficult to carry a laptop around with you everywhere you go. Well, "difficult" probably isn't the word - impossible is more like it.
Not the case with a phone, though.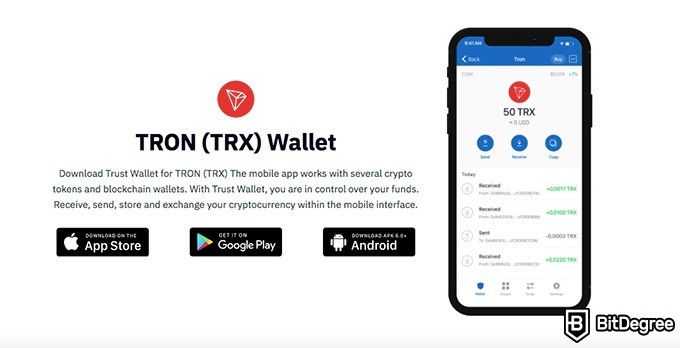 Our phones are always with us, no matter where we go. Granted that this is the case, if you use a mobile Tron wallet, you'll be able to access your TRX coins whenever, and wherever. This is a huge deal for the vast majority of TRX holders, not to mention day traders!
It's worth emphasizing, though, that the Tron wallet in question isn't only great because it's a mobile hot wallet. Trust is a secure and reliable crypto storage alternative - granted that it's a Binance service, you can expect a certain level of quality and security to be in place.
Furthermore, the Trust Wallet supports a wider selection of cryptocurrencies and tokens - it's not a Tron wallet, in the exclusive sense of the term. If you're someone who's looking to hold or trade more crypto assets and not just Tron alone, this is a great thing!
If you're interested in the Trust Wallet, you can check it out here.
Ranks #5 out of 7 Crypto Wallets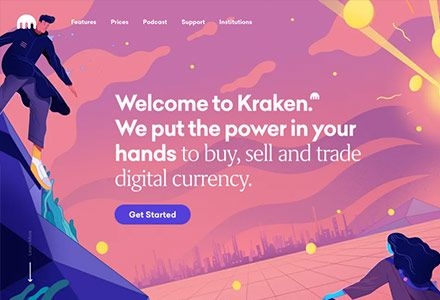 Things we liked:
+ Secure and reliable
+ Low fees
+ A good amount of fiat currencies accepted
Things we didn't like:
- Not the most helpful customer service
EARN UP TO 23%
By Staking on Kraken - Black Friday Deal
Start staking with Kraken in just a couple of clicks and automatically earn rewards twice a week. Earn up to 23% on your crypto with this Kraken Black Friday offer!
Expiration date: 30/01/2023
8766 People Used
Only 59 Left
Kraken is one of the most popular cryptocurrency exchanges out there. Coincidentally, it can act as a top-level Tron wallet, too.
As far as this particular platform is concerned, the term "irony" comes to mind pretty quickly. You see, the general sentiment in the community is that exchange-based wallets aren't very secure and reliable. While that may be fair in some specific situations, as far as Kraken goes, security features are what make this exchange as well-known and beloved as it is!
When you're just starting out with Kraken as your Tron wallet, you'll see that the platform has all of the generic security features that you'd come to expect from any top-tier exchange - 2FA, an on-site SSL certificate, high-end encryption, and so on.
However, there's much more to be discovered.
For example, if you decide to keep your TRX coins on Kraken, you can rest assured that up to 95% of your assets will be stored in offline, cold storage devices. This makes Kraken a very secure option when it comes to the best wallet for Tron, since there is no way that a hacker can reach you offline-located funds.
Kraken also utilizes withdrawal confirmations (via email), suspicious activity monitoring, and even penetration testing. It's definitely a platform that takes the aspect of security very seriously, which is naturally amazing news for anyone who's looking for the best Tron wallet!
If you're interested in Kraken, you can check the platform out here.
Ranks #6 out of 7 Crypto Wallets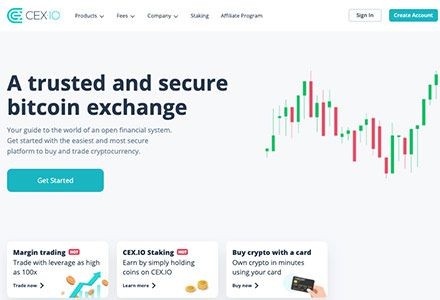 Things we liked:
+ Easy to figure out
+ Different trading pairs
+ Great support
Things we didn't like:
- Might lack coin options
Cex.io is often seen as one of the best exchanges on the market today. The platform has a lot of different perks that it provides to its users, and the fact that it can be used as a Tron wallet is just one of them.
For starters, Cex.io makes crypto-fiat conversions super-simple and straightforward. All that you need to do is pass some specific KYC verifications, and you'll be able to exchange your cryptocurrencies into fiat money, and withdraw it to either your bank account, or even PayPal.
This, for a fact, is great for anyone who's looking for the best Tron wallet in order to eventually make a profit out of their TRX trades.
Additionally, Cex.io has both a web and a mobile version of the exchange and wallet. Both versions are intuitive and simple to use - the mobile app is going to be great for people who want to access their TRX coins anywhere, and at any given point in time.
Another awesome thing about the app is that it doesn't only act as an option for the best wallet for Tron, but also an exchange that can suit both beginners and expert traders, alike. There are different sections of the app aimed at different types of people - those experienced in trading crypto, and others who are just starting out.
All in all, Cex.io is definitely a great choice when it comes to the best Tron wallets - it will suit anyone who's looking for a hot (exchange-based) wallet, and does also want to invest in alternative cryptocurrencies, not just TRX. If you'd like to try Cex.io out for yourself, you can access the platform here.
Ranks #7 out of 7 Crypto Wallets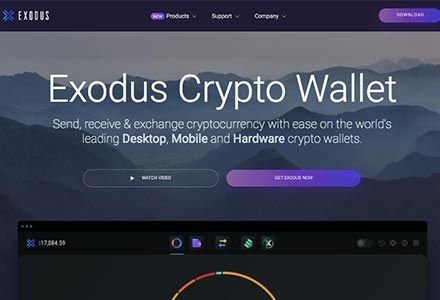 Things we liked:
+ Easy to use
+ Has customer support
+ Multiple cryptocurrency choices
+ A software-based wallet
+ Built-in exchange features
Things we didn't like:
- Prone to security issues
- The fees can reportedly be quite high
Exodus is a rare sight on this Tron wallet list, simply because of the fact that it's a desktop wallet. There aren't many of these lingering around!
Desktop wallets, in general, are an interesting concept. They are still considered to be hot wallets, simply due to the fact that there's a constant connection to the internet being maintained, all the time. However, these wallets are still seen as being rather secure - more so than web-based ones - due to the technology behind them, and the way that your private keys are stored.
Now, then, what makes Exodus a good Tron wallet?
Well, Exodus offers users a wide range of features to explore - TRX-specific features, that is. You'll be able to check your balances in a quick and simple-to-understand manner, and even trade and exchange (or sell) your TRX coins from within the software itself.
That's right - all of the transaction processes can be done from within Exodus! There's no need to transfer your coins to another wallet or exchange - this, in turn, makes Exodus a very conveniant option!
Another awesome feature of this particular wallet is that it's actually super-modern. Upon downloading and launching the software, you'll quickly notice that it features a beautiful and sleek design, and that the entire user interface is both intuitive, and also fun to use.
If Exodus sounds like your type of a Tron wallet, you can check it out here.
Where to Buy Tron (TRX)?
Now that we've discussed the best wallets for Tron, before I let you go, it's worth mentioning one more thing - the main places where you can purchase some TRX coins for yourself.
Well, "mentioning" might not be the term to use here - rather, I should say "emphasizing", since all of the best exchanges where you can buy and trade Tron coins have already been mentioned on this list.
You see, while Tron is definitely growing in popularity by the day, it's currently in a bit of an interesting situation. It appears as if half of the best cryptocurrency exchanges on the market support TRX, while the other half wants nothing to do with it.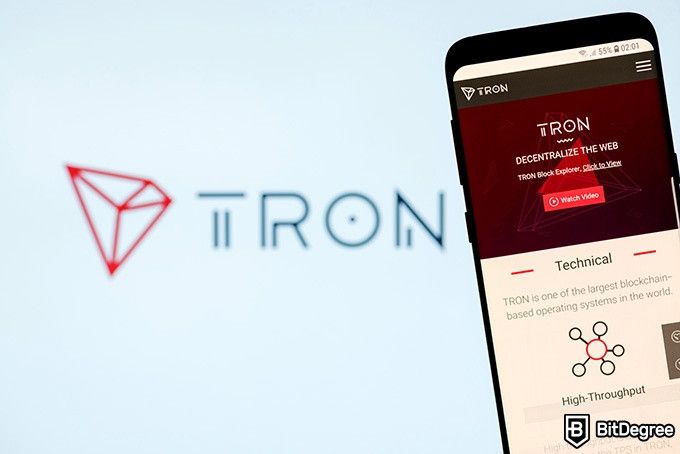 And it is that exact reason why finding a reliable place to purchase and trade in TRX coins is as important as it is. After all, what's the use of even the best Tron wallet if you don't have any TRX coins to store within it?
Since all of the exchanges have been mentioned already, I'll simply give you a brief reminder of the main features that each of them posses:
Binance. An industry leader, Binance is known for having a huge selection of cryptocurrency trading pairs. TRX-related ones are no exception - Binance allows you to trade Tron in a safe and regulated environment, and is especially great for advanced crypto traders.
Kraken. Kraken is mostly used by people who are extremely cautious about their outlook on the topic of security. Kraken is a very safe crypto exchange - it employs a wide variety of different and industry-specific features in order to guarantee the highest levels of user data and crypto protection.
Cex.io. Cex.io is one of those exchanges that are perfect for people who want to day trade with TRX, and then eventually cash out their earnings into fiat money. The exchange in question allows you to do that very easily, offers great security features, and also some competitive fees.
Each of the exchanges mentioned above can, for a fact, act as Tron wallets, too. This only makes the entire ordeal of buying TRX that much more enjoyable - you get both exchange and coin storage functionality from one, single service provider!
With all of that said, though, it's worth mentioning that, whatever the case might be, if you truly want the highest levels of TRX security, you should always choose a hardware cryptocurrency wallet. Quite frankly, there are no safer options on the market - not even a Tron paper wallet can beat hardware storage.
Well, theorhethically it can, but seeing as paper is a very sensitive and wear-prone material, hardware devices are still considered to be a better alternative, either way.
Conclusions
So, then - we've reached the end of our list of the best Tron wallets of the year.
As you can probably see for yourself, it's a pretty varied list! There are seemingly options for everyone - no matter if you prefer hardware, software, mobile, or even simply web browser-based wallets, chances are that you'll be able to find a suitable option for yourself.
Naturally, hardware is the way to go - if you have the opportunity, you should always invest in a high-end hardware wallet. This way, you will be able to retain peace of mind knowing that your TRX coins are completely safe.
There are, however, other options, too. If, for some reason, hardware wallets aren't really "your thing", you can either pick a web-based wallet (i.e. Binance or Kraken), or a Tron desktop wallet (i.e. Exodus).
Table: The main features of the Binance wallet and Exodus
If convenience is what you're looking for, then exchange-based wallets are going to be best for you. They will allow you to both store and trade your TRX coins in a fast and efficient manner. Definitely worth considering!
All of that being said, I want to thank you for reading my list of the best Tron wallets out there! I do hope that you've managed to find a wallet that would suit your wants and needs, and that you're also more knowledgeable about the field in question, in general. Remember - only purchase Tron on reliable and trustworthy exchanges!
Best of luck, and until next time!
The content published on this website is not aimed to give any kind of financial, investment, trading, or any other form of advice. BitDegree.org does not endorse or suggest you to buy, sell or hold any kind of cryptocurrency. Before making financial investment decisions, do consult your financial advisor.
Leave your honest Best Tron Wallet review
Leave your genuine opinion & help thousands of people to choose the best crypto wallet. All reviews, either positive or negative, are accepted as long as they're honest. We do not publish biased reviews or spam. So if you want to share your experience, opinion or give advice - the scene is yours!
TOP3 Most Popular Coupon Codes