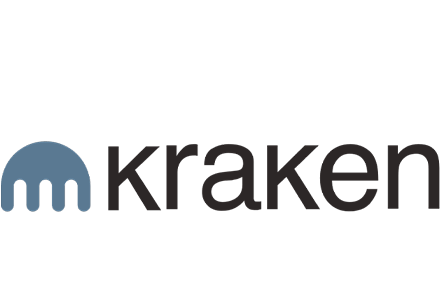 If you've spent some time in the crypto space, and know your way around exchanges, you're probably also well-aware of Kraken. It's often considered one of the best cryptocurrency exchange platforms on the market today. However, something that isn't discussed all that often are the wallet capabilities of this platform - that's what we're going to do in this Kraken wallet review!
Admittedly, Kraken might not be the first name you think about when looking for a reliable, high-end crypto wallet. For most people, hardware devices are the ones that draw the most attention, security-wise.
That being the case, I'm here to tell you that Kraken can, for a fact, be an alternative to storing your cryptos in cold wallet devices. Naturally, though, things are a bit more convoluted than that, so let's not waste any time and get straight to the discussion at hand!
Pros
Built-in exchange functionality
Full SegWit wallet support
Very secure and reliable
Decent withdrawal fees
Can withdraw fiat money
Cons
Limited wallet functionality
Kraken Wallet Review: PROS
We'll start off our Kraken wallet review by discussing the main benefits of the wallet in question. However, before we do that, it's important to properly set the stage, and address the elephant in the room - Kraken's overall wallet functionality.
If you're completely new to the crypto space, and are just starting out researching Kraken, you might be confused - all of the places you go to online will tell you that Kraken is a cryptocurrency exchange platform. In other words, it's a place that people go to in order to purchase and trade crypto assets.
So… What does that have to do with wallets?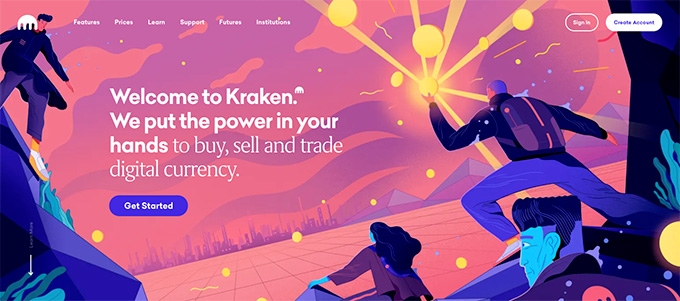 Well, it's rather simple - while Kraken is, admittedly, a crypto exchange platform at its core, it does have wallet functionality. Meaning, you can store your crypto assets on Kraken, and keep them there, indefinitely.
Since even Kraken markets itself as a crypto exchange and not a wallet, it can easily dissuade many people from digging deeper, and considering the site as a viable crypto storage option. However, this is what this Kraken wallet review is here for!
So, if you're wondering "does Kraken have a wallet?", rest assured - it does. On that note, let's talk benefits and features.
An Exchange-Wallet Focused on Security
One of the first questions that you should have when analyzing this crypto storage alternative is simple - is Kraken wallet safe?
Admittedly, this stands true with any other cryptocurrency wallet out there, too. Security is always going to be the key factor that has to make it or break it for any potential users.
Exchange-wallets are, for a fact, rather unique in this regard. Their security features are going to differ pretty significantly from those that you'd find on, say, cold storage devices.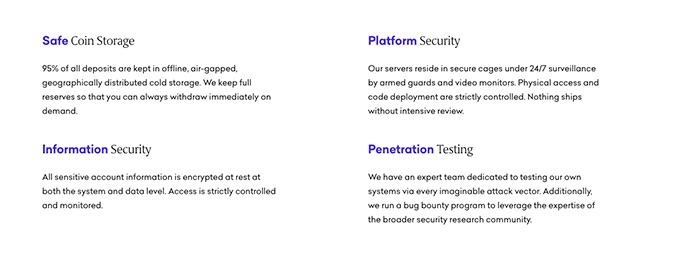 For example, with a standard crypto wallet (whether it be a hardware one, or an online-based one), the security features would mostly be concentrated on keeping your assets safe from any malicious third parties that would try to steal your coins from you.
On the flip side, when it comes to exchange-wallets, these same features are split 50/50 - on one hand, the platforms tend to focus on the security of your asset storage, while on the other, they also make sure that all of your trading ventures are protected against fraudsters and other types of scammers.
So - that's the short introduction of the aspect of security concerning exchange-wallets. With that said, though, multiple user Kraken wallet reviews will tell you that security is something that Kraken addresses very well, on all fronts.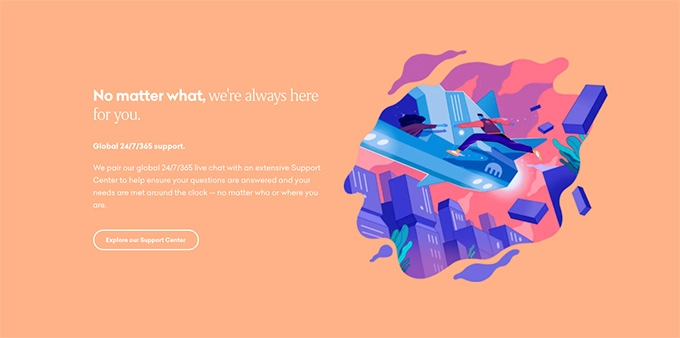 Starting things off, naturally, you have all of the core features of a reliable wallet service. Kraken utilizes two-factor authentication on all user accounts - a simple and common security measure nowadays, but still very effective, nonetheless.
Kraken also encrypts all of their user personal information. This might seem a bit out of the ordinary for a wallet service, and you might say - what personal information? Wallets have no such thing!
To that, I would answer - dedicated wallets, yes. But exchange-wallets will, most of the time, possess data about you - most of that data concerns KYC requirements.
LEDGER NANO X
TREZOR MODEL T

Main score based on expert evaluations & real user reviews.

Whether the crypto wallet is hardware, software, desktop or paper type.

Hardware
Hardware

For which purpose or for what kind of people is the cryptocurrency wallet best for.

Best for Safely Storing, Sending, and Receiving Different Cryptocurrencies
Best for Easily Control Funds, Manage Balance and Initiate Transfers

Most popular hand-picked deals & coupons.

All Ledger Nano X Coupons
See All Coupons of Best Wallets

Final crypto wallet evaluation conclusion based on research, expert opinions & user feedback.

One of the best hardware cryptocurrency wallets ever made.
One of the most-secure cryptocurrency hardware wallets on the market.
Visit site
Read review
See TOP10 Brands
Read review
Table: General information on the Ledger Nano X and Trezor Model T
To reiterate, however, Kraken makes sure that your information is encrypted. Meaning, you won't really need to worry about your wallet address being compromised, and somehow traced back to you, as an individual.
On a more-advanced side of things, Kraken keeps 95% of its users' funds in cold wallet devices that are distributed geographically, and protected 24/7 by dedicated guards and specific video observation devices.

That's rather significant! With 95% of your funds being kept in cold storage, you can be sure that they'll remain safe and sound, and away from any online-based attacks or theft attempts. With that, though, user Kraken wallet reviews will also tell you that the platform has a reserve that allows you to trade coins at any given point in time, without delay.
If you're still wondering is Kraken wallet safe, you should also be aware that the company employs customizable API key permissions, account timeouts, and disallows SMS-based wallet (account) recovery. It's definitely a very security-oriented platform - amazing news for any and all crypto enthusiasts!
Latest Deal Active Right Now:
$300 + 40 DOGE BONUS
Huobi Black Friday Limited-Time Period
Huobi Black Friday & Cyber Monday 2023 period offers great bonus for new users - sign up & earn up to $300 + 40 DOGE bonus!
Expiration date : 12/12/2023
3,817 People Used
Only 31 Left
Built-in Exchange Functionality
You probably saw this one coming, right?
As pointed out by virtually every single user Kraken wallet review, and frankly, any other place on the internet where you'll find discussions about crypto, Kraken is primarily an exchange. With that, the wallet service that it provides does, theoretically, have built-in exchange functionality.
Why is that significant? Well, you could go ahead and argue that it's one of the most notable features of the wallet in question! It's definitely among the most-used ones, that's for sure.
Built-in exchange functionality means that you will be able to trade cryptocurrencies at any given point in time. To be more specific, you won't need to wait for some time for your assets to go from the wallet to the exchange, and vice versa.
This is huge - especially for individuals who participate in day trading activities.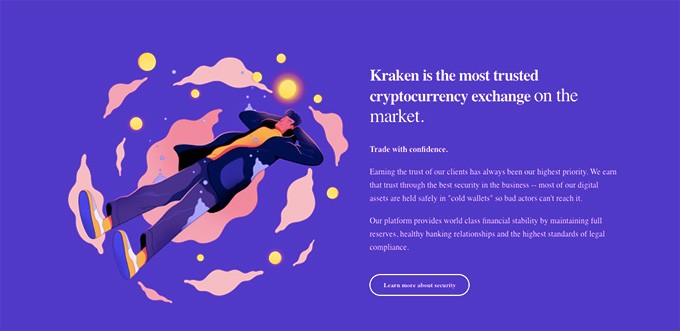 If you're a day trader (or are trying to become one), every second counts - sometimes, a few seconds could be the deciding factor of making major gains, or missing out on an amazing opportunity. There is no market out there that this would be as true as with cryptocurrencies.
This is a sentiment that's clear from reading user Kraken Bitcoin wallet reviews, too. Whether it be BTC, ETH, or any other altcoin, you'd probably want all of your transactions to be quick and smooth, and not take up a long period of time.
Granted that Kraken offers its users top-of-the-line exchange functionality, this solves any and all potential issues in question! Even though, as discussed earlier, most of your assets are going to be kept offline, the reserve will cover this factor, too.

If you were to use a different wallet for Kraken, though, this would not be the case! Your transfer would take some time, and also possibly cost a lot in fees (I probably don't need to say anything about the current Ethereum gas fees).
So - in short, if you've been searching for user Kraken wallet reviews in order to find out whether or not you'll be able to trade cryptos easily with this particular wallet, rest assured - you will!
Supports a Wide Selection of Crypto Assets
Back in 2017, the mainstream world heard about Bitcoin for the seemingly first time since its inception in 2009. Nowadays, though, it would seem that everyone knows about BTC - and a whole bunch of other altcoins, too.
Indeed, even individuals who aren't really interested in the crypto scene may likely know about more than just one cryptocurrency - Bitcoin. With the increased interest in altcoins and crypto tokens, naturally, there's also an increased demand for them, too.
What this ultimately leads to is the fact that people want to keep all of their crypto assets in one, specific wallet. Unfortunately, multiple user Kraken wallet reviews will tell you that this is often impossible.
That being said, this particular wallet for Kraken will allow you to play around with 50 different cryptocurrencies. That's a lot!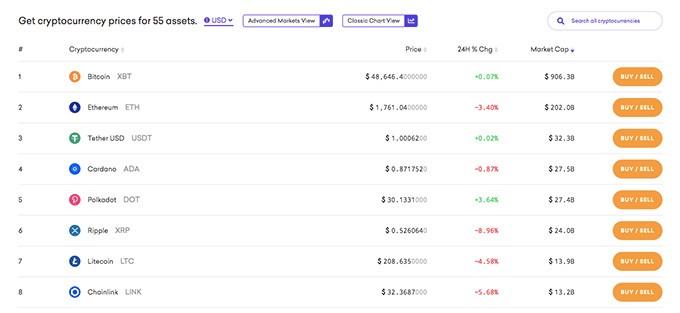 Most people won't really need space for 50 different cryptos. However, if you're someone who wants to diversify their portfolio by quite a bit, it's good to know that you'll be able to do so with Kraken.
The best part here, though, is the fact that you won't need a separate wallet for all of those crypto assets! You see, each individual crypto out there has a dedicated wallet - you can use separate ones if you so wish to. However, that's extremely inconvenient.
The wallet for Kraken in question allows you to skip through all of that hassle, and deposit all of your coins into one, designated wallet. Well, kind of.
You see, each crypto asset will actually be stored separately. However, they will all be located on your Kraken account - in other words, you will be able to access all of them from the same exact dashboard.
Decent Withdrawal Fees
Fees are an important aspect to consider, no matter what type of a wallet it is that you're looking for. Naturally, they are an even more prominent point of discussion among user Kraken wallet reviews!
This is because of the platform's exchange functionality. When you want to transfer something from Kraken to another wallet address, you will need to pay a flat fee, in addition to that which is charged with that specific crypto.
Using another wallet, though - say, a Ledger Nano X -, that's not the case. This is because the wallet is completely in your control, and you're solemnly responsible for the protection of your own assets.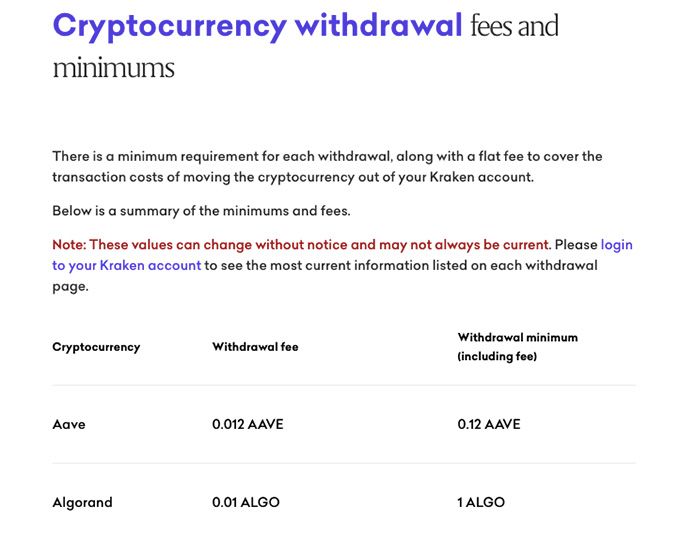 Since Kraken provides cryptocurrency storing services, though, they do have a flat fee. However, when you add the fee with some other, crypto coin-specific fees, it would seem that the situation is actually rather decent!
While the specific fees are going to depend on the crypto in question, you can rest assured that, when compared to some other exchanges, these numbers are still going to be below average.
Full SegWit and Native SegWit Wallet Support
Reading through user Kraken wallet reviews online, it would seem that the most popular cryptocurrency to store on and withdraw from Kraken is still Bitcoin. That's probably not surprising at all.
However, what most Kraken wallet reviews WON'T tell you, though, is the fact that there are a few different types of BTC addresses, and not all of them are supported with some exchange or trading platforms out there.
In total, Bitcoin currently has three types of wallets - Legacy, SegWit, and Native SegWit (also called bech32).

The Legacy wallet addresses are those that start with a "1". These are the original BTC wallets. SegWit was a soft fork that was introduced to the Bitcoin blockchain, and that created a new type of wallet - one that starts with a "3". These wallets allow faster transaction speeds, and also smaller fees. The same situation is with Native SegWit (bech32) addresses - they start with a "bc1".
If you're someone who's searching for a Kraken Bitcoin wallet review, you'll be happy to know that the exchange-wallet in question supports SegWit addresses, completely! In other words, if you have a separate BTC wallet that possesses a SegWit or bech32 address, you will be able to withdraw your BTC from the Kraken wallet over to the one in question.
Why is this significant? Well, exactly for the reason mentioned above - your transactions will be much faster, and also less fee-intensive. Both of these features are, obviously, very important!
Kraken Wallet Review: CONS
With most of the essential features of this Kraken wallet review discussed, we're now going to be moving on to some of the less-ideal notions and opinions concerning Kraken (at least from the wallet side of things).
Limited Wallet Functionality
What's the first thing that comes up when you google something along the lines of "does Kraken have a wallet?", or "is Kraken wallet safe?"? In most cases, it's going to be the official website of the platform in question, with one of the tabs being "Kraken is not a wallet service".
Reading through the information provided by the company itself, it's clear - Kraken focuses on its exchange functionality, and markets itself as exactly that - an exchange. The wallet services that it provides is a corporate one.
What this means is that you will be storing (depositing) your funds on a corporate wallet - this particular wallet will have a deposit address. Upon utilizing the services of the exchange for your trading needs, you'll also get a hot wallet address - you'll use this for trading and exchanging purposes.

While corporate wallet storage is a separate issue, in of itself, the fact that we're discussing here is that Kraken's wallet functionality is, admittedly, rather poor. It's a sentiment echoed by quite a few user Kraken wallet reviews, too.
If you're a beginner trader, or are just looking for a safe place to keep your cryptocurrencies in, this might not be all that big of an issue. However, if you're someone who wants to participate in day trading activities, or simply trade specific cryptos on a regular basis, this is something worth considering.
Corporate Cryptocurrency Storage (Custodial Wallet)
Corporate cryptocurrency storage is, admittedly, something that you should really look into when choosing a reliable wallet for long-term crypto storage. To be more specific, you'd probably want to avoid such wallets, in most cases.
Kraken might be an exception, though. In order to fully understand this, though, and to figure out what user Kraken wallet reviews talk about when they say "corporate storage", we should take it from the top.
Corporate cryptocurrency wallets are often called simply "custodial wallets". A custodial wallet is one that'll allow you to keep all of your cryptos on it, but won't provide you with a private key - this will be kept by the wallet-controlling party. In this case, it's Kraken.

What are private keys? Well, they are the main keys that you would use to access your cryptocurrencies. If something was to happen to your wallet, no one who does not possess the private key would be able to access it.
Naturally, as you can probably imagine, private keys are extremely important - they are actually the single, most-crucial piece of information related to cryptos!
That being said, there is a saying among cryptocurrency enthusiasts - "not your keys, not your wallet". You might see where I'm going with this.
User Kraken wallet reviews will tell you that the wallet in question is custodial - the private keys belong to Kraken. What this means is that the exchange-wallet has full control over what happens with your assets.
This is the case not only in regards to Kraken's decisions, but also third-party threats, too. In case of a hacking or some other breach of security on Kraken's part, you would have zero control over what happens to your crypto assets. Not good.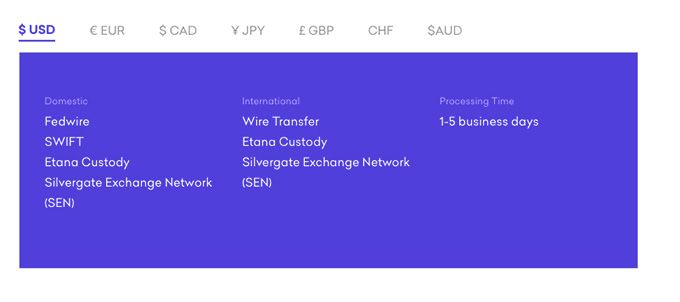 In short, a good rule of thumb is to avoid custodial wallets. I did say, though, that Kraken might be a bit of an exception. Why is that?
Well, for starters, Kraken is one of the most-popular cryptocurrency exchange platforms on the market. This, in turn, does come with some added benefits. One of these benefits is the fact that the exchange-wallet has earned a reputation of being extremely reliable and transparent.
Many people around the world (especially in the EU) trust Kraken with all of their crypto storage and trading needs. To this day, the platform has not had any major controversy, security- or asset storage-wise.
So, for anyone wondering does Kraken have a wallet and learning that it does, for a fact, have a custodial way of storing cryptos, this should come as some solace. However, if you'd like to be in complete control of your cryptocurrencies, it's always a better idea to get yourself a hardware wallet, such as the Ledger Nano X, or the Trezor Model T.

Did you know?
How to Use the Kraken Wallet?
At this point, we've discussed all of the major pros and cons of Kraken, as a crypto asset storage alternative. We've covered enough information for you to decide whether or not you'd like to use Kraken, and if you'd be able to sleep peacefully at night, knowing that all of your cryptos are stored on this platform.
If the Kraken wallet does, in fact, offer itself as a viable cryptocurrency storage option, the only thing that you'll need to figure out now is how to register on the platform, and start sending and receiving cryptos.
How to Register on Kraken?
As per usual, we'll start off with the registration process.
Step 1: Go to the official website of the Kraken exchange. Since it's an exchange-wallet, you'll want to register the same way as you would on an exchange - it's the same website, and the same registration process.
Step 2: At the top-right corner of the screen, you will see a "Create Account" button. Press it.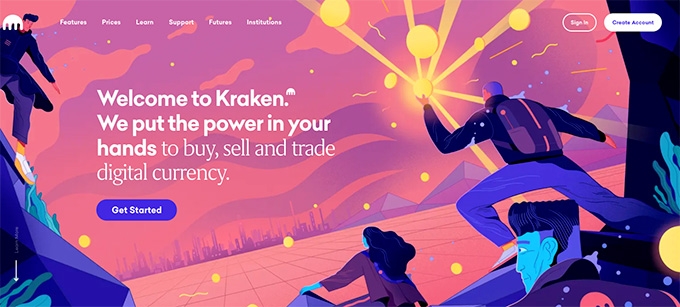 Step 3: Now, you will need to fill out your email address, create a username and password, and also pick your country of residence.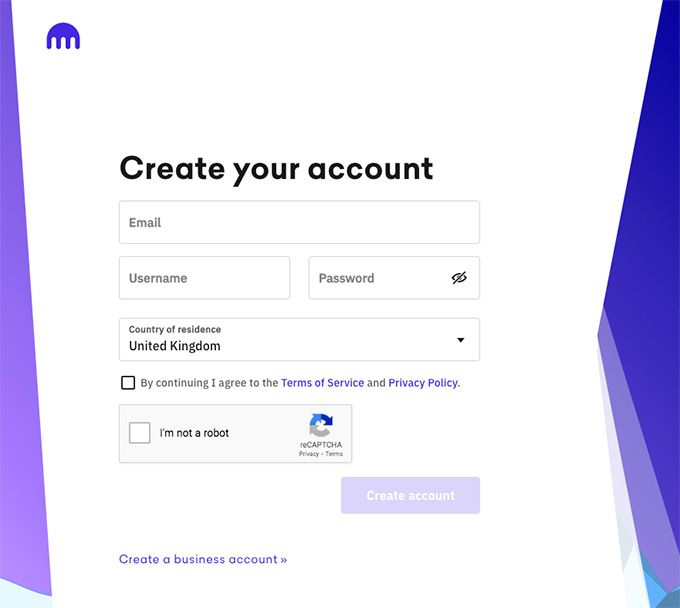 Step 4: Next up, account activation process. Go to your email in order to confirm your address.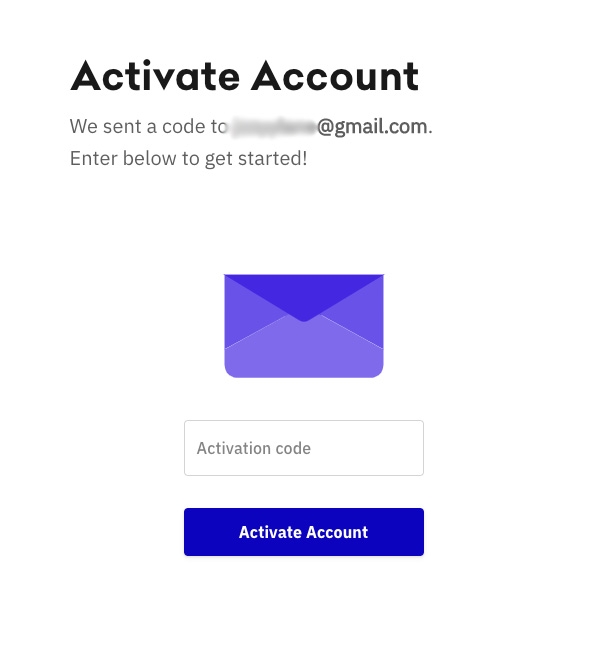 Step 5: And that's it - you're in!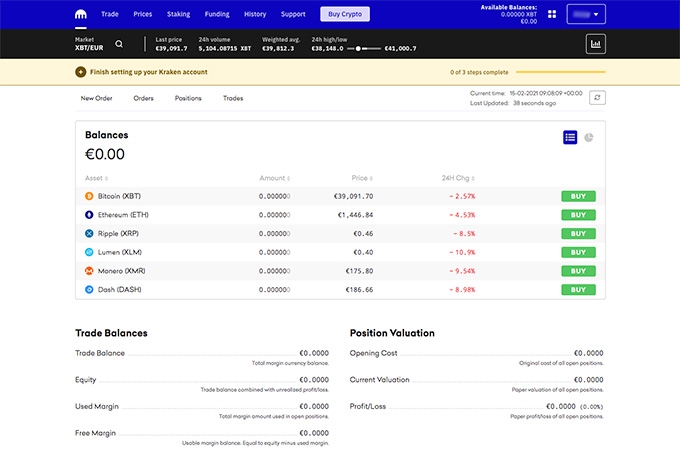 Quite evidently, the account creation (registration) process on Kraken is extremely simple and straightforward - something you'll find expressed in multiple user Kraken wallet reviews, too!
Naturally, this isn't the end of the full account verification - you will still need to pass some KYC checks, and deposit funds to your account if you'd like to start trading. However, as far as the wallet part of the platform is concerned, that's practically it!
Kraken has, for a fact, been praised multiple times for being very simple to both register and use - that's self-evident! Well, at least the registration part - let's see if it's true as far as the usability aspect goes, too.
How to Use the Kraken Wallet?
We'll check how to deposit and withdraw funds from your Kraken wallet, and also whether there are other features to explore on the platform, too. Features related to the wallet, of course - if you'd like to learn more about the exchange part of Kraken, you can check out our Kraken exchange review.
Step 1: We'll start off from the dashboard of your account - the area that you were redirected to upon signing up to Kraken.
Step 2: From the dashboard, navigate to the "Funding" section of the page. You will find it at the top of the page, on the main menu bar.

Step 3: Here, you can see all of your wallet balances, and cryptocurrencies available for withdrawal and deposits. You can also view your spot and staking balances separately - conveniant!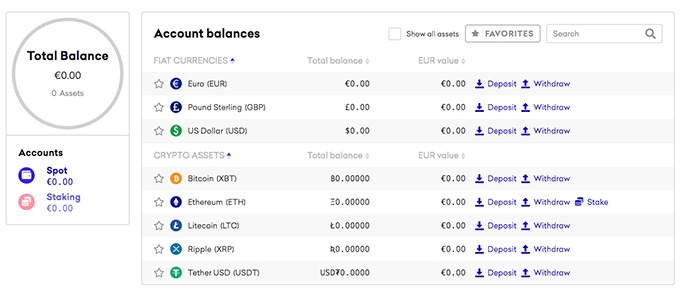 Step 4: You can both deposit and withdraw fiat money - this can be done in three different currencies, with EUR and USD included. Deposits are rather simple - you can deposit money via a method of your choice, be it wire transfer or a credit (or debit) card. Naturally, you will need to pass all of the required KYC checks, first!
Step 5: Withdrawals work the same as deposits, too. You would choose the asset (currency) that you'd like to withdraw, pass KYC requirements if you haven't done so already, and then withdraw the selected asset to an appropriate wallet or bank account.
Notably, user Kraken wallet reviews won't fail to mention that Kraken is one of the few exchange-wallets that allow you to withdraw fiat money directly into your bank account. Definitely worth keeping in mind - it's an amazing feature!
Step 6: As mentioned earlier, you can also view your wallet balances in a separate manner - frankly, your spot and staking account balances will be shown separately. This eludes to the fact that Kraken does, for a fact, have staking features integrated into the platform - just take a look at Ethereum!
It's rather infrequent for an exchange to allow you to stake assets directly from the online wallet. However, it's also much appreciated!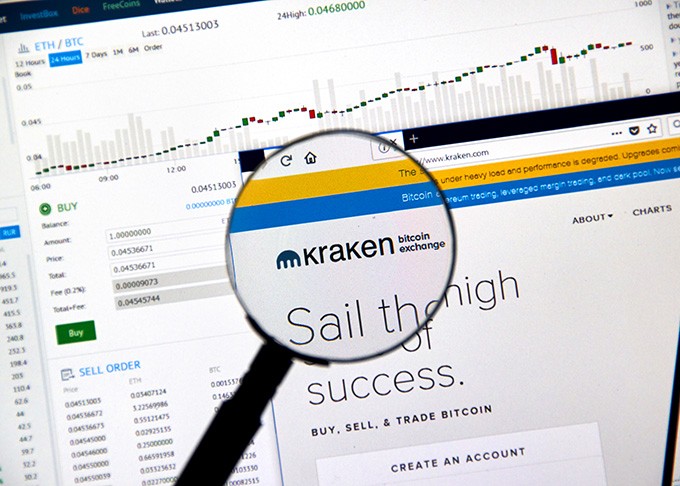 So, it's obvious that both depositing and withdrawing funds to and from your Kraken wallet is a simple feat. Even if you've never delved into crypto trading before, you should face no issues with figuring out how does Kraken work, and how you can utilize all of its features to the fullest extent.
Admittedly, though, Kraken doesn't really have a lot of features for you to utilize, wallet-wise! As far as the aforementioned "Funding" tab goes, you will be able to check on your account balances, deposit & withdraw funds, and also manage some staking features - that's it.
However, it's worth reiterating - if you're someone who's been reading through Kraken wallet reviews simply because you're looking for a safe place to store your crypto assets, and don't really need some advanced wallet management tools, the features offered by Kraken should suffice quite well!
The Kraken Wallet - Is it Worth it?
Now, then - the final question remains. Is the Kraken wallet worth it, and should you even pay attention to this platform, at least as far as the crypto storage capabilities are concerned?
It's a definite yes on my end - while exchange-wallets are always going to be tricky, Kraken is among the top-rated ones, and is thus definitely worth checking out.
Naturally, it does have some drawbacks. The functionality aspect is a bit limited, and the fact that Kraken itself tries to enforce the idea that they are not a wallet, but rather an exchange (solemnly, that is) isn't really a reassuring fact. However, if you keep this in mind, there really is no issue here.
Kraken offers its users amazing usability features, in the sense that it's super-easy to use. If you're a newcomer to the space, and are looking for a simple way of starting out, you can be sure that Kraken will offer you both a great wallet service, and also a reliable exchange option.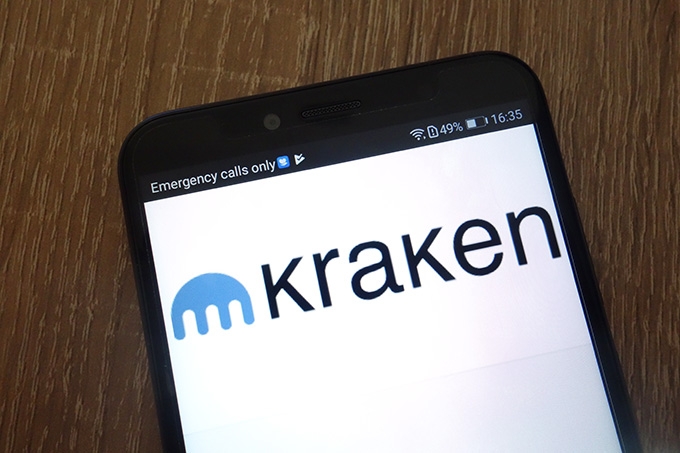 The platform offers full SegWit address support, so you won't really face any issues withdrawing and depositing BTC. It also supports fiat currency withdrawals - a rare and very much-appreciated feature!
Finally, there are quite a few cryptocurrencies for you to pick from and trade, too! While this is more of an exchange-related feature, it can offer you a great opportunity to diversify your portfolio, and store all of the altcoins on the same, single wallet.
Well, rather - same wallet service. Remember, Kraken has different addresses for depositing and withdrawing cryptos! This can be a tad bit confusing, but just make sure to not send deposits to your withdrawal address, and vice versa - and you'll be golden!
Here is The Best Ledger Nano X Offer I Found:
GET MORE, SAVE 10%
Ledger Holiday Sale
Holidays are all about sharing! Get top-tier security for you & your loved ones with this 10% Ledger Holiday discount on family packs.
Expiration date : 12/12/2023
3,947 People Used
Only 53 Left
Conclusions
We've reached the end of our Kraken wallet review - thank you for reading! I sincerely hope that the article was useful to you, and that you now know more about the platform in question.
This is true both in regards to Kraken's wallet functionality, and also the exchange part of the site, too. If you'd like to learn more about Kraken as a cryptocurrency exchange, make sure to check out this review, too!
Also, do spend some time researching alternative exchange platforms and wallets! While Kraken does come with some amazing offers, it's good to be aware of other options that are available on the market!
LEDGER NANO X
TREZOR MODEL T

The main advantages of a certain cryptocurrency wallet.

Can be managed from mobile device
Very secure
Supports more than 5500 cryptocurrencies
Comfortable design

Top-notch security
Touchscreen user interface
Easy to set up
Supports around 1000 crypto assets

The main disadvantages of a certain cryptocurrency wallet.

Score that represents the ratio of the quality & advantages you get for a certain price.

Visit site
Read review
See TOP10 Brands
Read review
Table: The pros and cons of the Ledger Nano X and the Trezor Model T
This is especially true when it comes to wallets - for a compromise between maximum security and top-tier convenience, make sure to utilize the services of both a hot and a cold wallet, in conjunction with one another. As for the latter, Ledger and Trezor are the two names you should be considering!
With that, thanks again for reading the Kraken Bitcoin wallet review, and good luck! Until next time!
The content published on this website is not aimed to give any kind of financial, investment, trading, or any other form of advice. BitDegree.org does not endorse or suggest you to buy, sell or hold any kind of cryptocurrency. Before making financial investment decisions, do consult your financial advisor.
About Article's Experts & Analysts