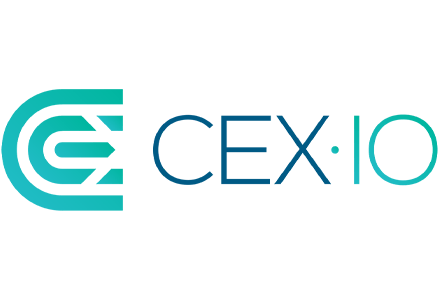 Reliable and noteworthy cryptocurrency wallets can prove to be a bit more difficult to find than you might expect. There are a lot of different options to pick from - not all of them will suit everyone! Today, in this CEX wallet review, we'll discuss one of the more-interesting options.
What makes the CEX wallet so interesting? A couple of things, actually, but probably the most notable one of them would have to be the fact that CEX isn't even primarily a wallet, in the first place!
Confused? Well, worry not - we'll get into the nitty-gritty details in a bit. We'll talk about the CEX app (the CEX.IO mobile wallet, to be more specific), how you can utilize the wallet to its fullest extent, and some general features and benefits.
Naturally, I will also tell you about the less-ideal things surrounding the CEX wallet, and will even show you how to start using it, too. Let's get right to it!
Pros
Built-in exchange functionality
Wide list of supported coins
Available worldwide
Awesome mobile app
Cons
Strict KYC requirements
No live customer support
CEX Wallet Review: A Popular Exchange-Wallet
So, then, first things first - let's start off our CEX wallet review by setting the groundwork of just what CEX is, and what it isn't.
A single search online will very quickly reveal to you that the platform in question - CEX.IO - is a popular cryptocurrency exchange. In other words, it's a place that you would go to in order to trade and exchange crypto assets, or simply even purchase them with a credit or debit card, too (that's possible with CEX).
You might be confused, however - if you're searching for, say, a CEX Bitcoin wallet, and see that it's actually an exchange site, have you been tricked?
Of course not! CEX is simply what is known as an "exchange-wallet".

Exchange-wallets are a unique type of crypto storage options. They are also among the most popular, at least as far as the casual crypto hodlers and traders are concerned - while there are much safer alternatives on the market, many people might not care enough to check them out, not have the financial backing to purchase one, or simply prefer exchange-wallets, altogether.
Even in regards to exchange-based crypto asset storage, CEX is unique - it's something that you'll likely see reading through this CEX wallet review, too.
Latest Ledger Nano X Coupon Found:
GET MORE, SAVE 10%
Ledger Holiday Sale
Holidays are all about sharing! Get top-tier security for you & your loved ones with this 10% Ledger Holiday discount on family packs.
Expiration date : 10/12/2023
3,947 People Used
Only 53 Left
CEX Wallet Review: PROS
Having established all of that, we can now turn to the actual topic at hand - CEX wallet fees, usability aspects, security measures, and so on. We'll start off with the most important aspect of them all - wallet security features.
Strict Client-Level Security Measures
Security is something that you should be taking very seriously, especially if you're in the process of looking for a new crypto wallet. So much so, actually, that it should be your No. 1 priority - no other feature will be as important as the safety of your assets.
Having said that, though, "security" can mean a few different things. It gets especially convoluted when discussing exchange-wallets - while many user CEX wallet reviews found online won't tell you this, there are actually a few types of security measures that are involved with this type of a wallet.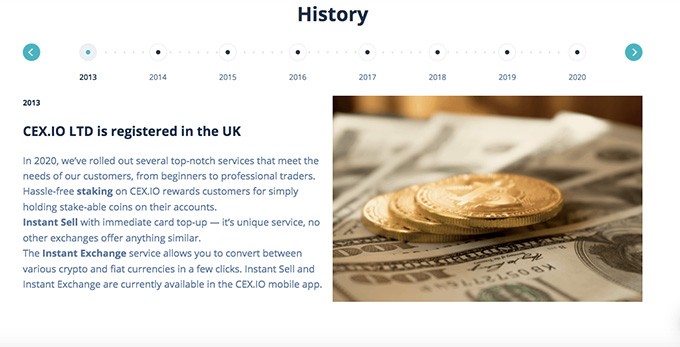 Exchange-based wallets need to guard their user assets both in regards to transactions (strong data encryption, anonymity, if applicable, safe trading environment), and also the overall state of the exchange platform, too (meaning, safety from third-party hacking attempts, and so on).
Before you start looking "how to find my wallet address with CEX?", you should always figure out whether the platform has proper security measures in place! Thankfully, CEX.IO is golden in this regard - it's considered by many to be a very secure place to store and trade your cryptocurrency assets.
This is something that is evident when you first register and log on to the platform. There are email AND mobile verification checks, just to make sure that it's really you who's logging into the account.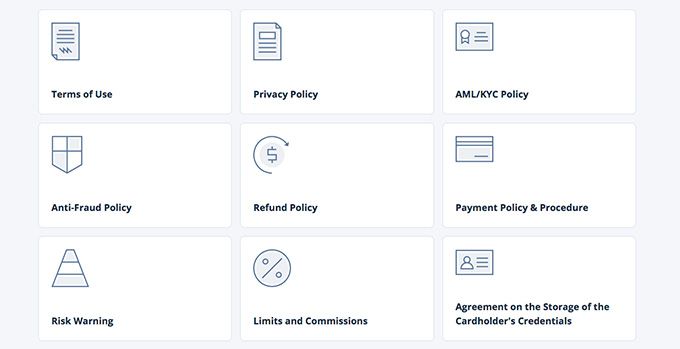 CEX also utilizes very strict KYC regulations. While this can be argued as a bad thing (we'll get to that later), it's actually amazing for those individuals who want to be guaranteed fair trading opportunities, and the safety of their assets.
CEX.IO is actually officially regulated, too! What this means is that you can be sure that there's an overarching institution that makes sure everything is fair and legal with both the CEX Bitcoin wallet, and also the exchange side of the platform, too.
Still wondering is CEX safe? Well, I've saved the best part for last - the exchange-wallet stores the majority of its users' funds in cold wallet devices.
BINANCE
COINBASE

Whether or not the cryptocurrency wallet accepts payments via bank wire transfer.

Whether or not the cryptocurrency wallet accepts payments via debit or credit card.

Whether or not the cryptocurrency wallet accepts payments via PayPal.

Whether or not the cryptocurrency wallet accepts cryptocurrency payments.

Visit site
Read review
Visit site
Read review
Table: The payments methods of the Coinbase Wallet and the Binance Wallet
Cold wallets are, for a fact, the safest way to store cryptocurrencies. Individual hodlers can purchase dedicated cold wallet devices, and keep their assets stored on them - the Ledger Nano X or the Trezor Model T are two good examples.
That said, some of the best cryptocurrency exchanges (and, by extent - exchange-wallets) do also utilize cold storage in order to make sure that their user assets are completely safe and away from the reach of any potential malware or hacking attempts. CEX.IO is one such platform.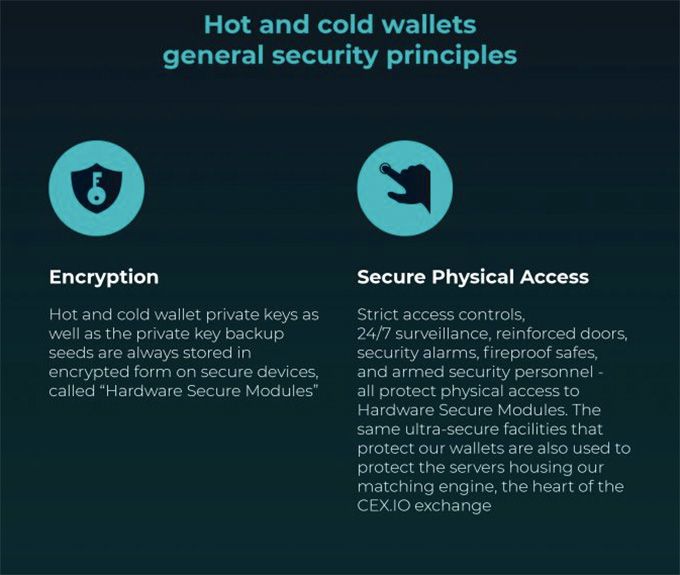 CEX notes that while the biggest part of the aforementioned assets is kept offline, there are still enough funds on the platform's hot wallets to allow day trading activities. Fantastic!
So, to sum it all up, if you've come to this CEX wallet review in order to find out is CEX safe, rest assured - it's an exchange-wallet that utilizes all of the top security features, and is bound to keep your cryptocurrency assets safe (to an extent, that is - if you want the best possible security, your best bet remains an individual-owned hardware wallet).
Latest Deal Active Right Now:
$300 + 40 DOGE BONUS
Huobi Black Friday Limited-Time Period
Huobi Black Friday & Cyber Monday 2023 period offers great bonus for new users - sign up & earn up to $300 + 40 DOGE bonus!
Expiration date : 10/12/2023
3,817 People Used
Only 31 Left
A Wallet Built into an Exchange
You probably saw this one coming, didn't you?
It's a point that's discussed anytime someone mentions exchange-wallets (for obvious reasons, too), but it's still crucial to be mentioned, especially concerning this CEX wallet review. I'll tell you why that's the case in a second.
So, whether you were to use the CEX app or the desktop (web browser) versions of the platform in question, you will find that the wallet is integrated into a cryptocurrency exchange.
Yes, I know - obvious stuff.

However, this being obvious should not take away from the fact of just how awesome it actually is!
You see, with the CEX Bitcoin wallet (or any other altcoin wallet, for that matter), you will be able to trade your crypto coins in an instantaneous manner, straight from your wallet. This will save you both a huge amount of time, and also some fees, too.
It's actually the core issue that people seem to have with cold wallets, too. While a cold wallet will provide you with top-tier levels of security, it's also going to be pretty annoying when you want to trade your coins (rather, transfer them to an exchange in order to start doing so).
So, CEX allows you to store cryptos, and also trade them instantly. Great! However, remember when I said that CEX.IO is actually pretty unique, even in this regard? Well, that's because the platform actually allows you to cash out!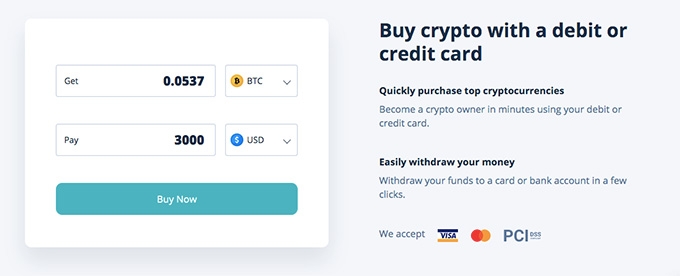 That's right - you will be able to sell your cryptos for fiat money, and transfer that money into your bank account or debit card in a matter of minutes!
While all of that is, admittedly, better of on a CEX exchange review than on this CEX wallet review, it's still worth noting that CEX basically allows you to go full-circle, from depositing fiat money into the platform, to buying, trading, and cashing out afterwards. Great stuff!
Awesome Mobile App
If you're looking for the CEX.IO mobile wallet, you'll be happy to hear this.
As do many other high-profile exchange-wallets, CEX.IO has a mobile app that you can use on the go. In other words, you will have the chance to access your funds and participate in trading and exchanging activities anytime, anywhere.
Awesome, right? Well, yes - but there's an even more awesome thing concerning the CEX.IO mobile wallet.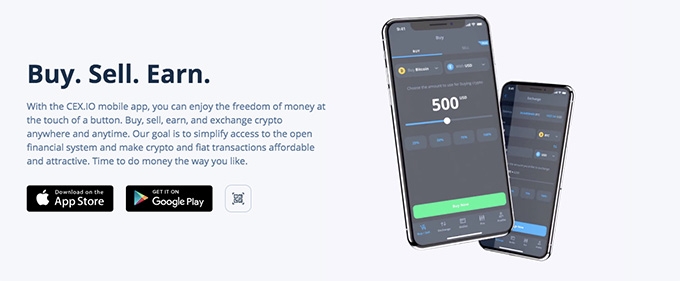 The app in question is very simple to use, and very intuitive. The best feature that it possesses is the fact that it allows both beginner and expert crypto hodlers and traders to feel welcome - there are separate tabs that you can access that will either show you a simplified view of the platform, or an expert-oriented one.
As far as other user CEX wallet reviews go, it would seem that people love the fact that they can access all of their holdings on a single tab, and even filter some empty wallets out. The visual information displayed is clear and simple, and the general loadout of the app, while being directed around the exchange part of the brand's services, is still very appealing to use and look at.
A Big List of Supported Cryptocurrencies
With cryptocurrencies becoming more and more mainstream, enthusiasts have started to diversify their portfolios quite a bit. That's awesome - it means that people have also started looking at different projects, and branching out with their interests!
Diverse portfolios also mean that there's an increasing need for secure and reliable crypto storage, though. Many cryptocurrencies (most, actually) have their own, dedicated wallet - while that's fine in of itself, if you own a wide selection of assets, it can start being really difficult to manage them all.
User CEX wallet reviews, however, will tell you that CEX solves this issue rather well.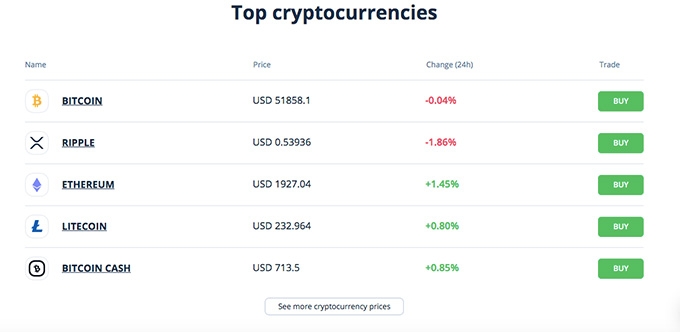 The exchange-wallet in question supports around 80 different cryptocurrencies. That's a decent number! You will find all of the main cryptos supported by CEX, and also a good variety of other altcoins, too.
The best part of the wallet in question is the fact that you can store all of these cryptos on a single platform (that being CEX). The wallets for each of the coins are, surely, going to be different, however, they will be presented on the same Graphical User Interface (GUI).
Low Crypto Withdrawal Fees
Fees are something that we often think about when discussing or contemplating exchanges. However, as some user CEX wallet reviews will tell you, they do apply to cryptocurrency wallets, too.
As far as CEX wallet fees go, there are only two things you need to look into - deposit and withdrawal fees. Both of these apply to cryptocurrencies, naturally - there are fiat-related fees, but these will be covered in the CEX exchange review.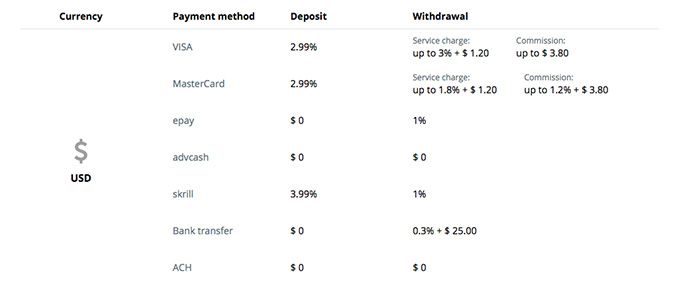 Deposits are actually a mystery with the platform. It would appear that you can deposit (transfer) cryptocurrencies to CEX completely free of charge - which would be the standard -, but there is no information that would affirm this.
As far as withdrawal CEX wallet fees go, though, things are actually awesome - a Bitcoin withdrawal from CEX will cost you around 0,0005 BTC! This makes CEX one of best exchange-wallets for cryptocurrency transfers both in and out of the platform.
SegWit Address Support (NOT bech32)
Bitcoin SegWit address support should be the norm nowadays. However, you would be surprised at the number of high-tier exchange-wallets that DON'T actually support this type of addresses.
SegWit addresses are a new type of BTC-exclusive address that replaced Bitcoin's Legacy wallet addresses. SegWit stands for "Segregated Witness", and addresses of this kind will start with either a "3" or a "bc1". The latter addresses are called bech32, and are unfortunately not supported by CEX.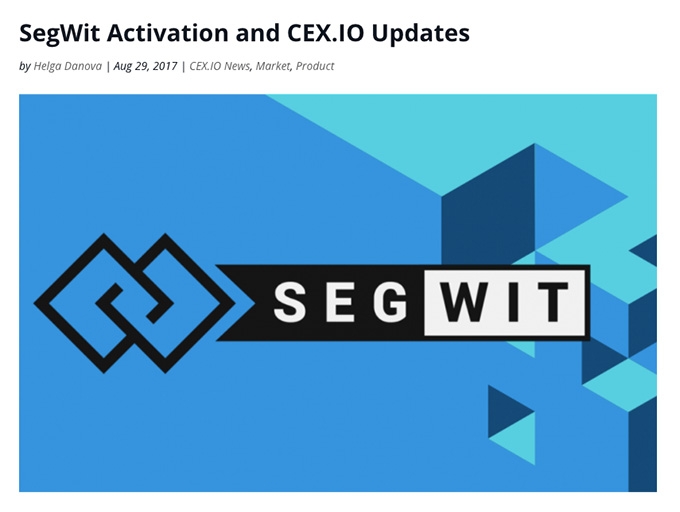 If you're using a SegWit Bitcoin address, your transactions are going to be both faster, and they will also cost much less to perform. Two great features - no reason not to use this type of an address!
This is especially-so-true given that the CEX app (and the whole platform, itself) supports SegWit addresses, no problem! Great news for any BTC enthusiast out there!

Did you know?
CEX Wallet Reviews: CONS
Having discussed all of the most-notable features and benefits mentioned in other user CEX wallet reviews, let's take a turn and look at some of the complaints that clients of this service may have. Admittedly, there aren't many such issues to cover, but the ones that DO exist are rather notable.
Strong KYC Enforcement
Earlier on in the CEX wallet review, I pointed out the fact that CEX does possess some rather strict KYC regulations and verification checks. This was pointed out as a beneficial feature, and for most people, it's going to be that.
However, it may also prove to be a negative one, too. It does actually all depend on your point of view.
If you're just looking to trade cryptocurrencies and keep them in a safe environment, you will probably be rather satisfied with how CEX chooses to approach KYC regulations. After all, this helps ensure that there is no fraud or foul play happening on the platform, and increases the overall security aspect of the wallet.
On the flip side, though, if you don't really question "is CEX safe?", and are all for decentralization, this may get in the way.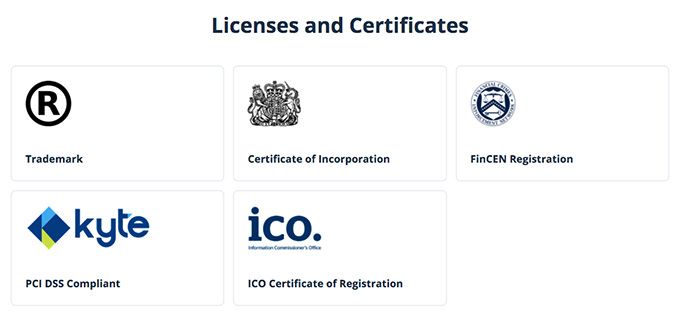 You see, while the absolute majority of the top cryptocurrency exchanges (thus, exchange-wallets, too) utilize KYC regulations in order to screen and confirm the people that use their services, some claim that this is a direct violation of what crypto is supposed to stand for - decentralization and anonymity.
Arguably, this is a belief held by the minority of individuals - crypto purists and traditionalists. Having proper KYC in place means that you know who's on the other end of the screen, and that you can also make safe fiat money deposits and withdrawals.
So, while this isn't really a prominent issue for most people, there are still going to be individual crypto enthusiasts who may not be all that fond of this feature. Just something worth keeping in mind!
No Live Customer Support for Non-Registered Users
Oddly enough, this is something that you won't really see mentioned all that often among different user CEX wallet reviews. I'd say - it should be!
CEX offers its clients the ability to submit inquiries via a customer support system on their official website. That's fine - the fact that you can actually get a hold of a support agent is more than with many other exchanges out there (although, to be fair, this issue mostly affects non-custodial exchange platforms).
Having said that, CEX doesn't actually allow you to contact support directly via a live chat - at least if you're not a registered user on the site. You have to submit an inquiry, and then wait for an email-based reply.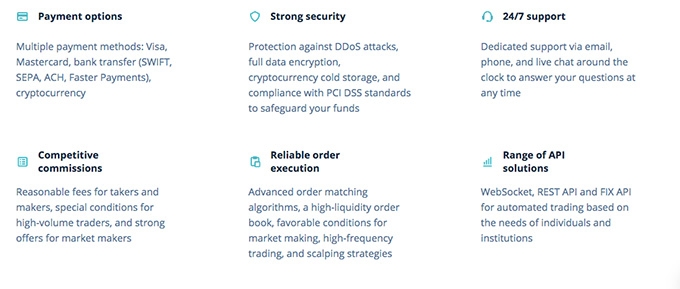 To add to that, due to some unprecedented liquidity & price swings that the entire crypto market seems to be continuously experiencing, exchange-wallets (CEX included) have got their hands full - you may need to wait for a response to your question for quite a few days.
Generally speaking, this might not be that big of an issue - many crypto-related services have similar support systems in place. However, we're talking about a platform that has to do with your finances here - in a case like this, you'd probably want your inquiries answered as soon as humanly possible!
Sure, you could say - why does it matter, if you're not registered on CEX? Simple - it can be a great way to gauge just how responsive the company is, and if you have any serious inquiries before deciding on registering to the site or not, it's even more so important.
How to Use the CEX Wallet?
So, now that we've discussed all of the major pros and cons of the CEX cryptocurrency wallet, you should have a pretty good idea of what to expect out of the platform in question.
Say, after reading this CEX wallet review, you've decided that CEX.IO is worth giving a shot. Before you dive head-first into the various features that the site has to offer, you'll need to register and create an account. Follow along - I'll show you how to do all of that!
How to Register on CEX.IO?
The registration process of the CEX exchange-wallet is exactly the same as if you were to register on CEX as a standalone exchange.
Step 1: Got to the CEX.IO official website.
Step 2: At the top-right corner of the screen, you'll see a "Create Account" button. Click it.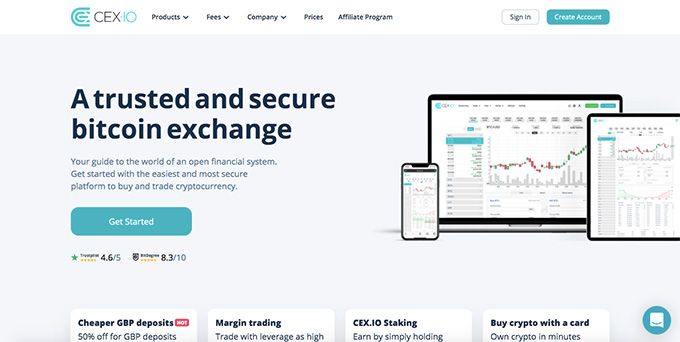 Step 3: Here, you will be asked to enter your email address, create a password, and select a country of residence. Standard stuff.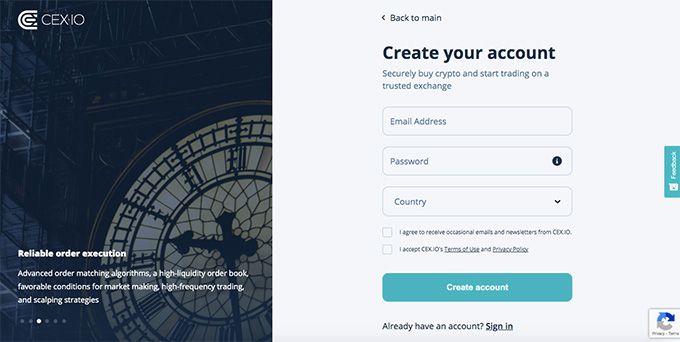 Step 4: Next up, email confirmation - go to the email address that you've provided above, and follow the instructions provided there.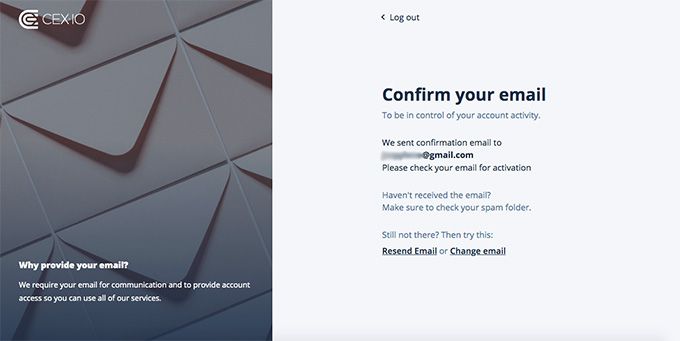 Step 5: After being redirected to the log-in page, you'll have to enter some very basic information about yourself. This includes your name, surname, and date of birth.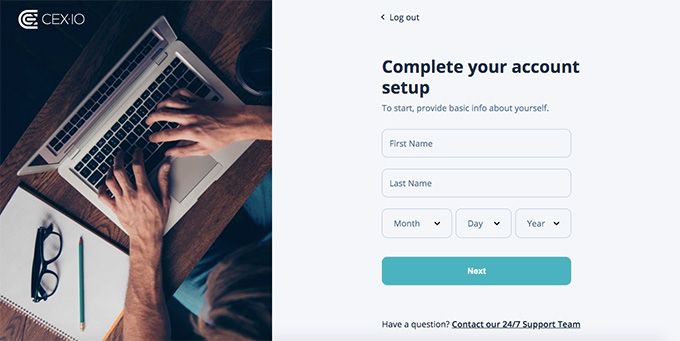 Step 6: Now, you will be given the chance to increase your account limits by passing some KYC verification checks, but you can skip this part and come back to it later. Once you figure this out, that's it - you're in!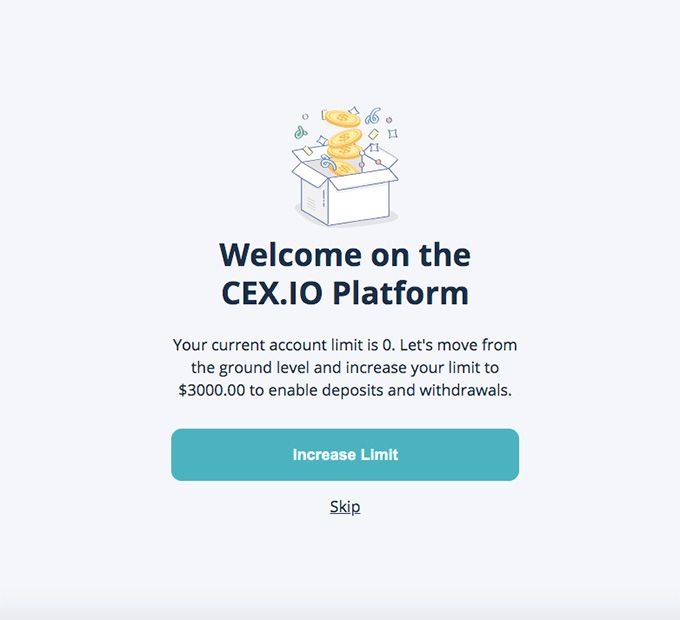 A noteworthy point in this CEX wallet review is the fact that, while CEX doesn't have the fastest registration process out there, it's surely still very straightforward! The process in question takes but a few minutes, and you can skip through all of the tedious KYC checks for the time being, and come back to them when prompted later on.
How to Deposit / Withdraw Cryptocurrencies to / from CEX.IO?
Now that you've accessed your account for the first time, you might be wondering "how to find my wallet address with CEX?", or "how should I make the first deposit?". Well, worry not - that's exactly what we'll look into next.
Step 1: From the page that you've been sent to after registration (the trading page, basically), navigate to the top-right part of your screen, and you'll see two buttons - "Deposit" and "Withdraw". Press the first one.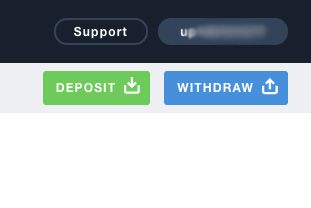 Step 2: Here, you will see a wide list of options of how you can fund your account. For real - the methods are rather plentiful! However, there are no crypto funding options at first glance - in order to view these options, you need to pick an appropriate crypto asset from the upper-right part of the screen (where the "USD" drop-down menu is).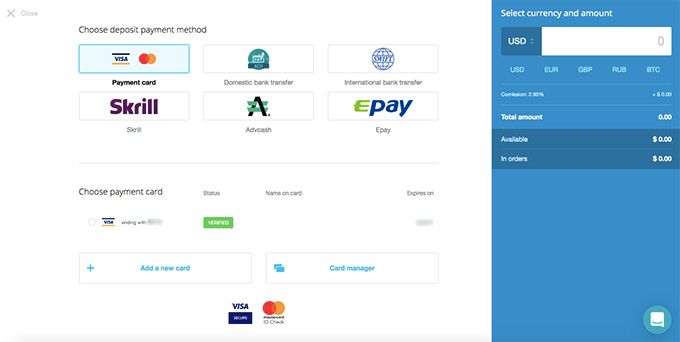 Step 3: For this example, I'm using Bitcoin. If you have verified your account, you will be presented with your BTC deposit address. All that you need to do is copy it, and paste it on the platform that you're making the withdrawal from. That's it!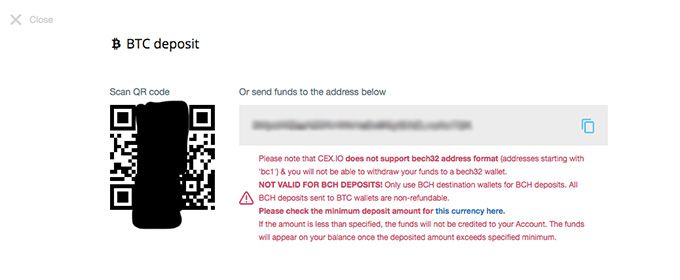 The speed of the transaction is going to depend on the network load and a few other criteria, but the transaction should follow through shortly. Once it does, you will see the BTC appearing in your CEX wallet, and will be able to start trading or simply hodling it.
Step 4: Now, let's move on to withdrawals. Follow along the same process, only pick "Withdraw" instead of "Deposit" this time. You will be sent to a page that'll ask you to enter the recipient's BTC wallet address - remember, it's the wallet address of the individual you are SENDING the money, and NOT your own CEX Bitcoin wallet address.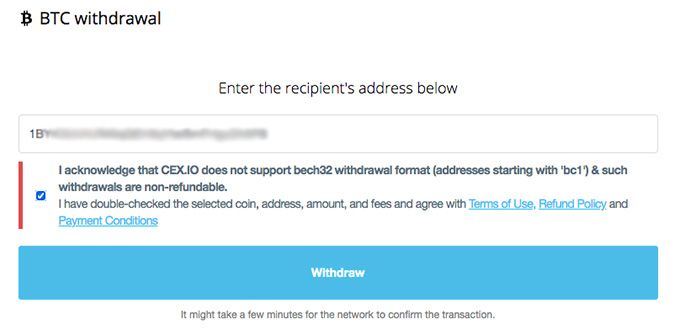 As you can see, CEX also prompts you about not supporting bech32 addresses.
Step 5: Now you'll need to enter the amount of BTC you want to send, check the details, and confirm the transaction. That's basically it!
The withdrawal process is as simple as the deposit one. It takes a couple of minutes, and CEX really does a good job of guiding you through it.
While this is also something that's pretty frequently mentioned in user CEX wallet reviews, I feel as if it deserves to be emphasized even further - as you just saw for yourself, CEX offers a huge variety of methods of how you can buy cryptocurrencies with fiat money!
Indeed, purchasing crypto assets with fiat directly from your wallet isn't a foreign concept even for non-exchange-wallets. I mean, take a look at the Ledger Nano X - with the help of the Ledger Live user interface, you can purchase crypto straight to your hardware wallet device!
The difference here is that Ledger uses a third-party exchange service - Coinify -, while the CEX wallet utilizes the services of its own, built-in exchange.
Summary
Admittedly, as noted in the introductory part of this CEX wallet review, picking yourself out a reliable and trustworthy cryptocurrency wallet may prove to be a slight challenge. These days, however, the main challenge that presents itself is the variety of different wallets available to be used!
I'd like to leave you off today with one, last sentiment that you'll find expressed rather often both in my other exchange-wallet reviews, and also various online crypto-related forums, too: your best bet is to utilize the services of two separate wallets.
The way that this works is pretty simple - you will need an extremely secure crypto wallet, such as one of the top-tier hardware cryptocurrency storage devices. In addition to that, you can then choose another, more convenient option, trading-wise - since this is a CEX wallet review, the service in question might suit you pretty well!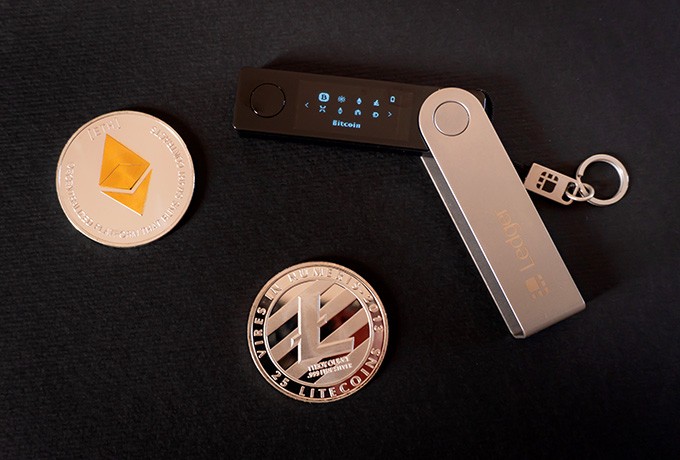 You would keep the vast majority of your crypto assets on a hardware device (cold storage wallet), and only a small portion of your owned crypto would be located on a hot wallet (such as CEX).
This way, you will be able to both partake in day trading activities, if you so wish to, and also remain calm that the bulk of your cryptos are guarded by the best defenses in the cryptocurrency industry!
As far as CEX is concerned, it may truly be an amazing choice for anyone who's looking for a way to both trade and store crypto assets, at the same time! Due to the features offered by CEX, the exchange-wallet will suit both crypto beginners and veterans, alike.
The regulatory nature of the service in question does also work as proof towards its legitimacy. CEX is available to be reached and used 24/7, all around the world - even US-based investors can trade cryptos on the platform, which, due to things such as SEC regulations, are often impossible on some other high-end exchanges.

Pros
Can be managed from mobile device
Very secure
Supports more than 5500 cryptocurrencies

Pros
Top-tier security
DeFi app support
Store over 5500 assets, install up to 100 apps simultaneously

Pros
Multiple cryptocurrency support
Very secure
SegWit and Bech32 address support
Conclusions
Well, then - that's it! We've reached the very end of our CEX wallet review!
Would I myself recommend trying CEX out? Well, as far as I can tell, it's definitely an amazing platform, with a lot of benefits to offer to its clients!
Whether you'd be interested in CEX as a cryptocurrency exchange, or would like to use the CEX.IO mobile wallet, you can expect top-tier security measures, accompanied by some useful features and a clean reputation. While you should always do your own research when it comes to these things, CEX does truly appear to be rather decent!
LEDGER NANO X
TREZOR MODEL T

Whether or not (and for how long) the crypto wallet offers a time period in which you can return the wallet free of cost.

14 days
15 days

The lowest cost of each brand's product. These are regular prices without discounts.

149 EUR
219 USD

What kind of additional fees you may have to pay for extra services.

N/A
N/A
Visit site
Read review
See TOP10 Brands
Read review
Table: The pricing options of the Ledger Nano X and the Trezor Model T
If, however, you feel that CEX.IO isn't really going to suit you as an exchange-wallet alternative, there are more options to explore - you could always turn to wallets such as the Ledger Nano X or the Trezor Model T! While these devices come with a price tag, they do also offer the best security that money can buy!
Finally, you would do well to check out the best cryptocurrency exchange platforms on the market, too!
With all of that said and done, I thank you for reading, and wish you good luck in finding wallets and exchange services that will suit you best! Cheers!
The content published on this website is not aimed to give any kind of financial, investment, trading, or any other form of advice. BitDegree.org does not endorse or suggest you to buy, sell or hold any kind of cryptocurrency. Before making financial investment decisions, do consult your financial advisor.
About Article's Experts & Analysts