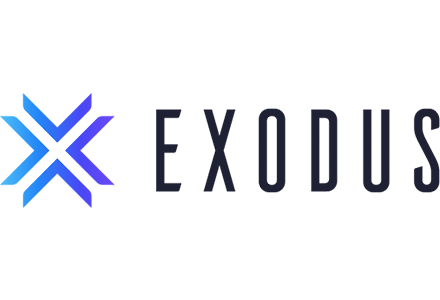 Today, we'll be looking at one of the easiest-to-use software wallets around — the Exodus wallet. In this Exodus wallet review, we'll cover getting started with the software, the different coins you can store on the wallet, the security features it offers, and a list of its advantages and disadvantages.
By the end of the guide, you will know how to download and install Exodus, and how to send and receive different cryptocurrencies using the wallet. You will also know how to use its built-in exchange features, how to back up the wallet, and which use cases Exodus is good for and which it is not so good for.
So, let's not waste any more time and move on to our Exodus wallet review!
Pros
Easy to use
Has customer support
Multiple cryptocurrency choices
A software-based wallet
Built-in exchange features
Cons
Prone to security issues
The fees can reportedly be quite high
Exodus Wallet Review: What is Exodus?
The Exodus wallet is a relatively new software wallet. It was created by JP Richardson and Daniel Castagnoli. Richardson has written the code for many cryptocurrency products previously, and Castagnoli has worked as a designer for huge companies like Apple, BMW, and Nike.
Exodus has been designed to be a user-friendly, multi-cryptocurrency wallet. You can use many different crypto assets with it. I have listed the coins you can use with it below (there are a lot!):
0X (ZRX), Aragon (ANT), Augur (REP), Bancor (BNT), BAT (BAT), Bitcoin (BTC), Bitcoin Cash (BCH), Bitcoin Gold (BTG), Civic (CVC), Dash (DASH), Decred (DCR), District0x (DNT), Edgeless (EDG), EOS (EOS), ETH Classic (ETC), Ethereum (ETH), FirstBlood (1ST), FunFair (FUN), Gnosis (GNO), Golem (GNT), iExec RLC (RLC), Litecoin (LTC), Matchpool (GUP), Numeraire (NMR), OmiseGo (OMG), SALT (SALT), Status (SNT), WeTrust (TRST), Wings (WINGS)
You can also store any currently unsupported and custom ERC-20 tokens using the Exodus software wallet.
Latest Ledger Nano X Coupon Found:
SAVE 10%
Ledger Cyber Monday
Ledger Cyber Monday sale is bringing you the best deals - follow the coupon link & get 10% off Ledger Nano X when buying the Family Pack X!
Expiration date : 06/12/2023
7,469 People Used
Only 21 Left
Why Was Exodus Created?
There are a lot of software wallets already available. Examples of competitors are Jaxx, Green Address, and Bread Wallet. So, why did the Exodus team want to make another one?
The designers of Exodus wanted to make a user-friendly wallet that could do everything a basic cryptocurrency user would want it to. This, they hoped, would make the crypto experience easier for people that aren't used to using the technology.
If these beginners have a pleasant experience using crypto, then they're more likely to recommend it to their friends. This is how widespread adoption happens - that's obvious from reading user Exodus wallet reviews, too!

For this reason, the Exodus team included an easy-to-read portfolio section to help organize assets and check their value against different fiat currencies. They also include a built-in trading function. This lets users swap one currency for another. It's also how the Exodus team make money since the software itself is free to use.
Note: Fiat currencies refer to central bank-issued currencies. Examples of these include the US Dollar, the Euro, and the Korean Won.

Did you know?
What Makes Exodus Wallet Different?
Let's quickly run through the main things that make Exodus stand out of the crowd of cryptocurrency wallets that are currently available to be used.
Design
The team behind the Exodus Wallet has worked hard to create a piece of software that is as easy to use as possible. The user interface (the bit that you can see!) is clean and has features that basic users are likely to want to use. This includes each asset's send and receive functions, a complete portfolio view, the trading feature, and back up/recovery options.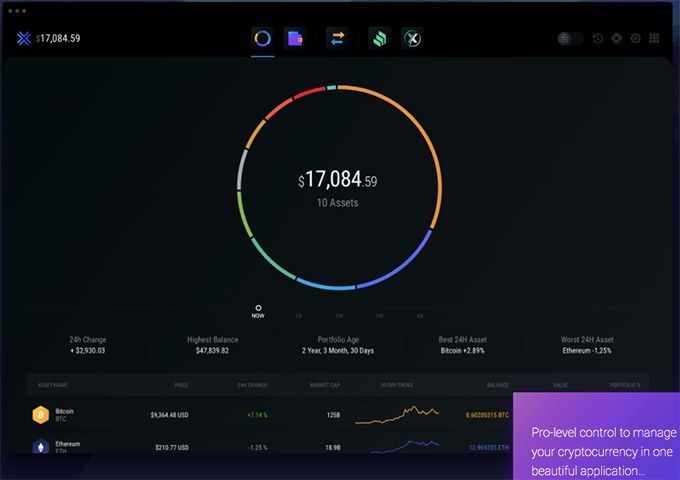 The design was clearly very important to the creators of the Exodus Bitcoin wallet. In the options menu, you can change the look of the software. There are multiple themes to choose from. None of them are too crazy, though, and they all give the software a professional look.
You can also change the color of the background on the wallet. This option is quite funny, since you can only pick different shades of dark blue, dark purple, and black.
Latest Coinbase Coupon Found:
CLAIM YOUR $200 BONUS
Coinbase Cyber Monday
Cyber Monday Madness at Coinbase! Get your first crypto and earn up to $200 in rewards. Hurry up before this Coinbase Cyber Monday deal ends.
Expiration date : 08/12/2023
3,784 People Used
Only 16 Left
Support
Multiple user Exodus wallet reviews will tell you that that one thing that's lacking from most wallets and cryptocurrency services is good customer support. Since most wallets are open-source and free, they can't offer support simply because they would need to pay people to answer customer's questions.
Exodus is different though.
They make money by charging fees on trades made with the built-in exchange. This means they can offer proper email support.

I haven't personally used the customer support on Exodus. However, the internet is full of people's stories about using it. They are mostly very positive, and it sounds like Exodus are doing a great job of keeping their customers happy.
On top of the customer support, Exodus customers can look at over 100 articles on the website. These fully explain the features of the wallet. They also have information about fees and advice for users with problems. Lots of the articles have videos too. These show you how to use the features on the wallet.
Trading
The Exodus wallet has a built-in trading feature. This is provided by the exchange platform Shapeshift. It makes swapping one currency for another very quick and easy. It might not offer as low prices as you will find on exchanges like CoinBase and Bittrex, but it is great for non-professional traders wanting to buy different cryptos.
Is Exodus Safe to Use?
No Exodus wallet review would be complete without looking at the security of the software. Exodus gives you a relatively-safe cryptocurrency wallet for daily use. Since it is an online wallet, it will never be as secure as leaving digital currency in cold storage (such as a paper wallet).
It also lacks some features which make it less secure than other, more complex software wallets. Before we look at these, though, let's talk about some of the safety features Exodus does have.
Backup Features
If the device that the Exodus Bitcoin wallet is stored on (your computer) is lost, stolen, or damaged, you can still access your cryptocurrency. Exodus offers its users two ways of restoring their wallets.
The first is to use a standard 12-word passphrase. This is given to you when you first make an account. It's very important that you store this passphrase securely. Write it down and put it in a safe deposit box. If you lose it and your computer breaks, you won't be able to access your cryptocurrency.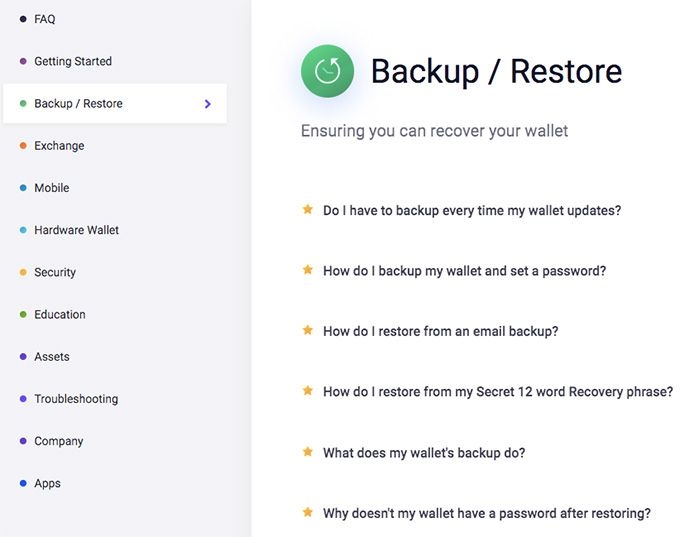 Another helpful backup feature is the email restore option. When you create an account, you'll be sent an email with a backup link attached. Clicking on this will restore your account. You just need to enter your password and you'll be reunited with your precious crypto!
Security Flaws
The above features make restoring your wallet easy, but they don't offer any high-level protection against hackers and malware. With a few more extra features, the Exodus wallet could offer much better security. However, with time, these features might surely be added.
Exodus doesn't offer two-factor authentication. This makes it easier for hackers to use a keylogger to break into a wallet. All that protects the wallet is a single password. Once in, a hacker has access to the cryptocurrencies stored there.
Note: A keylogger is a piece of malware that records the keys pressed on your keyboard. They are used to find email addresses and passwords.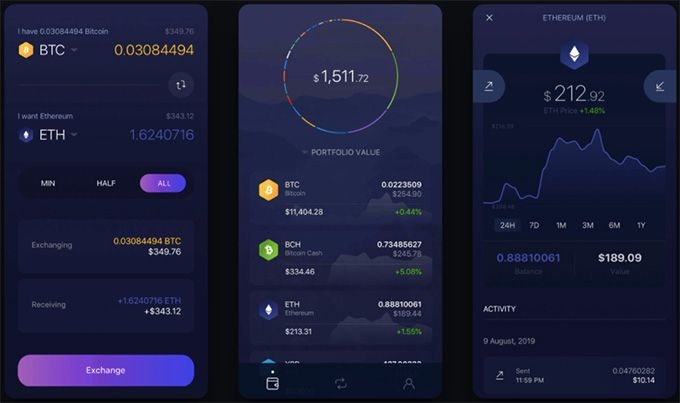 Another feature that the Exodus wallet lacks is multi-signature addresses. The idea behind a multi-signature address is like two-factor authentication. It gives another layer of security to a wallet. With a multi-signature wallet, you choose how many devices must tell the network it's ok to send money before any is sent. Examples of this are email or text message confirmation.
It's common to have a multi-signature wallet on a laptop and a cell phone. Both of these devices must confirm a transaction before it is broadcast to the network. This makes it much more difficult for hackers to steal funds because they must access two devices instead of one.
It's because of these two security flaws that Exodus themselves don't recommend storing large amounts of cryptocurrency on their software. The Exodus wallet is much more suited for use as a day-to-day wallet. Compare it to your real-life wallet. You don't walk around town with your life savings in your wallet, do you?
How Does Exodus' Security Compare with Other Wallets?
Continuing this Exodus wallet review, let's take a look at how the security aspect of the Exodus wallet compares to some other wallets out there.
VS a Web Wallet
The Exodus wallet is much more secure than a web wallet. Web wallets, like those found at exchanges (such as Coinbase), are the easiest to lose funds from. They have security risks that no other wallets have. These include the risk of the exchange's central servers being hacked, or the risk of the company itself going bankrupt.
COINBASE
EXODUS

Overall level of security & safety of your assests offered by a certain crypto wallet.

Whether the crypto wallet requires two-factor authentication as an extra layer of security when completing an action.

Whether the crypto wallet requires multiple keys to authorize a transaction as an extra layer of security.

Whether the crypto wallet requires a Pin code as an extra layer of security when completing an action.

The general anonimity level of your data.

What kind of methods of recovering your cryptocurrency assets in case you lose your wallet or forget your primary password does the wallet offer.

Seed Phrase
12-word Seed Phrase

Who owns your private keys.

You
You

The level of control you have on the crypto wallet.

Visit site
Read review
See TOP10 Brands
Read review
Table: The security features of the Coinbase Wallet and Exodus
For these reasons, web wallets are not suitable for storing cryptocurrency. If you are an active trader, you will have to take the risk. This is because trading requires your coins to be available at short notice, so you can take advantage of movements in the price of certain cryptocurrencies. For everyone else, it's just not worth storing funds on a web wallet service.
VS Paper or Hardware Wallets
The Exodus wallet is much less secure than either a paper or hardware wallet. Neither of these are always connected to the internet like most software wallets are. This reduces the chances of them being hacked. If your software wallet is on a computer that you use every day, the chances of you downloading malware or keyloggers are much higher.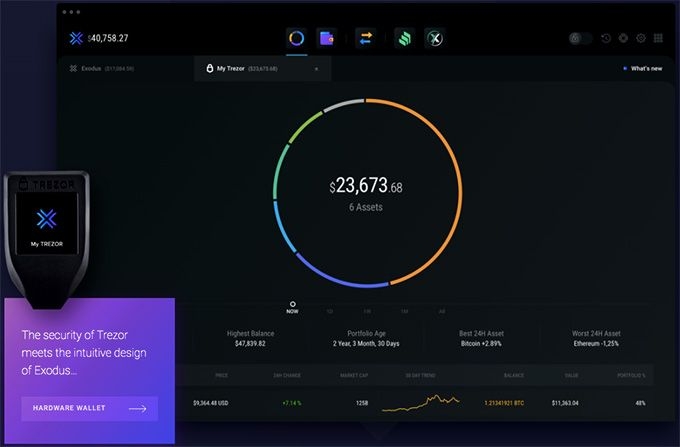 If you want to store your cryptocurrency for a long period of time, paper or hardware wallets are the best option. Wallets like the Exodus wallet are great for people who use small amounts of cryptocurrency regularly. They are also good if you want to swap one cryptocurrency for another.
How to Create and Use an Exodus Wallet?
Next, in this Exodus wallet review, I'll show you how to get your own wallet. It's really easy to set up and start using Exodus, so I've outlined the steps for you below.
1. Download the wallet from the official website. Beware of phishing (fake) websites. Check the security certificate of the site you are visiting by looking at the green text next to the website address. It should say "secure" or the name of the company.

2. Once you've downloaded the software, follow the onscreen prompts to install it.
3. When it's installed, open your wallet and then click the "wallet" tab at the left-hand side of the screen.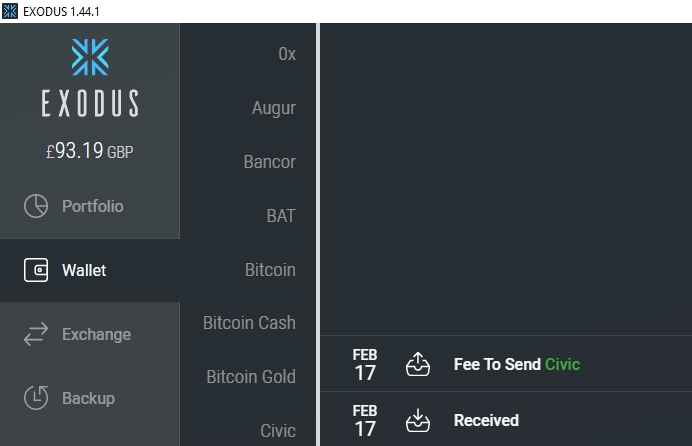 4. Click on the cryptocurrency you want to add to Exodus. Next, click "receive".
5. You will be shown an address and a QR code. This is your public wallet address and is what you give to someone that wants to send you some crypto. You can also use this to send crypto from another wallet of yours to your Exodus wallet. If you are sending crypto from another device that has a QR code scanner, you can use the QR code to get the address.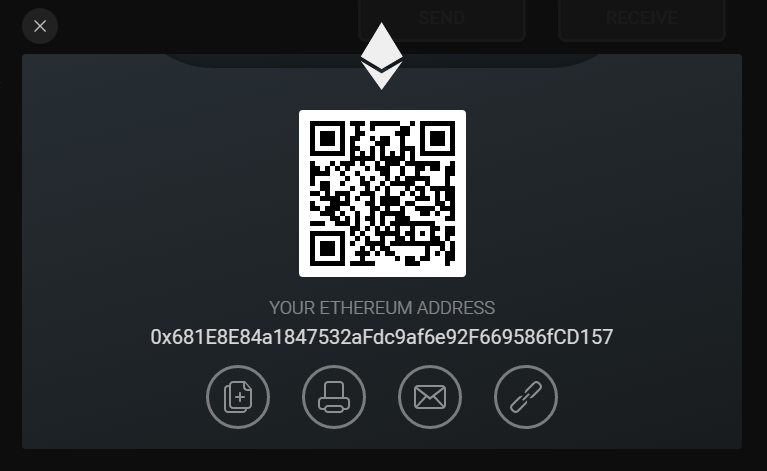 Note: Phishing websites are sites that have been designed to look like popular websites. They are made by scammers to steal information such as login data. This is then used to steal funds from the actual service the victim was trying to access.
Sending Cryptocurrency Using Exodus
To use your Exodus wallet to send cryptocurrency, follow the steps below. Don't worry, it's very easy - you truly don't even need any user Exodus wallet reviews to help you out!
1. Click "wallet" in the left-hand panel.
2. Select the cryptocurrency you want to send.
3. Click "send" in the center of the window.
4. You will be given the option to scan a QR code using your device's camera or to enter an address.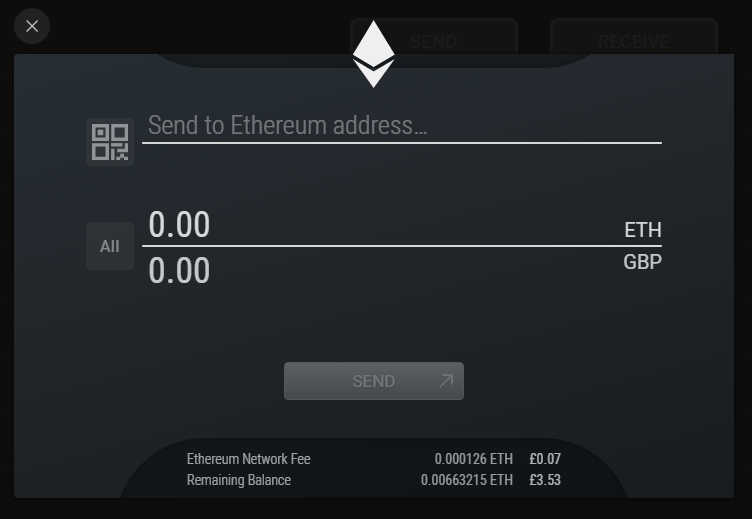 5. Scan the QR or enter the receiver's address in the section labeled "send to … address".
6. Enter the amount you want to send.
7. Click "send".
Note: On the Exodus Wallet, each network fee is automatically worked out for you. This is great for basic users. However, the fees are often much larger than they need to be. Exodus wallet fees are set up to transfer as quickly as possible, not as cheaply as possible.
Using the Exchange
Just like other features of the Exodus wallet, the exchange is very easy to use. Just follow the steps below. I'll assume that you have already added money to your account, to begin with.
1. Click "exchange" in the panel on the left of the window.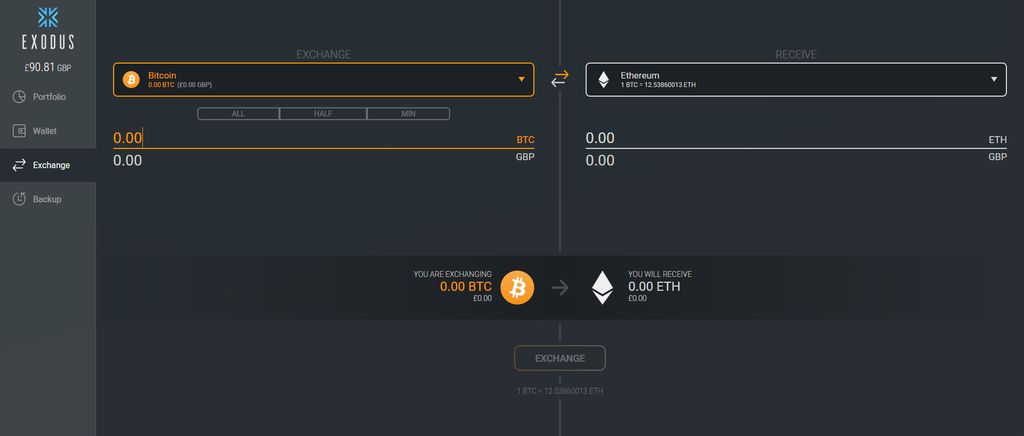 2. On the left, you will select the cryptocurrency you are swapping. On the right, you select the cryptocurrency you want to receive.
4. Click the left-hand option. It will say "Bitcoin" by default. Change it to the currency you want to swap.
5. Repeat this for the right-hand option. This will be the currency that you receive.
6. At the bottom of the page, you will see the current exchange rate between the two assets you selected. It might say something like: "1 BTC = 12.6092 ETH". This means that, for every Bitcoin you swap, you'll get just over 12 Ether back into your wallet.
7. When you have checked that you have entered all the details correctly, click the exchange button. You should receive your new crypto asset shortly after.
How to Add Custom Tokens to the Exodus Wallet?
You can use your Ethereum address to store ERC20 tokens even if they aren't listed on Exodus. Ether wallets and all ERC20 tokens share the same address. Cool, huh?
It's easy to add unsupported and custom ERC20 tokens to Exodus.
Simply find your Ethereum address by following the above steps about receiving cryptocurrencies.
Then, send the token from the wallet it is stored at (usually MyEtherWallet, especially if you have created a custom token) to your Ethereum Exodus address.
Done!
However, since they are not supported by Exodus, they won't show up like the other coins do. So, to check that they arrived, you must enter your Ethereum public address on an Ethereum blockchain explorer.
To send these tokens back out of your Exodus wallet is a little tougher. Don't worry, though - I'll talk you through it step by step!
1. Go into the help menu on the left-hand panel.
2. Scroll down to the bottom and click "show developer menu".
3. More options will then appear at the top of the screen.
4. Click "developer" and "assets", then "Ethereum".
5. Next, click "export private key". A pop-up box will appear telling you where the private key has been exported to (usually your computer's desktop).
6. Open this file. Highlight and copy the private key.
7. Visit "MyEtherWallet" and click "send Ether and tokens".
8. Click "private key" and paste your private key into the box.
9. You will then be able to see inside your wallet.
10. Using MyEtherWallet's send options, send your custom tokens in the same way you would with any other wallet.
Advantages and Disadvantages of the Exodus Wallet
Next up in this Exodus Wallet review, I'll look at the advantages and disadvantages of using the software. Let's start with the good stuff before moving onto the not so good.
Advantages
Easy to use. The Exodus wallet is one of the most user-friendly wallets I've ever seen.
Supports multiple currencies. Storing all your assets in one place makes it easy to trade and spend.
Built-in trade and portfolio functions. Swapping currencies and keeping track of gains or losses is very easy on Exodus.
Automatic fee adjustment. Beginners in cryptocurrency might not be confident with setting the correct network fees for transactions. Exodus takes care of this for them.
Great support. This is rare with cryptocurrency products.
Software wallet. More secure than a web wallet. Exodus is ideal for small purchases and day to day spending.
Disadvantages
As a software wallet, the Exodus wallet can be hacked. It is possible to lose funds if your device gets infected with malware or keyloggers.
Limited security features. With no two-factor authentication or multi-signature support, you should avoid leaving large sums of money on the Exodus wallet.

Pros
Can be managed from mobile device
Very secure
Supports more than 5500 cryptocurrencies

Pros
Top-tier security
DeFi app support
Store over 5500 assets, install up to 100 apps simultaneously

Pros
Multiple cryptocurrency support
Very secure
SegWit and Bech32 address support
Conclusion
The Exodus wallet is great for people who are new to the cryptocurrency space. It is one of the easiest to use wallets I've seen, and it doesn't confuse its users with complicated extra options. All the wallet's features are very simple to use with few opportunities to make a mistake - that's echoed by user Exodus wallet reviews, too.
I love Exodus wallet's customer support options and the fact that the wallet lets you use multiple cryptocurrencies. The built-in access to the Shapeshift exchange is also great for those who want to try trading, but don't want to risk leaving funds on Bittrex, Kraken, or a similar centralized service.
LEDGER NANO X
EXODUS

Main score based on expert evaluations & real user reviews.

Whether the crypto wallet is hardware, software, desktop or paper type.

Hardware
Software

For which purpose or for what kind of people is the cryptocurrency wallet best for.

Best for Safely Storing, Sending, and Receiving Different Cryptocurrencies
Best for Small Purchases and Day to Day Spending

Most popular hand-picked deals & coupons.

All Ledger Nano X Coupons
See All Coupons of Best Wallets

Final crypto wallet evaluation conclusion based on research, expert opinions & user feedback.

One of the best hardware cryptocurrency wallets ever made.
A very beginner-friendly cryptocurrency wallet.
Visit site
Read review
See TOP10 Brands
Read review
Table: The Ledger Nano X and the Exodus wallet
While there are a few drawbacks to the Exodus wallet, these shouldn't be an issue for most people who are planning to use the wallet for small, day-to-day transactions. If you're looking to trade huge amounts of cryptocurrencies, though, it's best that you take the time and look into Exodus a bit closer.
If you're interested in finding out more about other cryptocurrency wallets, feel free to check out our guide how to choose the best cryptocurrency wallet.
So, that's our Exodus wallet review. Now that you understand the software a little better, what do you think? Will you be using it for your day-to-day crypto spends?
The content published on this website is not aimed to give any kind of financial, investment, trading, or any other form of advice. BitDegree.org does not endorse or suggest you to buy, sell or hold any kind of cryptocurrency. Before making financial investment decisions, do consult your financial advisor.
About Article's Experts & Analysts