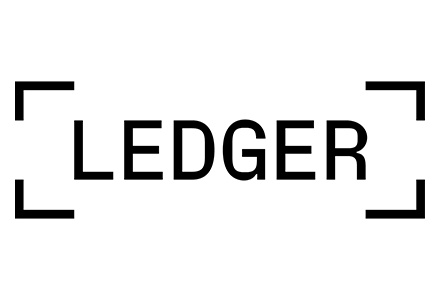 Ledger is a household name, in the world of hardware crypto wallets. The company has established a seemingly-unshakable reputation as the leader in the space, providing its customers with some top-shelf wallet crypto products. In this Ledger Nano S Plus review, we'll take a good look at the newest product available from the brand.
The Ledger Nano S Plus is marketed as the new-and-improved version of the classic Nano S wallet. While the Nano S was the product that skyrocketed Ledger into success, and the Nano X is the high-end version for those who are most worried about their asset security, the Nano S Plus provides a compromise between pricing and functionality.
Out of all three wallets, which one should you choose, though? Is the Ledger Nano S Plus safe to use, to begin with? How does it compare to the Nano X?
All of those questions - and many more! - will be answered in the review ahead!
Pros
Top-tier security
DeFi app support
Store over 5500 assets, install up to 100 apps simultaneously
Fair-priced
NFT support (with Ledger Live)
Larger display screen
Cons
Button placement could be better
Ledger Nano S Plus Review: PROS
To start things off, the one thing that you should be aware of when going into this Ledger Nano S Plus review is that we'll be looking at this wallet mostly from a comparison-based standpoint. That's because, essentially, the Nano S Plus is an improved version of the "world's most popular wallet" - the Nano S.
Worry not, though, since, towards the end of the review, I'll also give you a quick rundown of the three hardware wallets currently available on Ledger.
A Bigger Screen Display
When looking at the new Ledger Nano S Plus, one thing that you will notice almost immediately is the fact that the wallet has a much bigger display screen, when compared to the older Nano S model.
If you're an owner of the older Nano S, you can probably immediately imagine just how major this factor is!
The original Nano S wallet has a pretty small screen. While it's nothing that would be a "deal-breaker", it does limit the display options on your device, nonetheless. This is especially evident when you compare the wallet with the Nano X - when doing a side-by-side comparison, the difference is staggering!
Wanting to improve on the somewhat-outdated version of their most-popular wallet, Ledger has installed a stylish and modern screen display on the Nano S Plus. Reading through various user Ledger Nano S Plus reviews, it seems to have been the right decision!

The bigger screen will allow you to see more apps and features at once, while also being much simpler to navigate through, too. On top of that, the new Ledger Nano S Plus has its screen integrated into the rest of the device in a rather seamless manner.
This is quite the change, when compared to the Nano S. In the old version of the wallet, the screen kind of stuck out, thanks to the framing of the rest of the device surrounding it. This new Nano X-like design gives the Nano S Plus a modern and stylish feel.
All in all, a bigger display is a welcome change, as far as this Ledger Nano S Plus review is concerned!
More Assets to Manage, More Apps Supported
Among the biggest changes that the new Ledger Nano S Plus brings to the table, you have asset and app support. The wallet in question ramps it up to some incredible numbers!
To be more specific, user Ledger Nano S Plus reviews will tell you that the wallet supports over 5500 different assets, with up to 100 different apps installed, simultaneously. These numbers are very significant.
Asset and app support are two somewhat different things. Assets can include various different cryptocurrencies, such as Bitcoin, Ether, XRP, and so on. In regards to apps, you can view them as different blockchains - so, if you install the Ethereum app, your device will support Ether, sure, but it will also support most of the Ethereum-based tokens, of which there are many!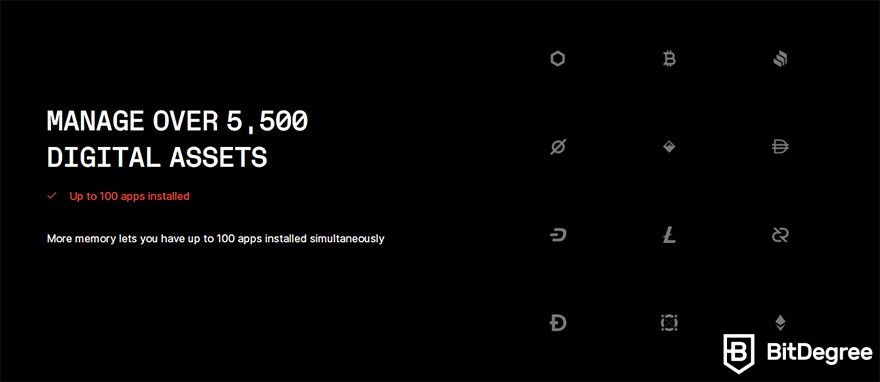 As time goes on, and the cryptocurrency market grows, people's interest in multiple different crypto projects follows this trend, as well. While your average crypto investor could have been interested in but a few bigger projects a few years ago, today, the situation is quite different - specifically, people tend to hold many more coins and tokens than they used to!
Following that, cryptocurrency wallets must keep up, as well. The Ledger Nano S - the original wallet from Ledger - has pretty limited asset support. On top of that, if you hold some of the main coins (BTC, ETH), the number of additional apps that you could install is very limited - the device simply doesn't have enough memory!

While the list of the Ledger Nano S supported coins isn't spectacular, this is something that the new Nano S Plus model aims to mitigate. No matter if you're looking to hold the major coins, or some niche tokens, chances are that the new Ledger Nano S Plus will support it!
Following that, the fact that you'll be able to install up to 100 different apps at the same time is a huge added benefit! This will increase your chances of being able to hold all of your assets in one wallet - while holding crypto in a few different wallets is the safer alternative, having all of your assets in a single place is much more convenient, especially if you're a day trader.
NFT Support
It's definitely no secret that NFTs - non-fungible tokens - are a really hot topic these days. With them being increasingly more-integrated into the mainstream (i.e. Twitter allowing users to change their pictures to their NFT avatars), it would seem that their popularity will only rise, with time.
That being said, if you're an NFT holder yourself, you probably know how tedious it can be to find a reliable wallet for your tokens. Crypto wallets often either don't support NFTs, in general, or don't have the user interface to showcase the visual of said tokens.
Ethereum-based NFT holders tend to rely on MetaMask. It's the most popular ETH wallet on the market, and it's free to use - this, however, comes with its own issues. While MetaMask is useful, if you want to be sure that your cryptos (and NFTs) will truly remain safe and sound, you need to pair your MetaMask with a Ledger wallet (yes, that's a thing).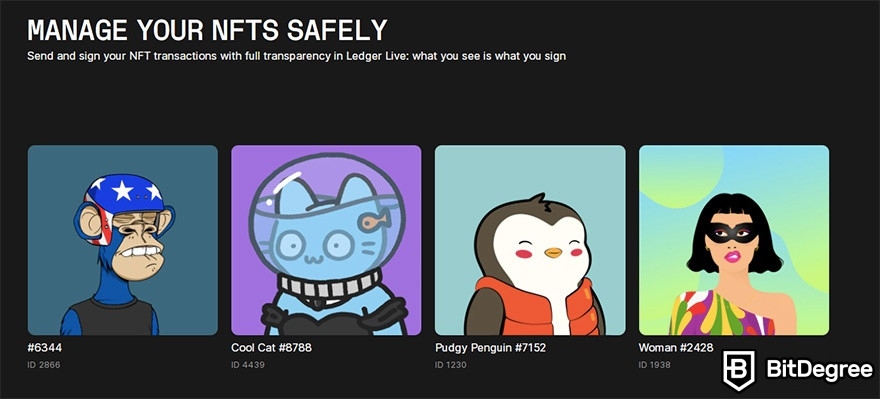 If you don't want to go through all of the hassle of using MetaMask, though, user Ledger Nano S Plus reviews might have great news for you - the Nano S Plus wallet will allow you to store, send, and receive NFTs, straight from the Ledger Live user interface!
While Ledger Live is something that I'll elaborate on in a minute, this is a massive deal for many NFT hodlers out there! You'll be able to sign transactions right from the Ledger interface, in a transparent and user-friendly manner. In turn, this should reduce the number of scams present in the industry, since it will allow you to double-check your transaction details in a convenient way.
Either way you look at it, one thing's for certain - the fact that the Ledger Nano S Plus supports NFTs is a major win for the brand in question!
Ledger Live - An Intuitive, Modern User Interface
A Ledger Nano S Plus review would be quite incomplete without mentioning Ledger Live.
If you're unaware, Ledger Live is the user interface part of the Ledger hardware wallets. It's a piece of software that you install on your computer or smartphone, when you receive your Ledger wallet in the mail.
So, what about it - how is the Ledger Live interface special?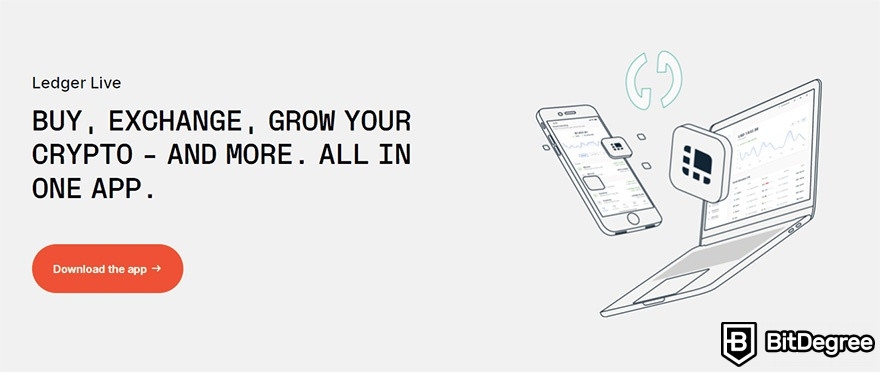 Well, for starters, Ledger Live is arguebly one of the best-designed wallet interfaces on the current market. It's very modern, optimized, and sleek - everything is aesthetically-pleasing to look at, and the navigation of the interface is intuitive.
On top of that, an amazing feature of Ledger Live (also one that not many user Ledger Nano S Plus reviews will tell you about) is the fact that the platform is both very beginner-friendly, but at the same time, catered around professional users, as well.
Put simply, Ledger has managed to design its UI in a way that would allow beginners to not feel overwhelmed when they use it the first couple of times, while also providing all of the crypto trading professionals with advanced features and functionalities, if they need them. Doing so isn't a simple feat, but Ledger seems to have accomplished it quite well!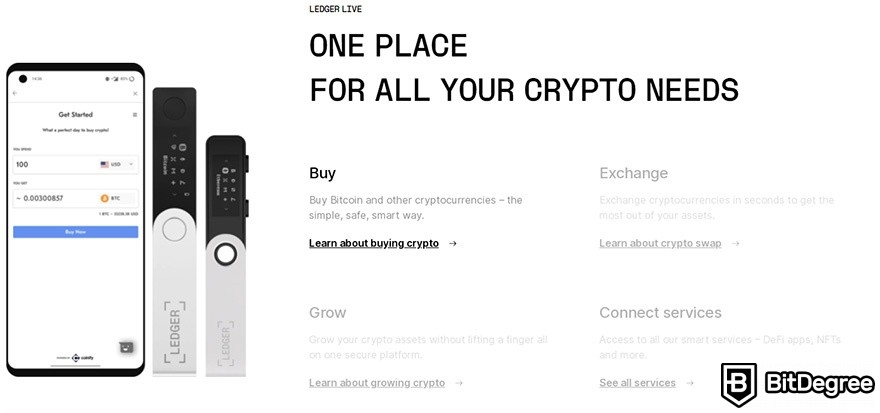 Following that, as I've mentioned earlier in the Ledger Nano S Plus review, there's also a mobile version of the interface available to be used, as well. It's simplified, and won't offer users all of the niche features that are available on desktop, however, all of the core functions are available, either way - trading, sending, storing crypto, balance checks, and so on.
All of that being said, Ledger Live is available with all of the hardware wallets offered and sold by the company - the new Ledger Nano S Plus included. So, in addition to an awesome crypto wallet, you will receive the opportunity to use a superbly-designed, high-end UI, too. Great stuff!
A Reliable and Secure Crypto Wallet
Is Ledger Nano S Plus safe? Now, if there's one thing that's obvious when it comes to cryptocurrency wallets, it's the fact that security is at the top of the sought-after feature list.
It makes perfect sense, too. None of the flashy features matter if the wallet lacks security! You might be able to trade crypto from within the wallet, or enjoy an amazing visual interface, but none of that will mean anything if your crypto gets stolen by the first scammer you come across.
So - how are the security features of the new Ledger? What do user Ledger Nano S Plus reviews have to say about it? And is the Ledger Nano S Plus safe, in general?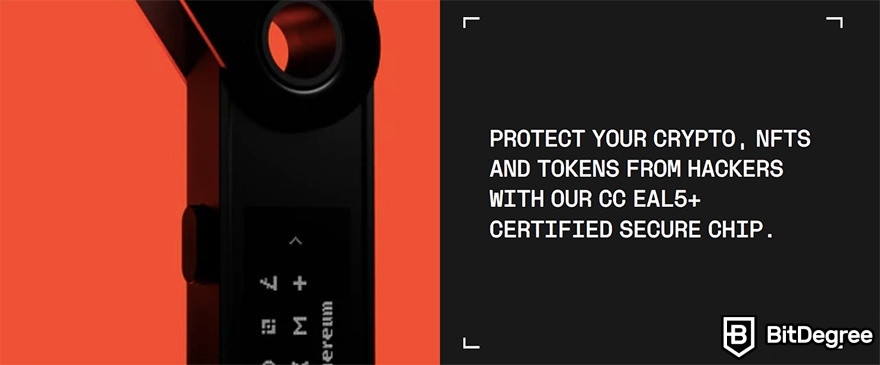 Well, to begin with, it's Ledger we're talking about here - the company has a certain standard to live up to, one that they've set themselves. Ledger's wallets are considered by many to be the best on the market, security-wise. Admittedly, the Ledger Nano S Plus isn't an exception.
The wallet in question utilizes CC EAL5+ chips in order to protect user assets. It's a state-of-the-art technology that guarantees a certain level of security and asset protection - no common phishing or asset extraction schemes should be able to bypass it. Well, at least in theory.
Moving on, the wallet itself does have all of the industry-standard security features that you'd come to expect from a hardware crypto storage device. A security phrase, PIN code locks, transaction confirmations, password encryption, and so on - it's a top-tier product, after all!
LEDGER NANO X
LEDGER

24-word Recovery Phrase
24-word Recovery Phrase
You
You

Visit site
Read review
Visit site
Read review
Table: The security features of the Ledger Nano X and Nano S hardware crypto wallets
Reading through all of the user Ledger Nano S Plus reviews, it would seem that neither the Nano S Plus, nor the rest of the Ledger wallet lineup has had any notable security breaches or break-ins, at least as far as the wallets themselves are concerned. Evidently, this allows Ledger to live up to its hype!
All things considered, one point remains clear - if security is what you're after, getting yourself the new Ledger Nano S Plus might just be one of your best bets, in regards to keeping your crypto assets safe and sound!
Built-In DeFi Service Support
The term "DeFi" stands for "decentralized finance". It's a very popular concept of a new, revolutionary category of finance, and has been growing swiftly ever since it was first introduced.
In just a few years, there are seemingly countless numbers of DeFi projects that have sprung up all around the world, providing their users with different types of products and services. Crypto borrowing & lending, staking, swapping, yield farming, NFT management, and so on - there's a wide list of services to pick from!
How does DeFi tie into the topic of crypto wallets, and this ​​Ledger Nano S Plus review, specifically? Well, put simply, within DeFi, your crypto wallet acts as your main form of identity - you use it in order to confirm transactions, as well as any other action that you might perform on the blockchain.

Some wallets are better-equipped than others, when it comes to DeFi, though. If you're wondering is ​​Ledger Nano S Plus safe, in regards to DeFi, I can tell you - not only is it secure, but it also has a built-in DeFi support hub, on Ledger Live!
Specifically, you will be able to access a myriad of different DeFi services, straight from your Ledger wallet, via the Ledger Live UI! This service is available with both the Ledger Nano S Plus, as well as the Nano X.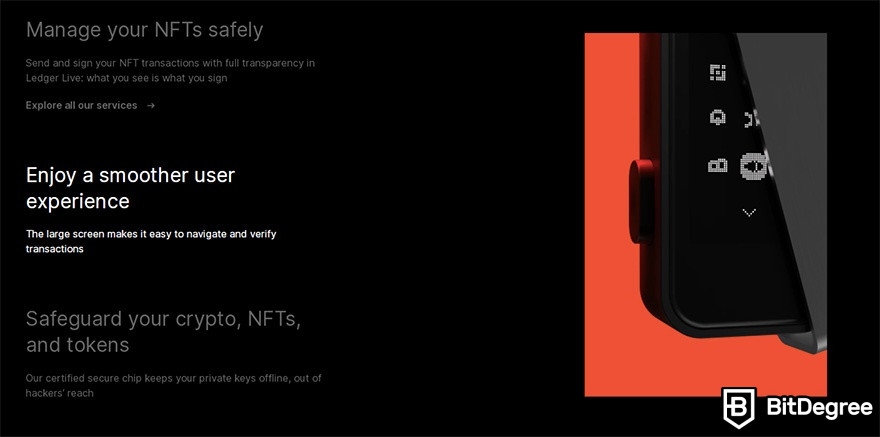 If you're a crypto enthusiast, I probably don't even need to tell you how huge this is! Being able to access all of your favorite DeFi platforms from a single interface will allow you to skip through all of the tedious hassle of having to go out of your way and find the project yourself, then log into it, and perform all related processes.
On top of that, if you're someone who's keen on using multiple DeFi platforms, the new Ledger Nano S Plus can really help you keep things sorted! Navigating through all of the different platforms can get confusing, really fast - with Ledger, you can take that confusion away, and keep your portfolio neatly organized!
Ledger Nano S Plus Review: CONS
So - now that we've covered all of the core and most-notable features of the new Ledger Nano S Plus wallet, let's transition and talk about the shortcomings that this wallet might have.
Notably, there aren't all that many negative user Ledger Nano S Plus reviews out there, on the internet! This is probably partly due to the fact that the Nano S Plus is a new wallet, but another major factor would likely be the general reputation of the product. In short, it's a great crypto wallet!
Less-Than-Ideal Button Placement
The Ledger Nano S Plus was designed and conceived in accordance with the older model of the wallet - the Nano S. Subsequently, this means that the new wallet is going to be quite similar to its predecessor, design-wise.
The Nano S has a pretty timeless design, and its USB-like appearance has become a staple image of what a cryptocurrency wallet should look like. This, however, does not mean that it's void of any criticism.
In fact, probably the most-common criticism that the wallet receives, design-wise, are the two buttons located at the top of the item. These criticisms were addressed (whether directly, or indirectly) with the Nano X - with this top-shelf product, Ledger had integrated the buttons into the wallet in a seamless manner.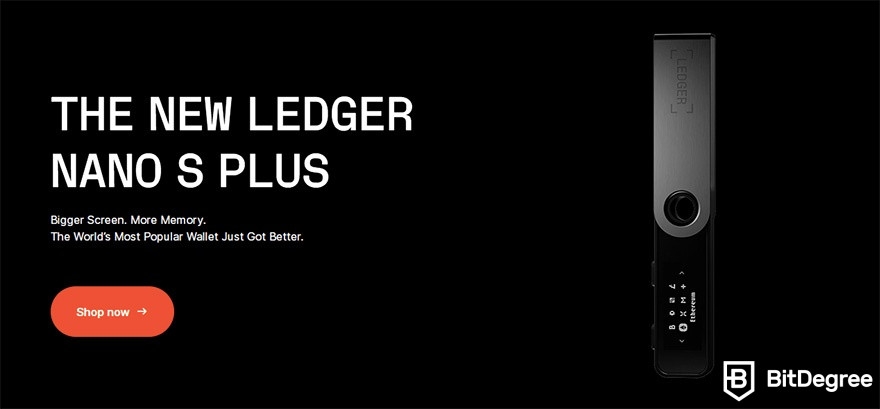 This design choice was universally praised. The new Ledger Nano S Plus, however, stays true to the flagship Nano S model, and has buttons placed at the top of the wallet (it's worth stating that the buttons were re-designed, though).
Is this a major issue? For most people - no, not at all. A common argument is that the buttons on the Nano S (and, subsequently, the Nano S Plus) do a poor job of hiding the fact that you have a Ledger wallet (as opposed to a simple USB drive) in public. However, as you can expect, this argument isn't exactly very objective, for multiple reasons.
Still, however - if you prefer the location of the wallet's buttons to be a bit more sleek, and integrated into the actual device (as opposed to being located on top of it), you should turn to the Ledger Nano X!
Nano S, Nano S Plus, Nano X - How do They Compare?
Throughout the entirety of this Ledger Nano S Plus review, I've mentioned the fact that the Nano S Plus is an upgrade to the older Nano S wallet. That being said, it's worth actually looking into all three hardware wallets available with Ledger, and having a quick rundown of their main features and functionalities, so that you could understand the differences better.
The Ledger Nano S is the flagship product from the company. It's the "traditional" crypto wallet, as well as the "world's most popular wallet". The device is a bit dated, design-wise, but is still very popular, especially among beginners in the cryptocurrency space.
Table: The pros and cons of the Ledger Nano X & Ledger Nano S hardware cryptocurrency wallets
The Nano X, on the other hand, is the top-tier wallet offered by Ledger. This wallet has a bigger screen, built-in (embedded) buttons, Bluetooth functionality, huge list of supported apps and assets, and so on. In short, if you're looking for the best of the best, the Nano X is where it's at.
Now, seeing as this is a Ledger Nano S Plus review, you're probably wondering - where does the Nano S Plus fit into all of this? Well, it's pretty simple, really - the Ledger Nano S Plus is the perfect middleground, both in regards to its price, as well as the available features.

The Nano S Plus doesn't have Bluetooth support, and is smaller than the Nano X, with a few extra features missing. However, it's a significant upgrade for anyone who's a fan of the original Nano S, for a fraction of the cost of the Nano X.
In general, if you're already an avid crypto enthusiast, and are looking for a reliable wallet that wouldn't "break the bank", yet would still offer advanced functionality and high-end features, the Nano S Plus is the way to go!

Did you know?
Price
So, with all of the aspects, features, and functionalities of the wallet discussed and out of the way, let's talk about the one big question that still remains unanswered - the price of the Nano S Plus.
Interestingly enough, not all that many user Ledger Nano S Plus reviews mention the pricing aspect of the wallet. They should, though!
As of writing this Ledger Nano S Plus review, the wallet in question will set you back a cool €79 (approx. $75,5). When you compare this price tag with the other models available on the company's website, it becomes evident that the product is truly well-priced!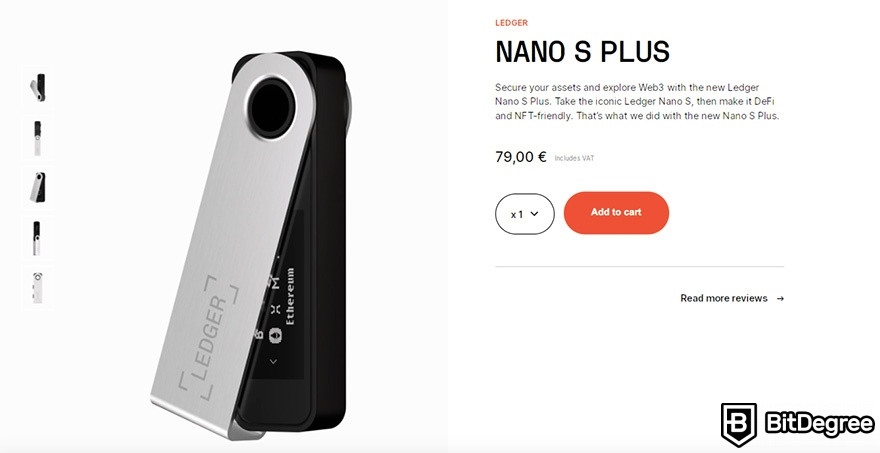 The Nano S is more-affordable, while the Nano X is a lot more expensive. This puts the Nano S Plus in a pretty comfortable spot, in the middle - both in regards to its price, as well as functionality!
I have to admit - when looking through Ledger's products, the Nano S Plus truly does present itself to be very compelling! While you could purchase the traditional Nano S wallet (especially if you're just starting out), the Nano S Plus is priced in a way that almost makes the former product obsolete, in a sense!
All in all, one thing's for certain - the price tag attached to the product in question really does emphasize its position in Ledger's catalog!
Latest Ledger Wallet Coupon Found:
SAVE 10%
On Best-Value Ledger Bundle
Purchase the Ledger Nano S Family pack & save 10%. Get a huge Ledger discount on top-tier security!
Expiration date: 29/03/2023
1,278 People Used
Only 72 Left
Conclusions
A point that I've emphasized a few times already, in regards to this Ledger Nano S Plus review, is that Ledger is a household name, when it comes to crypto wallets. Whenever you hear the phrases "cryptocurrency wallet" or "hardware wallet", in many cases, you'd likely think of a device like the Ledger Nano S or X.
This kind of speaks for itself, really. The company has a huge reputation to live up to, being among the go-to options for anyone who's looking for reliable crypto storage alternatives.
Has Ledger been successful with the Ledger Nano S Plus? Well, yes - it would definitely seem so!
No matter if you're looking for the Ledger Nano S Plus supported coins, DeFi functionality, security, or anything else, you're bound to come across positive feedback online. Truth be told, it would appear that Ledger didn't aim to "create a new wallet" - instead, they've concentrated on redesigning their 'golden standard', to fit the market of today a bit better.
A single glance at the user Ledger Nano S Plus reviews will reveal that the company has been quite successful in doing so, especially when you keep in mind the price tag that comes attached to this new wallet.
To sum things up, if you're looking for a reliable cryptocurrency wallet, are passionate about crypto, but aren't yet sure you want to commit to a technology-behemoth such as the Nano X, the Nano S Plus becomes the next best thing! It's definitely worth checking out!
The content published on this website is not aimed to give any kind of financial, investment, trading, or any other form of advice. BitDegree.org does not endorse or suggest you to buy, sell or hold any kind of cryptocurrency. Before making financial investment decisions, do consult your financial advisor.
Leave your honest Ledger Nano S Plus review
Leave your genuine opinion & help thousands of people to choose the best crypto wallet. All reviews, either positive or negative, are accepted as long as they're honest. We do not publish biased reviews or spam. So if you want to share your experience, opinion or give advice - the scene is yours!