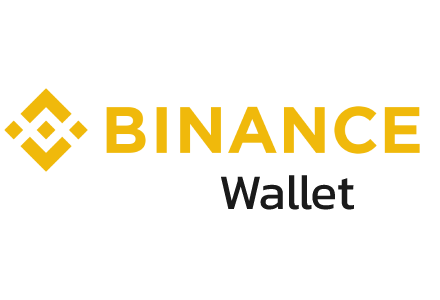 If you're looking for Binance wallet reviews, chances are that you're ready to dive into the world of crypto. Or, perhaps, you're already a seasoned cryptocurrency veteran, and are simply searching for a reliable wallet alternative. Whatever the case might be, today, we're going to take a good look at Binance, and all of its crypto storage capabilities (and then some).
With cryptocurrencies becoming more widely-adopted every single day, it makes sense that crypto holders are looking for the best way to keep their coins safe. As you might already know, there are quite a few options available on the market - different wallet types, different features and functionality, and so on.
With Binance being a very prominent name in the crypto scene, it's also natural that it has a metaphorical magnifying glass on itself - there's a certain standard to live up to, after all!
Without further ado, however, let's move on to the Binance wallet review, and check to see if it's a platform worth keeping your coins on.
Pros
Multiple cryptocurrency support
Very secure
SegWit and Bech32 address support
Built-in exchange functionality
One of the most trustworthy names in the crypto world
Cons
Mediocre customer support
Not ideal for beginners
Binance Wallet Review: The Binance Wallet VS The Trust Wallet
The very first thing that we need to discuss is the difference between the Binance coin wallet, and the Trust wallet. Even though both wallets belong to Binance, they are two different projects, and thus, need to be properly differentiated.
The Binance wallet is an exchange-based way of storing your cryptocurrencies. As opposed to that, the Trust wallet is also a wallet that belongs to Binance, but is a completely different, dedicated product.
Naturally, both the Binance wallet and the Trust wallet have their pros and cons - they will suit different people, too. In this specific Binance wallet review, however, we'll be focusing on the former.
Truth be told, using a Binance wallet is likely going to be a much more beneficial experience for many crypto enthusiasts around the globe. That's because this specific wallet has more features, is more convenient to use (I'll get to what I mean by that in a bit), and simply is more well-known and trusted, in general.
So, just to be completely clear - this is a Binance wallet review, and NOT a Trust wallet one. With that out of the way, though, let's jump straight into the feature and benefit list!
Binance Wallet Review: PROS
Binance offers its users a vast array of different features - that's obvious by taking a single look at the majority of user Binance wallet reviews. We should, however, start with the fact that it's a very convenient wallet.
Very Convenient for Daily Use
One of the first things that you'll likely see mentioned in multiple different user Binance wallet reviews is the fact that this particular wallet is extremely convenient to use.
Allow me to elaborate.
Whether you were to use the Binance wallet app or the web browser version of the wallet, it'll have the full functionality of the platform integrated into it. Among other things, this functionality involves that of a crypto exchange.
Keeping your coins in this particular wallet, you'll be able to exchange and trade them at any given point in time, instantly. This, for a fact, is amazing news for both long-term hodlers, and also daily traders, alike.

If you're ready to hold your crypto coins for a long time before thinking of selling them, that's all fine and dandy - Binance allows you to do that, worry-free. However, if you were to catch a great price for some particular crypto at the peak of a market bull run, you might want to consider selling a chunk of your coins, only to buy back some more after the dust has settled.
That said, day trading is really where it's at. Crypto day traders are constantly following cryptocurrency-related news, since they have to react to market changes instantly in order to maximize their gains. Just look at what happened when Tesla bought Bitcoin - it's sometimes a matter of minutes!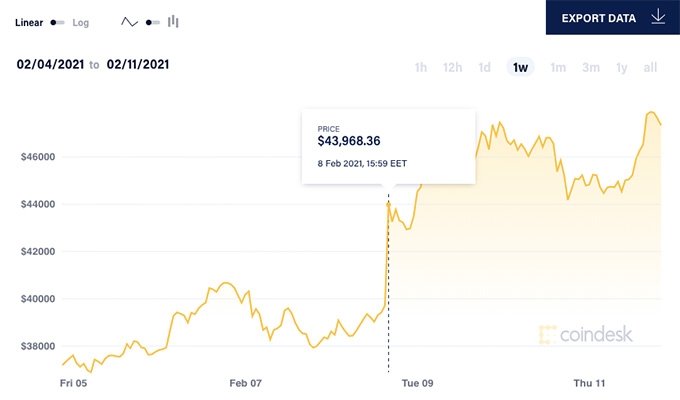 User Binance wallet reviews will tell you that, in a situation like this, you will be able to access your funds that are stored on the Binance wallet, and then sell them instantly - no delays, no verifications, none of that!
Using Binance wallet, you'll be able to keep up with the market trends, and react in a timely and appropriate manner. A huge benefit, no matter what type of a crypto enthusiast it is that you are!
Latest Deal Active Right Now:
$300 + 40 DOGE BONUS
Huobi Black Friday Limited-Time Period
Huobi Black Friday & Cyber Monday 2023 period offers great bonus for new users - sign up & earn up to $300 + 40 DOGE bonus!
Expiration date : 14/12/2023
3,817 People Used
Only 31 Left
A Very Secure Cryptocurrency Wallet
Security is the first thing that people look at when picking out the best wallet for themselves - it's also the most important aspect to consider, too.
Any and all user Binance wallet reviews would tell you that it doesn't really matter how "cool" a wallet is (no, that's not a pun on cold storage), or how many features it has to offer to the user - if it lacks security, it's not an optimal pick, by any means.
BINANCE
COINBASE

Overall level of security & safety of your assests offered by a certain crypto wallet.

Whether the crypto wallet requires two-factor authentication as an extra layer of security when completing an action.

Whether the crypto wallet requires multiple keys to authorize a transaction as an extra layer of security.

Whether the crypto wallet requires a Pin code as an extra layer of security when completing an action.

The general anonimity level of your data.

What kind of methods of recovering your cryptocurrency assets in case you lose your wallet or forget your primary password does the wallet offer.

Seed Phrase
Seed Phrase

Who owns your private keys.

Wallet
You

The level of control you have on the crypto wallet.

Visit site
Read review
Visit site
Read review
Table: The security features of the Coinbase Wallet and the Binance Wallet
That's true both if you're looking to find a wallet for Binance, or use the specific Binance coin wallet itself. Furthermore, you should consider that the term "security" can mean a few different things - your crypto storage method of choice should both keep your coins safe, and also protect any of your personal information, if you've provided it (although, to be fair, this mostly concerns hardware wallets).
So, is the Binance wallet secure?
It surely is - very much so, in fact!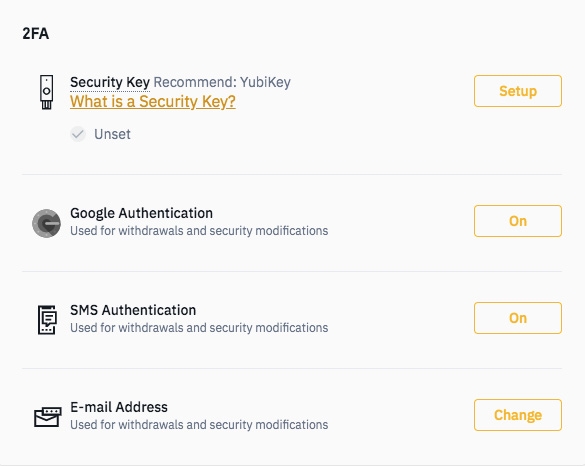 Binance is, undoubtedly, one of the most popular crypto-related platforms in the entire industry - this fact alone should already tell you that the wallet functionality offered by the platform is going to be up-to-par. But talk is cheap - let the security features of Binance sing its praises!
For starters, upon creating an account, you will be able to enable frontline security features, such as two-factor authentication (2FA) and universal two-factor authentication (U2F). These days, many cryptocurrency exchanges and hot wallets have this feature - however, this shouldn't take away from its significance! 2FA is often the best way to protect your assets from the vast majority of hacking attempts.
Still wondering is Binance wallet safe? Well, you'll be super-excited to learn that the platform keeps the vast majority of its users' cryptocurrencies on cold storage devices. This fact alone is the highlight of many user Binance wallet reviews.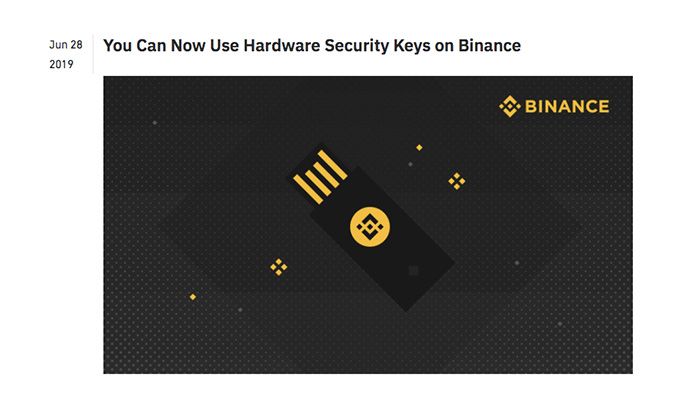 You see, cold storage devices are almost never connected to the internet - frankly, this means that a potential hacker won't be able to reach them, by any means. This is exactly the case with the Binance coin wallet, too - while the hardware devices that Binance utilizes are likely a bit different than consumer-grade wallets, the concept still remains the same.
Again - that's amazing! It means that the majority of your coins will have the best possible protection that's out there! However, if you're still not convinced with the Binance wallet security feature, though, I have one more major, unique feature to tell you about - the Binance SAFU fund.
Primarily being a cryptocurrency exchange, Binance charges its users some specific fees for transactions. With that, the platform takes a portion of those fees (around 10%), and dedicates them to a fund with a specific purpose - insurance.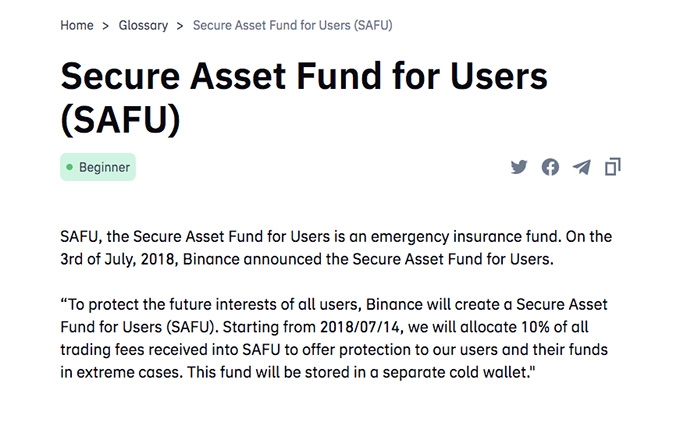 In other words, if something was to happen to Binance, and its security features would be compromised, there's a pretty good chance that you would be reimbursed for your losses. That is truly some amazing assurance, and something that's stressed in multiple user Binance wallet reviews, too!
Multi-signature functionality, custom PIN codes, a seed phrase-based recovery method - there are many different, smaller features that Binance provides to its users, as far as the safety of their crypto assets is concerned. So, if you're still wondering "is Binance wallet secure?", rest assured - it's one of the safest exchange-wallets out there!
Supports a Huge Variety of Cryptocurrencies
No matter if you're already an experienced crypto trader (hodler?), or a complete newcomer to the scene, chances are that you'll want to find a wallet that supports a wide selection of different cryptocurrencies. Well, with the Binance wallet app, that's exactly what you'll get!
While many individuals compare current market bull runs with those of 2017 and 2018, the fact of the matter is that a whole lot of things are quite different. One of the main differences is that people now are much more knowledgeable about cryptocurrencies than they were a few years back.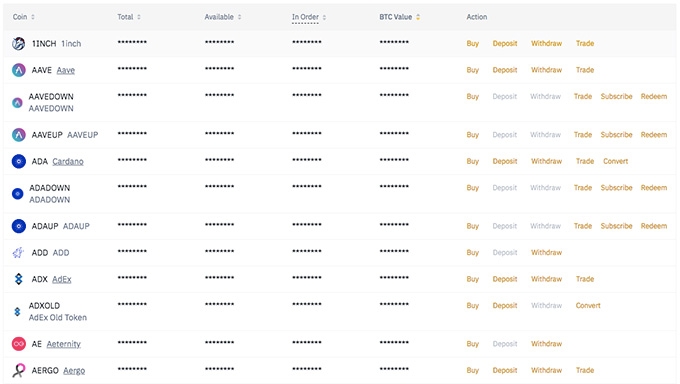 This, in turn, means that more and more user Binance wallet reviews talk about a wide selection of crypto assets, and not just Bitcoin or Ethereum. Widespread discussions signify the fact that people are keener on purchasing and experimenting with a wide assortment of coins, too!
The Binance coin wallet allows you to do that. In fact, this cannot be understated, even though it's seemingly not often mentioned on user Binance wallet reviews - this particular exchange-wallet does probably support the widest array of cryptocurrencies on the entire market!
From the exchange side of things, Binance has always been known for offering its users an amazing selection and variety of crypto trading pairs - it's one of the main selling points of this exchange. If there's a crypto coin that you've heard about, there's also a pretty good chance that Binance supports it, too.

Following that, it would only make sense that the platform would allow you to store all of those different cryptocurrencies, too. Using Binance wallets, you'll find that it sure does!
Yet again, this is absolutely amazing from the user's perspective, no matter what type of a crypto enthusiast it is that you are. Long-term hodlers will be able to store a wide selection of crypto assets, while day traders will have the chance to find some niche altcoin gems to play around with.
In short, if crypto variety is what you love, and you're also keen on keeping your portfolio as diverse as possible, then most user Binance wallet reviews will tell you that this platform is surely the way to go!
Full SegWit Address Support, Partial Bech32 Support
If you've read the heading above and think that it's "way too technical" for you to understand, don't worry - it's all actually really simple. First, let's get the terminology out of the way.
Whenever you're talking about Bitcoin - whether it be among user Binance wallet reviews, or anywhere else -, you will always have three types of BTC wallet addresses to discuss - Legacy, SegWit, and Native SegWit (these are also called "Bech32").
Legacy addresses are simple - they can be identified by the fact that they'll start with a "1", and are the oldest form of BTC wallet addresses out there. Then, there are SegWit addresses - these will start with a "3". As opposed to that, the newest iteration of Bitcoin addresses are called "Native SegWit", and will start with a "bc1".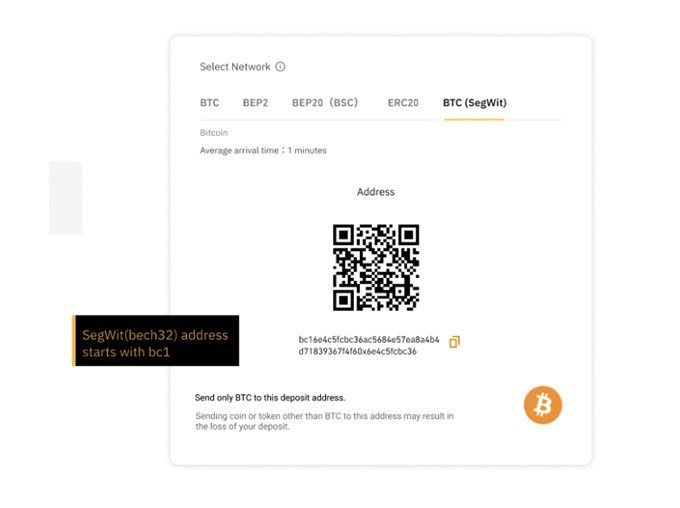 So, then - why does all of that matter in this Binance wallet review? Well, SegWit and Native SegWit addresses are there for a reason - they have been created by a soft fork of Bitcoin, and allow you to perform transactions much faster and in a smoother manner.
The downsides? As of writing this review, not all exchanges (and wallets) support Native SegWit (Bech32) addresses.
Binance does support SegWit addresses. It actually only started supporting this feature at a very late point in 2020! When it comes to Bech32 (Native SegWit), though, things are a bit more complicated than that. While the exchange-wallet in question does allow you to use Bech32 addresses, it does not let you create wallets with them, at this time.
Still, though - granted that you'll be able to perform transactions on the Bitcoin blockchain much faster than with a legacy address is awesome!

Did you know?
Binance Wallet Review: CONS
Now that we've discussed all of the main benefits and features of the Binance coin wallet, we should also address some concerns that users of the platform might have, and discuss just how significant they are, in the grand scheme of things.
Once that's done, I'll also tell you how to start using the Binance wallet - stick around!
Might be a bit Complex for Complete Beginners
One of the more common complaints that people appear to have concerning the Binance coin wallet is the fact that it might be a tad bit difficult to use. This is especially true if you're just starting out, and haven't even purchased your first crypto coins yet.
Is using Binance wallet really as difficult as it's made out to be? Well, it depends!
The "difficulty" aspect of the platform comes from the fact that Binance offers its users a big list of features and customization options, and also because the fee model that the exchange employs is a bit convoluted.
Feature-wise, it's a bit of a "suffering from success" kind of a deal - in other words, it's a good problem to have! Sure, you might feel a bit lost the first time you log into the platform, or see the in-depth crypto charts available on it, but once you get used, you'll be thankful for all of the extra functionality!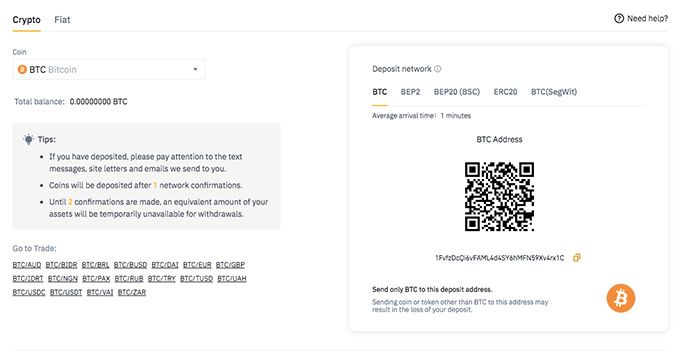 When it comes to fees, they can also be broken down into simpler, more-approachable parts. If you're reading through Binance wallet reviews simply because you're searching for a wallet, and don't care about exchanges, then the fees don't even really apply to you - except for those related to the wallet, of course.
In short, if you're a completely new person in the crypto scene, and are still trying to find your footing, sure - the particular wallet for Binance might be a bit confusing at first. However, if you're stubborn about finding a high-end crypto wallet, then this is surely a non-issue!
Mediocre Customer Support
Admittedly, customer support is one more-important features of any crypto-related platform. This is especially-so-true with exchanges and wallets - these types of platforms are at the forefront of the movements of different crypto assets, and thus, users need to be sure that they'll be able to get help with any and all issues that they might come across.
In this regard, Binance is a bit… Mediocre. At least that's the sentiment that one may get from reading user Binance wallet reviews.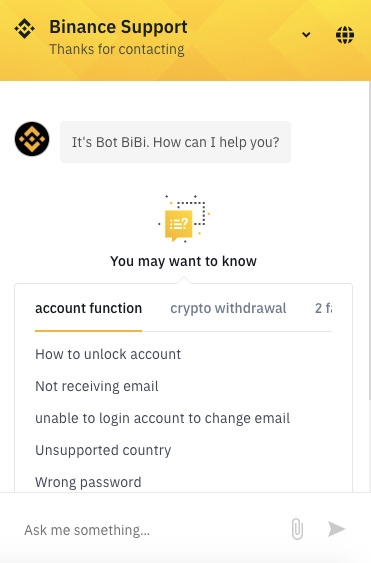 While I personally had nothing but good experiences with the support over at the Binance wallet app, multiple users do mention that the response times can vary greatly, and that the support team sometimes doesn't really address their issues effectively.
This is surely something that needs to be kept in mind! While it is in no way a "dealbreaker" as far as the wallet in question is concerned (granted that using Binance wallet will provide you with a huge list of significant benefits), it's also noteworthy, nonetheless.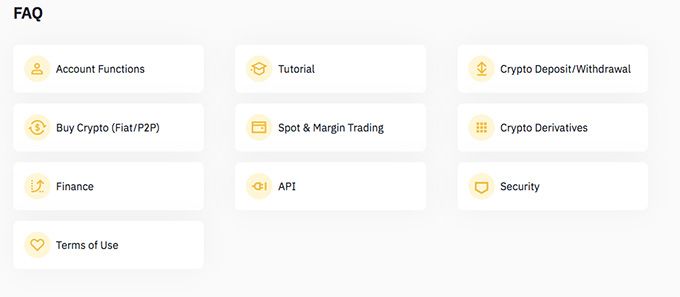 Imagine if you were to run into a technical issue during a transfer. In most situations like this, it's crucial to get proper customer support as soon as humanly possible! If the platform of your choice isn't amazing in that regard, that can result in some major losses - losses that could have been prevented.
Now, evidently, Binance isn't really known for having a lot of technical or other issues. However, this still does not excuse the problem in question! Once you've found out does Binance have a wallet or not, you probably don't want the next thing that you learn about the wallet to be related to customer support issues!
How to Use the Binance Wallet?
So, now we've discussed all of the most notable pros and cons of the wallet in question, and looked at different user Binance wallet reviews. The last thing we need to do is check out how does a Binance wallet work, and how you can perform different actions and transaction from it.
How to Register on the Binance Wallet?
First up, the registration process. Frankly, it's noteworthy that registering on the Binance exchange is the same thing as registering on the wallet - this is a reason why many people wonder does Binance have a wallet, in the first place! Although it can seem confusing, it's really not - that's simply the case with most exchange-wallets on the market.
Step 1: Go to the Binance official website. At the top-right corner of the screen, you'll see a "Register" button. Press it.

Step 2: Here, you will be prompted to create a new account, either via email, or a mobile phone. I'll be taking the email route - thus, an email address needs to be entered, as well as a custom password created.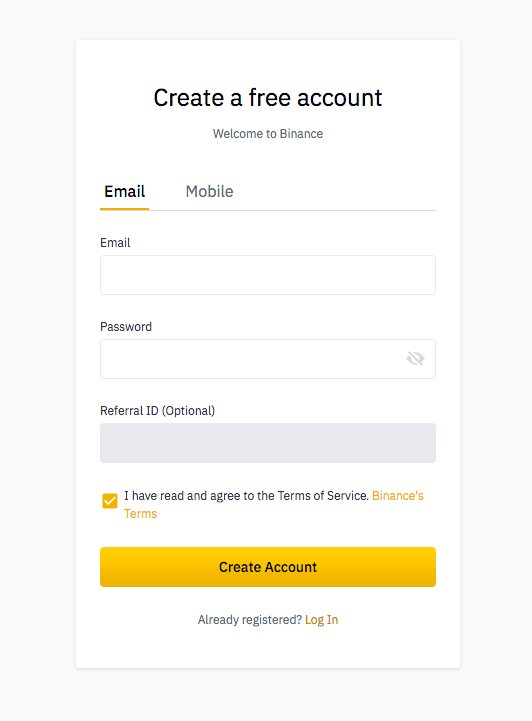 Step 3: You will receive an account verification request to your email address - just enter the digits from your email to the Binance site when prompted.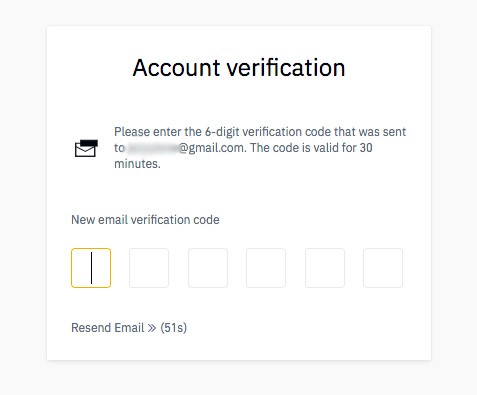 Step 4: Once you pass through all of the verification and confirmation steps, you'll need to log into your account with the information you've provided at the beginning of the registration process. That's it!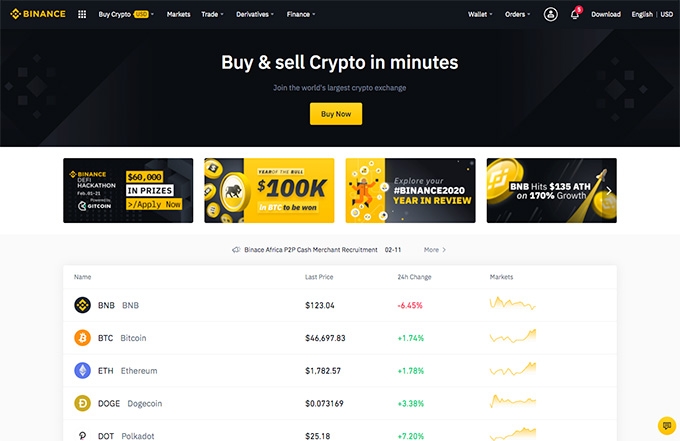 As far as the registration process on the Binance coin wallet is concerned, things are super-straightforward and, more importantly, fast! Again - no matter if you're registering on the wallet or the exchange, the process remains the same. This allows Binance to optimize its registration processes to the fullest extent, providing a seamless and easy experience.
With that said, people who are wondering how does a Binance wallet work are likely already past this stage, and are looking into the actual functionality aspects of the product. So, let's move on to that!
How to Use the Wallet?
Let's discuss the different features available with the Binance wallet.
Step 1: From the homepage of Binance (after the registration process is complete), navigate to the upper-right corner of the screen, to the "Wallet" tab. Here, you will see a list of different features you can select - let's start off with "Overview".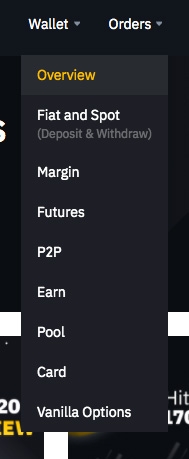 Step 2: Here, you will be able to see your wallet balances in BTC. On top of that, you can see all of the functions that your wallet(s) are going to be able to perform - P2P trading, margin account trading, savings account management, mining pool fund storage, and so on.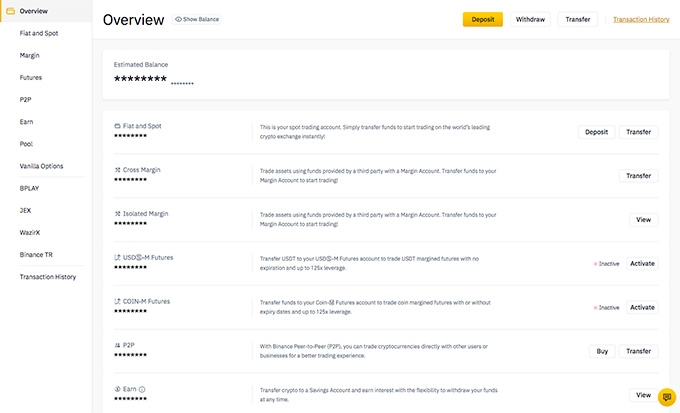 You can manage and activate the different wallet sections that you'd like to use and utilize, and also start transferring funds immediately. The process is really simple - you'll be prompted with a pop-up, and will simply need to fill out a form.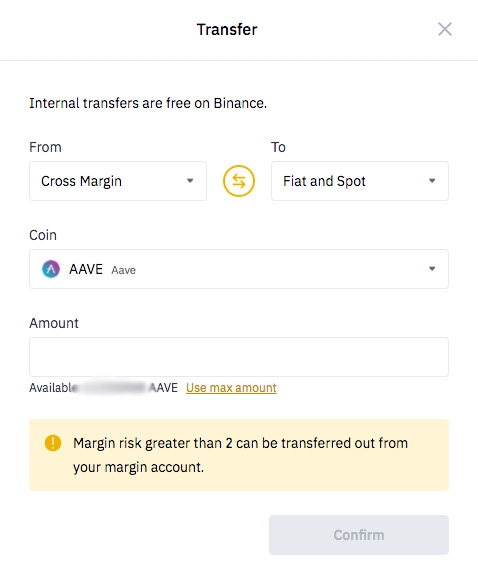 Step 3: Depositing funds to your wallet is very simple, too. Once you click "Deposit" at the top of the page, you'll be given four choices - deposit crypto or cash, or purchase some cryptocurrencies with a credit or debit card, or via a P2P connection.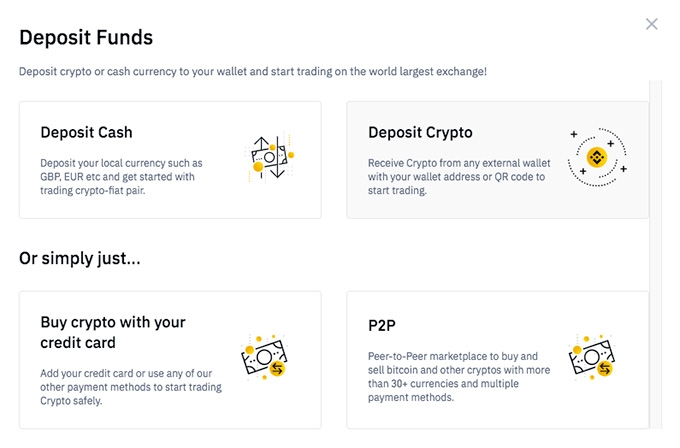 If you remember, at the beginning of this Binance wallet review, we've discussed the fact that you can purchase and trade cryptocurrencies directly from the wallet interface, and that this is amazing, as far as convenience goes. Well, this is it!
Withdrawals are also pretty uncomplicated, especially if you've already withdrawn some cryptocurrencies before. That said, you will actually be able to withdraw fiat money, too - this is extremely rare!
It is, admittedly, the feature of the exchange part of Binance - user Binance wallet reviews will tell you that much. However, few other high-end exchange-wallets allow their users to actually withdraw fiat money to their bank accounts!
Exploring the wallet further, you'll quickly learn that it does possess a lot of features, all related to the different services and options that Binance offers.
This is actually where the aforementioned "complexity" part stems from, too - since the Binance wallet is so closely intertwined with the exchange part of the platform, it comes with a huge array of features, but is also more complex than other, similar wallets, too.
Final Points
By this point, you should now have a pretty good idea about the pros and cons of the Binance wallet. We've discussed various user Binance wallet reviews, looked at the usability aspect of the platform, and also checked out some of the main features that it offers.
With all of that said and done, would I myself recommend the exchange-wallet to someone who's asking "does Binance have a wallet?", or an individual who's looking for a secure crypto wallet, in general?
Yes, I most definitely would.
The Binance wallet is a unique product, both when it comes to cryptocurrency wallets, in general, and even some specific exchange-based crypto storage services. This is true simply because of the functionality that it provides to its users.

The wallet is universal - it can house a huge array of different cryptocurrencies, and even some select fiat currencies, too! On top of that, you can send, deposit, and withdraw all of those aforementioned currencies, without any issues - all that you need to do is pass some KYC verification checks, and you're good to go!
Since Binance is also an exchange, it has a huge responsibility of keeping the entire platform secure, both when it comes to user info, and also crypto asset storage, too. Admittedly, the platform has no issues with this - it's improving the security side of things on a regular basis, and while Binance has had some hiccups in the past, the site has definitely improved and gained widespread trust.
The only "negative" things that are mentioned among various user Binance wallet reviews have to do with the complexity of the exchange-wallet, and also some less-than-ideal customer support. The former "issue" isn't really a huge factor - while you might need to spend some time over at Binance trying to figure things out, you shouldn't face any unbeatable hurdles.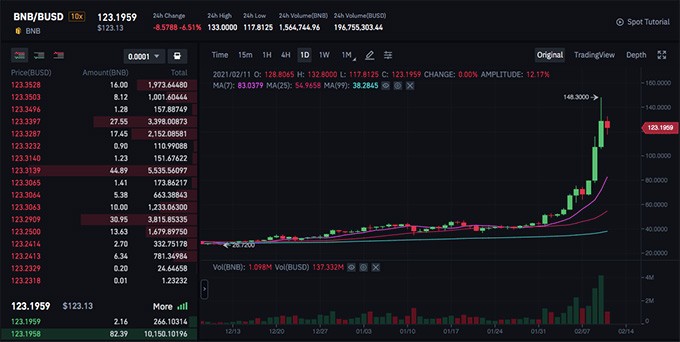 One final thing worth mentioning is that, same as many other exchange-wallets out there, Binance has a native utility token - the Binance coin (BNB). Judging from the price and volume charts of this token, it would seem that people truly do use it rather frequently!
One of the main purposes of this token is to tackle the fee rates over at Binance - with the help of the BNB token, you could eliminate a huge portion of the fees, thus increasing your potential gains exponentially! However, this concerns the exchange more than the wallet - if you'd like to learn more, though, you could check out our Binance exchange review, too.
Here is The Best Ledger Nano X Offer I Found:
GET MORE, SAVE 10%
Ledger Holiday Sale
Holidays are all about sharing! Get top-tier security for you & your loved ones with this 10% Ledger Holiday discount on family packs.
Expiration date : 14/12/2023
3,947 People Used
Only 53 Left
Conclusions
If you've made it this far - thank you! I do know that it's a lot of information to take in at one time, and thus, I truly appreciate you sticking with me to the very end!
Even though there's a lot to consider, my verdict remains the same - if you're looking for a high-end cryptocurrency wallet, Binance should be one of the first places you check out.
If, however, you're more interested in hardware crypto storage, you should then turn towards wallets such as the Ledger Nano X, or the Trezor Model T. This will ensure the best possible security that money can buy, but, well, yeah - it will come at a price.
LEDGER NANO X
BINANCE

Whether or not (and for how long) the crypto wallet offers a time period in which you can return the wallet free of cost.

14 days
N/A

The lowest cost of each brand's product. These are regular prices without discounts.

149 EUR
0 USD

What kind of additional fees you may have to pay for extra services.

N/A
Fees starting at 0.6 percent; Fees of 0.5 percent for instant buys; Debit card fees of 3.75 percent
Visit site
Read review
Visit site
Read review
Table: The pricing options of the Binance Wallet and the Ledger Nano X
Finally, be sure to check out the best cryptocurrency exchanges on the market - once you have an amazing wallet, you can start filling it up with your favorite crypto coins!
Once again, thanks for reading this Binance wallet review, and until next time! Cheers!
The content published on this website is not aimed to give any kind of financial, investment, trading, or any other form of advice. BitDegree.org does not endorse or suggest you to buy, sell or hold any kind of cryptocurrency. Before making financial investment decisions, do consult your financial advisor.
About Article's Experts & Analysts