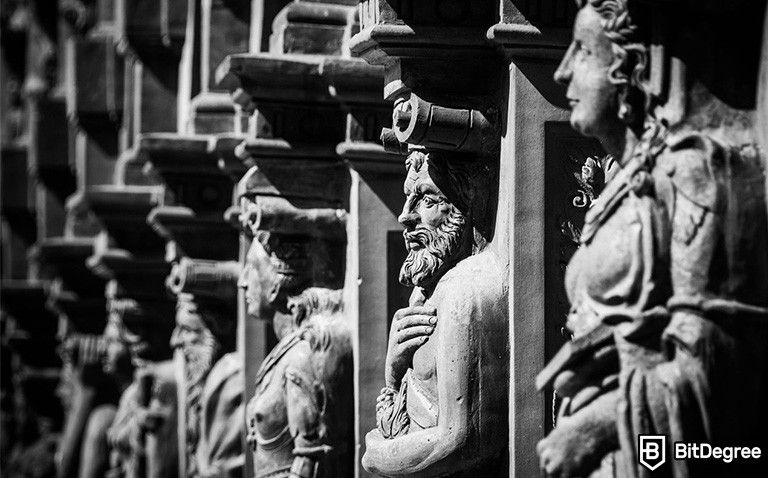 Some people think history is the most romantic academic subject (because it's full of dates). However, it was actually the dates that made me dislike studying history - the events always interested me and they still do, though. Luckily, with various online history courses, today I can choose the way of learning that best suits my interests.
And so can you. To elaborate, this means that you don't have to be stuck with cramming pure numbers. You can pick those history classes online that will focus on explaining what happened, why it happened, and how it influenced the future-to-be. Or to notice the tendencies of how it can influence the current future.
Collectively, we're creating history every day, every moment of our lives. So why wait any longer, when you can spend that time taking history classes online on the best online learning platforms?
The History of History
History is most usually thought of as events of the past and studying of those events. In reality, history is often also considered to be the discovery, collection, presentation, and interpretation of those past events. And with online history courses, you can learn how to do all that from the comfort of your own home.
Latest Udacity Coupon Found:
SAVE 75%
Udacity Black Friday Offer
The best time to save on Udacity courses is now - follow this coupon to access 75% Udacity Black Friday discount on all courses & enjoy top-quality learning for less!
Expiration date : 30/01/2023
3,176 People Used
Only 97 Left
It all began with Herodotus.
He was a Greek writer, geographer, and historian, who lived in the 5th century BC. His book "Histories" about the Greco-Persian wars is what coined him as the father of history. In Western literature and countries, this written piece is considered to be the founding work of history and the way we see it as a discipline today.
And he wasn't the only one, even in ancient Greece or Roman days. Thucydides wrote about the Peloponnesian war, Ctesias studied Assyrian and Persian history. Even Gaius Julius Caesar himself was also a historian, specializing in the Gallic Wars.
Fun fact: Caesar is also considered the first one to send his scrolls folded, like a concertina, so that the messages would be easier to read. Sounds like an old-school version for using different devices for your online history courses, don't you think? One device to read, another one - with a bigger screen - for video seminars.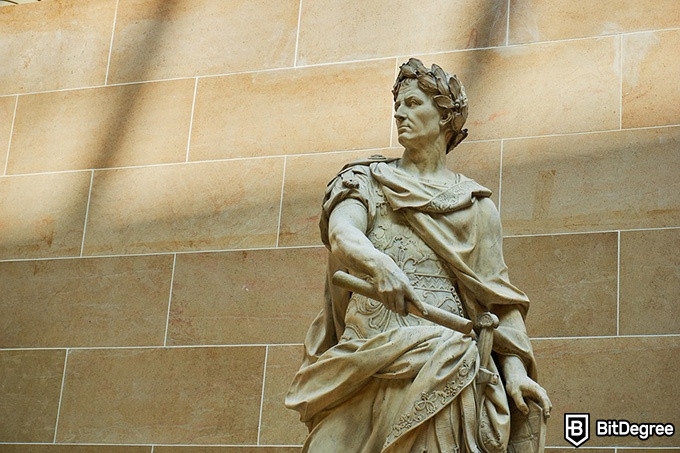 If you asked me in high school, what history was about, I would have said "politics and wars". It's mainly what our history books were filled with. Well, maybe some discoveries or inventions, too. But mostly still, just politics and wars. However, there are quite a few more topics for exploring history than just those.
You probably have already heard of history branches such as economic history, military history, social history, or art history. Classes online are quite abundant with these subtopics for history courses. But have you ever heard about intellectual history?
Intellectual history is also called history of ideas. It focuses on the history of human thought and intellectuals. It's about how famous thinkers and their ideas helped to shape the culture going forward.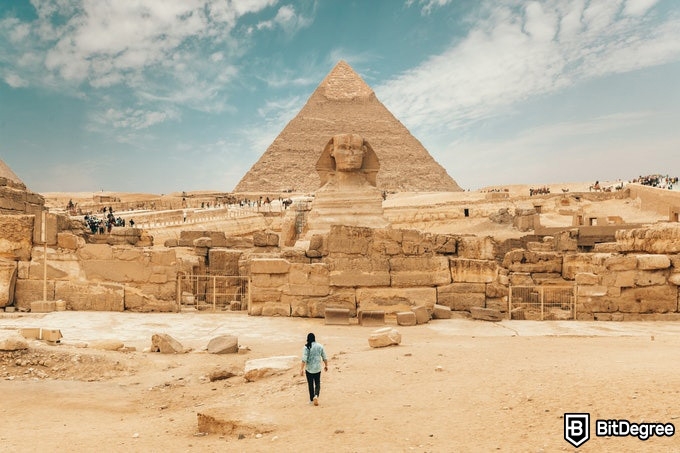 There's also diplomatic history. This branch of history is about the interactions and relationship dynamics between countries or nations. It looks at the reasons behind wars or, on the contrary, peace. It includes human rights and international relations over time.
As you see, there is so much different history to get into. So let's not waste any more time and dive into all these online history courses I wanna tell you about.

The late 18th to mid-19th centuries was the Age of Revolution. It was when quite a few revolutionary movements happened in both Europe and the Americas. This course covers the Age of Revolution and goes further until 1910. It aims to not just explain what happened throughout that time period, but also why.
This class is brought to Coursera by University of Virginia and its professor of History Philip Zelikow. He served in The White House National Security Council, and he has been on the advisory board for the Bill & Melinda Gates Foundation.
If his career impresses you (which it should), you'll be please to know that he actually has 2 online history courses on Coursera. The second one is "The Modern World, Part Two: Global History since 1910".
The course is set to take 7 weeks, with 2-3 hours worth of material per week. In total it would take you 15 hours to go through the full course material. At the end of each week, you will also get a practice exercise/quiz to check your knowledge.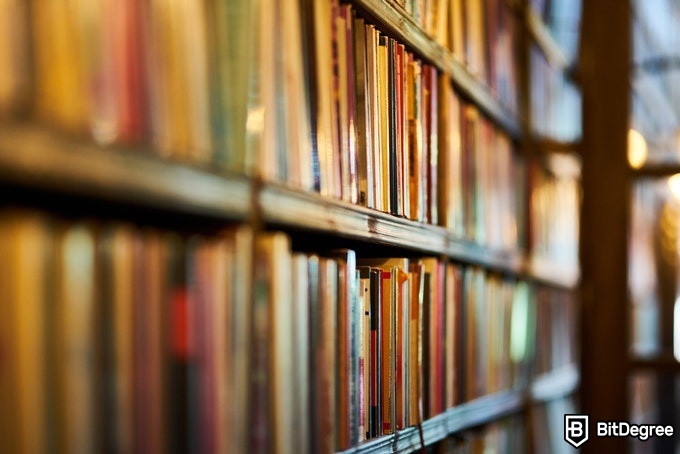 The course rating average is an outstanding 4.8/5. If that's not enough, over 97% of the reviews are 4 or 5 stars! Comments said the course helped to see the bigger perspective and connect different storylines into a single, global history. The students also admired Philip's competence and clear teaching manner.
"Such an informative course, and it linked together different regions & events; that's something only top-level sources of education does. I will no doubt continue on with the course to Part 2." - GW
Coursera classes - including online history courses - start at $49 per month for a single subject. However, subscribing to Coursera plus, would give access to numerous courses, with just a bit higher price - from $59 per month. If you want to get an even better price, feel free to check our special Coursera deals as well.
If you're looking for free online history courses, this class can still be a choice for you. You can audit the course for free, but in that case you would be able to access only the theoretical course materials. This means you would not be able to take the quizzes, nor receive the certificate.
Throughout this course, you will learn about:
Revolutions throughout the late 18th and mid-19th centuries
National industrial imperialism
The second industrial revolution
Start the course NOW.

This US history online course covers American history all the way from the first American people to the end of the Reconstruction era in 1876. Originally, the course was made so that parents can help their children study history. In addition, it has been found useful by candidates for citizenship or amateur historians.
J. F. Parcher is a teacher coach to beginner teachers. He has a history degree and has taught history for 17 years, 10 of which were for US history and government. Currently, he's developing a podcast on California's national parks. He is also a guide under a company that specializes in using the national parks as science classrooms.
The course consists of 43 lectures and in total takes up 11 hours. Each of the 11 thematic sections covers people and events that happened throughout several decades. Lessons include outlined notes, images, music, and historic documents. Each section also is finished off with a quiz.
I like a quiz in online history courses - it enables me to test my knowledge, but without the actual fear of embarrassing myself in front of the other classmates, if I do poorly.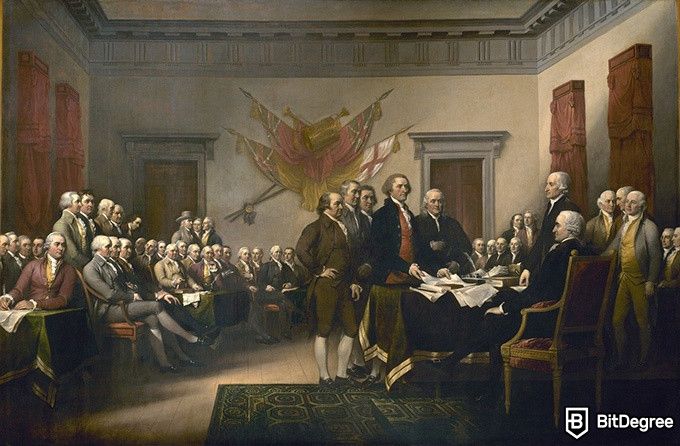 This US history online course has an average rating of 4.4, with 87% of excellent evaluation - i.e. 4 or 5 stars. A lot of reviews mentioned an engaging teacher, as well as the importance and interestingness of the material.
"I really enjoyed this course. I love American History and particularly enjoyed learning about the founding of America, as well as how we got so many of the freedoms and rights we enjoy today." - Aadhavan Srinivasan
The course costs only €19.99 - definitely a financial catch for such a great learning experience! And with our Udemy coupons available, you can chop that already low price even more.
By the end of this US history online course, you will learn about:
Political, economic, and social developments that shaped the US to what it is today
How the military shaped the nation's character
How national government was formed
Start the course NOW.

Ever since I read "The Da Vinci Code", I got fascinated by hidden meanings within paintings or other art pieces. Knowing the context allows us to notice so much more in the artwork. That context being the artistic trends of the time period, the artist's signature motifs, or what part of the culture was reflected in the art piece.
If you feel the same way, this is one of the best art history classes online to gain a better understanding of art. This course teaches about art history from about 1300 until about 1950s. It is designed to represent basic college-level knowledge of art history.
The course instructor Kenney Mencher has an extensive resume of exhibitions, lectures, and his own art in print. He is semi-retired Art and Art History professor, now a part-time teacher and an artist.
He likes explaining things in universal terms, instead of using professional jargon. If you like this course, you will like his other course, this time on art history until Renaissance, which you can also find on Udemy.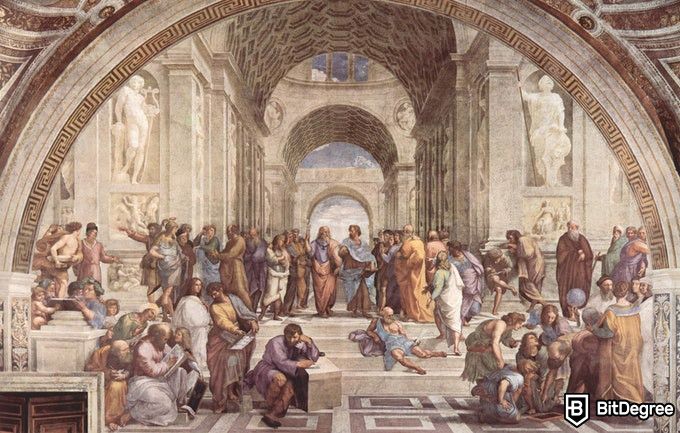 These are also the same materials that Kenney teaches in Ohline college. So you're actually getting full, proper college-level education material.
The course consists of about 70 lectures and lasts a bit under 36 hours. The lecturer went the extra mile and professionally captioned the lessons. Udemy often offers automated captures, but Kenney wanted to make sure his knowledge isn't lost in automated transcription. That speaks wonders about his dedication, doesn't it?
Therefore, the number of lessons shown on the platform is not correct. Kenney has uploaded two versions of all the lessons - one professionally captioned, and the other gets automatically subtitled by Udemy. Due to such doubling up, the platform will show 141 lectures and about 71 and a half hours instead.
This course has an average 4.4 rating, with 88% of evaluations giving it 4 or 5 stars (out of 5). Reviews speak about an engaging instructor and a newly found passion for history. I think finding a passion for history is a great testimony for online history courses, don't you agree?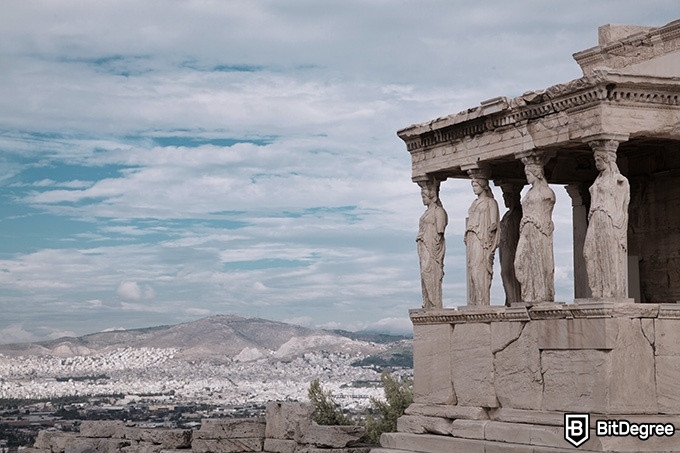 The price for this course is €24.99. For the amount of material it teaches - not to mention its quality - this is absolutely a budget-friendly choice. It amounts to about €1.5 per hour spent, not all the online history courses would be able to offer that.
"I have been following art history from my childhood, and this is one of the best courses out there" - Mahendra Balu P
After completing this course, you will:
Really understand what you're looking at, when admiring art
Have knowledge of various art epochs throughout history
Know the symbolism and creation processes of famous art pieces
Start the course NOW.

Platform: edX
Duration: 16-24 hours
Price: $139
Certificate: YES
Level: Introductory
Discount: Available
Apply HERE
Women have been marginalized throughout history. Did you know that in the 19th century, hysteria used to be thought of as a disease exclusive to females[1]? More specifically, it was essentially linked to having a uterus.
Women were refused education. They were not allowed to work, buy real estate, or run a business. In this way, whatever achievement or discovery a woman made, you could almost be sure she got no credit for it. Some even joke that it's very appropriate for the term to be history, and not herstory.
The situation has changed drastically - for example, we mostly have moved away from the stereotype of a woman being the cook at home. However, even in 2023, there are some countries, where women are still not allowed to vote. In 2020, less than half of women were employed, according to statistics by the United Nations.
For its 75th anniversary, Harvard's Schlesinger Library created an exhibition to showcase various objects and documents that tell stories about women's lives. Objects from this exhibition are used for this course, to present the experiences and achievements of women in the 20th century.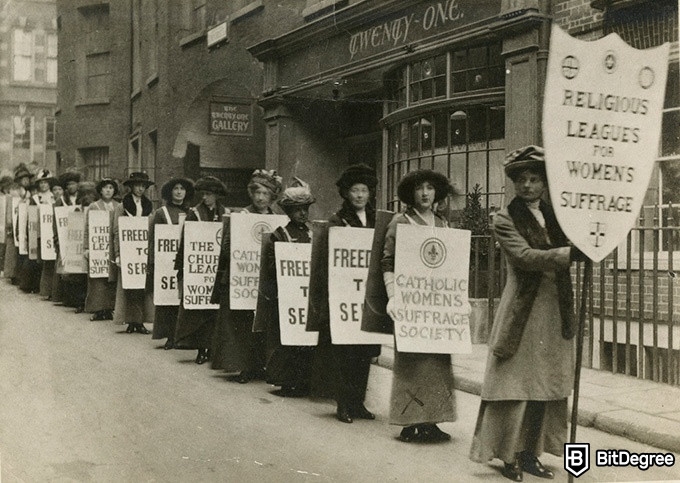 This course will teach you about how women accepted challenges, resisted discrimination, and created new paths for themselves to go forward. The class does focus on American history, but overall I would say this is not just a US history online course - it's relevant for world history as well.
Harvard University's professors Laurel Thatcher Ulrich and Jane Kamensky will be teaching you in this course. Laurel's book "A Midwife's Tale" won the Pulitzer Prize for History in 1991. Jane is Foundation Director of the Schlesinger Library. Their experience and competencies are very fitting for these online history courses.
It is estimated that the course will take about 8 weeks. This is with the input of just 2 to 3 hours per week, totaling 16-24 hours. You can progress at your own pace, but once the course ends, you will no longer be able to engage in graded assignments or receive the certificate.
Unfortunately, there are no individual reviews available. However, over 54,000 students have already enrolled in this course. This speaks volumes, even without the reviews.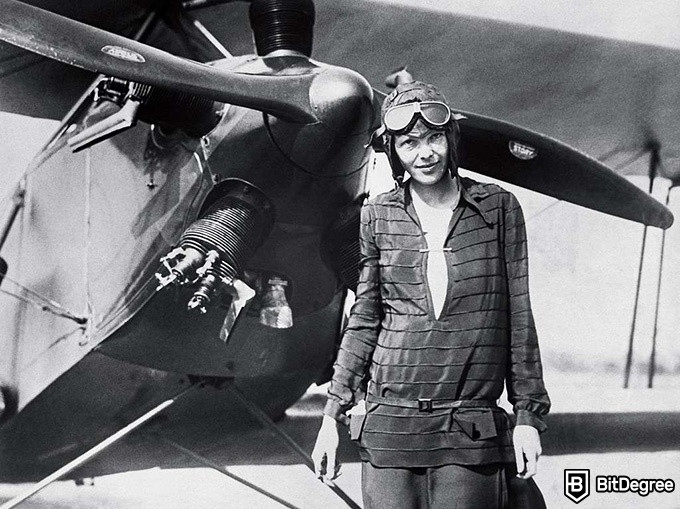 The course costs $139. This is a very reasonable price for a course of such length. But if the triple digits worry you - don't fret, you can use our edX special deals and get that down to an even more reasonable level. Also, edX does offer a refund within 14 days if you feel the course wasn't worth it after all.
After finishing this course, you will have learned:
That ordinary people can create important change
How central women were in the American history
How our view of history can be shaped by which stories are told and which are not
Start the course NOW.

Mythology, especially Greek mythology, has been heavily influential and analyzed even in our modern world. For example, there have been studies about Greek mythological stories portraying close-to-modern ways of resuscitation[2].
So it's natural that Greek mythology is a very common subject in European art as well. This means it's also a common subject in art history classes online. This course will teach you about some of the main characters of Greek mythology. More importantly, it will tell you how they represent ideas of cultural history in art.
Karima Knickmeyer is an art historian and she believes that art is an important part of getting familiar with history. She has 2 art history classes online available - the other one is on orientalism in European art.
The course has 16 lectures, in total 2 hours worth of material. Overall, the course covers 3 main topics: power and politics, love and lust, and bacchanal. The latter is a Roman festival, dedicated to their wine god Bacchus (Greek counterpart Dionysus). So, that topic looks at how wine drinking influenced Renaissance academics.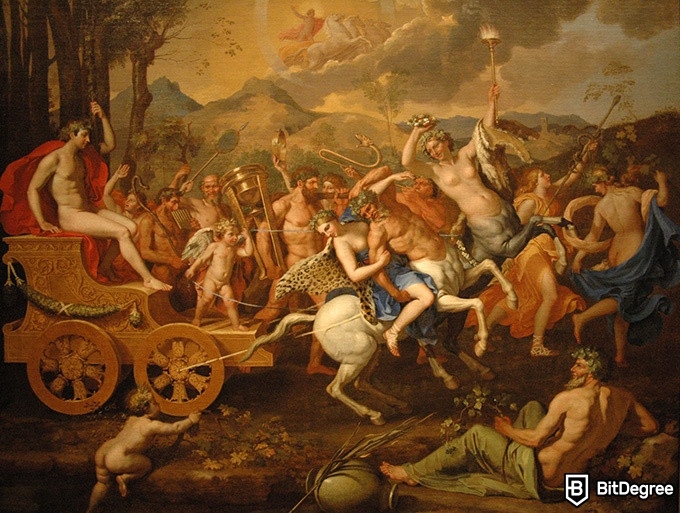 The course has an average 4.2 rating, with 93% of the reviews giving it 4 or 5 stars. The comments were mostly about how easy it was to understand the course material and how much they enjoyed the experience.
"I love the art world and moreover I love people, who have a well-founded knowledge and know, how to transmit it to the audience. Mrs. Knickmeyer combines this two qualities and I´m looking forward to see and hear more from her courses." - Stella Stehr
The course is priced at €19.99, which is the low end of pricing for Udemy courses and online history courses overall. One student also commented with "Definitely worth the money and time spent!". If you for some reason disagree with that, Udemy has a 30-day money-back guarantee.
This course will teach you about:
How to identify characters of ancient Greek mythology in art
Basic image concepts and how they convey meaning
How ancient gods represent ideas of cultural history
Start the course NOW.

Platform: edX
Duration: 1 year 7 months
Price: $495 (now only $445.50)
Certificate: YES
Level: Introductory
Discount: Available
Apply HERE
Currently, China is one of the most influential countries in the world. It is also one of the countries whose history we keep being interested in. Considering that the first Chinese dynasty was about 2000 BC, it's only natural - there's just so much of its history to cover.
This program will cover the timeline from Bronze Age (usually considered to coincide with the Shang dynasty from 16th century BC) to the last dynasties (early 20th century). The time period will be covered throughout these 5 online history courses:
The first course introduces the history, geography, and culture of China. It will tell you about the ancient texts of China's origin and its first dynasties. In addition to that, this course will teach you how the early concepts and values of China are still relevant today.
The second course talks about Qin and Han dynasties, and the early history of Buddhism in China. The third course of the program focuses on the Tang period and the achievements of medieval culture.
The fourth course teaches you about the new type of Confucianism, and the later imperial period of China. Reconfiguration of power, urbanization, and neo-Confucianism are discussed on how it unified China.
The fifth and final course will cover the Mongol empire and how it changed China during the Ming dynasty. After that, the course will explain how this influenced the China we have today. Definitely an extremely extensive group of online history courses about China.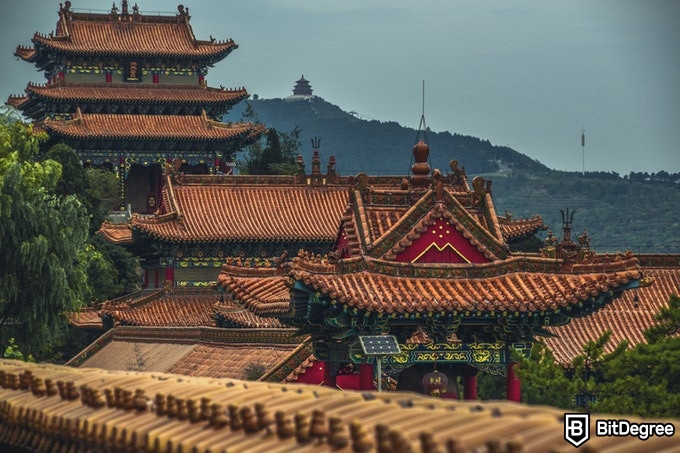 Peter K. Bol is a professor of East Asian Languages and Civilizations, and William C. Kirby is a professor of China Studies. These Harvard University instructors have been together teaching about the history of China all the way since 1992. Each of them has several other history classes online on edX, so do check those out.
Each of the five courses is calculated to take 15 weeks, with weekly learning of 1-3 hours. With such pace, it is estimated to last for about 1 year and 7 months. However, you can take it at your own pace, and finish it significantly faster if you want.
The price for this program is $495. At the time of writing, it is actually discounted to $445.50. If you're interested only in one or only some of the courses, you can take those individually. Individual courses cost $99 each.
So, if you're interested in the whole program, it is absolutely worth snatching the discounted deal! Even more so, you can drop the price even lower with our coupons.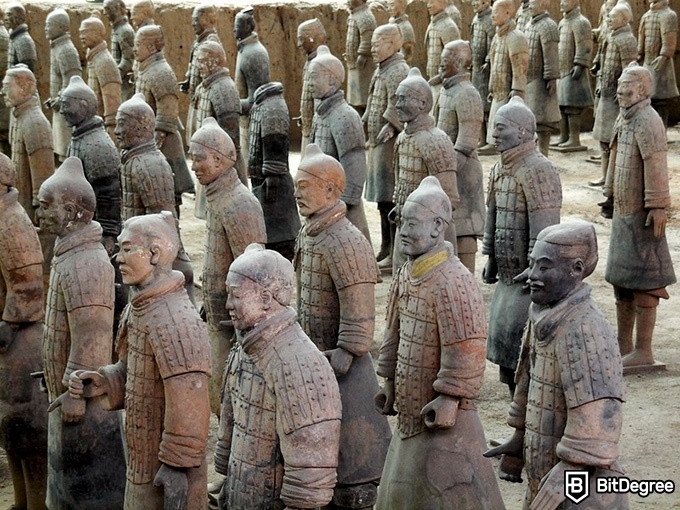 And if you want to take this program as free online history courses - you still can!
You would need to enroll in all courses individually, and would be able to have a free audit option for them. Do have in mind that the free audit option entitles you only to the written program materials. It does not include any graded assignments and, most importantly, you would not receive the certificate upon completion.
After completing this program, you will learn about:
History of China from political, geographical, and cultural perspectives
Influence of Confucianism and neo-Confucianism in China
How China's ancient history is still relevant to the present day
Start the program NOW.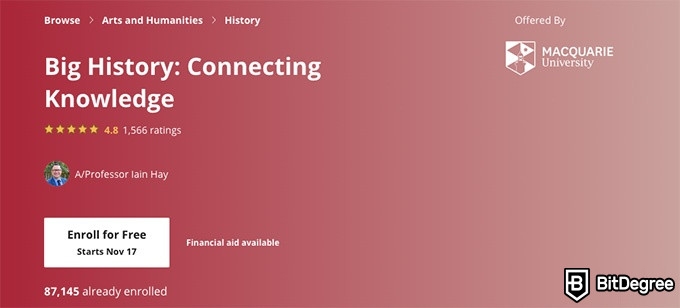 Online history courses usually cover a specific topic or specific periods of time. Well, this course is actually about "history, unraveling the mysteries that all started with the Big Bang". Big History explains the benefits of collective learning and how the starting simple state of the world has turned into such a complex global mechanism.
The lectures start with exploring the universe, the newly formed Solar System, and other important elements of astronomy. It moves onto the human revolution and then focuses on primates.
By the end of week 4, it will teach you about how we shifted from the agricultural era to modern times. Finishing off the course, there is a discussion about the future and what challenges are expected this century.
The course instructor Iain Hay is an associate professor at Macquarie University. He has over 20 years of experience in teaching, for both children and adults. His research aims to improve young mothers' and their children's education.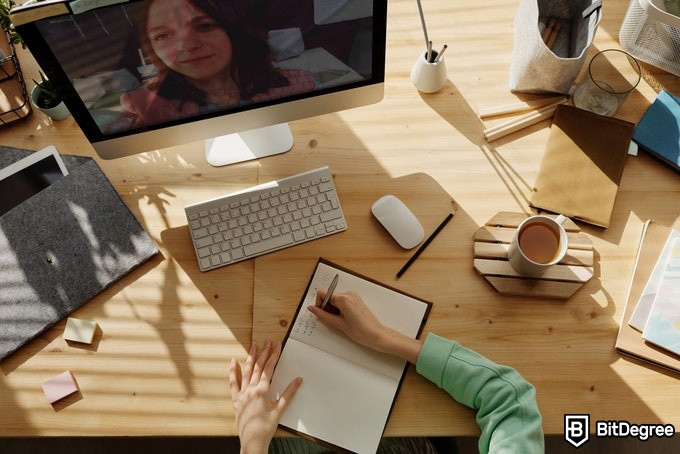 The course is divided into 6 weeks, with 4-6 hours per week required. Each week has a slightly different topic, which consists of both readings, and videos. Even more, each week will have 2-3 quizzes at the end of it. Definitely a great choice for online history courses if you want to be kept on your toes.
Students just love this course. It has an average rating of 4.8, with about 97.5% of evaluations being 4 or 5 stars. Reviewers talked about being left with a different perspective, and that it was great to see different disciplines interconnected. Comments said the lecturers were engaging and the course was well organized.
"Excellent course, has left me with new ideas about how complex the world around us is and the importance of trying to connect different branches of science. And the learning resources, apart from the videos, are excellent, I found some very interesting as well as entertaining." - Fabian R H
Coursera online history courses work on a monthly subscription basis. It starts at $49 per month if you want to take a single course. However, if you are interested, I would recommend going for Coursera plus instead. This plan gives you access to over 3,000 courses for just a slightly higher price.
Once you finish the course, you will have learned about:
How the universe was formed
How agricultural area transitioned into The Industrial Revolution
Future trends of human development
Start the course NOW.
Conclusions
In this article, I offered you some great choices for online history courses on several of the best online learning platforms at the moment.
Udemy will have you covered for art history classes online and they have a great US history online course. Coursera courses will give you a view of the global world all the way from the beginning of the universe. And edX will give you a great choice for women in history and China's history throughout the dynasties.
I'm sure all these courses will bring you a great perspective and knowledge. Not only on what happened in the world throughout all these years, but also how it happened and what it entails going forward.
So go ahead and start those online history courses. And once you've learned about all the past - who knows, maybe you'll go down in history in the future.
Scientific References
1. M Trimble, E H Reynolds: 'A brief history of hysteria: From the ancient to the modern'
2. Ilias I Siempos, Theodora K Ntaidou, George Samonis: 'The art of providing resuscitation in Greek mythology'
Leave your honest feedback
Leave your genuine opinion & help thousands of people to choose the best online learning platform. All feedback, either positive or negative, are accepted as long as they're honest. We do not publish biased feedback or spam. So if you want to share your experience, opinion or give advice - the scene is yours!