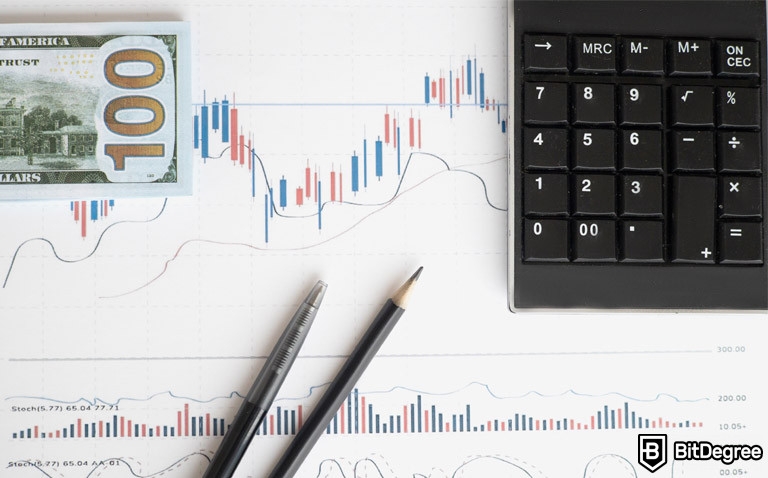 The topic of statistical analysis is extensive. Overall statistics can be defined as the discipline and studying methods that collect, analyze and present the data. If you are interested in this vast field — online statistics courses are the best option for you!
Nowadays, statistics can be used mostly anywhere: in business, science, marketing, media, engineering, manufacturing, finance, healthcare, government, and in any aspect, you would need to do brief research and analyze the collected results.
In this article, I take an in-depth look at the top Udemy, Coursera, and Datacamp online statistics courses. So you can start learning right away!
Why Choose Online Statistics Course
Are you completely new in the field of statistics? Perhaps you are still debating whether the topic is interesting enough? Keeping that in mind, let me start off by identifying statistics completely.
Latest DataCamp Coupon Found:
CLAIM 50% OFF
DataCamp Cyber Monday Deal
DataCamp Cyber Monday special is here! Enjoy a massive 50% off on DataCamp plans. Subscribe now and redefine your data and Al skill set for the better!
Expiration date : 08/12/2023
5,324 People Used
Only 36 Left
The study of statistics can be categorized into two sides:
Descriptive statistics
Inferential statistics
Descriptive statistics are used to describe data and study features and make it easier to apply the results in further research or projects. Descriptive statistics gives information about the research and describes the characteristics of the responses.
For example, a local store has 68 frequent customers, approximately 20 of them are over the age of 70, which means 29% of the customers are elders. The store could do a research on how many customers over the age of 70 come every day. They could determine the average count and this research would be a result of descriptive statistics.
To simplify, by using descriptive statistics you just describe what the data shows. So let's imagine that you get an excel sheet with lots of numbers and different investigation results. Your job would be to simplify those large amounts of data and describe it as a summary.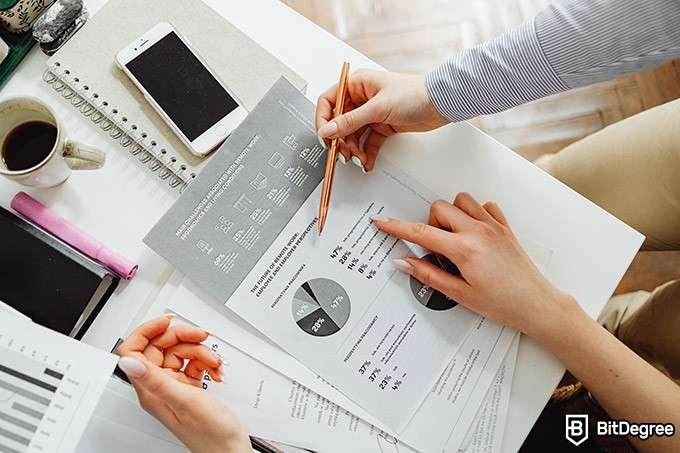 On the other hand, inferential statistics is reaching a conclusion or a goal after analyzing the data. Inferential statistics may also be used to give judgment about observed topics and get the best quality results and knowledge about the research.
So the topic of statistics might not be as complicated as it seems. And you might be scared of it for no big reason.
For applying it to everyday life, statistics might be the guide for learning with the help of data and managing common problems. By validating the major points, statisticians hold the evidence that is the key to drawing valid conclusions.
Moreover, statisticians know how to avoid common mistakes and errors by applying their methods and producing findings. To simplify, you will be thinking as a scientist would.
In this modern information-driven world, statistical knowledge could be a superior power.
Academic Vs Online Learning
To start off, academic learning — going to a university or school may seem like a more trustworthy type of learning. Yes, you may always have a teacher or a professor by your side and get a degree after graduating, which is great, I am not going to disagree. However, that doesn't guarantee the best experience possible.
Furthermore, systematic learning is surely not for everyone. And let me add how much attending universities and colleges can cost.
Speaking of academic learning, you may remember from school that everyone gets the same type of teaching, materials and as a result, gets graded the same. It doesn't matter if you have a different set of skills and academic background, you will be thrown into a group of other contrasting students.
Moreover, a topic like statistics may seem scary for someone who doesn't have a foundation of great mathematical skills. And for a bit of context — the system of school may be problematic by giving you a mindset that mathematical skills are "given".
Your teacher at school could have told you — you are not good with numbers. However, research shows, that students' fear of science is the problem of academic education approach to STEM (science, technology, engineering, and mathematics) learning.[1]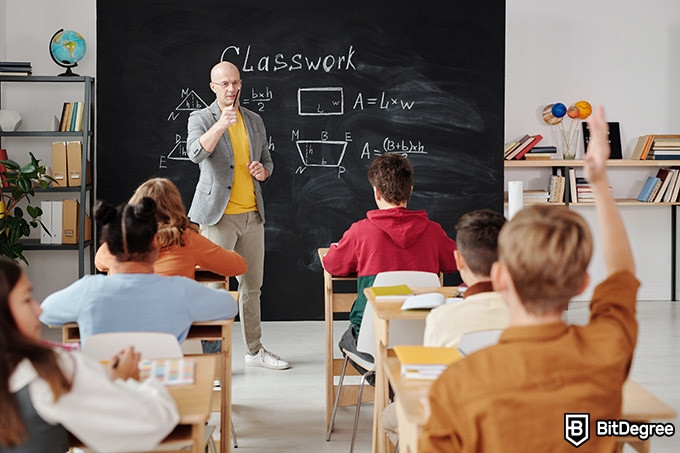 Now I am not implying that you can learn everything perfectly. But I believe that it is possible to learn anything to a certain extent.
In contrast with academic learning, statistics classes online give you the ability to choose the most suitable skill level and type of knowledge you need. It can go from a beginner level to advanced. Also, you will learn at your own pace and won't need to catch up with other students as well as please your teacher or professor.
Online learning is more individual and straightforward, as in you won't need to attend additional classes that have nothing to do with statistics (it is common for universities to add random classes).
Another aspect — traveling. Yes, in this modern world there is nowhere you cannot get to. But does it mean you have to? If you are like me, you would attend an online statistics class at home or go to a cozy coffee shop instead.
Especially, if you are living somewhere further away from the city and need to take a bus or a train an hour before, it can be so time-consuming and tiring at times.
Standing at a bus stop for twenty minutes, in the cold, and then traveling for an hour when you could've slept for a little longer? That's a big no for me.
In light of that, by choosing online statistic courses, you don't need to have a strict schedule and worry about deadlines. You are your own boss. The plan is to love what you do and do it the best way you can.
The price and affordability is always a major factor. It is vital to spend your money wisely. For academic learning, you can try getting a scholarship or a student loan, however, it is not guaranteed that it will work.
In addition, without student loans or scholarships, the prices can be mind-blowing. Certainly, not everyone can afford this type of education. And to be honest, sometimes it isn't even worth it.
So in regards to funds, online classes are the way to go. For the online statistics courses I am going to talk about in this article, the prices start from as little as €12.42. Yes, you've read that right.
And a little more sparkle for you — I will mention a few online statistics courses free.

Platform: Udemy
Duration: 14 hours
Price: €89.99
Certificate: YES
Level: Beginner
Discount: Available
Apply HERE
Udemy is one of the most widely-known online learning platforms. So without further ado, let's take a look at the top of Udemy's online statistics courses.
Can complicated math be easy? This statistics course online states that you can make math understandable for yourself. And that is also mandatory for becoming a probability and statistics master.
This course offers an extensive section of important factors for becoming a statistics master. For example, learning to visualize data, graphs, and all the fancy diagrams so that you can analyze:
The mean of data (is found by adding all numbers and dividing by the values)
The median of data (the middle value, data is ordered from least to greatest)
The mode of data (the most often seen number)
Knowing these nuances is an important base for anyone working with statistics and data analysis.
You will also be introduced to data distribution which transforms raw data into graphical and visual representations. That helps to determine and see valuable information.
Let's not forget the Baye's theorem which is named after Thomas Bayes.
It is a simple mathematical formula that describes the probability of an event based on prior knowledge about it. Baye's theorem has an approach to interferential statistics which I have mentioned earlier. Furthermore, you may have guessed that it is beneficial to be familiar with this calculation of conditional probabilities.
You will also be looking at:
Geometric and discrete random variables
Distribution of the sample proportion and sample or sample mean
Hypothesis testing, including interferential statistics
Regression (a measure of the relation)
So much essential stuff in only 14 hours! You won't even notice you are taking an online statistics class! This class really has a sense of concentrating on valuable information and not taking up your time.
This online statistics course consists of 163 lessons with video and text explanations. Students will also get 45 quizzes with solutions, so there is no need to worry if you've got the right answer. There will be the ability to compare your results with the given ones.
Also, let me mention the 8 workbooks with extra practices that are here to help test your knowledge along the way.
Do not forget to check out the instructor of this online statistics course — Krista King. She may be the math tutor you were always looking for!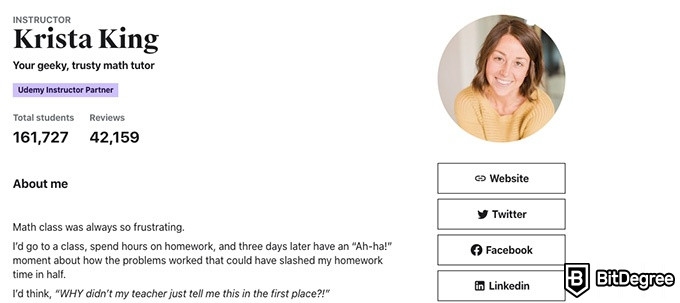 So as far as I can see, students will receive a well-rounded introduction into statistics and probability as well as get a deeper understanding along the way.
When it comes to pricing, this statistics course online costs €89.99. However, at the time of writing, it has an 87% discount, making it even ridiculously cheap for this kind of brief material. Only €11.99!
Nevertheless, if the discount is no longer available check out our Udemy coupon codes!
Like in any other field, statistics has a large amount of information to take in. This course is great for managing information that easily!
Start the course here NOW.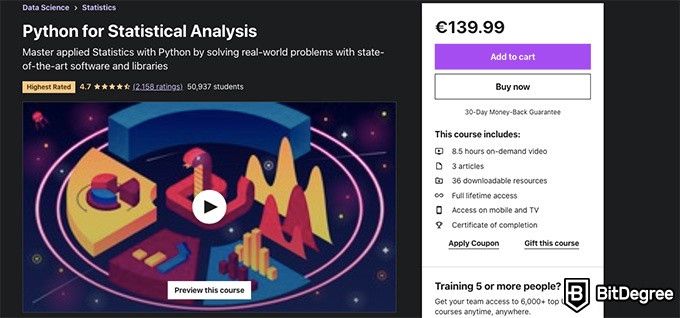 Platform: Udemy
Duration: 8.5 hours
Price: €139.99
Certificate: YES
Level: Intermediate
Discount: Available
Apply HERE
Let's move on to a more specific online statistics course. By more specific, I mean attaching and using Python as a problem-solving tool.
Perhaps having a deep insight into data analysis isn't enough for being a great professional in the field. You could need to have a greater understanding of how to implement tests in Python efficiently and use graphical tools for visualization. In that case, this statistics class online might be created thinking about you!
However, you already need to have at least foundational knowledge of Python.
Speaking of that, if you don't want to be blown away by the amount of every bit of information and focus on a specific quest — you and your Python skills are looking at the right statistics class!
This intermediate statistics class online is perfect for both data analysis professionals who are aiming to deepen their skillset or data scientists who want to do machine learning. Let's not forget those who need some more statistical foundations before jumping in a task and those having foundational skills and considering statistics as a potential career path.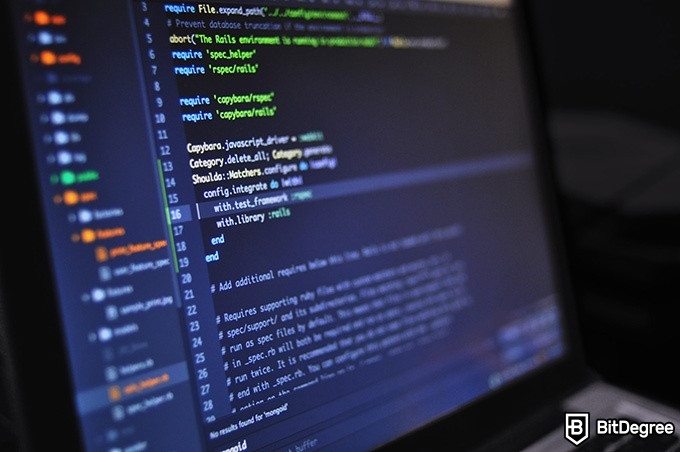 Python for Statistical Analysis is a Udemy course that focuses solely on real-world statistics and data science.
In addition to lectures that are detailed to learning through real-world examples, this statistics class allows you to take theory and apply it through Python to analyze common problems. This way, you will gain the knowledge and skills you need to apply to everyday tasks.
The course focuses on a specific set of skills and is used to refresh preexisting knowledge, keeping that in mind, the content can be watched in 8.5 hours. This could look like a short amount of time for an online statistics course in regards to the amount of quality content and information you are getting. However, trust me, it is designed to be as quick and as effective as possible.
With 6 sections and 56 lessons, you will:
Gain a deeper insight into data
Understand how to interpret and visualize outcomes
Use Python to solve machine-learning problems
Learn hypothesis testing and how to implement tests in Python efficiently
Even though this may be the most expensive online statistics course on my list, it is an incredible opportunity to learn as efficiently as possible. At the time I am writing this, the price tag is only €14.99 instead of €139.99! So if you manage to catch this deal, you may feel as lucky as finding the four-leaf clover.
Let's not forget that the instructor of this statistics course Samuel Hinton is an astrophysicist, data scientist, robotics and software engineer, astronomer, and even public presenter. So you should feel safe about the person delivering you the information.
Start the course here NOW.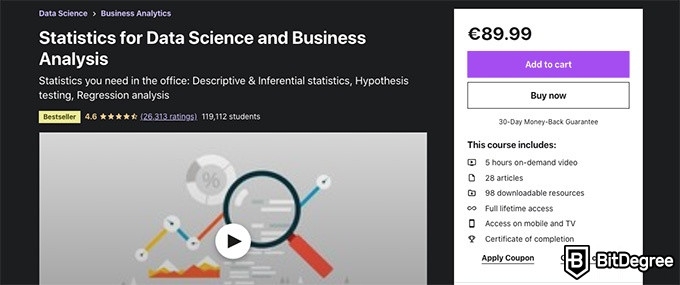 Platform: Udemy
Duration: 5 hours
Price: €89.99
Certificate: YES
Level: Beginner
Discount: Available
Apply HERE
Statistics is a topic that can be discussed for hours but only by those who maintain some kind of connection to it. Others would say — it is just collecting data and reviewing it. What's more to it?
Well, you, me, and the students of Statistics for Data Science and Business Analysis already know that there is way more to it.
This online statistics course focuses on the statistics you would need in the office. It covers the main ones like descriptive and inferential statistics, which also come with hypothesis testing and regression analysis.
This information is essential if you work as a marketing analyst, business intelligence analyst, data analyst, or data scientist and useful if you are trying to enter a statistics-driven work industry.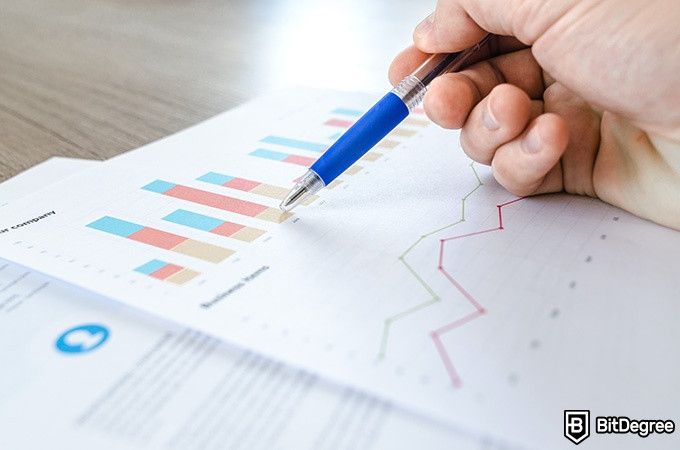 Or perhaps you are interested in business and everything that makes it successful?
This online statistics course is here to help you every step of the way!
To add, this statistics class online even contains templates in Excel, which is very thoughtful considering how rarely online courses can lend you a wider variety of material. Nonetheless, this course has large amounts of resources and articles to learn from.
By enrolling in this course, students get:
High-quality video classes and animations. As they've said themselves, "this isn't a collection of boring lectures!".
Complete training — by covering major statistics topics, you will no longer be a beginner. You'll be ready to take the first step into the statistics industry.
An instructor who is a mathematician and statistician.
Extensive case studies that will allow you to test yourself and reinforce everything you've learned.
An excellent pace and dynamic.
Support — as rarely as it happens with online education, this course provides you the opportunity to ask a question and receive feedback within 1 business day!
This course seems to destroy the stereotype of online education being in second place after academic. Do you want to be a part of a breakthrough?
By enrolling in this course you will learn:
Fundamentals of statistics
Plot and work with different types of data
Carry out regression analysis
Estimate confidence intervals
Make data-driven decisions
Perform hypothesis testing
Understand regression analysis
Use dummy variables
Work with different types of distributions
Calculate the measures of central tendency, asymmetry, variability
If you are looking for a statistics class online with the best quality — €89.99 is a very reasonable price to spend.
Start the course here NOW.

Platform: DataCamp
Duration: 4 hours
Price: €12.42
Certificate: NO
Level: Beginner
Discount: Available
Apply HERE
R is a programming language and environment which is essential for statistical analysis and graphics. At the moment, the introduction to statistics and knowing the R language may be the most practical way to start answering all your future statistical questions.
To add, DataCamp specializes in courses revolving around data science and R programming. In regards to that, this platform might be the king of online statistic courses.
This statistics course contains 4 chapters with 15 videos in total and 54 exercises to start learning practically. Practical learning[2] sometimes is the most effective.
Starting with the summary chapter, you'll be introduced to summary statistics including mean, median, and standard deviation, and learn how to use them accurately. This chapter also promotes critical thinking skills.
In the second chapter, you will learn to use probability and measure the chances. For me, this sounds fascinating. Once you'll know how to measure chances, you will be able to do it in everyday tasks just for fun. You will even be given real-world sales data to calculate. As I've mentioned before, practical learning will be the backbone of this course.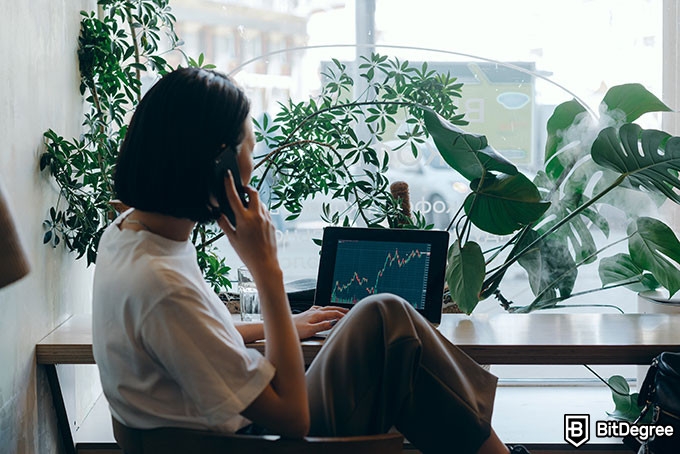 The third chapter sums up distributions and the central limit theorem, so you will create or learn how to create histograms.
The last chapter covers correlation and experimental design. After all of that, you will conduct a well-designed study to draw your own conclusions from the data. So by choosing this online statistics course you should get great set of foundational skills.
A very positive thing about DataCamp courses is their prices. The first chapter of any course chosen is free and after that, if you wish to continue learning you can choose a monthly plan starting from the standard version which costs €12.42.
You can also choose a premium plan which is a bit more expensive — €33.25. By buying a premium plan you will get all the standard features plus more projects, content, and priority support.
Do not hesitate to try it out!
Start the course here NOW.

Platform: DataCamp
Duration: 4 hours
Price: €12.42
Certificate: NO
Level: Beginner
Discount: Available
Apply HERE
Statistics contains numerous branches of data analysis. These days, there are ways to connect and add statistics to the majority of career paths and topics. With this online statistics course, you'll be able to know how to leverage statistical techniques using spreadsheets to make your workflow more efficient.
Powered by the University of Michigan this course contains unbeatable quality online education that covers the foundations of statistics by using spreadsheets functions. In addition, students taking this online statistics course will work with a variety of datasets ranging from eBay auctions to train ridership to historical presidential approval ratings.
As usual to DataCamp statistics classes online, there are four chapters, which get remotely more serious as you work through them. The first chapter called "getting to know your data" is free for you to try out. In this chapter, you will learn the differences between the fundamental statistics and when to use each of them.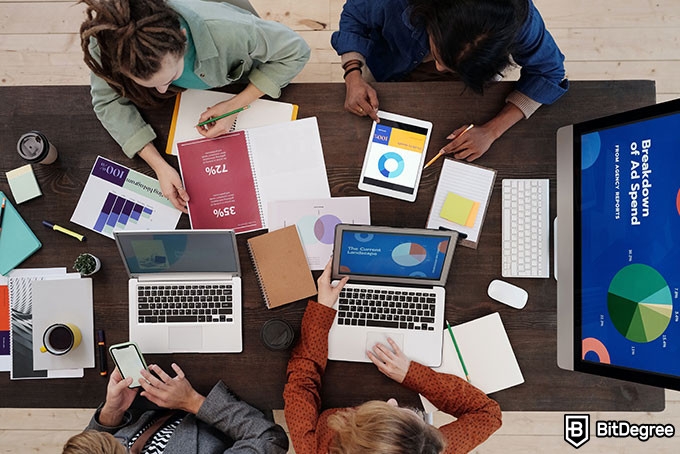 It is great that the statistics courses always start from the basics, so you can rewind or learn the information as well as you can.
The next chapters will cover data visualization and hypothesis testing so all the important stuff you need to be a statistics master!
And for the finale, everything will be rounded up into a case study. Dating profile analysis, to be exact. How fun is that? Taking the skills and applying them to a real-life situation can be super rewarding.
Speaking of pricing, you will get the first chapter for free and if you are so interested you can't stop learning the monthly subscription starts from €12.42. Let me add, that you can cancel any time! If this is the only course you are interested in, spend those 4 hours learning, and then cancel your subscription without any difficulties! No strings attached.
Start the course here NOW.

Platform: Coursera
Duration: 8 weeks
Price: Free
Certificate: YES (paid)
Level: Beginner
Discount: Available
Apply HERE
I heard a whisper that you are interested in an online statistics course — free. This might be the one you were looking for. It teaches you to think statistically, which is very important for being a specialist in any field. Would you agree?
To add, it explores the key principles of sampling, selecting appropriate tests of significance. Therefore, by being able to think statistically and having a reasonable understanding of machine learning you will be able to pursue more advanced topics later on.
To those, who might think that this "online statistics course free" is way longer than usual, think of it as an advantage, because you get an easily manageable learning experience. The syllabus is spread to 8 weeks, nonetheless, you could complete it in approximately 15 hours. Doesn't look as long anymore, right?
By enrolling students will learn:
Descriptive statistics
Sampling and randomized controlled experiments
Regressions
Common tests
Distributions and the central limit theorem
Multiple comparisons
And let me add, that you don't need any prior knowledge just basic familiarity with computers and productivity software. So you can step into the world of statistics without any fear.
However, I would like to mention that to get the full experience you need to buy a subscription for this course that costs between $49 – $79. That includes getting more course features like graded assignments and a certificate of completion.
Yes, the free option is still on the table, however, it will not be as beneficial and rewarding without these features. So if you have the mindset of learning as much as you can, having assignments and professional feedback is a must.
Or perhaps you have a long-term career goal that requires a wide range of skills and knowledge? For that, there is a Coursera plus plan that provides flexibility to your learning goals for only $59 a month.
Start the course here NOW.

Platform: Coursera
Duration: 5 months
Price: Free
Certificate: YES (paid)
Level: Intermediate
Discount: Available
Apply HERE
This one is quite the longest online statistics course free that I am mentioning in this list. To be more exact, it is not actually a course and could be called a specialization. That means if you enroll here, you get 4 different handpicked courses in total and it takes up even 5 months to finish them. So, this specialization is more suitable for someone who has time for a longer commitment.
However, this "online statistics course free" is the best option to learn everything from head to toe you might need to step into the world of statistics confidently. You may even be ready to apply for a new job right away!
The courses you will be getting:
Introduction to Data Science in Python — a great way to start using the Python programming language for statistics
Applied Plotting, Charting & Data Representation in Python — more in-depth study of visualization basics
Applied Machine Learning in Python — introduction to machine learning focusing on techniques and methods
Applied Text Mining in Python — understanding how text is handled in Python and its structure
Skills you will gain:
Machine learning and machine learning algorithms
Python programming
Natural language toolkit
Numpy
Data cleansing and virtualization
Text mining
Pandas
Matplotlib
Scikit-learn
As you see, a whole lot of skills. With your flexible statistics class schedule and hands-on projects, you will be a great professional in no time!
You can attend this specialization for free, however, you will not get the full experience as I've mentioned before. If you decide to purchase these courses and get a certificate that you can share with your future employers the price is $49 – $79 for individual courses. Moreover, you can also purchase a Coursera plus plan which is only $59 a month. And you will get all the flexibility and features that might be needed.
Start the course here NOW.
Conclusion
Online statistics courses are becoming more popular and relevant. Statistical skills are useful to have even in everyday tasks or by increasing your performance at work. As the topics get wider and more complex, it is mandatory to always be up to date with the latest information and upgrade your skills accordingly.
While choosing the best statistics class from the ones I've covered that are currently available on the top MOOC platforms, consider your time, priorities, and funds. Nevertheless, if you feel a real hunger for knowledge, you will always find something fitting.
I would also like to remind you that discounts might be available, so check out Udemy, DataCamp, and Coursera platforms.
I wish you the best in your learning journey and can't wait to see you soon!
Scientific References
1. Yeping Li , Alan H. Schoenfeld 'Problematizing teaching and learning mathematics as "given" in STEM education'
2. Marc Augustin 'How to learn effectively in medical school: test yourself, learn actively, and repeat in intervals'
Leave your honest feedback
Leave your genuine opinion & help thousands of people to choose the best online learning platform. All feedback, either positive or negative, are accepted as long as they're honest. We do not publish biased feedback or spam. So if you want to share your experience, opinion or give advice - the scene is yours!