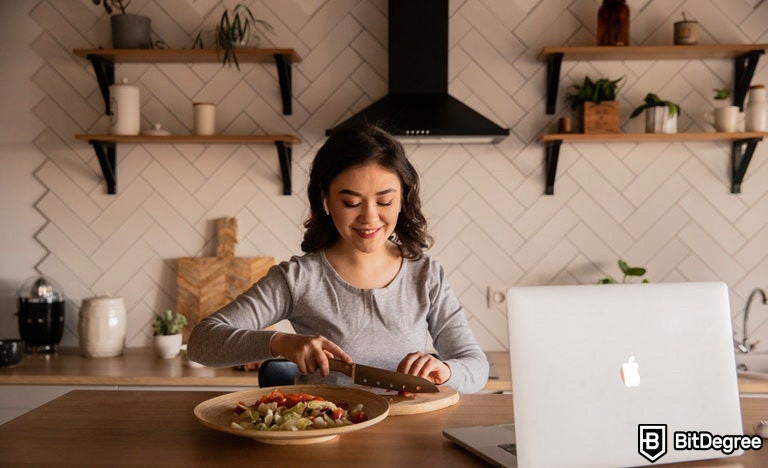 Having trouble learning the basics of cooking? Yeah, I had that issue for a while. And I've never bothered to learn how to cook because... You know... The microwave was right in front of me! It takes way less time than using a frying pan or an oven.
But cooking food is much easier than you think. And cooked food is much tastier and healthier.
More than that, culinary skills might become your new side-gig. Or a career path! Of course, only If you're good enough.
Now then, where do we get started?
How to Cook: 5 Main Points
At this moment you're probably thinking of a 5-star meal and how to prepare it. Let me tell you - the best way to get started is not to pressure yourself. Keep your cooking as simple as you can. There will be less room for error.
Latest DataCamp Coupon Found:
EXCLUSIVE 25% OFF
On DataCamp Subscriptions
Follow the Datacamp promo code link & get an exclusive 25% OFF Datacamp subscriptions. Act now while the offer is still available!
Expiration date : 13/06/2023
2,765 People Used
Only 35 Left
Here are 5 easy steps to start cooking.
Firstly, before you start any form of cooking - make sure that you have the right kitchen utensils. Open up your drawer and see if you have knives, forks, spoons. You will also need a spatula to flip your food in the pan. Utensils like a grater or peeler might come in handy as well. That is usually enough for starters.
Move on to your cupboard and check for pots and pans - one of each will be plenty for first-time cooks. Measuring cups are not required but will help you get the exact amount of ingredients.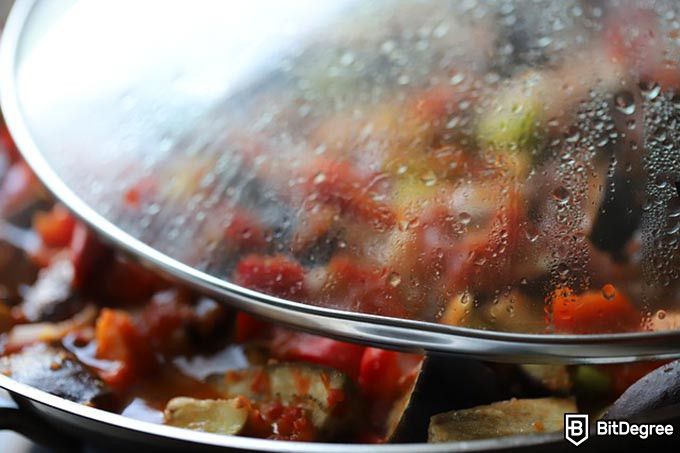 Likewise, grab yourself a chopping board so the ingredients don't scatter around the kitchen. And make sure to have some bowls and cups so you have a place to mix your ingredients. Voilà, you're all set up. What's next?
Figure out what ingredients and condiments you may need. I'm sure you have some idea on what you'd like to cook. So grab a shopping cart in your local store and sweep the food aisles with meat, vegetables, fruits, pasta, grains, and dairy products.
Don't get too carried away with fresh products though. They usually get spoiled easily. Of course, you could freeze your meat or veggies, but they won't taste as good when defrosted. So plan ahead of time.
If you're not sure what to cook - I'll make things easier for you. Here is a list of the most basic cooking products that I've picked out:
Pork/chicken/beef
Onions, carrots, potatoes, tomatoes, garlic
Milk, eggs, flour
Bread, butter
Pasta, rice
All of the above are common products for most recipes. You obviously won't need most of them if you're making a vegan or vegetarian meal.
Next up, we have the condiments. There is a variety of spices and sauces that you may experiment with. But you should definitely fill up your cupboards with salt, pepper, sugar, maybe even some herbs like parsley or bay leaves. These will enhance the flavor of your food.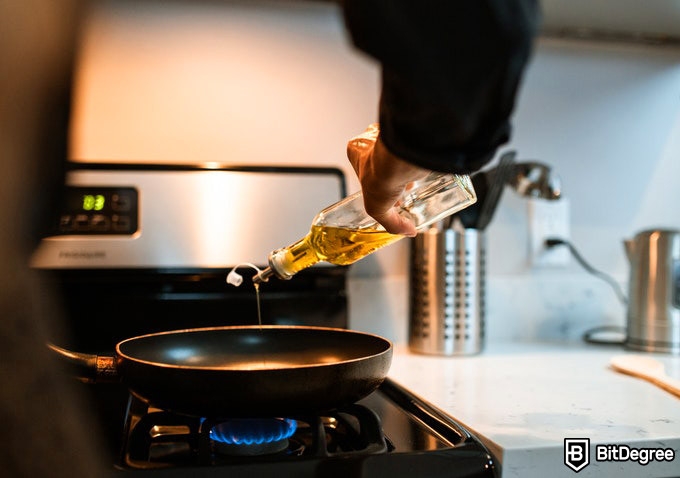 To make your food sizzle in the pan - you'll need vegetable oil or olive oil. Also, you can stock up on tomato sauce, mayo, ketchup, and cream. These will be the binding agents for your ingredients. In other words - your ingredients will be brought together with the sauce.
Okay, now that you've got an overfilled fridge and a stock of condiments - you can start looking for recipes.
Nowadays using a cookbook is so old-fashioned, and there are easier ways to look for recipes. Just google what ingredients you want to cook and that's it.
For instance, type in "how to cook pork with carrots" and see what comes up. You'll get recipes from professional chefs and home cooks in no time. If you found one - great! Set up all the ingredients on your kitchen table. And at this point - you are ready to cook!
You might be a little confused at first. But don't worry - the recipe is right in front of you. In fact, I'll give you a quick rundown of things you should do before cooking.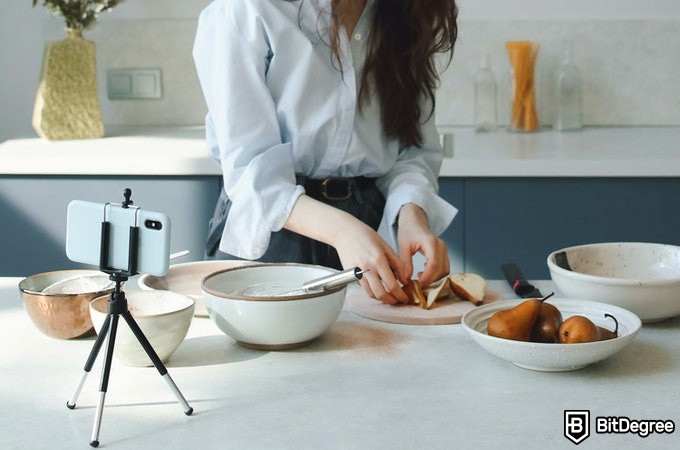 First thing - prepare the ingredients. Chop up the vegetables, whisk the eggs if necessary, prepare the batter or whatever. Once that is done - heat up a couple splashes of oil in a pan if or boil some water. Really depends on what you're making. Everything else will be in the recipe. That's it. Get to cooking!
But what if you don't feel confident about your cooking? Should you ask someone to help you out?
I mean you could, but there's always a better alternative. Ever heard of online cooking classes?
Virtual Cooking Classes: Learning How to Cook Online
Online cooking classes have been around for a while. And nobody paid much attention to them until very recently. All you need is a phone, internet connection, and an online learning platform opened up.
But what online platform should you choose for cooking classes?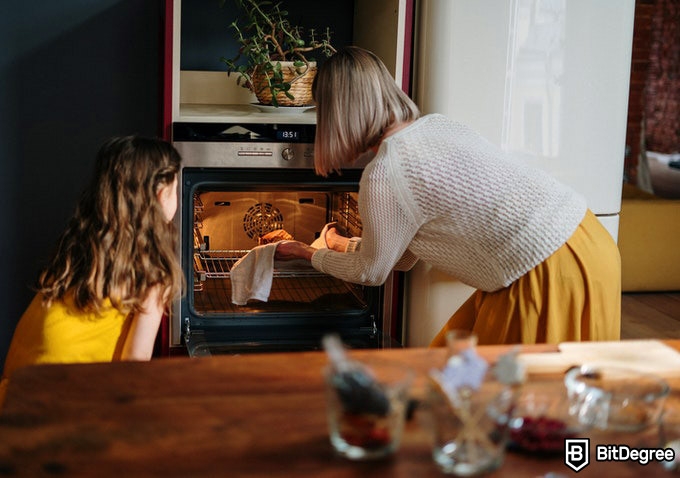 Well, I've looked through the most popular online learning platforms. My main goal was to find the best platform in terms of price, simplicity, and variety of cooking classes. What I found is that Udemy has the most extensive variety of cooking classes with some of the best prices out there!
Likewise, it's easy to navigate around the platform by using search filters. This way, you can find exactly what you are looking for.
In fact, here is a list of Udemy course filters with brief explanations:
Rating. It lets you choose cooking courses that are rated from 3 to 5 stars. So if you are interested in only the best courses on how to cook - choose the 4.5 and up filter.
Video Duration. Shows the total time of all videos in a particular course. If you are looking for a short, 30-minutes long course on how to bake bread - select the 0-1 hour duration filter.
Topic. Lets you choose from various cooking topics. If you are looking for certain types of food - there is a long list of topics that might interest you.
Subcategory. Choose an even smaller topic of cooking. For instance, if you are looking to start a bread-baking business - choose the Entrepreneurship filter.
Level. Choose the difficulty of your courses. If you are just starting out, you might want to check out the beginner cooking classes.
Language. This filter lets you choose courses by language.
Price. If you are on a limited budget, or you've decided to give all your life savings to be a professional chef, you can set how much you are willing to pay for online classes.
Features. This shows you courses that have subtitles, quizzes, and practice tests. What's a cooking class without homework, right?
Subtitles. Shows which courses are translated into another language.
Now that we know how this online learning platform works - let's take a look at the positives and negatives of virtual cooking classes.
Virtual Cooking Classes: Pros and Cons
Naturally, you might doubt this way of learning. You could just watch a cooking video or find a recipe online. Be that as it may, the key advantage of taking virtual cooking classes is - you will learn everything step by step.
All you need is a smartphone or another mobile device that you can put in front of yourself. Having a cooking instructor in your back pocket is the way to go!
Likewise, all the ingredients and cooking methods will be in front of you at all times. Let's not forget, a real chef will be guiding your every step.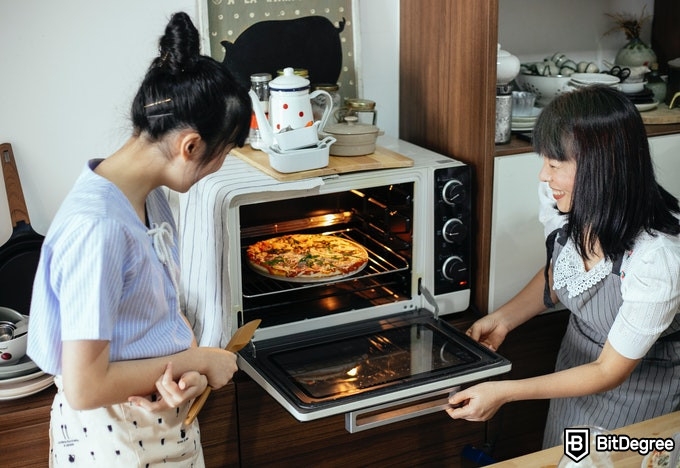 Sounds good, but isn't it the same as watching a cooking video?
Not quite. Most cooking shows have all the fancy tools and ingredients prepared for the chef. Also, they don't show you the exact cooking techniques and proportions of ingredients.
That's why online cooking classes are much better for beginners. You will have everything from chopping techniques to flipping pancakes in one place. Better yet, most of the virtual cooking classes will require only basic kitchen equipment!
A lot of these cooking classes even give out certificates after you finish the course. You learn how to cook, and you get certified. What more could you want, right?
But can your journey of taking virtual cooking courses backfire?
Well, the main concern is motivation. If you keep grinding your way through online cooking courses without any progress - that might put you off the kitchen for good.
One research paper showed that online cooking classes for younger Dutch people were much more appealing because of the visual and entertainment aspects.[1]
However, this caused them to stray from the main purpose of the online class - learning how to cook. But take this with a grain of salt, because entertaining cooking classes might even be a motivating factor.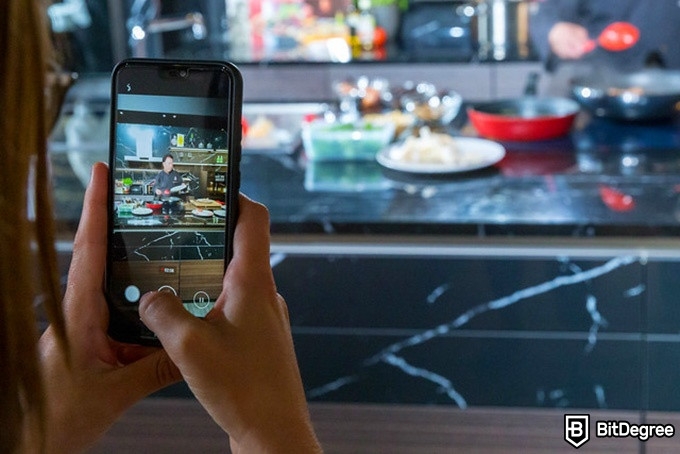 Likewise, some cooking classes are quite costly. So the clear alternative would be watching videos or reading recipes. However, they won't keep you coming back for more if you are not passionate about cooking.
On the other hand, virtual cooking classes will give you a sense of progress - you will feel motivated to finish the course because you've already started it!
In any case, the advantages of online cooking classes outweigh the negatives. That being said, you have to keep an eye on your dedication to cooking!
Now that we know more about online cooking, let us look at some classes that I've picked out for you. These are only my recommendations so it's not mandatory to go through the exact courses. If you don't like some courses - try using the filtering system on Udemy and find what's best for you. Let's jump right in!

Platform: Udemy
Duration: 2 hours and 21 minutes
Price: €49.99 (Subject to change)
Certificate: YES
Level: Beginner
Apply HERE
This beginner cooking course on Udemy shows you the very basics of cooking. From using various kitchen utensils to cooking eggs and potatoes. It has pretty much no requirements - you only need basic kitchen equipment like knives, pots, and pans. But that is basically it.
Anyways, It is almost a 2.5 hour long cooking class separated into 25 lectures. These lectures are put into 3 sections. The first section starts off with an introduction to kitchen tools.
Then you move on to regular cooking skills like making scrambled eggs and cooking potatoes. When you're done with that, you get to make casseroles, spaghetti, and other dishes. The final two sections have tutorials on desserts, Halloween dishes, and lasagna.
The course itself was made by John Keith who was a catering chef. Now he focuses on teaching people how to cook with easy-to-understand methods. His class is rated at 4.2 stars out of 5 with positive reviews from his students. Here is a review from one of his students Mark K.:
"This course is ideal for people going to university or for people with little cooking skill. It gives you a step by step guide to cook basic easy foods and slowly builds up to full dinners. Easy to follow in modules handy tips given throughout. An enjoyable course".
Other reviews primarily suggested that the course was easy to follow. Likewise, most enjoyed that the class started with making simple meals, and later these meals became ingredients for other dishes.

Here is a quick summary of what you can expect to learn from this course:
How to use basic kitchen equipment
How to make desserts, snacks, traditional English meals
All in all seems like a good way to start your cooking career. Especially for those who just started living on their own.
Start the course NOW.

Platform: Udemy
Duration: 1 hour and 44 minutes
Price: €29.99 (Subject to change)
Certificate: YES
Level: Beginner
Apply HERE
Having trouble finding the right equipment for your kitchen? This course has everything there is to know about kitchen tools.
It is a 104-minute long course with 37 lectures. During these lectures, you will learn what types of cookware you should get. Then you'll move on to knives and utensils, alongside a shopping list for the best kitchenware. Finally, you'll find out what foods should always be in your kitchen, and how to make the most out of leftovers.
Your course instructor will be Jenna Edwards who is a home-cooking expert, specializing in healthy diets. She is also a graduate of the Institute for Integrative Nutrition. Jenna's course is rated at 4.3 stars out of 5 with great reviews from peers who praise her delivery of information - which is perfect for beginners.

What you'll learn from this cooking class:
How to be confident in the kitchen
How to choose the best cookware
How to cook healthier
So if you're looking to find the best kitchenware for healthy meals - this is might be the class for you.
Start the course NOW.

Platform: Udemy
Duration: 1 hour and 53 minutes
Price: €44.99 (Subject to change)
Certificate: YES
Level: Intermediate
Apply HERE
Want to learn how to use your knife skills like a pro? Well, after finishing this course, you will have all the skills that are used by world-class chefs! There are no requirements to complete this course. However, it is an intermediate class so it won't be as easy as you may think!
This cooking class is 113 minutes long with 19 lectures in a single section. At the start of every lecture, you will learn how to prepare certain ingredients. After preparing the ingredients - you'll learn how to cook French and Italian dishes.
Your instructor will be Viorel Copolovici who is a professional chef with a long track record in the culinary business. As a matter of fact, Viorel studied at the Le Cordon Bleu Culinary Institute of London which is a world-renowned culinary school.
As of now, Viorel's classes are rated at a whopping 4.7-star rating out of 5. And the feedback he gets from students is almost flawless. People who finished the course enjoyed the chef's enthusiasm and how informative the classes are.

Now here are the main parts that you can expect from this cooking course:
Lectures on how to master advanced cooking techniques
Guides on various Italian and French dishes
Therefore, if you like challenges and want to take your cooking skills to the next level - a course like this will certainly be useful.
Start the course NOW.

Platform: Udemy
Duration: 32 minutes
Price: €39.99 (Subject to change)
Certificate: YES
Level: Intermediate
Apply HERE
If you're looking to explore your options in cooking, then you'll definitely want to know how to make delicious pasta.
This course is only 32 minutes long with 7 lectures. During each lecture, you will learn how to make unique pasta dishes with different sauces.
Your cooking buddy and a professional chef will be Zaid Shaikh - a passionate cook with a love for Italian dishes, and a lot of spare time. Zaid's pasta class is rated at 4.8 out of 5 stars with almost 3500 students enrolled in his course.

Here is a quick rundown of what you'll learn from this class:
How to make various pasta dishes
How to create delicious pasta with basic products
Just thinking about the dishes that I could cook makes my mouth water. Anyways, if you're looking to become an expert in making pasta - give this course a shot!
Start the course NOW.

Platform: Udemy
Duration: 2 hours 5 minutes
Price: €79.99 (Subject to change)
Certificate: YES
Level: Expert
Apply HERE
Looking to make healthy snacks? Here's your chance to do that! This expert course is an in-depth guide on how to create tasty cheddar cheese sides with only a small amount of salt.
This class is 125 minutes long with 23 separate lectures. It starts off with learning how to obtain low sodium products. After that, you'll be shown how to prepare low-sodium snacks and dishes with cheese.
You'll be working with Judy Craft who has been a homemaker and cook for over 50 years. She specializes in creating low-sodium snacks that are both healthy and delicious. Judy's course is rated at 4.6 stars out of 5 with only positive feedback from her students.

And here's what you can expect to learn from this course:
How to make healthy meals with cheese
How to cook low sodium appetizers
How to create a healthy snack without making it bland
Anyways, you might be wondering, "Why is it set as an expert cooking class?"
Well, it involves more kitchen science and having the right proportions of ingredients than actual cooking. So, if you have an interest in science and a passion for learning how to cook - this could be your final project!
Start the course NOW.

Platform: Udemy
Duration: 1 hour 53 minutes
Price: €69.99 (Subject to change)
Certificate: YES
Level: Any
Apply HERE
If you're a fan of Thai food - this course is definitely for you! With only the most basic kitchen equipment, you'll know how to make the most amazing street food! This class will guide you through the absolute basics of cooking Thai food to advanced preparation techniques.
The Pad Thai Cooking Class is almost a 2-hour long course with 29 lectures on various Thai street food. In the beginning, you'll be shown what ingredients to get and how to prepare every dish from scratch.
Your instructor will be Tipyapar Pla Traisombat who was born into a generation of cooks in Thailand. She has been a home chef for most of her life. Throughout the years, Tipyapar has gathered extensive knowledge in Thai cuisine, and she used it to make delicious meals while on a busy schedule.
The course is rated at 4.7 stars out of 5 with positive feedback from students. People really appreciated Tipyapar's enthusiasm and passion for Thai food which made the course very enjoyable.

Here are the things that you'll learn during the course:
How to cook Pad Thai
Pad Thai techniques
How to make Tamarind
How to use dried rice noodles in Thai food
I believe it's a great class to learn authentic dishes from Thailand because home cooking recipes are usually kept secret by families. Therefore, it is especially useful for those who are looking to start their cooking career with Thai food.
Start the course NOW.

Platform: Udemy
Duration: 1 hour 10 minutes
Price: €24.99 (Subject to change)
Certificate: YES
Level: Any
Apply HERE
Have you thought about making your own bread? I know it sounds tough, but following an online cooking class might make it easier for you.
This cooking tutorial shows you how to make your own bread at home with basic kitchen equipment and ingredients! It is an hour-long cooking class with 13 simple lectures. You start off with preparing the ingredients, and then you cook the actual bread. Sounds simple enough.
It is a very well-rated class, currently at 4.8 stars out of 5, presented by Dan and Johanna McTiernan who are award-winning artisan bakers! Students of this class have had very positive experiences and shared that it is a very straight-to-the-point and informative guide.

Here's what you'll get from this course:
You'll learn how to make real artisan bread
You'll know the equipment and techniques required to make bread
Overall, having freshly baked bread on your kitchen table is always pleasant. Especially when you make it yourself!
Start the course NOW.
So, we've looked through some of the best culinary classes online. And seeing as online cooking classes may be a good choice for beginner chefs - what are the benefits of cooking at home overall? I mean, you could just go to a nice restaurant or order some pizza. Let's take a look at why should you take cooking upon yourself.
Why Should You Cook?
Here's the thing - you enjoy the food much more when you cook it yourself! By learning how to cook, you will know every ingredient that goes into your food!
Secondly, the food will be much healthier. Sometimes you can have a hard time eating all the food at the restaurant. Especially when restaurants serve huge portions. And you don't want to waste food, right? I mean, you've already paid for it.
So, you try to finish your meal or take the leftovers home... Zap it in a microwave the next day... That doesn't sound healthy or in any way tasty. And when the food is all gone - your stomach will feel like it's filled with a whole lotta nothin'.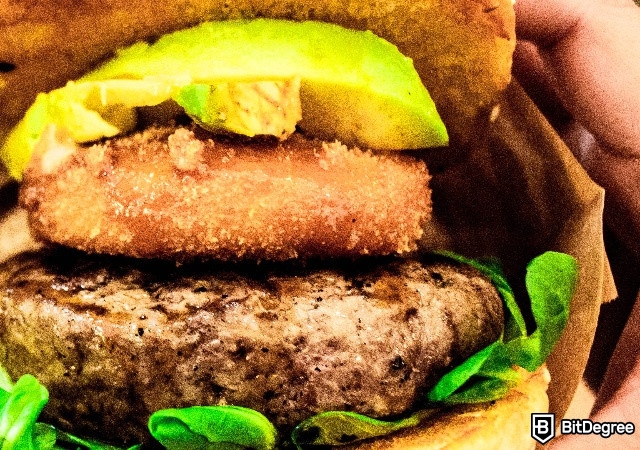 Likewise, a study from the National Library of Medicine found that people who eat home-cooked food are 28% less likely to be overweight.[2]
Secondly, cooking at home is much cheaper. Just try to remember how much money you've spent at a restaurant or a fast food place. Think of how many ingredients you could buy for that amount!
What's even better - you can make as much food as you like! Imagine being able to cook multiple portions of the same food you get in a restaurant. Difference is – you get more, you spend less, and the meal is filled with all your favorite ingredients!
Finally, knowing the basics of cooking is in fact a valuable skill around a group of people! Especially when you can prepare something for everyone to enjoy.
Imagine your friends or family asking, "How'd you learn to make this?" And you say something ridiculous like "I typed 'how to cook' in the Google search bar! And the rest was history."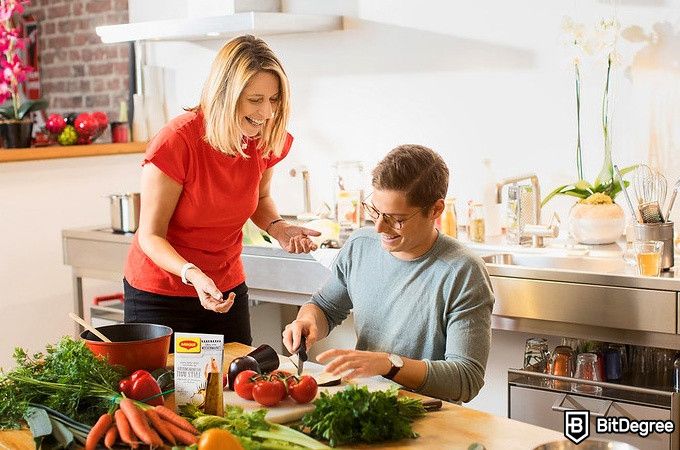 People will think it's a joke but it actually isn't. Maybe you'll get your own Ted Talk someday and tell everyone how you became a world-class chef by simply googling "how to cook."
Either way, people will always be surprised at how fast you've learned to make delicious meals all by yourself! Don't miss your chance to be an expert cook while there are plenty of online cooking classes at your service!
Conclusions
So, after covering everything there is to know about and the types of classes that are offered by virtual learning platforms, we ask ourselves - can you be taught how to cook online?
Absolutely, as long as you have the time and passion for it. There are plenty of people who had marvelous experiences with online cooking classes on platforms such as Udemy.
I'm very certain that online cooking classes will become even larger as learning and mastering basic life skills are becoming more popular every day. So don't be late to the party of online cooking classes and enroll in some courses today!
Scientific References
1. Hoffman D: 'Online cooking classes: 'The Attitude and Motivation of Dutch Millenials towards Instructional Cooking Videos'
2. Mills S, Brown H, Wrieden W, et al.: 'Frequency of eating home cooked meals and potential benefits for diet and health: cross-sectional analysis of a population-based cohort study'
Leave your honest feedback
Leave your genuine opinion & help thousands of people to choose the best online learning platform. All feedback, either positive or negative, are accepted as long as they're honest. We do not publish biased feedback or spam. So if you want to share your experience, opinion or give advice - the scene is yours!