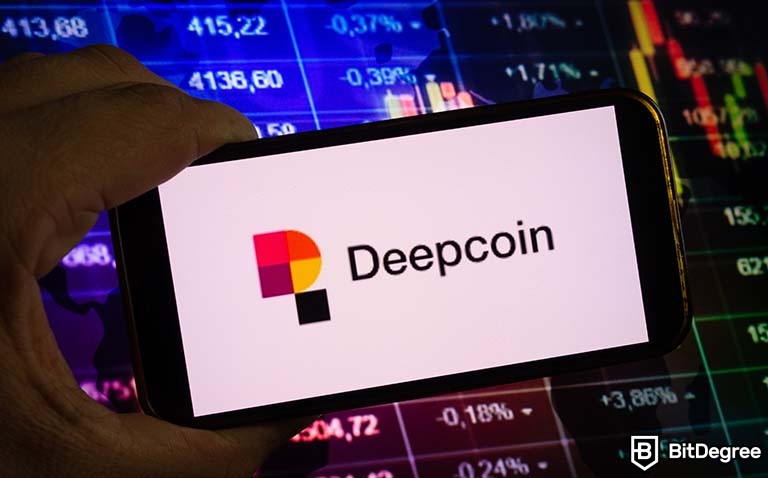 Deepcoin is a cryptocurrency exchange. It's a pretty interesting exchange platform that offers its users a wide assortment of features! In this tutorial, we're going to cover what is Deepcoin, in a thorough manner, and also check to see how you can start using the platform, in general.
It's worth stating, though, that I have already written a dedicated Deepcoin review - you can find it here. In this article, I won't be focusing too much on the details and features of the exchange. Instead, we'll walk through the process of registering on the exchange, as well as how to use all of its core features, such as the Deepcoin trading interface, wallet, and more.
If you would like to learn more about the platform, I highly recommend reading the earlier-mentioned review, and then coming back to this article, afterwards. That being said, worry not - I'll still give you a quick introduction of the exchange, nonetheless.

Did you know?
Want to get smarter & wealthier with crypto?
Subscribe - We publish new crypto explainer videos every week!
What is Basic Attention Token (BAT)? Brave Browser EASILY Explained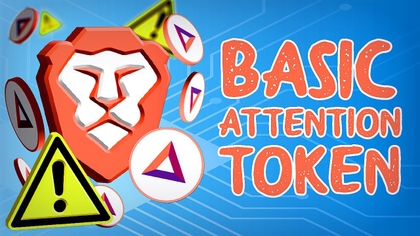 What is Deepcoin?
So, while I do assume that you're already familiar with the pros and cons, as well as the features of the Deepcoin trading platform, let's still have a quick refresher of the most notable features available on the exchange, as well as the seemingly-simple question - what is Deepcoin?
Latest Deal Active Right Now:
$300 + 40 DOGE BONUS
Huobi Black Friday Limited-Time Period
Huobi Black Friday & Cyber Monday 2023 period offers great bonus for new users - sign up & earn up to $300 + 40 DOGE bonus!
Expiration date : 10/12/2023
3,817 People Used
Only 31 Left
Deepcoin is unique in that it's a centralized exchange (with an established company behind it) that has no mandatory KYC verification checks in place. What this means is that individuals are able to register on the platform, and start trading cryptocurrencies immediately, without verifying their identity.
To add to that, Deepcoin specializes in derivative trading. Essentially, the platform provides users with multiple advanced tools to trade perpetual contracts - special crypto contracts that derive their value from the underlying cryptocurrency that they're associated with.

As you're learning about what is Deepcoin, you will also figure out that the exchange supports traditional crypto trades, as well. Specifically, you'll be able to trade around 100 different assets, ranging from the most-popular coins, all the way to some of the more-niche tokens.
There's also a Deepcoin wallet for you to utilize, and store your crypto assets in, a Deepcoin mining pool where you can stake your DC coins, as well as various additional features and benefits (i.e. superb trading fees). While it might be a less-known option, Deepcoin is certainly a well-rounded exchange, at least from the looks of things!
Before you even register on the site, though, there's one thing that you'll need to do - create (or purchase) a reliable cryptocurrency wallet.
Before You Register: A Reliable, Hardware Wallet
There are two types of cryptocurrency exchanges out there - custodial, and non-custodial ones. Custodial exchange platforms allow you to store your crypto assets on them, while non-custodial exchanges will require you to have an external wallet of your own.
While these two types of exchanges are quite different from one another, it shouldn't be something that concerns you - instead, no matter what type of an exchange it is that you plan to use, you should always have a separate crypto wallet where you'd store all of your assets. This isn't different when you're what is Deepcoin, either.
Why is that the case, though? Especially when you consider the fact that the Deepcoin wallet allows you to store all of the exchange-supported cryptos on it?
Well, it's pretty simple, really - an external, hardware wallet is going to be a much safer pick.
LEDGER NANO X
TREZOR MODEL T

Main score based on expert evaluations & real user reviews.

Whether the crypto wallet is hardware, software, desktop or paper type.

Hardware
Hardware

For which purpose or for what kind of people is the cryptocurrency wallet best for.

Best for Safely Storing, Sending, and Receiving Different Cryptocurrencies
Best for Easily Control Funds, Manage Balance and Initiate Transfers

Most popular hand-picked deals & coupons.

All Ledger Nano X Coupons
See All Coupons of Best Wallets

Final crypto wallet evaluation conclusion based on research, expert opinions & user feedback.

One of the best hardware cryptocurrency wallets ever made.
One of the most-secure cryptocurrency hardware wallets on the market.
Visit site
Read review
See TOP10 Brands
Read review
Tabe: some general information about the Ledger Nano X and Trezor Model T hardware crypto wallets
Hardware wallets are the safest method of storing your crypto assets. While the Deepcoin wallet might prove to be much more convenient to use (especially if you plan to day-trade your cryptos), hardware crypto storage will allow you to rest assured that your assets are stored in as safe of a manner as possible.
The simple reason why that's the case is because hardware crypto wallets store your private keys offline - no potential hacker or scammer can get to them, as long as you keep your device safe and sound!
If you're looking for the best cold storage around, Ledger and Trezor are the two major cold storage providers that you should turn to. Both of these companies have some of the best hardware crypto wallets in the industry.
How to Use Deepcoin: Starting Out
So, once you figure out what is Deepcoin, decide that it's the right crypto exchange for you, and get yourself a reliable cryptocurrency wallet, it's time to start exploring. The very first thing that you'll want to do is register on the platform.
Step 1: Go to the official website of Deepcoin. At the top-right corner of the screen, you'll see a white "Register" button. Press it.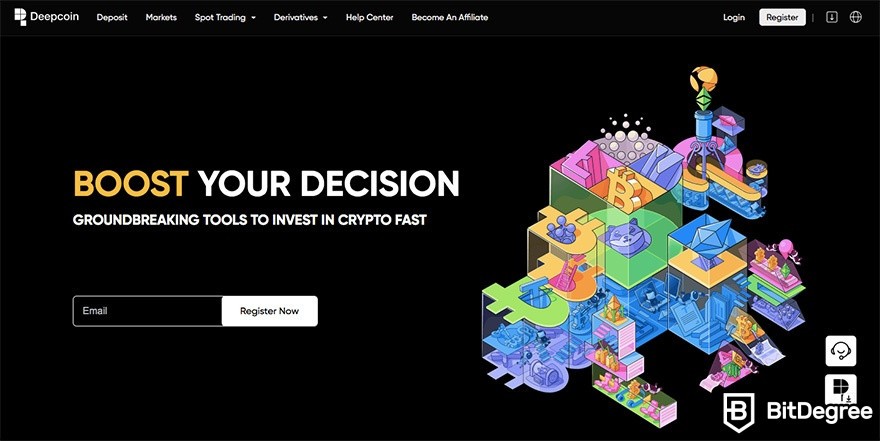 Step 2: Here, you'll need to select your country of residence, enter your email address, and create a password. Do so.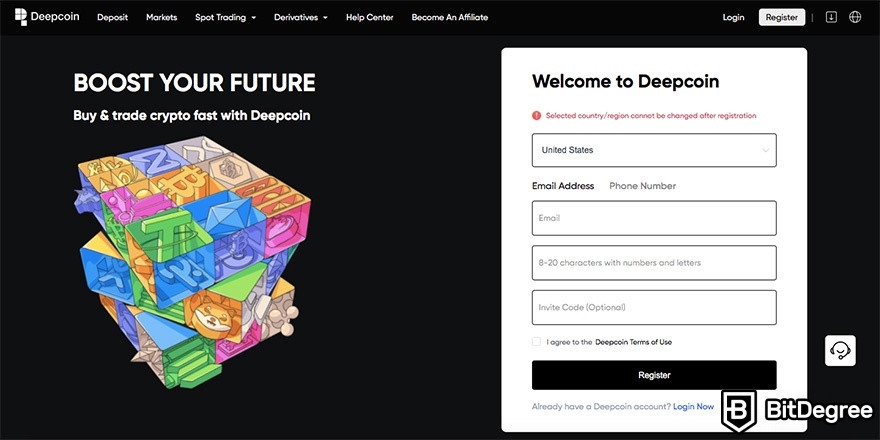 Step 3: Next, confirm your email. Deepcoin will send you a code that you'll need to enter on this screen.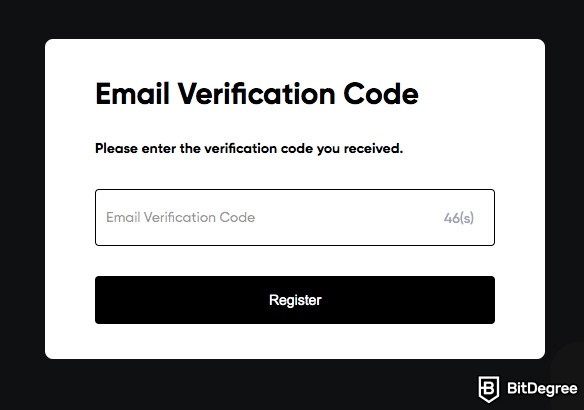 Step 4: Once you do so, that's it - you've successfully registered on the exchange! If you register around the time when this "What is Deepcoin?" tutorial is written, you might be eligible to receive a 10 USDT bonus (additional terms and conditions will likely apply).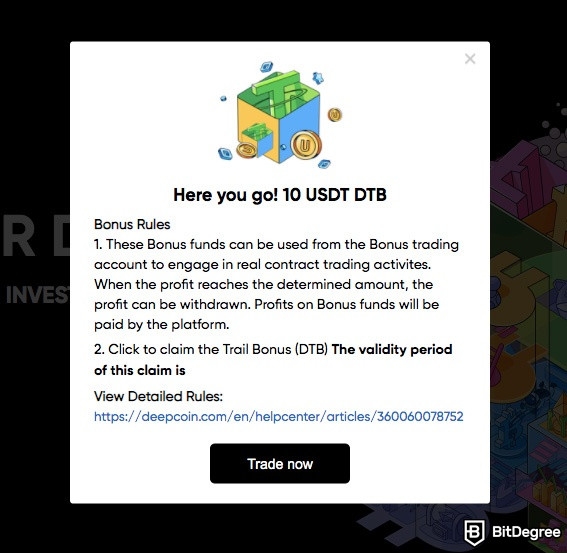 As I've emphasized in the dedicated Deepcoin review, the exchange doesn't employ mandatory KYC checks on its users. Among a variety of other things, this also means that your registration process is going to be super-quick and simple!
Registering on Deepcoin is painless, and will only take you a few minutes, at most - the longest part is accessing your email to confirm it on the site! Once your account is created, you'll find yourself on the homepage of the exchange. From here, you may start exploring the Deepcoin wallet, trading software, and all of the other features offered by the platform.
The Features of Deepcoin
Before we get to the specifics, part of the process of finding out what is Deepcoin involves you being aware of all of the features available on the platform. So, let's explore them.
Deposits / Wallets
At the very top-left of the page, you'll find the "Deposit" function. This is rather slef-explanatory - here, you will be able to deposit cryptocurrency assets into your account, by sending them to a designated, asset-specific Deepcoin wallet.
You may pick from a rather significant list of different crypto coins and tokens that you'd like to deposit, and then also choose the network via which that deposit will be made. Make sure to choose this correctly, though, since if you send your assets to the wrong network, well… They're as good as gone.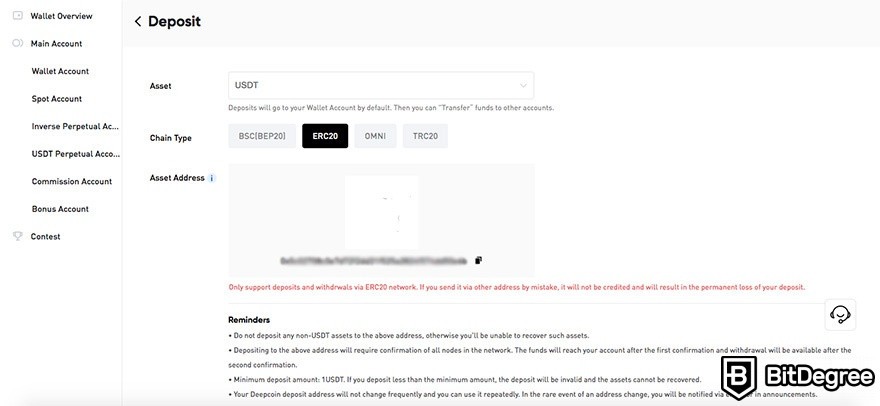 Here, you may also explore all of the different wallet accounts that you have. These include:
Wallet account
Spot account
Inverse perpetual account
USDT perpetual account
Commission account
Bonus account
Each of these accounts houses information about your assets (those that are directly related to said accounts and Deepcoin trading activities). Everything's pretty clear and simple, and you don't need to wander through twenty different menu screens in order to figure everything out.
Markets
Next up, markets. This is where you are able to explore all of the different assets and trading pairs that the exchange has to offer. Whether it be Deepcoin spot trading or inverse perpetual contracts, this is where you'll want to start off.
Same as with your Deepcoin wallet section, here, you'll be able to explore a few different market options:
Market overview
Spot trading
USDT perpetual
Inverse perpetual
Depending on the section of your choosing, you'll also be able to navigate the available markets through some different categories, too - metaverse, NFTs, platforms tokens, DeFi, PoW & PoS, and so on.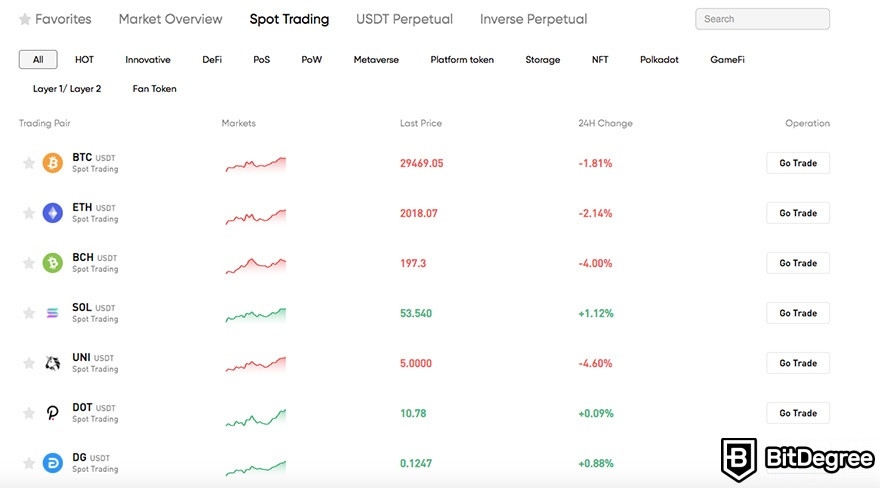 If you choose to learn what is Deepcoin by navigating and sorting through all of the available markets on this platform, you'll develop a much better understanding of what to expect, moving forward. You will also be able to sort through all of the available coins and tokens, and thus, will have the chance to pick your favorites, too!
Spot Trading / Trading View
Moving on, the next thing that we need to check out are the Spot markets. Doing so, we'll also be able to take a look at the Deepcoin trading view, as well.
Spot trading refers to trading the actual cryptocurrency assets that you choose - you will be able to receive your select assets into your Deepcoin wallet, and then send them off to an external, hardware device that we've talked about earlier. While it's not the main feature for what Deepcoin is known for (more on that later), it's certainly the preferred method of trading, for many crypto enthusiasts.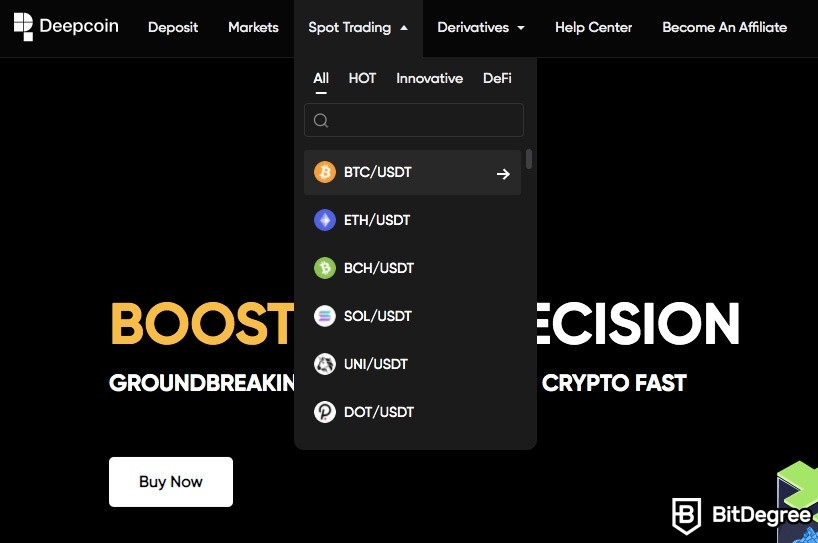 Deepcoin does have a lot of different Spot trading pairs to pick from. No matter if you're a crypto enthusiast who wants to diversify their portfolio, or you're just starting out, and are looking at the "top" coins, chances are that you'll find what you're looking for.
We've already covered all of this in the Deepcoin review, though - in order to get a better understanding of what is Deepcoin, we should look at the trading view of the platform.
The Deepcoin spot trading interface is quite standard, as far as these interfaces go. You have your chart in the middle, with multiple advanced-level tools available to be used above it.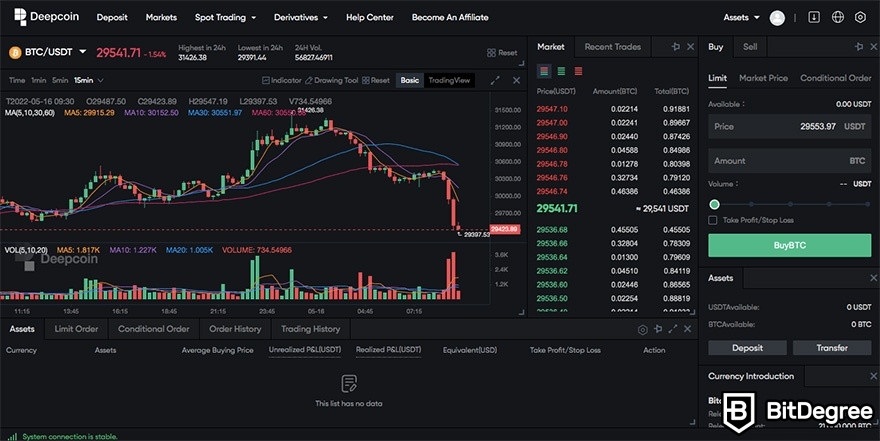 On the right side of the screen, you will see all of the current trades, prices, as well as your own trading section, too. Here, you may perform a limit, market, or a conditional order, set a "stop-loss" (which is significant!), and learn more about the crypto that you're trading.
These trading interfaces are never "simple", to begin with, but the one employed by Deepcoin isn't at all that bad, newbie-wise. If this is your first time trading crypto, you might need a few moments to figure out where everything is, and how the whole interface works, but Deepcoin doesn't overwhelm users with needless, complicated features and functions.

Did you know?
Want to get smarter & wealthier with crypto?
Subscribe - We publish new crypto explainer videos every week!
What is Odysee & LBRY? Is Decentralized YouTube Possible? (ANIMATED)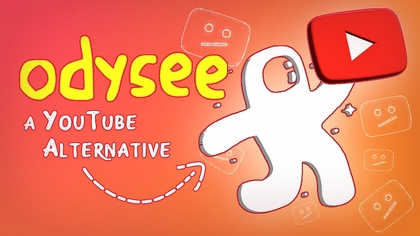 Derivatives: Perpetual / Inverse Perpetual Contracts
Remember when, earlier in this "What is Deepcoin?" tutorial, I said that Spot trading isn't the core feature of the exchange? Well, that's because Deepcoin focuses on its derivative trading functionality.
Derivative trading allows you to trade contracts that derive their value from an underlying asset - in this case, that asset is crypto. I've covered the topic extensively in the aforementioned review, so I won't get into it here.
What's worth pointing out, though, is the fact that Deepcoin allows users to trade both perpetual USDT contracts, as well as inverse perpetual contracts. In short, this means that you'll be able to trade by using either USDT, or another, underlying cryptocurrency as your margin.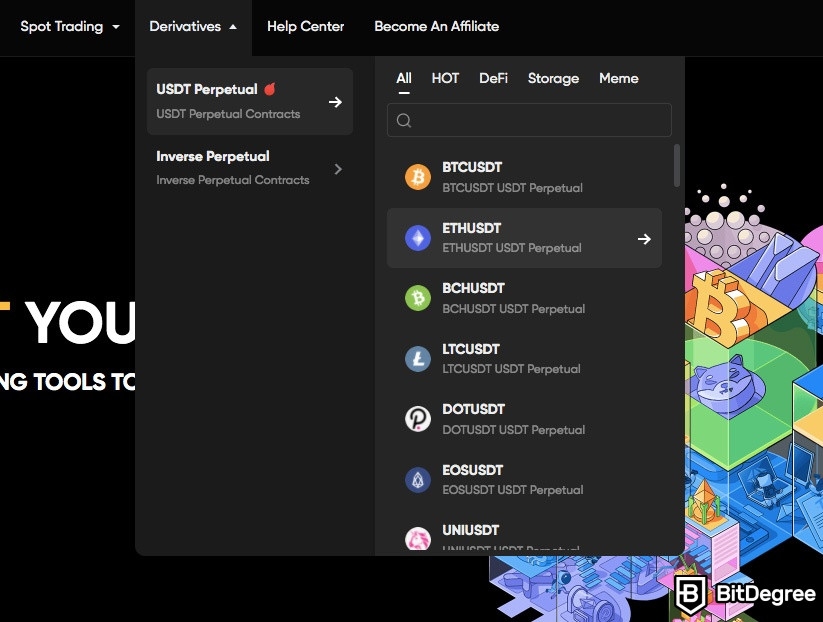 The selection of available assets is broad, in both cases. This is great both in regards to your freedom of choice, as well as the fact that this mitigates the volatility of the market, at least to a certain extent.
If you'd like to trade Deepcoin derivatives, you'll be able to do so via the same trading interface that we've discussed above. The process is practically the exact same, with the exception of the trading model itself, and a few other details.
Lastly, after you've checked all of these features out, you may also visit the help center (where you can learn about the Deepcoin mining pool, DC coin staking, and so on), and check a dedicated affiliate section, where you'll be able to learn about the benefits of inviting your friends to Deepcoin.
How to Trade on Deepcoin: Two Different Approaches
With you now being a bit more familiar with the Deepcoin exchange, and being able to find your way around the platform, it's time to talk about the core functionality of the website - crypto trading.
In total, there are two different approaches that you may take - one is faster and simpler, but will require you to reveal your identity to a third-party payment on-ramp, while the other is slower and a bit more tricky, but is KYC-free.
We'll take a look at both of them. Also, for the sake of keeping things simple, I'll discuss all of the processes from a Spot trading perspective. However, you may assume that, essentially, everything would look almost the same, if you were to trade Deepcoin derivatives.
Simplex & Banxa: A Beginner-Friendly Approach
At the moment of writing this tutorial on what is Deepcoin, the platform currently does not support the Simplex and Banxa payment gateways. However, assuming that support will be reinstated at some point in the future, it's still worth discussing how the process would work, nonetheless.
So, with Deepcoin, you could purchase cryptocurrencies via a fiat on-ramp. Specifically, the exchange works with two different platforms - Simplex, and Banxa. While the details might differ, the general process of using either of the two is the same.
If you'd like to participate in Deepcoin Spot or derivative trading, and aren't against KYC, you could simply purchase your first cryptocurrencies via either of the two platforms. No registration is required - however, you WILL need to provide your personal information, such as your ID, residential address, and so on.
Getting yourself some crypto this way is fast and simple, and there's little-to-no room for error. It's very beginner-friendly, too - you don't need to worry about managing a few wallets, confirming transactions, double-checking your addresses, sending test transactions, and so on.
The downside here are the fees, as well as the KYC part (for some people). Fee-wise, funding your Deepcoin wallet this way can be a bit expensive, depending on the cryptocurrency that you're purchasing. However, the biggest issue that most people will have with this approach is the KYC part - since Deepcoin is KYC-free, many users might not be too excited about doxing themselves to a third-party payment gateway.

Pros
A very well-known crypto exchange platform
More than 500 different cryptos available
Two-factor authentication
Main Features
Over than 100 different cryptocurrencies available
Strong security
Small withdrawal fees

Pros
Secure and reliable
Low fees
A good amount of fiat currencies accepted
Main Features
Reputable exchange
Multiple fiat currencies are accepted
Relatively low trading fees

Pros
Anonymous trading
Secure
Supports a variety of cryptocurrencies
Main Features
Easy to use
Low fees
Good security
Crypto Deposits: A KYC-Less Approach
Now, the second method of funding your Deepcoin wallet is to simply deposit some cryptocurrencies from your external wallet into your Deepcoin account, and start trading. While this is a bit more complicated than purchasing crypto, outright, it's an anonymity-preserving method of going about it.
Step 1: To get started, you'll need to have logged into your Deepcoin account. Navigate to the earlier-discussed "Deposit" section of the website.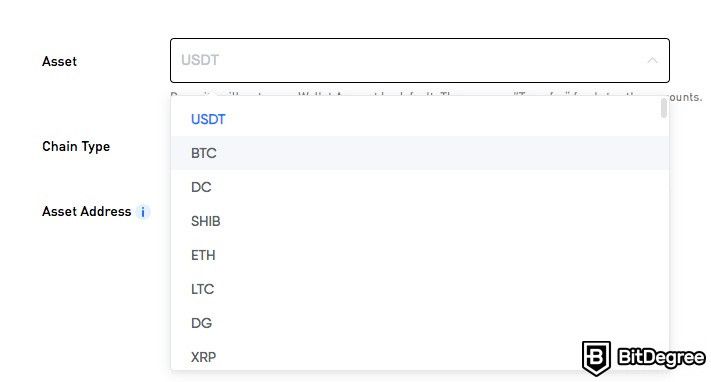 Step 2: Now, here you will need to choose the cryptocurrency that you want to deposit.
Once you select the currency, a wallet address will appear on your screen. This is the address of your Deepcoin wallet, for that specific crypto asset. You need to make sure to only send the supported cryptocurrency to this address, and only via the chosen network - any other asset sent over will be lost forever!

Step 3: Now, all that's left to do is get your external wallet - Ledger, MetaMask, or any other -, and transfer your select crypto from that wallet to Deepcoin.
Depending on the crypto asset that you'll be transfering, the time that it takes for your account to be credited can vary. Furthermore, as you learn about what is Deepcoin mining pool, wallet, and the concept of trading Spot and derivative markets, in general, you should also get in the habit of practicing test transactions.
These are crypto transactions where you send a small amount of the crypto asset to the wallet address, as a test. If you (or, simply - the party that you're sending crypto to) receive that crypto, you know that it's safe to send the rest of the funds, and there are no typos in the wallet address or foul play involved.
After you fund your Deepcoin wallet, that's basically it - you are now able to navigate to the trading view of the platform (whether it be Spot trading, or any of the derivative options), choose a crypto asset pair that includes the crypto coin or token that you've transferred to the platform, and start trading.
As you might have noticed by now, the lack of a direct fiat funding method can really make things a bit… Complicated. With your traditional, KYC-abiding crypto exchange platforms, the process of funding your account would be much faster, and far less complicated.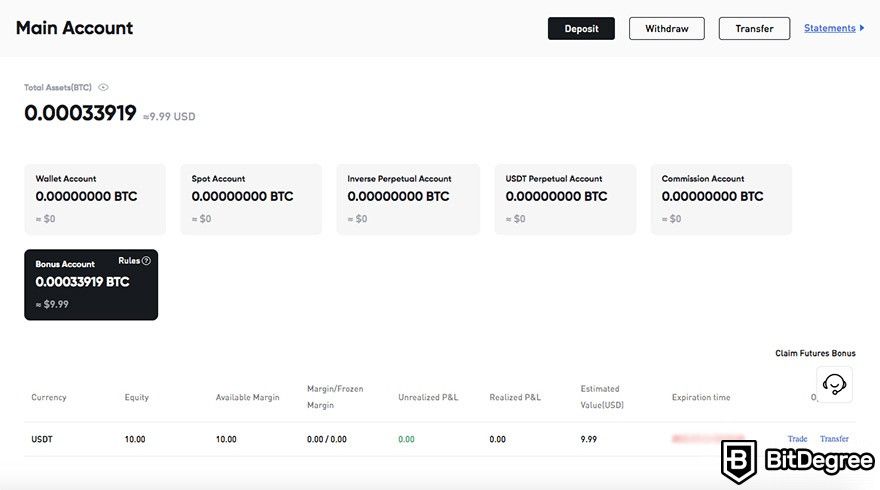 At the same time, though, while you might need to take a minute or two to figure Deepcoin out, the tradeoff here is the fact that you'll be able to trade crypto anonymously. While I've eluded to this both here, as well as in my dedicated Deepcoin review, I must stress, once again - there are very few reliable cryptocurrency exchanges that allow their users to remain anonymous!
While the fiat on-ramps currently aren't supported, they are also the only section of Deepcoin (rather, related to the Deepcoin exchange) that would require you to reveal your personal information. If you choose to deposit crypto from an external wallet, you are able to remain completely anonymous.
DC Coin Mining - What is it?
To finish off our "what is Deepcoin?" review, we need to take a look at one more feature available on the platform in question - the Deepcoin mining pools. Well, at least this is what they're referred to as, by multiple user reviews left online.
Deepcoin has a native, dedicated token of the same name - Deep Coin, or DC coin. This token is based on the Ethereum blockchain (it's an ERC-20 token).
Being the native token of the exchange, DC has a few different use cases, all of which center around the aspect of utility. You may trade DC coins with other individuals, for alternative cryptocurrencies, as well as participate in various other activities, such as the aforementioned mining.
So… How does DC mining work?
Well, Deepcoin "mining pools" aren't really a thing, to be frank with you. Instead, the mining process happens when you trade cryptocurrencies on the exchange - this is what Deepcoin calls "trading mining".
Below, you can see the chart for the potential DC coin profits that you'll receive, while you participate in the "trading mining" process: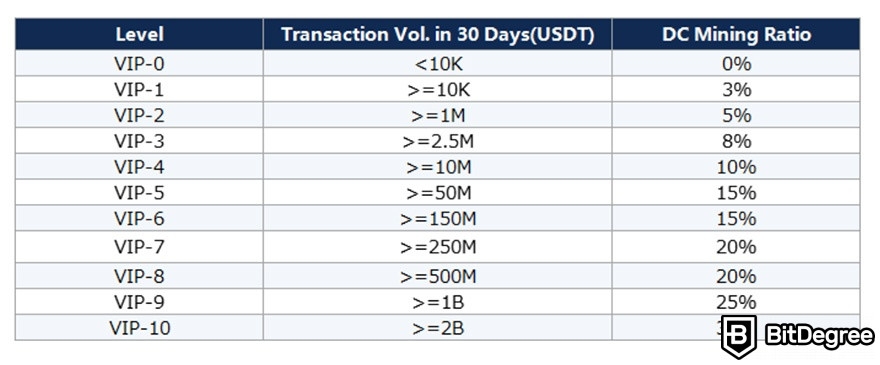 There are 11 different levels, all ranging in transaction volumes (calculated in the form of USDT) that you achieve in a 30-day time period. The higher your transaction volume, the higher will your DC mining ratio be.
Keep in mind that you don't necessarily need to trade crypto on the Spot markets, in order to increase your membership level. Instead, both Spot and derivatives trading (as well as a few other tools) will allow you to start earning (mining) DC coins, if you meet the VIP-1 threshold.
Deepcoin does also state that there's a roadmap ahead, with multiple additional features to be added, DC coin-wise. Meaning, there's a pretty good chance that the token will receive additional use cases, either within the ecosystem of the exchange, or else.
Conclusions
Throughout this tutorial, we've covered both what is Deepcoin, as well as all of the different unique features that you can expect to access on this particular cryptocurrency exchange platform.
One thing that's rather evident is that Deepcoin is certainly an interesting exchange, offering their users something that is becoming increasingly rarer these days - the ability to trade crypto anonymously, on a centralized platform. In most cases, this type of trading is only available on DEXs.
It's not just a one-trick-gimmick, either. Deepcoin has a variety of features to offer to its clients, among which the advanced derivatives trading functionality would probably be the most notable one! You can definitely trade cryptos on the exchange, the "old-fashioned" way, but if you don't want to worry about crypto wallets and asset storage, in general, perpetual and inverse perpetual contracts might be the right choice for you.
Starting out with Deepcoin is pretty simple and straightforward, too. Registration takes just a few minutes (if that), and the user interfaces themselves are mostly self-explanatory. You may choose to access all of the advanced features that Deepcoin has to offer (of which there are plenty, really), but if you're just starting out, the exchange won't overwhelm you with features.
All in all, if you're looking to start trading crypto, and want to do this anonymously, Deepcoin is certainly worth looking into. With up to 125x leverage and multiple advanced-level tools at its disposal, the exchange should suit multiple different types of traders.
That being said, thanks for reading through my "What is Deepcoin?" tutorial. Make sure to check the exchange out, if you're interested, and I'll see you next time!
About Article's Experts & Analysts