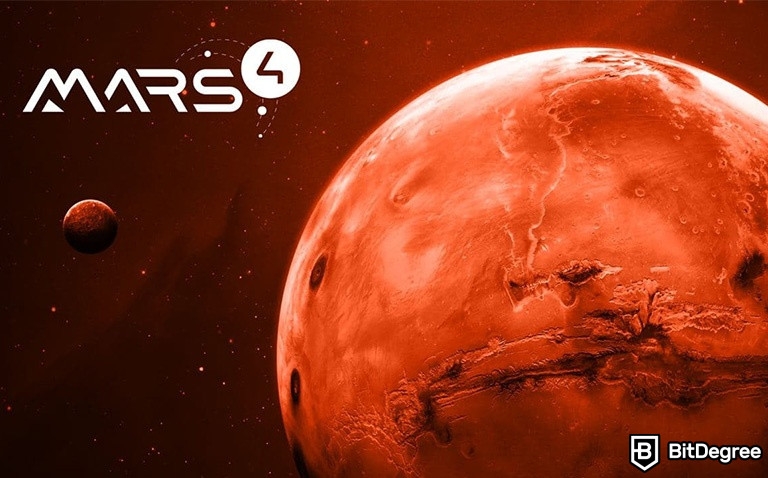 Mars4 is an innovative new P2E NFT game that's currently being developed by a passionate team of crypto professionals. If you'd like to learn about the project, you should go and read my Mars4 review. In this article, however, we'll be covering how to buy MARS4 tokens and NFTs.
Being a crypto-centered project, Mars4 offers users a unique way to capitalize on in-game assets, while also emphasizing gameplay mechanics and the story behind the game itself. While the Mars4 platform is still currently in development, future players and investors are able to purchase digital land NFTs and MARS4 tokens right now.
However, if you're a newcomer in the field of crypto, or have never used a cryptocurrency wallet to connect to a decentralized exchange before, the token and NFT acquisition process could prove to be somewhat confusing. That's what I'm here to help you with!
We'll talk about both the Mars4 NFTs & tokens, as well as the MARS4 token price swings and predictions. Let's take it from the top, though, and establish a few things that you'll need before jumping into the Mars4 metaverse experience.

Did you know?
Want to get smarter & wealthier with crypto?
Subscribe - We publish new crypto explainer videos every week!
How to Get Free Crypto? (Explained with Animations)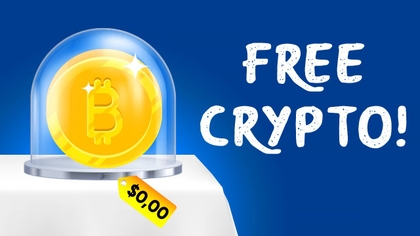 Before You Buy: The Essentials
If you're already a crypto enthusiast, and have been trading cryptocurrencies for a while, you can feel free to skip this part, and go straight to the MARS4 token and NFT acquisition part. However, before you learn how to buy Mars4, there are a few things that you need to have set, in advance. I'll keep it short and to the point!
Latest Deal Active Right Now:
REDEEM $600 PRIZE
Binance Cyber Monday
Attention new Binance users: this Cyber Monday, you can score up to $600 in rewards by completing special tasks. Activate this amazing Binance Cyber Monday deal using the code – 49316610!
Expiration date : 09/12/2023
6,127 People Used
Only 16 Left
The very first thing that you'll need in order to get yourself some MARS4 tokens is a cryptocurrency wallet. Forget the Mars4 coin price or anything else related to cryptocurrencies - if you don't have a reliable wallet, then it's not even worth looking at crypto projects. In a security breach event, you'll end up losing your assets - it won't matter that you've spent a good amount of time trying to figure out how and where to buy Mars4!

If you want convenience and pretty decent security, you should look into using MetaMask. It's the most popular Ethereum and ETH-based token wallet on the market, and it's free to use! However, if you're instead interested in top-tier security, you should then combine your MetaMask with a hardware wallet, such as the Ledger Nano X.
Moving on, the other thing that you'll definitely need when it comes to the MARS4 tokens is Ethereum itself. If you want to acquire the tokens or the NFTs of the Red Planet-centered gaming project, you'll need to trade ETH for them! Getting some Ethereum shouldn't at all prove to be a difficult process - simply visit a reliable cryptocurrency exchange platform, deposit some fiat money, and purchase a desired amount of ETH!
Do keep in mind, though, that while ETH is the preferred crypto for many individuals, you may also use PancakeSwap, and buy MARS4 tokens on the Binance Smart Chain, as well!
Once you have these things settled, that's about it - you can now go out and start looking at how to buy Mars4!
How to Buy Mars4: The NFTs
We'll start off from the NFTs of Mars4 - specifically, the digital plots of land that you are able to purchase and hold, until the game releases.
Mars4 has 99,888 plots of digital land, in the form of NFTs, available to be purchased by future players and investors. While many individuals are going to be looking for the MARS4 token price, or the Mars4 IDO, these NFTs are actually a really interesting concept, especially when it comes to the way that they're priced.
You see, the price of the Mars4 NFT land plots increases algorithmically, every 10,000 NFTs sold. This way, there's a sense of urgency to purchase the NFT as early as possible, so that you wouldn't end up having to pay a higher price.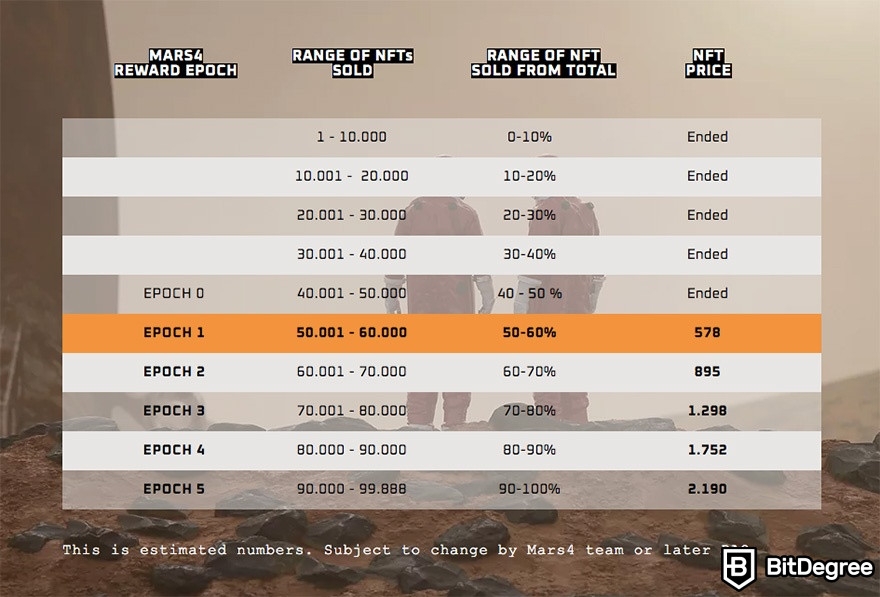 In regards to the NFTs themselves, they are segmented into nearly 100,000 somewhat-different plots of land, on a digital rendering of Mars. In fact, before you purchase anything, you are able to visit a special page where you'll have the chance to explore a 3D rendered Mars, and pick the land plot that you'd like to purchase.
51% of the entire income received from the Land NFTs will be distributed to previous NFT holders. What this means is that you'll be able to earn a passive income by simply holding a land plot NFT from Mars4! All of the earnings are going to be paid in MARS4 tokens, which can then be either sold in the market, or used for in-game ventures.
So, with all of that being said, how to buy Mars4 NFTs, in the first place? Well, as I've hinted at earlier in the chapter, the team behind the Mars4 project actually has a dedicated page that you can visit and explore! Once you decide on a plot of digital land, the acquisition process happens from that very same page.
Step 1: Choose a Plot of Digital Mars NFT Land
The very first thing that you'll need to do is visit the Mars4 official website, and on the homepage, press the "Get Mars4 NFTs" button. This will redirect you to a separate page.
On this page, you are able to see a 3D rendered version of the Red Planet - Mars. Feel free to explore the planet by moving the camera angle with your arrow keys, as well as your touchpad or mouse.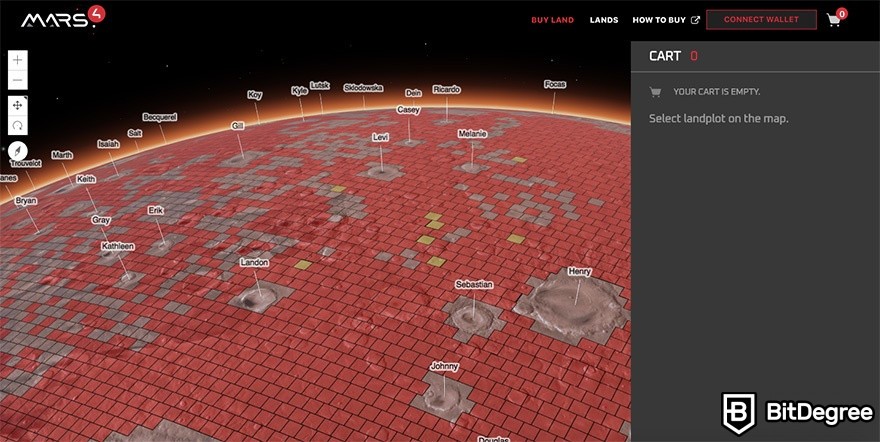 As you turn the planet around, zoom in and out, you will see a variety of names, red areas, as well as green, yellow, and no-color ones appear on the screen. The red areas are already sold - you aren't able to purchase them, at least not at this point in time. The yellow areas are also reserved.
You are, however, able to pick from the brown (or, no-color) areas of the Mars rendering. Pressing on the plot of land, you will receive a pop-up, with all of the relevant information regarding the NFT - its number, price, availability, and so on.
Step 2: Connect Your Wallet
Before we get to the "how to buy Mars4 NFT" process, though, you will need to first connect your wallet to the platform. You may do so by pressing the big "Connect Wallet" button at the top-right corner of the screen.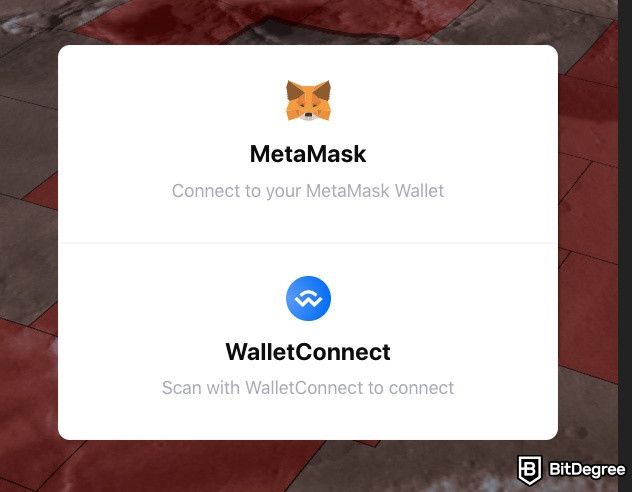 You will be asked to confirm your connection via MetaMask or WalletConnect. As you can see, out of all the major cryptocurrency wallets, MetaMask is the main wallet supported by Mars4 - make sure to create a MetaMask wallet if you haven't yet done so!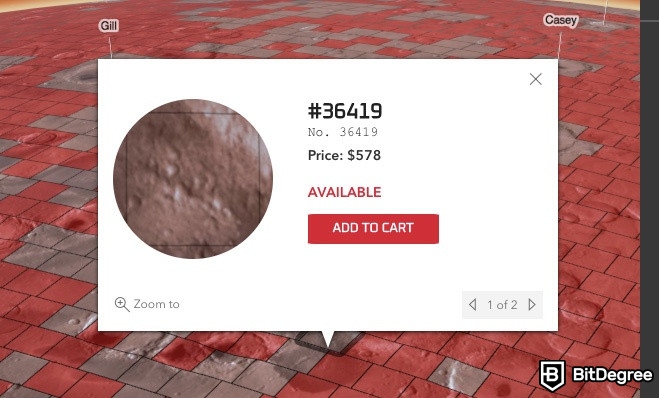 After you connect your wallet, and assuming that you already have some Ether transferred to it, you can start adding as many NFT land plots to your basket as you wish. For the sake of this "How to Buy Mars4?" tutorial, though, let's pick one.
Step 3: Make the Purchase
After you place the NFT into your cart, you'll be able to see the price in ETH, as well as enter a coupon code, if you have one. Once everything's settled, and you've chosen all of the NFTs that you'd like to purchase, press "Buy".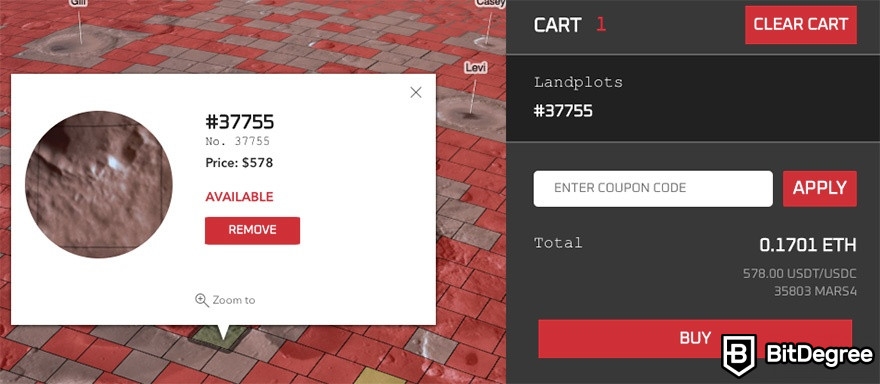 You'll be presented with a few different payment methods. Rather, to be more specific, you'll be able to pick from a few different cryptocurrencies to make your payment. These include:
ETH is the standard payment method. However, you are also able to pay via the USDT and USDC stablecoins, if you so wish to. On top of that, you can also pay with MARS4 tokens, too.
All that you'll need to do now is pick the currency via which you want to pay, and confirm the payment on your MetaMask wallet. Once everything is confirmed, your brand new NFT will be transferred to your wallet - that's it!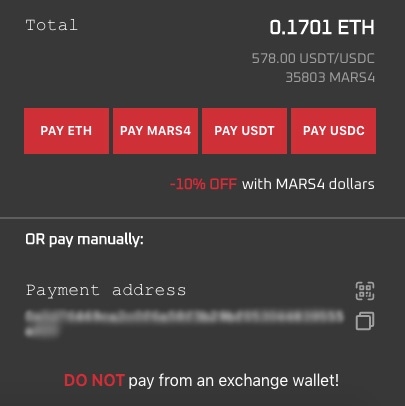 The entire process isn't only simple and beginner-friendly, but it's also very interactive and fun. You can spend hours analyzing the 3D Mars, trying to pick the best plot of digital land for yourself.
The only confusion that might be present here is with the question of WHERE to buy Mars4 NFTs. By default, you'd think that you need to go to an NFT marketplace, such as OpenSea, and search for Mars4 NFTs there. However, that is not the case - the team behind the project has created an even simpler and quicker (and more fun!) method of acquiring their plots of digital land. Cool!
How to Buy Mars4: The Tokens
Now that you have a pretty good idea of how to buy Mars4 NFTs, let's move on to the self-titled MARS4 tokens of the platform.
As I've mentioned at the beginning of this tutorial, while the game is still being developed, the MARS4 token is already available to be traded on multiple exchange platforms - this includes both well-known exchanges, as well as some decentralized trading platforms (DEXs).
The MARS4 token has a variety of different use cases. I won't go into them in this tutorial, since I've already covered the details in my in-depth Mars4 project review - once again, if you'd like to find out more, you can check it out here.
Instead, let's focus on the actual acquisition process of the MARS4 tokens instead, shall we?
In total, there are currently 5 places where you can trade MARS4 tokens. They include:
I won't be going through each of these platforms, since that would require a REALLY long and extensive guide. Instead, let's focus on a couple of the main ones - specifically, let's check how to buy (trade) MARS4 tokens on KuCoin and SushiSwap.
Why these two platforms? Well, KuCoin is one of the most well-known cryptocurrency exchanges on the market, while SushiSwap is a very reputable DEX. Once you learn how to trade MARS4 tokens on them, you'll be able to do so on any other platform, as well!

Did you know?
Want to get smarter & wealthier with crypto?
Subscribe - We publish new crypto explainer videos every week!
What is Blockchain? (Animated Examples + Explanation)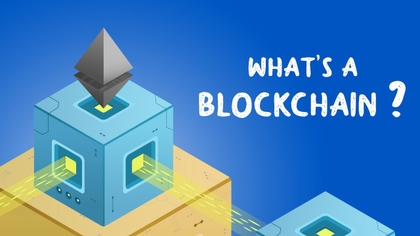 How to Buy MARS4 Tokens on KuCoin?
For starters, I do have to mention that you can access all of the exchanges mentioned above via the Mars4 official website. However, if you haven't registered on platforms such as KuCoin before, you will still need to do that. So, to keep things simple, let's take it slow.
I'll assume that you've already registered your account. If you haven't, that's super-simple to do, and you can follow our guide in the KuCoin review. Alternatively, there are guides on YouTube, and tutorials by the platform itself - in other words, you really shouldn't struggle with the account creation process.
KUCOIN

Main score based on expert evaluations & real user reviews.

For which purpose or what kind of people is the crypto exchange most useful.

Best for Buying & Selling Crypto with Small Fees

The countries in which the cryptocurrency exchange is available for operation.

United Kingdom, India, Russia, Mexico, + 150 more,

Most popular hand-picked deals & coupons.

All Kucoin Coupons

Final crypto exchange evaluation conclusion based on research, expert opinions & user feedback.

A reliable and well-established cryptocurrency exchange platform.
Visit site
Read review
Table: Some general information about the KuCoin cryptocurrency exchange
Once you create your account, and pass all of the associated processes (such as KYC verification), you'll find yourself on your dashboard. The very first step here is to add some funds to your account.
On KuCoin, you are able to trade MARS4 tokens for USDT - Tether. KuCoin also allows its users to acquire Tether in a very simple manner - anyone who's looking at how to buy MARS4 tokens needs to simply navigate to the top-left corner of the page (the "Buy Crypto" tab), and select "Fast Trade".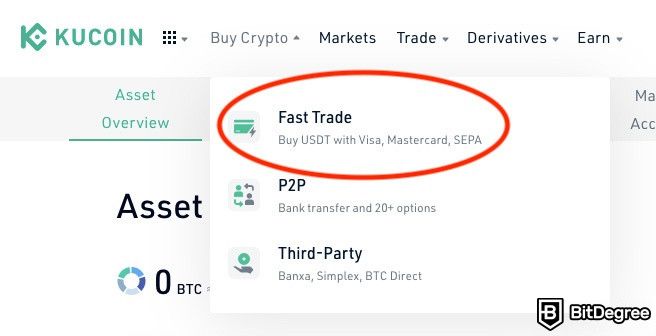 Here, you'll be able to buy USDT for fiat money (via a credit or debit card, PayPal, Zelle, wire transfer, and so on). It's super-convenient!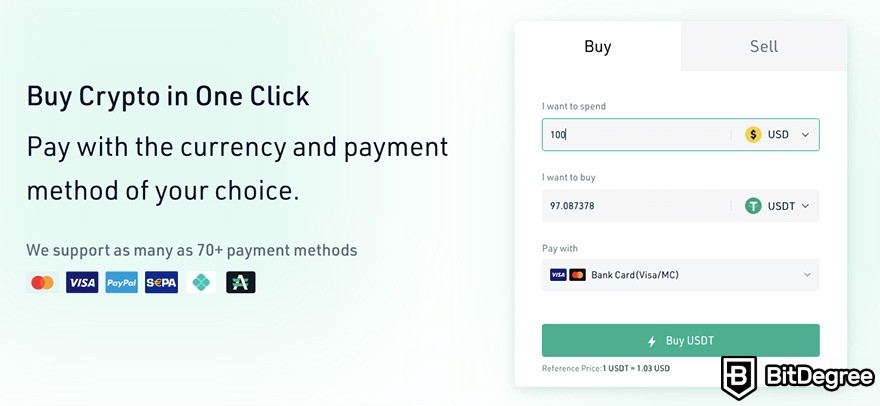 Once you have your USDT, navigate to the "Market" section of the website. You can do so from the same top menu row mentioned earlier.
You'll be presented with a huge list of different crypto trading pairs. The trick to do here is to select USD (stablecoin) from the menu in the middle of the screen. This will show you all of the available stablecoin pairs. Now, simply enter "MARS4" in the search bar on your right.

After you click on the MARS4-USDT pair, you'll be redirected to the trading window. Here, you are able to trade your USDT for MARS4 tokens!

No matter if you've been following the project since the Mars4 IDO, or have just recently heard about it and wanted to buy some tokens, the acquisition process on KuCoin is very simple and straightforward! Even if this is your first time purchasing crypto assets, you shouldn't face any struggles.
This method is great for those who want to know where to buy MARS4 tokens, and are willing to register on a KYC-employing crypto exchange platform. It's the safer and simpler way of going about it!
However, if you're adamant about keeping your identity anonymous, there are alternatives - one of the top-rated of these is SushiSwap.

Pros
A very well-known crypto exchange platform
More than 500 different cryptos available
Two-factor authentication
Main Features
Over than 100 different cryptocurrencies available
Strong security
Small withdrawal fees

Pros
Secure and reliable
Low fees
A good amount of fiat currencies accepted
Main Features
Reputable exchange
Multiple fiat currencies are accepted
Relatively low trading fees

Pros
Anonymous trading
Secure
Supports a variety of cryptocurrencies
Main Features
Easy to use
Low fees
Good security
How to Buy MARS4 Tokens on SushiSwap?
SushiSwap is a decentralized exchange. It's a place where people can come in and trade cryptos, without an intermediary, centralized platform. This means that all of your trades remain anonymous, as long as you yourself don't DOX your wallet address, and reveal that you're the owner of those assets.
On the flip side, though, SushiSwap requires you to do everything manually - initiate the trade, check the token smart contract address, make sure everything is correct, and so on. You bare the full responsibility for the trade - if anything goes wrong, there's not really much you can do.

If this doesn't scare you, and you do know what you're doing, great - let's check out how to buy MARS4 tokens on SushiSwap.
For starters, you will need to have a MetaMask wallet, with some ETH within it. For the sake of this example, I'll assume that you have a MetaMask browser extension, and that you're doing everything on your computer.
Instead of going to the SushiSwap website, you should navigate to the "Token" section of the Mars4 official website. Here, you will see a list of all of the possible places where you can trade and buy MARS4 tokens - SushiSwap included. Press on the project's logo, or the "Buy" button.
Here, Mars4 actually saves you a huge amount of hassle - you will be redirected to the actual MARS4-ETH trading pair on the SushiSwap app. This is significant for a couple of reasons.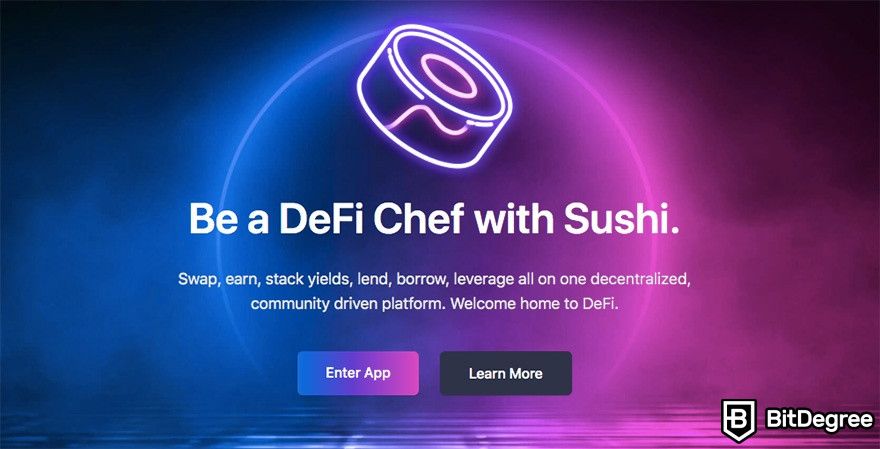 First of all, convenience - you didn't need to go out of your way in order to find the trading pair, enter the trading app, and so on. Everything's available on the Mars4 official website, with just a single click of a button!
The major factor here, though, is security. Some scammers out there tend to fake smart contract addresses, and you could end up buying some fake token, if you searched up the address online. Navigating to the trading window via the official website of the project, you can be sure that you're not being tricked out of your assets.
So, once you find yourself on SushiSwap, with the trading pair already on your screen, you'll need to connect your MetaMask wallet to the platform, if you haven't already done so. Simply press "Connect Wallet", and follow the pop-ups - it'll take a couple of seconds.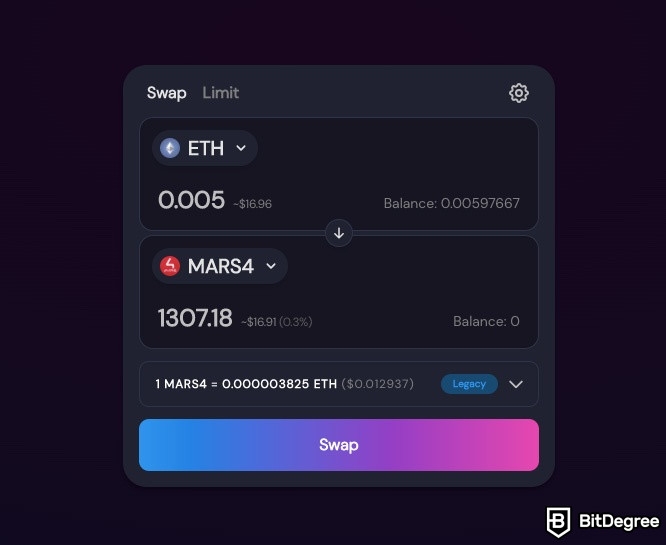 Now, all that's left to do is enter the amount of ETH that you'd like to spend, and confirm the transaction. Make sure that you have enough ETH in your wallet to pay for the gas fees, or else, the transaction will fail!
Following that, once you confirm the transactions on your MetaMask wallet, that's it - in just (usually) a few minutes, your newly-acquired MARS4 tokens will show up in your wallet!
Note that this process would have been much more of a hassle, if there wasn't a direct link to the trading screen on the Mars4 official website. A huge benefit for anyone looking at how to buy Mars4!
A Word About the Prices of MARS4 Tokens
Now that you have an idea of how to buy Mars4 tokens and NFTs on the various crypto platforms out there, one more thing that we need to discuss is the MARS4 token price.
This is a pretty hot topic among the enthusiasts of the project! From the investor side of things, it showcases the potential profits that they could make. However, future players are interested in this topic, as well - whether it be due to the in-game economy, token acquisition for NFT discounts, or else.
If you're looking for a Mars4 coin price prediction, I can assure you - it's something that's quite impossible to tell. This is mainly because of the fact that there are so many variables that influence the price of the token, that things could change at any minute.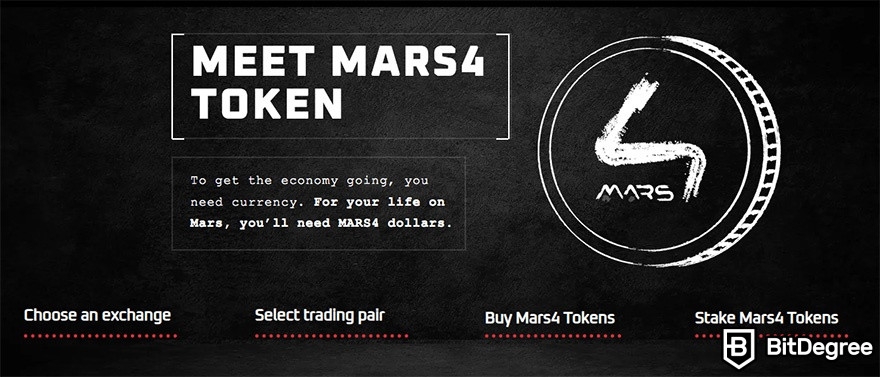 Some of the core things to look out for, though, are market movements, project updates, and world events. All three of these things can have a huge impact on the Mars4 crypto price.
Having said that, looking at the MARS4 token price charts, it would seem that the token has generally followed the trend of the rest of the crypto market. It reached an all-time high (ATH) in November of 2021, at a price of $0,08164. After that, the token followed a pretty significant crash, and has consolidated at the current price range of around $0,013.
Now, if you've spent any time in the crypto markets, you know that price swings like these are extremely common, and most (if not all) cryptocurrencies experience them. A huge price drop like this shouldn't be the guiding factor for anyone looking at the MARS4 token, and thinking that it has "flopped".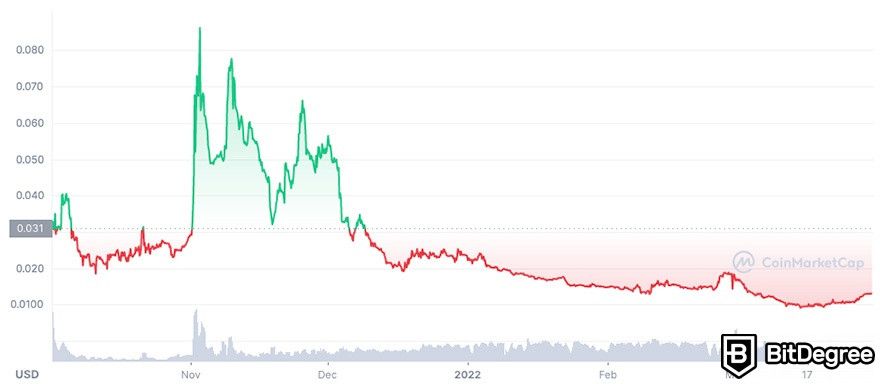 Instead, the Mars4 crypto price should be tied to and dependent on the news and events from the developers and team behind the project. If the launch of the game is successful, and there's a huge player base coming in to try out the new platform (whether it be for the P2E, gaming elements, or else), this should be very evident when you then look at the price of the token, too.
The idea that I want to leave you with is this - you shouldn't be fixated on the price graphs of the MARS4 token, and should instead look into the project, and check to see whether you believe in the team's vision or not. If you believe that a project will be successful, naturally, you will also believe that its token price will increase, too.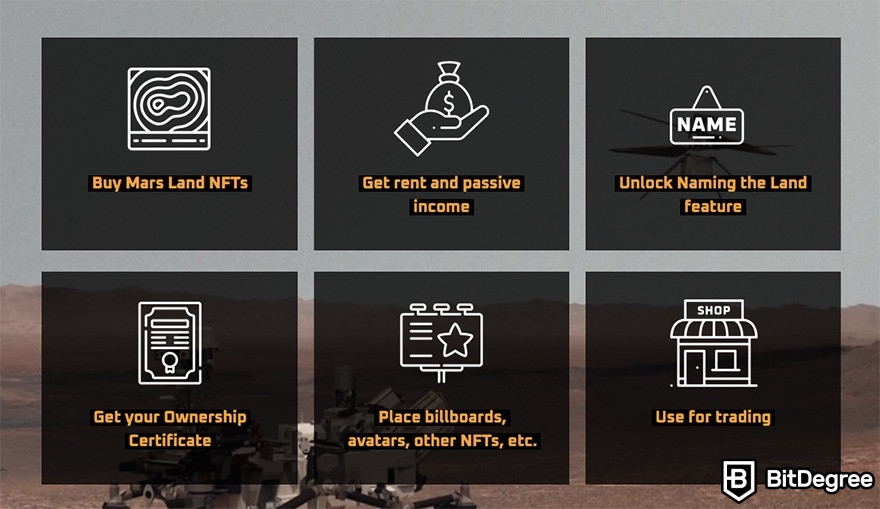 The situation is a bit different with the Mars4 NFTs, though. As I've told you already, the price per single NFT will increase every 10,000 sales made. This way, you can purchase a digital land plot for a fixed price that is currently present on the Mars4 market.
Conclusions
In this tutorial, we've discussed how to buy Mars4 NFTs and tokens, and talked about two large, yet different marketplace examples regarding the latter. What you should keep in mind is that there are other platforms where you can get yourself some MARS4 tokens - Bittrex, PancakeSwap (if you're using the Binance Smart Chain), and more.
That said, if you figure out how to use KuCoin and SushiSwap, you should face no trouble getting these tokens on other platforms, as well. In regards to the Mars4 NFTs, though, you'll need to acquire them on the official website of the project, and not a third-party marketplace. However, getting yourself a digital land plot is definitely an entertaining process, when it comes to Mars4!
Price-wise, there's a very specific pattern that the Mars4 NFTs follow, in regards to the way that they're priced. This is not the case with the utility and governance token, though - after the Mars4 IDO, the market would start to dictate the ups and downs of the MARS4 token price. However, as the team behind the project works on their game, and new updates are issued periodically, the price of the MARS4 token could react, accordingly.
All in all, if you're interested in a SciFi-themed, Mars-centered P2E NFT game, and believe that the project will be successful, you should check it out! Both the NFTs, as well as the MARS4 tokens are planned to have significant use cases in the future of the project (some do have specific use cases right now, too!).
Thank you for reading my tutorial on how to buy MARS4 tokens and NFTs! Make sure to check the project out, if you're interested, and see you next time - cheers!
About Article's Experts & Analysts