NFTs are one of the most popular topics of the crypto world right now. Everyone wants to either create a non-fungible token of their own, or be part of the hype and purchase some of these collectibles for themselves. However, in order to do either one of these two things, you're going to need to find the best NFT marketplace!
There's a pretty wide selection of different NFT markets available out there, on the internet. Some of them are very niche-specific, while others act as aggregators, and let you trade any and all types of NFTs on them.
In this article, we'll mention the leaders in the space - marketplaces that have both earned a reputation of being reliable and trustworthy, and that are also great hubs to either find a very specific NFT that you'd like, or create one of your own.
Our list will look like so:
What Are NFT Marketplaces?
While it may seem rather self-explanatory, NFT marketplaces are a bit more complex than they'd appear at first glance. This is why, in order to understand why some of them are better than others, we should first discuss how they work, in the first place.
On the surface, an NFT marketplace is just a place where you can find different types of non-fungible tokens, and purchase the ones that you'd like. On the flip side, if you're a seller (say, a digital creator who has a 3D art collection, or a musician with a fresh album drop), you could use the same marketplace to advertise and sell your creations.
This is, for a fact, true - buying, selling, and auctioning are among the main purposes of NFT markets. However, most of the high-tier ones serve another major purpose, as well - the creation of NFT collectibles.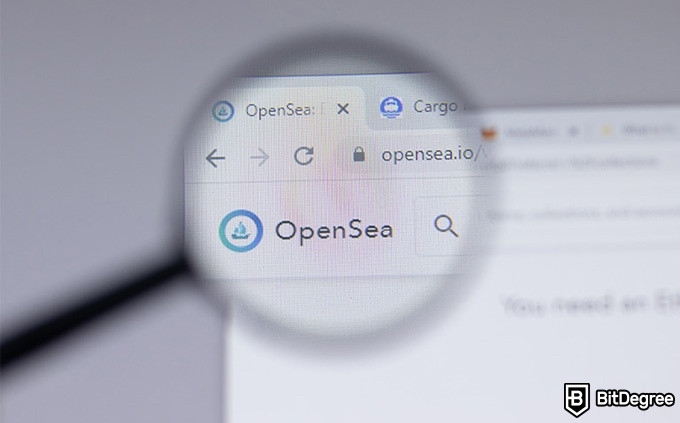 What this means is that you do not need to go and visit some third-party platform in order to create your NFT, and then import it to one of the marketplaces. Instead, all you need is the digital file of your creation - a picture, a GIF, a drawing, and so on -, and you're set!
Evidently, this is super-important as far as simplicity is concerned. NFT marketplaces with this functionality allow everyone and anyone to create and sell NFTs of their own. Meaning, you don't need any prior knowledge in the field, or any technical proficiency with blockchain technology, for that matter.
Furthermore, security is another term that pops into one's mind when you think about the fact that all of the NFT-related processes can be performed on a single platform. Not having to juggle multiple platforms is a major win on the security side of things, and allows your crypto assets to remain intact within your wallet.
Well, assuming that you choose and use one of the best NFT marketplaces, that is.
The Best NFT Marketplaces for 2023 and Beyond
Now that we're going to talk about the best NFT marketplaces, what do you think are the main points that one needs to pay attention to?
Naturally, at the top of that list, you should consider security and reliability. You probably wouldn't want to create NFT collectibles on a shady marketplace that has all of the red flags covered, and then some.
Following that, you should obviously pay attention to the question of whether or not the platform allows you to create your NFTs on it, or if there's only an importing option available. This is a major point to consider, especially if you're new to NFTs, and plan to create some of your own.

Then, royalties. Most NFT marketplaces are going to have a royalty system in place. Meaning, when someone else re-sells your NFT, you will receive a certain percentage of the sale, even though you're no longer the seller. The percentage itself tends to vary, though - some platforms offer 10%, others - up to 50%. Surely a point that's important, and one that you'll need to consider!
Lastly, you have NFT variety, and the actual general reputation of the marketplace itself. A large variety of different NFT types will allow you to have a wide selection pool, and perhaps find a very specific NFT that you might like. Fame-wise, obviously, the better-known an NFT marketplace is, the more information you'll be able to find about it, and the more trustworthy it will appear, in general.
Ranks #1 out of 6 Crypto Exchanges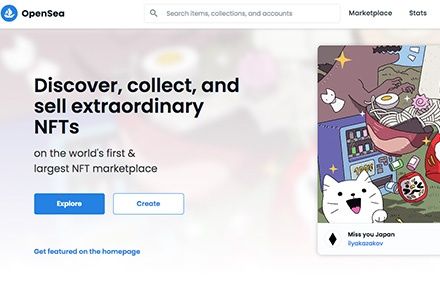 Things we liked:
+ Very beginner-friendly
+ Good royalties, small commission fees
+ The most-established NFT market
+ Huge variety of NFTs available
+ Lazy minting
Things we didn't like:
- Only supports Ethereum, Polygon, and Klatyn blockchains
- No fiat payments
If there's one NFT marketplace that you might have heard about, there's a pretty good chance that it's OpenSea. Without a single doubt, it's the most well-known NFT creation and trading platform on the entire market.
OpenSea started out on the right foot, too - it was the very first NFT marketplace on the Ethereum blockchain. This did naturally give the platform a strong advantage, and OpenSea managed to utilize it to the fullest extent.
Actual NFT-wise, you will be able to find a huge and varied list of collectibles on the site. These collectibles will include everything you can possibly imagine - artwork, digital paintings, words & phrases, in-game assets, sports-related GIFs, and so much more.
As you might have figured out already, OpenSea acts as an aggregator, in a particular way. What I mean by that is that the NFT marketplace isn't exclusive to a set type of non-fungible tokens, but instead houses a huge variety of them, not accounting for their topic, type, theme, or else.
The actual NFT categories available on OpenSea are:
Art
Music
Domain names
Virtual worlds
Trading cards
Collectibles
Sports
Utility
As of writing this list of the best NFT marketplaces, there are currently over 20 million different NFTs available on OpenSea. That is an absolutely insane number to comprehend! Glancing back at the list of different types of these tokens available, you can imagine just how many NFTs each category holds.
Usability-wise, OpenSea is actually very simple to use and navigate through. This is actually true both if you're looking to create an NFT of your own (which you can obviously do on the marketplace in question), or if you're just in the market to purchase some crypto artwork.
On top of that, OpenSea also has different sale statuses, too! As a creator and seller, you can sell your NFT right from the get-go, with a fixed price tag attached, or you can auction it off. Setting up all of the pricing features is just as simple as the rest of the creation process.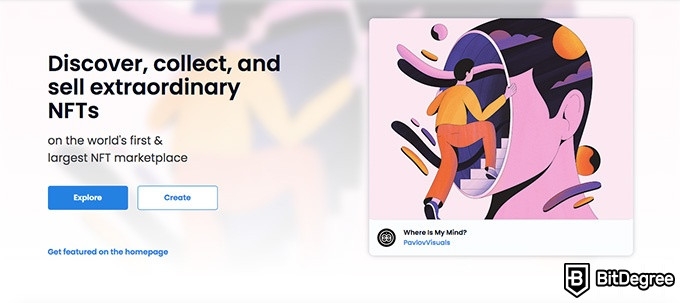 Payment-wise, OpenSea accepts both Ether (ETH), and also Wrapped Ether (WETH). The latter is an ERC-20 token - it holds all of the price qualities of Ether at a 1:1 ratio, but is used to transact with other ERC-20 tokens on the Ethereum blockchain.
Another point that makes OpenSea one of the best NFT marketplaces on the market is that it offers multiple chain support, as well. In addition to the main Ethereum blockchain, the platform also supports Polygon and Klaytn.
All in all, if you're searching for new NFT collectibles to add to your portfolio, or want to start creating and selling some non-fungible tokens of your own, OpenSea allows you to do that, no problem. The marketplace is a true leader in the industry, and rightfully so! Check it out, find collectibles that you love, connect your wallet, and start bidding!
Ranks #2 out of 6 Crypto Exchanges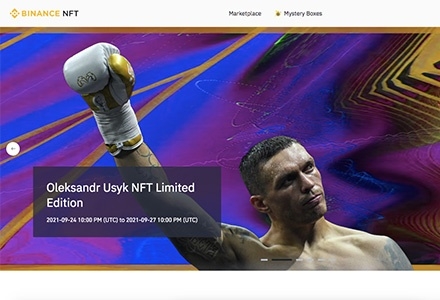 Things we liked:
+ Centralized (regulated)
+ Part of the Binance cryptocurrency exchange
+ Very easy to use
+ Exclusive NFTs available (i.e. Mystery Boxes)
+ Small gas fees
Things we didn't like:
- Must pass KYC verification in order to access the marketplace
- May not be compatible with some popular wallets
Binance is a very well-known name in the crypto world - the company's reputation is yet to precede it in regards to NFTs, though.
This, however, is just a matter of time. With the company launching their own NFT marketplace not too long ago, there's truly a lot of hype surrounding the project.
As there should be! Even though it's relatively new, the Binance NFT marketplace does already have a lot to offer to all potential users. One of the most notable features of the market is the fact that you'll be able to trade BEP-721 and BEP-1155 non-fungible tokens - it's currently the only huge place to do so!
With Binance being as respected in the industry as it is, the reputation factor does play a big role here, too. The marketplace in question has quickly become one of the best NFT marketplaces due to the sheer number of users that it has attracted and accumulated in a short period of time.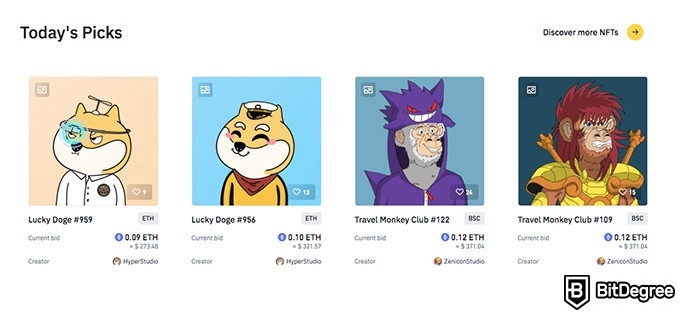 How was Binance able to do so? Well, among other things, users share their account with the exchange side of the platform - meaning, if you're a registered user on the Binance cryptocurrency exchange, you can use the same account to purchase NFTs as well. That's convenient!
Apart from a wide selection of different NFTs and even Mystery Boxes, another huge aspect worth mentioning in regards to the Binance NFT marketplace is the fact that it's a centralized project. What this means is that the marketplace is legitimate, and the number of potential malicious users is minimized to an extreme extent.
Note, though, that in order to register on the Binance NFT market, you'll need to pass KYC verification. This, however, is becoming the standard within the industry, and shouldn't come as a surprise!
Ranks #3 out of 6 Crypto Exchanges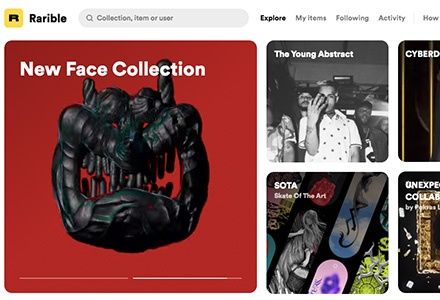 Things we liked:
+ Huge creator royalties (up to 50%)
+ Large selection of different NFTs
+ Lazy minting feature
+ DAO-like functionality
+ $RARI native governance token
Things we didn't like:
- Not a regulated marketplace
- Only works on the Ethereum blockchain
Rarible is a very well-known name in the NFT industry. It's a decentralized platform, which means that you can trade non-fungible tokens in an anonymous and P2P fashion.
What makes Rarible special, and how is it different from most other NFT marketplaces out there?
Well, for starters, it has already managed to build a solid name for itself. Rarible is very popular, and is often picked as the go-to market option for many artists and NFT creators. This, in of itself, comes with some innate benefits.
The major benefit here is that it's a trustworthy platform. Being as established as it is, Rarible allows you to connect your wallet and start buying and selling NFTs in a secure and assured manner.
The choice pool is another point worth considering, as well. Same as OpenSea, Rarible has a huge selection of different NFTs available, spanning through various different categories. Anyone and everyone should be able to find what they're looking for, although the platform does seem to promote some of the more-intricate art pieces, and trendy projects.

As an NFT market, Rarible also has a governance token called $RARI. The token is distributed to both NFT buyers and sellers, every single week. You can sell the token for fiat profit, but it can also be used for DAO governance purposes on the platform, too - this is part of Rarible's decentralization aspect.
Following that, it's also worth emphasizing just how simple Rarible is to use, no matter what it is that you may end up doing. The user interface is optimized to be very friendly to newcomers to the platform, and is both inviting, and also clear.
This extends to things such as NFT creation itself, as well. The process is very straightforward, with a wizard to help guide you through it. You upload your file, set its rarity and sale conditions, enter some information, and you're set!
One point that's worth highlighting out of this NFT creation process is the fact that you can set up some astonoshingly high royalties for your NFT, as well. Specifically, Rarible allows you to earn up to 50% in royalties from each NFT that you sell. One of the highest rates in the industry!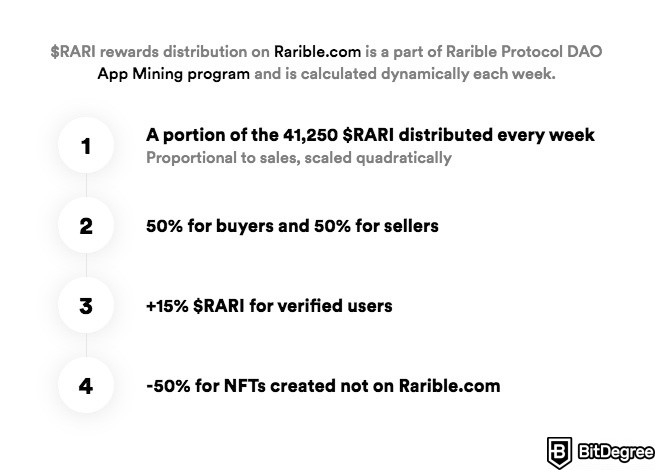 One of the only major downsides for Rarible is the fact that the NFT marketplace has no mobile app. Meaning, if you want convenient and smooth non-fungible token processes, you will have to use the desktop or laptop versions of the platform. Well, sure - you can use a mobile browser, as well, but this gets encumbering and overwhelming pretty fast.
Another point are the fees. Rarible charges 2,5% on every NFT sale, which adds to your already-existing expenses in regards to Ethereum's gas fees. There is no way to avoid paying the gas fees upfront, which can, by extent, be quite expensive.
All things considered, Rarible is surely one of the top NFT marketplaces out there, on the internet. If gas fees and the cut that the platform takes from your NFTs don't scare you away, do make sure to check the site out!

Did you know?
Ranks #4 out of 6 Crypto Exchanges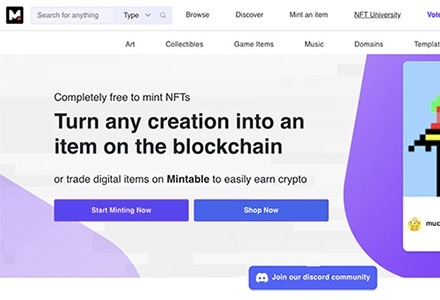 Things we liked:
+ Gasless NFT minting
+ Simple to use
+ Multiple NFT categories
Things we didn't like:
- Only supports MetaMask
- Only supports the Ethereum blockchain
Mintable is a rather peculiar NFT marketplace. It's often mentioned among the best markets, especially due to a few specific aspects that it presents to the user.
First things first, though - let's focus on the fundamental aspects of Mintable.
The platform, same as many of its peers, is aimed at allowing potential users to both bid on NFTs, and also auction off their own creations, too. A single look at their homepage will show you that Mintable focuses on auctions, instead of instant sales for a fixed price.
Type-wise, the platform isn't niche-specific. Meaning, it does not have any set specific NFT type that you could find, and instead, deals in a wide assortment of different token categories. These include:
Collectibles
Game items
Music
Domains
Templates
Videos
Notably, there is no utility section. If you're looking for utility NFTs, you'll probably have to turn to some of Mintable's competitors, such as OpenSea.
In regards to simplicity, Mintable is also at the top. You can create NFT collectibles in a fast and simple manner, and the buying (bidding) process is as streamlined as it would be with any other top-rated NFT marketplace. Naturally, before you do anything, you will need to connect your wallet to the platform.
Now, the one thing that makes Mintable somewhat stand out from the crowd is its gasless minting feature. As the name implies, you are able to create and publish an NFT on the Mintable marketplace without actually paying any gas fees upfront.
This is, without a doubt, very cool. How is Mintable able to achieve this, though?
While not being an exact match, you can think of the gasless minting process as you would about Kindle Direct Publishing - a self-publishing platform for writers. Instead of paying for your book to be printed, KDP adds them to Amazon, and when someone buys it, only then is the book actually published and shipped out.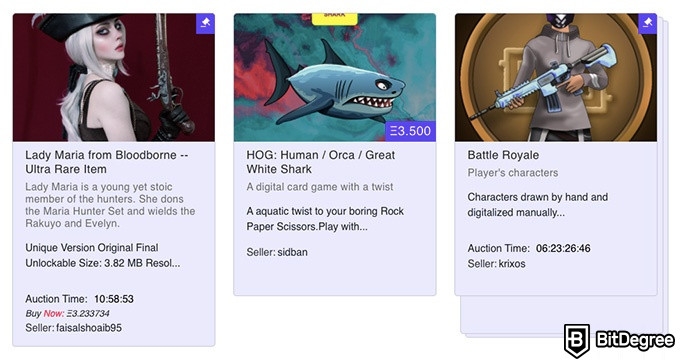 With Mintable, the situation is very similar - when someone purchases your NFT, they will then pay the gas fees, in addition to the cost of the token itself. Upon the confirmation of the purchase, the NFT will appear in your wallet, too.
The process does sound a bit complex, but the fact remains the same - it works. Definitely a notable point of one of the best NFT marketplaces - on OpenSea, this is called "lazy minting", and rarible has such functionality, as well!
On the negative side of things, it's worth mentioning that Mintable does only support MetaMask. So, if you're using a different NFT crypto wallet, you won't be able to access the platform in question.
Now, sure - you could just transfer your assets from a different wallet to MetaMask, and then connect it to Mintable. While this is an option, most people are probably going to want to avoid the potential hassle, and turn to a more-accepting NFT minting platform and marketplace.
Ranks #5 out of 6 Crypto Exchanges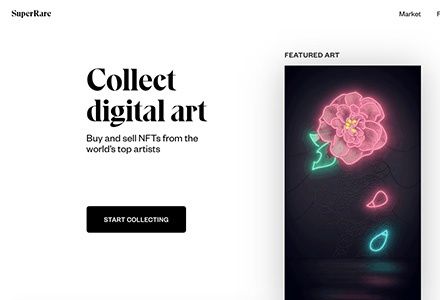 Things we liked:
+ Rare NFTs available
+ Minimalistic platform design
+ Simple to use
Things we didn't like:
- 15% gallery fee
- Only Ethereum NFTs available
SuperRare is a very unique NFT marketplace, at least as far as this list is concerned. This is due to the fact that the site does not allow any NFTs to be hosted and sold on it - instead, it specializes in exclusive, high-quality work of art.
Now, evidently, art is subjective. This is why there is no single entity that would approve or disapprove of a certain NFT piece being located on SuperRare. That said, the platform doesn't allow users to decide, either! Instead, there is a management team behind SuperRare - these are the people that sort through submissions, and choose which work can be featured on their NFT market.
It is, without a doubt, a very unique approach to NFTs, and their sales. It allows potential bidders to find high-quality work, and also motivates artists to be part of "an exclusive club".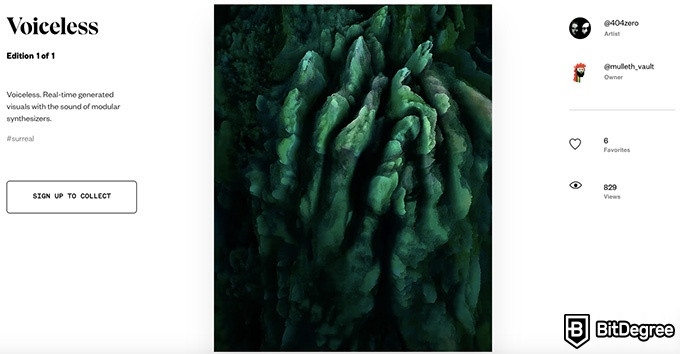 As far as the usability aspect of SuperRare is concerned, you needn't worry - the platform is simple and minimalistic in its design, and thus, you should figure things out pretty fast, upon visiting it for the first time. This is true both for the general navigation around the website, and also as far as buying and selling the actual NFTs goes.
Approaching the topic of fees, this is actually one of the bigger complaints that users of the platform have towards SuperRare. While being one of the best NFT marketplaces for elite-level artwork, the site does also charge a pretty hefty "gallery fee" - 15% on your sale.
15% isn't anything unheard of, but it's certainly "up there", as far as marketplace fees are concerned. In total, SuperRare takes an 18% cut from a single NFT sale - 15% from the seller, and 3% from the buyer. This does not include the actual gas fees that you'll pay when publishing your NFT, though.
The marketplace in question hosts ETH-based NFTs - in other words, ERC-721 tokens. Following that, if you want to purchase one or more of the works, you will also need to pay in Ether, as well. This, however, is standard practice with most NFT marketplaces out there.
Evidently, SuperRare isn't going to be the most popular NFT marketplace out there, simply due to the fact that it is quite specific, as far as target audience is concerned. If you're someone who's looking for high-end NFTs, and are assembling the ultimate collection, sure - SuperRare might surely have something to offer to you.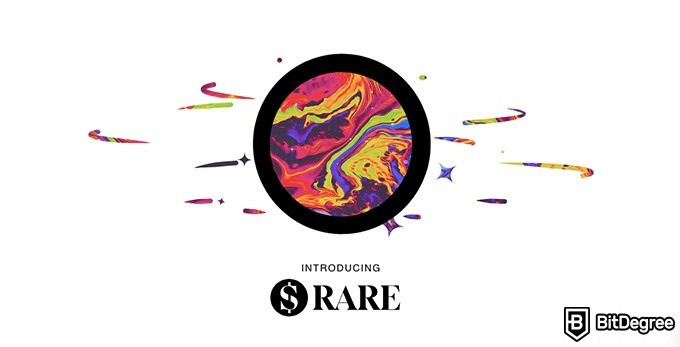 On the flip side, though, if you're still completely new to the space, and are just checking out different NFT marketplaces with the hopes of finding some entry-level NFT pieces (read: less-expensive ones), obviously, there are going to be better options out there. Sites such as OpenSea and Rarible are a great place to start, and make your way from there.
That being said, as far as this list is concerned, though, SuperRare is a noteworthy contender to be named as one of the better non-fungible token markets, simply due to the fact that it's completely legit, and offers a selection of exclusive NFT collectibles to anyone interested.
Ranks #6 out of 6 Crypto Exchanges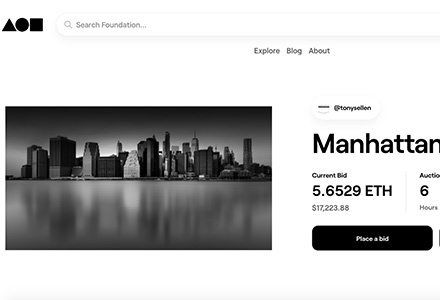 Things we liked:
+ Niche-specific NFT marketplace
+ Simple to use
+ 10% royalties
Things we didn't like:
- Can only create NFTs if you're invited to the platform
- Relatively small selection of NFTs available
- 15% service fees
Foundation is an art-exclusive NFT marketplace. What this means is that the platform only deals in artwork, and art-related NFTs. You won't really find some gaming collectibles, trading cards, or utility-related NFTs on the site.
This is, for a fact, a good thing. It allows artists to find a specific, niche platform, and for art collectors to also know that there is a market out there that specializes in art-related NFTs.
A pretty reliable and well-known market, for that matter, as well!
In order to start selling (auctioning) your work on Foundation, you will need to pass an application process. This is done with the help of a community vote. You submit your artwork to the platform, it receives votes from the Foundation community, and if enough votes are received, your work gets hosted on the platform. You also need to be invited in order to join, too.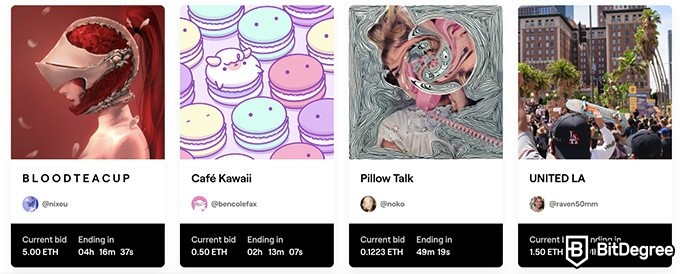 The UI of the website is very sleek and modern, and utilizes a minimalistic approach to the design of the whole layout. Buttons are few and far in between, and the whole focus of attention is placed on the actual NFTs.
The NFT cards - the layout blocks that showcase the actual tokens, that is - are also optimized to be very visually-appealing, yet also provide all of the information that one might need. You can see the image, the name of the creator (owner), current bid, and a countdown of when the auction is going to end.
Foundation offers its NFT creators 10% in royalties. What this means is that you will receive 10% of sales from your work, once it's re-sold by the upcoming owners. 10% isn't anything all that impressive, since there are platforms out there that offer up to 50%. Still, it's a decent royalty, nonetheless!
In regards to security and reliability, it's worth mentioning that Foundation is one of the newer NFT marketplaces on the internet. Admittedly, it's still not as established or well-known as platforms such as OpenSea or Rarible.
That being said, though, this really isn't an indicator of the "security" aspect of the project. Everything surrounding Foundation seems legit, and it works to fill a specific niche within the market - art-exclusive NFTs.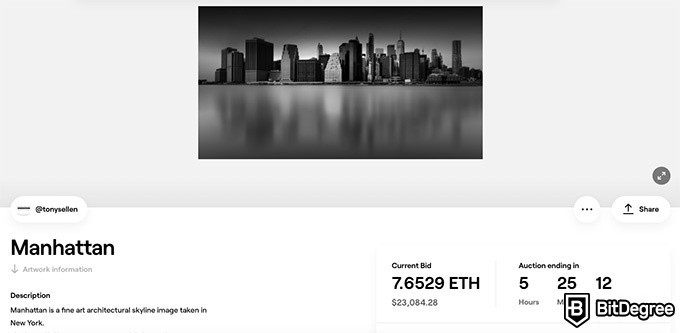 The downside of the platform in question is one surrounding the service fees. Namely, once someone purchases your artwork, you will have to pay a 15% fee to the NFT marketplace. While fees like these aren't unheard of, 15% is still a large number!
That being said, if you're searching for a very specific NFT market - one that would allow you to sort through and purchase designated and art-related NFT collectibles -, then Foundation is surely worth checking out.
If, however, you're not fixed on art-related non-fungible tokens, and are keen on exploring the space in a more-general sense, Foundation might not be the ideal platform to start from. Instead, you should check out OpenSea or Rarible - these are the two leading NFT markets, and offer awesome benefits to both NFT collectors, and also artists themselves.
Conclusions
With the rise in popularity of NFTs, more and more people are searching for the best methods to find the tokens that they'd love, and purchase them. The reasons behind this are plenty - everything from building a personal collection, all the way to using these NFTs as a potential investment tool.
Naturally, since buying, selling, and creating these pieces of art involves your cryptocurrency wallet, it's important to find reliable and trustworthy NFT marketplaces to do all of your transacting in. If you're completely new to the space, this can prove to be a slight challenge.
That being said, though, in this article, we've checked and discussed some of the top contenders for the spot of the best NFT marketplace. All platforms discussed in the list above are leaders in the space, in their own respective ways.
LEDGER NANO X
METAMASK

Can be managed from mobile device
Very secure
Supports more than 1500 cryptocurrencies
Comfortable design

Open-source
Private keys kept on the browser
Easy to use
Used to access the Ethereum blockchain
Integrations with Ledger devices

A "hot" wallet - security concerns
Only supports Ethereum and ERC-20 tokens

Visit site
Read review
See TOP10 Brands
Read review
Table: The pros and cons of the Ledger Nano X hardware cryptocurrency wallet, and the MetaMask software wallet
If you're searching for the best place to start, though, once again - OpenSea and Rarible are going to be the places that you'll want to look first. These NFT marketplaces are leaders in the field, both offering some of the best features and functions to the user.
Following that, if you're getting into the NFT space, make sure to find yourself a reliable and NFT-friendly wallet, as well. If you're not sure where to start, I can tell you right now - the Ledger Nano X is definitely your best bet, paired together with MetaMask.
With that being said, I hope that you've found this article informative and helpful! Make sure to check out the NFT markets that piqued your interest, and jump into the world of non-fungible tokens today!
The content published on this website is not aimed to give any kind of financial, investment, trading, or any other form of advice. BitDegree.org does not endorse or suggest you to buy, sell or hold any kind of cryptocurrency. Before making financial investment decisions, do consult your financial advisor.
Leave your honest Best NFT Marketplaces review
Leave your genuine opinion & help thousands of people to choose the best crypto exchange. All reviews, either positive or negative, are accepted as long as they're honest. We do not publish biased reviews or spam. So if you want to share your experience, opinion or give advice - the scene is yours!
---
TOP3 Most Popular Coupon Codes