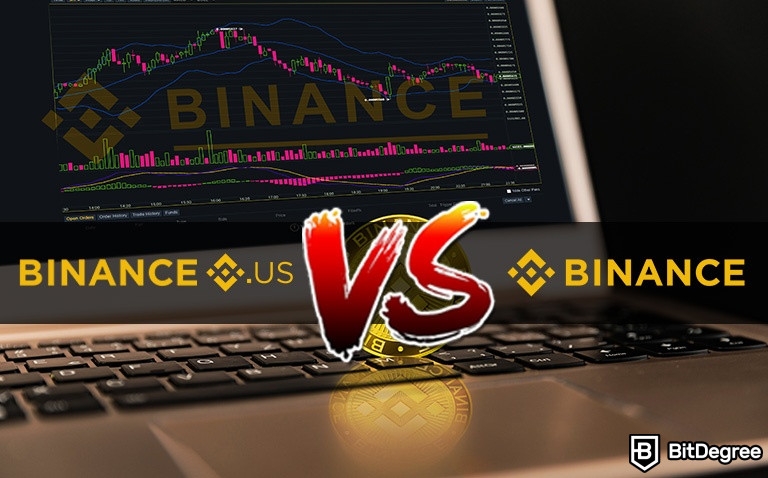 If you're trying to find the best cryptocurrency exchange for yourself, Binance is undoubtedly going to be one of the first names that you stumble across. That being said, this particular exchange can be the cause of some confusion - there's Binance, as well as Binance.US. Comparing Binance US VS Binance, which one should you pick?
Well, while it may seem like a pretty loaded question, the answer is actually quite straightforward - however, it does depend on a few factors. We'll discuss all of those factors in this Binance.com VS Binance.US comparison, in addition to all of the core features of both exchanges.
To add to that, if you'd like to check a more-concise comparison of the two platforms in question, after you read this article, make sure to look into our special comparison tool, too! Furthermore, don't forget that you may also check out dedicated reviews of both Binance, as well as Binance.US.

Did you know?
Want to get smarter & wealthier with crypto?
Subscribe - We publish new crypto explainer videos every week!
What is Olympus DAO? (OHM Crypto Animated Explainer)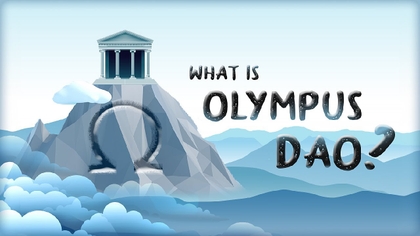 Binance US VS Binance: Comparison Criteria
Now, in order to have an in-depth and thorough comparison of Binance US VS Binance, there are certain criteria that we need to adhere to. The same is naturally true with any and all crypto exchange comparisons, but this particular article is quite special, due to the nature of the two platforms that we're talking about.
Latest Deal Active Right Now:
REDEEM $600 PRIZE
Binance Cyber Monday
Attention new Binance users: this Cyber Monday, you can score up to $600 in rewards by completing special tasks. Activate this amazing Binance Cyber Monday deal using the code – 49316610!
Expiration date : 05/12/2023
6,127 People Used
Only 16 Left
It's worth pointing out that, while everyone is going to have their own opinions on what a great exchange should look like, there are certain features that will always remain crucial for you to check, no matter what exchange you might be looking for.
What are those features? Well, in no particular order, you should always focus on security, ease of use, customer support, user count, fees, and the number (and variety) of supported crypto assets. Before we get into the actual Binance US VS Binance comparison, let's take a closer look at each of those aspects.
Security. While I've pointed out that our list of features doesn't have any particular order, I must admit - this that one exception. Specifically, security should ALWAYS be the No. 1 thing that you look into, when comparing cryptocurrency exchanges. This is true with Binance US VS Binance, as well as any other exchange out there! Think about it this way - if an exchange platform lacks security features, there really is no redemption for that! The fees can be non-existent, and the coin & token variety could be huge, but would you trade on an exchange that might get compromised at any point in time? Most people would avoid it, at all cost!
Ease of Use. The factor of just how easy an exchange platform is to use is often very underrated. Crypto enthusiasts tend to get all caught in feature variety and the latest innovations of blockchain tech, and don't really think about the usability of the exchange! That being said, with so many new people coming into crypto, every single day, exchanges have truly "stepped up their game", in a very general sense - things aren't different when it comes to this Binance US VS Binance comparison, either! The name "Binance" has, for the longest time, been associated with some steep learning curves - we'll check if that's still the case!
Customer Support. Proper customer support is something that isn't really appreciated up to the point when you actually need it. However, whether it be this Binance.US VS Binance comparison, or any other, the quality of customer support is just one part of the matter. In addition to that, another factor that's super-important is the ability to reach support agents at any point throughout the day - in other words, whether or not the exchange has live support available. In most cases, exchanges would utilize live chat, in this regard - that said, not all exchange platforms offer live support, to begin with. It's definitely an important aspect to look into!
User Count. User count essentially refers to the number of active users that the exchange has, at any given point in time, or the total number of users registered on the platform (the specifics depend on the situation). Now, you might think - why is this even a factor to consider, in the first place? While it's something that I'll cover later in the Binance US VS Binance comparison, I can tell you right now - user count can really give you an idea of just how reliable and trustworthy the exchange really is! You'd probably feel much more comfortable using an exchange if many of your peers are using the platform, as opposed to no one else having even heard about it!
Fees. If you've been trading crypto for some time now, you are probably well aware of just how much of an impact fees can have on your potential profits. Even if you're not looking to trade crypto, and are simply interested in an exchange that would allow you to purchase assets that you could hodl for a long time, there are still multiple fees involved - crypto acquisition, fiat money deposit, crypto withdrawal fees, and so on. So, it's really something that you need to figure out, beforehand! As far as this Binance.com VS Binance.US comparison is concerned, though, fees are going to be a pretty interesting point to cover, as well - make sure to look into the matter!
Supported Assets. As crypto is becoming more and more popular, there's a constantly growing number of crypto coins & tokens coming into the market, as well. Many crypto enthusiasts nowadays prefer to diversify their portfolios with some smaller altcoins, instead of going "all in" into Bitcoin. In order for that portfolio diversification to happen, though, you'd need to find an exchange that would support a large variety of assets and trading pairs. Following that train of thought, cryptocurrency support becomes a super-important point to look into, both in regards to this Binance US VS Binance comparison, and in general.
When looking into the differences between Binance and Binance.US, naturally, there are going to be many more things that pop up. On top of that, as mentioned earlier, everyone's going to have their own preferences when it comes to the important features of an exchange platform, as well!
All of that being said, though, the point remains the same - the aforementioned aspects should be viewed as essential, and always looked into!
Binance US VS Binance: The Comparison
Now, then - let's move on to the actual Binance US VS Binance comparison, and check to see how these two exchange platforms fair against one another. For the sake of keeping things simple, we'll keep the same order of features as we did before, and start off with the security aspect.
Security
As I've mentioned earlier in the Binance US VS Binance comparison, security really is the "name of the game", when it comes to picking out the best cryptocurrency exchange for yourself. That said, it's also a rather broad term to analyze, as well - there are quite a few different ways of how an exchange platform can guarantee the security of its users' assets and personal information!
Starting things off from the "shared" security features of both exchanges in question, two things stand out, straight off the bat - two-factor authentication, and KYC verification checks.
2FA is quite self-explanatory - no matter which platform you might choose in this Binance VS Binance.US comparison, you can expect both of them to have two-factor authentication, as something that you can choose to enable. While it's a pretty standard feature, it's also one that's super-effective in protecting your assets, and your account, in general.
Now, KYC is where things start getting a bit more interesting.

The term KYC stands for "Know Your Customer". Not to go into too much boring detail, this feature essentially means that, in order to trade on either of the two exchanges in question, you will need to pass some strict ID checks. These include providing the exchange with information about your residency, a copy of your ID or passport (for identity confirmation purposes), some financial information, and so on.
While it's a controversial feature (for obvious reasons), it's also one that's employed by all official and regulated financial institutions, around the world (with some exceptions). Knowing that all traders on the Binance exchanges are going to be "doxed" in this way, you can rest assured that this minimizes the chance of fraud, by quite a bit.
Note: if you'd like to take a deeper look into the topic of KYC, specifically as it relates to Binance, you can check out my dedicated tutorial on the topic, too!
Now, those two large aspects aside, Binance (the international platform) does employ a pretty wide list of additional security features. For example, the company stores "the vast majority" of its user funds in cold wallet devices - this is one of the most effective methods of safekeeping your crypto!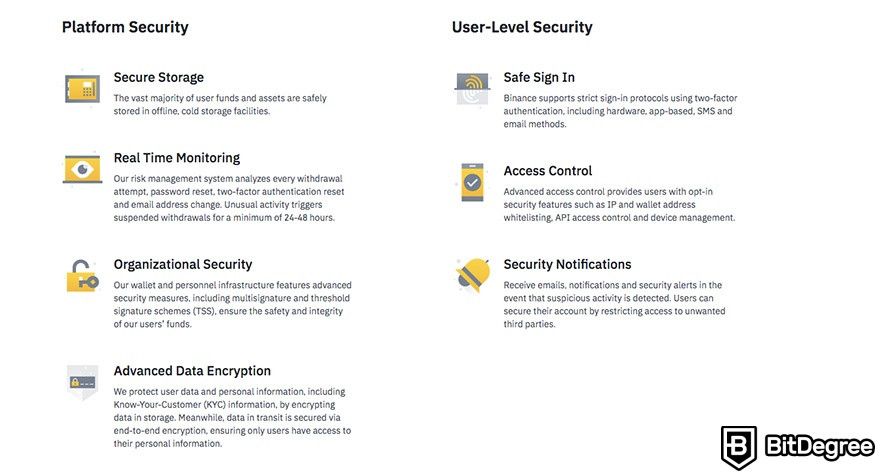 Furthermore, you can employ things such as IP whitelisting, or security notifications, for when you're not using your account. Binance does a great job at reporting any and all suspicious activity that might happen with your account, via email.
In regards to Binance.us, well… This is where the really big differences between Binance and Binance.us show. Specifically, while Binance has an entire security-dedicated section on their site, Binance.us is really… Mysterious, when it comes to the security features that they employ.
That's not to say that Binance.us lacks security, though - don't get me wrong! However, you would struggle to find any information regarding the security features that the platform employs, on their official website.
So, in regards to this particular aspect, I have to say - it's not even worth comparing Binance US VS Binance, since the latter clearly takes the win! However, with both exchanges being in such a unique situation (one - a global platform, while the other is country-exclusive), it's not really as straightforward as with many other platforms!
Ease of Use
Ease of use - or, simplicity - might seem like something that's exclusively important to industry newcomers. That's not really the case, though - this term doesn't necessarily reference beginner-friendly features!
Instead, it can also be used when talking about the general UI functionality of an exchange platform, too. In that regard, there are really only two types of exchanges - ones that offer their users a clear and concise interface layout, and others that overbear the user with a huge array of features, straight out of the gate.
Where do our Binance US VS Binance platforms stand in this regard? Well, the answer is actually quite a bit more interesting than you'd come to initially expect.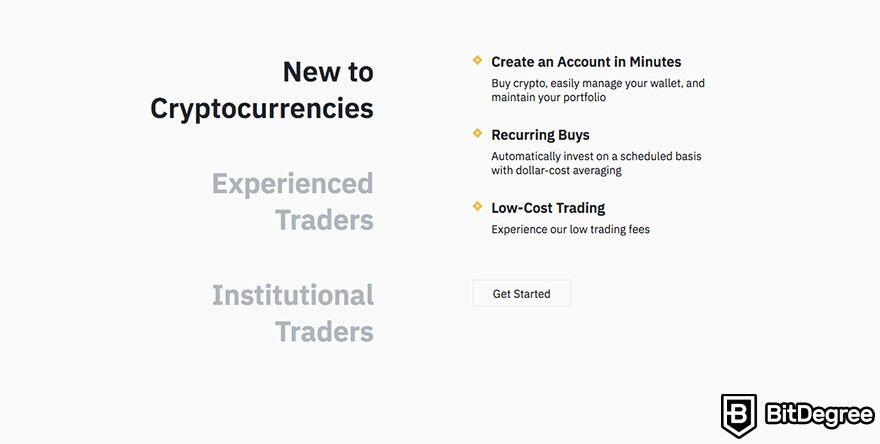 You see, for the longest time, Binance was associated with anything BUT simplicity or ease of use. The platform was seen as being super-advanced and innovative, but at the same, quite unfriendly to industry newcomers, simply due to the variety of features available on the exchange.
The same is kind of true with Binance US. Admittedly, since it's a much younger exchange, the company behind it had time to adapt to the industry trends, ease of use-wise. The general sentiment, however, carried on from the main Binance exchange.
Today, I'm happy to say that both exchanges will offer their users a very smooth and beginner-friendly experience! This is especially true with the US-exclusive exchange - it features a very minimalistic design, so no matter what you plan to do, you won't get overwhelmed with feature variety.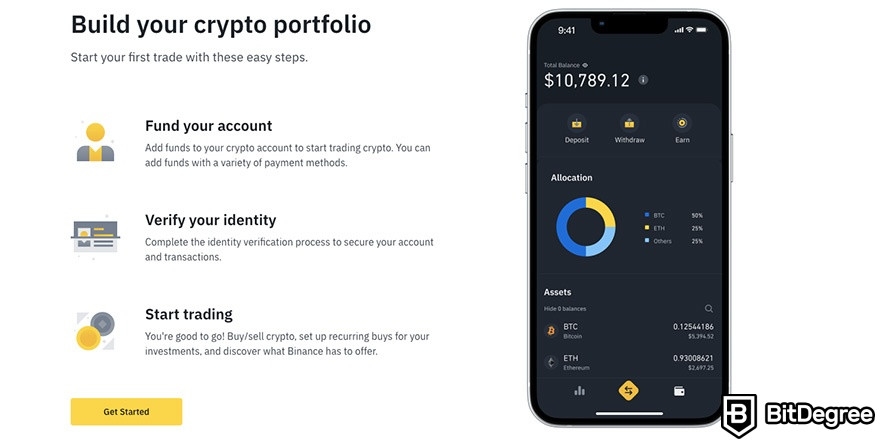 Binance.com, on the other hand, while still being quite approachable and simple to use, will offer its users many more features to utilize, trading- and otherwise. For example, there's a whole separate NFT marketplace for you to check out! Naturally, that marketplace will have a variety of features of its own - features that you'll need to get accustomed to, and learn to use.
All of that being said, allow me to reiterate - if you're wondering which of the two Binance US VS Binance exchanges in this comparison are simpler to use and get into, as a beginner, you should keep in mind that both platforms offer a similar level of a learning curve. However, since Binance is more feature-rich, it might require more time to figure out, and get used to!
Customer Support
As I've mentioned earlier in this Binance VS Binance US comparison, customer support is something that crypto fans learn to appreciate whenever an actual need for support arises.
Now, in order for you to understand the significance of this particular feature, allow me to provide you with a historical brief on the topic. You see, when crypto first came around, and exchanges started springing up all over the place, support was nowhere to be found. That's because many of the most popular exchanges back then were DEXs - decentralized exchange platforms.
With centralized exchanges (CEXs) coming around, customer support became an option, as well. A very needed option, I might add - this need was exacerbated by the fact that the industry started seeing a lot of newcomers, and people who had absolutely no idea what they were doing, but still wanted to start trading crypto.

Even today, in the field of cryptocurrencies, customer support can come in a few different shapes and sizes. Specifically, you might come across exchanges that offer full, 24/7 live support, while other platforms will only allow you to talk to support agents via email, or a ticketing system.
In regards to the differences between Binance and Binance US, the situation is kind of similar, as well. Binance.US offers users the ability to contact customer support via a live chat feature, which will eventually lead you to a ticketing system.
It's actually a bit confusing, so I'll put it differently: Binance.US doesn't have traditional live chat - instead, you would "chat" with an AI bot, and if you wouldn't be successful in finding an answer to your question this way, you could then submit a support ticket, and customer support agents would get back to you.
As you can imagine, that's not exactly ideal. It's also not an issue that you would face with the main Binance exchange, either.

Once you have an account, and have logged into the platform, you'll be able to contact a support agent, at any point in time, via the built-in live chat feature. This is a huge benefit, especially for an exchange that's as well-established as Binance!
Notably, both platforms do also have something called Binance Academy - a dedicated area where you can learn about crypto, as well as about the different functionalities of the exchanges in question. That's worth keeping in mind, as well!

Did you know?
Want to get smarter & wealthier with crypto?
Subscribe - We publish new crypto explainer videos every week!
Can Russia Use Crypto to Bypass Sanctions? (Animated)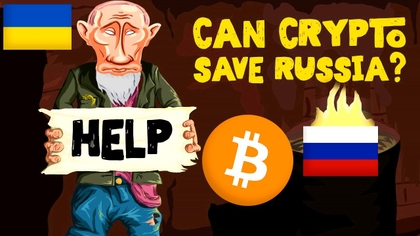 User Count
Earlier in the Binance.com VS Binance.US comparison, I've pointed out the fact that user count is something very important, and not only due to the fact that it can tell you about the reputability of an exchange.
I was actually referring to something called trading volume. It's also an aspect that would dictate the liquidity of the exchange platform, as well.
While all of that might sound pretty confusing, it's all actually rather simple. Think about it this way - the more people use the exchange, the more funds will that exchange platform deal with, and thus, the more money and crypto assets it will have to execute your trades!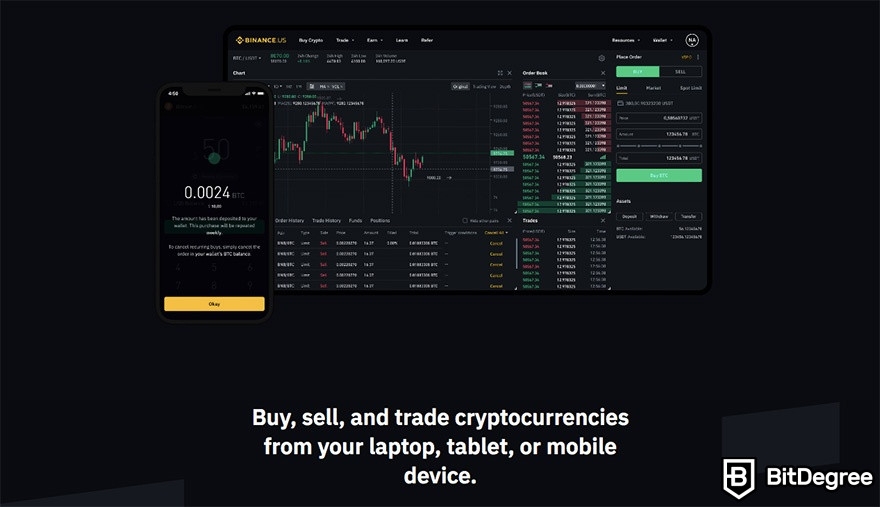 The opposite scenario would be you going to trade on some less-than-known exchange platform, only to learn that your trades have been frozen, since there are no other people on the site who would be willing to participate in the same trade. That is, evidently, a huge exaggeration, but you get the gist.
Given the latest available numbers, in 2023, Binance had boasted a healthy number of around 90 million registered users on its exchange. You can probably tell that I'm half-joking - that number isn't "healthy", it's incredible! That's a huge number of people choosing Binance as their go-to cryptocurrency exchange platform.
It's no wonder, then, that Binance is often named as *the* largest cryptocurrency exchange, trading volume-wise. This is a pretty liquid metric, but the point still stands true - Binance is definitely a very trusted crypto exchange.

With Binance.US, the situation is a bit… Different. Namely, there aren't really any specific numbers that one could reference, in regards to the user count on this particular platform.
That being said, however, the general consensus is that Binance.US is still one of the most popular crypto exchanges in the States, when you take into account the trading volume that the platform produces. That's definitely worth keeping in mind!
On top of that, when comparing Binance US VS Binance, it's very important to keep in mind the fact that while Binance is a global exchange, Binance.US is restricted to the US market. This does, naturally, influence the numbers quite a bit, as well.
Fees
If you're concerned about the trading fees, in regards to Binance US VS Binance, I can assure you, straight off the bat - both of the exchanges offer some of the best trading fee models in the industry.
To top that off, both platform fee models are actually quite similar to one another, as well. So, instead of looking at them separately, we can discuss them both at the same time.
The initial trading fees for both Binance US and Binance are going to be 0,1%. While the fee is already very low, you can actually get it even lower, in a couple of ways.
First of all, Binance has a few different "VIP" trading tiers. If you're an active trader, and meet the required amount of traded assets every month (in USD), your fees will get lower, depending on the tier that you fall into.

Furthermore, if you're a holder of BNB coins (the native assets of the Binance exchange platform), you can use them to get your fees even lower, too!
Lastly, it's also worth mentioning that both Binance.US and Binance have a very special feature that they've launched quite recently - if you trade Bitcoin with certain pairs of stablecoins, you will pay ZERO fees on those trades. That's truly incredible, and a huge point to consider, when picking out the best cryptocurrency exchange!
Deposit and withdrawal fees will depend on the (crypto)currency that you're trying to deposit or withdraw. In many cases, you might be able to make free deposits (fiat payments are an exception), while withdrawals will mostly only cost you the network fees present at that point in time (again, fiat money withdrawals are an exception).

Pros
A very well-known crypto exchange platform
More than 500 different cryptos available
Two-factor authentication
Main Features
Over than 100 different cryptocurrencies available
Strong security
Small withdrawal fees

Pros
Secure and reliable
Low fees
A good amount of fiat currencies accepted
Main Features
Reputable exchange
Multiple fiat currencies are accepted
Relatively low trading fees

Pros
Anonymous trading
Secure
Supports a variety of cryptocurrencies
Main Features
Easy to use
Low fees
Good security
Supported Assets
Now, last but definitely not least, let's discuss the asset support factor of the Binance US VS Binance comparison.
Binance US supports around 100 different crypto coins and tokens. While that number isn't necessarily very impressive, it's still a decent variety of crypto assets for you to pick from!
Naturally, those assets include the most-popular cryptocurrencies, as well as some of the less-known altcoins, as well. In general, if you're not looking for anything very specific, the cryptos supported on Binance.US should suffice.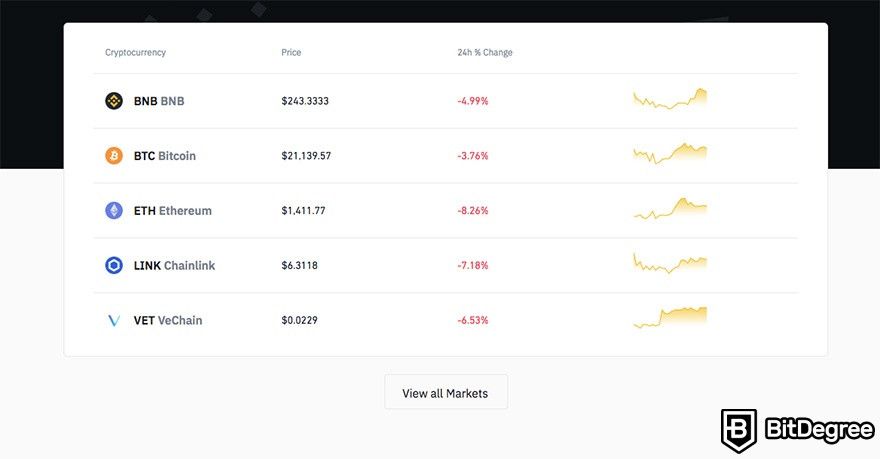 With Binance, though, that number is quite a bit more impressive. Six times more impressive, in fact.
Binance supports over 600 different cryptocurrencies, with that number growing constantly. That's fantastic, simply due to the fact that you're bound to find a huge array of different cryptos that you might want to purchase, hodl, or day-trade on the exchange in question.
Once again, the difference in numbers has to do with the regulatory side of crypto, especially as it concerns the US market. However, if you're based in another country, where the original Binance exchange is supported, this is surely a huge benefit worth considering!
Conclusions
Finishing off this Binance US VS Binance comparison, what's the verdict here - which of the two exchanges should you use?
Well, truth be told, this is one of those comparisons where the answer is very self-evident.
If you're based within the United States, or are a resident of the country (and pay taxes there), you're only choice will be to use Binance.US (out of the two exchanges in question, that is). That being said, as we've already figured out up to this point in the article, Binance.US is a well-established and reputable exchange, so that shouldn't be taken as some negative news!
On the flip side, if you're NOT a resident of the US, and live in one of the countries that allow you to use Binance, it's a no-brainer - with the exchange being as established and respected as it is, everyone is bound to find the features and functionalities that they are looking for!
With that said, thanks for reading this Binance.US VS Binance comparison! Remember to check out our dedicated comparison tool, as well, and good luck in all of your crypto adventures to come!
About Article's Experts & Analysts