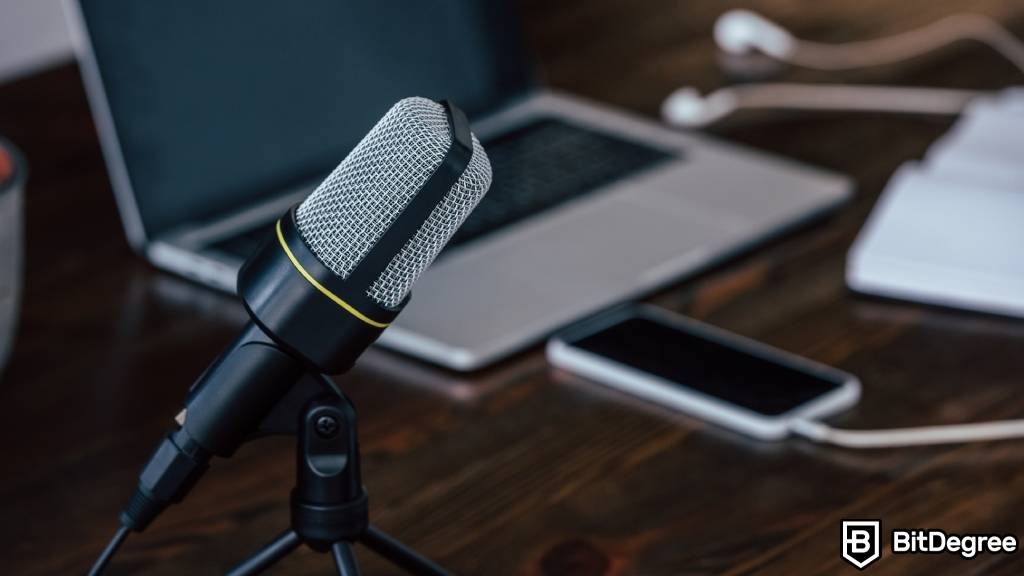 While the radio is no longer cool, there are still some fun ways to enjoy getting new information audibly. Fortunately, as technology advances, so do the topics people discuss, and while twenty years ago, the world was talking about innovations such as phone cameras, today, we talk about cryptocurrencies. And, the best crypto podcasts are where you'll want to look, when it comes to staying informed about this particular industry.
As crypto has been a spiraling trend for a while now, people look for all sorts of ways to get info about tokens, NFTs, biggest exchange platforms like, for example, Binance or ByBit. And while there's plenty of content online, we all have our preferences on learning methods!
So, if you dislike reading or watching videos but still want to educate yourself on cryptocurrency, podcasts are an excellent way to do that.
I'll introduce you to different types of podcasts, explain why they are beneficial, and what real advantages you can get from them. I'll also give you the names of some of the best podcasts to learn about crypto. Finally, we'll discuss what you can do once you're an avid listener with a skill set and some solid knowledge. So, let's get into it and find you the best crypto podcasts!

Did you know?
Want to get smarter & wealthier with crypto?
Subscribe - We publish new crypto explainer videos every week!
What is a Crypto Airdrop & How to Get FREE Coins? (Animated)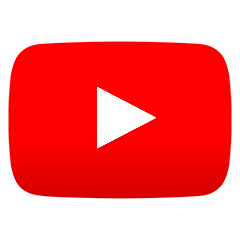 Things to Know About Crypto Podcasts
As the crypto empire is such a news-worthy, rapidly expanding part of the world's technology and finance, it doesn't come as a surprise that there are podcasts about it. But do we really need them? And if so, what's the starting point? Let me ease you into finding the best crypto podcasts.
Latest Binance Coupon Found:
CLAIM $600 BONUS
Exclusive $600 Binance Offer
Don't miss this limited-time deal that's only available for our readers. Follow the Binance referral code link & receive up to $600 in rewards and bonuses!
Expiration date: 05/06/2023
7,847 People Used
Only 49 Left
Why Are They Useful?
We can all agree that podcasts wouldn't be as popular if people didn't find any value in them, right? So, let's pinpoint them and talk it out to make sure you find the top crypto podcasts.
User-Friendly
There is plenty of information about cryptocurrencies; however, a considerable amount of it is presented in a non-user-friendly format. Big chunks of undivided data make it hard for people to pay attention and learn about crypto, and there's no need to complicate it even more, as the topic is challenging as it is.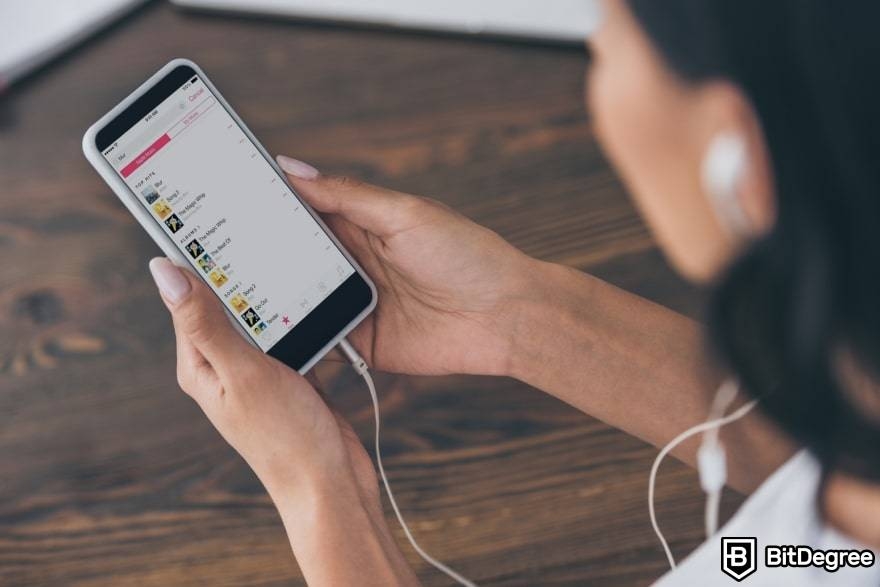 Most popular and, let's say, top crypto podcasts are constructed in a familiar audio-blog fashion, usually split up into series and chapters. Specific titling makes it easier for you to pick out what you need instead of aimlessly browsing through a whole lot of info, fishing for the one thing you're looking for.
Saves Time
Not only is it easier to consume for many users, but you can also save time. Broad topics such as cryptocurrency take a while to get through, so you have to devote a lot of time to take it all in.
However, if you opt for podcasts, you can listen to them while doing anything else. It'll be the same as listening to music; only you'll be educating yourself the whole time. Carry on with your daily activities as you were, just make it twice as productive with the best crypto podcasts.
Mental Stimulation
So, you now know that podcasts are both easy-to-use and allow you to multitask, but did you know that they also stimulate your brain into action a lot more than other ways of consuming information?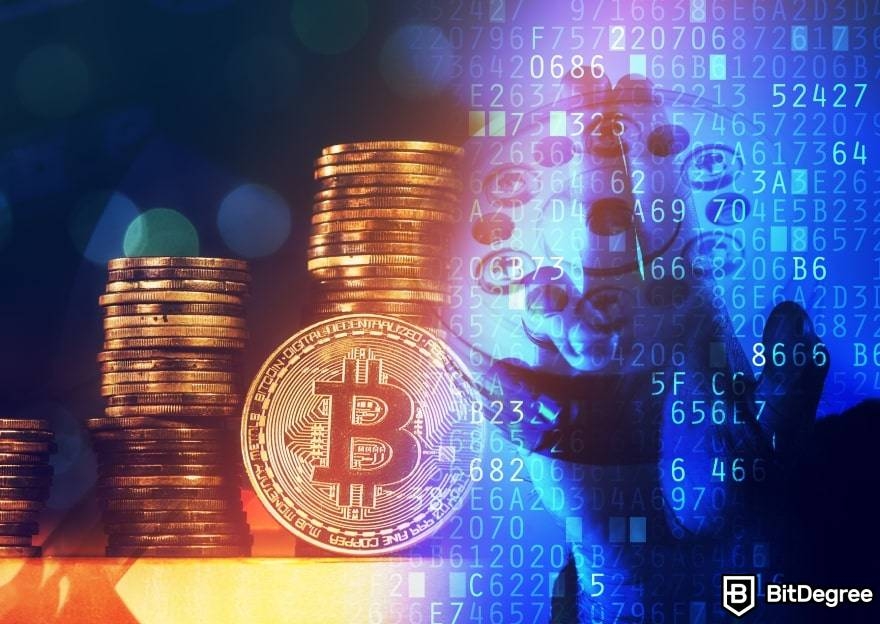 Studies have shown that listening to a podcast triggers mental imagery, so instead of just listening to the noise in your earphones, you get to imagine everything as it goes. It's a known fact that visuals help us digest information, and that's especially useful when learning about something as tricky as crypto. If you imagine the whole process - it might be easier to understand.
Simple Presentation
Since anyone can start a podcast, some of them are run by casual enthusiasts and people who only have a basic understanding of crypto. It's unlikely that you'll find some crypto-master educating people on podcasts, but rather simple users educating each other, perhaps sometimes interviewing said crypto-master.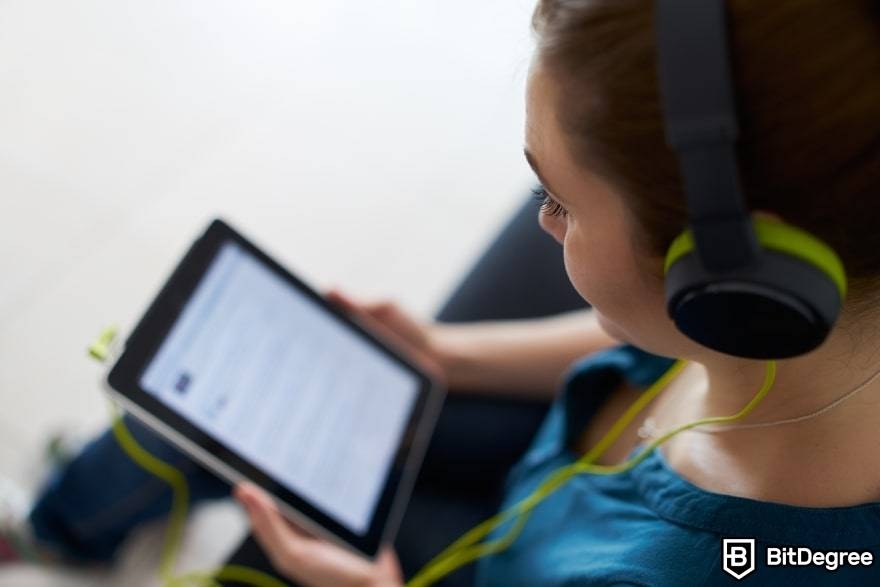 And for newcomers, especially, that's quite ideal. The hosts usually try to explain crypto in the easiest, most-understandable way possible, especially since some of them record without a script and tend to forgo complicated terminology.
Of course, some talk about crypto in a more advanced way, but that's only because they know their listeners and what they need. In return, before choosing the best crypto podcasts for you, you should find out more about the types of crypto podcasts there are.
Types of Crypto Podcasts
Read through the four main types of podcasts and see which one fits you best! In doing so, you'll be able to find the best crypto podcasts for yourself much easier.
For Beginners
If you want to start your education via podcasts, let me introduce you to the best crypto podcasts for beginners. In a minute, though.
For now, you should just know that crypto podcasts for newcomers aim to introduce listeners to the general concept of cryptocurrency, blockchain, advising people on what to buy first, where to buy it, how to choose an exchange, and so on.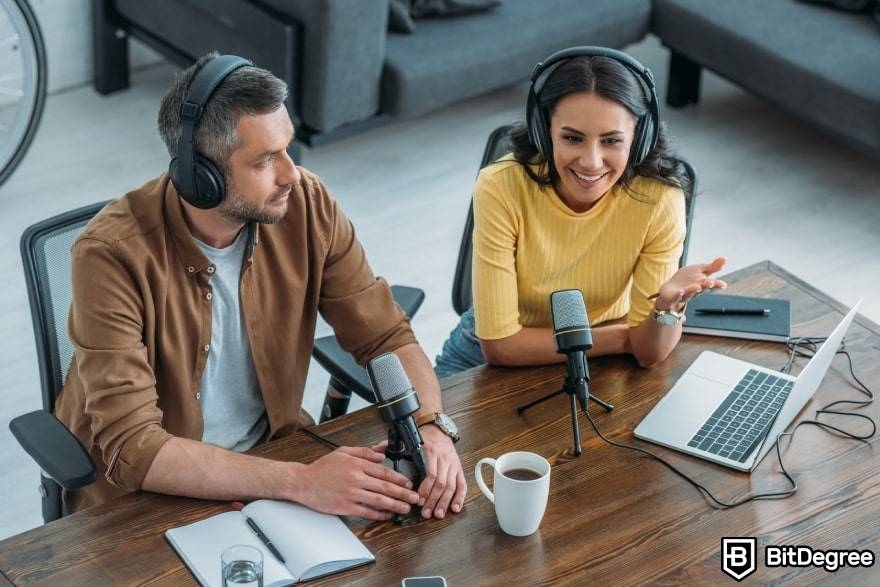 The content varies, but you will mostly find separate chapters on specific topics. For example, maybe one day, you'll learn about the history of crypto, and then the next time, you'll be listening to the host explaining the difference between CEXs and DEXs.
Before moving on to the higher-level podcasts I mentioned, listen to the ones for beginners. And if something doesn't make sense, you can simply rewind!
That goes for advanced users as well. If you forget something about the process or a key point regarding terminology or something else, you can always go back to the roots and research the best crypto podcasts for beginners.
For Advanced Traders
These ones are the best crypto podcasts for people who already have some experience in buying and trading cryptocurrency. While too advanced for beginners, this is the best type to deepen your knowledge and help you decide on your next step.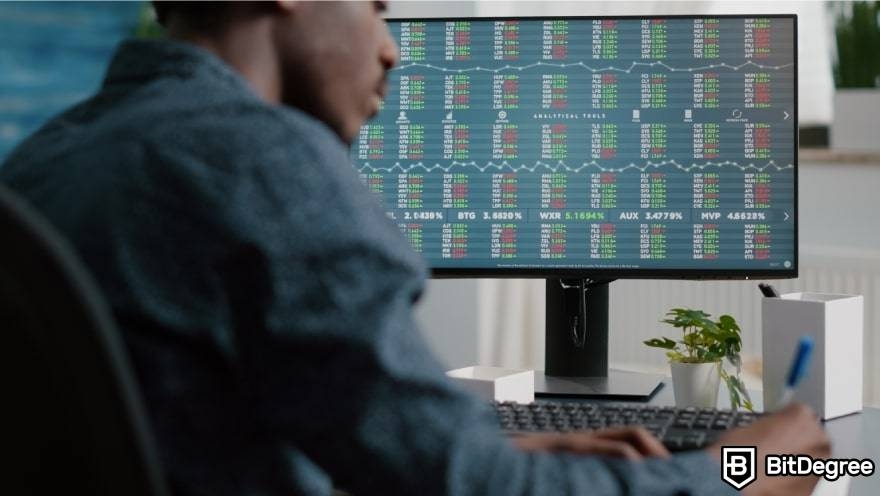 The podcasts aim to inform traders about the latest blockchain developments, NFTs, smart contracts, variable fees, and specific changes in the market. While podcasts that deliver news focus on more general topics, ones for advanced traders chew over very particular themes.
Instead of simply shoving the information your way, the best crypto podcasts for traders actually help you make an informed decision about your next investment, exchange platform, or get helpful trading advice.
News
If you're an avid user and know your way around cryptocurrency, it'd probably be best to be up to date with the latest news, changes, and trends regarding the crypto world. Or maybe you're just a fan?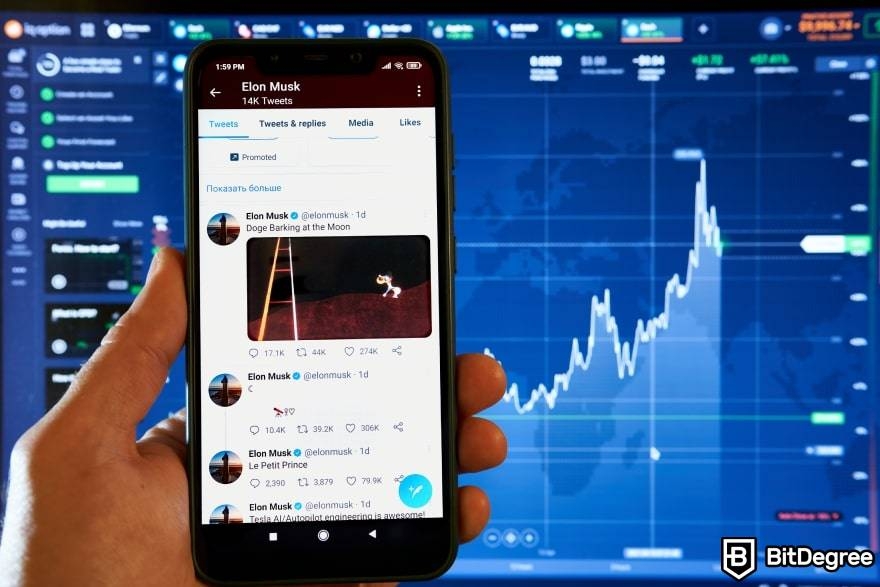 These are the best kind of crypto podcasts if you're unavailable to constantly track and check the latest reports. Since, mostly, podcasts air once a week, you get all of the crucial info regarding last week's events.
There are also daily podcasts that update you on the news from the last 24 hours, but they are a lot less popular since not many people have the time to listen to them every day. Though, if you do, it might be a good idea, especially knowing how frequently the crypto market changes.
Interviews
This is worth a category on its own. Many podcast hosts invite people to interview, whether they may be experts, enthusiasts, or casual users. It gives additional credibility and makes the discourse much more entertaining.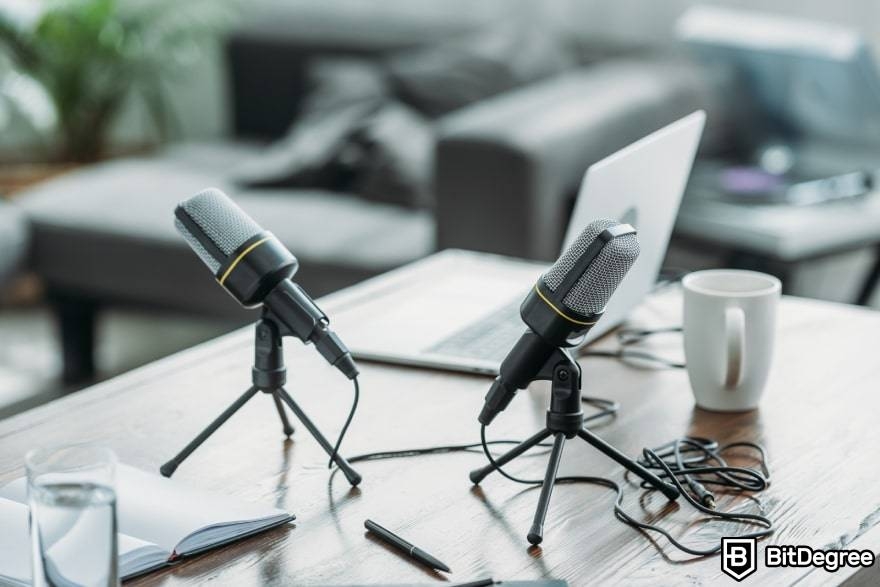 However, there are podcast stations that invite people for a talk as frequently as every other day, presenting you with a considerable amount of witty content like debates and discussions.
It's always interesting to hear from crypto investors, influencers, entrepreneurs, and some big names in the industry. Instead of basic information, they present interesting stories, examples, and personal experiences. So, if hearing people talk it out excites you, make sure you check these out!
The Best Crypto Podcasts for You
Now that you know why they're so useful and what types of content you can get, it's time for me to introduce you to the top, highest-ranking ones in hopes of finding the best crypto podcasts for you. Whether you're interested in trading, crypto domains, taking the first steps, or anything else - there's something for everyone.
While it's not going to be your usual, generalized top 10 crypto podcasts list, I'll make it worth your while with a careful selection of the top crypto podcasts, type by type.
Cryptocurrency for Beginners by CryptoCasey
Lately considered one of the best crypto podcasts for beginners, the show runs an introductory streak, thoroughly and quite amusingly providing the listener with information on cryptocurrency and blockchain.

The host, Casey, speaks in a down-to-earth manner to make all the data easily digestible. She also offers great insight with fun yet clever remarks, making cryptocurrency an exciting, easy-to-understand concept rather than a boring, difficult one.
Until you get the hang of it, I suggest looking into Casey's advice on trading and investing. She knows what she's talking about and has helped plenty of newborns of the industry. Generally speaking, her show is one of the best crypto podcasts on Spotify!

Did you know?
Crypto 101 by Bryce Paul and Aaron Malone
Determined to make people understand crypto quickly and easily, Bryce Paul and Aaron Malone explain the most complicated things in the most basic way.
Crypto 101 is self-explanatory in its name, but you should also know that you shouldn't worry if you're afraid of all the techy slang and difficult terms - there are none. At least in the beginning. Bryce and Aaron like to forgo those and go about things in the simplest ways, only later introducing you to terminology and easing you in.

They also invite guests to talk about specific exchange platforms, Artificial Intelligence, and even tutorials on investing, using, or managing your assets and apps. The episodes are short, fun, and to the point, so it's easy to enjoy them! Quickly enough, this will conquer your list of the best podcasts to learn about crypto.
Bankless by Bankless Staff
Say you're quite an advanced crypto user, bored of simple tradings and casual operations, and are now looking for ways to invest and broaden your horizon. Time to tune in to the Bankless podcast!
Bankless hands out helpful pointers regarding investing, overseeing your digital assets, NFTs, and other crypto topics. For the podcast to be useful to you, you already have to have a solid understanding of the industry and plans to do something with it.

The hosts talk about intricate strategies, new opportunities, and possible changes in the market - how to use them to your advantage, etc. The Bankless podcast could be just the right push you need to step outside of your comfort zone and do something major!
In the words of Bankless themselves, they are aiming to become one of the top 10 crypto podcasts because they seek to make you see that there is more to the digital world than being a slave to social media. Also, they promise to bite you with the crypto bug, then drag you into the crypto rabbit hole. Safely, though!
Blockcrunch Crypto Deep Dives by Jason Choi
As Jason himself says, this is one of the best crypto podcasts for crypto natives. Suitable for traders who find crypto easy to understand, Blockcrunch Crypto Deep Dives invites you on a journey to pick apart the most popular trends and theories.

With a keen analytical eye, Jason Choi digs deep into the newest movements of the digital economy, suggesting his own insights on it and raising important questions. He also invites experts to join his show and talk about Web3, investment strategies, and blockchain technology.
Blockcrunch Crypto Deep Dives is also one of the best crypto podcasts on Spotify, pushing the listeners into critical thinking and more careful decision-making. Overall, Jason Choi is a fun, relatable guy, so his podcasts are fun to listen to, even if they are too advanced for a casual listener.
Crypto News Alert by Justin Verrengia
If you're an experienced trader and quick to digest complicated information, Crypto News Alert by Justin Verrengia might be the winner among the best crypto podcasts to update you.
Every day of the week, the host uploads news on the crypto world to help you catch up on all the latest info you'd probably have trouble looking for yourself. There is also quite a heavy focus on Bitcoin, discussing the news of the cryptocurrency every other episode or so.

Keep in mind that if you're looking for more general information on crypto news, you might have to look elsewhere. Justin's episodes are short and to the point, often focusing on very specific issues and some things are addressed using proper crypto slang, which may be challenging to understand if you're a newbie. Listeners have also mentioned that he talks super fast!
However, if you're up for the challenge, I hope Crypto News Alert becomes one of the best podcasts to learn about crypto! Why not try it out?
Unchained by Laura Shin
Applicable for more than just one podcast category, Unchained by Laura Shin is among the most informative, engaging, and, generally, best crypto podcasts.
Following an exciting pattern to release episodes, Unchained is often called the best crypto podcast, and I think it's quite well deserved. What do I mean by an exciting pattern?

Well, on Tuesdays, Laura invites well-known and accomplished investors to discuss the news, so you get comments and clever insights, not only raw info. Every other week the podcast airs "The Chopping Block" episodes, where the host gets several early-stage investors to talk about their experiences as they go, impressions, and further plans regarding the latest occurrences in the crypto industry.
Then, Unchained kicks off the weekend by recapping everything significant that happened in the crypto world during the week and opens up a Q&A to discuss it with the listeners.
Constantly in action and guaranteed to deliver, Unchained is one of the best crypto podcasts to educate you on the industry! As I mentioned, it could also go to the Interview column, as Laura has guests constantly, but even their main focus is to bring you up to speed, so let's leave it here, shall we?
Thinking Crypto by Tony Edward
One of the giants in the industry, Thinking Crypto by Tony Edward, is a dream podcast for hardcore crypto fans and digital finance enthusiasts.

At the top of the best crypto podcasts to see some celebrities, it grants you plenty of interviews about decentralized finance, blockchain adoption, crypto regulations, and the whole of the metaverse. Tony Edward doesn't play games - he goes for the big names like the Winklevoss brothers or Tom Emmer, so nothing else in the field can really compare to his content. He takes you through some complicated topics, talks Elon Musk, and real estate on the blockchain.

Pros
Can be managed from mobile device
Very secure
Supports more than 1500 cryptocurrencies

Pros
Top-tier security
DeFi app support
Store over 5500 assets, install up to 100 apps simultaneously
Coin Stories by Natalie Brunell
Relatively new in the world of crypto podcasts, Coin Stories is a fun and informative audio blog about cryptocurrency and macroeconomy.
Natalie Brunell is a fun and enthusiastic host, delivering her lines in a friendly and understandable way, but she's rarely alone. Inviting people to discuss the economy, cryptocurrency, politics, and technology, she stands out with her precise questions and provocative topics.

By provocative, I mean the ones that make you consider them in-depth, forcing you to think. Natalie hosts one-on-one interviews with well-known faces in the crypto community, so you get to hear some qualified people offer their insight.
As a journalist and an educator, Natalie Brunell aims to teach!
How to Use it in Practice?
Whether you're searching for the best crypto podcasts for beginners, or an avid user catching all the references, your progress shouldn't end with a podcast. So, if you feel well-versed and educated in the crypto world, here's what comes next.
Start Trading
Obviously, this goes for beginners only! But if you've listened to enough podcasts about starting with crypto, by now, you're probably already looking for ways to participate, so I'll quickly tell you how.
Firstly, you'll have to find a reliable cryptocurrency exchange platform to safely store and trade your assets. Some of the top cryptocurrency exchanges in the industry are Binance, ByBit, and Coinbase. Do some further research to determine which works best for you, and join!
An easy second step. Create an account on your chosen exchange, and make sure to verify.
While most centralized exchanges will have built-in wallets, I would still suggest you buy one, for extra security. Start simple if you're here just to look around, but if the podcasts have firmly molded your mind into determination, I recommend a Ledger wallet or a Trezor one - the top ones in the market.
Authorize a wire transfer or link your bank account with your crypto one - you'll need funds to start trading. Remember that depending on the exchange and the method you've chosen, the whole process could take up to several days.
For now, almost done! Once you have your funds, all you have to do is place your cryptocurrency order, wait for it to come through, and start trading. Until you learn more and get the hang of it, that's all you need to know.
Try Out Different Types of Exchanges
It's a rare sight that a crypto trader uses only one exchange. You can, of course, but if you pay attention to the podcasts at the above-beginner level, you now know that there is more than one way to manage your assets.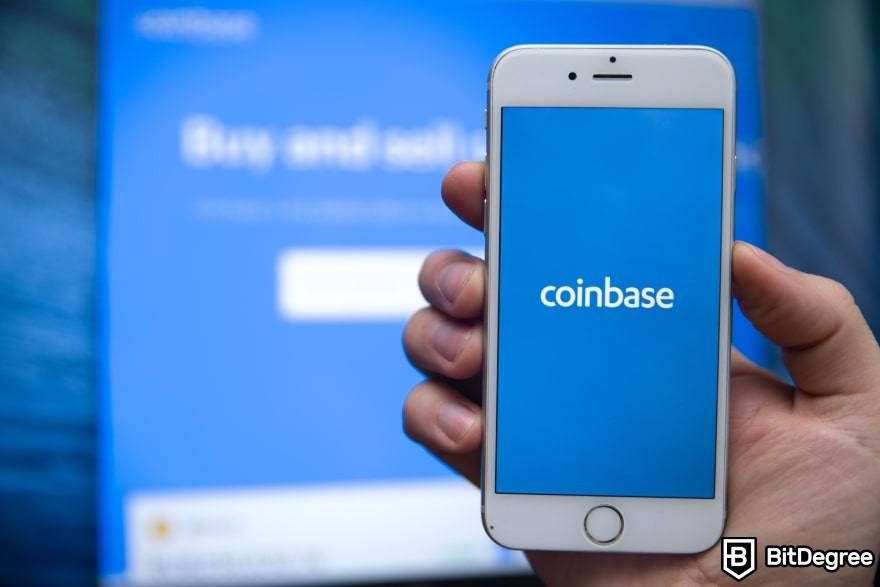 For example, crypto podcaster Cody Buffinton has a whole episode on which is better: CEXs or DEXs? This probably awakens your curiosity, right? So, do it. Try it out, change one with the other, or simply add to it. Make your trading fun and diverse.
Start a Podcast Yourself
If you think you have some exciting ideas, an original composition, or simply an enjoyable manner of talking, why not start a podcast yourself? And before you say you're inexperienced, wait!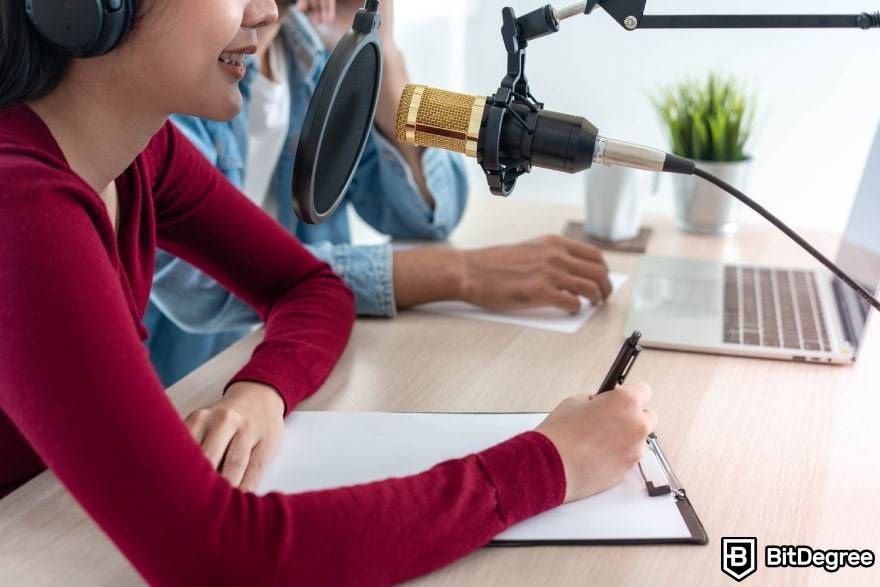 Your lack of knowledge and experience might help some listeners having trouble getting into crypto and looking for very basic, easily-explained info told step-by-step. Not to mention everything you'll learn yourself.
If you have a solid idea of what you're talking about and can even call yourself an expert, try educating those around you, and who knows? Maybe your audio blog will become among the best crypto podcasts. Get inspired!
If Podcasts Are Not For You
Not everything works for everyone, and maybe, while reading this article you couldn't manage to pick the best crypto podcasts for you. If you decide to look for other ways of educating yourself, I have a couple of suggestions.
Online Courses. There are plenty of platforms delivering content on learning how to use crypto. However, the expansive course menu might confuse you, so I'll simplify it for you.
If you go for BitDegree online classes, you are guaranteed to get coherent info, a convenient structure, filters depending on your needs and skill set, and appropriate prices.
BitDegree teachers cover topics like Crypto Basics, DeFi, Pro Trading, and many more. According to BitDegree students, it's an inexpensive way to learn a new skill.
Face-to-Face Communication. It's 2023. There are like 420 million global crypto users, some of them are bound to be people you know, right?
Depending on how you best consume information, you might want to enter a conversation about crypto with a friend or an acquaintance. Interacting with other crypto users, especially ones you know, might lead to simpler explanations and eventual understanding.
YouTube is full of tutorials, introductions, explanations, and news - so pretty much everything you'd get from a podcast. If watching a step-by-step or, let's say, an animated video is a way you like to learn, start browsing!
Books. While some people think that reading books is an outdated version of learning new things, I have to disagree! Whether e-books or hard copies, they are definitely making a comeback with new topics up the sleeve. Like, crypto!
Amazon has a whole list of Best Sellers in Cryptocurrency, but on my end, I'd like to recommend something easy-to-read, enjoyable to the eye, and highly understandable.
All Crypto From Scratch is an online Crypto 101 Beginner Handbook by BitDegree - the most convenient way to learn how to wield crypto. The information is divided in a helpful way, with chapters into sections, into subsections. Free of charge!
Conclusions
If you're thinking about learning about cryptos audibly, first, I suggest choosing a precise type of content that'd best suit your needs. Whether it may be one for beginners, advanced traders, news or interview-type ones. Only after researching the different types will you be able to choose the best crypto podcasts to learn about crypto. And once you do, remember to use it in practice!
Put your education to use by trading. Just to quickly recap, if you want to start trading, you must find an exchange platform, like Binance or Coinbase, create an account, buy a wallet, put some funds in, and start buying crypto. Though you probably know all that from the podcasts, anyway.
You can also change up or add to your current exchange platforms, invest in more crypto, and, if you're feeling particularly inspired - start your own podcast. You might love it! However, if your feelings are different…
If podcasts are not your thing, you can turn to educational platforms like BitDegree or YouTube to learn more about crypto. The same goes for books and interactions with crypto users. There are always ways to learn something!
Leave your honest feedback
Leave your genuine opinion & help thousands of people to choose the best crypto exchange. All feedback, either positive or negative, are accepted as long as they're honest. We do not publish biased feedback or spam. So if you want to share your experience, opinion or give advice - the scene is yours!