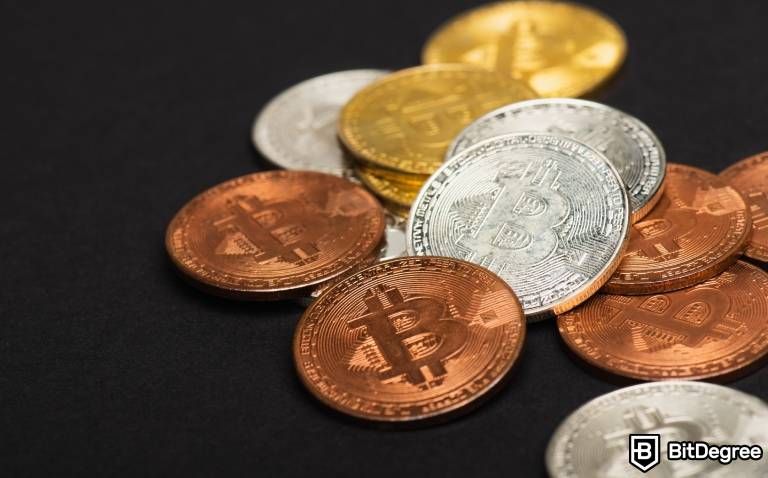 Straight off the bat, allow me to start off with a bit of an unusual introduction - there are going to be two groups of people reading this. One group is interested in .crypto domains - in other words, domain names that have the ".crypto" ending. The other group of people will probably be looking at how to buy crypto domains, in general.
Well - a warm welcome to both groups, no matter which one it is that you personally represent! In this article, we'll focus on .crypto domains - so, it's a tutorial that will mostly suit individuals from the former group.
That being said, if you're looking to buy crypto domain names, or specifically, the best places to do so, don't click away - the platform that we'll cover in this article houses a wide array of domain name endings, and since the process of acquiring different domains is often very similar, you will still receive your answers, at least to a major extent!

Did you know?
Want to get smarter & wealthier with crypto?
Subscribe - We publish new crypto explainer videos every week!
What are dApps in Crypto? (Explained with Animations)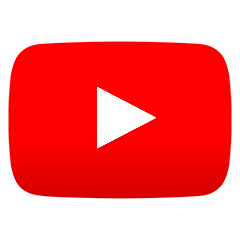 Why Buy .Crypto Domains?
Now, before we jump into the actual tutorial of how to buy crypto domains, it's important to establish a clear understanding of *why* it's a lucrative type of domains, in general.
Latest Binance Coupon Found:
CLAIM $600 BONUS
Exclusive $600 Binance Offer
Don't miss this limited-time deal that's only available for our readers. Follow the Binance referral code link & receive up to $600 in rewards and bonuses!
Expiration date: 26/03/2023
7,847 People Used
Only 49 Left
Naturally, the very first reason is kind of self-evident - personal interest. When you think about the groups of people who would want to buy an NFT domain, crypto enthusiasts and early adopters are likely going to be at the top of the list.
".crypto" domain endings are very universal. This means that, no matter what blockchain you might be a fan of, or which projects you're invested in, holding .crypto domains won't really clash with your interests, and instead, will only work to showcase that you're involved with the industry, as a whole.
This perceived universality of these domain endings is notable, since it attracts a large audience of crypto fans. The fact that the term is so simple and easily-readable definitely helps the case, as well. You could think about .eth domain endings, as an opposite concept - while they are still extremely popular, if you're a fan of, say, the Binance Chain, chances are that you're not going to stand in line to acquire an .eth domain name.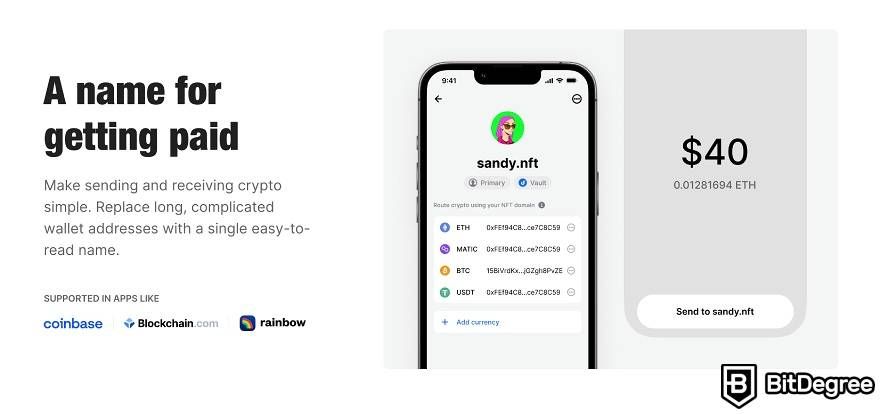 To add to this, a ".crypto" domain name is also shorter than, say, ".blockchain", but still conveys a similar message. Since shorter endings are usually perceived as more attractive, it's an element worth keeping in mind, in addition to everything I've mentioned above!
Following that, the other major reason for why you'd want to learn how to buy crypto domains would have to do with potential profits. Specifically, many people see this industry as being rather lucrative, when it comes to the potential to make a lot of money.
How does that work? Well, certain crypto domain names might be seen as a potential investment. You would purchase a domain name, and then hold on to it, for some time. Eventually, an opportunity might present itself - perhaps you've bought a domain that's called "ilove.crypto", and a company called "I Love Crypto" will reach out to you, wanting to purchase it?

There are multiple scenarios of how this could happen, but essentially, the core idea is the same - you would sell that domain for A LOT of money, much more than you've initially paid for it.
Obviously, I probably don't need to tell you that this is a majorly speculative market, and no profits are guaranteed. That said, this doesn't seem to dissuade people from still trying their luck, and acquiring multiple domain names at a time.
So… Why buy crypto domains, specifically? Well, it all really boils down to the point that I made earlier - .crypto domain names are sought-after, since they come with a cool, easily understandable ending. While far from being the only sought-after type of an ending, .crypto's universality is surely notable, even when it comes to viewing such domains as an investment vehicle!
Introducing: Unstoppable Domains
With the potential appeal of why people buy crypto domains discussed and out of the way, it's time to get into the specifics of things, and take a look at the brand that deals in these exact domain names - Unstoppable Domains.
UD is a well-known crypto domain name and wallet address registrar. I've covered the brand extensively in my dedicated review; however, for now, suffice it to say that Unstoppable Domains is one of the go-to options for anyone who wants to purchase a unique wallet address or NFT domain name.
There are a couple of things that make UD stand out from the crowd. First of all, all domain names that are available with the company come with a one-time payment - unlike some other domain name registrars, Unstoppable Domains doesn't have a subscription service. You pay once, and own the domain name / wallet address forever.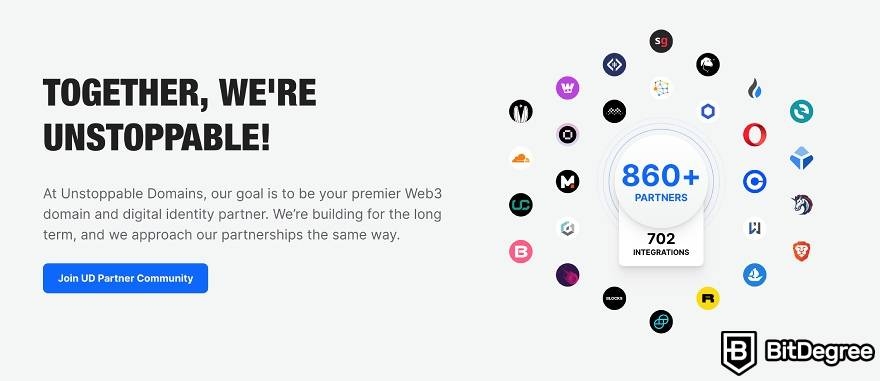 To add to that, although this is probably something that you've noticed yourself, UD domains have multiple features - they don't only serve as standalone domain names. These features include the arguably even more notable traditional wallet address substitution, Web 3.0 social profiles, and so on.
Lastly, since you're looking for .crypto domains, I probably don't need to reemphasize that UD is *the* brand that deals in them - as in, the only company that allows you to purchase .crypto domains. That said, as I've also mentioned at the beginning of this article, Unstoppable Domains has a wide selection of alternative domain name endings, as well - .xyz, .888, .blockchain, and so on.
All things considered, it's rather evident that UD is the way to go, at least when it comes to your goal to buy crypto domain names. With that out of the way, we can move on to the actual domain acquisition process - let's see just how simple it is to purchase your first crypto domain name, shall we?
How to Buy Crypto Domains?
If you'd like to check out a broader explanation of UD (how it works, how you can start using it, and so on), I do have a tutorial on the topic, as well. Here, though, we'll concentrate on the one, single goal in question - acquiring a domain ".crypto" ending.
Note, though, that the process would look almost entirely the same with any other domain ending that you'd like to purchase, as well.
Step 1: Navigate to the official website of Unstoppable Domains. Here, at the top-right corner of the screen, you will see a "Sign Up / Log In" button - click it.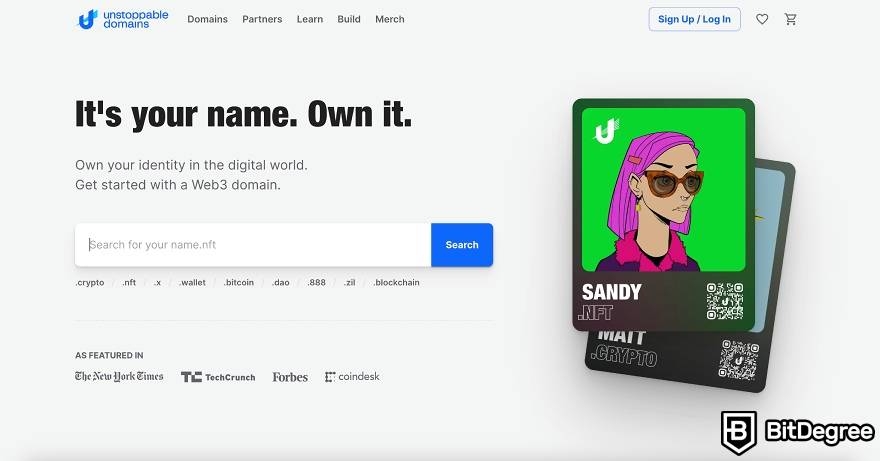 Step 2: You'll have the option to sign in with either an email address, or a non-custodial crypto wallet (meaning, you won't be able to sign in with, say, a Binance wallet, since it would have to be a dedicated, non-exchange crypto storage option).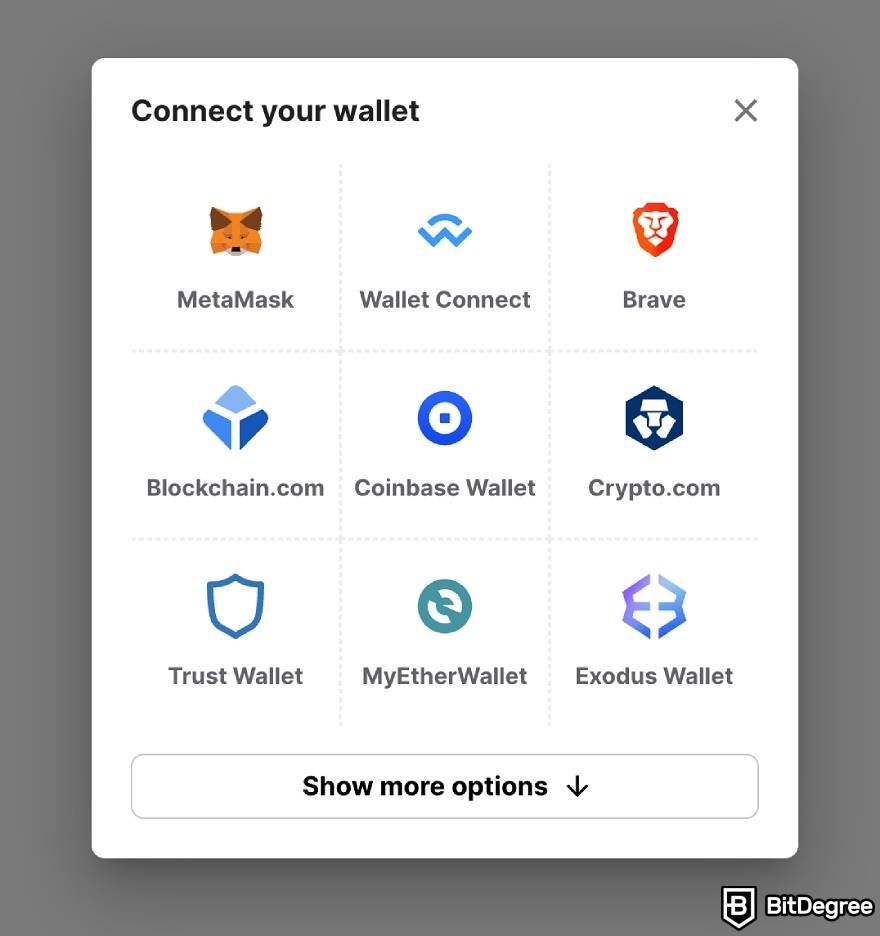 Since we're going to buy .crypto domains, and crypto is at the core of Web 3.0, I'll be taking the wallet route - you may choose to sign in via your preferred method, however.
Step 3: After you sign in to the site, you'll be redirected to the homepage. Here, right in front of you, there's a search bar - this is where you need to type in your preferred domain name. Once done, press "Enter".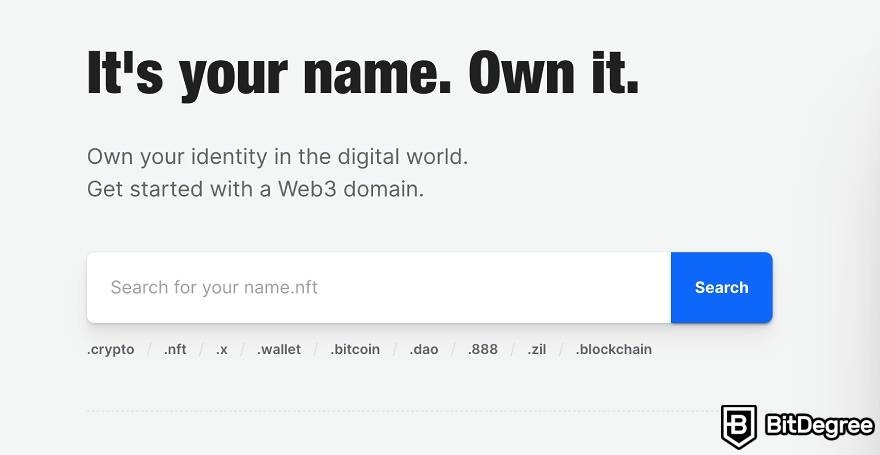 Step 4: On the new page that opens up, you can see a wide array of different variations of your chosen domain name. While ".coin" domain ending isn't available with UD anymore, there's a significant number of alternative endings available - let's focus on ".crypto", though.
Scrolling down a bit, you'll be able to select "crypto" domains from the dropdown menu, and see all of the available alternatives of your chosen domain, as well as their pricing options.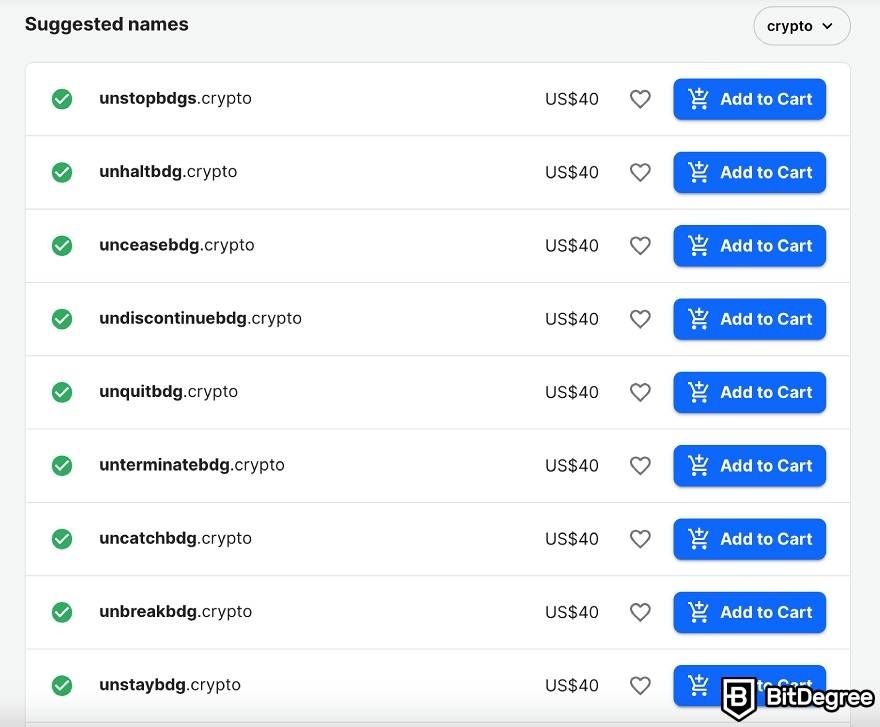 This is actually a good time to talk about the prices, in general.
If you plan to buy crypto domains, you'll need to set up a budget, beforehand. No matter if you're going to purchase a single domain, or multiple ones, the prices for the NFT assets can range really heavily.
You don't even need to look far to see this - the list above contains some very decent prices, due to the fact that the term I've chosen as an example isn't exactly very "sough-after". However, all that you need to do to see how high the prices can go is to enter a "normal" term into the search bar - take the word "lovely", as an example.
Suddenly, the prices skyrocket to tens of thousands of dollars! And these aren't even "premium" domains available from Unstoppable Domains, either - these can reach up to and over $100.000,00!
So, once again, allow me to reiterate - if you're looking to buy .crypto domain names, you really need to set your expectations right, and manage your budget, accordingly.
Step 5: Once you've picked the domain name(s) that you want to acquire, you may proceed to your cart, and view the available payment options.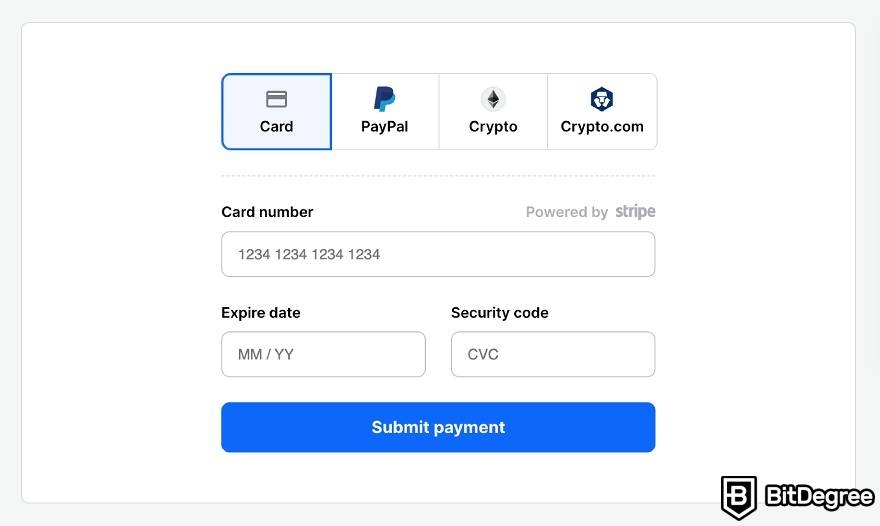 In total, there are four different ways of how you can pay for your domain crypto wallet addresses:
Credit / debit card
PayPal
Crypto
Crypto.com
The first two options represent the traditional, centralized payment methods (as well as the fourth one, to an extent). Buying .crypto domains via fiat payment methods, the entire process is going to be super-quick, as well as very simple to deal with.
That being said, it all kind of boils down to how much you value decentralization and anonymity, in regards to your NFT domain name acquisition process. If you want to retain complete anonymity, and have signed into Unstoppable Domains with your crypto wallet, chances are that going the crypto payment route would make more sense.
On the flip side, if you want to buy .crypto domains with as little of a hassle as possible, and aren't too concerned with revealing your identity, then the traditional payment methods will surely suffice.
For the sake of this tutorial, though, I'll be taking the crypto payment route.
Step 6: In order to pay for your brand new domain crypto wallet address, you'll need to have two things - a dedicated crypto wallet, as well as some Ether within that wallet. While there are multiple different wallets that you can use, I'd recommend going the MetaMask route.
Now, the "difficult" part here is that you'll need to perform the payment manually - in other words, copy-paste the information given to you by Unstoppable Domains, into your wallet's transactional window.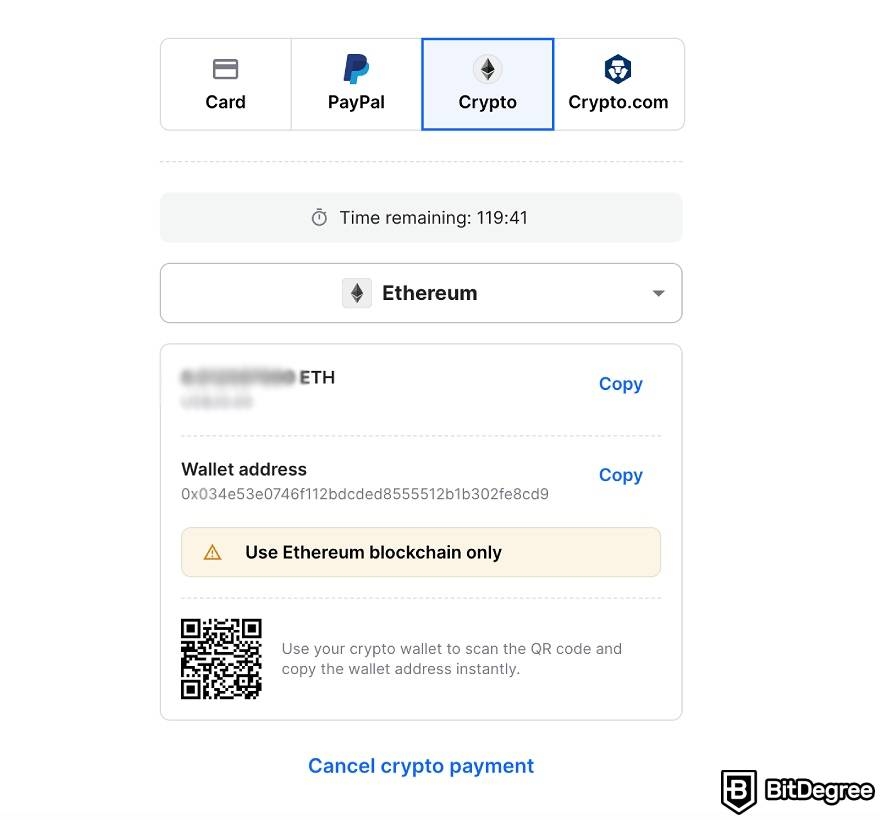 It really is nothing difficult, however - instead, if this is one of your first times transacting with crypto, it can seem a bit intimidating, but in general, there are only two pieces of information that you'd need to copy and paste (receiving wallet address, as well as the amount of ETH sent).
Enthusiasts interested in how to buy crypto domains should also note that, when you enter the crypto payment, your domain name of choice will be reserved for one hour. This way, no one else will be able to snipe it, and once Unstoppable Domains receive the payment, they will know that it came from you.
Step 7: After confirming the payment on your wallet, you'll need to wait a couple of minutes for it to go through. Afterwards, however, you should see a screen like this: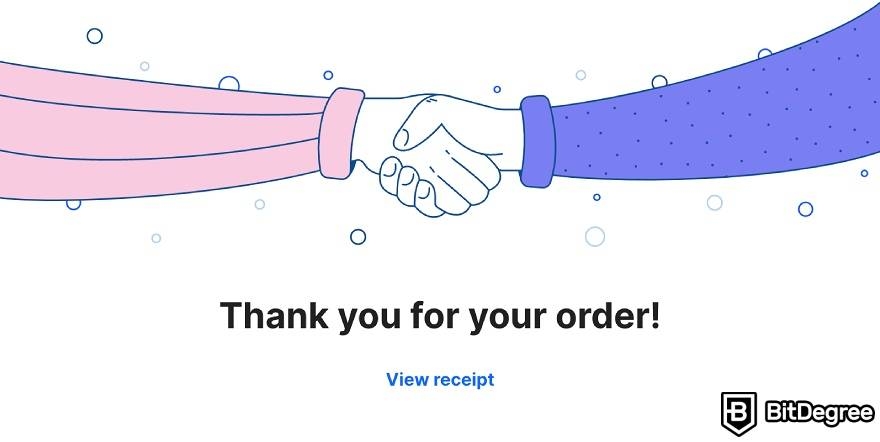 Congratulations - you have just bought your first crypto domain! You can view it by clicking "My Domains", at the bottom of the page.
This purchase is just half of the process, however - your NFT still needs to be minted.
How to Mint Your Crypto Domain?
As we've established by now, crypto domains (both general, as well as those that end with ".crypto") come in the form of NFTs - non-fungible tokens. This way, their ownership is provable and fair, and completely self-custodial, as well.
It does, however, also mean that there's a bit more involved, when it comes to the process of crypto domain name acquisition. It's not enough to simply purchase your domain - it also needs to be minted on the blockchain, as well.
Step 1: First, you'll want to navigate to the "My Domains" section of the Unstoppable Domains official website. You can do so either via the same page mentioned earlier, or if you go to your "Account" tab at the top-right corner of the screen.

Here, you will find all of your domains. As you can probably see, there's a button "Free Mint" - click it.
Step 2: A popup will appear, explaining why the NFT mint is going to be free. The gist of things is that, as you buy crypto domain names, Unstoppable Domains will cover the minting costs, and the process will take place on the Polygon network (a Layer-2 scaling solution for Ethereum).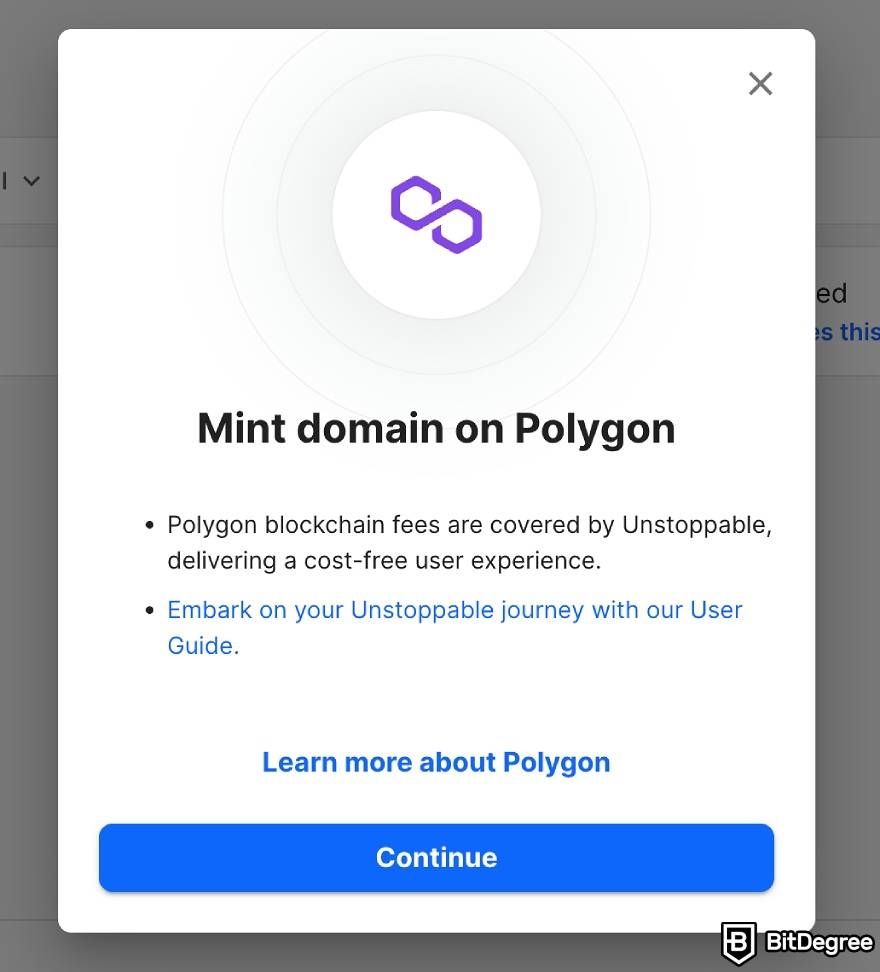 Granted that Polygon has free NFT minting functionality, this is great news for all parties involved!
Step 3: You will now be asked to choose the wallet that you want the NFT to be minted on - by default, it's going to be the same wallet that's connected to the UD website. Make sure that you think this through, and that you're OK with the NFT-receiving wallet - once the mint is engaged, there's no way to roll it back.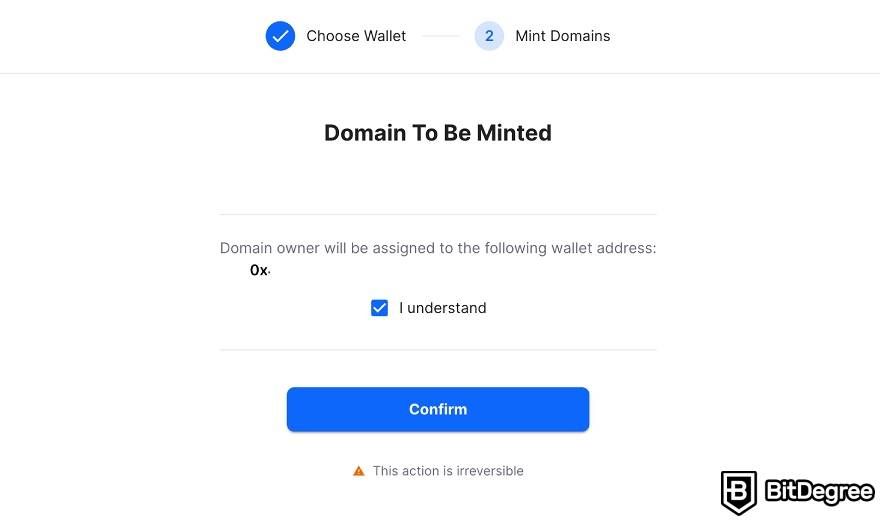 Step 4: Once you commence the minting process, you'll need to be patient, and wait for up to a few minutes for the transaction to be completed. You can go back to your "My Domains" section, and check to see what status your mint is currently in.

After a couple of minutes, though, the mint should be completed successfully, and you are now officially an owner of a .crypto domain!
You've Got Your Domain… What Now?
So, then - what's next? What can you do with your domain, and what would be the next logical step to take?
Well, to be frank - the world's your oyster! You can do absolutely nothing, just keep your domain, and be proud of the fact that you own one, in general.
On the flip side, you could also list the NFT domain for sale, and simply auction it off - platforms such as OpenSea surely attract domain collectors, as well as individuals who are looking at how to buy crypto domains, for the very first time.
One thing that you *can* do, right now, is explore your profile section, on Unstoppable Domains. While it wasn't exactly relevant in any way while you still didn't have a domain, now, the situation is quite different - there's a lot to be customized here!
For starters, you can create an actual profile, in general - fill out your name, bio, social links, and other relevant information about yourself.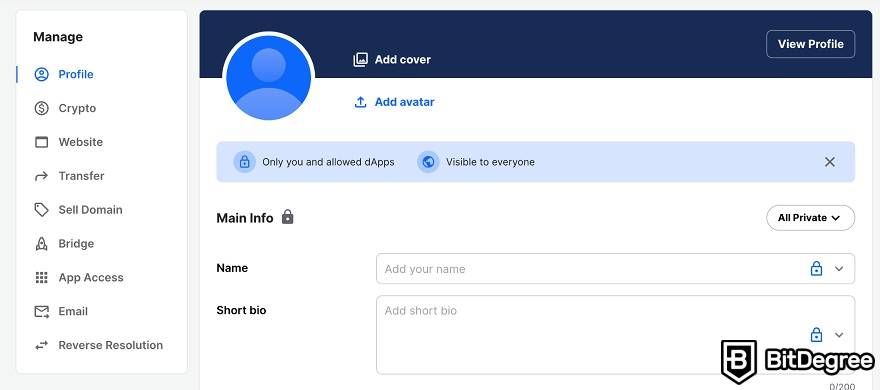 Then, if you plan to use the crypto domain yourself, as a wallet address, you may choose to associate other wallets with this custom domain name that you have. So, for example, you could add BTC, ADA, and a few other wallets to Unstoppable Domains - then, whenever someone wants to send you funds to any of those wallets, they can simply enter your custom domain name in the "recipient" field, instead of the full wallet address!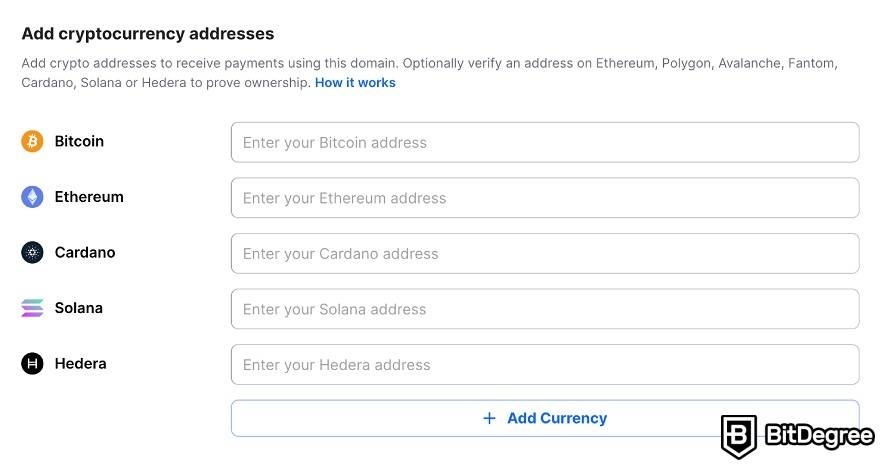 Next up, a very interesting feature - creating a website of your own! Since crypto domains act as *actual* domain names, Unstoppable Domains allows you to create a static website, hosted on IPFS, straight from their dashboard. Depending on what it is that you're planning to do with your domain name, in the long run, this is actually a super-cool feature!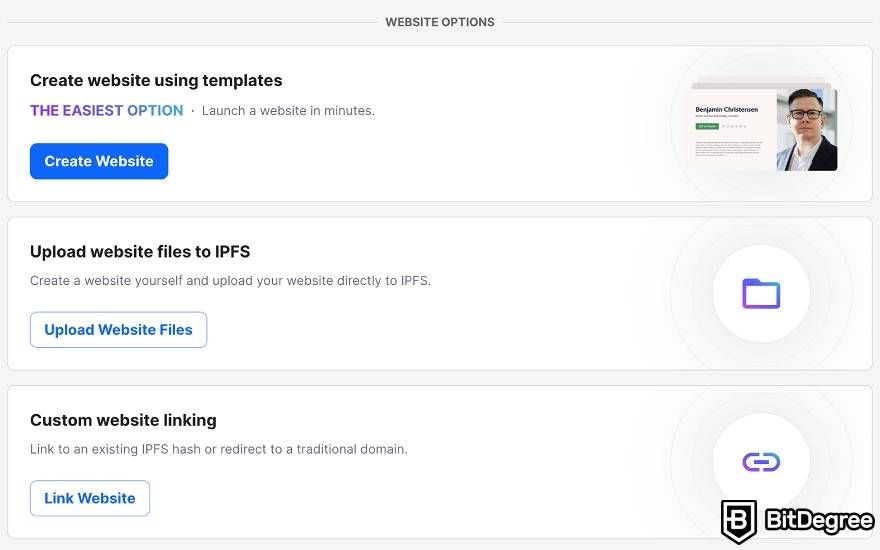 While there's quite a bit of additional functionality to explore with the dashboard alone, I'd like to point your attention to one, specific section - the one titled "Bridge".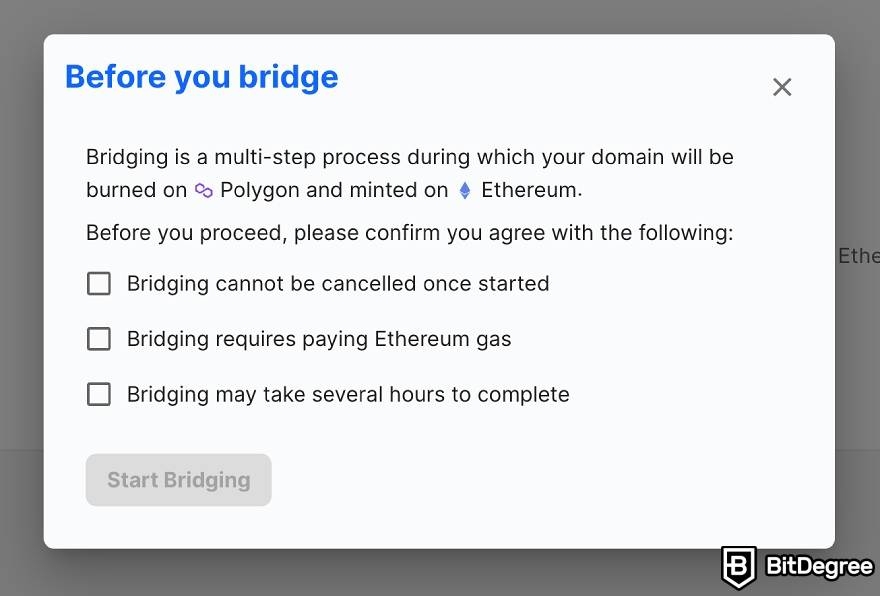 Here, you are able to burn your NFT on the Polygon network, and transfer it to Ethereum. Evidently, you could ask - what's the purpose of doing so? That's a fair question - if you buy crypto domains via the default Polygon network, you do also probably know that minting an NFT on Ethereum will come with additional fees, and it's considered by many to be inefficient, as well.
Even when you enter the bridging interface itself, it will tell you that you will need ETH gas in order to complete the bridging, as well as that the entire process could take up to a few hours. So, once again - why would you do something like this?
Well, the answer is actually pretty simple - because the vast majority of NFTs, to this day, reside on the Ethereum blockchain (the mainnet).
For one, this is a very important aspect to consider when you're actually trying to sell your NFT domain. Chances are that you'll find quite a few more potential buyers on Ethereum, rather than Polygon, due to the fact that, even now, crypto enthusiasts are more accustomed to the former network.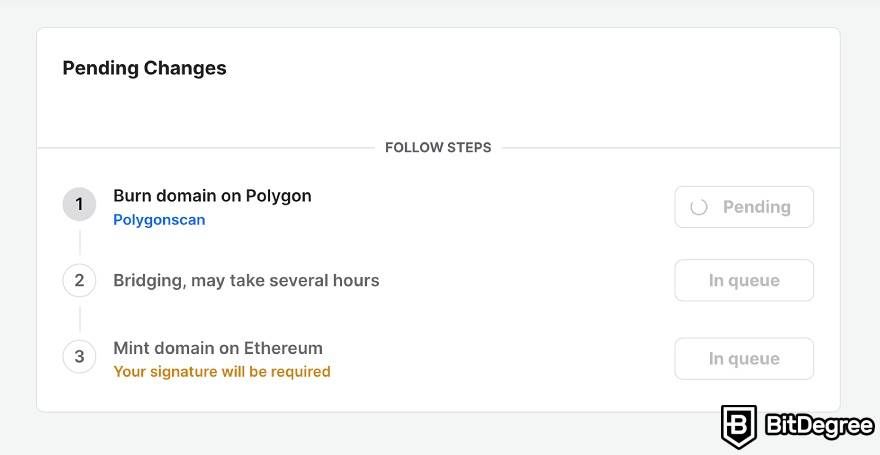 Furthermore, having your crypto domain on ETH allows for more flexibility, as well. Whether it be transacting with different dApps, or simply setting your default network, chances are that it's going to be beneficial, in the long run.
Thankfully, bridging your domain name via Unstoppable Domains isn't at all a difficult process to partake in. Once you read through and agree with all of the concepts mentioned in the popup, you can continue with the bridging process.
The bridging will happen in three stages - first, the NFT residing on the Polygon network will be burned. Then, it will be bridged onto the Ethereum blockchain, where the new mint will happen.
The fees can vary depending on a few different factors (i.e. network congestion), but in general, they shouldn't be too big - this is especially true after ETH transitioned to Proof-of-Stake, during the Merge event.
A Word About ".coin" Domains
Now, with all of that being said and done, before I let you go, there's one more thing I'd like to cover - it has to do with ".coin" domains.
If you've been around the crypto space for a while, you've probably heard about Unstoppable Domains offering coin domains to its customers. However, looking at the platform now, there doesn't seem to be an ending like this available - what happened?
It's a pretty interesting situation, really. ".coin" domain names were first offered by Emercoin - one of the veteran crypto domain name registrars on the market. When Unstoppable Domains started offering this domain name ending, they were not aware of the above-mentioned fact.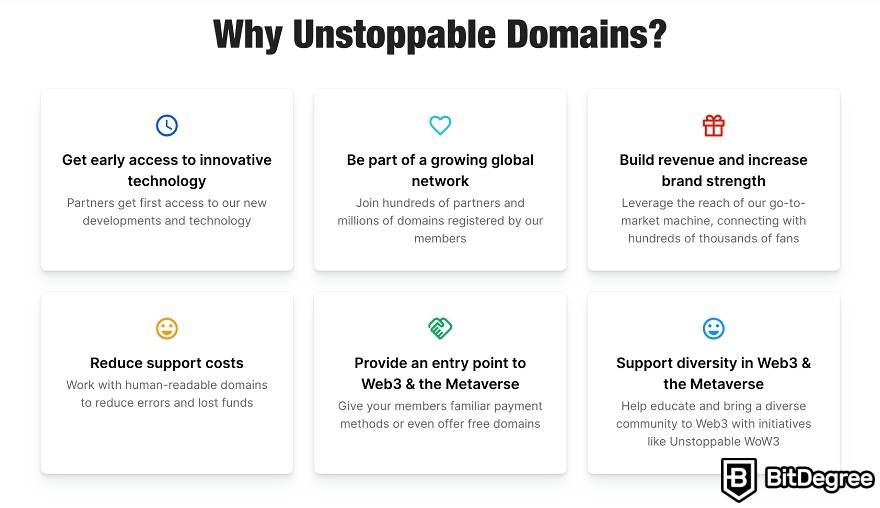 As soon as UD became aware of this, however, they did the right thing - discontinued their coin domain name offering, and issued a callback to all buyers, offering three times the compensation that they paid for their domain name, initially. Following that, Unstoppable Domains doesn't support this domain name ending anymore.
Naturally, if you're looking at how to buy crypto domains, this isn't necessarily very relevant to your situation. On the flip side, if you're open to acquiring different domain names, it's a good idea to keep in mind all of the information that I've mentioned above!
Conclusions
So, let's wrap things up with a bit of a refresher on the key points that we've covered in this "How to Buy Crypto Domains?" tutorial.
First and foremost, whether you're looking for .crypto domain names, or crypto NFT domains and wallet addresses, in general, you should be aware of two major reasons why this field is as appealing as it is - personal interests in technological innovation, as well as potential profits from a lucrative field of speculative investments.
Or, in other words - you'd either want to have a fancy, custom wallet address and Web 3.0 domain name, or potentially make a lot of money flipping that domain (selling it for much more than you've initially bought it for).
No matter which camp you fall into, your best bet is to use the services of a reliable and well-established crypto domain name registrar, such as Unstoppable Domains. If you're looking for .crypto domains, specifically, this is kind of your only option, to begin with!
Unstoppable Domains is a very well-known and respected brand in the space. It offers clients a very straightforward domain acquisition process, equipped with a one-time payment and fee-less NFT minting on the Polygon network. On top of that, you will also have the option to customize your social profile, and start your journey into Web 3.0, straight from the Unstoppable Domains dashboard!
That said, if you'd like to learn more about Unstoppable Domains, make sure to check out my dedicated articles on the company in question - specifically, their review, as well as a tutorial of how to use UD, in general. The information provided in those articles will surely help you understand how to buy crypto domains, much faster!
Thanks for reading, and until next time!
Leave your honest feedback
Leave your genuine opinion & help thousands of people to choose the best crypto exchange. All feedback, either positive or negative, are accepted as long as they're honest. We do not publish biased feedback or spam. So if you want to share your experience, opinion or give advice - the scene is yours!