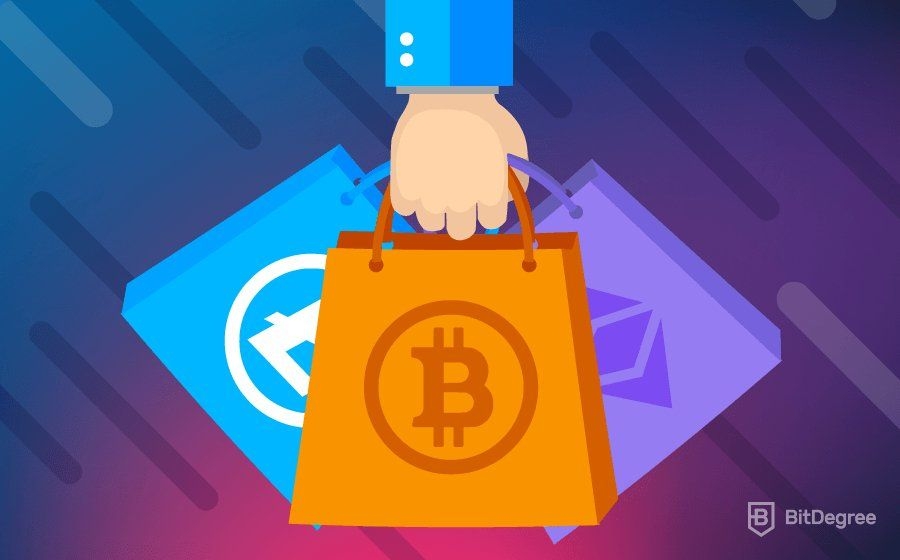 So, you've decided to invest in cryptocurrency. This means that you're probably wondering – how to buy cryptocurrency? However, you're confused and don't know where to start. With so many options available, it can be difficult to choose the best option for you. Plus, there are lots of things you need to think about before actually making any purchases.
Learning how to buy cryptocurrency is definitely a confusing process for some. It doesn't have to be, though. In this guide, I'll give you answers to any questions you might have. How to buy cryptocurrency using USD, EUR, and GBP? What is the best way to buy cryptocurrency? Can I buy cryptocurrency using a credit card? Find answers to these and many more questions below!
By the end of this guide, you'll know exactly how to buy crypto and where you should go to do it (i.e. crypto exchanges, such as Binance, Coinbase, or Bybit). So, let's get started!

Did you know?
Want to get smarter & wealthier with crypto?
Subscribe - We publish new crypto explainer videos every week!
What is Polkadot in Crypto? (DOT Animated Explainer)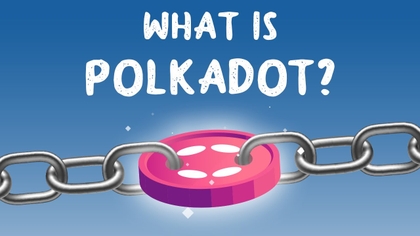 How to Buy Cryptocurrency?
The process of buying and selling cryptocurrency is actually not as hard as it may seem. You mainly have to go over these steps:
Step 1: Choose a platform for buying crypto. Overall, there are three main options:
Crypto exchanges (the most popular way to buy crypto);
Brokerages (these are investment platforms that interact with exchanges on your behalf. Besides, they also allow purchasing ETFs, bonds, stocks, and so on);
Alternative ways (this includes using platforms like P2P exchanges, crypto ATMs, investing in crypto companies, and so on).
Step 2: Let's say you chose a crypto exchange or a brokerage (I'll discuss alternative platforms later). Now, you must create an account on your chosen platform. After doing that, you have to fund your account with cash. Different platforms offer different methods for doing that. The most popular, however, is using your credit / debit card.
Step 3: Now that you have the platform for buying crypto and the cash, it's time to place your crypto order. There is usually a huge variety of crypto assets to choose from. Besides, note that different platforms might have slightly different ways of purchasing crypto.
Step 4: Once you buy crypto, you have to choose a storage method. For one, you can leave the asset in the crypto exchange you bought it from, as they usually have built-it crypto wallets. While it's convenient, it might not be the best option in terms of safety. So, you should consider transferring your crypto to a crypto wallet.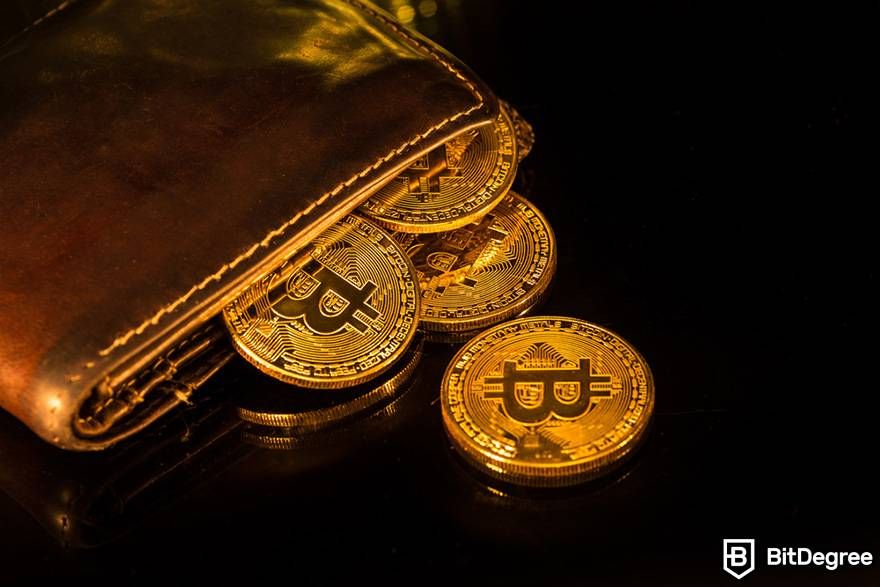 Now, let me introduce you to all the key things you should know about. You can compare a cryptocurrency wallet with your bank account. In the same way that you store traditional currencies(USD, JPY, EUR etc.) in your bank account, you will store your cryptocurrencies in your crypto wallet.
There are a lot of easy-to-use and safe options to choose from. However, it is crucial that you select a wallet with a high level of security. Why? Because if someone steals crypto from your wallet, there is no way to get it back.
There are three types of wallets:
The wallet you need will depend on which cryptocurrency you want to buy. If you buy Bitcoin, for example, you'll need a wallet that can store Bitcoin. If you buy Litecoin, you'll need a wallet that can store Litecoin.
Luckily, there are a lot of good wallets to choose from that can store multiple cryptocurrencies. Exodus, for example, is a software wallet that can store Bitcoin, Ethereum, Litecoin, Dash, EOS, and more!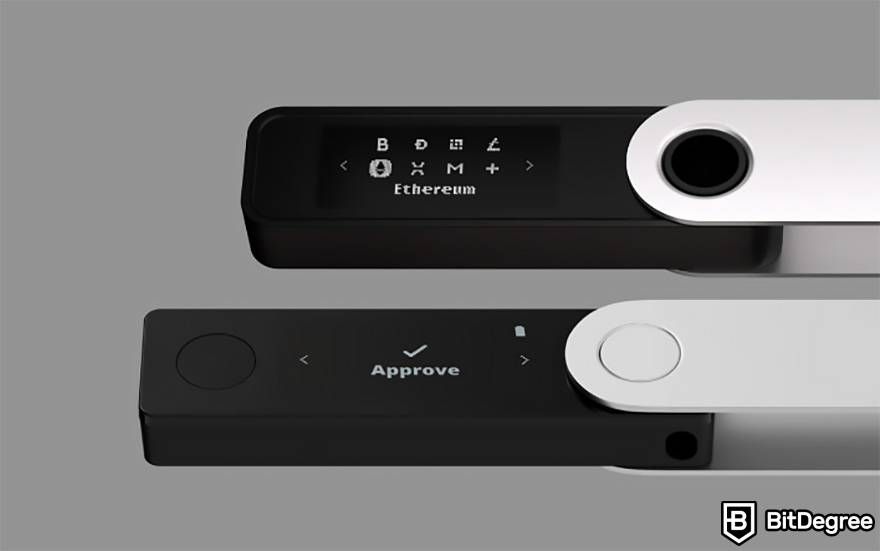 As for hardware wallets, I recommend Ledger Nano X. It is super-safe (because it is only connected to the internet when it is plugged into your computer) and costs around $149. It stores NEO, Bitcoin, Ethereum, Bitcoin Cash, and many more!
Now that you know where you're going to store your cryptocurrency, also note that there are five important factors that you must think about before buying cryptocurrency:
Location. Before finding out how and where you can buy cryptocurrency, it's important to first check your country's regulations regarding crypto trading. You must make sure that it's legal, as well as find out what kind of taxes you'll need to pay.
Payment Method. Different platforms accept different payment methods. So, you'll need to choose a platform that accepts the payment method you want to use. The most common and accepted payment methods to buy cryptocurrency include credit or debit cards, bank transfers, and even cash.

Type of Cryptocurrency.

Not all cryptocurrencies are available for purchase on every platform. So, if you want to buy some specific crypto asset, you'll have to find a website that sells that cryptocurrency.
Cost of Fees. Each platform has different fees. Some are low, some are not so low. Thus, make sure you know how much the platform charges before setting up an account on any website. I'm sure you don't want to waste your time verifying yourself and then find out the fees are too high!
How Much You Can Afford. As with any investment, you should never invest more than you can afford. I recommend speaking to a financial adviser first.
So, with those 5 factors in mind, we can move on. The next step is to find out which is the best place to buy a cryptocurrency and how to pay for it.
Where to Buy Cryptocurrency: The Most Popular Way
To learn how to buy cryptocurrency, you'll first need to know where to buy cryptocurrency. Just a few years ago, there were only a few places to buy and sell cryptocurrencies. Now, there are a lot more! The most popular, however, is buying crypto from cryptocurrency exchanges.
Cryptocurrency exchanges are online websites that let you exchange your local currency for cryptocurrency. Cryptocurrency exchange websites are especially convenient for newbies as they are easy-to-use and quick to set up.
Payment Method: Most crypto exchanges accept payment by bank transfer or credit card, while some of them also accept PayPal, Google/Apple Pay, SEPA, and so on.
There are a lot of exchanges for you to choose from. Each one of them has different levels of security, and they each accept different types of payment methods. Besides, note that most exchanges will require you to follow specific steps before you can start buying cryptocurrency.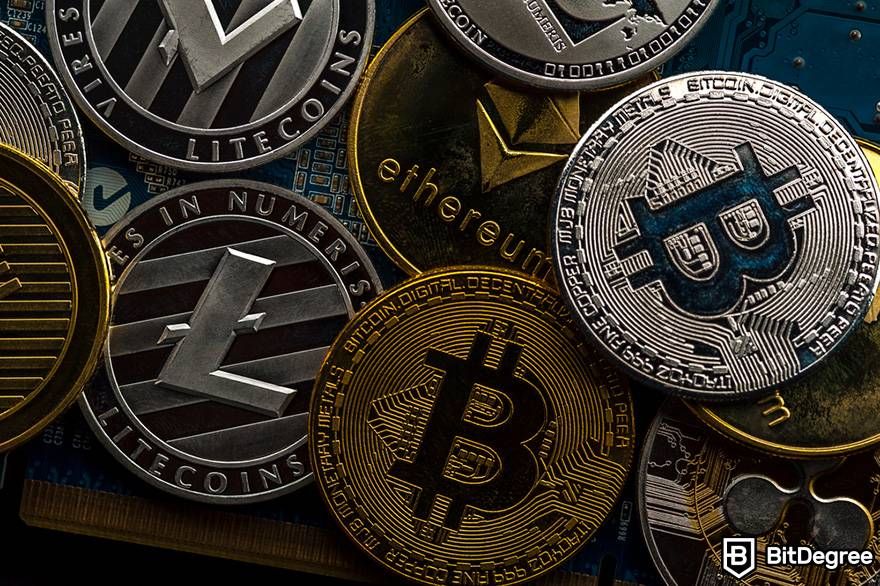 Firstly, you'll have to register and provide your personal information. This includes your full name, email address, cell phone number, and so on. Then, you'll have to pass KYC, or, in other words, verify your identity. For doing that you normally need a passport or a driving license. Lastly, you'll be asked to set up Two-Factor Authentication to secure your account.
Once your account is set up, you can start buying cryptocurrency on the exchange. Most exchanges are just like stock-trading platforms. They allow you to buy and hold your cryptocurrency, or you can exchange it for another cryptocurrency.
Note: Almost all exchanges charge a transaction fee of around 1-4%.
You must be careful when selecting a cryptocurrency exchange though. You should only make your decision after evaluating the following factors:
Check the security of the exchange. This is the most important thing you need to consider. In the past, numerous investors have lost a lot of money on different exchanges as a result of hacks that happened due to the lack of security.
Transaction fees. There's not much explanation needed here – the lower, the better.
The number of payment options available. Do they accept bank transfers, credit cards, PayPal, etc.?
The amount of time it takes to activate your account. If you're in a hurry, you might not want to wait a long time to get verified!
The variety of crypto assets offered. For example, if you want to buy the NEO coin, then you need to be sure that the exchange you choose sells the NEO coin.
User reviews related to the exchange. This will give you a good idea of how user-friendly the exchange is.
So, now that you know the key things about buying crypto from cryptocurrency exchanges, let me introduce you to some of the best exchanges!
Best Cryptocurrency Exchanges
Cryptocurrency exchanges are like the currency exchange shops that you find at airports. However, instead of exchanging different local currencies with each other (such as YEN to USD), you can exchange your local currency for cryptocurrencies. It's the simplest way to buy cryptocurrency — it can even be done from your cell phone!
Binance
Binance is one of the leading cryptocurrency exchanges, globally. It's a very well-known and respected platform in the space, as it provides its clients with a huge array of crypto ecosystem-native features and benefits – crypto trading, an NFT marketplace, a P2P exchange, and so on.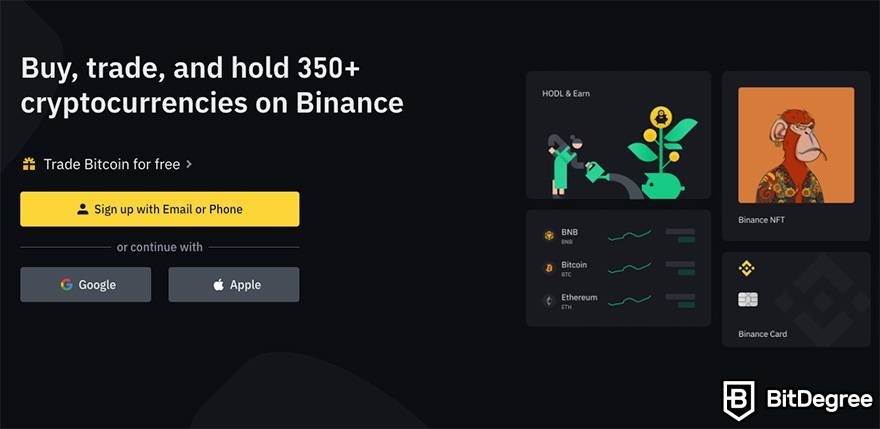 Binance is also very approachable and it complies with all of the relevant KYC and AML policies. If you're looking at how to buy cryptocurrency for the first time, the platform in question should definitely be at the top of your list.
You can buy crypto on Binance through bank transfers, credit / debit cards, P2P trading, and using your cash balance. The fees charged by Binance go up to 3.75% for debit card payments.
Binance supports a large selection of different crypto coins and tokens.
Coinbase
Coinbase is one of the most popular cryptocurrency broker exchanges. It is a secure exchnage that accepts bank transfers, credit / debit cards, PayPal, and Apple / Google Play. The fees charged depend on which payment method you choose, so be sure to check before you pay! Card fees are the highest at 3.99%.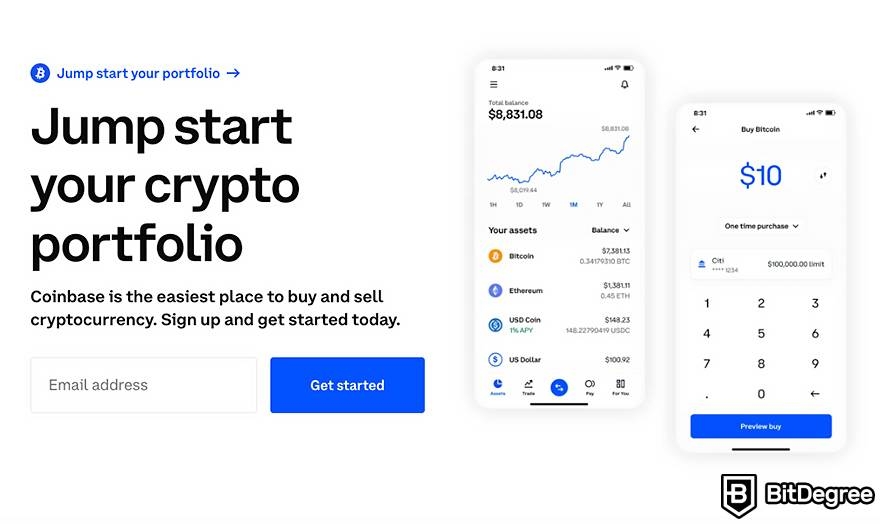 If you live in Asia, Africa, or South America, and worry if you'd be able to use Coinbase, rest assured - it's available. It's also available in Europe, Australia, as well as North and Central America.
You should also note that Coinbase is especially great for beginners. It offers good customer service and an interface that is simple to use.
You can buy Bitcoin, Ether, Litecoin, Bitcoin Cash, and other cryptocurrencies on Coinbase.
Bybit
Bybit is not only a regular crypto trading platform but also one of the biggest derivates exchanges. It has a variety of crypto and derivatives trading options, as well as other tools that are very useful for both – beginners and experienced traders.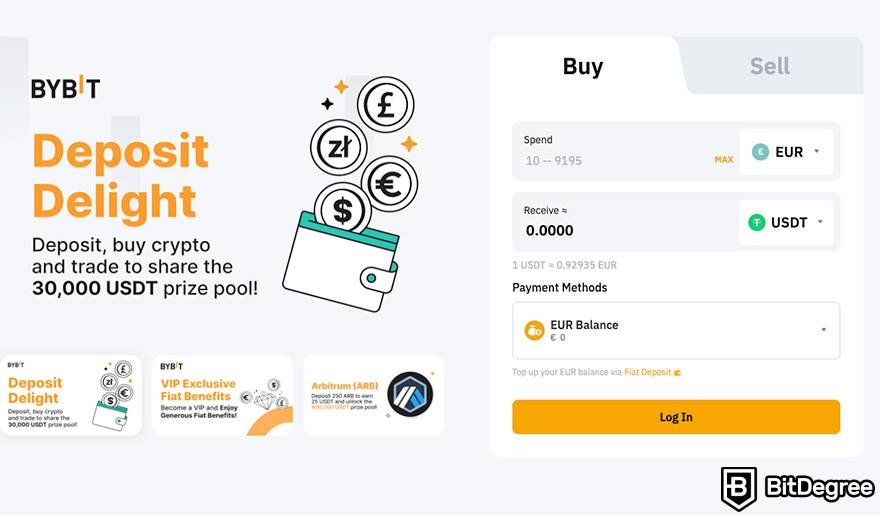 However, talking about buying cryptocurrency, it's also a great option because it offers more than one way to do that. You can buy crypto using your bank card, Google Play, or SEPA. Also, you can deposit crypto or fiat into Bybit, and then use that balance to buy crypto. Besides that, it also offers P2P trading that allows purchasing crypto with zero fees!
As for the fees charged for buying crypto with credit / debit cards, Bybit charges up to 3.05% based on the card issuing region and card scheme.
You can buy Bitcoin, Ether, Ripple, Tether, and a variety of other cryptocurrencies on Bybit.

Did you know?
Want to get smarter & wealthier with crypto?
Subscribe - We publish new crypto explainer videos every week!
What is Cardano in Crypto? (Easily Explained!)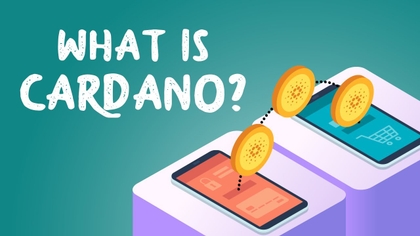 Coinmama
The biggest advantage of Coinmama is that it allows customers from almost any country to buy and sell cryptocurrency. It's also easy to use and highly trusted — how could it not be, it was founded in 2013!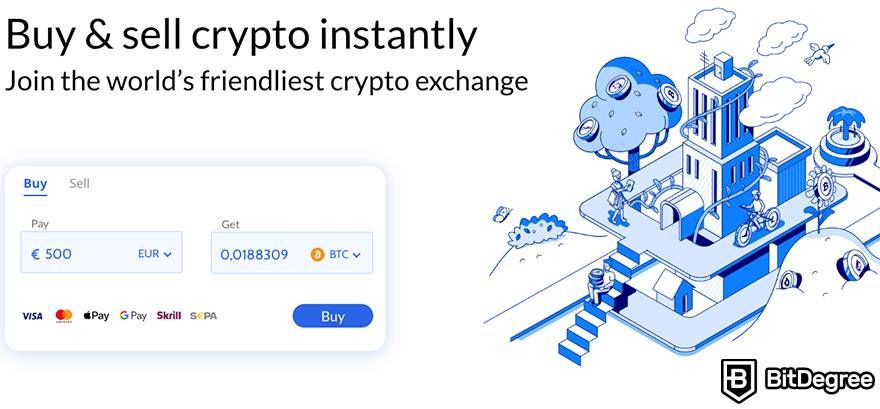 It does allow you to use a credit card as your payment method. For this payment method, Coinmama charges a commission fee from 0.99% to 3.90% and an additional express fee. That's somewhat similar, or in some cases even smaller, than the 3.99% that Coinbase charges!
Besides that, Coinmama supports other payment methods – Apple and Google Play, Skrill, and SEPA. The fees for these methods also include the same commission fees and additional express fees.
Lastly, note that, as well as being available in almost every country, Coinmama has another big advantage – it accepts every local currency!
You can buy Bitcoin, Ether, Ripple, and other cryptocurrencies on Coinmama.
CEX.IO
CEX.IO is easy to use and very secure, just like Coinbase and Coinmama! The best thing about CEX.IO is that it is also a trading exchange. This means that, once you have bought your crypto, you can trade it for other cryptos by buying and selling it to other people on CEX.IO. You can also use it to earn additional income through staking or lending.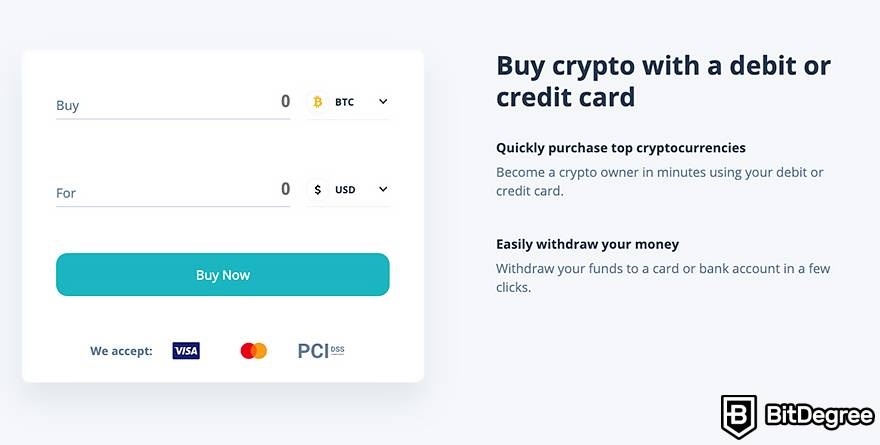 Another thing that makes CEX.IO great is the fact it accepts such popular fiat currencies as USD, EUR, and GBP! Also, it allows such payment methods as debit / credit cards, PayPal, Google/Apple Pay, S.W.I.F.T., SEPA, Skrill, and so on.
The fees on CEX.IO differ based on the payment method. However, for debit / credit cards, they usually go from 2.99% to 3.99% + service charge (varies based on provider and country).
You can buy Bitcoin, Ethereum, DASH, and other cryptocurrencies on CEX.IO.
Bitstamp
Founded in 2011, Bitstamp is one of the oldest cryptocurrency exchanges. However, it supports fewer cryptocurrencies than Binance or Coinbase. As for the supported payment methods, it accepts bank transfers, credit / debit cards, PayPal, and Apple / Google Pay with EUR, USD, and GBP.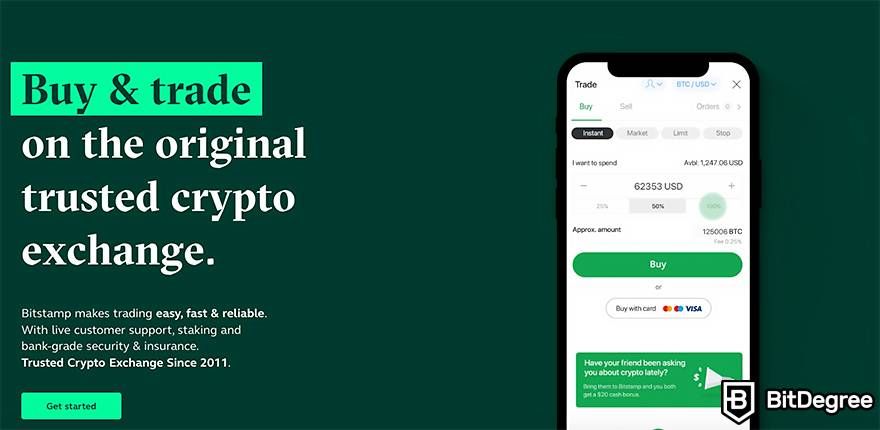 This crypto exchange might not be the best for total beginners, though, as it isn't as easy to use as Coinbase or Coinmama. Also, it charges pretty high fees for making instant purchases – a 4% fee + any additional fees charged by your card issuer. This is surely higher than the fees charged by other exchanges like Binance or Bybit.
However, Bitstamp is surely worth looking into due to its strong security measures. Besides that, it has a professional and reliable reputation established through many years of experience.
You can buy Bitcoin, Ether, Litecoin, Bitcoin Cash, Ripple, and other cryptocurrencies on Bitstamp.
Kriptomat
Last but not least, an exchange that is somewhat younger than the aforementioned exchanges, yet shows great potential. Kriptomat was launched in 2018 and is the second youngest crypto exchange on our list (right after Bybit).
Their main operation hub is in Slovenia, but the company is actually located in Estonia. This is the case because Estonia is one of the few countries that have the necessary legal framework. Besides, they have already started regulating digital currencies by introducing licenses for Crypto Exchanges and Crypto Wallets.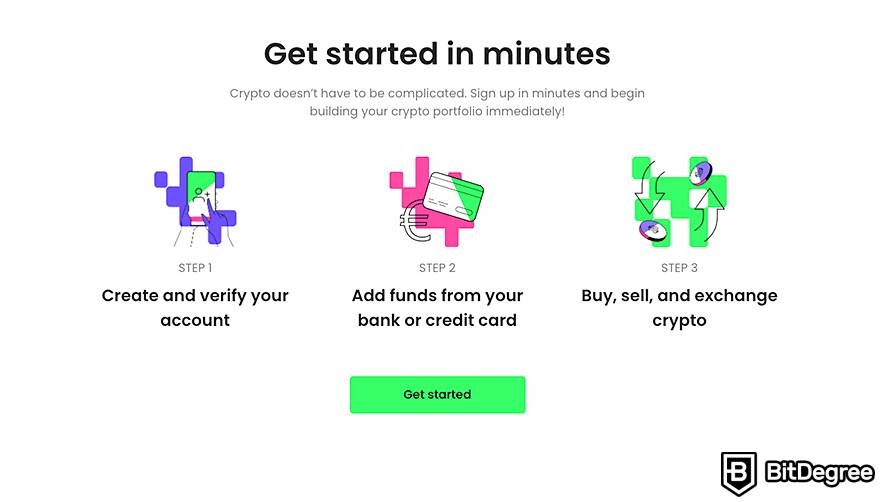 Kriptomat aims to offer the safest fiat gateway into the world of cryptocurrencies, and has already acquired operating licenses from the Financial Intelligence Unit, the Estonian Anti-Money Laundering (AML) authority.
Having strict regulations means that users have to go through a vigorous process of identity verification. Yet, this process is very simple on Kriptomat, and takes only 5 minutes of your time to upload all the necessary documents.
In some countries, you can even do it via mobile!
Kriptomat's buy / sell fees differ based on the transaction type. They go from 0.45% for buying crypto with Euros to 4.35% for using Skrill and Neteller. Besides, there are no extra fees to withdraw / send crypto.
Additionally, note that Kriptomat supports 22 languages and provides fast and reliable customer support.
You can trade Bitcoin, Ether, and other cryptocurrencies on Kriptomat.
So, there you have a good list to start with when trying to decide which exchange is right for you. Though, keep in mind that the best way to buy cryptocurrency using crypto exchanges will depend on many things — especially your location.
Also, always make sure that the crypto assets you want to buy are available on the exchange you choose, and that you are happy with the level of security the exchange offers.
Now, there's something you should know: buying cryptocurrencies on crypto brokers and exchanges (like Binance, Coinmama, CEX.IO, etc.) is not the only way you can buy crypto with your local currency. There is a variety of alternative ways to buy crypto.
Alternative Ways to Buy Cryptocurrency
As I mentioned briefly at the beginning of the article, there are alternative ways to purchase crypto apart from crypto exchanges and brokerages. Precisely, I want to discuss crypto ATMs, P2P exchanges, investing in cryptocurrency-related companies or crypto exchange-traded funds (ETFs), and even participating in such activities as crypto mining. So, let's get to it!
Buying Bitcoin From an ATM
Never heard of Bitcoin ATMs? Well, they do exist. It is a new idea, but they are becoming more and more popular.
Bitcoin ATMs are just like the normal cash ATMs that we use to withdraw our USDs, EURs, JPYs, etc. The only difference is that you deposit cash in a Bitcoin ATM, instead of withdrawing cash as you do with normal cash ATMs.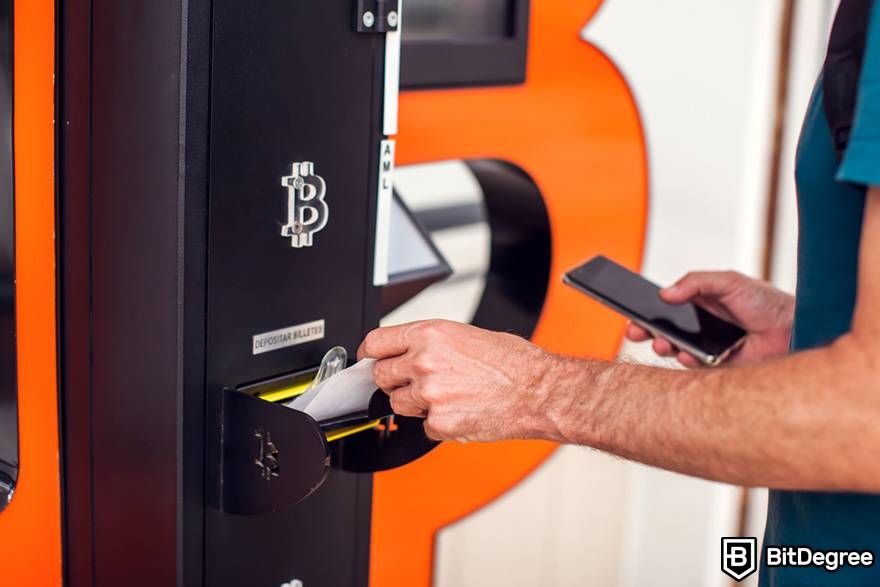 If you want to buy Bitcoin quickly, then a Bitcoin ATM is the right choice for you. However, because they are very new, they aren't available everywhere. In fact, they are quite rare. If you live in a big city, you might have one near you. You can use this map to find out where your nearest Bitcoin ATM is.
You don't have to register or create an account, and you don't have to transfer money. So, just go to the ATM, deposit your cash, and you'll have your Bitcoin! Here is a step-by-step process of buying Bitcoin from an ATM:
Find a Bitcoin ATM near you using this map;
Go to the ATM and verify your identity (this is only required at certain ATMs);
Some ATMs ask for a phone number. If it does, enter your phone number;
The ATM will send you a text message with a code; enter the code into the ATM;
Provide your cryptocurrency wallet address if you have one. If you don't have one, the ATM will create a new cryptocurrency wallet for you;
Put your cash into the ATM;
Then, the ATM will send your crypto to your cryptocurrency wallet;
The ATM prints your receipt.
Important note: If the Bitcoin ATM created a new wallet for you, your cryptocurrency wallet details (public key and private key) will be on your receipt. You MUST keep this safe!
Pros
Cons

✓ At most Bitcoin ATMs, you don't need to disclose your identity

✓ It's a simple process

✓ You can use cash

✓ It's very quick

✗ Very high transaction fees — between 5-10%

✗ ATMs are hard to find, as there aren't many of them
So, if you wanted to know how to buy cryptocurrency using cash — using a Bitcoin ATM is one of the ways you can! However, setting aside buying crypto using the aforementioned exchanges or cash, there's one more way to do that – Peer-to-Peer (P2P).
Buying Bitcoin and Ether P2P (Peer-to-Peer)
This is one of the simplest ways to buy cryptocurrency! Peer-to-peer exchanges remove the middleman (platforms like Bitstamp) and allow users to buy and sell cryptocurrency from each other directly.
Imagine this: John is interested in crypto and wants to buy some Ether. John could go to Coinbase and buy it from there, but he'd have to use his identity. Amy wants to sell some Ether but doesn't want to use Coinbase because she doesn't want to pay any fees.
What if John could just buy the Ether from Amy? That would solve everything! Well, thanks to P2P exchanges, he can! Using a peer-to-peer exchange, John and Amy can avoid the fees and they don't have to share their identities.
Pretty cool, right?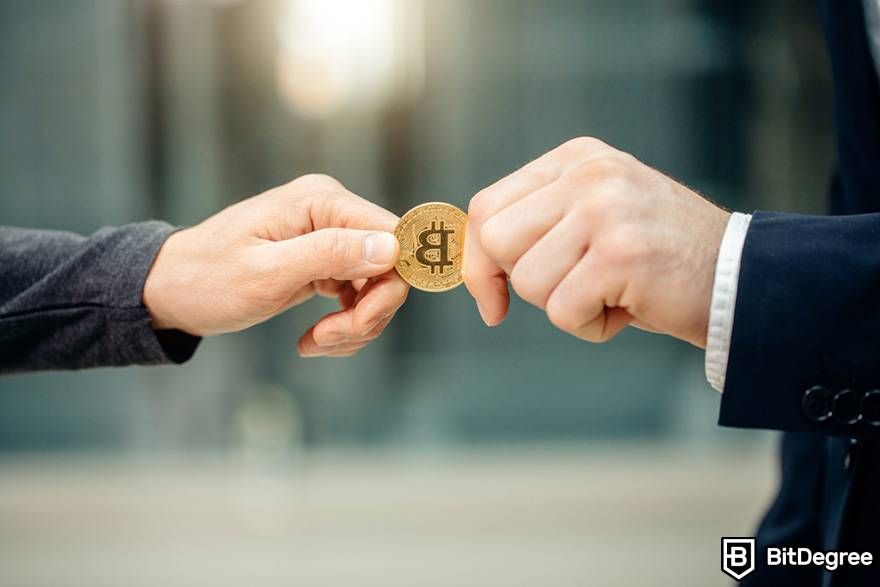 Now, let's look at how to buy and sell cryptocurrency on a peer-to-peer exchange with step-by-step instructions:
Create a free account on a P2P website. Use LocalBitcoins for Bitcoin, and LocalEtherum for Ether.
Find a listing that you want to buy from or sell to. Think of this like Craigslist. There are sellers who have set a price that they will sell their Bitcoin / Ether for, and there are buyers that have set a price that they will buy Bitcoin / Ether for.


Look for the payment method on the listing — do you want to pay by cash deposit, bank transfer, or Western Union?
Search for ID requirements — do you want to pay without using your identity or are you okay with using your identity?
Look for a buyer / seller who has made a lot of trades and has good reviews / reputation.

Enter the details that the listing is asking for and then submit your trade request. The listing normally asks for:

Amount: Enter how much you want to spend.
Currency: Enter the currency you would like to pay with.
Payment method: Choose from the options they have available.

If the seller asks for ID, you normally must do one of these:

Send a photo or scan of your passport / driving license;
Take a photo of yourself holding your ID (passport or driving license) and a piece of paper in your hand with something written on it (the seller will tell you what they want you to write on it).

If your request is accepted, the amount of Bitcoin / Ether that you ordered will be sent to the website's escrow.

Note:

An escrow is a secure place that nobody has control over. When the terms and conditions of the trade are met, the Bitcoin / Ether is released to the buyer. If the terms and conditions are not met, then the Bitcoin / Ether is sent back to the seller. This protects both the buyer and seller from fraud.




Now, you have to send the payment with a reference number provided by the seller.

If you're paying via cash deposit:

Go to a bank that has a cash deposit machine;
Put your cash into the machine;
Put the bank details down that the seller gave you and send the money;
Write the reference number onto the receipt and take a photo of it;
Send the photo of the receipt to the seller.

If you're paying via bank transfer:

Log in to your online banking website / app;
Set up a new recipient / contact (use the bank details that the seller gave you);
Send the money for the Bitcoin / Ether to the new contact and enter the reference number into the 'reference' box;

When the seller sees that you have sent the money and used the reference number, they will confirm it with the exchange.
The escrow will release the Bitcoin / Ether and send it to you.
Pros
Cons

✓ There are no fees

✓ You can buy cryptocurrency with cash

✓ With some sellers, you can buy cryptocurrency without using your ID

✗ They are not as easy to use as cryptocurrency exchanges

✗ They have fewer users, so it can sometimes take a while to find a seller

✗ You must be very careful when choosing a buyer
Crypto Mining
Another way you can get crypto is by mining coins yourself. In essence, crypto mining is a process in which miners verify and process transactions on a blockchain by solving complicated mathematical puzzles. And, of course, they get rewarded in crypto for doing that.
You can mine various cryptocurrencies. However, the most popular one to be mined (and the originator of this process) is Bitcoin. Do note that there are two main ways of mining, though:
Personal mining. This is a type of mining you do individually. To do that, you have to have your own mining rig. However, do keep in mind that this type of mining is quite hard and can get pretty expensive due to electricity bills and the need to buy your own mining hardware.
Cloud mining. This is a type of mining in which you rent cloud computing power from a mining facility that houses numerous mining rigs. In this case, you don't have to buy anything yourself. All you have to do is pay a fee for a cloud mining plan you want to choose and cover a part of the electricity bill of the facility you chose.
Pros
Cons

✓ It can bring high profits

✓ It has rapid growth potential

✓ As a crypto miner, you help in securing and maintaining the blockchain in question

✗ It can get quite costly

✗ There is a lot of competition among miners, as you must be the first to solve the mathematical equation among many to get rewarded
Investing in Crypto-Related Companies
If you decide that you don't want to invest directly in cryptocurrencies, you can invest in companies that are related to crypto. So, you basically invest in a company that owns or uses cryptocurrencies rather than in the actual cryptocurrency. There are several companies you can choose from including (but not limited to):
Pros
Cons

✓ If the company is successful, you can get good profits

✓ It allows you to invest in crypto indirectly

✗ Investing in companies, especially those related to crypto, can get quite risky

Pros
A very well-known crypto exchange platform
More than 500 different cryptos available
Two-factor authentication
Main Features
Over than 100 different cryptocurrencies available
Strong security
Small withdrawal fees

Pros
Secure and reliable
Low fees
A good amount of fiat currencies accepted
Main Features
Reputable exchange
Multiple fiat currencies are accepted
Relatively low trading fees

Pros
Anonymous trading
Secure
Supports a variety of cryptocurrencies
Main Features
Easy to use
Low fees
Good security
Investing in Crypto Exchange-Traded Funds (ETFs)
Apart from investing in crypto-related companies, you can also invest in crypto-focused funds. To be more precise, crypto-based exchange-traded funds (ETFs). It is an investment fund made out of cryptocurrency that tracks the value of a single (or a group) of digital tokens. Crypto ETFs' share price varies daily based on investor sales and purchases.
Note that there are two types of crypto ETFs - the ones based on physical cryptocurrencies and those based on cryptocurrency derivatives.
Pros
Cons

✓ It provides exposure to cryptocurrencies without ownership costs

✓ A crypto ETF can hold more than one asset

✗ While you don't have to pay additional ownership costs, you also lack ownership of the asset in question

✗ Crypto ETFs cannot be traded for other cryptocurrencies
Things to Consider Before Buying Crypto
You now have all the information you need to begin your cryptocurrency journey. There are undoubtedly millions of new questions that have come up for you, though. Let me answer a few of those:
Is crypto a good investment?
The answer to this question depends on many factors. For one, cryptocurrencies can bring great profits if you play your cards right and if all the odds are in your favor. However, the crypto market is very volatile, and, just as you can gain great profits, you can also suffer great losses.
What amount of cash do I need to purchase crypto?
It depends on the token you want to buy. For instance, if you want to buy tokens like DOGE or SHIB, they would cost you pennies. However, if we're talking about big currencies like ETH or BTC, to purchase a full coin, you would have to pay thousands (though, you can purchase a fraction of the coin for way less).
What is the most beginner-friendly way to buy crypto?
The most begginner-friendly way to buy crypto is using crypto exchanges. They make the process of buying crypto very easy and provide you with all the knowledge you need for doing that. Some of the exchanges that are great for beginners are Binance, Coinbase, or Coinmama.
Can I buy crypto directly?
Yes, you can, especially if you use crypto exchanges. For example, if you use your credit / debit card, buying crypto is as easy as purchasing clothing online. Most of the platforms even provide you with built-in crypto wallets (though, do note that some platforms don't do that, so you must have your own wallet beforehand).
How to start investing in crypto?
The first step is deciding what asset you want to buy and which method you want to use - will it be buying crypto from a crypto exchange, P2P exchange, or maybe a crypto ATM? Once you've decided on the platform, and actually bought crypto, you have to decide on the most suitable storage option.
Conclusions
Each year, there are more and more options for purchasing cryptocurrencies — it surely is a lot easier to buy cryptocurrency now than it used to be. In fact, most of the ways I have shown you in this guide are very simple if you follow our instructions.
But, which way is the best way…? Is it through exchanges like Binance? Through P2P websites like LocalBitcoins? Or is it simply by finding your local Bitcoin ATM?
Well, the truth is: it depends on your location and what you want / need.
If you don't live near a Bitcoin ATM, then it's probably not the best place to buy crypto for you.
Don't you want to use your ID? Then you might want to think about using a P2P website, like LocalBitcoins or LocalEthereum.
If using your ID isn't a problem for you, and you want to buy cryptocurrency using an app on your phone, then Binance, Coinbase, or Bybit might be the best places to buy cryptocurrency for you.
Everything depends on your needs. I hope that this guide helped you to work out which way is the best way for you, and that you found our instructions simple and easy to follow. You should now have a good understanding of how to buy cryptocurrency. Good luck buying your first crypto!
Note: you should always speak to a financial advisor before making any major investments and never invest more than you can afford to lose.
About Article's Experts & Analysts