Out of all the different crypto-related services that have popped up on the market in the past few years, cryptocurrency lending and borrowing have to be among the most popular ones. Crypto lending platforms have become a staple in the industry - more and more people choose them over traditional credit and lending institutions!
What's the entire appeal surrounding crypto lending, though? How are the best crypto loan providers better than your traditional currency lending companies?
We'll talk about all of that in this article! On top of that, I'll tell you about 5 of the best crypto lending platforms in the current industry, both in regards to lending your assets, as well as taking out a loan, yourself. Our list will look a bit something like this:
Crypto Lending Platforms: Lending VS Borrowing
While crypto lending platforms are a popular concept, people actually look for these platforms for two very different reasons. The same is likely true with you, if you're reading this article.
One group of individuals is going to want to lend their assets, and earn passive interest on them, while the other group will want to borrow crypto. While both groups of people have different goals, they are still both going to need the same crypto lending platforms, nonetheless.
Admittedly, most people who are googling "best crypto lending platforms" are actually looking for a place where they could lend out their assets. As mentioned above, you'd do that in order to earn a passive income, over a period of time. So, you'd lend your cryptocurrencies to someone else, with the platform acting as an escrow, of a sort.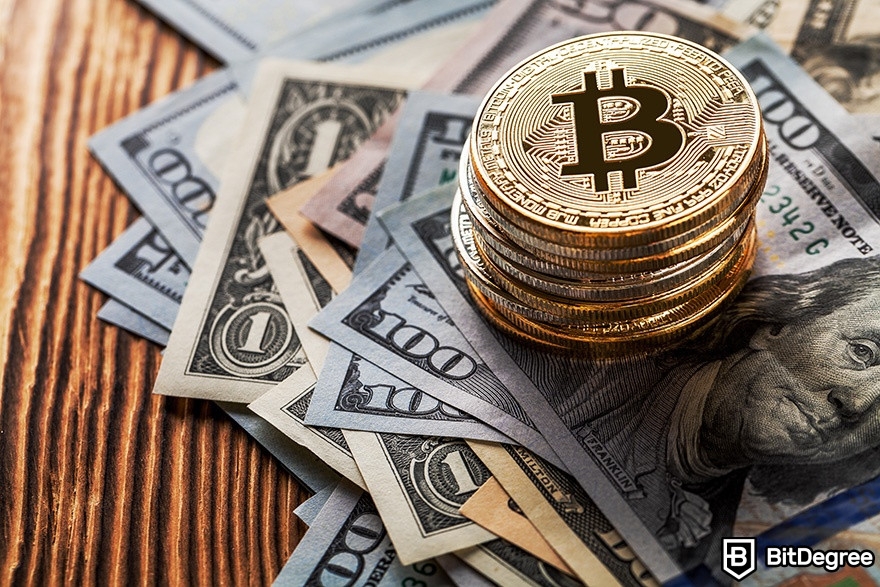 Then, after the other person repaid their debt, you'd receive interest. Naturally, things are far more technical than that, but the general idea remains the same.
Now, the other group of people looking for the best crypto lending platforms are looking for a top-tier place to take out a loan, for themselves. In this regard, cryptocurrencies have become a method of borrowing money without the need to involve centralized banks and other credit issuers.
Think about it - perhaps you have a poor credit score? Maybe you've taken out a loan before, something went wrong, and now your score has suffered because of it? In many cases, traditional credit providers are very strict with their choices, in regards to whom will get a loan, and who will get denied.
On the flip side, crypto lending is a way to solve this, for many individuals out there.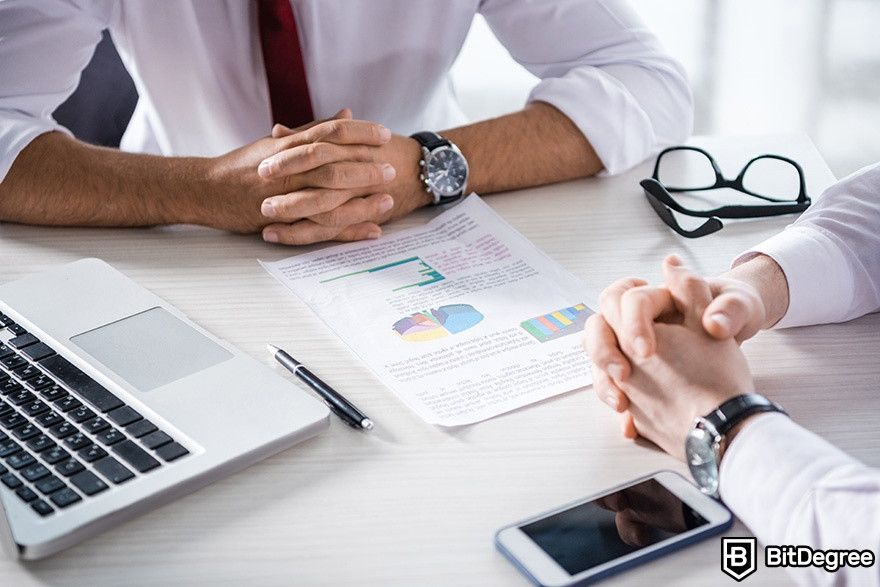 When you take out the best crypto loan, all of the processes are going to happen with the help of smart contracts. This, in turn, means that there's no room for human error, and there won't be any foul play involved.
Granted that you put up collateral while taking out a loan, the loan provider can be assured that their assets will are protected, and that you will most likely pay the loan back - if not, you'll lose your collateral. Note that crypto loans without collateral don't really exist - anyone offering a service like this shouldn't be trusted lightly!
Circling back to our list of the best crypto lending platforms, rest assured - here, you'll find platforms that offer both the option for you to lend out your crypto assets, as well as borrowing features for those who want to take out a loan.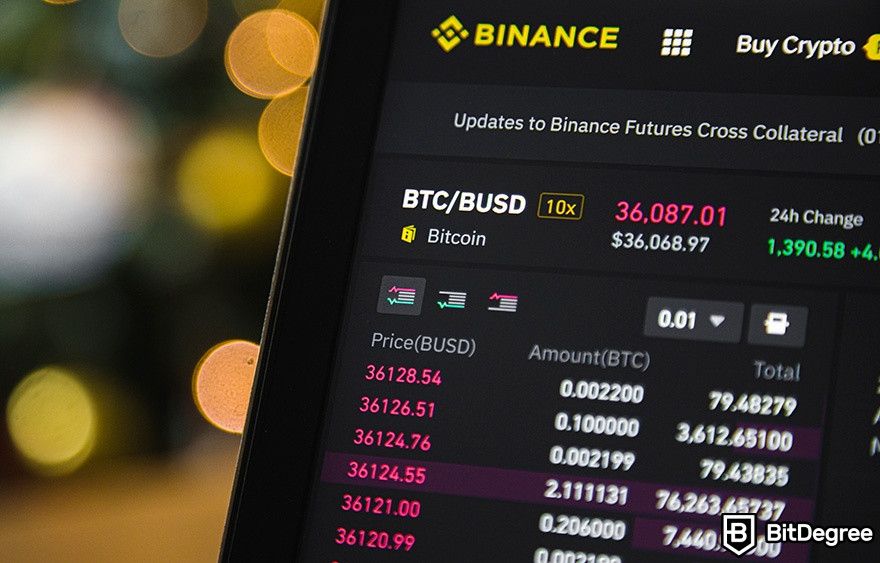 One last note, though - we won't be discussing decentralized crypto lending projects. While they do often offer some very attractive APYs and other benefits, there are also certain risks associated with them, as well.
On top of that, those same APYs are also often very volatile - this creates a lot of uncertainty, and if the market one day experiences a worse day than usual, it could result in some unpredictable profit swings.
Instead, in this article, we will focus on established and mostly well-known crypto platforms - those that employ KYC verification checks in regards to their users, as well as offer industry-standard asset and identity security features.
Now that we've got that out of the way, let's get to our list!
Ranks #1 out of 5 Crypto Exchanges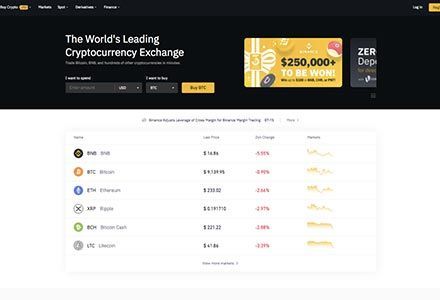 Things we liked:
+ A very well-known crypto exchange platform
+ More than 500 different cryptos available
+ Two-factor authentication
+ P2P trading option
+ Emphasis on security and KYC
+ Supports fiat-crypto acquisitions
Things we didn't like:
- Might be a bit difficult for beginners
CLAIM $600 BONUS
Exclusive $600 Binance Offer
Don't miss this limited-time deal that's only available for our readers. Follow the Binance referral code link & receive up to $600 in rewards and bonuses!!
Expiration date: 29/01/2023
7847 People Used
Only 49 Left
Binance is undoubtedly the most recognizable name in the cryptocurrency exchange industry. It's objectively the biggest crypto exchange on the market (at least at the time of writing), and is known for offering its users top-tier security features, being reliable and consistent with its operations, and having a huge list of different services under its belt.
As you might have figured out, a crypto lending platform is one of these services. So, first, let's focus on the crypto lending-specific features of Binance, and then we'll talk about the general benefits that you can expect by using this platform.
Binance lending allows the users of the platform to borrow a pretty wide array of different crypto assets. These include some popular stablecoins (such as Tether or USDC), as well as coins such as AAVE and UNI.

Users may take out a loan on Binance in order to use it for spot, margin, and futures trading, as well as staking. So, there's a limit to what you are able to do with the crypto that you've taken out, as a loan. That being said, if you're a day trader, and simply want to have a better leverage at your disposal, this is very useful.
The same is true for anyone looking at Binance lending in order to increase the amount of passive income that they'd receive, via staking activities. Staking is super-popular nowadays, and Binance does, naturally, have a separate service dedicated to staking activities, too.
Back to cryptocurrency lending, Binance allows users to repay at any point in time, with no transaction fees being present, either. On top of that, the interest on the loan is calculated hourly - this, in turn, gives a lot of flexibility to the borrower.
From a purely technical standpoint, all that you need to do in order to take out a crypto loan on Binance is register an account on the platform, pass the required KYC verification checks, and deposit some assets. Then, you'll be able to pick the coin that you want to borrow, as well as the one that you want to put up as collateral.
Table: General information about the Binance crypto exchange platform
You can then choose to repay the loan at any time, up to 180 days. The entire borrowing process is super-simple, when compared to traditional lending institutions. However, you should keep in mind that, with this crypto lending platform, the LTV (Loan-to-Value) ratio will depend on the coins that you're borrowing, as well as those that you're putting up as collateral.
LTV is basically a formula that determines how much you can borrow, with the collateral that you're putting up. With the BUSD/BNB pair on Binance, the initial LTV is 65% - that's pretty good!
In a broader sense, using Binance as your go-to best crypto lending platform makes a lot of sense! Binance employs strict KYC checks, and complies with all of the industry-standard regulations. This adds to the general safety of the platform.
Furthermore, once you create a single account on Binance, you'll be able to log in and use all of the services that are available with the company - lending included!
So, if you're looking for a great place to start trading cryptocurrencies, and are in need of the best crypto loan, Binance lending should definitely be one of the first places that you check!
Ranks #2 out of 5 Crypto Exchanges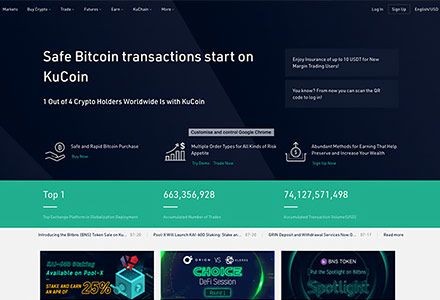 Things we liked:
+ Anonymous trading
+ Secure
+ Supports a variety of cryptocurrencies
Things we didn't like:
$500 BONUS
For New Kucoin Users
Use this Kucoin Coupon & get up to $500 in rewards. Sign up to Kucoin for huge perks & limited-time offers!
Expiration date: 29/01/2023
3984 People Used
Only 27 Left
KuCoin is mostly known in the crypto world as a cryptocurrency exchange. Not just any exchange, though - it's one of the top-rated exchange platforms in the industry!
As far as crypto lending is concerned, same as other brands on this list, KuCoin doesn't offer users crypto loans without collateral. However, what it DOES offer is the chance to both borrow cryptocurrencies, as well as lend them.
Let's focus on the latter functionality, first.
With KuCoin, you are able to lend a pretty significant number of different cryptocurrencies. These include both stablecoins, as well as various popular and even less-known altcoins. This is great, since it gives you - the lender - a lot of flexibility, in regards to the assets that you own and want to lend out.

Furthermore, the lending process itself is actually very simple and straightforward. All that you need to do is register on KuCoin, and deposit some cryptocurrencies that you'd like to lend. You may also purchase or trade them on KuCoin itself.
Next, you'll need to navigate to the lending page - everything else can be done on this very page. Choose a crypto that you want to lend out, enter the amount, pick the term, and that's practically it!
You'll see the average daily interest rate that you can expect to earn. As of writing this list of the best crypto lending platforms, it would seem that stablecoins - specifically, USDT - are able to provide investors (lenders) with the best yield, capping at around 2% per day. That's actually a huge number, when put into perspective!
On the borrowing side of things, the general principle is the same - the only difference is that the numbers are flipped, since you're not the one who's borrowing some assets.
Table: The general features of the KuCoin cryptocurrency exchange
The amount that you can borrow will depend on your funds. They will also dictate the daily interest rate that you'll need to repay, after you give back the loan.
You can check the different boxes and enter the required information, after which you'll be presented with some offers. Once again, borrowing crypto on KuCoin is just as simple as lending it!
Another great feature here is that, same as with crypto lending, people looking to take out a loan will be able to do so in multiple different cryptocurrencies.
In a general sense, KuCoin is definitely one of the best crypto lending platforms out there. Make sure to check it out, whether you want to lend crypto, or borrow it!
Ranks #3 out of 5 Crypto Exchanges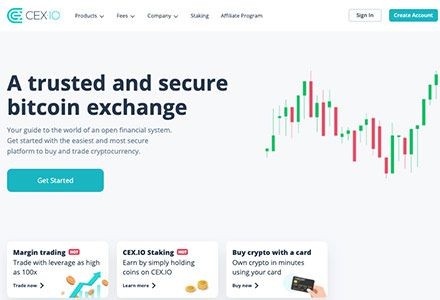 Things we liked:
+ Easy to figure out
+ Different trading pairs
+ Great support
Things we didn't like:
- Might lack coin options
CEX.IO is a prominent name in the crypto exchange industry. Initially, one of the best-known features of the exchange was that it allowed its users to withdraw fiat money into their bank accounts.
Believe it or not, this was a super-rare occurrence - very few exchanges offered this functionality!
With time, though, CEX.IO started offering more and more features to its users, and eventually became one of the best-known names in the space. You may trade multiple different coins on the platform, as well as withdraw fiat money, optimize your fees, and so on. There's even a handy and beginner-friendly mobile app for the exchange, too!
Among all of those different features of CEX.IO, naturally, you will find crypto lending and borrowing, as well.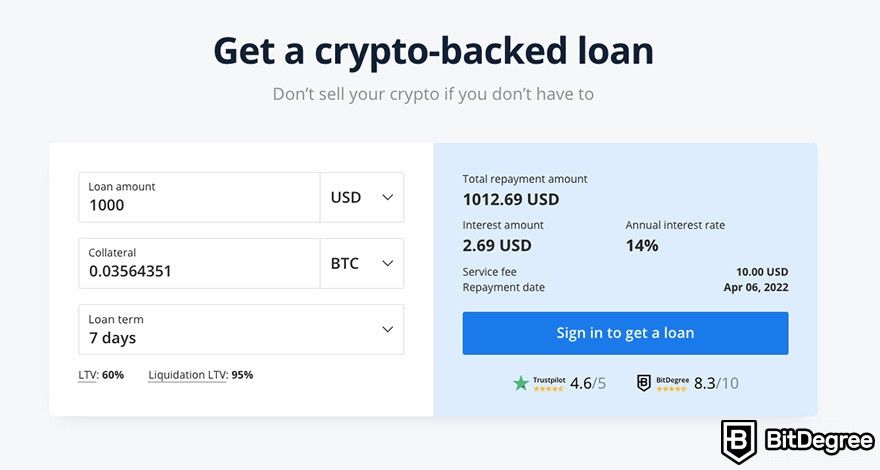 Specifically, CEX.IO allows its users to borrow cryptocurrencies or fiat money, with crypto acting as collateral. The loans are issued within minutes, and you are able to withdraw them instantly.
The LTV is going to range depending on the asset that you wish to borrow, as well as that you'll place as collateral. However, taking the standard scenario of you borrowing USD for BTC (collateral), the LTV should range around 60%. This is very similar to platforms such as Binance, which is pretty good!
On top of that, anyone whos planning on using CEX.IO as their preferred best crypto lending platform should also be aware of the fact that there is no credit scoring or background checks involved in the process. In other words, CEX.IO won't check your credit history, or your general financial background.
Table: Some general information about the CEX.IO exchange
The only thing that matters is whether or not you have the collateral to back up your loan. If you do - you're good. If not - you won't receive the loan.
This is actually the core feature behind crypto loans, in general. People's credit scores could be bad for a variety of reasons - oftentimes, traditional credit institutions don't really care, though. With crypto, one is able to avoid this issue, altogether.
In short, CEX.IO is definitely one of the better options, as far as best crypto loan providers go!

Did you know?
Ranks #4 out of 5 Crypto Exchanges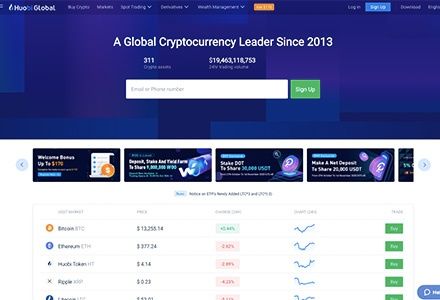 Things we liked:
+ Very low fees
+ User-friendly interface
+ Most crypto assets are stored offline
+ 24/7 customer support
Things we didn't like:
- Only crypto assets available to be exchanged
- Not regulated
Huobi is a cryptocurrency exchange known for its low trading fees, 24/7 customer support, and a user-friendly interface. In addition to these features and benefits, Huobi does also offer its users the chance to borrow cryptocurrencies.
Among the best aspects here is the fact that Huobi supports a vast array of different coins and tokens, lending-wise. You'll be able to pick from a huge list of assets, including stablecoins, some of the most popular cryptos, as well as niche tokens.
The supported collateral list is smaller. However, being one of the best crypto lending platforms on the market, Huobi still supports all of the main coins that you'd expect.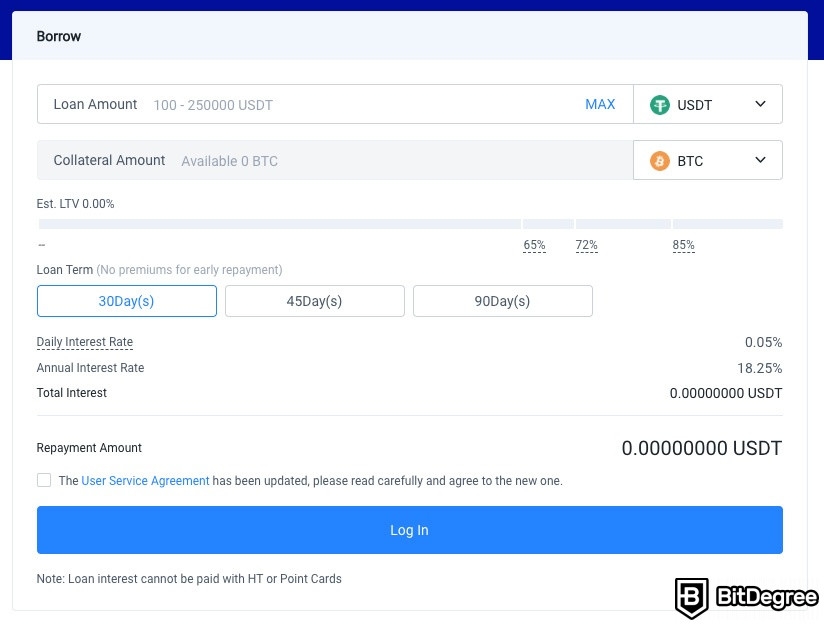 On top of all of that, Huobi also allows users to borrow up to 250,000 UDST. That's equivalent to $250,000. It's a huge sum of money! Naturally, though, your actual loan limits are going to depend on the collateral that you supply.
Taking a traditional lending pair (USDT/BTC), your daily interest rate will sway around 0,5%, at least at the time of me writing this list. Annually, that number jumps up to 18,25%.
The numbers are decent, especially when you keep in mind just how simple it is to take out a loan with Huobi. You register or log into your account, submit a loan request, and that's it - all that's left to do is wait for your collateral to be distributed, and your loan paid out!
Ranks #5 out of 5 Crypto Exchanges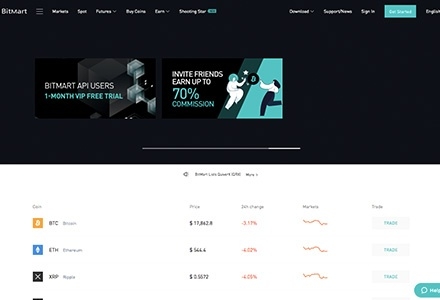 Things we liked:
+ Low trading and withdrawal fees
+ Beginner-friendly
+ Buy crypto with credit & debit cards, PayPal, bank transfer
+ Secure, many extra features
+ A wide selection of cryptocurrencies
Things we didn't like:
- Not that many user reviews found online
BitMart is one of the less-known names on this list of the best crypto lending platforms. That being said, it's a platform that still does offer its users a lot of different benefits. They include things such as fiat-crypto acquisition, low trading fees, beginner-friendliness, and so on.
Among those benefits, there's also crypto lending functionality, as well.
With BitMart, crypto lending works a tad bit differently than with most other platforms. Specifically, BitMart allows users to purchase a specific crypto asset (coin or token), and then lend it to certain institutions.
This form of lending happens with different projects. These projects have their own yields and interest rates, as well as different investment terms, too. Once a project comes to an end (specifically, once the redemption date comes), the earnings will be distributed to the lender, automatically.

So, with BitMart, you don't lend your assets out to other individuals. Instead, you lend them to institutional partners of the BitMart platform - this makes the process safer and more stable, especially from the lender's point of view!
In order to use BitMart as your option of the best crypto lending platform, all that you need to do is log into your account (or create one), select the coin of your choosing (depending on the project, at that point in time), and click "Subscribe". Assuming that you have sufficient funds in your account, that's it - you are now lending your assets!
Conclusions
While crypto lending might not be as popular of a service as staking or crypto asset exchanging, in general, it's still an area that many people utilize in order to make a passive profit. Naturally, if you're not looking to lend assets, and instead need to borrow some money, this area becomes even more important.
That's because, with the best crypto loans, you won't need to worry about your credit score, or your financial background, in general. All that matters, in most cases, is that you have the backing (collateral) to cover your loan. If you do, you should be able to take out a loan on most crypto lending platforms.
All 6 lending & borrowing options discussed in the list above offer their users awesome features, and a variety of different benefits, both related and unrelated to loans. While Binance does often stand at the top of the suggested service provider list, you may also take a look at some alternative options, if the aforementioned platform isn't your cup of tea.
All of that being said, thanks for reading, and good luck with all of your crypto lending ventures to come!
---
Other Crypto Exchanges In This Category
Here are other crypto exchange related to the category but not as favoured by BitDegree.org Crypto Exchanges readers yet. In my personal opinion, today there are much more optimal crypto exchange in the list with the higher rating that I'd recommend for the same price range or less.
Gemini - Up to 8,05% APY on Your Cryptos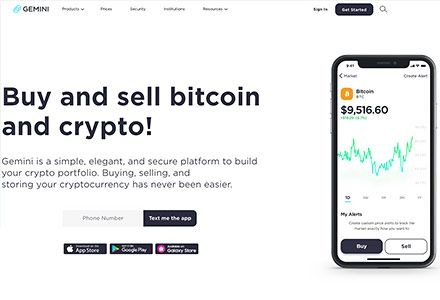 Things we liked:
+ Strong security
+ US dollar accounts are ensured
+ Easy-to-use
Things we didn't like:
- Limited selection of cryptocurrencies
- Requires lots of personal information
- Sometimes can go offline
Gemini positions its crypto lending services as 'earning interest' on your crypto. In the case of this particular cryptocurrency service provider, you would lend out your cryptos not to other individuals (retail borrowers) but to large-scale institutions. However, from the perspective of the lender, this doesn't really make any difference.
One of the more-notable features of Gemini Earn (that's the name of the crypto lending side of the Gemini platform) are the APYs. Individuals are able to earn up to 8,05% annual percentage yield on their cryptocurrencies, including stablecoins.
That's a very high APY! Now, I say this with the knowledge that there are other platforms that offer APYs that are tens and even hundreds of times bigger. That being said, Gemini is a reliable and established crypto exchange - those other platforms are usually quite shady, and there's often a huge amount of risk involved.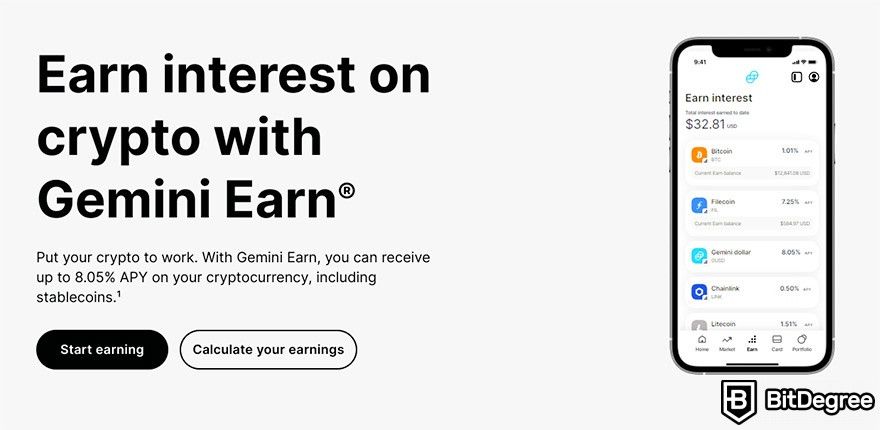 Somewhat of a niche benefit of Gemini is the fact that all US citizens, no matter in which state they are located, are able to use the lending services of the platform. This is notable since it's definitely not the case with other cryptocurrency lending platforms, or exchanges, in general.
To be more specific, more often than not, each US state will have some strict regulations in place - regulations that prevent the residents of that state to participate in crypto lending and borrowing. With Gemini, this is possible to do, no matter which state you might be based in.
Gemini also offers its users daily interest payouts, so you won't have to worry about waiting for your yield for an entire month, or even a year. A huge convenience factor here is also the fact that, within the Gemini mobile app, there's a separate "Earn" section, too.
Table: General information about the Gemini crypto exchange platform
You are able to track your earnings, and see the interest that you've accumulated to date. Furthermore, you'll also be able to perform all of the core functions of the service, on your phone - lend crypto, withdraw it, set a recurring payment, and so on.
All things considered, Gemini offers very decent APYs, as well as a beginner-friendly approach to crypto lending. So, if you're looking for the best crypt lending platforms, and are just starting out, you might definitely appreciate Gemini's approach to the matter!
BlockFi - Low APRs, Borrow USD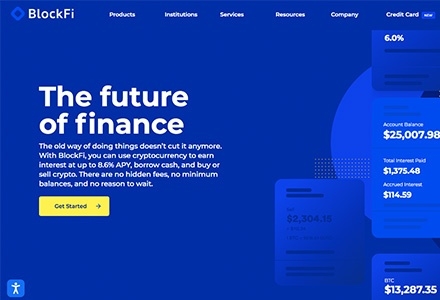 Things we liked:
+ Commission-free exchanges
+ Up to 8,6% compound interest
+ Ability to take out crypto loans
+ A simple-to-use platform
+ Regulated and located within the US
+ Automated trades
Things we didn't like:
- No FDIC asset insurance
- Not available in some countries
BlockFi is one of the more-interesting crypto service providers on the market. The platform is best-known for providing users with the chance to both store and trade cryptos, as well as earn a passive yield on idle assets that you hold in your account.
With time, BlockFi has established itself as a leading crypto service provider within the industry. This is partly because of its straightforward approach to crypto lending and yield earning, as well as the various promotions and deals that it hosts.
That said, let's get into the specifics - what makes BlockFi one of the best crypt lending platforms out there?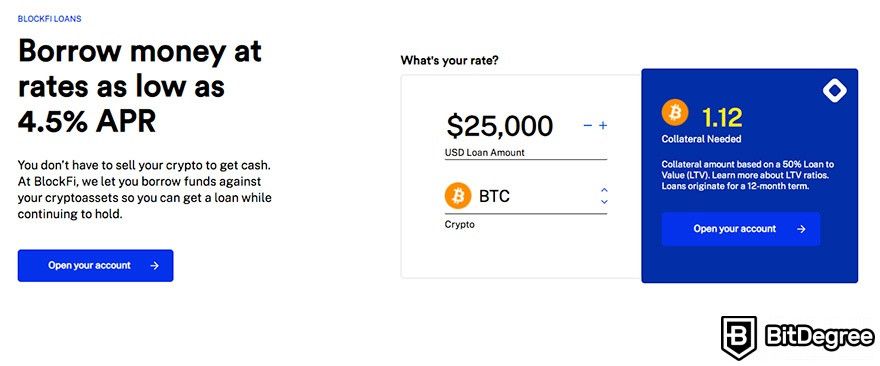 Well, for starters, BlockFi allows users to borrow USD. As in, fiat money. This isn't a common occurrence with cryptocurrency lending projects, whatsoever! In most cases, you will only be able to borrow crypto - oftentimes, this is even preferable, actually.
However, if you DO want to borrow USD, this is possible with BlockFi. To be more specific, BlockFi will allow you to borrow US dollars, by backing your loan up with crypto.
The cryptocurrencies that you may use as collateral for your loan are Bitcoin, Ethereum, and Litecoin. Not a wide list, but it still contains all of the most-notable names!
As you apply for a loan, it will take just a couple of minutes to get everything sorted. Then, the entire loan confirmation and issuance process should take up to 90 minutes. If your loan is approved, you'll receive USD into your bank account. If you choose to borrow coins such as USDC or GUSD, though, they will be credited to your crypto wallet.
Table: General information about the BlockFi platform
Another great feature of BlockFi, when it comes to the best crypto lending platforms, is the APR - Annual Percentage Rate - on your loan. You could receive an APR as low as 4,5% - that's definitely not too bad! Sure, you have to keep in mind the volatility of the crypto space, but APRs like these are still very decent!
Lastly, as far as LTVs go, BlockFi offers its borrowers an LTV of 50%. So, it's not as good as with, say, Binance lending, but it's still pretty decent, nonetheless!
All in all, if you're looking for the best crypto lending platform that would offer USD (or, simply - fiat money) support, and have some BTC, ETH, or LTC at your disposal, to use as collateral, BlockFi could be right for you!
The content published on this website is not aimed to give any kind of financial, investment, trading, or any other form of advice. BitDegree.org does not endorse or suggest you to buy, sell or hold any kind of cryptocurrency. Before making financial investment decisions, do consult your financial advisor.
Leave your honest Best Crypto Lending Platform review
Leave your genuine opinion & help thousands of people to choose the best crypto exchange. All reviews, either positive or negative, are accepted as long as they're honest. We do not publish biased reviews or spam. So if you want to share your experience, opinion or give advice - the scene is yours!
---
TOP3 Most Popular Coupon Codes

EARN UP TO 23%
By Staking on Kraken - Black Friday Deal