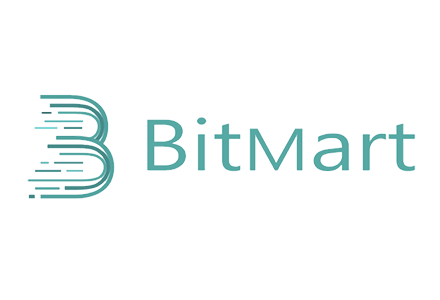 The increase in user BitMart exchange reviews found online will likely tell you that the platform in question might be worth investigating for anyone who's looking for the best cryptocurrency exchange out there.
Well, you would be correct to assume that.
BitMart is a frequent name that you'll see mentioned in the top-20 cryptocurrency exchange lists. The platform came to be in 2017, and started operating publically one year later.
As you'll be able to see for yourself in a bit, the BitMart exchange does, indeed, provide users with a wide assortment of different features and benefits. Naturally, though, there are some things to keep in mind before deciding if it's really the right platform for you, too - worry not, since we'll get to that in due time.
Pros
Low trading and withdrawal fees
Beginner-friendly
Buy crypto with credit & debit cards, PayPal, bank transfer
Secure, many extra features
A wide selection of cryptocurrencies
Cons
Not that many user reviews found online
BitMart Exchange Review: PROS
As per usual, we are going to start by looking at some of the core, essential features that BitMart provides to its customers, and check to see what the platform does so well as to deserve the rather noticeable praise that it receives.
Supports a Very Wide Assortiment of Cryptocurrencies
These days, cryptocurrency support is probably one of the most important aspects that people look at whilst choosing the best cryptocurrency exchange for themselves. This wasn't always the case, however!
If you were to rewind the time 2 or 3 years ago - to a time period when user BitMart exchange reviews didn't even exist -, you'd likely notice that the majority of people were interested in but a few cryptocurrencies. Bitcoin, Ethereum, and coins like Litecoin or XRP were the ones that dominated the market - as far as mainstream crypto trading went, that was it.
With time, though, crypto popularity grew exponentially. Nowadays, even complete beginners and industry newcomers tend to want to invest in multiple different crypto assets, some of which might be extremely niche!

Well, the good news here is that the BitMart exchange allows you to do that - the platform supports more than 170 different cryptocurrencies!
Truth be told, 170 is a lot! Naturally, all of these cryptocurrencies are going to be available in some different trading pairs, too.
Many of the top-rated cryptocurrency exchanges on the market allow you to trade around 150-200 different coins, so 170 is right around the middle. No matter if you're looking for the top 10 coins on the market, or are interested in some alternative crypto assets, chances are that you'll be able to find what it is that you're looking for, no problem!
It's worth mentioning, though, that the fact that the BitMart exchange has a wide selection of cryptocurrencies isn't just great for the sheer fact alone! Allow me to give you an example.
Say, you are currently only interested in investing in Bitcoin and Ethereum. However, with time, you expect your pool of interests to expand, and are also determined that you might want to invest in a wider selection of coins, too.

Now, imagine that, after reading through some user BitMart exchange reviews, you've decided to use this platform as your go-to exchange. So, whenever the time to purchase some altcoins does come, you will be able to do all of that on the very same platform.
If you were to use some other exchange, though - one that has only a couple of the main cryptocurrencies available -, you would have to find, research, and register on a new site in order to start buying altcoins.
Long story short, most customer BitMart reviews are rather unanimous in this regard - utilizing a BitMart referral or even using the site on your own, thanks to its amazing cryptocurrency selection pool, you might just be able to save a lot of time and patience, in the long run!
Latest Coinbase Coupon Found:
CLAIM YOUR $200 BONUS
Coinbase Cyber Monday
Cyber Monday Madness at Coinbase! Get your first crypto and earn up to $200 in rewards. Hurry up before this Coinbase Cyber Monday deal ends.
Expiration date : 08/12/2023
3,784 People Used
Only 16 Left
Quite Decent Fees
Fees are an integral part of picking out the best cryptocurrency exchange for yourself. They can be the determining factor when it comes to you making a profit whilst trading cryptocurrencies, and even having to concede and sell your assets at a lower price than you've bought them.
Naturally, while most user BitMart exchange reviews aren't going to tell you this, if you're "in it" for the long game, you're probably going to want to use an exchange that would have below-average fees, as well.
As you can probably imagine, crypto exchanges know this very well, too. They are constantly competing with one another for the most competitive fees - some come out on top, while others… Well, let's just say that they have to coerce their customers in some other ways.
Where does the BitMart exchange fall in the spectrum, you may ask? Well, to be frank, the exchange has 'decent' fees.
User BitMart exchange reviews will tell you that the platform uses something that is known as a "flat fee" model. What this means is that both market makers and market takers are going to have the same exact trading fee - 0,25%.
Admittedly, 0,25% isn't super-low. That said, it's also far from being "high" - while makers might find much smaller fees on some other platforms, for takers, 0,25% isn't all that bad! To add to that, you can also get a 25% discount on trading fees if you use BMX - BitMart's native token.
You can get a discount in two different ways, actually - by holding some BMX, or by trading a higher amount of cryptocurrency.
Deposit-wise, you'll be happy to hear that there are no actual fees, whatsoever - unlike with the Bitmart trading fees, you can deposit as much cryptocurrency as you'd like on the platform, without paying a dime for doing so. That said, it's worth mentioning that this is standard with most high-end exchanges on the market.

In regards to the actual Bitmart trading fees when it comes to withdrawals, though, things are a bit different. You see, these particular fees are going to vary depending on the blockchain conditions of a particular cryptocurrency that you want to withdraw. In most cases, though, user BitMart exchange reviews seem to agree that the withdrawal fees aren't outrageous.
So, in short, BitMart does, for a fact, offer some of the better fees on the market. Definitely a great feature that every wannabe crypto trader should keep in mind!
A Broad Selection of Payment Methods
No matter if you've been interested in the platform in question since the BitMart ICO, or have just recently come across it before reading this BitMart exchange review, one of the likely-most-important features that you'll want to check out are all of the different ways that you can purchase crypto coins on the exchange.
Thankfully, I am happy to say that the BitMart exchange does support a rather broad assortment of payment options.
Admittedly, you aren't going to be able to purchase any cryptocurrency via any payment method that you'd choose - that's simply not the case. However, if you were to count payment methods, exclusively, you'll be glad to know that BitMart supports all the main ones - including bank transfers and credit & debit cards.
The exchange even has an option of allowing you to purchase BTC via PayPal - that's rare! They also use a trusted and, dare I say, rather popular crypto payment solution for their credit and debit card purchases - Simplex. Good stuff!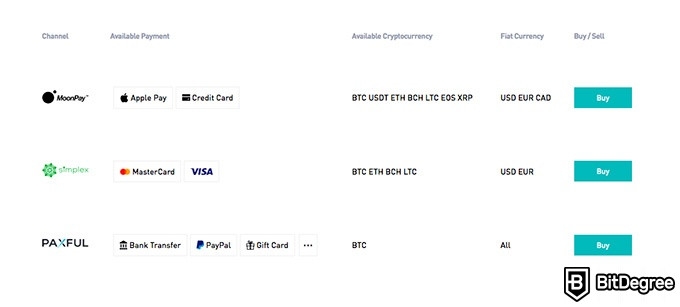 If you've received a BitMart referral from a friend, and are thinking of trying the exchange out, this is surely going to be a big push in the right direction. Even some crypto trading experts prefer purchasing cryptocurrencies with fiat money - not to mention beginners in the field!
Fiat-crypto purchases provide enthusiasts with the option to buy crypto in a fast, secure, and simple way - you don't need to worry about trading pairs (unless you're looking for some less-than-known cryptocurrencies) or some transfers between exchanges. Definitely a nice addition to an already-long list of positive user BitMart exchange reviews and the pros mentioned within them!
Plenty of Useful Features for Both Beginner and Expert Traders
While the BitMart exchange does obviously have great things to offer to its users, it's worth acknowledging, at least shortly, that there are many features that are often left unspoken, and that are, in fact, just as worthy of your attention as BitMart trading fees or fiat purchase options.
For example, as far as security goes, BitMart stores almost all of its users' cryptocurrencies in cold wallet devices. Upon other things, this guarantees absolute security of your assets, and shows that the platform in question is on-par with other industry leaders, security-wise.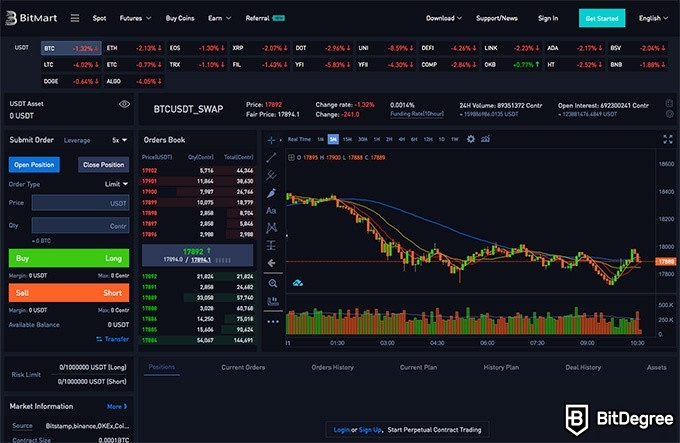 BitMart referral is also something that you might be interested in, if you do decide to use the exchange long-term. You can earn up to 30% commission (referral reward) for inviting your friends to use the exchange for spot trading purposes. However, for futures trading, you can earn a commission rate of up to 70%! That's awesome!
Lending programs, up to 100x leverage trading, high-end price charts that will satisfy both cryptocurrency trading beginners and experts, alike - you name it! Most user BitMart exchange reviews online agree that the platform has a lot to offer to the average trader - I'd say, that's rather self-evident!
Latest Binance Coupon Found:
REDEEM $600 PRIZE
Binance Cyber Monday
Attention new Binance users: this Cyber Monday, you can score up to $600 in rewards by completing special tasks. Activate this amazing Binance Cyber Monday deal using the code – 49316610!
Expiration date : 05/12/2023
6,127 People Used
Only 16 Left
BitMart Exchange Review: CONS
At this point in the BitMart exchange review, we can probably say with certainty that the exchange in question does offer some amazing features to the user. However, is it really a viable option for trading cryptocurrencies long-term? Or are things a bit too good to be true? Well, let's find out by looking at some of the less-positive user BitMart reviews!
Higher Fees When Buying Cryptocurrency with Fiat Money
Frankly, as far as the more-notable "issues" related to the BitMart exchange are concerned, this is the only actual point that's worth keeping in mind! On top of that, it's not even a BitMart-exclusive aspect, either.
If you do not already have cryptocurrency to deposit to BitMart, you'll have to acquire it in some way. As mentioned earlier in the BitMart exchange review, the exchange does support fiat-cryptocurrency purchases, in the form of credit & debit cards, wire (bank) transfer, and even PayPal.
The one thing that you should keep in mind, though, is that fiat-crypto purchases are usually expensive - much more expensive than the fees that you'd pay whilst trading crypto-crypto.
Admittedly, as noted earlier on in the BitMart exchange review, this isn't exactly the fault of BitMart. The fees are often dependent on the payment solution that you'd pick - say, with Simplex, the fees might go up to 5%, which is significant!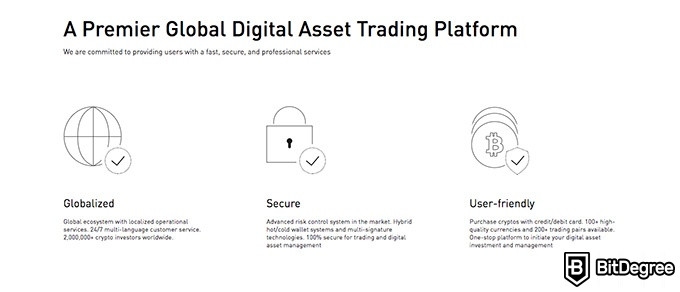 Now, you might say - if the fees are that high, why should I purchase cryptocurrencies via these methods, in the first place?
Well, three reasons - speed, simplicity, and security.
Buying cryptocurrencies via PayPal, credit & debit cards, or bank transfers is going to be one of the most-secure ways of going about it. It's also going to be super-fast (well, except maybe for the bank transfer method), and also very simple, especially when you compare it with crypto-crypto purchases.
All in all, the choice is, ultimately, up to you - if you prefer purchasing cryptocurrencies in a quick, simple, and also secure manner, then user BitMart exchange reviews will definitely encourage you to do so via the exchange in question, even though the fees might be on the higher end of the spectrum.
Not That Many User Reviews Found Online - Yet!
Now, this isn't really a con per se, but it's still something worth mentioning, since it can surely impact your decision-making process in regards to choosing the BitMart exchange as your main cryptocurrency trading option.
A single look online will reveal that there aren't really all that many user BitMart exchange reviews for you to check out and consult before starting to use the exchange. Notably, the vast majority of the reviews that DO exist are disproportionately positive towards the platform - that's good.
Now, in some cases, the lack of user reviews could mean that the exchange is some sort of an underground, shady trading platform that only a few select people know about. Let me stress this - this is NOT the case with BitMart.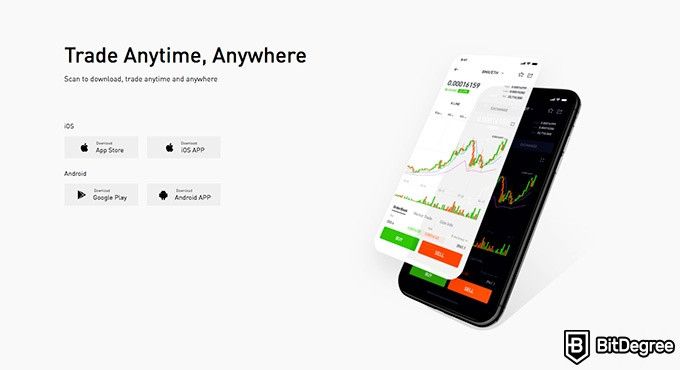 No, with the platform in question, things are actually quite the opposite! BitMart, while not having received much attention during its inception period, is starting to become noticed among cryptocurrency traders, and the positive features of the exchange are slowly getting more and more recognition.
The age of the exchange is something to keep in mind, too. With the BitMart ICO still being fresh in many of the platform's supporters' minds, the exchange didn't really have much time to "make waves", especially when the industry seems to be dominated by other leading platforms, such as Coinbase and Binance.
In short, though, if the lack of user BitMart exchange reviews found online appears to be alarming to you, worry not - it's nothing to be stressed out about. The exchange is 100% legit, and with time, it should only grow in popularity and notoriety.

Did you know?
How to Use the BitMart Cryptocurrency Exchange?
So, as a final point in our BitMart review, let's take a look at some usability aspects of the exchange, and the process of how you should go about acquiring your first cryptocurrencies on the site.
How to Register on BitMart?
For starters, the registration process.
Step 1: Go to the BitMart official website, and press the big Get Started button at the top-right corner of the screen.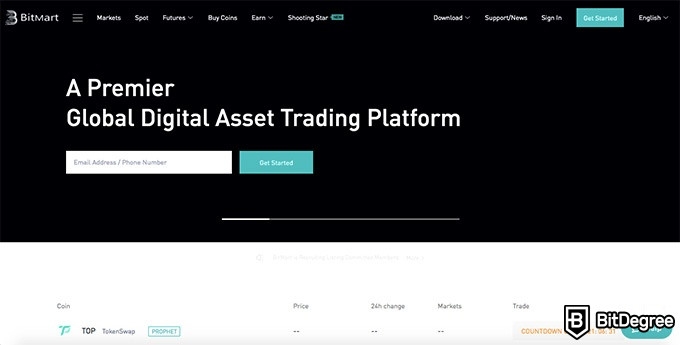 Step 2: Here, you will have to enter your email address, create a password, and certify that you are over 18 years of age.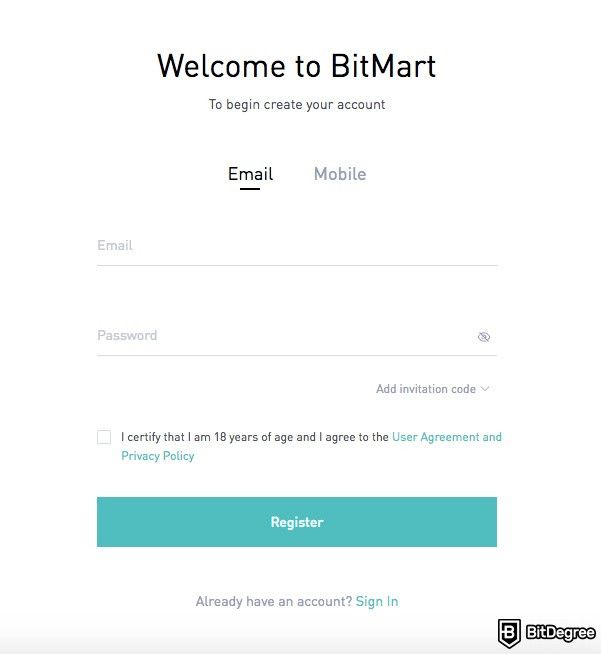 Step 3: Next up, you will have to verify your email address.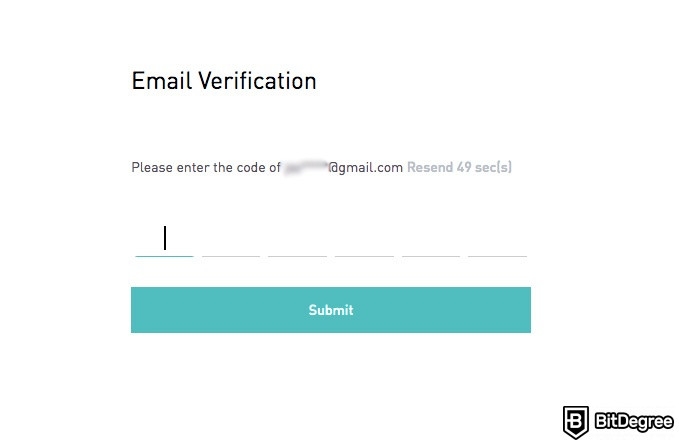 Step 4: Finally, all that's left is to sign in to your account - that's it!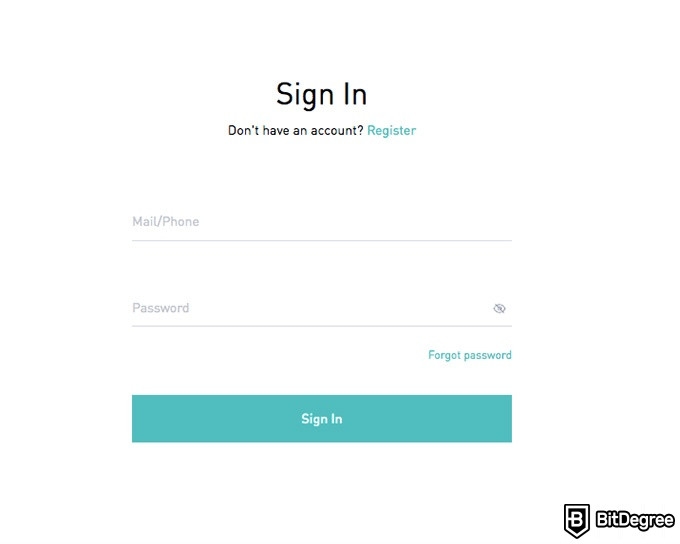 Talk about a quick registration process - wow! Registering on the BitMart exchange will literally take you no more than a minute - if you have your email address open and ready on a separate tab, you can do it all in, like, 30 seconds, tops!
It is, admittedly, very refreshing, especially if you've used exchanges that require you to pass full KYC verification right after you register on them. The whole process on this particular exchange is frustration-less, and you can start exploring and using the exchange right after. Awesome!
Upon registering successfully, you will be redirected to the main trading page. While it may seem a bit confusing at first (especially if you're a beginner crypto trader), I assure you - it's the standard-type screen that you'll see with any other exchange out there.
In fact, BitMart is rather simple to use, and is also quite beginner-friendly. You don't need to navigate through some extensive and difficult interfaces, or use any intricate leverage trading features, if you so choose to.
How to Purchase Cryptocurrency on the BitMart Exchange?
Now that you've registered on the platform, the only thing that's left to do is purchase your first cryptocurrency, and start trading!
Step 1: From the trading dashboard that you were redirected to after the registration process, navigate to the upper-left part of your screen, and press the Buy Coins button.

Step 2: On the screen that pops up, you will be able to choose the preferred crypto purchasing method you'd like. You will also see the different options of cryptocurrencies that are available via each of the methods, too. For the sake of this BitMart exchange review, I've taken the Simplex (credit / debit card) route.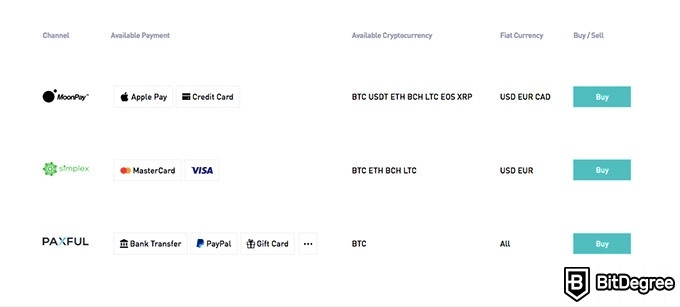 Step 3: Now, you will be asked to pick the cryptocurrency (and fiat money) that you'd like to purchase, and also enter the amount, too. Below, you will be able to see your wallet address.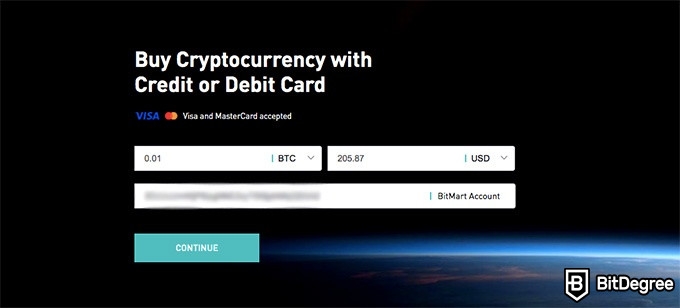 Step 4: After you confirm your details, you will be given a chance to pick either a credit / debit card purchase, or one made via a bank transfer. Once you've made your choice, you will then need to verify your identity (KYC) - it's a standard Simplex and most crypto exchange procedure.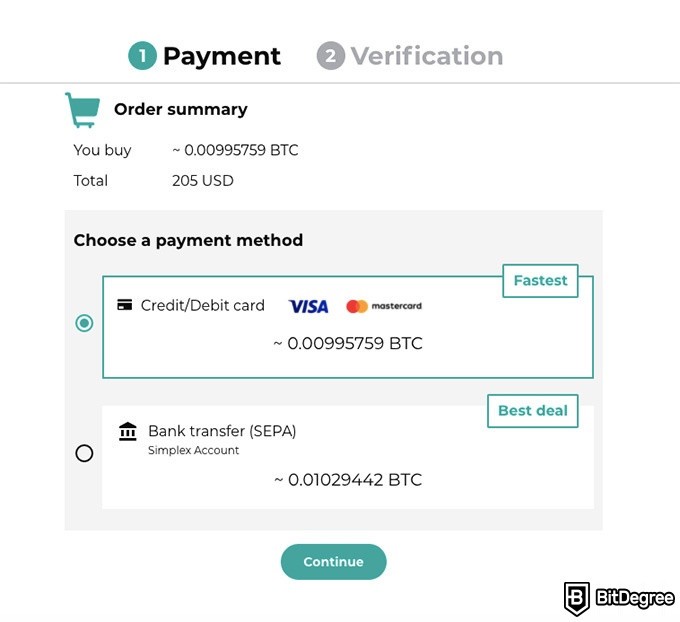 Upon making the payment, all that's left to do is wait - after a few minutes, you should receive the specified amount of cryptocurrency in your BitMart wallet. Simple as that!
Buying cryptocurrency in this specific way is, once again, very simple and straightforward! You do not need to have some special knowledge regarding BitMart or crypto trading, in general - the process is very easy, and the platform does "hold your hand" all the way through, telling you exactly what you need to do each step of the way.
Buying crypto with PayPal or via a bank transfer is just as, if not more simple. Unless you already have cryptos that you want to transfer to BitMart and start trading this way, you should face no notable issues with purchasing Bitcoin or any other cryptocurrency on the platform in question!

Pros
A very well-known crypto exchange platform
More than 500 different cryptos available
Two-factor authentication
Main Features
Over than 100 different cryptocurrencies available
Strong security
Small withdrawal fees

Pros
Secure and reliable
Low fees
A good amount of fiat currencies accepted
Main Features
Reputable exchange
Multiple fiat currencies are accepted
Relatively low trading fees

Pros
Anonymous trading
Secure
Supports a variety of cryptocurrencies
Main Features
Easy to use
Low fees
Good security
Conclusions
So, then - all that's left is to finish off our BitMart exchange review and answer the question once and for all - is the exchange worth it?
Yes, BitMart is definitely worth checking out!
As you might have gathered by this point, the exchange in question does possess a lot of different features and benefits, as far as the user is concerned. It has an amazing array of cryptocurrencies for you to pick from, is simple to use, utilizes strong security measures, has fiat trading options, and plenty of other, additional features (leverage trading, referrals, etc.).
As far as the cons of the exchange go, there aren't all that many "issues" to talk about. That's rare! Sure, the fiat-crypto fees might be a tad bit high, but that's not really the fault of the exchange - anywhere you look, the situation is going to be the same, or at least very similar.
The actual trading and withdrawal fees of the BitMart exchange are very reasonable, and while the platform might not win any awards in regards to the number of user BitMart reviews you might find online, it is slowly making a name for itself, and becoming one of the best cryptocurrency exchanges on the market.
The content published on this website is not aimed to give any kind of financial, investment, trading, or any other form of advice. BitDegree.org does not endorse or suggest you to buy, sell or hold any kind of cryptocurrency. Before making financial investment decisions, do consult your financial advisor.
About Article's Experts & Analysts