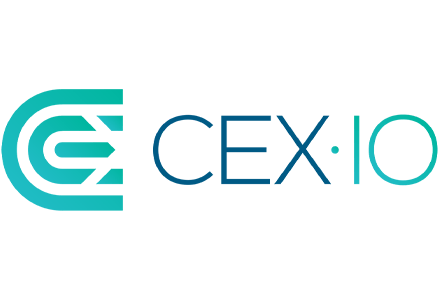 If you want to start buying and selling cryptocurrencies such as Bitcoin, Ether, Dash, or Stellar, however, don't know which exchange to use, this CEX.IO review should help you decide.
In this review, I will cover the following topics:
What CEX.IO is?
A brief history of CEX.IO.
The advantages and disadvantages of the platform.
Digital currencies you can buy, sell and trade.
By the end of this CEX.IO review, you should be able to decide if CEX.IO is the right cryptocurrency exchange for you. You'll also be aware of its beginning, security features, offered coins, fees, and so much more.
With so much to cover, we should probably begin! Let's see what this popular exchange has to offer.
Pros
Easy to figure out
Different trading pairs
Great support
CEX.IO Review: What is CEX.IO?
Let's start this CEX.IO review from the basics. CEX.IO is a cryptocurrency exchange platform. It accepts multiple deposit types and supports different digital assets. It is great for both advanced users and beginners getting started with buying and selling cryptocurrencies.
If you were wondering: Is CEX.IO legit? Or, is CEX.IO safe? The answer is yes. The site is certainly legit, as CEX.IO LTD (the company behind the exchange in question) has been registered in the United States as a Money Services Business. The agency that it's licensed at is called the Financial Crimes Enforcement Network (FinCEN).
Furthermore, the exchange has expanded its services within the US, with MTL licenses that can serve 48 different states.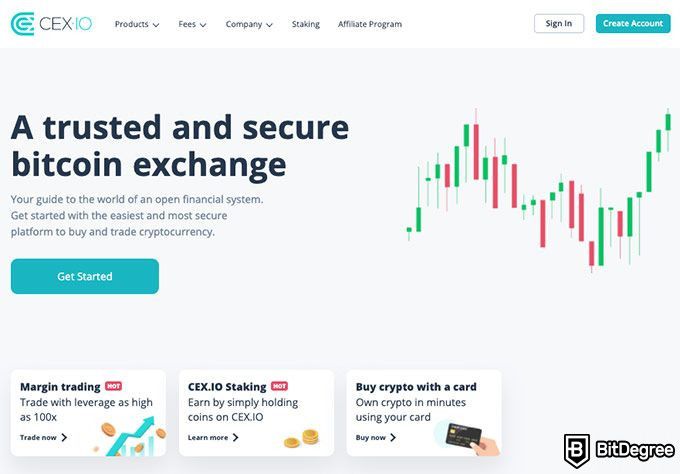 CEX.IO also provides users with protection under a level two DSS certificate. This means it has proved itself as having a certain level of security to store, process, and transmit payment card data.
That said, CEX.IO should not be considered completely secure. It is a cryptocurrency exchange, after all. The fact that they store vast amounts of different currencies makes it a big target for hackers.
The history of digital currency is full of examples of exchanges being hacked and there is nothing to suggest the future will be any different. This is why you should never store your cryptocurrency on an exchange! Instead, you should consider using a secure wallet, such as MyEtherWallet or Exodus.
Next, let's look at how the exchange evolved into the trusted platform it is today.
Latest Binance Coupon Found:
SECURE $600 BONUS
Binance Holiday Sale
Sign up on Binance and claim up to $600 worth of rewards for completing simple tasks during this Binance Holiday Sale. Use our Binance referral code (49316610) to activate the offer while it's still valid!
Expiration date : 10/12/2023
2,935 People Used
Only 67 Left
CEX.IO History
CEX.IO was founded in London, UK, in 2013. Originally, it was a cloud mining provider that owned the GHash.io mining pool. Back in 2014, GHash was one of the largest mining pools around.
In early 2015, the decision was made by CEX.IO to stop providing cloud mining services. This was based on the low Bitcoin price at the time, as well as the fact that the company didn't own any mining hardware. The GHash.io mining pool was terminated. However, CEX.IO would live on, solely as a cryptocurrency exchange platform.
Note: Cloud mining is a process of mining for cryptocurrency in a group or pool. Users share processing power in the cloud meaning they don't need to own their own hardware. They are paid out a share of every block reward the pool earns.

Did you know?
Advantages and Disadvantages of CEX.IO
Let me provide you with the pros and cons of CEX.IO cryptocurrency exchange platform.
PROS
CONS

Great support section. If you're struggling to understand how to do anything on CEX.IO, there is probably a page in the support section that explains it in a lot of detail. If not, the platform offers an easy-to-use email support form.
The exchange offers several different trading pairs and multiple fiat currencies to choose from. This means you can buy and sell different cryptos with your chosen currency. There is no need to go back to Bitcoin first. Fewer trades means fewer fees!
Easy to use and navigate. Even the advanced trading windows are clean and clutter-free. This makes browsing the CEX.IO website pleasurable and great for beginners.
Margin trade options (trade using borrowed money). This is a very risky form of trading and is absolutely not recommended for beginners! However, if you'd like to try it out, nonetheless, you can access CEX.IO Broker here - the great part here is that it's commission-free!
Registered and secure. The company is registered as a Money Services Business with FinCEN in the USA. It also has a level two DSS certificate.
CEX.IO has never been hacked.

As with any exchange, it is important to not put too much trust in its security. Every exchange could get hacked. It's therefore important to not leave any money on the website, as I said earlier. This applies to both fiat currency and cryptocurrency.
When it comes to the security aspect of CEX.IO, it needs to be mentioned that the exchange does utilize features such as double 2FA - two-factor authentication. Meaning, you can authenticate logins to your account both via your phone, as well as an authenticator app. This really does add extra security to the platform!
Which Coins Can You Buy on CEX.IO?
There are quite a few different digital assets that you can buy using either Bitcoin or fiat currency on CEX.IO. Somewhat specifically, CEX.IO offers users 108 different cryptocurrencies, and 228 trading pairs.
Those numbers are nothing to scoff at! CEX.IO lists most of the better-known coins and tokens, and allows users to both exchange them with one another, or use fiat money for their crypto acquisition wants and needs.
Payment Methods, Fiat Currencies, and Fees
One of the best things about CEX.IO is that the platform accepts a lot of different fiat currencies. This makes it useful for people from many different countries. Here's the list for fiat currencies that are supported CEX.IO:
United States dollar (USD)
Euro (EUR)
Pound Sterling (GBP)
Ruble (RUB)

CEX.IO also accepts various payment methods to fund the account with either these fiat currencies or cryptocurrency:
VISA
MASTERCARD
S.W.I.F.T.
ACH
Faster Payments
Sepa
QIWI
Skrill
Therefore, the variety of payment methods make everything super simple for new users. CEX IO EU Limited also provides card processing services to clients from the European Economic Area (EEA).
Trading fee-wise, CEX.IO offers from 0,25% market taker and 0,15% market maker fees, all the way down to 0,01% and 0%, respectively. The fees will depend on the sums traded (the value of the crypto assets). All things considered, these are some of the better fees out there, even if you're going to trade crypto in small sums!
CEX.IO Review: Account Verification
There are various levels of accounts on CEX.IO. They are:
With each account, tier comes different advantages. These include additional payment options as well as higher limits on transactions and withdrawals.
The corporate accounts are for more advanced users. Therefore, I won't be going into too much detail about them.
However, even new users will likely want to reach the "verified" account tier. I've explained the advantages of doing so after the section on basic accounts.
Basic Accounts
Basic accounts at CEX.IO are the default account that you will create as soon as you sign up for CEX.IO. The only payment method accepted for fiat deposits using a basic account is a Visa or MasterCard.
Individual payment methods have their own "recommended" maximum and minimum deposit amounts.
Latest Deal Active Right Now:
$300 + 40 DOGE BONUS
Huobi Black Friday Limited-Time Period
Huobi Black Friday & Cyber Monday 2023 period offers great bonus for new users - sign up & earn up to $300 + 40 DOGE bonus!
Expiration date : 10/12/2023
3,817 People Used
Only 31 Left
Verified Accounts
If users want to withdraw fiat funds or increase their daily deposit and withdrawal limits, they must verify their identity. Don't worry though. This is easy. The next part of this CEX.IO review will explain exactly how to do it. I'll then go through the precise advantages of having a verified user account.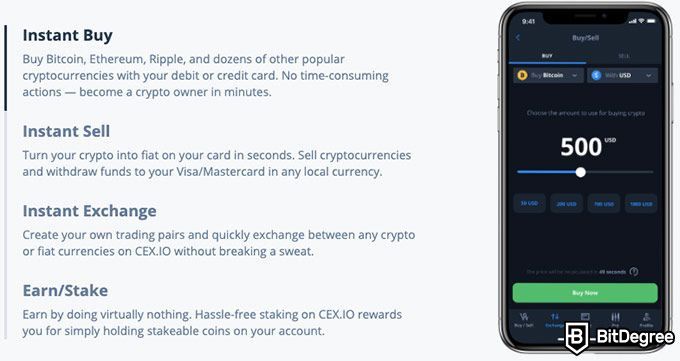 How to Get a CEX.IO Verified Account: Stage 1
Users need to submit some personal information and documents to reach the verified account tier. It's all standard stuff though. The information is needed to make sure the company complies with anti-money laundering (AML) and know your customer (KYC) regulations. Let's start our CEX.IO review of account verification.
Below, I've listed all the required documents needed and how to submit them to CEX.IO. Follow these steps carefully. If you don't give a document in the way the company wants it, they will reject your request to upgrade your account and you'll have to start again. When buying and selling a cryptocurrency, that could mean you miss out on a huge price swing!
First, you must submit the details from a government-issued identity document. This could be your passport, ID card, or driving license.
Fill in the form with your personal information. This includes gender, first name, middle name (optional) last name, date of birth, place of birth, contact number, and a link to social media (optional).
Next, users must fill in their addresses. This includes a residential address (where you're living at the time you sign up to CEX.IO) and your permanent address. If the two are the same, there is an option to tell the exchange this. Click the box labeled "same as residential". It's next to the "permanent address" fields.

The next step in verifying your identity is to submit a scan or photograph of a few identity documents. These must meet the following requirements:

The issue date must be in the future (document must be valid on the day it is submitted).
Copies of both sides of the document must be submitted.
Scanned images must be in full color and in a high resolution.
Documents must be in either jpg, gif, png, tiff, or pdf format.
The file must be no larger than 15MB.
The photograph or scan must be no older than three months.
Documents must be completed using the Latin alphabet (a, b, c, d…)

How to Get a CEX.IO Verified Account: Stage 2
Let's continue with or CEX.IO review of the verification process. Users must then submit their identity document, a selfie of themselves holding the document, and a proof of address.
The identity document must be issued by the government and must be the same as you used to fill in the above form. Accepted identity documents are national IDs, passports, driver's licenses.
The selfie holding the identity document must include the owner of the document (you) holding the document. There are quite a few guidelines and it can be difficult to get a clear enough shot. For this reason, it might be better to get a friend or relative to help you take a "selfie". The photograph must meet the following criteria:
You must be looking straight at the camera.
The background must be light or a neutral color.
The selfie itself must be in full color.
No "red-eye".
Nothing obscuring the view of your face (sunglasses, hats, headbands, bandanas, etc.)
The information on the document must be clearly visible.
The proof of residency document must also be a photograph or scan. It must include your address (the one stated in the verification form). The following will be accepted as a proof of residency document:
Utility bill (not a mobile phone, TV contract, or printed internet bills).
Electricity bill.
Bank statement.
Tax return, or council tax bill.
The CEX.IO support document does state that other proof of residency documents will be accepted, too. However, it does exclude electronic bills and statements, online screenshots, mobile phone bills, and credit card statements.
CEX.IO Review: Advantages of Having a Verified Account
As I've mentioned, users with a verified account can use more payment methods and have higher deposit and withdrawal limits. It's also vital that users have a verified account if they want to withdraw in fiat currencies. So, it's very important to mention this in the CEX.IO review.
With an account on a higher tier than basic, you can deposit and withdraw with bank transfers and any of the cryptocurrencies listed at CEX.IO (above).
The total account limits for all these higher-tier accounts are unlimited but there are some recommended deposit and withdrawal limits associated with each payment method. We've not listed them this time because they're enormous!
CEX.IO Review: Who Should Use CEX.IO?
Mentioning target users is very important for a CEX.IO review. CEX.IO is great for both beginners and advanced users. Below, we've listed some features that make the account a good one for both user types.
Why CEX.IO is Good for Beginners? There are a few reasons for that:
Very user-friendly interface. Even if you have no experience using a cryptocurrency exchange platform, CEX.IO will be super easy to figure out.
Great support section. For new traders or investors, it can be a bit scary to buy digital currency for the first time. The support section of the website has many FAQs and if that isn't enough, contacting CEX.IO is easy thanks to the email request form.
Users must search out the more advanced buying and selling options. This makes the process less scary because some exchanges greet users with a page like the one below. This is understandably very confusing for them: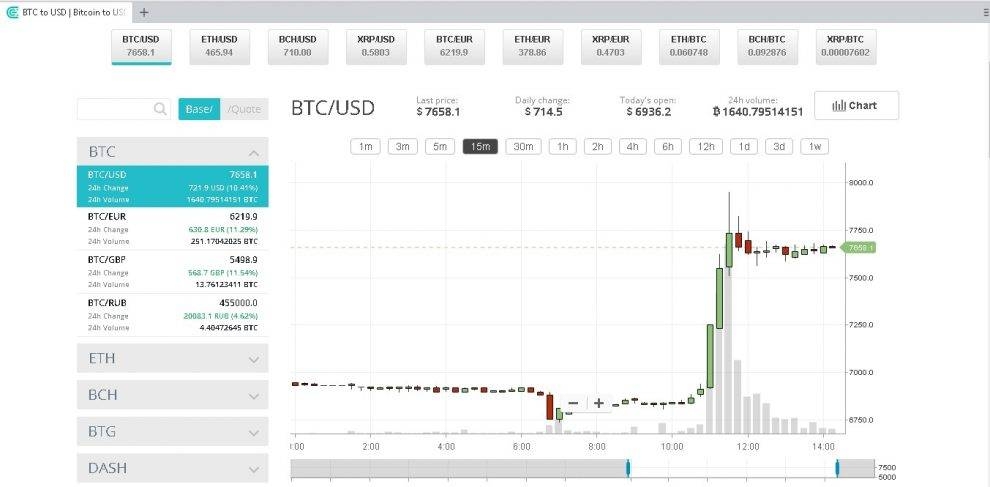 Source: cledd
Why CEX.IO is Good for Advanced Users? Here's the answer:
It offers all the buying options you'd expect from an advanced platform. They're presented on a clean and easy-to-navigate platform (pictured above).
It can trade on a margin (using borrowed money). Again, this is absolutely not recommended for any new users!
No limits for verified users. If you're a master trader, you'll be able to spin up huge profits and withdraw them with no trouble using a variety of different deposit and withdrawal methods. Pretty cool, eh?

Pros
A very well-known crypto exchange platform
More than 500 different cryptos available
Two-factor authentication
Main Features
Over than 100 different cryptocurrencies available
Strong security
Small withdrawal fees

Pros
Secure and reliable
Low fees
A good amount of fiat currencies accepted
Main Features
Reputable exchange
Multiple fiat currencies are accepted
Relatively low trading fees

Pros
Anonymous trading
Secure
Supports a variety of cryptocurrencies
Main Features
Easy to use
Low fees
Good security
Conclusions
So, that's our review to one of the world's most popular fiat-to-crypto exchanges. With its numerous deposit options, multiple digital assets, and user-friendly design, it's obvious why CEX.IO has been so successful for the past years.
Now that you've finished reading this guide, you should have a better idea of what the CEX.IO platform is and whether it's right for you. If you think that there's a better platform for you, you should check out Binance and KuCoin.
So, what do you think? Is CEX.IO a scam? Is it not what it seems? Or is it, in fact, a credible, worthwhile exchange? Will you be using it for your cryptocurrency needs? Write in the comments below!
The content published on this website is not aimed to give any kind of financial, investment, trading, or any other form of advice. BitDegree.org does not endorse or suggest you to buy, sell or hold any kind of cryptocurrency. Before making financial investment decisions, do consult your financial advisor.
About Article's Experts & Analysts