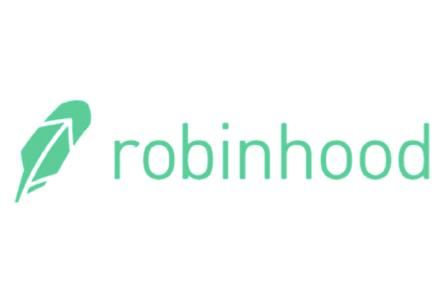 If you're looking to start investing in cryptocurrencies, you'll quickly find out that there are quite a few exchange platforms out there for you to try out. Each of these platforms is going to have a selection of different benefits and features to offer to its users - user Robinhood reviews will tell you that the site in question is no different.
In fact, Robinhood is one of the more-unique entries on the ever-growing list of cryptocurrency exchanges. Following that, trading crypto on Robinhood is bound to be a rather interesting experience, too - the platform offers some very specific benefits, but also has somewhat polarizing drawbacks, too.
Is Robinhood the right choice for you? Who is the site going to be best for, in the first place? We'll find out all of the answers to these questions, and more - read this Robinhood review, get informed, and make the right decision today!
Pros
Beginner-friendly
No commissions on trades
A reliable investing platform
Cons
Registration can prove to be a hassle
Only available for US residents
You can't transfer your crypto assets anywhere else
Not primarily a crypto exchange
Robinhood Review: PROS
Primarily, Robinhood is a US-based stock investment company - it allows its customers to purchase and trade traditional stocks and ETFs. However, since 2018, the platform has also started supporting cryptocurrency investments, too.
Since that time, there has been an increase in the attention that the site receives - hence the new user Robinhood crypto reviews, too. As pointed out in the introductory part of this article, the investment platform offers its users some very unique features - at the forefront of these features lie the zero-commission trades.
Trade Cryptocurrency Without Commission
No matter which of the best cryptocurrency exchanges it is that you're going to visit, chances are that you'll encounter a wide variety of different fees upon starting trading.
Admittedly, the fees on these platforms may differ drastically - while some exchanges offer fees as low as 0,1%, others might charge you up to 5%, for some specific trades. The differences are evident!
While most user Robinhood reviews won't really tell you this, the general benchmark of crypto exchange fees is considered to be somewhere around 0,25% - if it's lower, great! If it's higher, though, you might want to start looking for alternatives.

Now, what does all of this have to do with this Robinhood review? Well, as the heading above may imply, Robinhood offers you the chance to trade commission-free - in other words, there are no fees whilst trading crypto on Robinhood.
Sounds too good to be true? Well, surprisingly, it's not - there is no "catch", or any hidden or small prints involved.
While it's certainly a very rare thing to be able to say, the Robinhood crypto fees are actually non-existent. This, in turn, means a couple of things.
For starters, it means that you'll be able to maximize your profits whilst trading cryptocurrencies on this particular platform. Fees, in general, are usually among the very first things that you'd want to look into, especially if you're interested in making the highest profit possible, in the shortest amount of time.
Depending on the exchange that you might decide to go with in your crypto trading journey, you could find yourself having to wait until the prices of the crypto assets that you are holding REALLY increases, just so that you could outweigh the fees of the platform.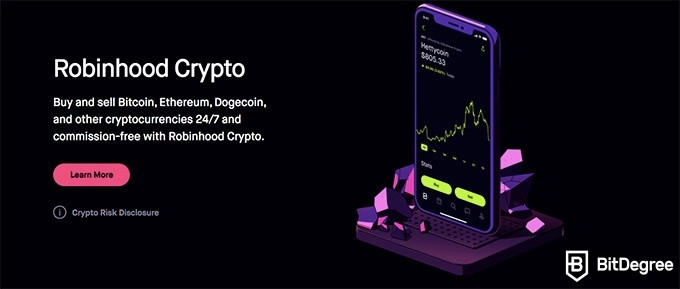 On top of that, the fact that there are no Robinhood crypto fees does also make the platform very approachable for beginner traders. You'll have a much easier time calculating your potential profits and losses, and on top of that, you also won't be punished as harshly for a mistake whilst trading - the fees can surely add up!
All in all, the fact that the investment platform in question offers commission-free trading is definitely one of the major points of the positive user Robinhood reviews that you'll find online - and rightfully so!
Latest Deal Active Right Now:
$300 + 40 DOGE BONUS
Huobi Black Friday Limited-Time Period
Huobi Black Friday & Cyber Monday 2023 period offers great bonus for new users - sign up & earn up to $300 + 40 DOGE bonus!
Expiration date : 10/12/2023
3,817 People Used
Only 31 Left
Offers All of the Main Cryptocurrencies
These days, when you're trying to find the best crypto exchange for yourself, one of the more-important criteria that you might want to look at is the supported cryptocurrencies of each of the different exchanges on the market.
With crypto becoming increasingly more-popular by the day, more people are currently interested in a wider variety of coins than ever before. With the right cryptocurrency exchange, you might be able to trade all of the coins that you'd like, on one, single platform.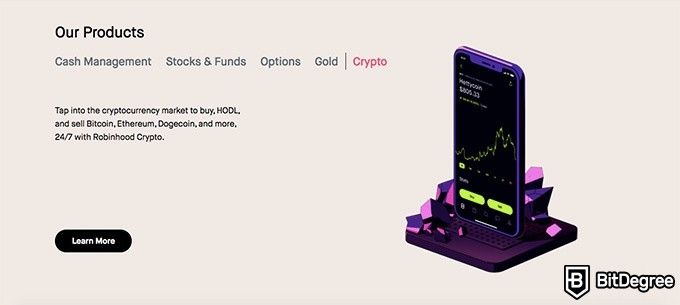 Some user Robinhood reviews from all the way back in 2018 point out that, at that time, the site offered but two cryptos to trade with - Bitcoin, and Ethereum. It makes sense, granted that these are, to this day, the two leading cryptocurrencies on the market.
With time, however, RH added five more coins, and currently supports these cryptos:
Bitcoin
Ethereum
Bitcoin SV
Now, the variety isn't all that impressive - that's true. Also, user Robinhood reviews do point out that the site misses a lot of otherwise major cryptocurrencies, such as XRP (Ripple).
That being said, however, Robinhood does support the two main coins, some of their most-notable "sister coins", and also Litecoin and Dogecoin. For anyone who's just starting out, that's not at all that bad!
One of the More-Reliable & Secure Investments Platforms in the US
When it comes to cryptocurrency trading, the reputation of a platform is going to play a key role in attracting users to actually, well… Use it.
Crypto enthusiasts, in general, tend to be rather suspicious towards anything that is out of the ordinary. That's mostly because the crypto market, to this day, is riddled with both low- and high-profile scams - you can never be too safe with your assets!
That being said, though, the absolute majority of user Robinhood reviews found online will tell you that this particular platform is both reliable, and secure to use, too.
Robinhood has been around for quite some time now, and has managed to build itself a reputation of being a legitimate, high-profile stock investment platform - the crypto side of things is no different here.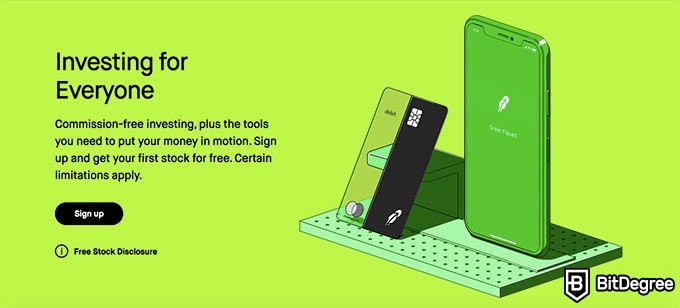 Well, mostly. You see, the downside with crypto is that it's not actually protected by various insurances, as opposed to traditional stock investments that you might make. The company itself states that different outside variables may affect your crypto assets and their value. However, any experienced crypto hodler probably knows this quite well already.
There are different assurances in place, though, with the main one being the fact that Robinhood keeps the majority of its users' assets in cold wallets - in other words, hardware, cold storage devices. These devices are some of the best options as far as crypto wallets are concerned, mostly because of how secure they are.
In short, though, if you're planning on trading crypto on Robinhood, you can rest assured that the platform is both going to offer you top-tier security features, and that it's also a reliable and trustworthy investment platform, in the first place.
A Very Simple & Beginner-Friendly Interface
While simplicity is probably not the first thing that you'd expect from a high-end cryptocurrency exchange, it's also definitely something that's much appreciated, nonetheless.
I mean, anytime that you think that simplicity and ease of use isn't important, go and use Binance - I bet your opinion will change very quickly!
This, however, is especially-so-true with beginner traders and investors. To this day there's a pretty significant stigma surrounding the trading and investing scene, and it has to do with the fact that people believe that these processes are always super-complex and difficult to get into.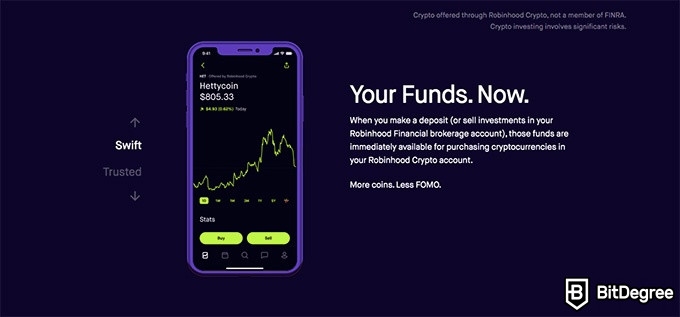 Admittedly, oftentimes, that might be the case. However, user Robinhood crypto reviews will tell you that it's not something you'd need to worry about in regards to the platform in question.
The crypto trading interface on Robinhood has been streamlined and developed in a way that would both accommodate new users, and still retain its value for experienced crypto traders, too. Both types of investors should find the platform to be catered to their wants and needs, and beginners should definitely value the ease of use aspect of the site!
Latest Binance Coupon Found:
SECURE $600 BONUS
Binance Holiday Sale
Sign up on Binance and claim up to $600 worth of rewards for completing simple tasks during this Binance Holiday Sale. Use our Binance referral code (49316610) to activate the offer while it's still valid!
Expiration date : 10/12/2023
2,935 People Used
Only 67 Left
Robinhood Review: CONS
As I've pointed out at the beginning of the Robinhood review, this platform is quite polarizing, albeit for different reasons than most other crypto exchanges that are usually associated with this term.
This, however, means that there are some fundamental differences between Robinhood and the top-rated exchanges on the market, right? Well, yes - while RH offers multiple significant benefits to its users, they do come with some specific trade-offs. One of the more notable of these would be the fact that Robinhood is exclusive to the US.
Only Accepts Traders from the US
It's probably no secret that many cryptocurrency exchanges in the industry have a wide variety of restrictions in place. Most of these restrictions are, ironically, aimed at US-based users.
This is because of the SEC - the Securities Exchange Commission. It's a US institution that safeguards US-based investors from foreign (and internal) investing dangers and potentially-dangerous exchanges. Every single crypto exchange that wants to include US residents is going to have to be certified by SEC - and with crypto-specific exchanges, that's not always a simple thing to do.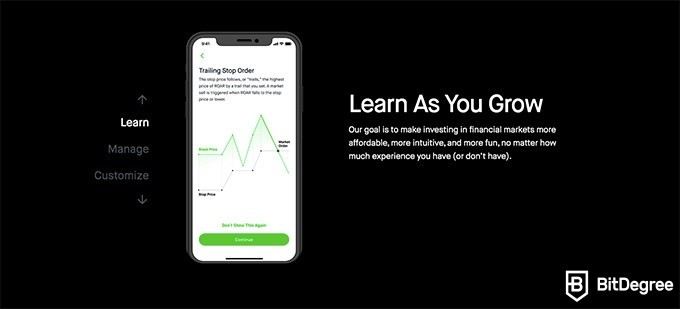 User Robinhood reviews, however, will tell you that the situation with this particular investing platform is quite different. So different, in fact, that's it's the opposite - Robinhood only accepts US-based investors. If you're not from the US, you won't be able to use the platform.
As you can probably imagine, this eliminates a huge portion of potential investors from all of the different countries around the world. That's not ideal.
That said, though, the biggest issue that many user have with Robinhood isn't even its lack of worldwide presence. Rather, it's the fact that, once you've bought crypto on their site, you're locked to it.
No Option to Transfer Assets Outside of the Platform
If you were to register on Robinhood and purchase, say, Bitcoin, you wouldn't be able to transfer it to a separate wallet that you might have. In other words, your assets are locked to your RH account, until you liquidate them.
Now, THAT'S a major issue.
If you're a beginner trader, you might say - what's the problem? I mean, if I choose to trade on Robinhood, why would I transfer my crypto assets anywhere else, in the first place?
Well, multiple reasons, actually. The main one, however, is simple - security.
One of the golden rules of cryptocurrency trading is that you should never leave your cryptos on an exchange. Some traders like to keep a small number of assets on a platform like that simply for quicker trading, buying, and selling needs that they might have, but they would still transfer the bulk of their coins to a secure and separate wallet.
The reason behind this is very simple, too - exchanges aren't bulletproof, and they tend to get hacked and broken into. This, in turn, may cause you to lose all of your cryptocurrency assets.

This reasoning is further-facilitated by the fact that, as mentioned earlier on in the Robinhood review, many platforms offer no actual insurance for your crypto assets. This makes transferring your coins to a separate wallet THAT much more important.
Again, however, this is not possible on Robinhood. Once you bought cryptocurrency on this platform, you are basically tied to it - RH does not allow you to transfer anything anywhere else.
It does make the exchange a custodial service, too. Custodial exchanges are usually looked down upon among crypto communities, mostly because of the saying "not your keys - not your coins". The fact that you do not actually own the wallet where your crypto assets are located means that it can disappear at any given point in time - once again, the lack of insurances regarding crypto does not make this better.
All in all, it's definitely not a great look for Robinhood, and while they've chosen to operate this way, there isn't much saving grace that could be expressed here, and that would somehow sway the situation in a positive way.

Did you know?
How to Use the Robinhood Exchange?
By now, you should have a pretty good idea of what you can expect out of the Robinhood crypto investment platform, both as far as the benefits and the shortcomings of the site are concerned. A final point that we should discuss in this Robinhood review would have to do with the registration and usability aspects of RH.
How to Register on Robinhood?
First things first - the registration process.
Step 1: Go to the crypto part of the Robinhood official website, and press the Sign Up button at the top-right corner of the screen.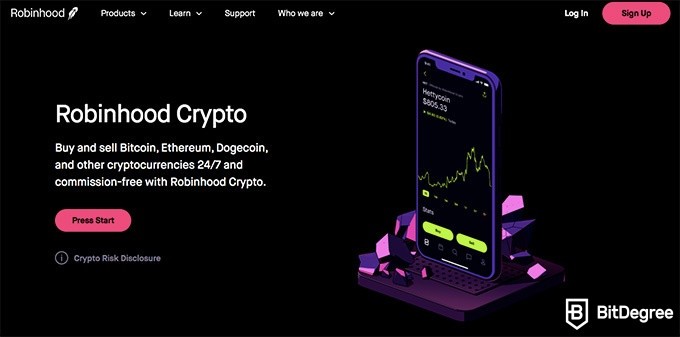 Step 2: You will not be prompted to enter your details (name and email), and create a strong password.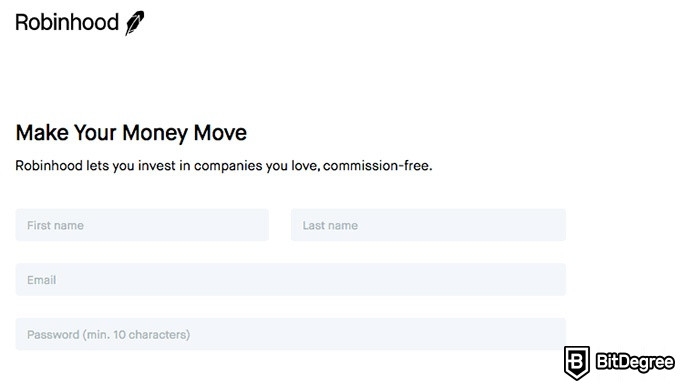 Step 3: Upon successful registration, you will be redirected to some separate pages that will then ask you to provide some more information about yourself. Depending on when it is that you're registering on the site, these requirements might differ a tad bit.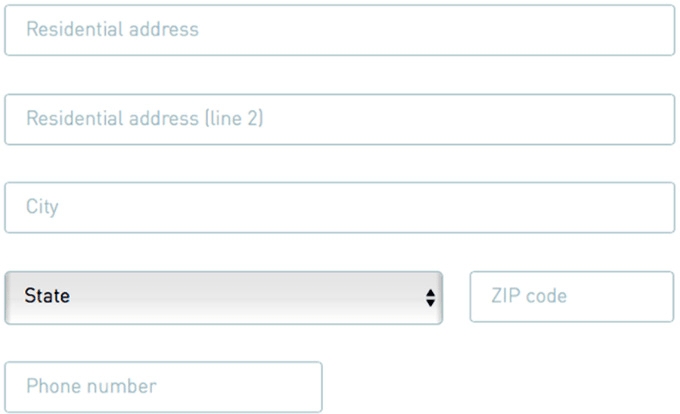 For starters, you'll be asked to provide some information about your current residency. Namely the address, postal code, phone number, and so on.
Step 4: Next up, the not-so-appealing part. You will now be asked to verify your own identity - this is standard procedure with any cryptocurrency exchange or, in this case, investment platform. It's part of the KYC (Know Your Customer) regulations, and it helps the platform retain the status of a secure and legitimate investment site.
That said, on Robinhood, in addition to all of the standard KYC requirements, you will have to also provide your social security number, too. Out of all my years of researching and using different cryptocurrency exchanges, I've never encountered anything like this!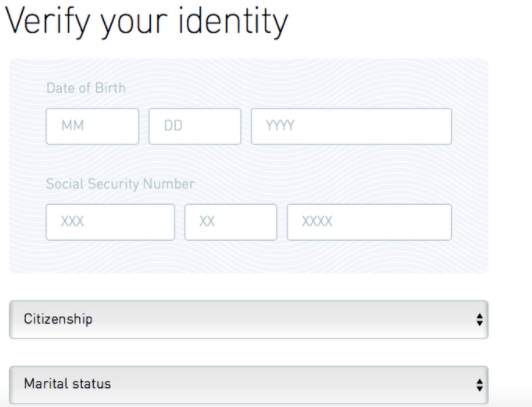 Admittedly, this does have something to do with the fact that Robinhood isn't an actual cryptocurrency exchange, at least not primarily. With investment-oriented sites that are exclusive to the US, this type of a requirement might make perfect sense.
Now, once you've submitted all of your documents, entered all of your details, and passed all of the verification checks, you'll have to wait for some time, until your application is either approved or rejected (hopefully, it's the former). Once that is done, you're all set to get started trading cryptos!
Now, as you've probably gathered from my tone above, I'm not a huge fan of the entire registration process on Robinhood. Admittedly, once again, this might have something to do with the fact that it isn't an actual cryptocurrency exchange - hence, the whole procedure is different, too.
That aside, and discounting the fact that, with most top-tier crypto exchanges, you won't need to pass any KYC verifications up until the point of actually buying or trading some crypto assets, the registration process on Robinhood is OK. It does take some time, and you will have to wait a bit for your application to be approved, but it's nothing out of the ordinary.
The Usability Aspects of Robinhood
Glancing at user Robinhood reviews that talk about the actual usability aspect of the platform, the situation is seemingly quite fair. What I mean is that you can expect some decent usability features from the site, and the notion that it's rather beginner-friendly does appear to be true, too.
The crypto acquisition process is pretty simple, too. All you need to do is navigate to the Details page of the individual crypto asset that you'd like to purchase, and enter the amount. Upon reviewing your order and making sure that everything is OK, all that's left to do is execute that order, and enjoy your newly-acquired crypto coins!
In short, the purchasing (acquisition) process is straightforward, and doesn't take much time, at all. Compared to the somewhat-tedious registration process, it's a relief!
Summary
Now, it's obvious that, regarding trading crypto on Robinhood, the whole process and experience are rather unique - for some, it's going to be unique in all the good ways, while for others, it might not be their cup of tea.
What's the final verdict on Robinhood, though? Is the platform worth trying out, and using, in general? Or is it something that you should stay far away from?
Well, to be fair, Robinhood does have a lot of great features that it offers to its users, and will definitely suit a specific type of wannabe-investor. However, for the vast majority of crypto enthusiasts out there, it's not going to be the right choice.

That is due to two reasons.
First of all, you can't transfer your cryptocurrency assets to a different platform, or even a wallet. This is a huge red flag, and is likely to scare many crypto enthusiasts away from Robinhood.
On top of that, though, it's important to keep in mind that Robinhood isn't a cryptocurrency exchange - very far from it. It's simply a stock and ETF investment platform that began offering some cryptocurrency compatibility - that's it! Primarily, it remains oriented towards its stock part of service - that's something that is evident by reading through user Robinhood reviews, too.

Pros
A very well-known crypto exchange platform
More than 500 different cryptos available
Two-factor authentication
Main Features
Over than 100 different cryptocurrencies available
Strong security
Small withdrawal fees

Pros
Secure and reliable
Low fees
A good amount of fiat currencies accepted
Main Features
Reputable exchange
Multiple fiat currencies are accepted
Relatively low trading fees

Pros
Anonymous trading
Secure
Supports a variety of cryptocurrencies
Main Features
Easy to use
Low fees
Good security
Conclusions
If you're looking for a high-end cryptocurrency exchange that would offer fiat-crypto & crypto-crypto trading pairs, on top of effortless crypto assets withdrawals, Robinhood is not going to suit you - there are much better options out there.
The platform in question is rather simple to use, and provides you with the chance to buy some of the main cryptocurrencies in a safe and reputable financial environment.
That said, the crypto asset variety is very scarce, and the site in question isn't even a crypto exchange, at least not primarily. No coin withdrawal, no multiple crypto trading pair support, and also no support for any crypto fans that are located outside of the US (or, also - Hawaii, West Virginia, Nevada, and New Hampshire - the platform does not operate in these states, either).
With that, though, I thank you for reading this Robinhood review, and hope that you were able to find all of the essential information that you were looking for. Good luck, and until next time!
The content published on this website is not aimed to give any kind of financial, investment, trading, or any other form of advice. BitDegree.org does not endorse or suggest you to buy, sell or hold any kind of cryptocurrency. Before making financial investment decisions, do consult your financial advisor.
About Article's Experts & Analysts