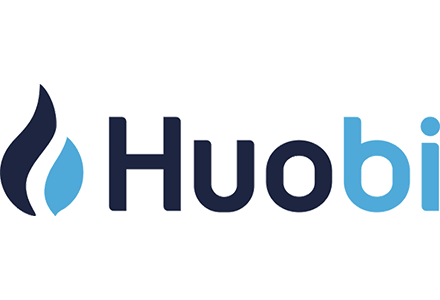 These days, there are many different cryptocurrency exchanges available for crypto enthusiasts to check and try out. Admittedly, it can be quite difficult to pick the best one for yourself! In this Huobi exchange review, we'll be taking a look at one of the older, more-reliable alternatives.
Huobi is one of the older exchanges on the market, too! It's been in business since 2013, and has managed to accumulate a pretty stable reputation. The exchange comes with many different features and benefits - all of the most notable ones will be discussed in the review ahead!
We'll check to see both what the main features of the platform are, and what sorts of benefits you can expect to receive if you choose Huobi as your main crypto trading site. We will discuss is Huobi safe or not, what coins it supports, and many more aspects of the exchange.
Also, if you're looking for a reliable and high-end crypto exchange platform, do make sure to check out some alternatives - the best ones include KuCoin and Binance.
Pros
Very low fees
User-friendly interface
Most crypto assets are stored offline
24/7 customer support
Cons
Only crypto assets available to be exchanged
Not regulated
Huobi Exchange Review: PROS
The very first point of business for us is to discuss the actual benefits that users are going to receive whilst using the exchange. There are quite a few user Huobi exchange reviews left online that mention the best parts of this platform - among them, the number of supported crypto coins stands out significantly.
300+ Supported Cryptocurrencies
Bitcoin was founded in 2009 - up to that point in time, the term "cryptocurrency" didn't even exist, or was associated with very different things. Even with Bitcoin's inception, crypto didn't become popular for many years.
Nowadays, more than a decade later, things are VERY different. Even crypto newbies are now looking for ways of how they could invest in multiple different cryptocurrencies - people nowadays love to keep some pretty varied portfolios, and put in a lot of research into even the most-niche of coins that are out there!
Naturally, as you can probably expect (and tell by looking at some user Huobi exchange reviews), this does also impact cryptocurrency exchanges in a major way, too. To put it short, exchanges are now pressured to offer their users as many different crypto coins and other assets as possible.

Huobi is no different in this regard. That said, this particular exchange has actually got things figured out pretty well - as of writing this Huobi review, the platform offers its users to trade and exchange over 300 different cryptocurrencies. That's an insane number of crypto assets!
This number includes both all of the "big" and well-known coins (such as Bitcoin, Ethereum, Litecoin, and so on), and also some of the less-known crypto assets, too.
Such a wide pool of choices is great in that ir offers users the ability to purchase and invest in multiple different assets on the same platform. You'll be able to find many of some less-known crypto coins, which is a huge win for Huobi, as far as crypto exchanges go!
Latest Deal Active Right Now:
$300 + 40 DOGE BONUS
Huobi Black Friday Limited-Time Period
Huobi Black Friday & Cyber Monday 2023 period offers great bonus for new users - sign up & earn up to $300 + 40 DOGE bonus!
Expiration date : 10/12/2023
3,817 People Used
Only 31 Left
Super-Low Fees
Crypto transactions tend to involve fees - that's how exchanges operate and maintain their income, after all! However, as you can imagine, fees are usually one of the more-contentious topics, as far as cryptocurrencies go.
It makes sense - no matter if you're starting out with crypto, or are looking to trade some higher amounts of it, everyone would probably want to pay super-small fees. Naturally, crypto exchanges tend to compete with one another in terms of which of them could offer the best prices for their users - multiple Huobi exchange reviews left online will tell you the same!
Where does Huobi fit into the picture here, though? Well, it's pretty simple - Huobi offers its users some of the best fees on the market!

In crypto trading, there are two terms that you should be aware of - "maker" and "taker". A 'maker' is someone who performs the payments, while a 'taker' is a person who, well… Receives it. In most cases, these two types of users are going to have different fees.
Online Huobi exchange reviews will tell you that, no matter if you're a taker or a maker, in most cases, the fees won't surpass the 0,2% mark - that's awesome! The vast majority of exchanges have significantly higher fees!
Glancing at some user Huobi Pro reviews, too, it's evident that these same fees can be even smaller - this is true if you hold some Huobi tokens.
Top-Notch Security Features
As you can probably imagine, when it comes to the majority of user Huobi reviews found online, they often contain a single question - is Huobi safe?
It makes perfect sense, too - security is, without a doubt, the most important aspect of a reliable and legitimate cryptocurrency exchange. An exchange can have multiple coins to offer to its users, be super-fun to use, and so on - if it's not secure, though, no one's going to use it.
Huobi takes all of the concerns that you might have, security-wise, and throws them out of the window - the exchange is a very safe crypto trading option!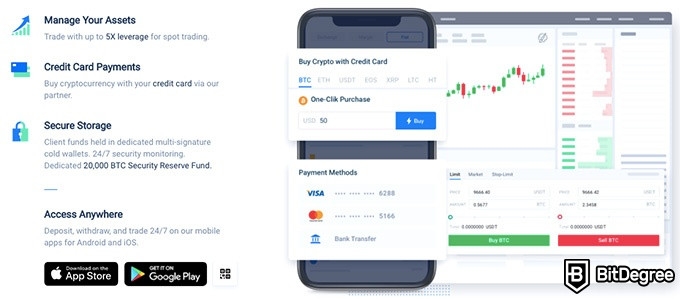 First of all, your funds are insured - the Huobi User Protection Fund ensures that, if anything were to happen to your crypto assets, and their security was compromised, you'd be compensated for your losses.
That's not the best part, though. You see, Huobi keeps up to 98% of its users' crypto assets in cold wallet devices. In theory, this is one of the best security features that an exchange could uphold!
Cold wallets are offline hardware devices that are used to store cryptocurrencies and tokens. With a cold wallet, you can be sure that a potential hacker won't be able to access your funds, simply because it's impossible - with the wallets being offline, the only way to breach their security would be to steal the actual, physical device!
So, is Huobi safe? I'd say - very much so!
Live Customer Support
If you've ever used a cryptocurrency exchange before, you might be aware of the fact of just how difficult it is to find reliable and, more importantly, live customer support.
Many exchanges, to this day, offer email support. If you've encountered an issue while trading or exchanging your crypto, though, this might not be very helpful - you'd have to write an email, and then wait for a response - it might take hours, or even days!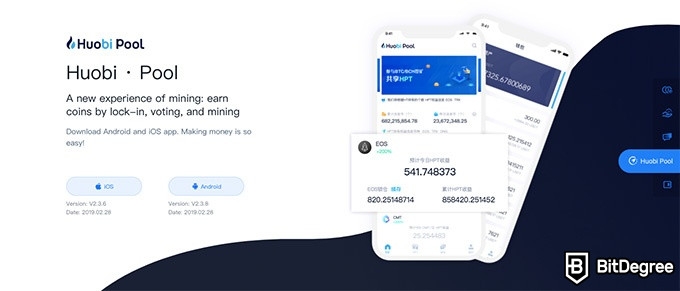 One of the more prominent features discussed in quite a few Huobi reviews is the fact that the exchange has live customer support. That's great, in of itself - on top of that, though, you'll be able to reach the support 24/7!
No matter what sort of an issue it is that you're facing, you can be sure that you'll be able to reach Huobi's support at any time of the day, and receive the help that you need!
Credit / Debit Cards - Accepted!
Probably one of the most important features of a crypto exchange when you're just starting out is the process of funding your account.
Truth be told, that's not always an easy task. With some exchanges, the only way to start trading is by transferring some cryptocurrency from another wallet into your account on the exchange. Needless to say, that might prove to be a pretty difficult and time-confusing process, especially for newbies.

Not something that you'd need to worry about with the crypto exchange in question, though. User Huobi exchange reviews will tell you that Huobi does accept both credit and debit card payments!
This isn't only very conveniant, but it also allows you to fund your account in a fast manner, too! If you're trying to catch a great deal, but do not have any funds in your account, it's the perfect option!
Huobi Exchange Review: CONS
While Huobi is truly one of the better cryptocurrency exchange platforms on the market, there are still some user reviews that aren't all that positive concerning the platform.
Naturally, looking at the Huobi Pro reviews, it's evident that most of the more-negative feedback that Huobi receives doesn't exactly concern the features that the platform offers, but rather ones that it lacks.
Only Cryptocurrency Trading (No Other Assets)
This is something that can, admittedly, be seen as both a pro and a con, depending on what it is that you want from an exchange, in the first place.
Some user Huobi exchange reviews left online mention the fact that Huobi only allows you to trade cryptocurrencies - in other words, there are no other assets that you'd be able to exchange or trade on the platform.
For hardcore crypto fans, this isn't going to be an issue - if you're only interested in crypto, you probably wouldn't even notice this, in the first place.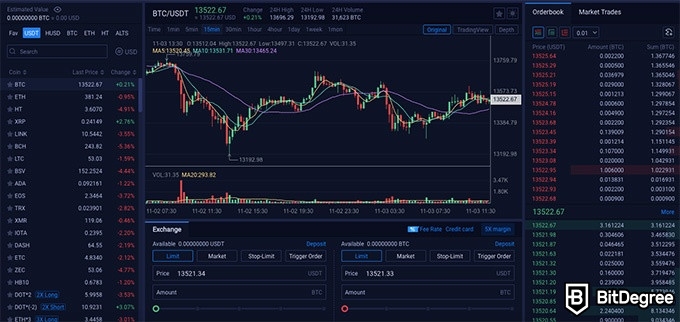 However, if you'd like to trade some other assets, too, and use Huobi as your standalone exchange, that won't be possible.
As noted earlier, it all boils down to your own financial portfolio-building preferences. Still, it's something that's worth pointing out, seeing as there are some user Huobi Pro reviews that emphasize the point pretty sternly!
An Unregulated Exchange
Yet again, this is something that can be seen as both a pro and a con, depending on your stance regarding crypto regulations.
Huobi falls under the laws of the Republic of Seychelles. What this means is that the company behind the exchange is not regulated by any major financial institution. In most cases, unregulated exchanges are something that you should avoid, since they offer no benefits or safeguards to the user.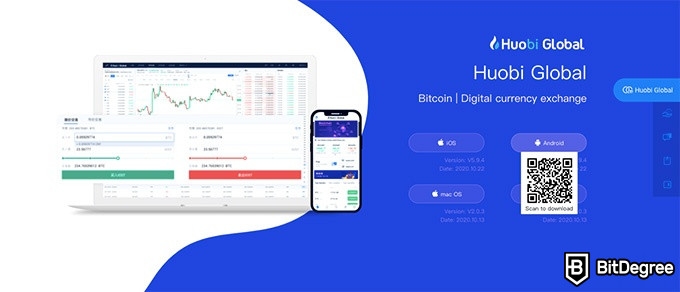 Here, though, we're talking about a cryptocurrency exchange. Many of the diehard crypto enthusiasts would tell you that crypto needs as little regulation as possible - that's kind of the whole point of decentralization, in the first place!
In essence, whether this is a shortcoming or an actual benefit does depend on your own, personal perspective - if you aim to honor the philosophy behind crypto, then the unregulated nature of the exchange might not be too big of a deal for you, especially considering all of the other benefits that Huobi offers to its users!
If you do want to use a regulated and secure exchange platform, check out either Binance, or KuCoin, as some of the best alternatives.

Did you know?
How to Use the Huobi Cryptocurrency Exchange?
Now that we've covered all of the main pros and cons of Huobi, the only thing that's still left to discuss is the process of actually using the exchange!
First of all, since many user Huobi exchange reviews do point out the fact that Huobi is super-simple to use, let's take a look at the registration and usability processes, in general. After that, we'll also talk about buying crypto on the platform, too.
How to Register on Huobi?
The registration process involves the following steps:
Step 1: Go to Huobi's official website.
Step 2: Press Sign Up. You'll be redirected to a new window, where you'll have to fill out some relevant information. Do so.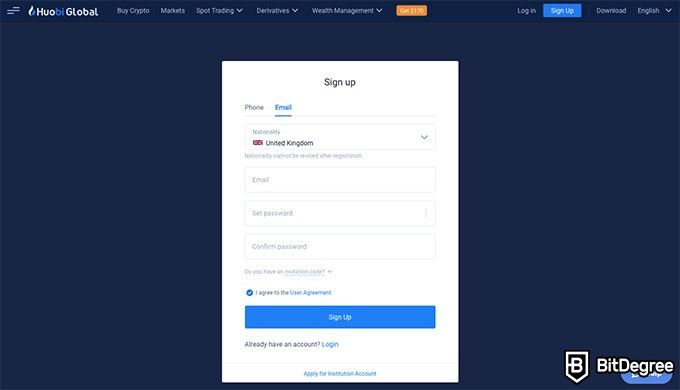 Step 3: Now, you'll have to verify your account by entering the code that was sent to your email.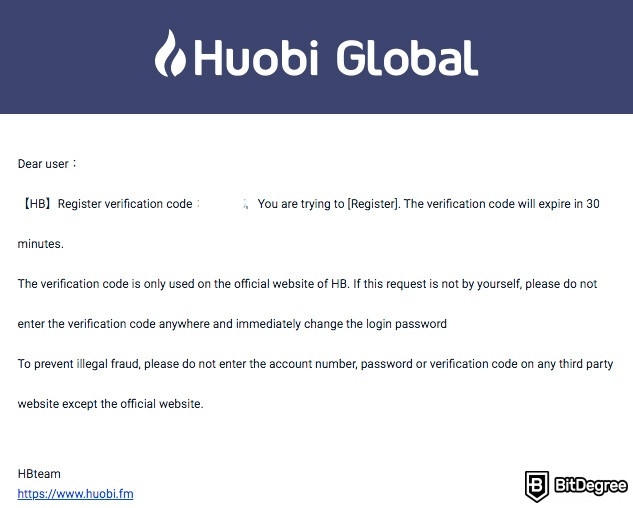 Step 4: Once you've done that, you'll be redirected to the main page of the exchange. That's it!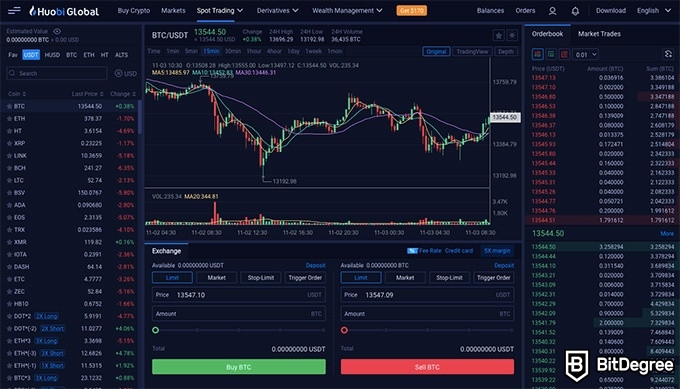 As you can probably see by yourself, the registration process was a complete breeze! Most user Huobi exchange reviews are unanimous on this point - it takes but a minute, and is very straightforward!
The interface layout is, admittedly, a tad bit overwhelming - this is especially true if it's your first time accessing an exchange like Huobi. That being said, it's all standard - there are no additional confusing features or buttons that would make you open up a dictionary just to find out what all of it means.
Usability-wise, you'd perform all of your trading and exchanging processes at the bottom part of the screen. On the left, you can choose a crypto asset that you'd like to trade. The infographic in the middle serves the purpose of showing you the price fluctuations of the asset that you've chosen.
How to Deposit Funds into Your Huobi Account?
As a final point of this Huobi exchange review, let's take a look at how to purchase Bitcoin with Huobi by using a credit or debit card.
Step 1: Navigate to the Buy Crypto button on the top-left of your main exchange page.

Step 2: Here, you'll have to choose a credit card payment option, and enter the amount of money that you'd like to spend on Bitcoin. Naturally, you can purchase some other crypto coins, too, but for the sake of this example, we're using Bitcoin.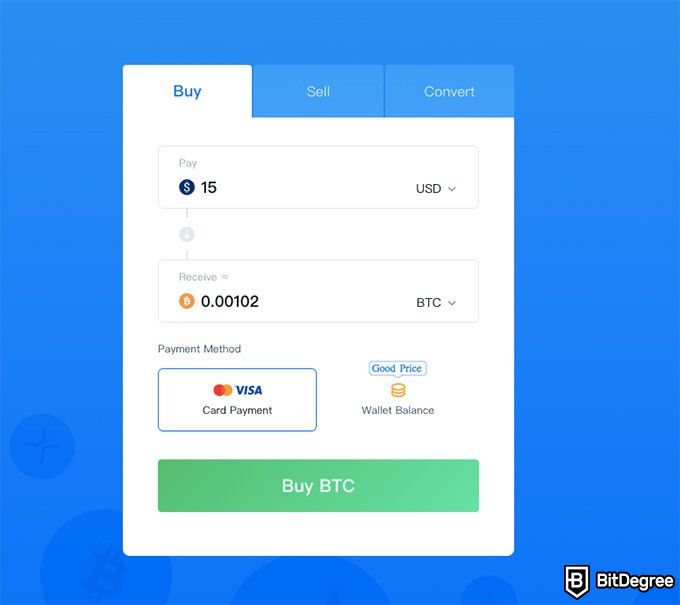 Step 3: Now, you will be asked to complete your verification, if you still haven't done so. The verification process takes a very short amount of time, and involves you providing Huobi your address and photo of ID.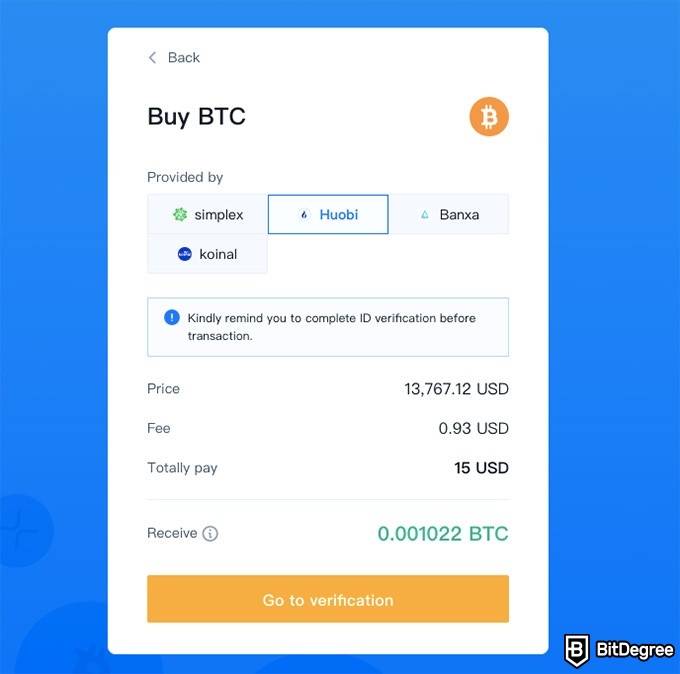 Step 4: Once you've passed verification, all that's left to do is complete your transaction, and you'll be funded the adequate amount of cryptocurrency into your Huobi wallet. That's it!
As expected, the crypto purchasing process on the exchange is very fast, and simple! While it's surely something you'll find mentioned on user Huobi reviews, it's also evident whilst actually performing the purchase, too.
Here is The Best Binance Offer I Found:
SECURE $600 BONUS
Binance Holiday Sale
Sign up on Binance and claim up to $600 worth of rewards for completing simple tasks during this Binance Holiday Sale. Use our Binance referral code (49316610) to activate the offer while it's still valid!
Expiration date : 10/12/2023
2,935 People Used
Only 67 Left
Conclusions
So, then - is Huobi safe and worth checking out?
Definitely!
Huobi is an amazing cryptocurrency exchange platform. It offers top-tier security features, with the vast majority of your funds being kept in cold storage devices. On top of that, the site is very simple to use, offers more than 300 different crypto assets, and also allows you to purchase cryptocurrencies with a credit or debit card.
All in all, most user Huobi exchange reviews will tell you the same - the platform is truly amazing. If you'd like to check out some even better Huobi alternatives, though, you can take a look at our list of the top-rated crypto exchange platforms! Perhaps Binance or KuCoin will deem themselves to be a better choice?
The content published on this website is not aimed to give any kind of financial, investment, trading, or any other form of advice. BitDegree.org does not endorse or suggest you to buy, sell or hold any kind of cryptocurrency. Before making financial investment decisions, do consult your financial advisor.
About Article's Experts & Analysts