Every year, there seems to be a surge of new and exciting methods of how to earn money in the cryptocurrency space. Some of these methods are less popular, while others offer investors the "sweet spot" between risk and reward. Since you're searching for the best crypto staking platforms, chances are that you've decided on staking being the optimal passive income method for you!
Or, perhaps, you've only heard about "staking", and have developed an interest in what in the world is this process even about? No matter what the case might be, if you're looking to get into staking, you'll need a top-tier platform to start off with.
In this article, I'll tell you about the 6 best crypto staking platforms - you'll be able to pick one or two, and start your journey into the world of passive crypto gains! Our list will look like so:
How to Find the Best Crypto Staking Platform?
Before we get into the list of the best crypto staking platforms, there are a few things that need to be set straight. Among the biggest of these things is the difference between exchange-based staking, and doing so on decentralized cryptocurrency platforms.
Since this isn't necessarily a "guide" on what staking is, we'll keep it short and to the point. However, if you already have some prior knowledge on the subject, this won't be really difficult to understand.
Fundamentally, when people say "staking", they are usually referring to holding specific cryptocurrencies in dedicated wallets, and delegating them (locking them up) to certain staking pools. Only cryptocurrencies that are based on the Proof-of-Stake consensus mechanism can be staked this way.
It's the traditional method of staking, and has been around for as long as PoS blockchains existed. In this list of the best crypto staking platforms, however, we'll be looking at a… Different form of staking.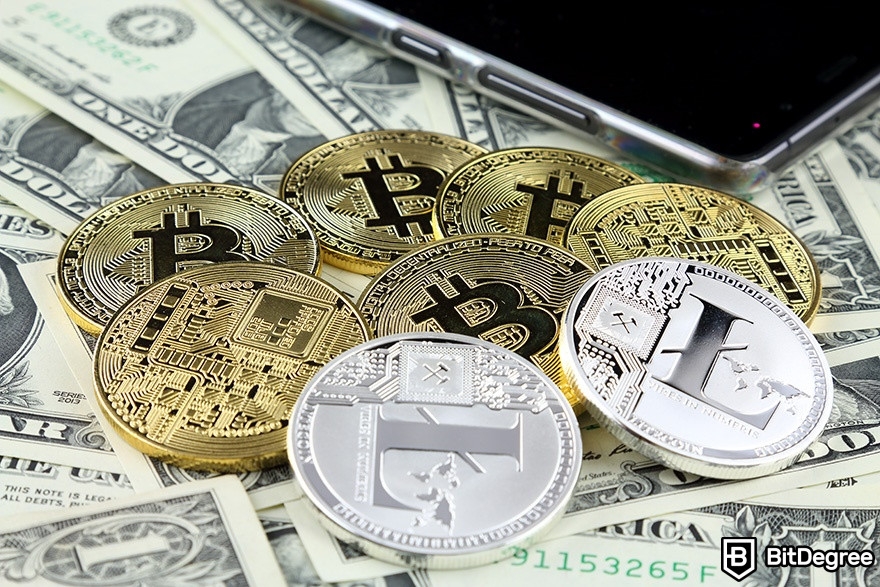 Specifically, we'll be covering staking that happens on cryptocurrency exchange platforms. With time, more and more exchanges allow users to stake their coins, and thus, start earning passive gains without even leaving the exchange platform itself.
Exchanges allow you to stake a wide variety of different coins and tokens - even those that aren't based on the Proof-of-Stake model. I won't go into the technicalities of how that works, since, once again - that's a separate tutorial in of its own. Suffice to say that staking is a bit different, when it comes to exchange platforms.
So… Why search for the best crypto staking platforms, and not just resort to the "traditional" method of staking? Well, one word - convenience.
If you're not a die-hard crypto technology fan, and are only interested in making as much profit as possible with the help of cryptocurrencies, resorting to exchange-based staking is much more convenient. It's also usually very beginner-friendly and fast, too - you can set everything up in a matter of minutes, especially if you're using the best staking platforms!
Staking Platform Evaluation Criteria
Before we jump into the list of the best crypto staking platforms, there's one more question that needs to be covered - what should you be looking at, when it comes to evaluating and comparing said platforms with one another?
Well, it's rather simple, really. Allow me to list it out for you:
APYs (Annual Percentage Yield)
Coin & token variety
Reliability
Convenience
Additional details surrounding the staking process
Let's go through each of these criteria, in a few sentences.
APYs are self-explanatory - if you're looking for the best place to stake crypto, you'll want to maximize your gains, and the higher the APY, the more passive income you will earn! Do note that there are platforms out there offering APYs of a 1000% or more - obviously, if it sounds too good to be true, it probably is. Anything above 50% should be examined extra closely!
Coin & token variety will allow you to diversify your staking portfolio - in other words, you'll be able to stake more cryptocurrency assets! This is especially useful if you own a particular crypto asset, and don't want to go out and exchange it for something else - you can stake that asset, as long as the best crypto staking platforms support it!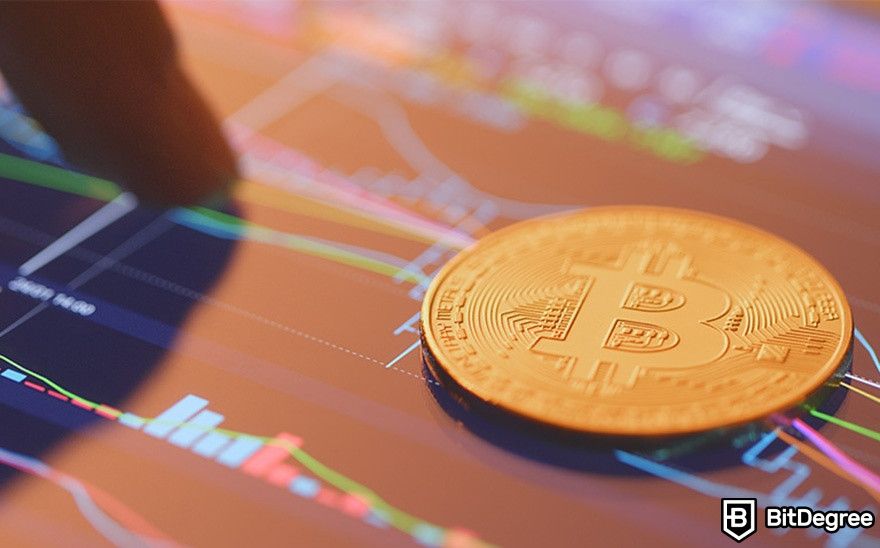 Reliability and convenience are, once again, two features that are very self-explanatory. You'll want your platform of choice to be as simple to use as possible, while also having a spotless reputation, without any shadiness or controversy surrounding it.
Lastly, there are usually many additional details surrounding the staking process on high-profile platforms. Always make sure to read the fine print!
With all of that out of the way, let's get to the point of our article, and take a good look at the best crypto staking platforms of the year!
Ranks #1 out of 6 Crypto Exchanges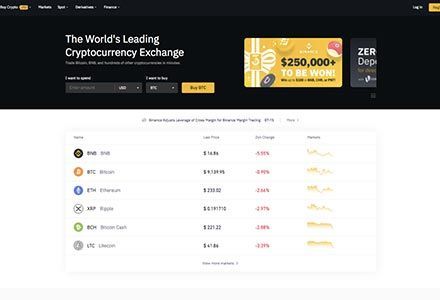 Things we liked:
+ A very well-known crypto exchange platform
+ More than 500 different cryptos available
+ Two-factor authentication
+ P2P trading option
+ Emphasis on security and KYC
+ Supports fiat-crypto acquisitions
Things we didn't like:
- Might be a bit difficult for beginners
CLAIM $600 BONUS
Exclusive $600 Binance Offer
Don't miss this limited-time deal that's only available for our readers. Follow the Binance referral code link & receive up to $600 in rewards and bonuses!!
Expiration date: 29/01/2023
7847 People Used
Only 49 Left
If you've spent any time in the crypto world, you've undoubtedly heard about Binance. It's the largest cryptocurrency exchange platform in the world, offering users a myriad of features, in addition to its core exchange functionality.
Among those additional features, you have staking, as well. Binance is definitely one of the best crypto staking platforms out there - it ticks all of the important boxes, and then some.
If you'd like to use Binance for all of your staking needs, you'll have two options to pick from - Locked Staking, and DeFi Staking. While seeming similar at first glance, both of these staking services are actually pretty different.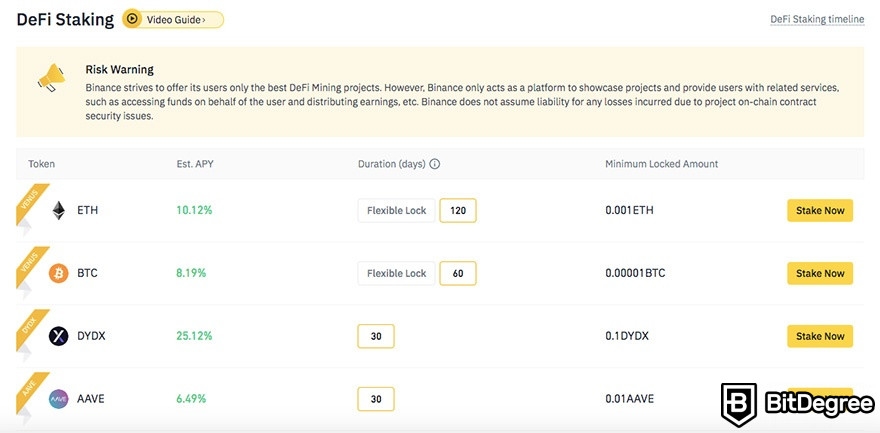 With Locked Staking, you'll be holding your cryptocurrencies in your Binance wallet, and employ those same cryptos to support various processes happening on the blockchain network. With DeFi staking, things are a bit more… Complex. Binance will use your crypto assets to participate in DeFi projects, and later, distributes rewards to the user.
Long story short, though, the fact of the matter is that Binance allows users to pick from a safer and more-reliable option, and one that's riskier, but has the potential to yield better returns. The freedom of choice is definitely appreciated!
Asset-wise, users are able to stake over 100 crypto assets with Locked Staking, and over 10 crypto coins & tokens with DeFi staking. That's a huge number - many platforms support less than 10 assets, staking-wise! This feature alone places Binance at the top of the best crypto staking platform list.
In regards to reliability and convenience, I mean, do I even need to say anything? Binance is arguably the most reliable and well-respected crypto brand in the world - it complies with all legal requirements and employs an aggressive KYC verification procedure, is regulated and overseen by multiple financial institutions, and has an impeccable reputation, in general.
Table: Some general information about Binance
Furthermore, once you create a single Binance account, you'll be able to use it with all of the services that Binance has to offer. Meaning, if you create an exchange account, you'll be able to stake, trade on the NFT marketplace, and interact with any other Binance product out there. Superb!
All in all, Binance is undoubtedly one of the best crypto staking platforms on the market. If you're looking for reliability and industry-leading performance, you can't go wrong with Binance!
Ranks #2 out of 6 Crypto Exchanges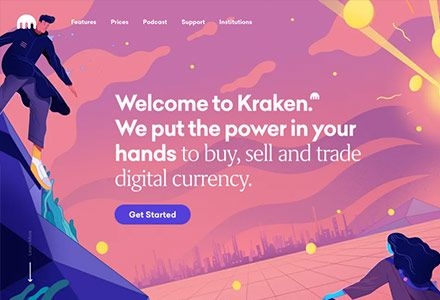 Things we liked:
+ Secure and reliable
+ Low fees
+ A good amount of fiat currencies accepted
Things we didn't like:
- Not the most helpful customer service
EARN UP TO 23%
By Staking on Kraken - Black Friday Deal
Start staking with Kraken in just a couple of clicks and automatically earn rewards twice a week. Earn up to 23% on your crypto with this Kraken Black Friday offer!
Expiration date: 29/01/2023
8766 People Used
Only 59 Left
Kraken positions itself as "one of the most trusted and secure exchanges in the world". There's a lot to back up these claims, as well - Kraken is one of the veterans in the cryptocurrency exchange industry, and has managed to make its way to the top of many people's lists, as far as exchanges go.
Same as all other best crypto staking platforms on this list, Kraken does offer its users flexible and stable staking functionality. On the user side of things, everything is comprised of three simple steps - you buy the assets that are eligible to be staked, stake it, and start earning rewards.
Simple as that!
Unsurprisingly, Kraken also offers its clients a pretty hefty variety of tokens to choose from, as well. These include the following:
In total, as of writing this list of the best crypto staking platforms, there are 15 different assets available to be staked on Kraken, all with ranging APYs. The APYs will range from 0,25% for coins such as BTC, and can go up to and over 23% for Kava, or 20% for Mina.
Kraken does have a pretty varied list of assets to pick from, in general! This includes the large and well-known coins mentioned above, as well as some of the less-known assets, too. Most-everyone should be able to find cryptos that would suit their preferences!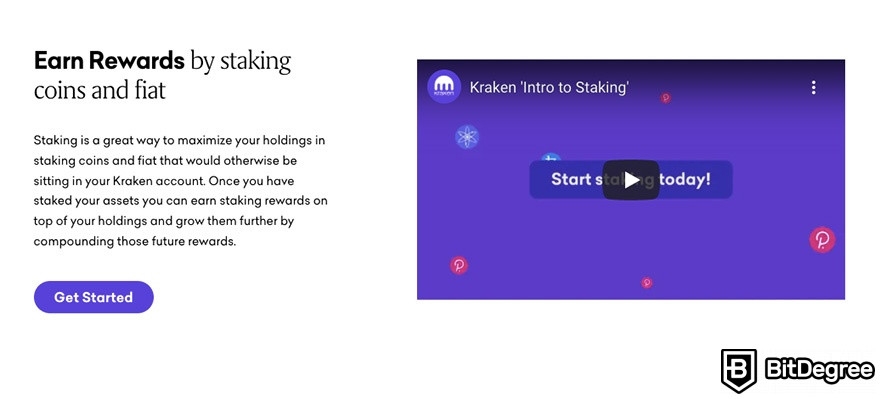 Same as platforms such as eToro, Kraken does also support compounding returns, as well. Essentially, this means that, when you receive rewards for your current stake, they'll be able to be added to your stake for the next period, thus increasing your total returns.
Depending on the amount of crypto that you're staking, this can become one of the most significant boosts for your portfolio, big time!
Another point that you should be aware of is the fact that Kraken does, in fact, offer on- and off-chain staking. This is probably something that you might have gathered by seeing the list of supported coins, but it's still important to mention, nonetheless.
Table: General features of the Kraken crypto exchange platform
To put it simply, when you participate in the best crypto staking on-chain, the staking process happens directly on the blockchain. On-chain staking is only available with Proof-of-Stake blockchains, such as Cardano or Tezos.
On the flip side, off-chain staking happens on the exchanges themselves, internally. While neither of the two staking methods really make a significant difference to the user, it's worth noting that off-chain staking will only be available for crypto holders in certain countries (the actual supported countries depend on the exchange in question).
So, if you're looking for the best crypto staking platforms, keep Kraken in mind!
Ranks #3 out of 6 Crypto Exchanges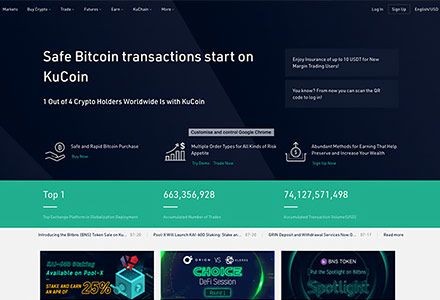 Things we liked:
+ Anonymous trading
+ Secure
+ Supports a variety of cryptocurrencies
Things we didn't like:
$500 BONUS
For New Kucoin Users
Use this Kucoin Coupon & get up to $500 in rewards. Sign up to Kucoin for huge perks & limited-time offers!
Expiration date: 29/01/2023
3984 People Used
Only 27 Left
KuCoin is one of the leading crypto exchange platforms on the market. The exchange is best-known for providing its users with a wide selection of cryptos for trading, as well as being "up there" when it comes to all relevant asset and personal information security measures.
Since it's an exchange that we're talking about in our list of the best crypto staking platforms, you can probably guess that KuCoin has a few awesome tricks up its sleeve, staking-wise. And, well, you'd be correct to do so.
Before even going into too much detail about the general staking functionality on the platform, the very first thing that you should know about is KuCoin's "soft staking" feature. It's a unique take on staking, and is very much appreciated by the users of said exchange.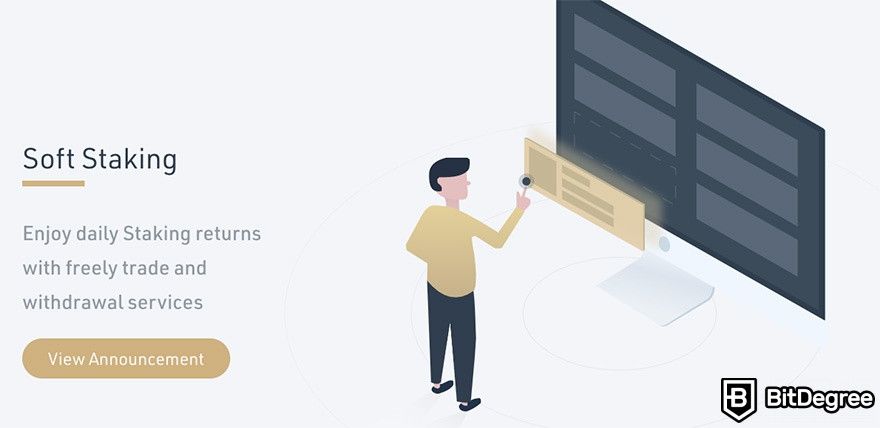 Basically, KuCoin allows you to stake specific cryptocurrencies without needing to lock them up for an extended period of time. Frankly, you can stake your desired crypto for a day, and then take it out - no strings attached!
This brings with itself a huge amount of leniency and convenience. Users are able to stake and unstake their cryptos, without having to worry about locking up their assets for extended periods of time.
There are multiple assets, as well as multiple types of lock-ups available with KuCoin, as well. Thus, if you're looking for the best crypto to stake, you'll have a pretty decent variety of coins and tokens to pick from - once again, that's a great thing!
The staking process happens on KuCoin's "Earn" platform. Here, you can see all of the latest offers, promotional events, as well as analyze the different benefits and drawbacks staking the assets of your choice.
Table: General information about the KuCoin crypto exchange
Potential yield-wise, the numbers are all over the place. The soft staking functionality definitely adds to this, too! Your expected APY will range depending on multiple different factors, such as the asset that you choose to stake, the time period of the stake, a promotion that might be going on, and so on.
In general, though, you could come across estimated APYs that range from 12% up to 50%, and even over 100%! Once again, though - this depends on a variety of factors!
All in all, KuCoin is definitely one of the best crypto staking platforms on the market. If you're looking for a reliable and well-respected crypto exchange to start staking cryptocurrency assets, make sure to check KuCoin out!

Did you know?
Ranks #4 out of 6 Crypto Exchanges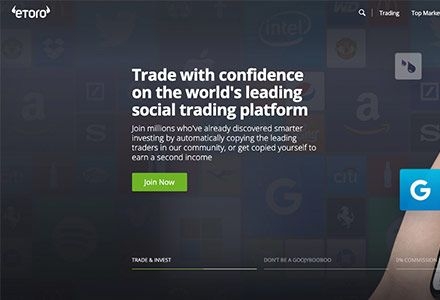 Things we liked:
+ Copy trading service available
+ A variety of cryptocurrencies to choose from
+ Beginner-friendly
+ ETF trading functionality
Things we didn't like:
- Withdrawals can be slow
- Slow verification process
Cryptoassets are unregulated in some EU countries and the UK. No consumer protection.
Get $10 Bonus
Limited-time eToro Coupon
Take advantage of this eToro coupon. Deposit $100 - get a $10 Bonus, trade $100 - get a $10 Bonus! Act now while this eToro deal is still valid.
Expiration date: 29/01/2023
657 People Used
Only 92 Left
eToro is one of the most well-known names in the financial asset trading industry. This isn't only true when it comes to cryptocurrencies, though - instead, the platform is super-popular among various types of traders, worldwide.
Interestingly enough, many people are often surprised by seeing eToro in lists of the best crypto staking platforms. That's mostly because individuals mostly think of eToro as a CFD marketplace, and don't really associate it with advanced crypto-related functionality.
Well, I'm very happy to say that yes - eToro does have staking functionality! Furthermore, it's actually considered one of the best staking platforms around!

eToro's staking model is going to be different from that of many other best crypto staking platforms on this list. Specifically, eToro has different tiers for its users - Bronze, Silver, Gold, Platinum, Diamond, and Platinum+. Each of these 'clubs' will bring in increasing rewards to staking participants.
Bronze club members will receive APYs ranging up to 75%. Silver, Gold, and Platinum members can expect returns of around 85%. Lastly, Diamond and Platinum+ club members' monthly staking yield could reach up to 95%.
These are some insane returns! And yes, you've read that right - the yield is paid out monthly, not yearly!
eToro does only support three different cryptocurrencies, staking-wise. Users may stake Cardano (ADA), Tron (TRX), and Ethereum (towards the ETH 2.0 upgrade). However, ETH is only available to be staked in set specific countries.
ADA and TRX are some of the best cryptos to stake, though, so it's still better than having a couple of less-known assets in their place! Sure, the fact that eToro doesn't support more coins and tokens is a bit of a shame - that said, the platform makes it up with the simplicity that it employs in its staking processes.
Table: General information on the eToro platform
To be more specific, after opening a staking position with one of the assets mentioned above on their eToro platform accounts, users won't need to do anything else. After the initial intro days (9 for ADA, 7 for TRX), your staking rewards will start rolling in, and will be credited to your account automatically.
To top it all off, eToro's staking rewards are compounding. This is actually one of the best crypto staking platform features, in general! What it means is that the rewards that you earn on your crypto this month will be added to the calculation of next month's rewards. That's huge!
All things considered, while not everyone is going to think about eToro when considering the best place to stake crypto, it's definitely a platform worth paying attention to, still!
Highly volatile unregulated investment products. No EU investor protection.
Visit eToro
...or read our eToro review
Cryptoassets are unregulated in some EU countries and the UK. No consumer protection.
Ranks #5 out of 6 Crypto Exchanges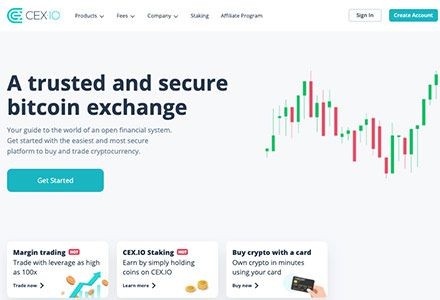 Things we liked:
+ Easy to figure out
+ Different trading pairs
+ Great support
Things we didn't like:
- Might lack coin options
CEX.IO has long been the underdog in the cryptocurrency exchange industry. While it's not a name that would pop into the news as often as platforms such as Binance or Kucoin, CEX.IO offers a large variety of features to its users - all in-line with the industry standards!
On top of that, CEX.IO has long been one of the very few crypto exchanges that allow users to transact with fiat money - both buy crypto, as well as cash out, and transfer funds to your debit card.
That's great - but how is CEX.IO when it comes to the crypto staking platforms?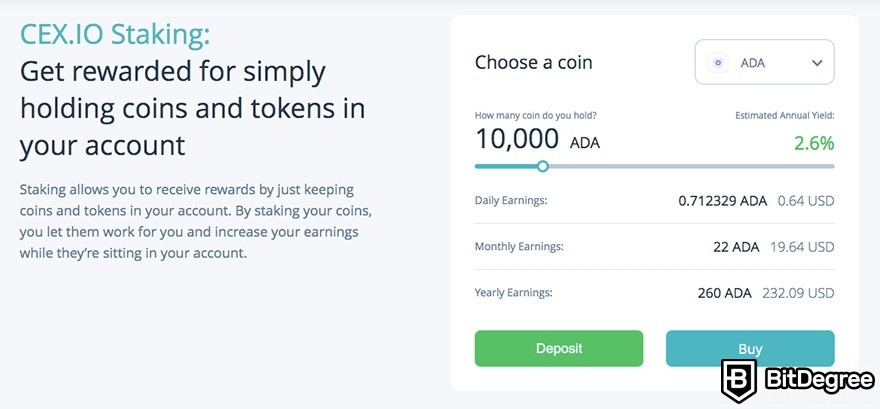 CEX.IO offers its clients a Savings option, as well as a dedicated Staking feature. The platform claims that, with staking, your profits could reach up to 50% APY. That's nothing to scoff at, especially when a number like this is available with a top-rated cryptocurrency platform!
CEX.IO also offers quite a few different crypto assets to stake, too! If you hold one of the following coins or tokens, you'll be able to stake them on the platform:
The list is pretty varied, so most-everyone should be able to find an asset that would suit their needs. This also includes some of the best cryptos to stake, too - coins such as Cardano (ADA) or Tezos (XTZ) are very popular staking picks, due to the overall popularity of the projects, as well as the perceived stability of your potential returns.
As I'm writing this list of the best crypto staking platforms, CEX.IO currently has served over 25,000 clients, staking-wise, and has paid out close to half-a-million dollars in rewards. Those are huge numbers!
Table: General information on the CEX.IO crypto exchange
Same as most other best staking platforms on this list, CEX.IO aggregates users staking funds, and then acts as the intermediary between the client and the staking pool. This way, users are able to earn passive rewards, while not having to set anything up themselves - great!
Visiting the CEX.IO staking page, you will be able to see all of the estimated annual yields for each of the different crypto assets mentioned above, as well as the minimal holding that you'll require to start staking. Everything is very simple and beginner-friendly - there's even a calculator for you to play around with, so that you could get a better idea of what earnings to expect!
CEX.IO, in general, is definitely a great choice for anyone looking for the best place to stake crypto. Worth keeping in mind!
Ranks #6 out of 6 Crypto Exchanges
Things we liked:
+ Fiat currencies - accepted
+ Simple to use
+ Accepts only the most trustworthy cryptocurrencies
+ Very secure
Things we didn't like:
- Not available in all countries
- Some of the less-known coins aren't supported
$5 BTC BONUS
For New Verified Coinbase Users
Receive your $5 bonus in BTC when you sign up for a new Coinbase account & complete all photo verification steps. Follow this Coinbase referral link to activate the deal!
Expiration date: 29/01/2023
4989 People Used
Only 11 Left
Just like Binance, Coinbase is one of the most recognizable names in the cryptocurrency world. It's an industry veteran exchange platform, and is the very first cryptocurrency exchange that has gone public on the Nasdaq.
This does, obviously, add to the legitimacy of the platform and the company behind it, exponentially.
Coinbase takes its staking feature very seriously. The platform doesn't have a lot of different coins that could be staked, but all of the main ones are available - these include Ethereum, Algorand, Tezos, and Cosmos. On top of that, users can also earn passive interest on their DAI and USDC stablecoins, as well.

The way that this works is the same as with any other best staking platform - Coinbase aggregates user crypto funds, and then takes care of all of the staking technicalities. Later, staking rewards are distributed depending on how much each user staked, and a few other criteria.
Simplicity is key with Coinbase! The platform has long been seeking to establish a reputation as one of the most beginner-friendly cryptocurrency platforms in the industry - staking functionality is no exception!
Users of Coinbase are able to start earning staking rewards with as little as $1 worth of crypto - evidently, this opens up the door for a huge number of new people to come in and try the staking functionality available on the platform. The whole process is fast, easy, and worry-free.
Table: General information on Coinbase
As far as APYs are concerned, the numbers are going to vary, depending on the market volatility at that point in time. However, as of writing this list of the best crypto staking platforms, you can expect an APY of 5% with Cosmos, and up to 4,5% with Ethereum. That's very decent!
While the numbers might not be the highest, Coinbase does still offer some of the best cryptos to stake (i.e. Ethereum), as well as provides high-end reliability and convenience to its users. If you're looking for a trusted and super beginner-friendly staking platform, Coinbase should definitely be at the top of your list!
Conclusions
This wraps up our list of the best crypto staking platforms for this year! We've covered 6 amazing options that all come with their own sets of features and benefits - chances are that you already have a favorite picked out!
Don't forget - while you might be using only the top-rated and reliable platforms, staking still involves certain levels of risk. You should pick the best crypto to stake, but only stake as much as you'd be OK with losing.
Also, if you'd love to start staking, but don't yet have any assets that could be staked, worry not - simply check out our list of the best cryptocurrency exchanges, pick one that seems to suit your wants and needs best, and the purchase your crypto on it! Many of the names that you see on that list will be those that you've already come across here, too!
All in all, thanks for reading my list of the best crypto staking platforms! I wish you good luck with all of your staking endeavors, and until next time!
---
Other Crypto Exchanges In This Category
Here are other crypto exchange related to the category but not as favoured by BitDegree.org Crypto Exchanges readers yet. In my personal opinion, today there are much more optimal crypto exchange in the list with the higher rating that I'd recommend for the same price range or less.
BlockFi - An Alternative to Staking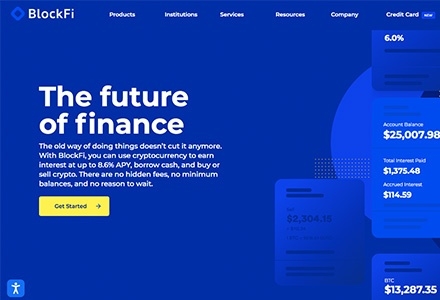 Things we liked:
+ Commission-free exchanges
+ Up to 8,6% compound interest
+ Ability to take out crypto loans
+ A simple-to-use platform
+ Regulated and located within the US
+ Automated trades
Things we didn't like:
- No FDIC asset insurance
- Not available in some countries
BlockFi is an odd pick here, in our list of the best crypto staking platforms. This is because, while other platforms mentioned on this list are (primarily) cryptocurrency exchanges, BlockFi offers a different approach to crypto - instead, it's a dedicated crypto earning project.
This is notable simply due to the fact that BlockFi doesn't really offer *staking* functionality, per se. Instead, it refers to the APY-earning services as BIA - BlockFi Interest Accounts.
That being said, I've still decided to include BlockFi in this list. While the approach taken by the platform might be different from the rest, as far as the user is concerned, it doesn't really make all that much of a difference. You will still be able to hold your cryptos on BlockFi, and earn a passive income over time.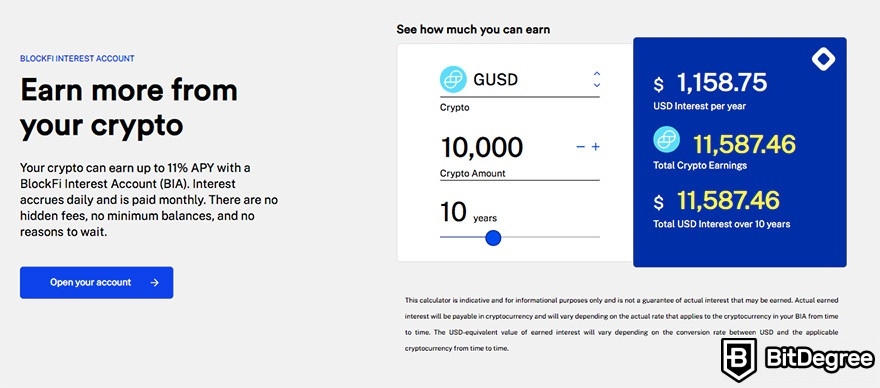 Apart from all of the information mentioned above, there are a few additional things that make BlockFi stand out from the crowd, even more. For starters, if you're looking for a service that would allow you to stake a wider selection of coins, BlockFi will be one of the best options.
Indeed, the platform supports everything from BTC and ETH, all the way to ADA, UNI, BAT, and various stablecoins. Naturally, all of these assets are going to provide the holder with variable interest rates - still, though, if you have an asset preference, BlockFi is a great option!
Another great feature of the platform in question is the fact that you don't need to have some sort of a minimum balance of the coin that you want to stake - there is none. Meaning, you can hold as little crypto as you want, and start earning profits on it!
This is significant for anyone who's still new to staking, and is looking for the best place to stake cryptocurrencies in order to "get their feet wet". You don't need to risk large amounts of crypto!
Table: BlockFi general features
The only real downside when it comes to BlockFi and staking (rather, earning passive interest on your crypto) is the fact that the service in question won't be available to US-based individuals. If you reside in the country, you are not going to be able to earn with BlockFi's BIA services.
Naturally, this isn't ideal - BlockFi isn't going to be a platform that you could even consider, if you're based in the States. However, while users from other countries will be able to utilize BlockFi's services, residents of the US shouldn't fret - there's an entire list of the best crypto staking platforms available for you to pick from!
In short, if you don't live in the United States, and are willing to try out a bit of a different approach to staking (earning passive income with an interest account), BlockFi should be considered, due to all of the benefits that you'd receive while using it!
The content published on this website is not aimed to give any kind of financial, investment, trading, or any other form of advice. BitDegree.org does not endorse or suggest you to buy, sell or hold any kind of cryptocurrency. Before making financial investment decisions, do consult your financial advisor.
Leave your honest Best Crypto Staking Platform review
Leave your genuine opinion & help thousands of people to choose the best crypto exchange. All reviews, either positive or negative, are accepted as long as they're honest. We do not publish biased reviews or spam. So if you want to share your experience, opinion or give advice - the scene is yours!
---
TOP3 Most Popular Coupon Codes

EARN UP TO 23%
By Staking on Kraken - Black Friday Deal